Get connected with our daily update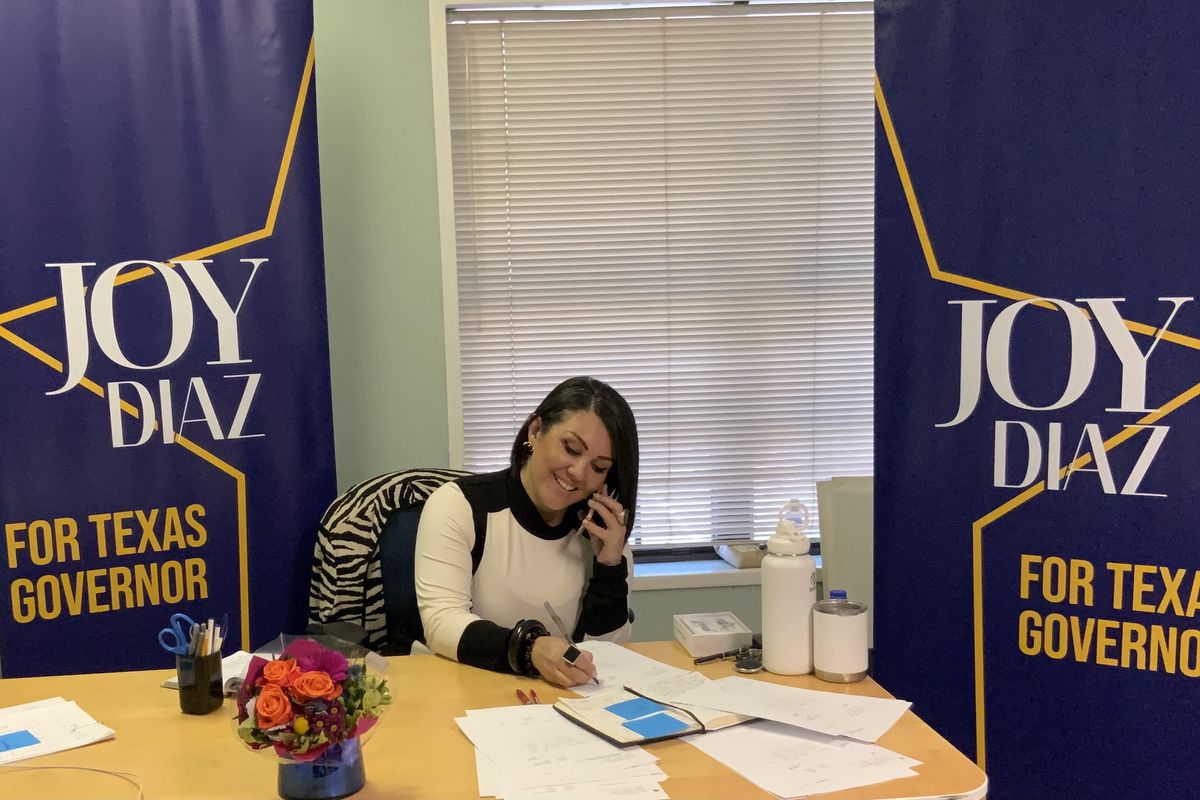 In her blue mini-cooper sporting custom "VOTE JOY" license plates, ex-media professional Joy Diaz has traveled across the state for the past month to galvanize Texans to vote for her for governor.
---
A longtime Austin resident, Diaz first announced her run for governor in December just weeks after leaving her journalism job at KUT's Texas Standard radio show. With no political experience, Diaz is on a mission to oust Gov. Greg Abbott from office. But first, she has to win the Democratic primary, in which she is up against former U.S. Rep. Beto O'Rourke and others.
Although the latest University of Texas/Texas Politics Project Poll shows 93% of Democrats taking the poll would vote for O'Rourke, Diaz is confident in her run.
"A runoff would be a win," Diaz said. "When it is time to vote, I am hoping that for a lot of people, the name Joy will spark something in them... I think I have a lot in me that can serve Texans. And I hope that they see that in my name."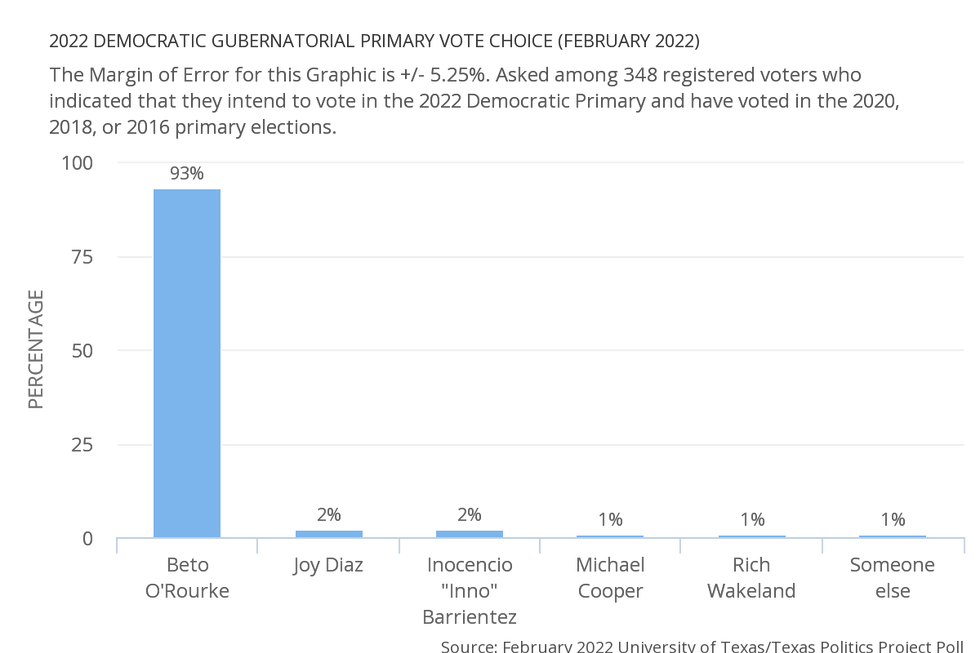 (University of Texas/Texas Politics Project Poll)
Challenges of running for governor
Since Austonia spoke to Diaz just before her announcement of her gubernatorial run in early December, a lot has happened to the 16-year media vet. What little time she had before early voting kicked off on Feb. 14, dwindled more when she took time to care for her husband who needed brain surgery the week of her announcement due to a biking accident.
She didn't get to really start campaigning until January, although she had been able to make pre-campaign visits in South Texas cities Laredo and McAllen in November. She's been all over the state in the past few weeks making up for lost time, including on Democratic club tours to Tyler, San Angelo and Waxahachie.
Joy Diaz has campagined across the state in January. (Sandra Dahdah)
Turnout is unpredictable, she says. While she has seen packed venues in places like Waco, she said turnout can come down to the weather and COVID infections, as January saw the omicron surge.
After speaking with attendees across the state, Diaz said it's clear to her that people don't care what her political party is—they want to pour their hearts out with what troubles them—and what they hope she can fix.
"It reinforces the fact that there is no public service in the heart of Greg Abbott—or not anymore, perhaps it was there at some point, but it doesn't exist anymore. It's all about self-service," Diaz said. "You cannot politicize the needs of people."
A big challenge Diaz has faced is getting her message heard at all. There hasn't been a debate opportunity for people to hear from the candidates, which she says surprised her.
"Democracy doesn't work if only the wealthiest people have a voice," Diaz said.
Diaz doesn't have major financial backers like Abbott and O'Rourke with millions behind their campaigns. She's raised some funds with two grassroots organizations but says talking about the money is an imbalanced conversation when she's been raising for a few weeks as opposed to years. She asks, "Is money a disqualifier?"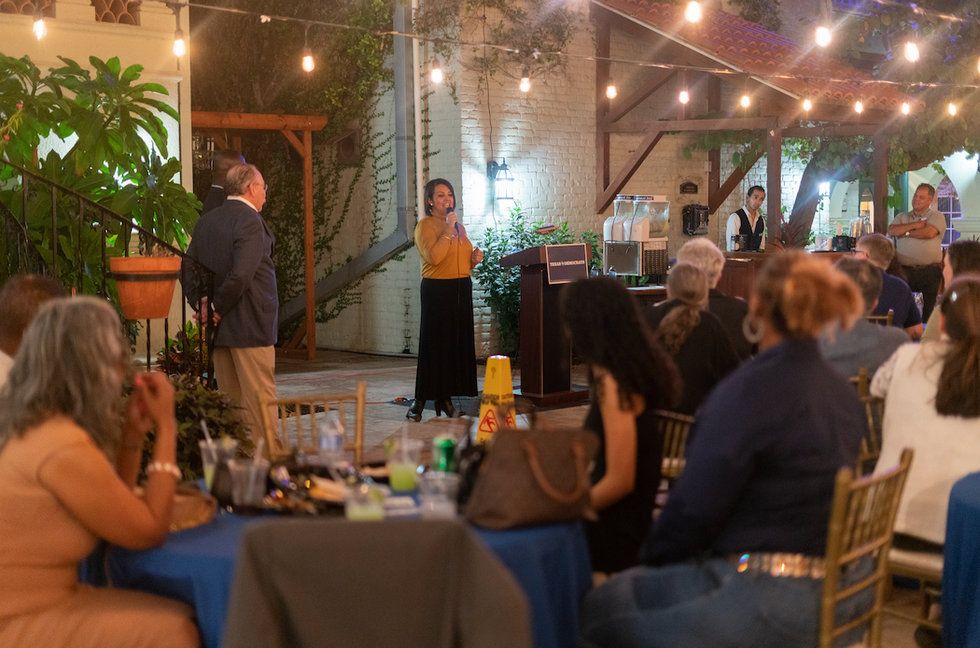 Joy Diaz speaks at an event in Laredo. (Sandra Dahdah)
Plan B
While Diaz says she's confident in a runoff, Plan B is definitely something she's thought about.
She's hopeful that if she isn't to be governor, she can continue traveling the state and hearing about peoples' greatest concerns. She wants to somehow be the liaison between people and power. "I think that answers don't come because people in power really don't know that these needs exist," she said.
Come Election Day on March 1, Diaz will watch the results from a dinner party she's hosting.
"It is definitely the beginning of the rest of my life whatever happens March 1," she said.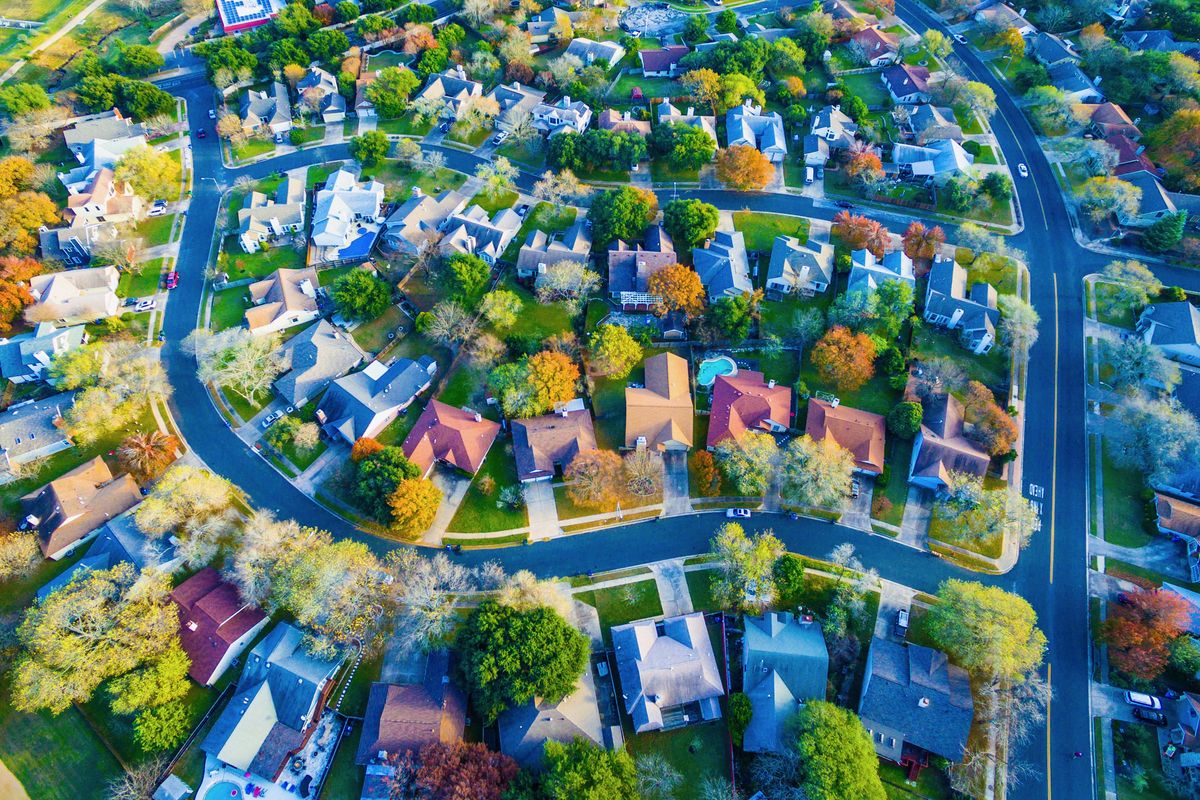 Shutterstock
So you want to buy a house?

To anyone trying to get on the "housing ladder," it's been a discouraging couple of years as prices skyrocketed in a market crowded with buyers bidding against each other for just about any available home.

Things may be calming down, with the Austin Board of REALTORS reporting fewer sales and more available homes this summer.

Mortgage rates have more than doubled in the last year, from around 3% to well over 6% on a 30-year fixed rate loan, getting even more of a bump this week after the Federal Reserve raised bank rates on Wednesday.

So how affordable are homes right now? That, of course, depends on what you want and how much you're able or willing to pay, but here are some rough estimates of what a typical buyer would pay to buy a $650,000 home, which would be considered "mid-price" in today's market.

Mortgage banker Chris Holland (NMLS 211033) of Austin's Sente Mortgage ran some numbers for Austonia to illustrate a typical purchase.


Holland says that while the 30-year fixed rate mortgage is often mentioned in the media, the most popular loan that he's seeing now is a 7/1 adjustable rate mortgage, which has a fixed rate for 7 years and then adjusts every year based on market rates, with a limit on how much it can increase each year. The interest is amortized over a 30-year period. Adjustable Rate Mortgages (ARMs) offer lower rates than fixed rate loans.

Here are the numbers, which are examples. In practice, exact numbers vary with a buyer's credit rating and overall financial situation, and with the rate, which can move up or down at any time.
$650,000 home purchase price
7/1 ARM at 5.875%
5% down payment, equals $32,500
95% financed, equals $617,500
$4,990 payment, including principle and interest (P&I), insurance, and property tax
Typically, a borrower's debt to income ratio needs to be at or below 45%. So for this mortgage, a borrower, or borrowers, would need income of roughly $11,100/month, or $133,200/year. That number could be higher, depending on the buyer's outstanding credit balances on things like credit cards and car loans.
Not included are closing costs, moving costs, maintenance, and any changes a new buyer might want to make to the home.

Holland says he's had a lot of clients approved for loans who were house hunting but have put that on hold, hoping prices come down.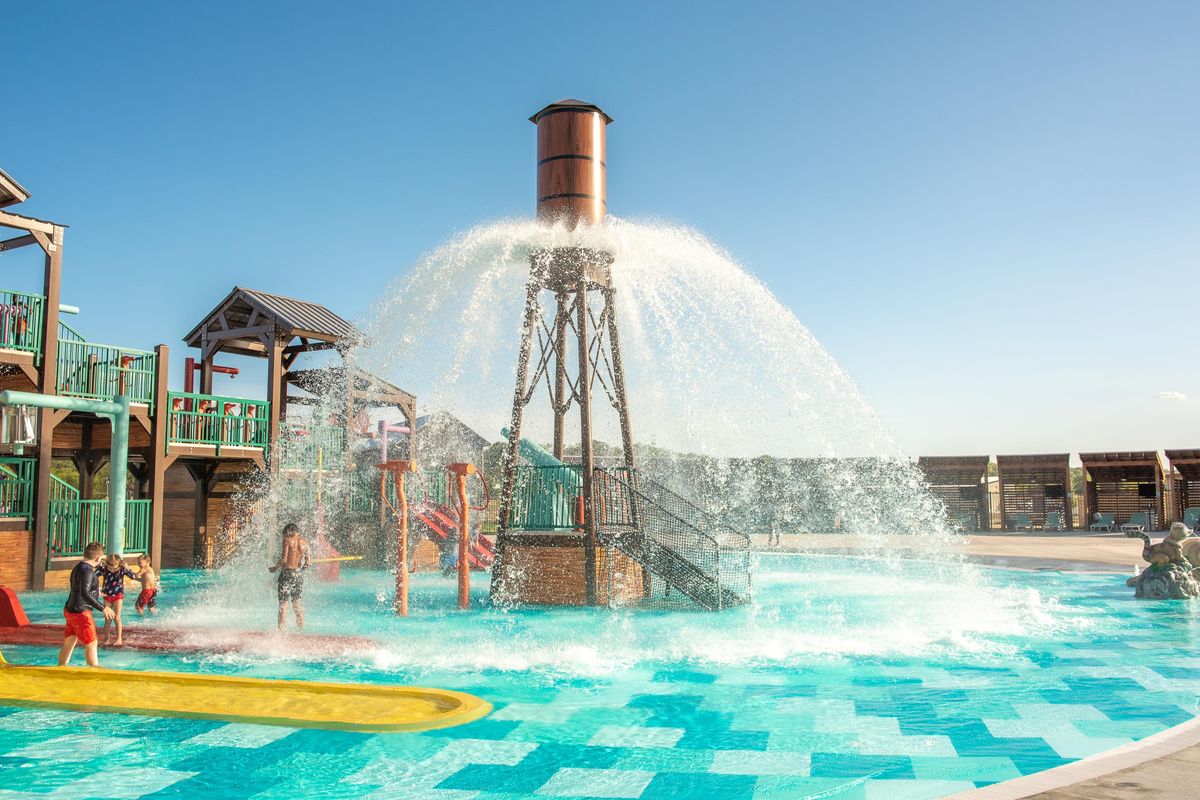 Camp Fimfo Waco
Camp Fimfo Waco, a brand new camping resort, is kicking off football and fall camping season in style! With top-notch amenities, premium accommodations, and 10 weekends of fall fun, there's no better place to have a fall camping getaway, especially if you're a Baylor football fan!
Fall promises to be a one-of-a-kind camping experience. From Sept. 16 to Nov. 24, weekends will be packed with fall-themed activities, including special Halloween weekends in October. Campers can enjoy activities like fall crafts, campground trick-or-treating, costume contests, site decorating, outdoor movie nights, and more!