Get connected with our daily update
Joy Diaz is running a Democratic candidate in the 2022 Texas gubernatorial race. (David West/Austonia)
As she sets her sights on running for Texas governor, Joy Diaz says, what Texas needs is "joy." But she doesn't quite literally mean herself. What she means is the promise of improved lives for everybody and that change is possible.
---
Diaz, a 16-year journalist most known for her time at KUT's Texas Standard, announced a run for Texas governor on Wednesday. A mother of two and Hispanic woman, she is running as a Democrat and wants to oust Gov. Greg Abbott from office, she told Austonia in an exclusive interview. But to get close to that goal, she'll first face-off with Beto O'Rourke and others in the Democratic primary in March 2022 before the November election.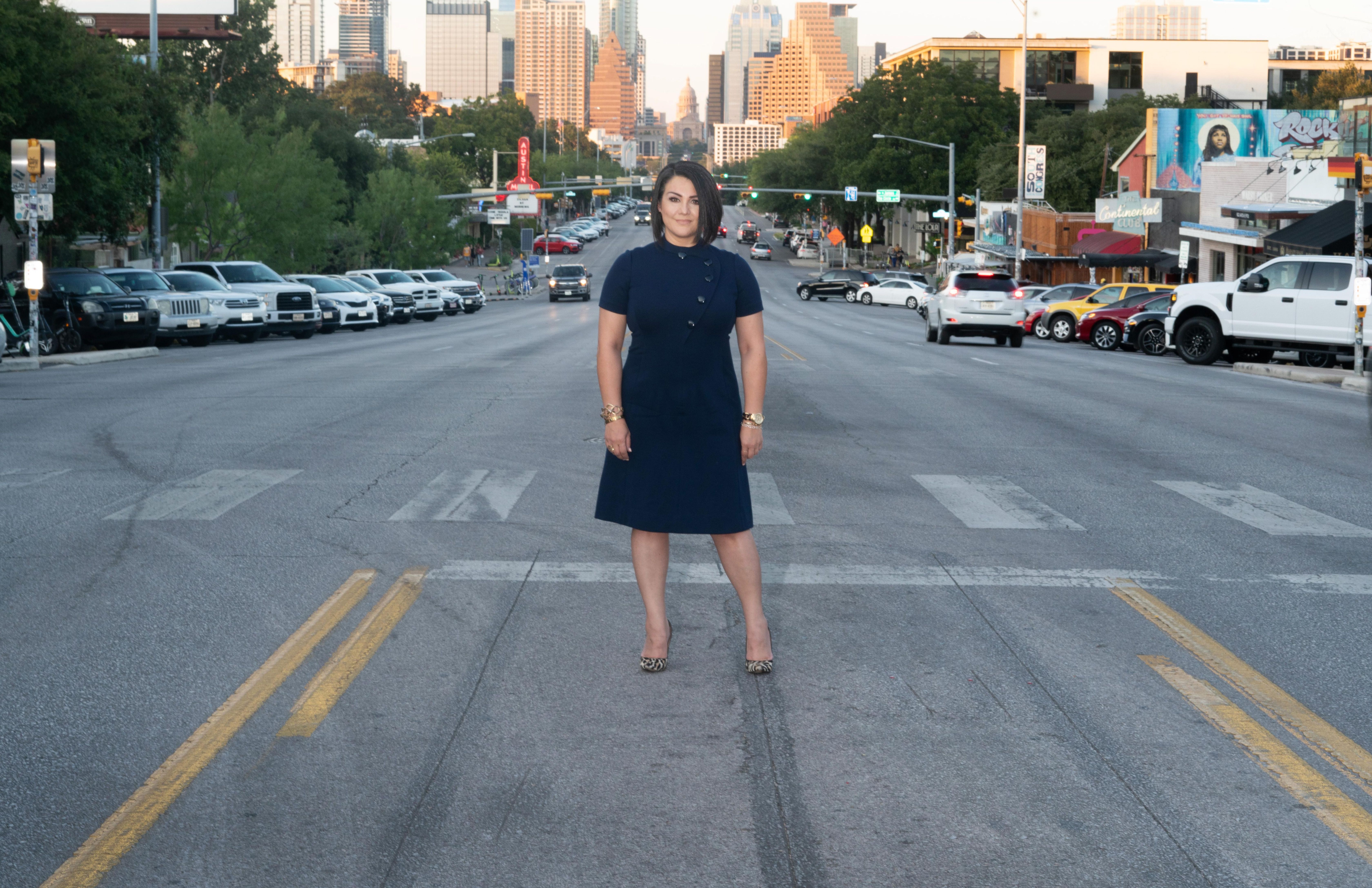 Joy Diaz left her journalism job on Nov. 5 and has been working on her campaign for Texas governor since. (Sandra Dahdah)
Her decision to leave the media to run for public office came after a turbulent 2020, when she no longer felt she could be politically neutral as a reporter, and she and her son battled COVID-19.
"Not being able to breathe, made me just think, if… I survive this, I'm going to change gears, I'm going to dedicate my life to service because I don't have tomorrow guaranteed," Diaz said. "Is it dramatic when you're 45 and now healthy? Maybe. But I want to live like I'm dying. And I want to die with no regrets."
Diaz has engaged with public service her whole life. She grew up in Mexico, where her parents were missionaries. After graduating with a degree in journalism from the Universidad de Cuautitlán Izcalli in Mexico City, she became a school teacher, teaching four years in Mexico, before moving to the U.S. in 1998. She then transitioned to public radio, and started working at KUT in 2005.
She calls herself an "inclusive Democrat," believing there is room for change. She believes she will get people from both sides of the aisle to vote for her because they are unhappy with the incumbent.
Diaz is troubled by the state of the border, public education and preparedness for the future.
Austonia sat down with Diaz for a Q&A. Here are some of her answers. (Answers have been edited for clarity and brevity.)
What especially do you want to achieve as governor?
We need to rethink many things. The job is not to enrich somebody, or to be a stepping stone to be president. Your job is to serve people. Secondly, rural communities are just dwindling. Economic opportunities are dying. It's not fair to consider only the urban communities as the only opportunities for growth in the state. We need to consider everybody's growth.
And I think during COVID it was very clear that we are not prepared for emergencies. You think about Texas as this place that is always touting how our economic growth. Then we get two inches of snow and we're on our knees begging for help because we have not prepared, so that is unacceptable.
Why start at the top in Texas? Why not build your career through city council or the legislature?
To be honest with you, I am perfectly ready to be governor. And running for city council is not building a fire in my soul. And I don't know if I have 20 years to build a career in politics, but I do know that I have today.
We know Abbott has $55 million behind him and Beto raised $2 million in 24 hours. What big money do you have behind you?
I'm hanging on to that promise that government should be of the people. And as a member of the people, I'm going to do it. Now. Yes, money is necessary. And yes, it is very important. But I cannot focus on how much money each candidate has. I have to believe in this promise.
As a Democrat, you're up against Beto O'Rourke. What do you feel makes you different from him and his approach to politics and what you're bringing to the table?
I am running against Greg Abbott. That is my goal. That is my focus. I am ushering Greg Abbott out of office.
What do you think Texas needs to be doing at the border?
That is indeed the job of the federal government. The outgoing governor has no business planting containers at the border, that's not his job, not as a border response and not as a government response.
Why are all these resources being wasted? When we have all these other regions, Northern Texas and West Texas, are you the governor of all? Or are you not? And if you are, why are you spending money so poorly? That is not his job.
What is your stance on abortion laws in Texas?
I lost a pregnancy to a D&C, a surgical abortion. And it saved my life. Now, I was so conflicted because I am a Christian woman. The abortion was so late that I lost my fallopian tube, I lost my ovary. So what do I think about abortion? Can I just say yes or no? Can I just think, 'Oh, I'm in favor or against?' No. For me, it's so complicated, like it is for every woman in Texas.
It's not the decision of legislators. The people who saved my life were a doctor and my husband, who agreed. Not a legislator. Certainly not a callous governor.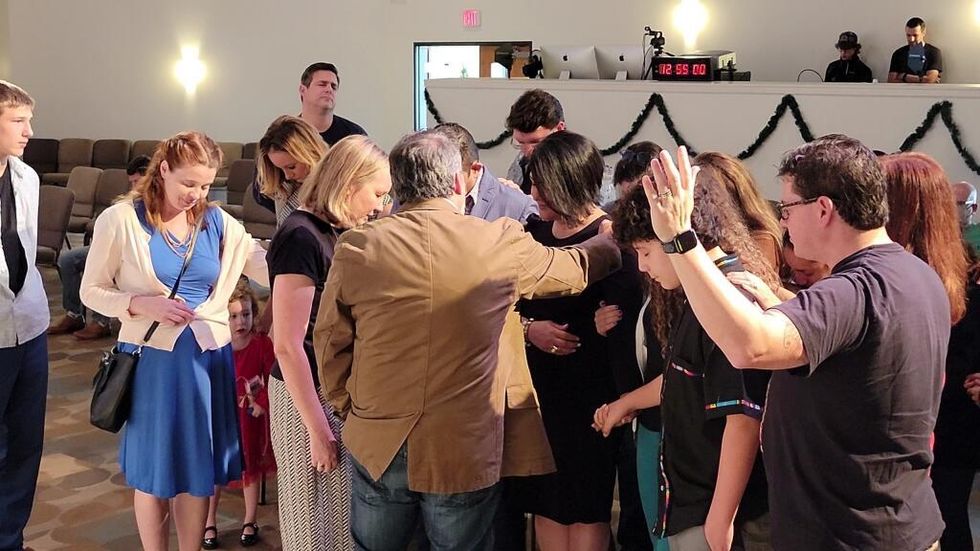 A prayer service was held for Joy Diaz embarking on this journey at the church she attends in Southwest Austin on Sunday. (David West/Austonia)
What do you think about critical race theory? What kind of hand do you think the state should be playing in what public schools teach?
Forget about critical race theory just for a second, an educator should be at the top of the Texas Education Agency—not the best friend of an outgoing governor. As a former educator, I see so many flaws with our public education system.
Permitless carry. Is that one of the things you're thinking about for when you take office?
My brother-in-law asked me, 'What are you going to do with my guns?' And I said, nothing. I don't want them. Keep your guns and keep them safe. I have nothing against guns, but I am deeply hurt by all the people who have been killed by the irresponsible use of guns. A lot of hurt.
What is something else you would want to address if you were put in office?
I think one part that we don't talk about is our relationship with Mexico. When we talk about the border, we often talk about well, Mexico should, Mexico should, Mexico should. Oh, yeah, Mexico should. So how are we going to work with Mexico? We need to work as real neighbors who work with each other. And I think I am so perfectly equipped to do that.
Half of my life was spent in Mexico. And I know the culture, the language, the synchronicities, the politics. And I think that's a plus that we've never had in this state to think about this relationship as one relationship of neighbors who understand each other.
What would you tell Gov. Abbott if he was here with us today?
I would tell him with a hand over my heart, I'm so sorry for the person you've become. I deeply admired you at some point. And you have disregarded your calling. You have followed your ambitions and forgotten that your job is to serve us.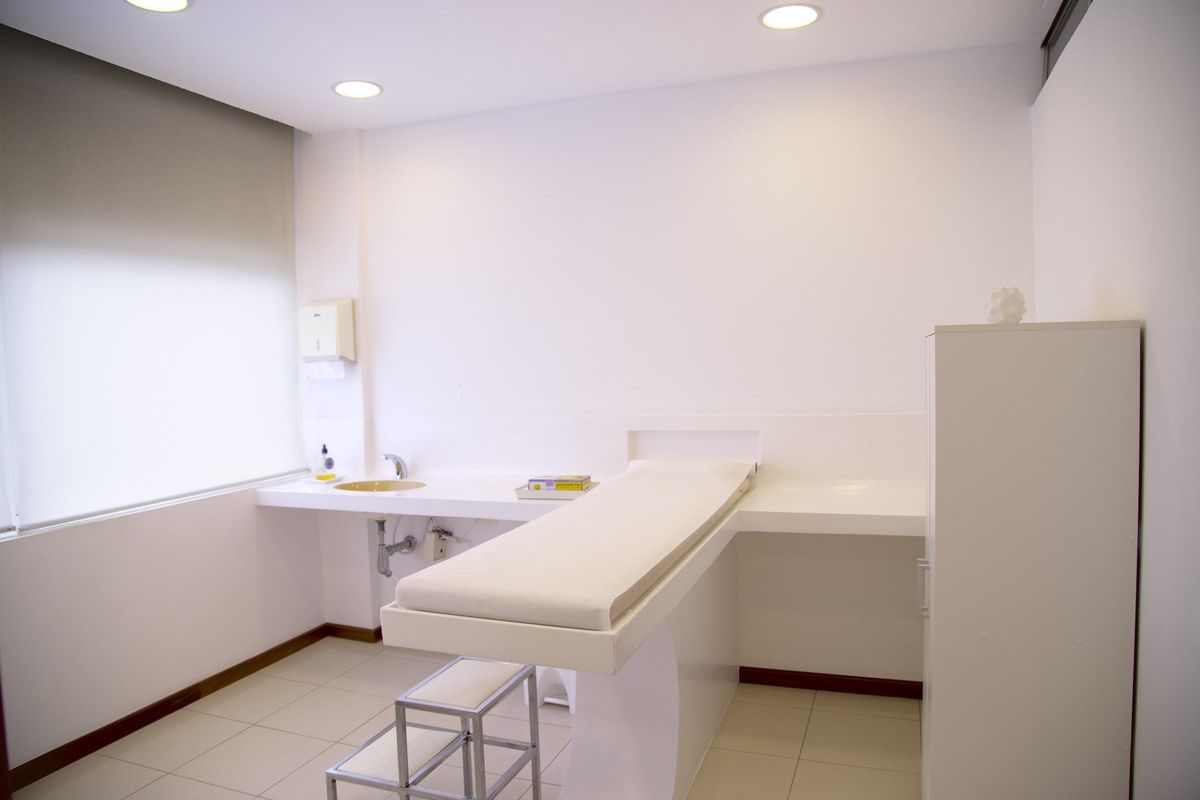 Austin Nicholson was ahead of the curve when he got his vasectomy in September 2021, saving himself a long line as Austin-area doctors say the demand for sterilization has seen a "significant" spike since Roe v. Wade was overturned on Friday.
Nicholson, 25, said he would prefer to adopt children, had felt the Supreme Court decision coming for a while, and, wary of the consequences, he decided to pull the trigger and make an appointment.
"A big part of it was the political climate. We could both potentially face consequences and she would definitely face more consequences, which I also personally would not want," Nicholson said. "I didn't want to be stuck in Texas and have a potential abortion on the mind when it's illegal."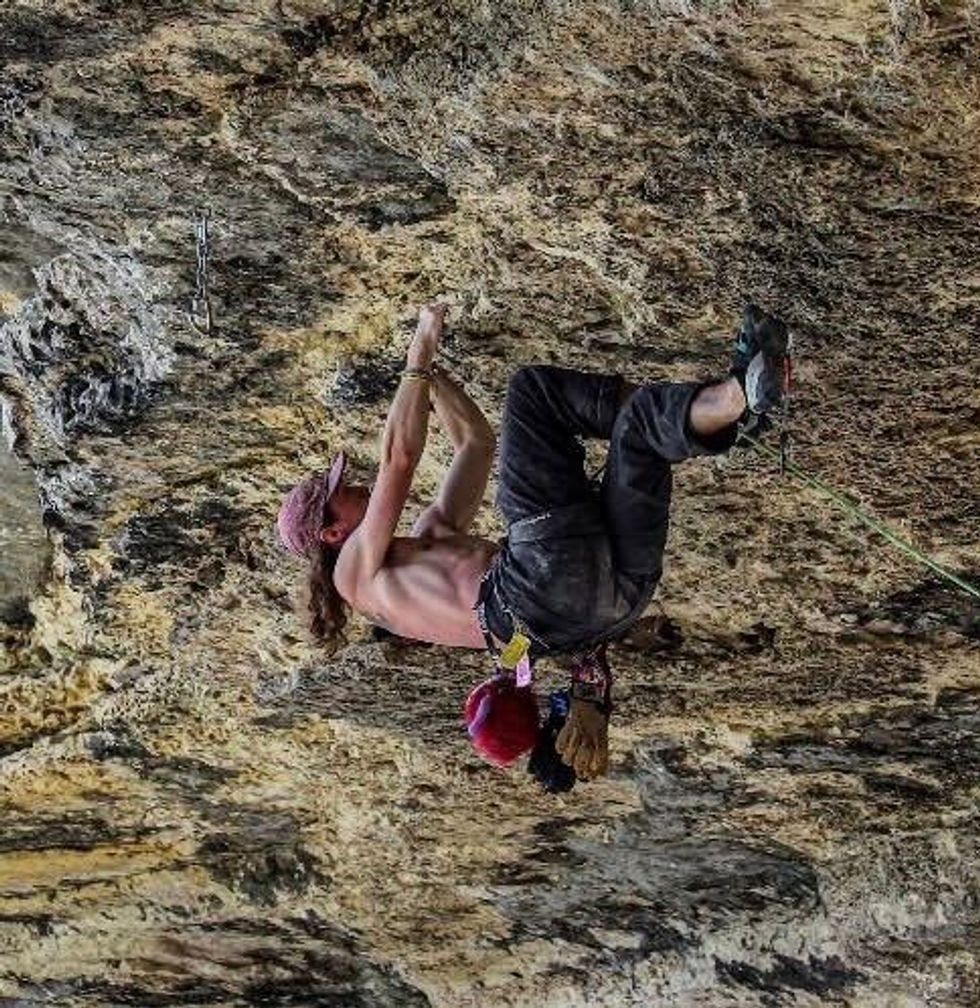 (Austin Nicholson)
According to vasectomy specialist Dr. Luke Machen of Austin Fertility and Reproductive Medicine, the clinic received over 150 vasectomy appointment requests combined on Friday and Monday following the ruling. Typically, the clinic performs 45-50 vasectomies per month.
The Austin Urology Institute reported that they received about 70 calls in the first hour after the ruling was released. OBYN at Women's Health Domain reported receiving over 100 requests from women interested in getting their tubes tied.
"I would say a significant number of patients who scheduled recently have mentioned the Supreme Court case," Machen said. "A lot of guys have said they were thinking about having a vasectomy over the last year or so, and the ruling was the final push to get it done."
The average patient at Austin Fertility who receives a vasectomy is about 37, though Machen said he has started to see an increased number of patients with zero children choosing to get a vasectomy. While they put together a study, Machen expects demand for the procedure to plateau but stay higher than before the ruling.
Machen said vasectomy is the most effective form of permanent birth control, requires only about a week of recovery time, is reversible with success rates of up to 95% and has no effects on sexual function or testosterone.
Nicholson said the procedure was less than $700, he was never in any pain, had very little recovery time and has never regretted the decision—in fact, he has happily recommended the procedure to friends.
"It helps me feel better knowing that I won't put a woman in that situation where she'd have to be faced with a potentially life-altering decision, or consequence even," Nicholson said. "I actually have had three of my friends ask me questions about it and tell me that they were considering it."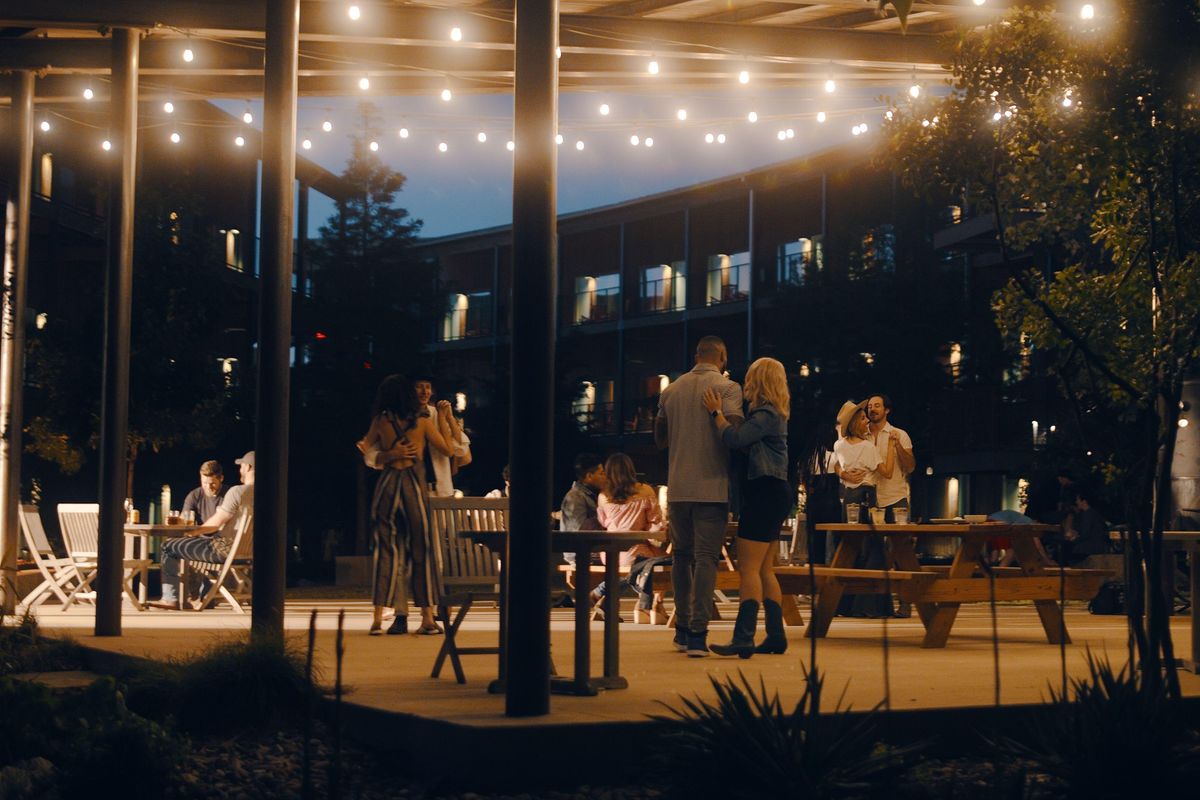 Live music and beer? Say no more. With a location in Austin, and others throughout Texas, the court hotels by the Valencia Hotel Group have a new offering for weekend stays: Live Music & Longnecks.
Enjoy live music all weekend long and check out the hotels' state-of-the-art amenities between sets. Make a splash in the pool, enjoy outdoor fire pits, or challenge your friends in a yard game while enjoying a weekend full of live music! Did we mention the package includes deluxe accommodations and a bucket of beer? Oh, and if you needed more convincing, this pet-friendly hotel means the whole family can join in on the fun.
The hotels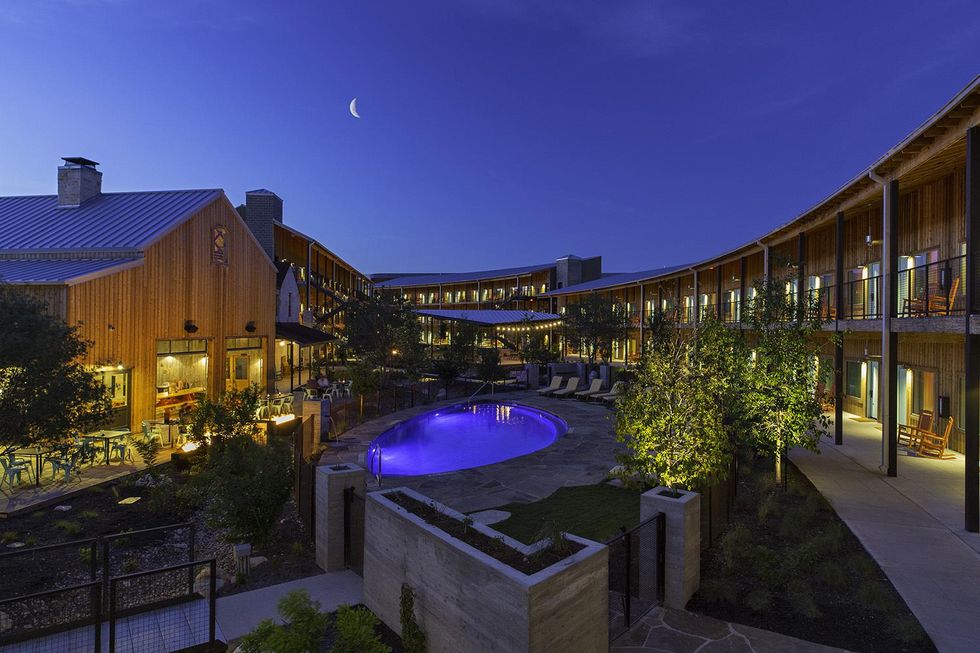 Explore any of the Court Hotels by Valencia Hotel Group for a memorable escape. Each property offers a unique experience remnant of yesteryear but with all of the modern amenities that make for a fun and comfortable stay. With acres of landscaped courtyards, relax and unwind in an outdoor environment perfect for doing everything or absolutely nothing at all. With locations in Austin, College Station, Irving, and Lubbock your urban retreat has never been so close.
The music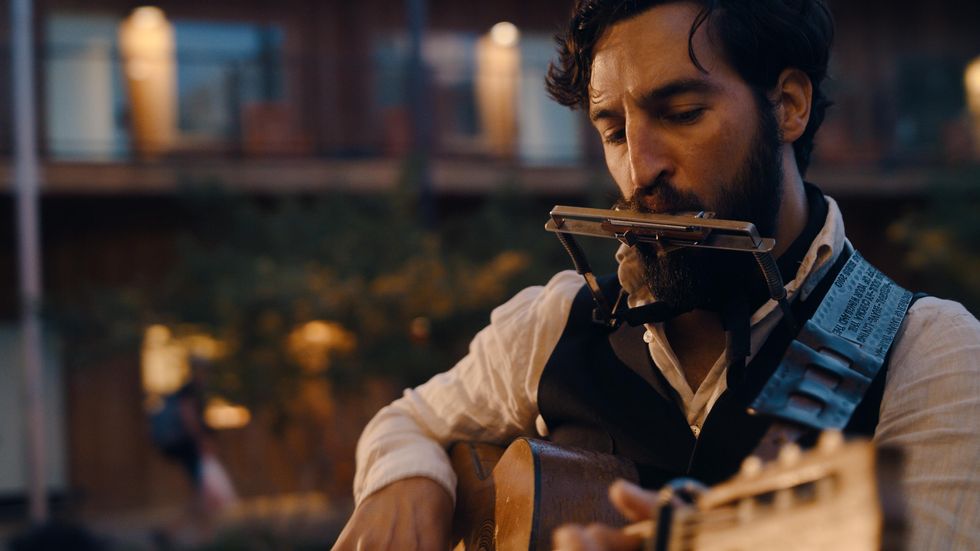 Locals and travelers alike are invited to enjoy the deep roots of Texas music all summer long with a robust lineup of live performances. From the banks of the San Antonio Riverwalk to Irving's manicured streets, Valencia's hotels are a place to gather and reconnect, offering uniquely Texan settings for the weekly performances.
"We're proud of the community we've fostered among Texas musicians and the many rising stars who perform at our properties," says Amy Trench, corporate director of brand marketing & PR for Valencia Hotel Group.
In Austin, you can catch good ol' fashioned Texas country by Drew Moreland and Clayton Gardner, bluegrass by Reagan Quinn, and much, much more.
With unique programming at each of Valencia's properties, there's something for everyone to enjoy all summer long.
The perks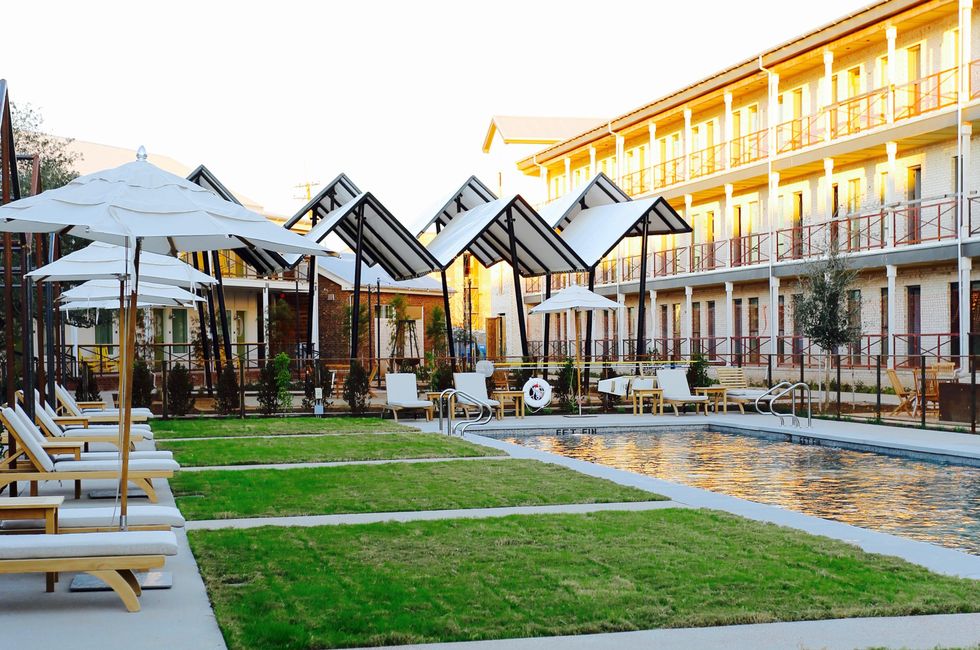 If you're a Valencia Hotel Group Rewards member, the perks are plentiful. Enjoy up to 10% off the Best Available Rate, and for a limited time, members can save up to 15% off a stay of 2 nights or more, for select stays in 2022.
But that's really just the beginning. At select locations, you can enjoy discounts on weeknight stays, a complimentary third night, or curated packages for a romantic getaway or a night of watching the Verde at Q2 Stadium. You'll also find special rates for AAA and AARP Members, educators, and front-line heroes including military, law enforcement, fire, and rescue workers.