Get connected with our daily update
By James Barragán
A state district judge in Travis County issued an order blocking the arrest of House Democrats who have broken quorum by leaving the state, paving the way for those who remain outside of Texas to return home without threat of apprehension.
---
State District Judge Brad Urrutia, a Democrat, granted the temporary restraining order late Sunday night restricting Gov. Greg Abbott and House Speaker Dade Phelan from "detaining, confining or otherwise restricting" the free movement of House Democrats within the state or issuing any warrants ordering their confinement.
The order expires in 14 days unless extended by Urrutia. The court will hear arguments on a temporary injunction on Aug. 20 where Abbott and Phelan must show why a temporary injunction should not be filed against them.
In July, more than 50 House Democrats decamped to Washington, D.C., during a 30-day specially called legislative session to block the passage of an elections bill they said would restrict voting access. The remaining members in the chamber, mostly Republicans, voted to authorize a "call of the House" under which all entrances into the chamber can be locked and lawmakers are not permitted to leave without permission from the speaker. They also asked the chamber's sergeant-at-arms and other law enforcement officers to bring the missing lawmakers back "under warrant of arrest if necessary."
Abbott had called for the arrest of the Democratic lawmakers as soon as they returned to the state and Phelan signed a civil warrant for Rep. Philip Cortez after he returned to Austin from Washington, D.C. in July only to leave the state capitol again a few days later.
The petition for the restraining order appears to be preemptive in nature, as the House has not yet voted to renew a call of the House in the second special session which began Saturday.
"[T]he Speaker thinks he can wave his hand and have his political opponents rounded up and arrested. We're watching a major political party backslide in real time from fair representation, the rule of law, and democracy itself," said Dallas State Rep. Jasmine Crockett, one of the plaintiffs in the case.
Enrique Marquez, a Phelan spokesman, said Monday morning the speaker's office had not yet been notified of the suit or restraining order. Abbott's office did not immediately respond to a request for comment.
The lawsuit was filed on behalf of 19 House Democrats by attorneys Samuel E. Bassett, Jeremy Monthy and Megan Rue.
"No matter what the Governor or Speaker have said, it is a fundamental principle in this country that no one has the power to arrest their political opponents. That is why this action had to be filed," Bassett said in a statement.
The plaintiffs are Reps. Gina Hinojosa, Alma Allen, Michelle Beckley, Jasmine Crockett, Joe Deshotel, Barbara Gervin-Hawkins, Vikki Goodwin, Celia Israel, Ray Lopez, Armando "Mando" Martinez, Trey Martinez Fischer, Ina Minjarez, Christina Morales, Mary Ann Perez, Ana-Maria Ramos, Richard Peña Raymond, Ron Reynolds, Eddie Rodriguez and Ramon Romero, Jr. All of the plaintiffs broke quorum and left the state in July.
It is the second lawsuit filed by House Democrats in an attempt to avoid arrest if they returned to Texas. The other was filed Friday by attorney Craig Washington in federal court in Austin on behalf of 22 House Democrats. It was riddled with problems, including subsequent statements by at least four of the plaintiffs that they had not authorized the suit on their behalf.
The lawsuit in federal court also named State Rep. James White, R-Hilister, as a defendant. White is not named as a defendant in the case in state court.
In his order, Urrutia said Abbott and Phelan erroneously interpreted Texas law and legislative rules to allow the apprehension of members of the House in response to a call for quorum. He barred the defendants from detaining or restraining the Democrats' movement in any way and from issuing warrants or other documents ordering their apprehension. Urrutia also barred the defendants from ordering law enforcement to arrest the lawmakers.
The Democrats successfully held off passage of the controversial elections bill during the first specially called legislative session, which ended on Friday, but Abbott called for a second 30-day session that started on Saturday to push the bill, and other pieces of legislation, through. A few House Democrats signaled they'd return to the state but at least 26 holdouts said they would stay in Washington. All of the plaintiffs in the case in state court indicated they would stay in the nation's capital.
The House did not reach a quorum on Saturday and will gavel in for session Monday at 4 p.m.
East Austin restaurant la Barbecue has been robbed a third time in less than three months, according to a post on the restaurant's Instagram.
In the post, the restaurant included photos of what appeared to be a man exiting a minivan from surveillance footage.
"This guy pulled up in a car full of stuff… he ripped our gate open and stole a couple empty kegs," the post said. "The ring system scared him off so he did not venture back into the area. PLEASE EVERYONE ON THE EAST SIDE BE CAREFUL!!! This guy goes back into his car to grab something before he goes in. I am hoping he won't be back!!"
The robbery comes as many restaurant and food truck owners have been on guard from recent break-ins. East Austin cheesesteak truck R&B's Steak and Fries has also been robbed three times in around three months, according to owner Kris Elliott. Elliot said the truck was last robbed around a month and a half ago.
"When the weather gets cold, it seems like these things start to happen more often," Elliott said. "We're just happy no one got hurt."
Additionally, he said all 5 of the food trucks in their lot have experienced burglaries. The landlord of the space is taking action by investing in alarm and camera systems. "Been very tough dealing with this problem as us small business owners are just trying to survive during the pandemic," Elliott said.
And it's not just in East Austin. North Austin restaurants Eldorado Cafe and Chez Zee Bistro were both broken into and robbed on the weekend of Jan. 8, while over a dozen food truck robberies and break-ins were reported in the latter half of 2021.
Some, like Chez Zee's Deborah Velasco, wonder if the understaffed Austin Police Department's decision to no longer respond to non-emergency calls is part of the problem. Xose Velasco, owner of East Austin's Discada, said owners are keeping their guard up in the wake of the robberies as he was robbed twice within a month of reopening in November 2021.
"We try to keep the lights on," Velasco said. "We're a little bit more careful."
After 12 months, the long-anticipated massive Tesla factory in Southeast Travis County is up and operating and everyone wants a look inside.
Phase 1 of Giga Texas appears to be tied up as production of the Model Y Tesla is underway, the electric car company revealed on Wednesday in its fourth-quarter earnings call. The factory, located on the former Harold Green-turned Tesla Road, sits on more than 2,000 acres of land in southeast Travis County.
Here's a glimpse inside the factory.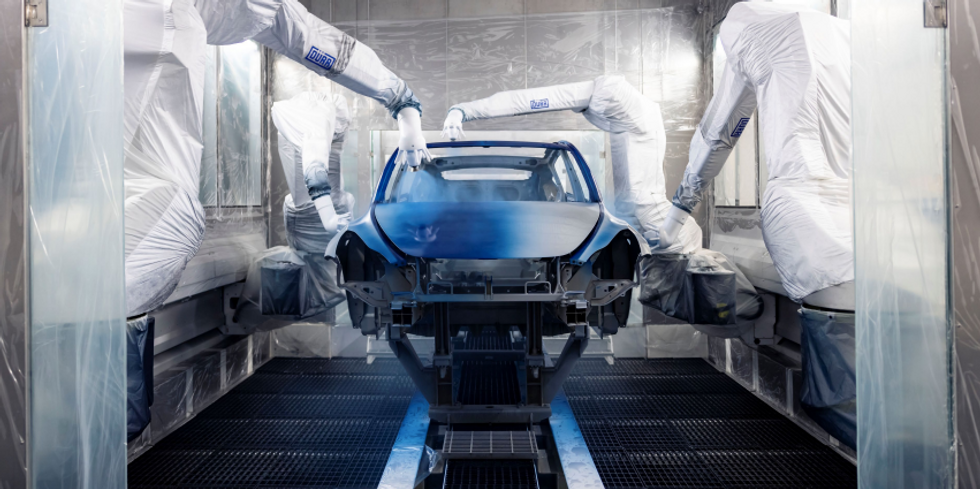 (Tesla)
Model Ys will be the first Teslas to come out of Giga Texas with an estimated delivery of August. The wait estimate comes after Tesla noted supply chain issues have affected their factories, which have been running below capacity for several quarters. A deep blue metallic like this goes for $1,000 more than a white or silver Model Y, totaling $61,990.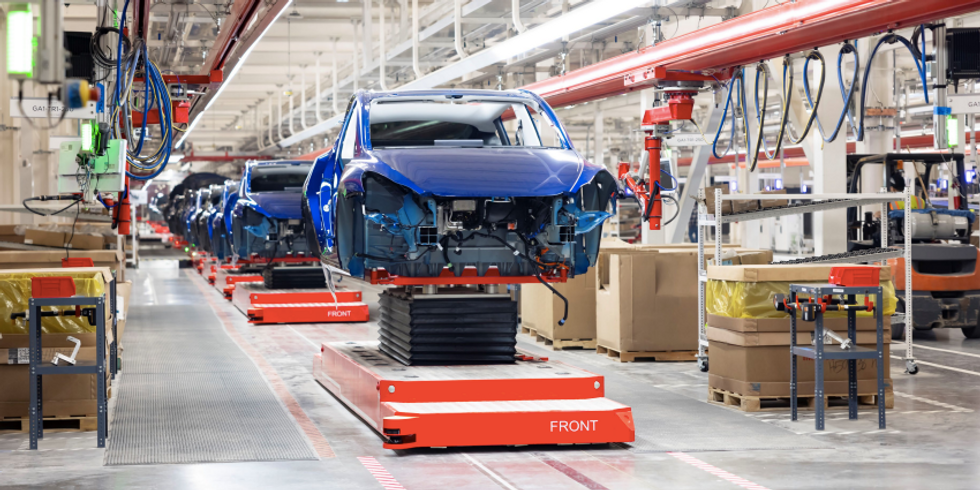 Model Ys began being produced at Giga Texas at the end of 2020. In general assembly at the factory, the Teslas get their major interior components to finish the vehicle.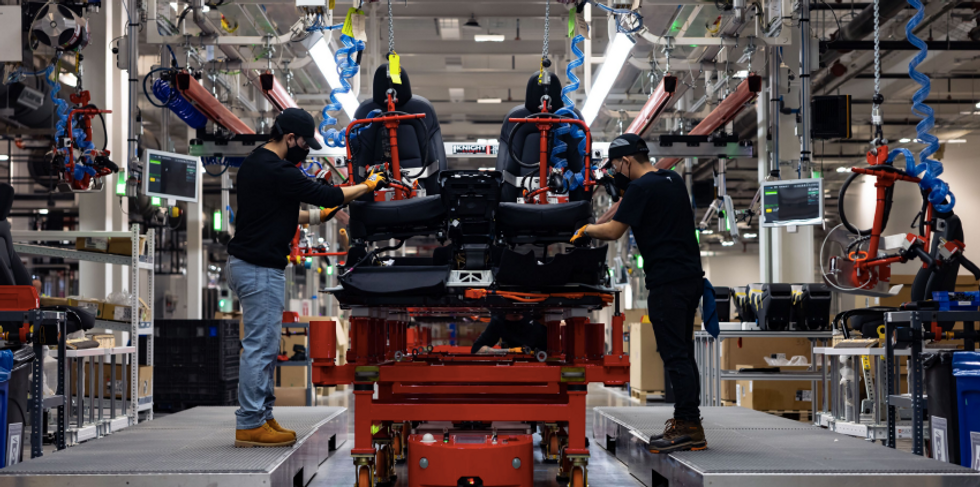 (Tesla)
Workers at Austin's Gigafactory are attaching seats to a structural battery pack. It's been described by some as the biggest difference between Texas-made Model Y's and the current version at the Fremont, California factory. It shouldn't have a major impact on the owner's experience, but Tesla has updated instructions for the jacking procedure, as the lift points are different.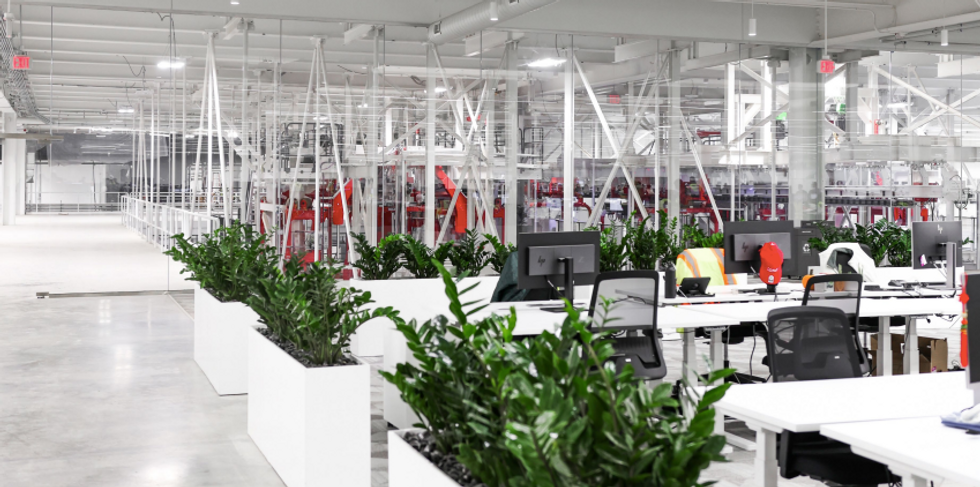 With a sleek, open office setup, workers can take in a view of the factory from their seats. It's a component CEO Elon Musk wanted for what is now the headquarters of Tesla.
On the Austin, Texas public location Snapchat, a photo of inside Giga Texas has appeared. On the left you can see a sneak peek of a Model Y body.pic.twitter.com/N7zliZ5vkL

— Sawyer Merritt (@Sawyer Merritt) 1643081462
With Snapchat's maps, anyone can look at everyday activity happening at the factory. To view these geographically-linked stories, click the bottom left "map" icon and search "Tesla Giga Texas." Once you've found it, you can view the Snapchat story of those in and around the facility. While most stories stay up for only 24 hours, Giga Texas is a designated place on Snapchat, allowing users to view a collection of photos and videos from the inside.
Following Model Ys, Texas-made Teslas will include the Cybertruck, Semi and Model 3. But it might be a while before those other models arrive. EV makers have been hit hard by the chip shortage, and it's thought that changing features are contributing to Cybertruck delays as Tesla works to compete in the electric pickup market.
Joe Rogan paid a visit to buddy Elon Musk this week. The two have been seen around town since both moving to Texas. Naturally, Rogan was impressed with the prototype.
If you're dying to get a closer look at this factory, you just might get to. In December, Musk said the factory would have tours available to the community early this year.