Get connected with our daily update
As 2021 comes to a close, City Council Member Kathie Tovo said she's "strongly considering" a run for mayor in 2022, according to a report from the Austin Monitor.
---
Though she didn't confirm the run, Tovo is entering her final year as a District 9 representative and 12th year on City Council. Currently, candidates for mayor officially include conservative Jennifer Virden. Meanwhile, State Rep. Celia Israel has formed an exploratory committee and former State Sen. Kirk Watson has expressed interest.
Mayor Steve Adler can also petition for a third term, which he has yet to indicate, otherwise his term will end in 2023. Election day is Nov. 8, 2022.
After two of what Tovo called the hardest years on City Council in 2020 and 2021, Tovo has had plenty of time to reflect on which issues to tackle in the New Year. Alongside the rest of the world, Tovo, a Democratic council member, said her main focus has been on COVID-19 recovery.

District 9, which covers Downtown, Central Austin and South Congress, has been hit particularly hard in the pandemic. Tovo said she has been focused on business and arts sector recovery, particularly uplifting musicians, increasing equitable food access and strengthening child care options.
When Austin's pandemic response took a pause for Winter Storm Uri, Tovo sponsored the resilience hubs initiative which will expand to all Austin neighborhoods to bring food, water and warmth in the event of another disaster.
Tovo is also focusing on reducing violent crime on Sixth Street after the last year saw increased criminal activity, including several shootings. Tovo's solution is to foster a well-trained and fully-staffed police force.
Finally, after focusing on bringing affordable housing to the city over the last year, Tovo wants to proliferate accessory dwelling units and increase access to affordable construction loans. A resolution for ADUs is planned for January or February.
Tovo's seat already has some competition—progressive candidate Zohaib Qadri announced his run for the District 9 seat in
mid-November.
In the latest delay of Tesla's Cybertruck, new reports indicate it may detract from its plan for a 2022 release.
The electric vehicle is slated for production at the $1.1 billion Austin Gigafactory in southeast Travis County. But as Mashable reported, the order page for the Cybertruck formerly mentioned production would near in 2022. Now, it states "you will be able to complete your configuration as production nears."
First announced in 2019, the Cybertruck had originally been planned for late 2021 production. The latest delays were further backed up by Reuters, which cited an unnamed source familiar with the matter said production is planned for the first quarter of 2023.
Also according to Reuters, delays are driven by changing features on the vehicle as Tesla aims to compete with others in the electric pickup market. In a newly released video of what appears to be the Tesla Cybertruck on the Fremont, California test track, the long-anticipated EV has some new features, including different mirrors, front lights and a long vertical windshield wiper.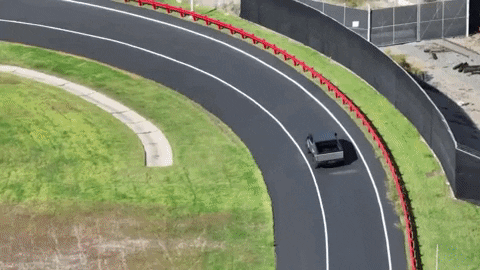 The Cybertruck was spotted at the Fremont test track last month. (ChileAI100/YouTube)
First up for production at Giga Texas is Tesla's Model Y. Latest estimates show that if ordered now, the Model Y wouldn't be delivered until about six months from now, in July.
Industry expert Dan Ives, who recently analyzed Tesla-filed paperwork and predicted that production at the Gigafactory could start very soon, talked about the Cybertruck's role in Austin.
"Cybertruck over the coming years is a major growth lever to the Tesla story and it's going to be the heart and lungs of Austin for the next three to four years," Ives said. "In the medium term, Cybertruck will be front and center in Austin but for right now the priority is getting Model Y cars produced and delivered."
He's also said vehicle delivery could happen in early February with full capacity around the fourth quarter of 2022 or early 2023.
Other vehicles that will come out of the Austin factory include the Model 3 compact sedan and the semi.
A theory that's been swirling around lately is that the web as we know it is on its way out and something called Web3 will take over.
It's hard to know what Web3 is without first understanding the original versions. The first web is the 90s Internet where people had their own random websites that didn't link together, making it decentralized. In Web2, we saw the rise of Google, Facebook and other major players who configured standard ways for people to share and receive information.
Ethereum co-founder Gavin Wood and other blockchain developers say a decentralized version of the Internet, Web3, is on the way. Web3 can be thought of as synonymous with cryptocurrency, meaning it is based on the blockchain. Platforms and apps built on Web3 won't be owned by a central gatekeeper, but rather by users. Those in the Austin crypto community believe to see a growing presence of Web3 in Austin.
Pujaa Rajan, an engineer at financial software company Stripe and adviser for startups, describes herself as a "digital nomad." She has traveled all over from Hawaii to New York and San Francisco, looking for the crypto community in each place.

Having been in Austin for the past month, Rajan organized a Web3 meetup this week at Cosmic Coffee + Beer Garden in South Austin open to folks working in crypto or the crypto-curious. About 30 people showed up. "Compared to a lot of other cities that I went to, it is a lot more open and community-oriented here, which is what Web3 is all about," she said.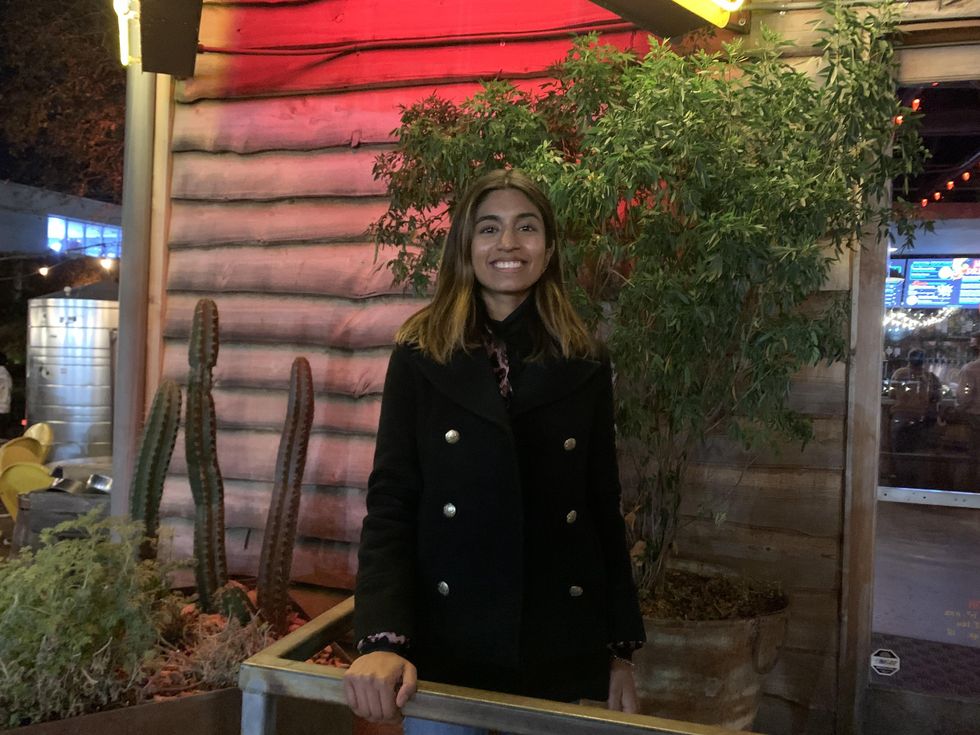 Pujaa Rajan, an engineer at financial software company Stripe, organized a Web3 meetup in Austin during a visit. (Andrea Guzman/Austonia)
ATX DAO member Roberto Talamas, who stopped by the event, talked about the crypto group's expansion. Web3, in Talamas' view, expands on the previous versions which allowed people to read, then read and write. Now, he says, people can read, write and own. To Talamas, blockchain technology has powered that ownership aspect, and it can be utilized through groups like a DAO, a group that pools together capital and goes on to make investments or take on blockchain-based projects.
"The ecosystem of work with (Web3) companies here in Austin is still relatively small," Talamas said. "And that's one of those things that we're trying to deal with at ATX DAO is to do all the advocacy work needed to make Austin the best Web3 city."
Part of that community, however, has gotten a bad rep for being "crypto bros." Rajan acknowledged that Web3 involves both finance and technology, which are fields women have historically been excluded from. But, she says the decentralization aspect creates a clean slate and a new means to form groups. "I feel like we can kind of take back the power or create a world for ourselves," Rajan said.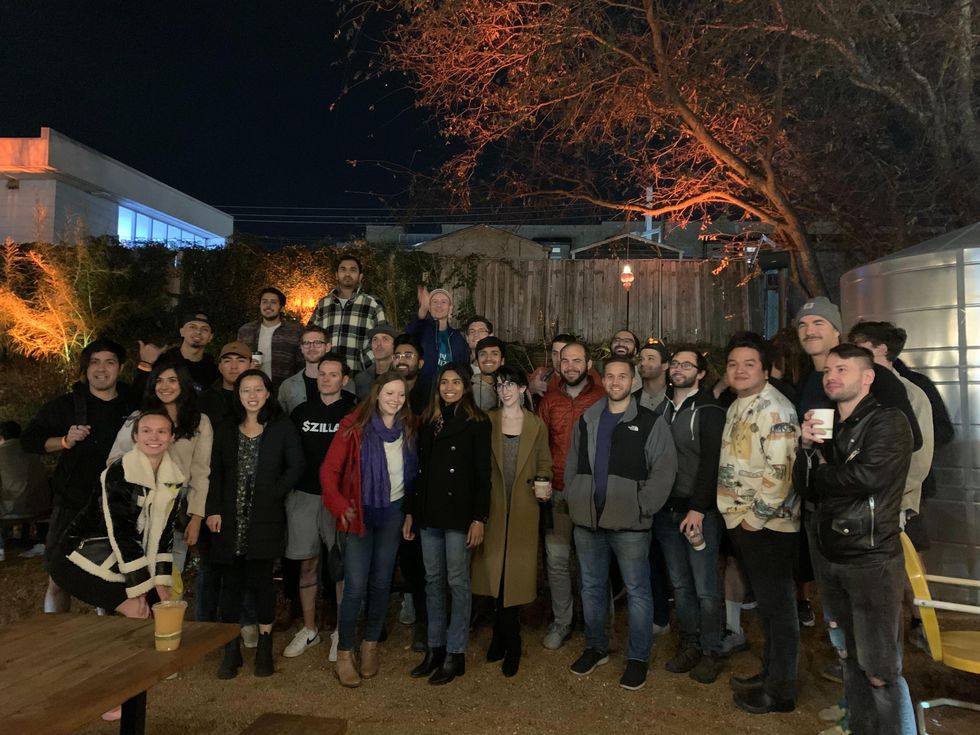 The meetup at Cosmic brought together crypto users to talk about the prospects of Web3. (Andrea Guzmán/Austonia)
Meetup attendee Jonathan Hillis also talked about the idea that Web3 creates an opportunity to start over and how this could be something that grows in Austin. Born and raised in the capital city, Hills has left his Bay Area Web2 Instacart job behind to live in a cabin outside Dripping Springs last year. He and his wife, along with a group of internet friends formed a DAO called Cabin, and he's now writing on the Web3 version of Medium, known as Mirror.
When it comes to the state of Web3, four cities stand out. "The dam broke in Covid," Hillis said. "Everybody no longer had to live in the Bay Area for tech."
San Francisco is still rooted in Web2 traits with Big Tech and software as a service venture. New York is financial technology. Miami is another major player. But with Austin, Hillis sees a lot of potential.
"Austin is great at being a place for independent online creators of many types—musicians, but also artists," Hillis said. "What excites me about Web3 is the opportunities for putting creators at more of the center of the value capture."