Get connected with our daily update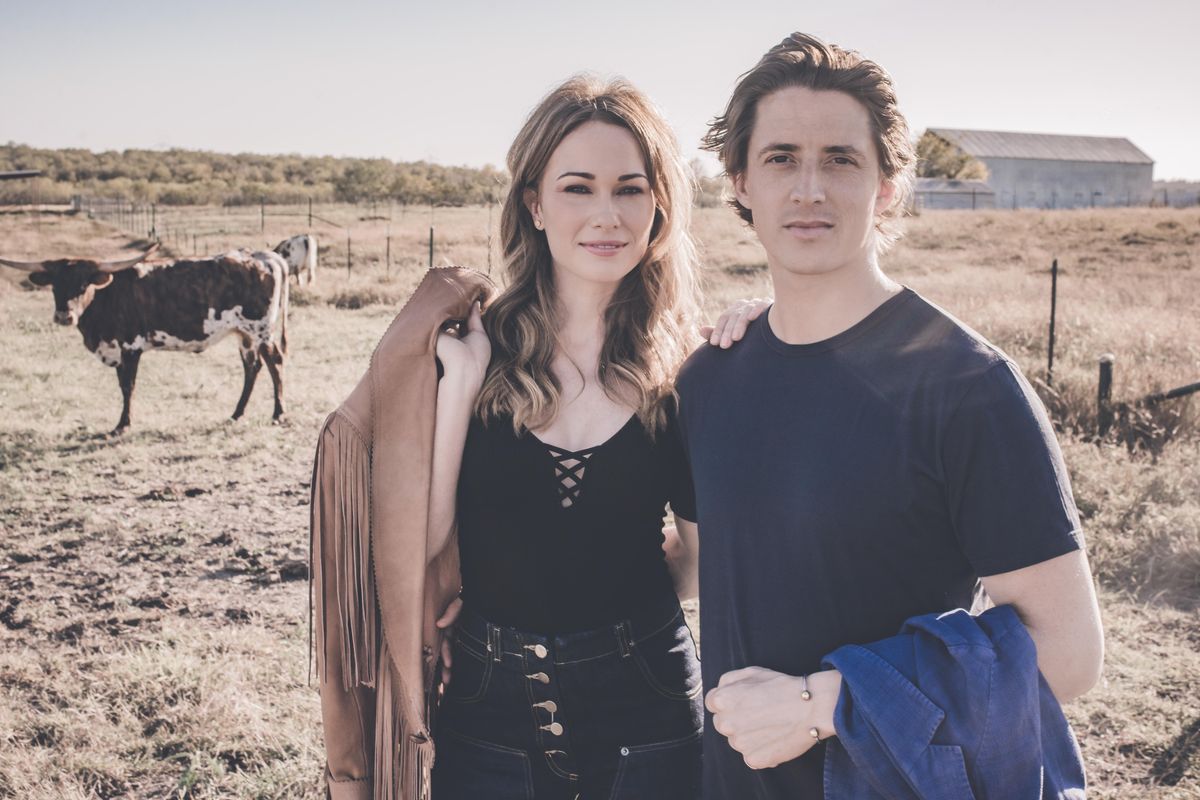 Though soon-to-be-wed couple Kelly Frye and Nick Campbell are the definition of jet-setters—traveling all around the globe, from filming in New Orleans, living it up in Hollywood or hopping across the pond to Campbell's English hometown—the pair has put down roots in Austin.
---
The "Secrets of Sulphur Springs" actress and international fine art consultant Campbell will tie the knot this week in Houston, Frye's hometown, officially starting their new life together in the Lone Star State. Though the couple is looking to buy their own land in Austin, they are currently renting a home in the Travis Heights neighborhood while they navigate the red-hot real estate sphere.
Between Frye's mystery character in "Hypnotic," which was filmed in Austin with Ben Affleck, and Campbell's Austin-based art advisory company making a case for buying local art, the new residents have already made a splash in the city.
So what made this international power couple want to make Austin a home base?
 Frye: It's the Hill Country drives and artistic freedom
Frye has been living in Austin on and off since 2018, the same year she met Campbell, but ever since the pandemic began and auditions went virtual, she's been able to spend more time in her home state.
While she's here, Frye's inner Texan comes out as she explores the many food options on South Congress and greater Hill Country towns like Lockhart for some Black's Barbecue or Fredericksburg for antiquing and wineries. Having spent lots of time in Austin, Los Angeles and New Orleans, Frye likes to pride herself on her tour guide abilities.
"I like getting in there and finding my favorite spots, discovering a city, discovering the neat things that it has to offer, no lenses," Frye said.
Frye said she is fortunate to have been able to keep up her travels despite the pandemic but since relocating to Austin, the local opportunities have come to her: Frye will star alongside Affleck and Alicia Braga in Robert Rodriguez's upcoming feature, "Hypnotic."
Frye said landing a Rodriguez film was one of her top five career goals—so important, in fact, that she left a vacation in Greece less than 24 hours in for the chance to be booked and dyed her signature red hair blonde.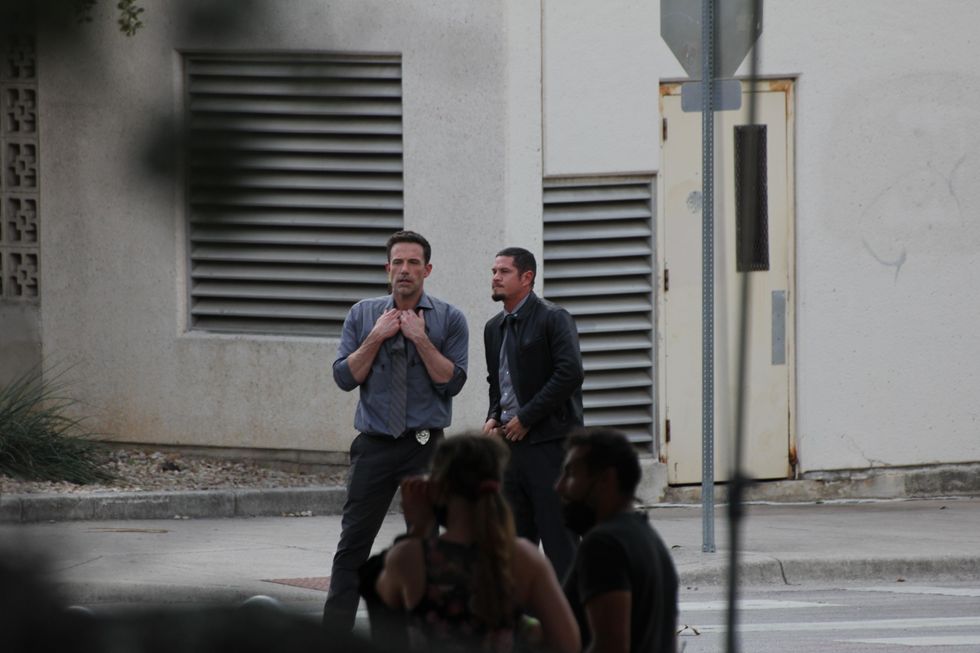 Frye starred alongside Affleck in the new movie, which famously filmed in downtown Austin September-November. (Laura Figi/Austonia)
"('Hypnotic' was) a total dream come true—I was pinching myself," Frye said. "So traveling 37 hours and dyeing my hair blonde was a big moment, but so worth it. (Rodriguez) is a true creative. The people he works with are like extensions of himself as a creative, which is an amazing thing to watch."
Frye wouldn't release many details about her character other than she's "a reveal" and a "boss 'b,'" but the film could be in theaters as early as this summer.

Campbell: Austin is "on the brink of something exciting."
Much newer to town than his fiancée, English-born Campbell said he is still learning the local ropes having only been in Austin for a few weeks but is excited to be part of the city's growth spurt.
"This established, but small, very vibrant, very exciting city is going through this sort of unprecedented state of flux in a very positive way," Campbell said. "It just seems like it's a city that's on the brink of something very exciting, so we wanted to be a part of that."
Campbell comes bearing a new perspective in the art collection industry—he launched Narcissus Arts, an art consulting firm specializing in art under $14,000, or £10,000, in 2010 with the intent of bringing fine art to the masses. Campbell then launched Campbell Art Advisory, based in Austin and Los Angeles, catering to all price brackets in 2018.
"It seemed to me that there was this growing number of friends that had, as it were, smaller resources to put into art," Campbell said. "There was obviously an incredible amount of supply out there but one just needed to know where to look."
Campbell is leveraging his new home base by connecting Texan artists Adrian Armstrong, Shaun O'Dell and Kyle Steed to buyers who can support their endeavors.
"I think that the talent is here, that's very obvious, and they need to be supported," Campbell said. "There are people here who are telling interesting stories that are very talented at telling those stories, and they need to have a light shone on them and should be celebrated."
Reflecting both Frye's love of Houston and Campbell's art profession, the pair plan to get married in the Rothko Chapel this week. They plan on continuing to split their time between here and L.A., so don't be surprised if you spot the pair on South Congress.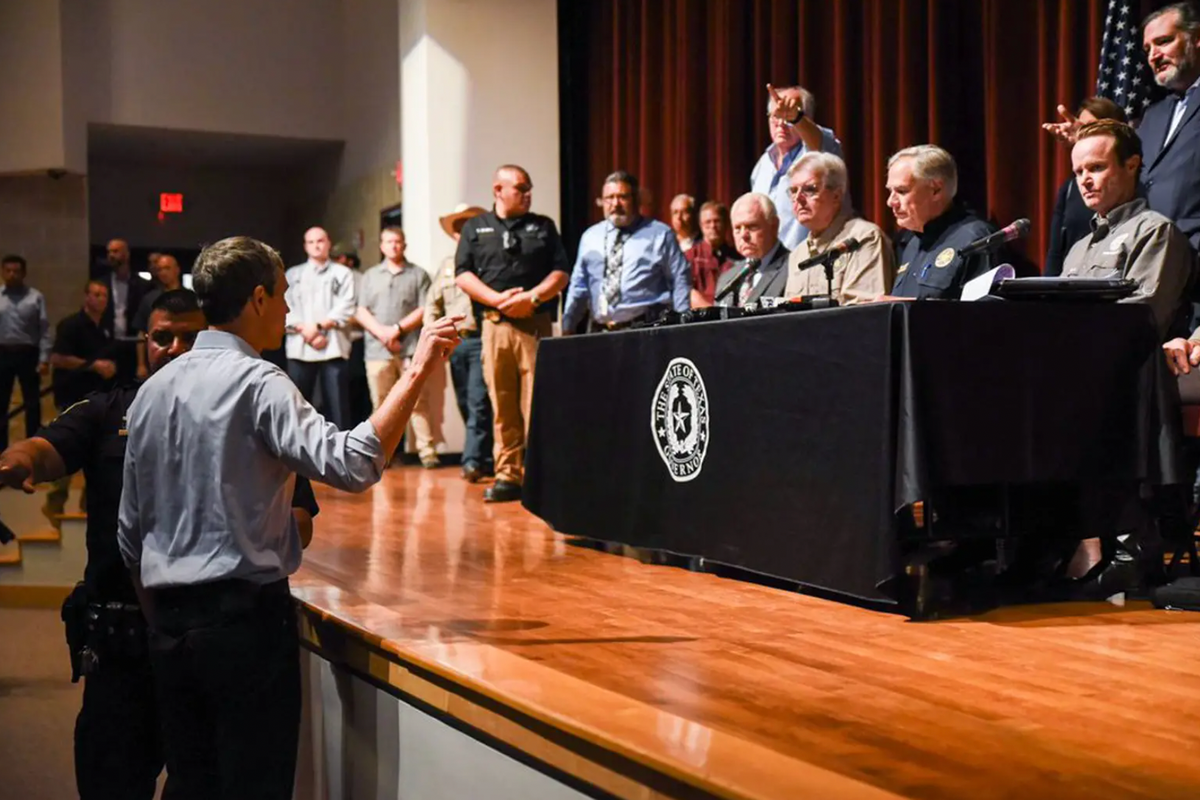 By Patrick Svitek
Beto O'Rourke caused a dramatic scene on Wednesday when he angrily confronted Gov. Greg Abbott at his news conference about the Uvalde school shooting, yelling, "This is on you."
After Abbott was done giving his initial remarks, O'Rourke approached the stage and told Abbott he was "doing nothing" to combat gun violence. He said the Uvalde massacre, in which a gunman killed 19 children and two adults, was "totally predictable."
Some of the Republican officials onstage with Abbott quickly denounced O'Rourke, telling him to go away. Another man onstage used expletives to criticize O'Rourke for interrupting the event. O'Rourke was eventually escorted away amid the unruly scene.
"I can't believe that you're a sick son of a bitch that would come to a deal like this to make a political issue," Uvalde Mayor Don McLaughlin told O'Rourke at one point.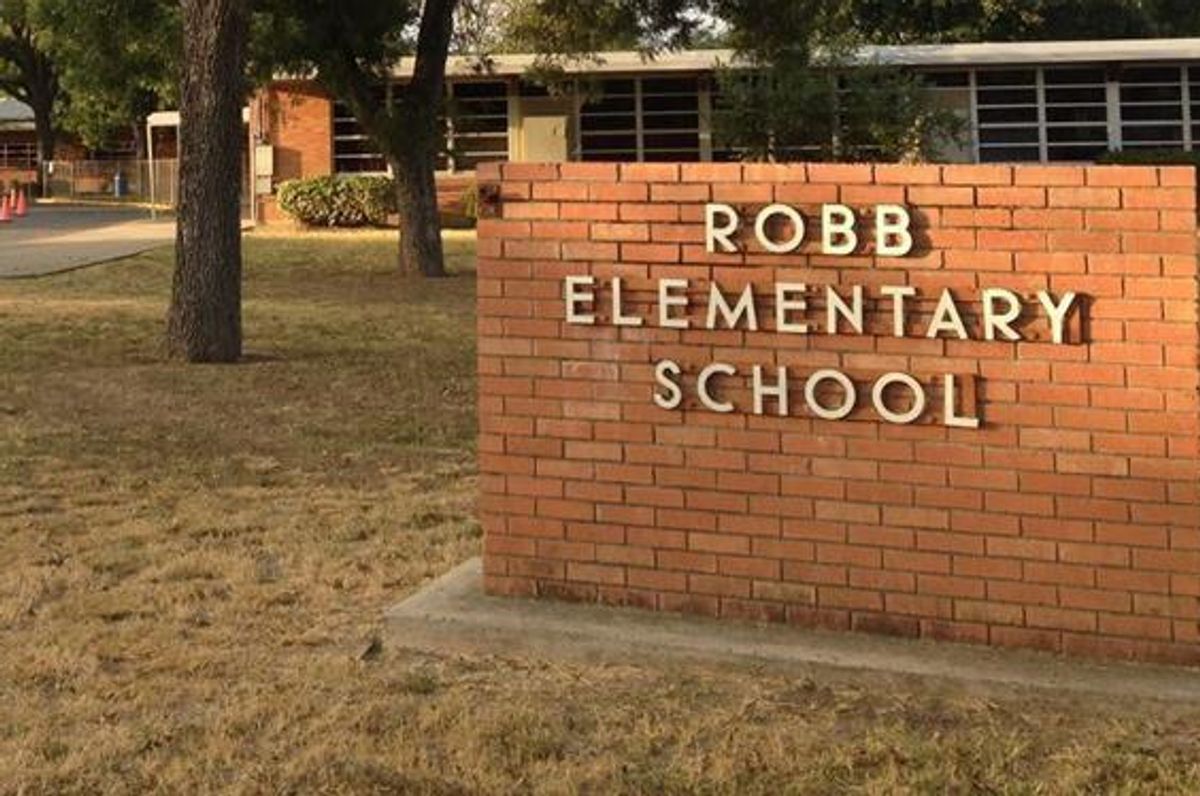 Nineteen kids and two adults are dead after a shooting at Robb Elementary School in Uvalde, Texas—a small town an hour and a half west of San Antonio—on Tuesday afternoon.
Gov. Greg Abbott said the suspect, 18-year-old Salvador Ramos, is believed to have been killed by the police. The Uvalde Police Department said the shooting began at 11:43 a.m. Tuesday.
"What happened in Uvalde is a horrific tragedy that cannot be tolerated in the state of Texas," Abbott said. "He shot and killed—horrifically, incomprehensibly."

Texans are grieving for the victims of this senseless crime & for the community of Uvalde.

Cecilia & I mourn this horrific loss & urge all Texans to come together.

I've instructed @TxDPS & Texas Rangers to work with local law enforcement to fully investigate this crime. pic.twitter.com/Yjwi8tDT1v
— Greg Abbott (@GregAbbott_TX) May 24, 2022
According to University Health Hospital officials, a 66-year-old woman and 10-year-old girl arrived in critical condition. Uvalde Memorial Hospital reportedly received 13 children for treatment and two individuals who were already deceased. At the time, it was believed 14 had died in this shooting.

The shooter prompted a lockdown at the elementary school of just under 550 students, with San Antonio Police sending SWAT, and Eagle chopper and Crime Scene Investigators.
According to White House press secretary Karine Jean-Pierre, President Joe Biden has been briefed on the tragedy and "His prayers are with the families impacted by this awful event, and he will speak this evening when he arrives back at the White House."
At 21 deaths, it is the deadliest school shooting in Texas and one of the deadliest in the U.S. since 26 at Sandy Hook Elementary lost their lives. This is the U.S.'s 213th mass shooting of 2022.