Austonia AM
100% Austin news, info, and entertainment, straight to your inbox at 6 a.m. every morning.
In five minutes, you're fully informed and ready to start another great day in our city.
Get connected with our daily update
(Laura Figi/Austonia)
As if you needed more of a reason to visit local-Austin chain Kerbey Lane Cafe, server Wanwisa "Aye" Sanguanrueang is, literally, drawing some attention.
---
Sanguanrueang has been working at Kerbey Lane, located on 2606 Guadalupe St., for five years now, and it was two years ago that she picked up a hobby that delights: caricaturing.
She started small, only drawing friends or coworkers in the beginning, Sanguanrueang said, until she realized how happy it made other people to receive an impromptu image of themselves.
Then, she started drawing all her customers.
Sanguanrueang was born in Thailand and has been living in the U.S. since 2007. She said her caricatures gave her something to talk to her customers about in a time where she felt uneasy speaking English.
"After I do the caricatures, I feel more connected to the guests," Sanguanrueang said. "At the end, they have a big smile on their face."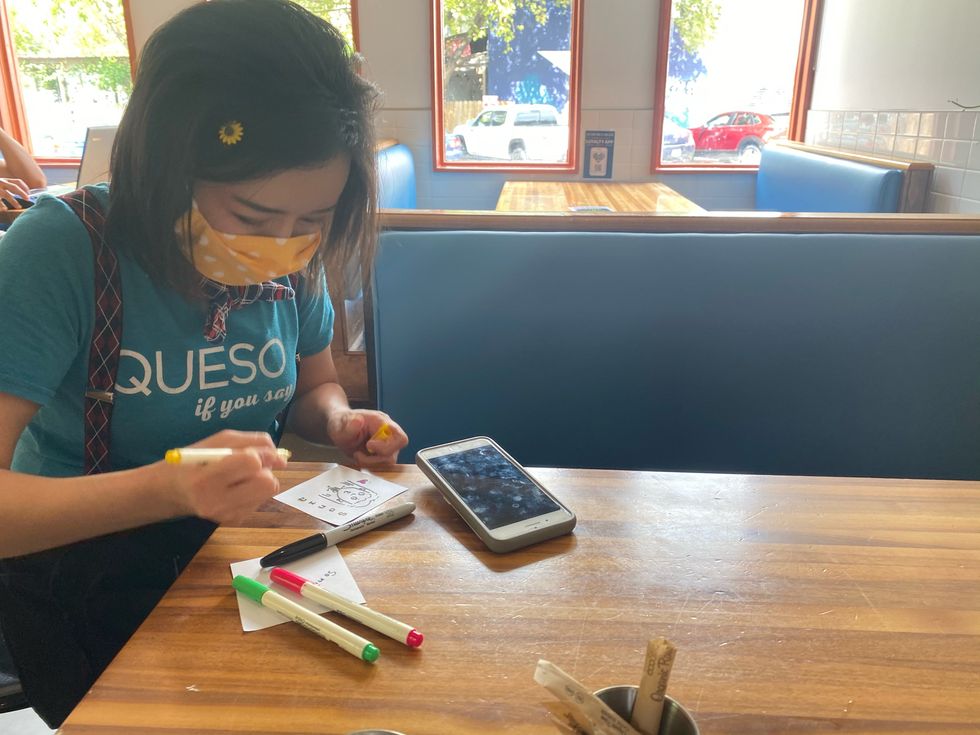 Sanguanrueang said drawing was completely new to her when she started. She originally learned how to draw via YouTube as a mode of self-expression, bit by bit, starting with faces, gradually learning new features as they came up.

Now, she can draw all sorts of things: cats, robots, even airplanes. Each caricature she draws for a customer takes no more than a minute and sometimes she even adds colors or stickers.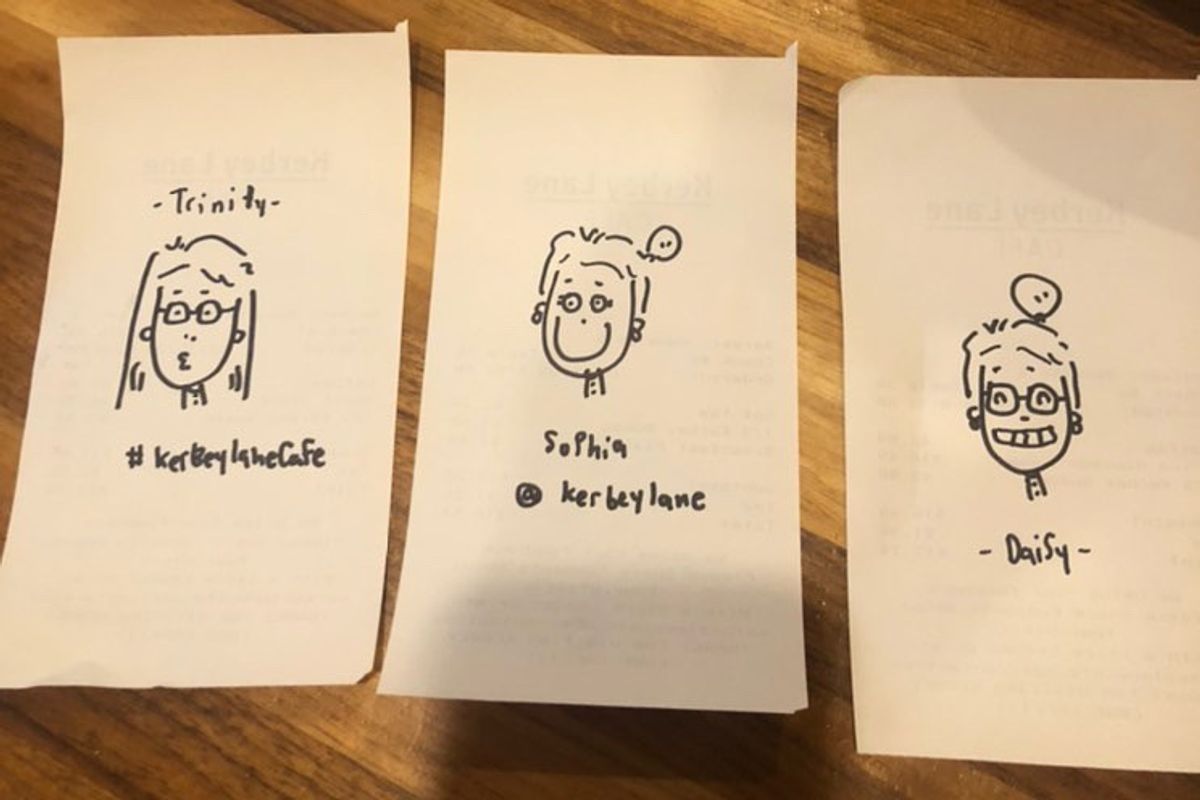 (Sophia Alaniz)
Kerbey Lane customer Sophia Alaniz said she and her friends were instantly obsessed with their drawings, which they all took home with them.

"It was like nothing I've ever experienced at a restaurant," Alaniz said. "I honestly love the idea of a server making their job more enjoyable by making the customer smile extra big."
Associate manager Gabriel Chaligne said Sanguanrueang's caricatures have led to people asking to be seated in her section, bringing her more business.
"I think it shows that we encourage our staff to go the extra mile for the guests," Chaligne said. "People seem to love it."
In addition to Kerbey Lane, Sanguanrueang can also be found giving out caricatures at Haru Sushi, 9503 Research Blvd., and Haru Ramen, 2525 W. Anderson Lane.
Sanguanrueang said she is very grateful to work at places and with friends who support her creativity and she even has a wall dedicated to caricatures of all her coworkers.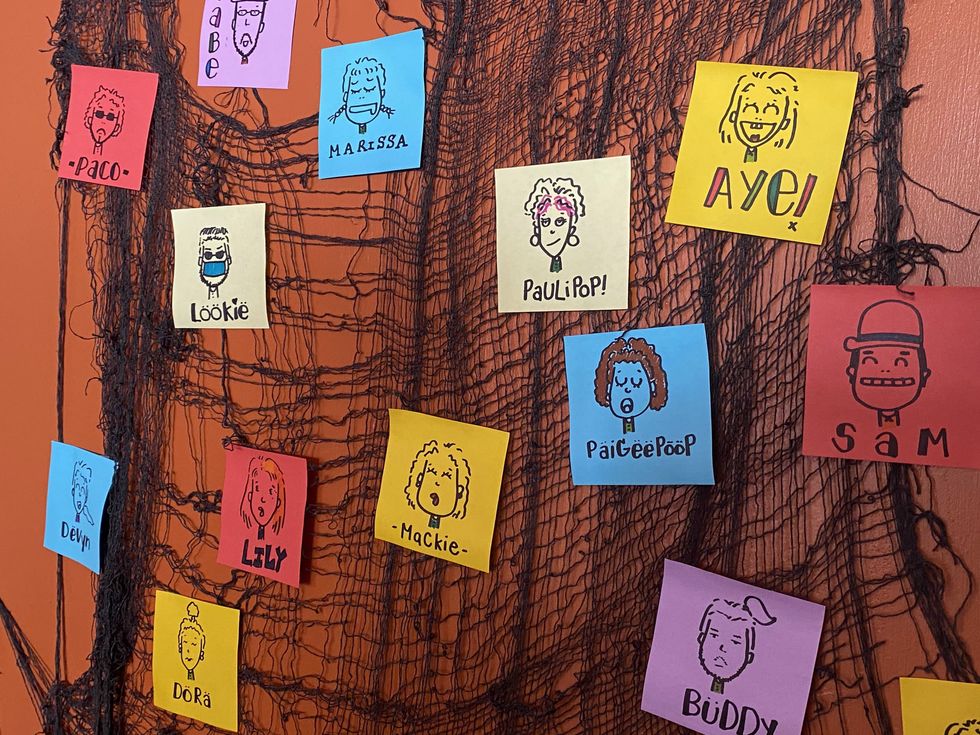 (Laura Figi/Austonia)
"I've worked at many restaurants before but this is the best place to work," Sanguanrueang said.

Sanguanrueang frequently features her work on Instagram, under the username @sarang_aye_yo.
After reaching Stage 4 last week of Austin Public Health's risk-based guidelines, Austin-Travis County is now at the Stage 5 threshold with a seven-day average of 50 hospitalizations and dwindling ICU capacity.
While unenforceable under Gov. Greg's Abbott order against local mandates, vaccinated individuals are asked to choose drive-through and curbside options, outdoor activities, social interactions with limited group sizes, as well as social distance and wearing masks indoors. Partially or unvaccinated individuals are asked to avoid gatherings, travel, dining and shopping, choose curbside and delivery options, as well as wear a mask on essential trips.
Flashing back to early-pandemic times, hospitals are at critical capacity—the 11 county Trauma Service Region of 2.3 million people is fluctuating at 16 staffed beds, according to APH.
In a statement on behalf of Ascension Seton, Baylor Scott & White Health and St. David's Healthcare, a spokesperson said that hospitals are asking residents to "help us and each other" by getting vaccinated and continuing to utilize safety practices to slow the spread of the virus.
According to the statement, a "longstanding" nurse staffing challenge combined with the recent COVID-19 spike is putting "extraordinary pressure" on hospital systems.
Along with the unmitigated spread of the virus in unvaccinated, the more contagious Delta variant is also to blame for the spike in cases. The seven-day moving average of COVID hospitalizations in the Austin area reached the Stage 5 threshold of 50 on Friday, triggering local health officials to ask residents to take action.
Local hospitals have a "surge plan" that includes utilization of "all available patient care space and employees within our hospitals and in other settings" that will go into effect when capacity is hit, according to the statement.
The hospitals are working on sourcing supplemental staff and emphasized that emergency care will still be available but it may involve patient transfers "in order to provide the most appropriate care."
Healthcare systems have hit this threshold previously during the pandemic: the city held an alternate care site at the Austin Convention Center from January to March of this year.
"Our responsibility during this pandemic continues to be balancing our readiness to care for patients with COVID-19, while making sure patients who depend on our hospitals receive needed and timely care," the statement said. "We do not want to see necessary non-COVID care delayed as it was during the early stages of the pandemic."
This story has been updated to after publication to include that Austin has reached the Stage 5 threshold.
Ingredients:
1 1/12 oz sweet pepper-infused Tito's Handmade Vodka
3 oz soda water
1 oz grapefruit juice
1/2 oz lime juice
1/4 oz simple syrup
Directions: Add all ingredients, except soda water, to a shaker with ice. Shake and strain into a glass over fresh ice. Top with soda water and garnish with a mint sprig.
Austin legend Willie Nelson will perform at the Texas Capitol today, his first large performance since the pandemic began, closing out a four-day long march across Central Texas to build support for federal voting protections.
Organized by The Poor People's Campaign, the march began in Georgetown on Wednesday and will end with a 10 a.m. rally at the Capitol featuring appearances from former U.S. Congressman Beto O'Rourke and Rev. Dr. William Barber.
Willie Nelson (with Charlie Sexton & friends) will play a free concert at the Poor People's Campaign march for democracy & justice in Austin this Saturday! https://t.co/zZSA0BpbWA

Sign up to join us and see Willie at 10am Saturday: https://t.co/KrDPIFIvST
— Beto O'Rourke (@BetoORourke) July 29, 2021
The rally calls on Congress to "stop attacks on democracy" by ending the filibuster, pass all provisions of the For the People Act, restore the 1965 Voting Rights Act, raise the federal minimum wage to $15 per hour and pass permanent protections for all 11 million undocumented immigrants.

Nelson denounced election law proposals gaining traction in red states, such as Senate Bill 1 and House Bill 3 in Texas, which 55 House Democrats foiled by fleeing to Washington, D.C., on July 12.
The bills would require additional ID verifications for mail-in ballots, allow partisan poll watchers "free movement" and prohibit elections officials from sending absentee ballot applications to voters who didn't request one.
"Laws making it more difficult for people to vote are unAmerican and are intended to punish people of color, the elderly and disabled," Nelson said. "If you can't win by playing the rules, then it's you and your platform–not everyone else's ability to vote."
The march is in the spirit of the Selma to Montgomery March of 1965, led by Dr. Martin Luther King Jr., which protested the blocking of Black Americans' right to vote by Jim Crow laws.