Never miss a story
Sign up for our free daily morning email...
...and afternoon text update
Get connected with our daily update
(Laura Figi/Austonia)
As if you needed more of a reason to visit local-Austin chain Kerbey Lane Cafe, server Wanwisa "Aye" Sanguanrueang is, literally, drawing some attention.
---
Sanguanrueang has been working at Kerbey Lane, located on 2606 Guadalupe St., for five years now, and it was two years ago that she picked up a hobby that delights: caricaturing.
She started small, only drawing friends or coworkers in the beginning, Sanguanrueang said, until she realized how happy it made other people to receive an impromptu image of themselves.
Then, she started drawing all her customers.
Sanguanrueang was born in Thailand and has been living in the U.S. since 2007. She said her caricatures gave her something to talk to her customers about in a time where she felt uneasy speaking English.
"After I do the caricatures, I feel more connected to the guests," Sanguanrueang said. "At the end, they have a big smile on their face."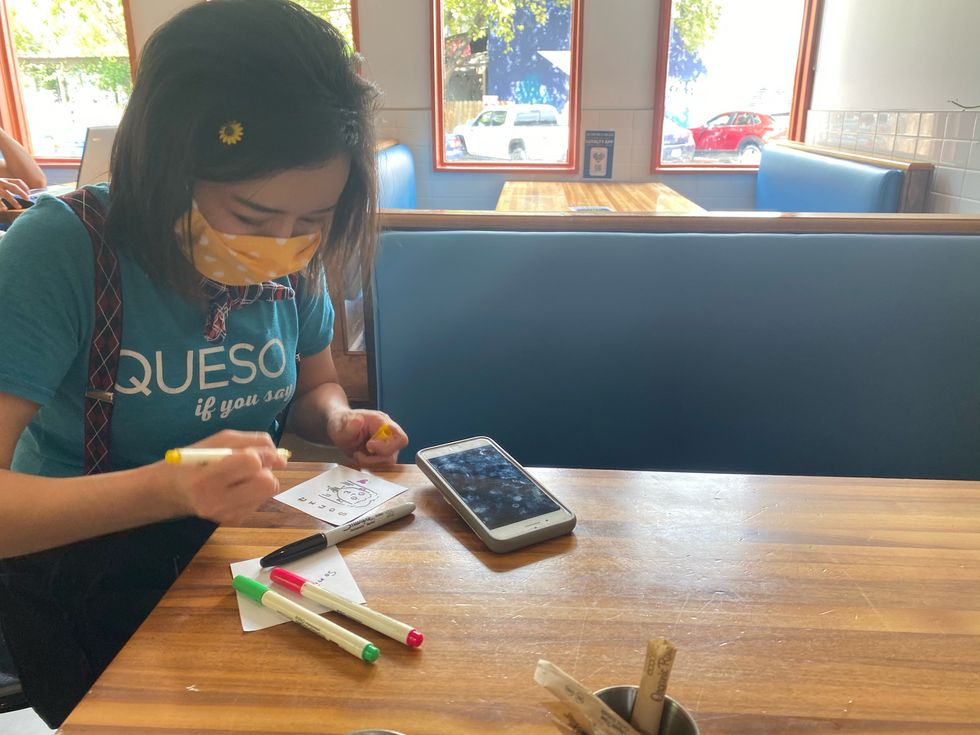 Sanguanrueang said drawing was completely new to her when she started. She originally learned how to draw via YouTube as a mode of self-expression, bit by bit, starting with faces, gradually learning new features as they came up.

Now, she can draw all sorts of things: cats, robots, even airplanes. Each caricature she draws for a customer takes no more than a minute and sometimes she even adds colors or stickers.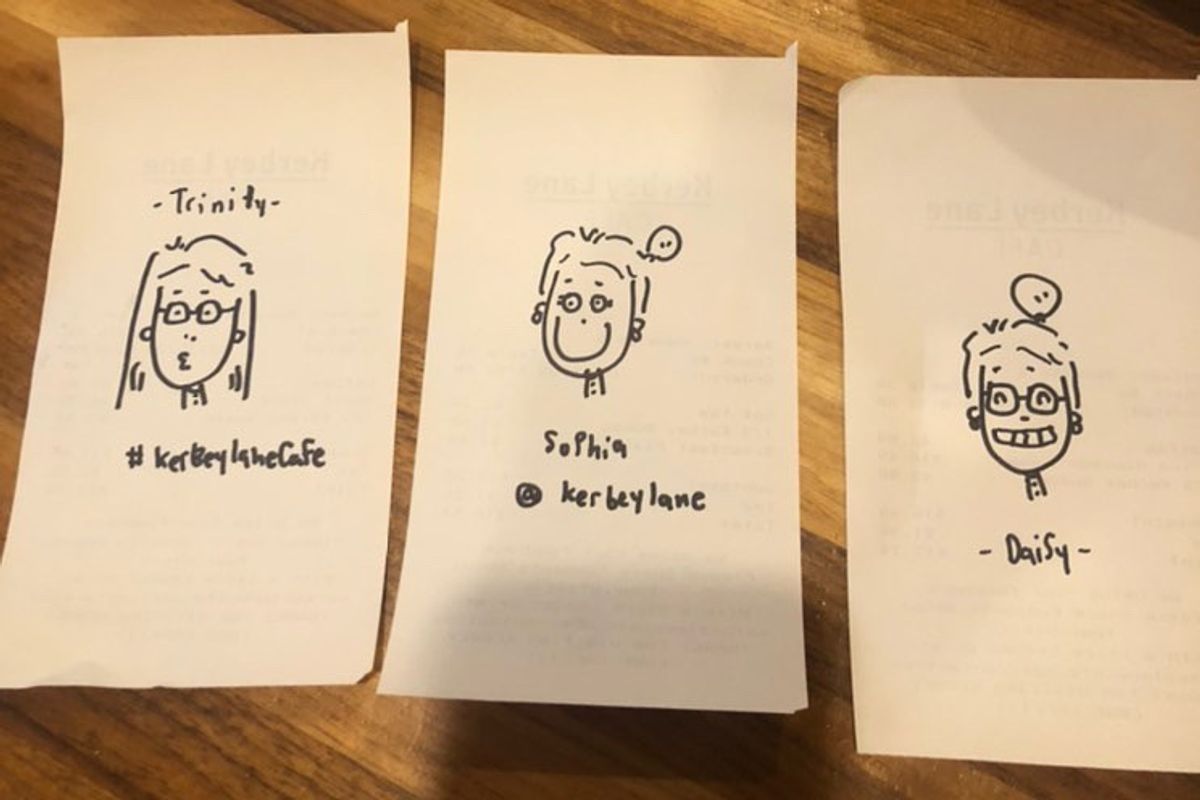 (Sophia Alaniz)
Kerbey Lane customer Sophia Alaniz said she and her friends were instantly obsessed with their drawings, which they all took home with them.

"It was like nothing I've ever experienced at a restaurant," Alaniz said. "I honestly love the idea of a server making their job more enjoyable by making the customer smile extra big."
Associate manager Gabriel Chaligne said Sanguanrueang's caricatures have led to people asking to be seated in her section, bringing her more business.
"I think it shows that we encourage our staff to go the extra mile for the guests," Chaligne said. "People seem to love it."
In addition to Kerbey Lane, Sanguanrueang can also be found giving out caricatures at Haru Sushi, 9503 Research Blvd., and Haru Ramen, 2525 W. Anderson Lane.
Sanguanrueang said she is very grateful to work at places and with friends who support her creativity and she even has a wall dedicated to caricatures of all her coworkers.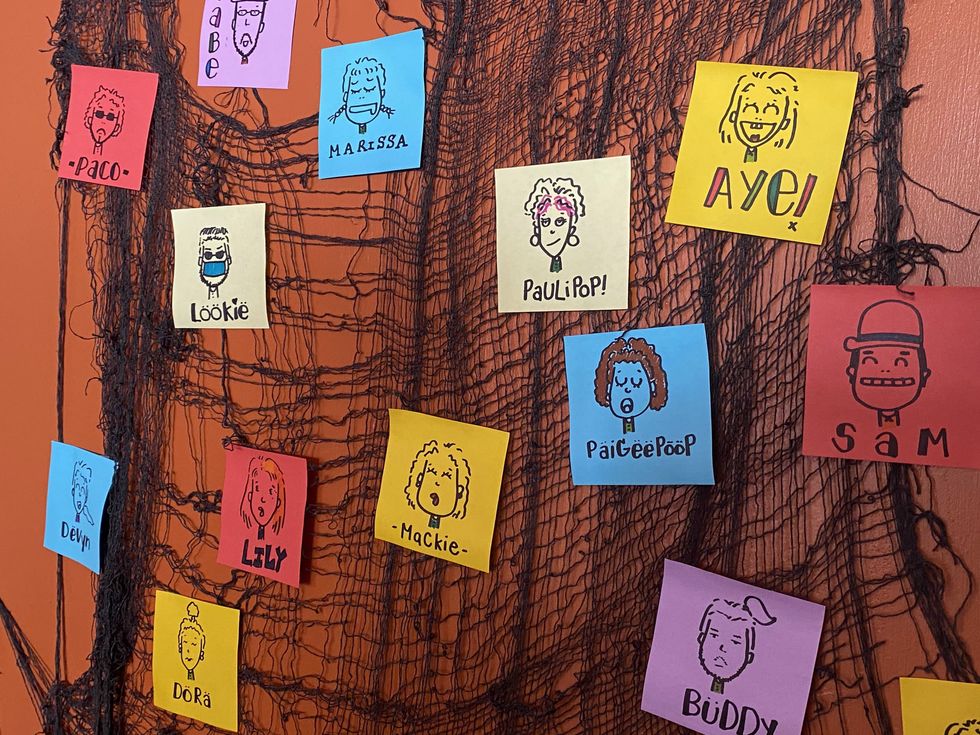 (Laura Figi/Austonia)
"I've worked at many restaurants before but this is the best place to work," Sanguanrueang said.

Sanguanrueang frequently features her work on Instagram, under the username @sarang_aye_yo.
First score made by LAFC. (Sonia Garcia/Austonia)
Austin FC couldn't find the stamina to fight off a 2-0 loss against LAFC for their inaugural match on Saturday.
The match, which saw No. 21 Austin FC go head-to-head with No. 2 LAFC in Los Angeles, was broadcast nationally on FOX and FOX Deportes.
Eleven players took the stage as Austin FC players for the first time, with five starters making their MLS debut. "Ringleader" Alex Ring took the captain's armband and wore it well. The defensive midfielder could be seen leading his teammates through their first ever match, but it wasn't enough to stage an Austin takeover in LA.
In the signature style of Head Coach Josh Wolff, the team played with quickness and intensity, nearly connecting on several fast breaks. It was harder for them to stay in front, however, something that Wolff credits with quick decision making and a tough LAFC defense.
"We have a quick attacking team, but I think when you make quick attacks and it fizzles it's just about some decision making," Wolff said. "Are we in position to finish attacks? If not, can we reestablish our attack and get stuff better?"
The club was given some generous breaks from No. 2 LAFC, who had one or both of their star DPs out for the half. While forward Diego Rossi is out for the entire match due to a hamstring injury, Carlos Vela was accidentally pulled too soon on what turned out to be a miscommunication.
"He gave us the sign that he needed to come off," LAFC Head Coach Bob Bradley said on broadcast. "I can't say more than maybe it's my fault."
LA pulled some dramatics and slowly gained more possession throughout the half, but ATXFC's defense wasn't initially as shaky as it seemed in preseason. Jhohan Romana has pulled his weight in getting the ball out of goal, and a 34-year old Matt Besler held his own in center back.
As the second half commenced, however, it became clear that LAFC had the advantage over Austin's first major league team.
Goalkeeper Brad Stuver had his work cut out for him, fending off 24 shot attempts, 11 of which were on goal. He didn't have much time to prepare, either: in the first 30 seconds of play, Stuver had already made a save to keep the match 0-0.
LAFC finally connected in the 61st minute of play as Corey Baird shot one into the bottom right corner. The team capitalized off their momentum and put one past Stuver a second time, drawing roars of approval from the LAFC crowd.
While some last-minute attempts from Jon Gallagher and others were made, Austin FC didn't have the endurance to bring a tie. After seven additional minutes of stoppage time, the club lost their first match 2-0.
While the scoreboard tells one story, Wolff said that the team did well considering the skill of LAFC and the pressure of their club debut.
"We've got to be realistic," Wolff said. "This is the first time this organization has been in front of TV with an opportunity to show itself and I think there were some promising moments. And we're going to maximize those and continue to try to develop those, but there's lots to build on."
The team may have lost, but it still won the support of thousands of Verde fans, dozens of which made it to watch their team's first match. When Stuver and the team made it to bthe stadium, Los Verdes fans were already there to show support, and Stuver said his wife saw the same back in Austin.

"The moment that we pulled into the stadium, we saw Black and Verde fans cheering us on as we got to the stadium," Stuver said. "During warm up, you can just look around and see different groups sitting in different sections of the stadium and it's just truly amazing to see the support in our first game. We know that we want to give the fans everything, because this we play for the city and we play for them."