Get connected with our daily update
On his Sunday show, HBO's news commentator John Oliver came down on local news organizations, including Austin's KVUE, for trading credible advertising for a pretty penny.
In a setup to show how easy it is to get what he called "ridiculous products" with "outlandish claims" on TV, Oliver creates a phony product called The Venus Veil, "a sexual wellness blanket." He hires an actress to promote it on three TV stations, including KVUE.
The product, which is in reality a normal blanket, makes various claims about the use of nonexistent "magnetogenetics" technology. The script states the technology was pioneered in Germany 80 years ago and gets the blood flowing, fixing erectile issues and improving vaginal lubrication.
---
Showing after the 10 p.m. Thursday news broadcast on FYI Austin, the TV station allegedly accepted $2,650 for the promo, according to Oliver. (18:20) A KVUE reporter spoke with the Venus Veil acting representative who gave a spiel about the "self-contained magnetic field" that the blanket gives to restimulate blood flow, to which the KVUE reporter responded, "very interesting."

"Is it interesting? Or is that obvious bullshit that shouldn't have been on in the same hour of coverage as the cease-fire in the Middle East, a shortage of lifeguards in local public pools, and an investigative piece on criminal justice and bail reform. One of these things is not like the others and is definitely a Nazi-era fuck blanket," Oliver said.
The response from the local community is already showing disappointment in the local station on social media.
A KVUE spokesperson issued the following comment to Austonia: "'FYI Austin' is a two-minute commercial spot that is not a part of the KVUE newscast. While it is a commercial spot, it was an error to air it, and we are reviewing our processes, so this doesn't happen again."
"Last Week Tonight with John Oliver" also exposed local stations, Utah's ABC 4 and Denver's Mile High Living, in not protecting viewers from baseless claims made by advertisers such as the made-up Venus Veil.

Sponsored content allows local organizations to integrate ads among other reporting, making it difficult to detect, especially when the Federal Communications Commission does not have specific requirements for how content is labeled sponsored. According to Oliver, media groups including KVUE parent, TEGNA, Scripps, Nexstar and Sinclair all have sponsored content programs.
While local organizations can make a lot of their revenue from this—Oliver says KXAN parent company NEXSTAR makes almost half its advertising revenue from spots aired during local news—Oliver says news organizations shouldn't sell themselves out when it could hurt their credibility.
"The integrity of local news is crucially important and there is real harm for everyone if that integrity is damaged," Oliver said.
This story was updated at 12:50 p.m. to include comment from KVUE.
Heading to Q2 Stadium? Four months ago, it would've been tough to do so without dropping a pretty penny, but by mid-September, season ticket holders were clamoring to sell their seats for as little as a $10 beer.
While Austin FC continues to sell-out crowds—their most recent match was at capacity despite their record and scheduling conflict with a Texas Longhorns game—demand has dipped as new factors continue to pull down prices.
Austin FC's rocky season has been met with unbridled fan support, but it's also lost that honeymoon-phase traction as they fell to the bottom of the standings, faced a third COVID surge and were met with school, work and good ol' Texas football.
On Sept. 15, Austin FC fan Tanis Olvedo was willing to strike a deal: two beers for a ticket.
Although he later sold at cost to another season ticket holder, many fans have seen the value of their season tickets take a serious dip. By Wednesday, Sept. 15, tickets that were once no lower than $36 had dropped to as little as $14.
Austin Anthem member Phil Stanch used his accounting skills to map out the dip in his ticket sales prices.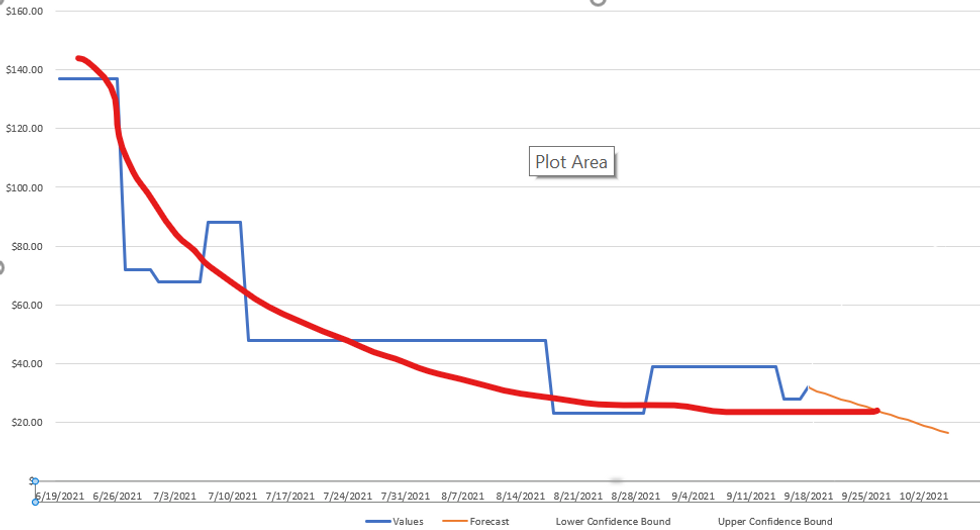 Phil Stanch found that the predicted value of his season tickets (in orange) will continue to trend downward. (Phil Stanch)
Here are the main reasons why fans say Austin FC's ticket prices have taken a tumble:
COVID
Austin FC's first home game on June 19 seemed like perfect timing—by June 16, 51% of Travis County residents were fully vaccinated. Mid-May saw Austin lift its risk-based guidelines to Stage 2 for the first time since the pandemic's onset just in time for the brand-new Q2 Stadium to open at 100% capacity.
But with the third surge sending Austin back into Stage 5 and hospitalizations skyrocketing in late summer, some diehard fans reluctantly began opting for the couch over a 20,738-capacity stadium.
That safety-consciousness comes tenfold for parents of young children who are still ineligible to get vaccinated, at-risk fans and the older population.
School starting and unvaccinated kids. That's why we haven't gone in a while. We are season ticket holders, so we have just given ours away to friends and coworkers that can go.

— jae (@jae98342926) September 23, 2021
Austin has stuck to capacity and hasn't added any masking or testing requirements, garnering some criticism from fans.
I stopped going because of the COVID surge. I tried to sell my tickets a couple of times and they didn't move. Then I decided to eat them to make space. Not happy the club didn't create a mask or vaccination requirement.

— Ruben Cavazos (@rcavazos) September 24, 2021
School
Just as the surge reached its peak in mid-August, schools across Austin once again opened in-person, leaving many families unable to go to late-night games on weeknights. Ten of the club's 17 home games have been on Wednesdays, Thursdays or Sundays—days that have quickly transformed into "school nights."
With 9-5ers unable to justify 8:30 p.m. weeknight games and kids tucked in bed by 10, fewer fans have been able to make their way to the games.
And with school comes another conflict of interest- tried-and-true Texas football is fully underway, and though Sept. 18 saw a sold-out crowd, a few Verde seats were left empty as the two teams played at home at the same time for the first time.
A combo of a number of things:
- Wednesday or Sunday games that end around 10pm are not appealing to people with jobs or kids.
- Being in last place hurts, no matter how passionate people are about the team. Nothing on the line.
- This is still Texas, and it's football season.

— Tom H (@hallockitup) September 23, 2021
Results
While COVID and fall responsibilities have played a factor, Austin FC is also dealing with the unfortunate reality of being a last-place team.
Season ticket holder Doug Mayo was one of the 4% of season ticket holders who didn't renew his deal with the team. Once confident that he would easily sell the coveted tickets for their original price, the team's record plummeted alongside his own ticket prices. Mayo said that the team's 5-4-16 record caused their honeymoon phase to end prematurely.
"The newness wore off fast," Mayo said. "Nobody wants to go to a sporting event when it's 99% certain the team they support will lose."
For Mayo, it'll take a better record and more passionate play on the field to get him back in the 20,000-member season ticket waitlist.
"Mainly (I want) them to start acting more like a professional team," Mayo said. "We were so excited to have something to look forward to throughout COVID and it's just been a disappointment."
I've been a big supporter in general, I went to 4 games in the first half of the season, but no amount of "fan camaraderie" makes me want to spend $30-40 to see a team that plays without heart. And that's bc the last game I saw we actually won (albeit Houston was down a man).

— Brown and in Austin (@DisraelTV) September 23, 2021
Still other reasons abound: some fans say it's those $10 beers themselves that cause prices to dip, while others say tickets were overpriced in the first place. Although Austin FC says 96% of season ticket holders decided to renew for 2022, many did so with a grain of salt, including longtime fan Shawn Collins.
"I have tickets in 110 (the Lexus Club) and even when the demand was crazy high I couldn't get face for my tickets because they were so high to begin with," Collins said. "When I got them I figured I'd make back what I paid on games I couldn't attend."
Austin FC's dip in ticket sales may be more of an MLS problem than a unique issue: gameday employee and University of Texas sports business student Ben Patterson said that prices shot up due to pre-season excitement and are now at more normal levels.
"The initial hype of finally having a pro sports team is likely what drove up season ticket prices at the start of the year," Patterson said. "Now that excitement has cooled off, ticket prices have dropped in value steeply."
But while five straight losses are enough to drive at least some fans away, plenty are committed to staying Verde through thick and thin.
It might not be easy being green, but thousands of fans are now enjoying the benefits of $20 tickets as they continue to pack Q2.
In May, Circuit of the Americas chairman Bobby Epstein looked back on 10 years of Formula 1's U.S. Grand Prix at COTA confident that the race would be here to stay in Texas. But sources tell Austonia that securing another contract may be in jeopardy.
Some insiders worry that COTA's 2021 Grand Prix race might be its last.
The multi-day fest from Oct. 22-24 will include a 56-lap race over the 3.3-mile track, food and musical performances from two acts, including Billy Joel at COTA's 1,500-acre facility in Southeast Austin. But after this year, the U.S.' first F1-specific track could lose its headline event.
The facility's inability to secure a contract thus far comes down to the Texas Legislature, a new threat in Miami, and, most importantly, money.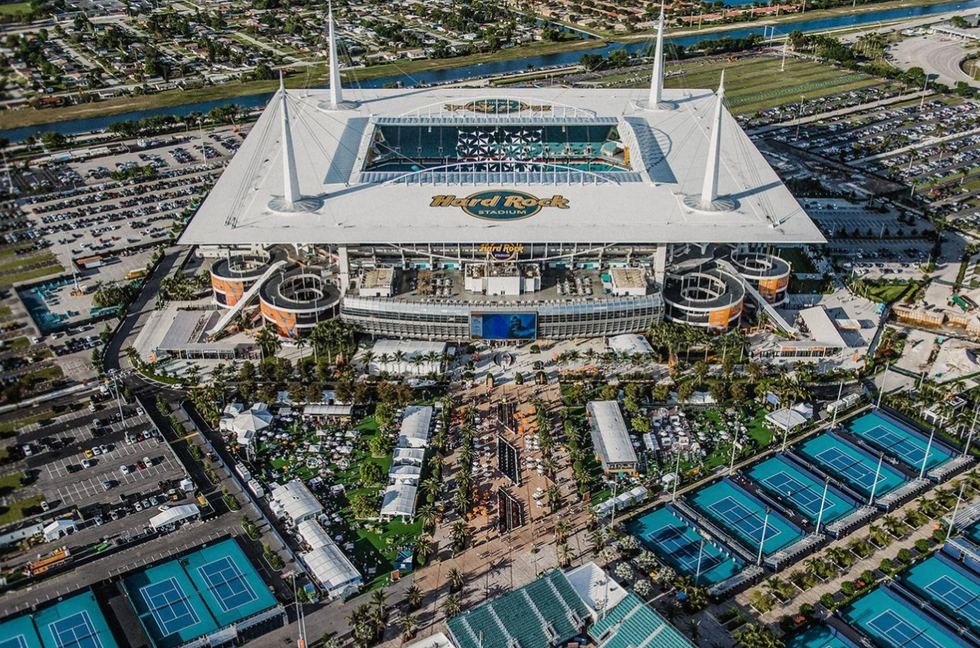 The first F 1 race will take place in Miami next year. (Hard Rock Stadium)
Every year, Formula 1 receives roughly $25 million from Texas' Major Events Reimbursement Program, a taxpayer-funded initiative that helps bring big sporting events like 2017's Houston Super Bowl to the state. A 2019 report by the Reimbursements Program on that year's race said the "data is inconclusive" on if the event has a positive or negative economic impact on the state with the resources given. In 2018, the Austin-American Statesman reported that COTA had brought back a total of $75.7 million between 2015 and 2017 for hosting the U.S. Grand Prix.
Legal issues have also barred Epstein and Co. from securing another 10-year contract earlier: in 2018, the company lost its yearly $25 million bid after failing to submit a human trafficking prevention plan as part of its yearly application.
That same year, F1 managing director of commercial operations Sean Bratches told the Associated Press that the organization hopes to stay at COTA "for many years to come."
However, in May, the racing league announced that it had secured a 10-year contract to hold the Miami Grand Prix as American interest in the sport soared following the three-season "Drive to Survive" documentary, which gives behind-the-scenes looks at drivers and races of the Formula One World Championship.
Epstein is optimistic about the new U.S. location and told Autoweek in May that "more races in our time zones are good for the sport."
"I think we're getting double the impact this way," Epstein said. "Miami should sell out huge the first year and maybe the second year and then after that, I think we'd be spitting audience if we were around the same time on the calendar. So the spread is fantastic."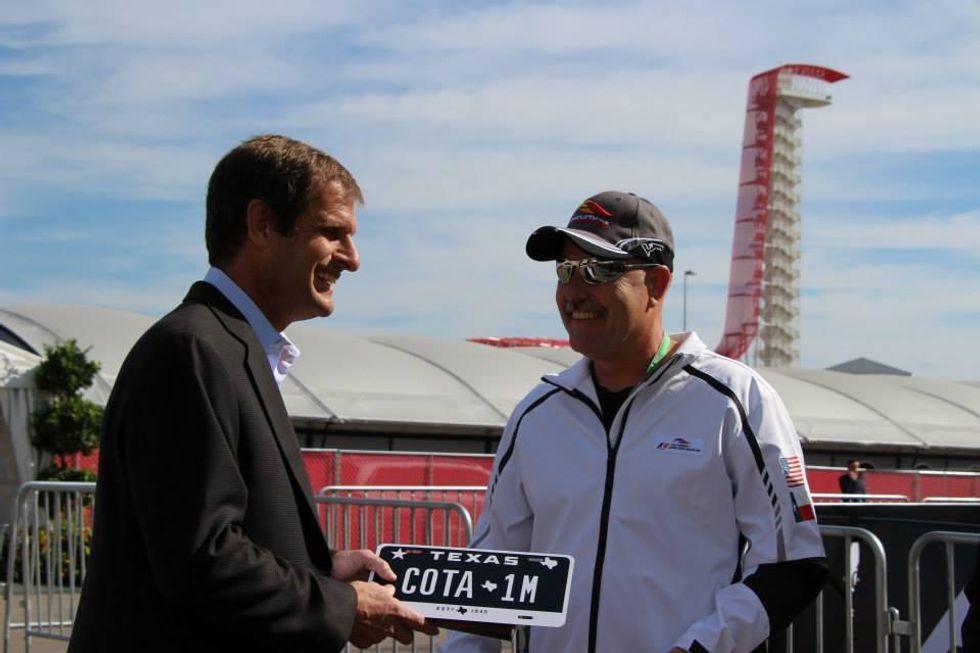 Bobby Epstein recognizes the 1 millionth customer of COTA in 2013. (COTA/Facebook)
The new F1 venture may impact COTA's contract, however: in an opinion piece for the Fort Worth Star-Telegram, writer Mac Engel said Texas is unlikely to fork over taxpayer money if the facility is no longer the only F1 track in the U.S.
According to Engel, the Major Events Reimbursements Program agrees to provide funding only "if Austin holds the only F1 race in the country."
Epstein hasn't addressed such claims; by contrast, he feels as though there's room for a third race in the U.S. as ticket sales rebound after COVID.
"In the first week, we sold pretty much all the tickets we put up for sale and we plan to break the 2019 attendance record," Epstein told Autoweek. "Texas was the first place to lift COVID-19 restrictions (in the U.S.) and put on sporting events, and we're full. We're at 100% capacity.
Despite ventures to diversify revenue at COTA—Epstein's USL soccer team Austin Bold has seen its own share of troubles, and the facility plans to develop into a multi-faceted entertainment arena complete with music venues, a waterpark, condominiums and an 11-story hotel—a loss of its primary event could be devastating for the $300 million complex.
F1 has rarely lasted more than a decade at venues in the U.S. over the last century; let's hope Austin breaks that curse.
COTA's media relations team did not immediately get back to Austonia for comment.