Get connected with our daily update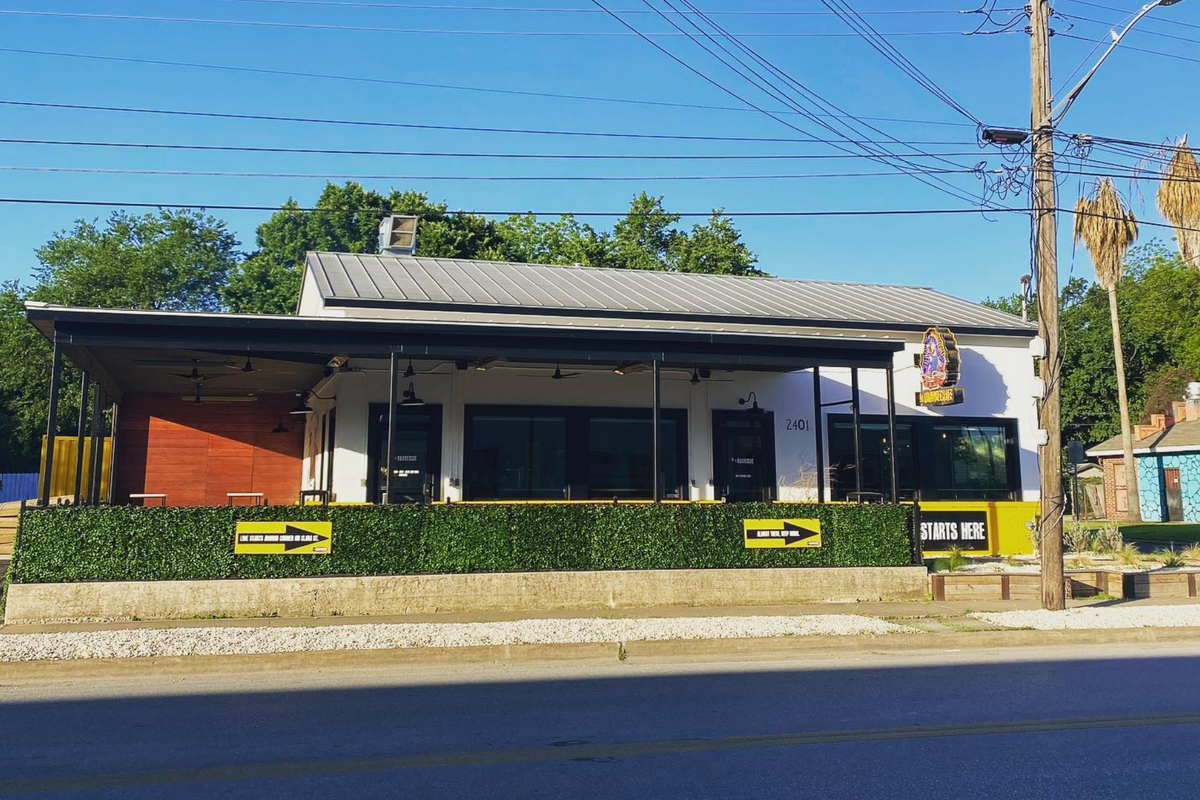 East Austin restaurant la Barbecue has been robbed a third time in less than three months, according to a post on the restaurant's Instagram.
---
In the post, the restaurant included photos of what appeared to be a man exiting a minivan from surveillance footage.
"This guy pulled up in a car full of stuff… he ripped our gate open and stole a couple empty kegs," the post said. "The ring system scared him off so he did not venture back into the area. PLEASE EVERYONE ON THE EAST SIDE BE CAREFUL!!! This guy goes back into his car to grab something before he goes in. I am hoping he won't be back!!"
The robbery comes as many restaurant and food truck owners have been on guard from recent break-ins. East Austin cheesesteak truck R&B's Steak and Fries has also been robbed three times in around three months, according to owner Kris Elliott. Elliot said the truck was last robbed around a month and a half ago.
"When the weather gets cold, it seems like these things start to happen more often," Elliott said. "We're just happy no one got hurt."
Additionally, he said all 5 of the food trucks in their lot have experienced burglaries. The landlord of the space is taking action by investing in alarm and camera systems. "Been very tough dealing with this problem as us small business owners are just trying to survive during the pandemic," Elliott said.
And it's not just in East Austin. North Austin restaurants Eldorado Cafe and Chez Zee Bistro were both broken into and robbed on the weekend of Jan. 8, while over a dozen food truck robberies and break-ins were reported in the latter half of 2021.
Some, like Chez Zee's Deborah Velasco, wonder if the understaffed Austin Police Department's decision to no longer respond to non-emergency calls is part of the problem. Xose Velasco, owner of East Austin's Discada, said owners are keeping their guard up in the wake of the robberies as he was robbed twice within a month of reopening in November 2021.
"We try to keep the lights on," Velasco said. "We're a little bit more careful."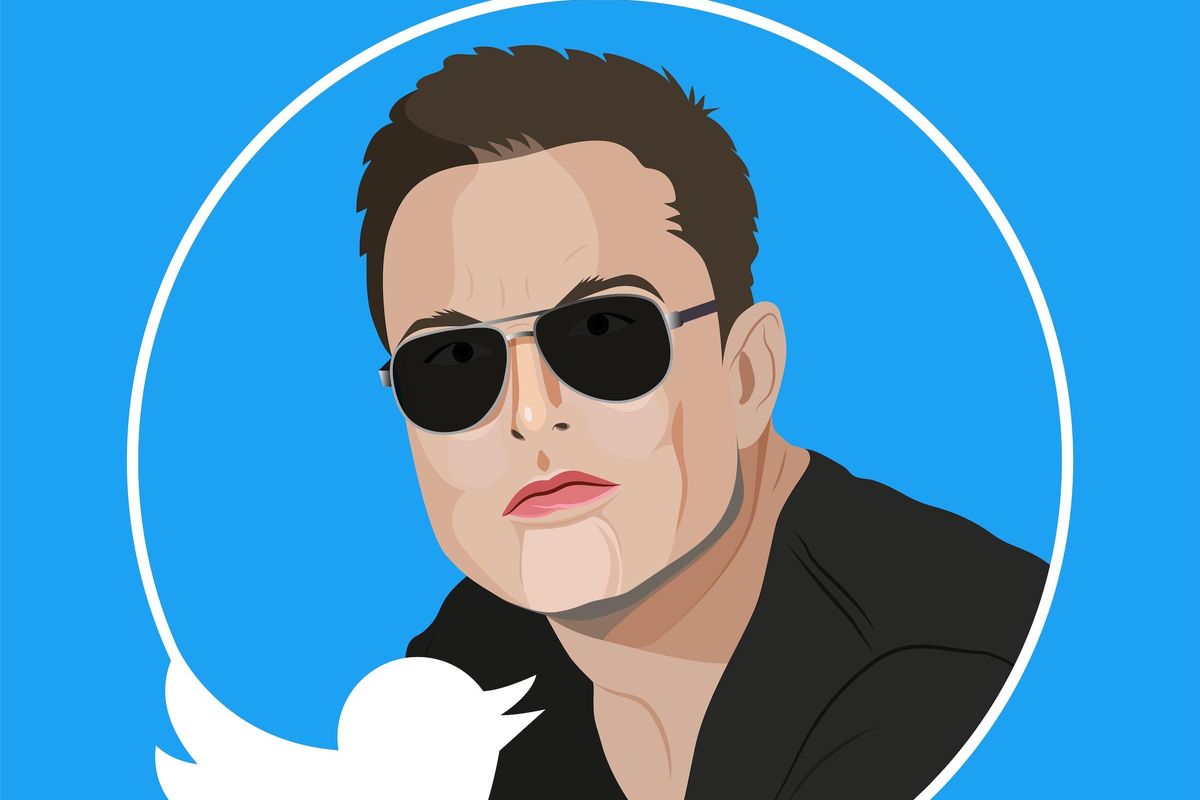 Shutterstock
Elon Musk has proposed once again to buy Twitter for $54.20 a share.
The news that Musk is offering to carry on with the $44 billion buyout was first reported by Bloomberg. Now, a filing with the Securities and Exchange Commission shows Musk made the proposal in a letter to the tech giant on Monday.
The New York Stock Exchange temporarily halted trading in Twitter stock twice Tuesday, first because of a big price move and the second time for a news event, presumably the announcement of Musk's renewed offer.
While the per share offer price on this latest proposal remains the same as the original offer, it's unclear if Musk has made other term changes or if Twitter would reject it. According to other reports, a deal could be reached this week.
The stock closed at $52.00/share Tuesday, indicating market uncertainty around the $54.20 offer.
After Musk informed Twitter of plans to terminate the original agreement in July, Twitter sued. A trial has been expected in Delaware Chancery Court on Oct. 17.
With the proposition of a buyout on the table again, it revives the question of whether Musk might move Twitter from San Francisco to Central Texas.
He's done so with some of his other companies. Tesla's headquarters in southeast Travis County had its grand opening earlier this year and tunneling business The Boring Company moved to Pflugerville. At least two other Musk companies, SpaceX and Neuralink, have a Central Texas presence without being headquartered here.
Technology journalist Nilay Patel this afternoon voiced concerns that owning Twitter and Tesla together could be problematic for Musk, as his Tesla manufacturing facilities in Germany and China are both in countries that have disputes with Twitter over content moderation and censorship.
Telsa shares fell after the Twitter news became public, before rallying to close up, at $249.44.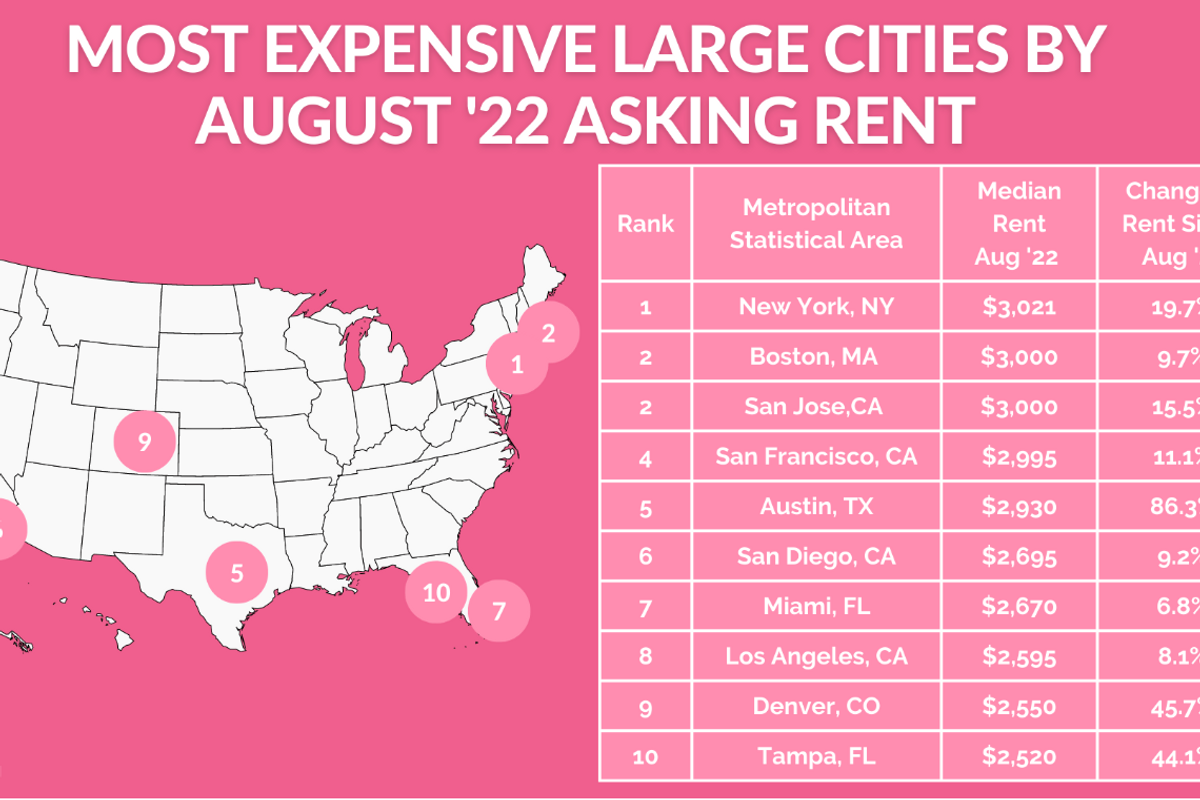 Dwellsy
While searching for a place to live, Austin renters will face monthly rates of nearly $3,000, a recent guide from rental marketplace Dwellsy shows.
The median rent in August this year was $2,930, a more than 86% increase since August 2021. That's $820 more than the nationwide median asking rent in August and puts Austin just below the Bay Area, Boston and New York for large cities with the most expensive asking rent.
"Within this group, Austin, TX stands out for the highest increases in asking rent, which has nearly doubled since this time last year," the study notes.
Outside of those large cities, however, others are seeing even higher rent spikes. Metro areas that ranked above Austin in one-year increases include those like Kansas City, MO with a 112% change in rent since last August and Tucson, AZ with a 124% change.
The data reflects large apartment communities, single-family homes and 2-6 unit buildings.