Get connected with our daily update
(Tom Wolf/CC)
COVID-19 has overtaken accidents as the third-leading cause of death in Travis County, despite improvements in testing and treatment since March.
"When we hit 517 (COVID deaths), it will surpass accidental death as the third-leading cause," Austin-Travis County Interim Health Authority Dr. Mark Escott said Monday.
As of Monday, 522 people have died of the disease locally, according to Austin Public Health data.
---
Nationally, COVID is the leading cause of death, killing more Americans than cancer, heart disease or drug overdoses—with a daily death toll equivalent to the 9/11 attack, which killed 2,988 people, according to a Dec. 17 article published in the Journal of the American Medical Association.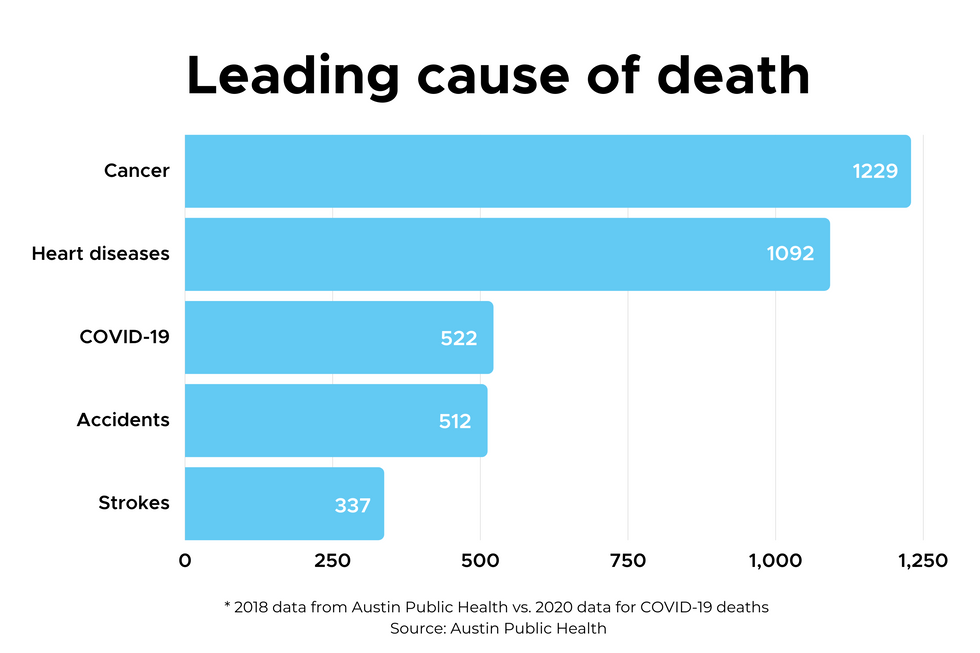 The disease is also spreading more quickly than ever in Austin, with more active infections than at any other time during this pandemic.

At the beginning of the pandemic, inadequate testing resources meant that the COVID case-fatality rate—defined as reported deaths per confirmed cases—was likely significantly higher than the official record. But nine months into the pandemic there have been improvements.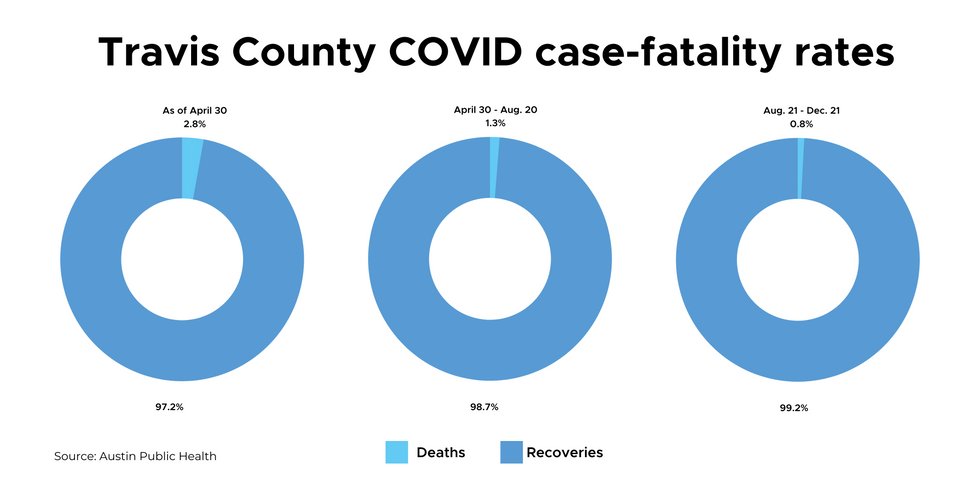 "Our case data and death data are a lot more reliable," said Dr. Mark Hayward, a sociology professor at the University of Texas at Austin who studies morbidity and mortality. "The testing, especially in Travis County, has really ramped up."

As a result, the reporting—of the number of confirmed cases as well as of COVID-related deaths—is much better than it was at the beginning of the crisis.
There have also been improvements in how local doctors treat COVID patients, both because they are more familiar with the disease and because they have more treatment options—including convalescent plasma, monoclonal antibodies and antiviral drugs such as remdesivir—in their arsenal.
Despite this progress, community spread is picking up—and holiday gatherings have prompted local, state and national health officials to worry that the current surge could be the pandemic's worst.
"All in all the news is not good, even though we have these improvements in the case-fatality rate," Hayward said.
Other concerns include the indirect and long-term consequences of COVID, as well as how the disease has exacerbated existing inequities.
"All health is political," Hayward said, pointing to North and South Dakota, which have recently led the country in COVID deaths and where Republican lawmakers have waited to impose—or avoided entirely—a mask mandate and stay-at-home orders.
Hayward expects the disease to be responsible for many deaths indirectly, such as in cases where a person avoided the hospital for fear of contracting the disease and instead died at home of a heart attack. He also worries about the more than 17 million people in the U.S., including more than 40,000 in Travis County, who have recovered from COVID.

"It's kind of like adding a frailty component," he said. "You've been through a war, so to speak."
What this means for other conditions—such as dementia and cardiovascular disease—remains to be seen, but Hayward believes it will be one of the first questions doctors ask patients when it comes to their health history.
"It's going to be a big risk factor for a variety of disease outcomes," he said.
Terry Black's Barbecue is journeying outside of the smoked meats sphere and into the hospitality sector, announcing plans to open "Friday Mountain," a resort-style vineyard near Driftwood.
According to a report from the Austin Business Journal, Friday Mountain will be located on 64 acres at 150 Concord Circle, featuring a boutique hotel with 22 rooms, a 14-acre vineyard and a 20,000-square-foot underground wine facility, a spa, event space, all-day café and high-end restaurant. Construction is poised to start in the next month.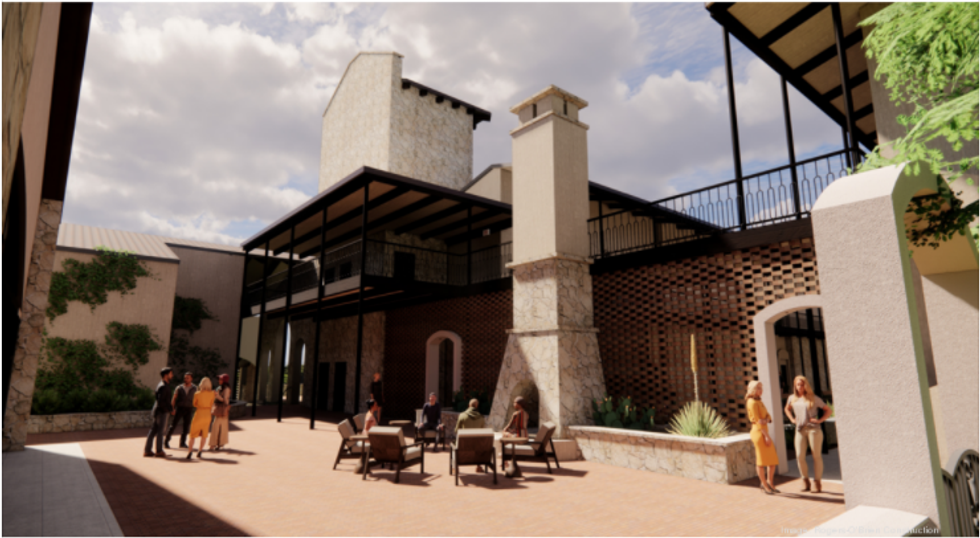 The courtyard outside of the event space will echo Hill Country architecture. (Rogers-O'Brien Construction)
Co-owner Mark Black said he expects construction to last about 10 months, hoping for opening early next year, and would hire around 140 employees: 60 full-time and 80 part-time.
The new project has long been in the works for the restaurateurs—including Mark's twin brother Mike and sister Christina—who come from the same lineage as those behind Lockhart's Black's BBQ but separated the business due to a falling out within the family.
Friday Mountain was originally planned to be a wedding venue but issues arising about noise, traffic and environmental concerns led the Dripping Springs City Council to ask for updated plans.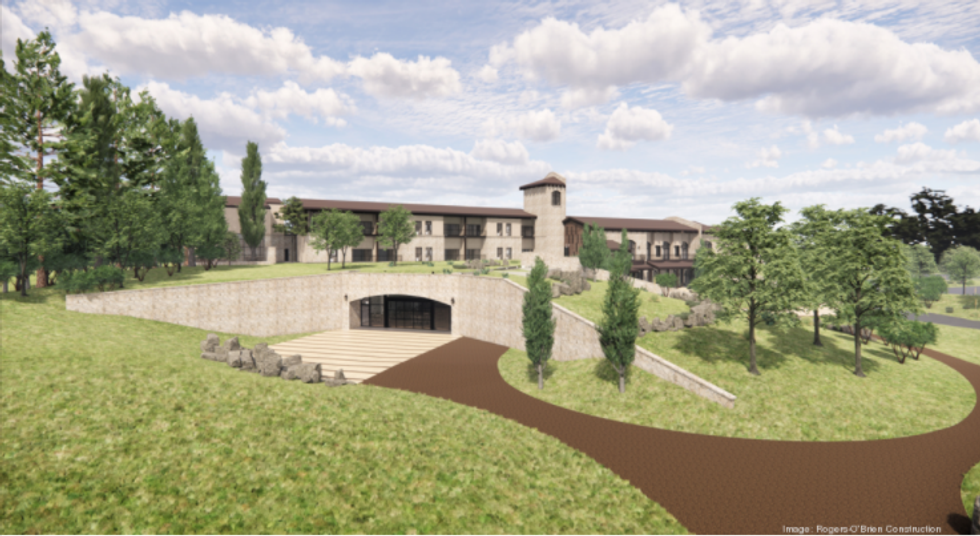 A rendering of the entrance to the planned underground wine cave. (Rogers-O'Brien Construction)
In the new plans, which have since been submitted, Black said he heard the neighborhood's concerns and is focusing on working with the right contractors to avoid issues. Black said he knows not everyone will be on board with the venue but that it will provide a little something for everyone.
To bring the concept to life, Black is partnering with engineers at Kimley-Horn and Associates Inc., architects at Lawrence Group, and Rogers-O'Brien Construction Co. Ltd. as the general contractor.
As for the vineyard, Black has partnered with Salt Lick Cellars to have wine aged and ready to drink wine upon opening and will hand off wine making operations to enthusiast Phil Price.
According to a Texas Department of Licensing and Regulation filing, the project will cost an estimated $20 million to be completed in January 2023.
From Your Site Articles
Related Articles Around the Web
The Texas French Bread Bakery, located on 2900 Rio Grande Street, has been completely destroyed after a fire erupted on Monday night.
The Austin Fire Department responded to the fire just before 11 p.m., where they arrived to see flames coming from the roof of the bakery. Firefighters fought the fire for about an hour before the roof collapsed.
While no one was injured in the fire, firefighters say the historic building was completely totaled.
AFD determined that the fire was accidental and caused by mechanical failure. AFD said the damages amounted to $1.6 million total: $1.1 million in structural damage and $500,000 in damage to the contents of the bakery.

This year, Texas French Bread will celebrate 40 years of business. Before the bakery occupied the building, it was the Rome Inn, a music venue that hosted 1970s artists like Stevie Ray Vaughan.