Never miss a story
Sign up for our free daily morning email...
...and afternoon text update
Get connected with our daily update
(JP Morales)
You can live in a piece of history and work of art, all without leaving the luscious Hill County. That is, if you're willing to part with $17.5 million.
Located in Spicewood, off the Pedernales River, Retreat at Lick Creek Lodge is a six-bedroom, eight-and-two-half bathrooms architectural marvel designed by John Covert Watson, a native Austinite, UT-graduate and Frank Lloyd Wright apprentice, in 1993. A prominent American architect, Wright's expansive career spanned seven decades. He focused on a philosophy called "organic architecture," seeking to create buildings that looked harmonious with nature and did not disrupt the environment.
The home, marketed by Kuper Sotheby's International Realty, clearly shows Wright's influence with a hyperbolic paraboloid roof, mixed materials and an organic architecture design that is styled to blend in against a nearly 30-acre backdrop of Central Texas nature. With 12,002 square feet, the home is more than just what meets the eye.
You'll keep your visitors cozy in their own private guest house with a winding pathway to the main house. The inside invites warmth and tons of natural lighting, thanks to the high ceilings and expansive glass walls that surround almost the entire perimeter.
This house makes it so you would never have to leave, featuring a library, home gym, yoga room, movie theater, steam shower, hair salon and its very own elevator. Once you're tired of spending the day cooped up inside, you can head out to one of the home's many balconies.
Follow the carved pathway up to the secluded private pool with limestone details, where you can either lounge on the wrap-around sundeck or gaze at the attached waterfall. If you prefer to swim in nature's pool, this riverfront house is just a short walk away from the shore.
If that still isn't enough, take a walk down memory lane at the Retreat, where musicians like Billy Joe Shaver, The Flatlanders, Kinky Friedman, Pat Green and more have performed for audiences of more than 250 people. How's that for live music?
For those who live on a budget, Austin's growth can be a source of stress. It's hard to imagine living on $1,000 a month, but if I can do it, then anyone can.
While in college at Texas State University in San Marcos, I held a few jobs, ranging from unpaid intern to retail cashier to newspaper editor, none of which paid more than peanuts. From 2017-2019, I had a $9 an hour retail job, and I raked in a little less than $1,000 per month.
With a little bit of creativity and budgeting talent, here's how I would make $1,000 per month work in Austin: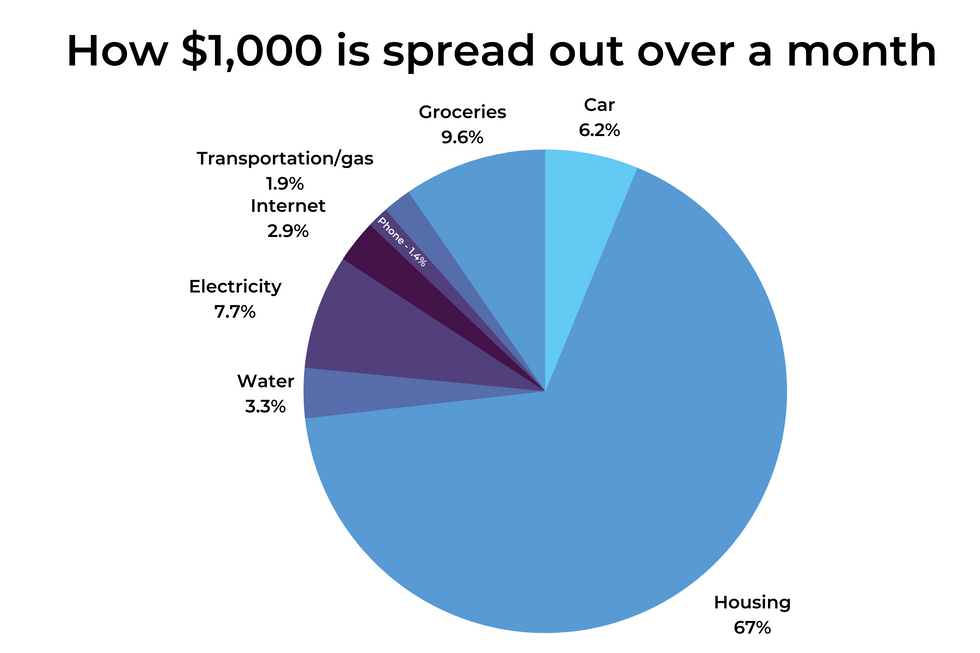 (Laura Figi/Austonia)
Housing
When you're only working with $1,000 per month, most likely you will end up spending close to 70% of your income on rent and the rest on other necessities, with little leftover.
While I lived in San Marcos, I was able to split a two-bedroom apartment with just one other person, slashing the $850/month rent and roughly $100 utilities in half. Rent at $850 for a two-bedroom might be hard to find in Austin, so consider moving outside the Austin metro area if you have reliable transportation to the city (I'll address transportation further down). Otherwise, a breakdown of cheaper neighborhoods to apartment shop at in Austin can be found here.
Tips for low-cost living:
Find a roommate—or two or three—to cut the cost of rent.
Avoid rent-by-the-room leases as they tend to favor the landlord. Instead, you'll want to sign a joint-lease agreement, so rent is split 50/50.
Try not to sign a lease during the summer—that's the busiest moving season and you're more likely to get a better deal in fall or winter.
Don't use electricity if you're not in the room and try to keep your water usage down.
If you conserve, you preserve valuable cash. A breakdown of essential costs: water at an average of $35 per month, electricity averaging at $65-100 depending on the season, internet can be found for as cheap as $30 per month and cell phone service as cheap as $15. If you can find a living situation that will pay one or more of your utilities, like I did, it will put that much more money back in your pocket.
Transportation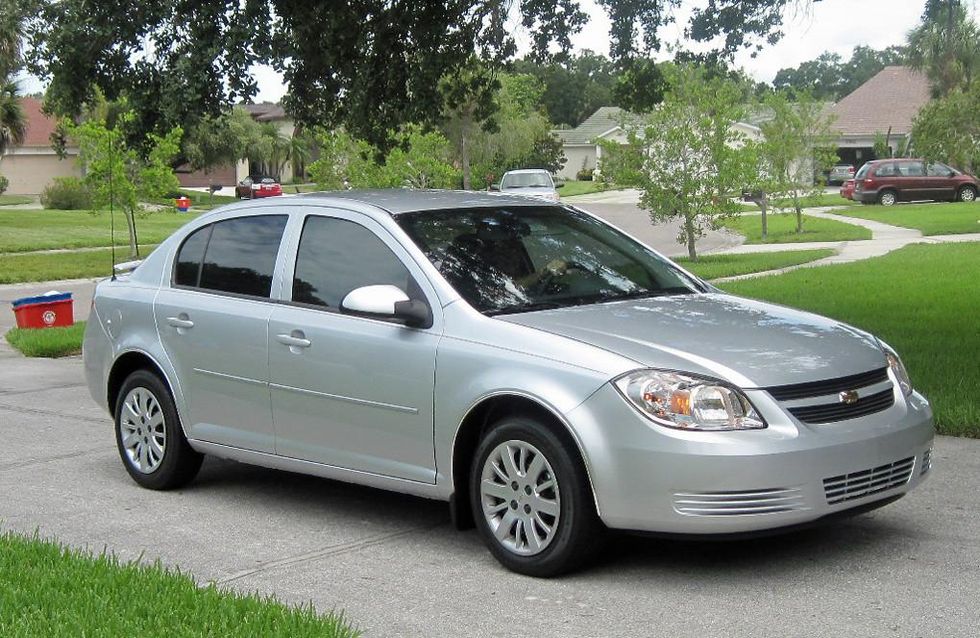 (Roger W/CC)
A car payment is simply not doable under this budget. So you'll need to make do with the car that was gifted to you or you paid off in full, especially if you're planning on living just outside the city. If you're a biker, that's also a cost-efficent way to get around—especially with Austin being a bike-friendly city. Otherwise, there's always public transportation to get you around.
I paid off my 2009 Chevrolet Cobalt when I bought it and tried to drive as little as possible to avoid having to pay for yet another tank of gas. If you choose to drive, insurance can be as low as $65 per month and a single tank of gas costs around $25.
Austin's Capital Metro offers bus and rail services from Downtown to Leander with various routes and stops. A 31-day bus pass will cost $41.25 at the most reduced rate, which equates to how much one might spend on car fuel.
Food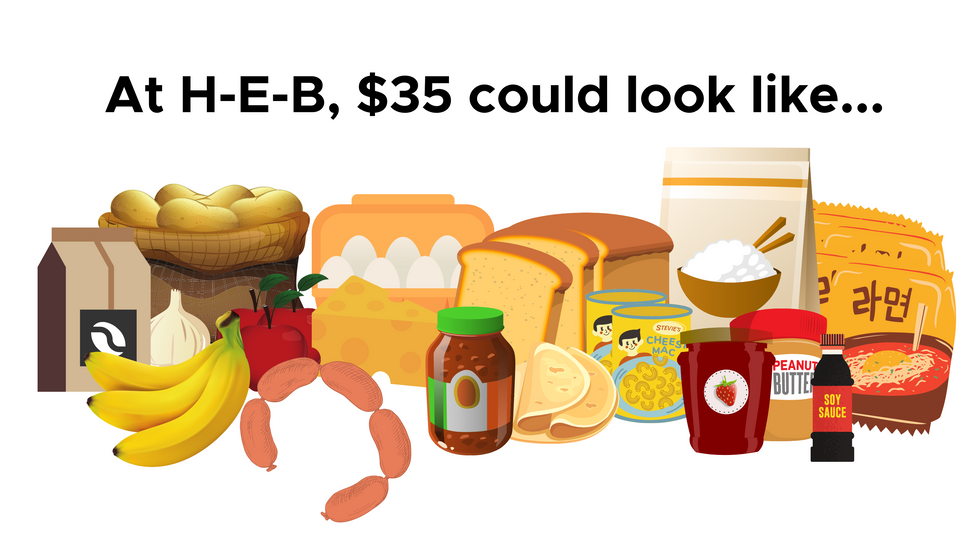 (Laura Figi/Austonia)
With only between $35-105 left for food, you will need to maximize how you shop. Buy what is on sale and try to limit your perishables to what you can consume before they spoil. It seems self-explanatory but 30-40% of food is wasted in the U.S., which equates to about a pound per person, per day.
I buy foods I know I like so that money doesn't go to waste. I'm a firm believer in eating breakfast every day, so my mornings usually started with some tea and something light. I'm not much of a cook so quick and easy food is my go-to. I buy food that can be enjoyed in a variety of ways so I never have to get tired of them—if you keep anything in stock, make sure it is spices and sauces.
Rice is incredibly cheap, versatile, can be eaten for every meal and it isn't uncommon for me to do so. And for protein, a bag of frozen chicken thighs can be found at your local grocery store for less than $5, and it'll last you days with various ways to cook it.
Unfortunately, eating out isn't something that can be done often so when I do, I enjoy it!
Buying other essentials: clothes, furniture and more
Don't buy anything new. And that means anything. From clothes to furniture to cars to moving boxes, you can get nearly everything pre-loved. However, just because it is used doesn't mean it has to look cheap or junky; the goal is to appear as if your items are brand new without having to spend huge sums of cash.
Consignment stores, Facebook Marketplace and Goodwill are excellent locations to find discounted or sometimes even free goods. Amazon Warehouse has a section on its website that sells open-box items, though most often they are still brand new. There is simply no reason to pay full price for anything, plus it's better for the planet!
Play money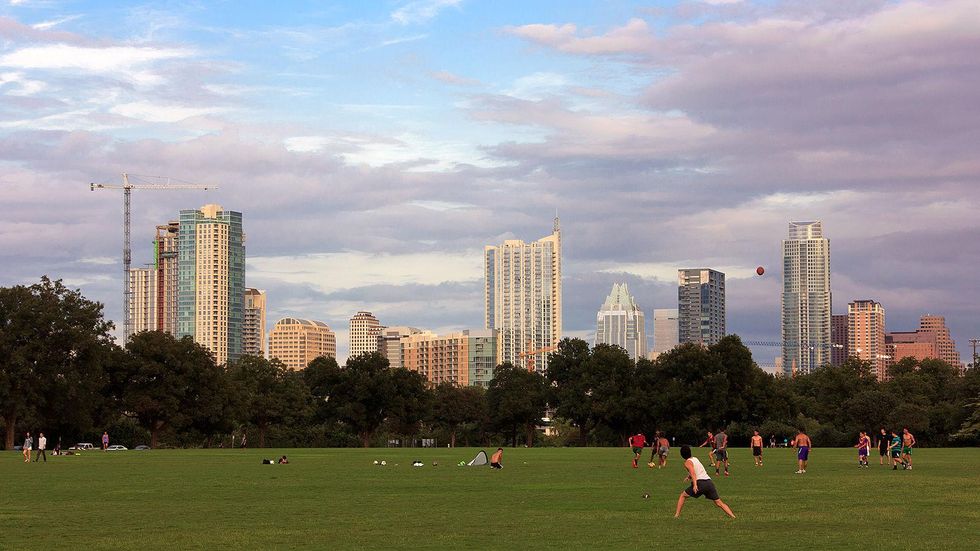 The hard reality is that when you're working with a tight budget, spending money is usually the first to go. Set up a rainy day fund for a splurge and enjoy all the free (or close to free) activities Austin has to offer. Become a Zilker Park explorer extraordinaire or tour some of the many museums around the city like The Blanton, which is free on the first Thursday of every month, or the Mexic-Arte museum, which is free on Sundays. The Umlauf Sculpture Garden is only $5 per person and never ceases to delight with its uniquely structured art. Don't neglect your wants but don't let them be the source of your monetary stress.
Now go get that coin!
From Your Site Articles
Related Articles Around the Web
After just a few months of moving to Austin and getting comfortable in a new podcast studio, The Joe Rogan Experience has a new look.
Fans have been complaining for months about the red room Joe Rogan has been talking to podcast guests in since moving from California. He heard them loud and clear and posted on Instagram that the first podcast recorded in the brand new studio was available Saturday with guest comedian Tommy Segura.
The new studio, complete with the same podcast table and relics, is a well-lit, wood-paneled room with a new sign.
Just like the first time around, he brought in local help to bring the studio to life. Local Elm Construction and Project Management, Soundshed Studios, Wrightsmith Studios, Texavy and Roundhouse Relics all had a part in the new home to JRE podcasts. For Soundshed and Wrightsmith, this was their second time around helping Rogan with a podcast studio.
Joe Rogan has stayed busy in his roughly seven months in the capital city. Tapping into his comedy roots, Rogan has booked local stand-up shows with comedian Dave Chappelle in recent months. And a bigger project in the works, Austonia revealed last week that the podcaster is plans to open up a new comedy club at the location of the One World Theatre.
More on Joe Rogan: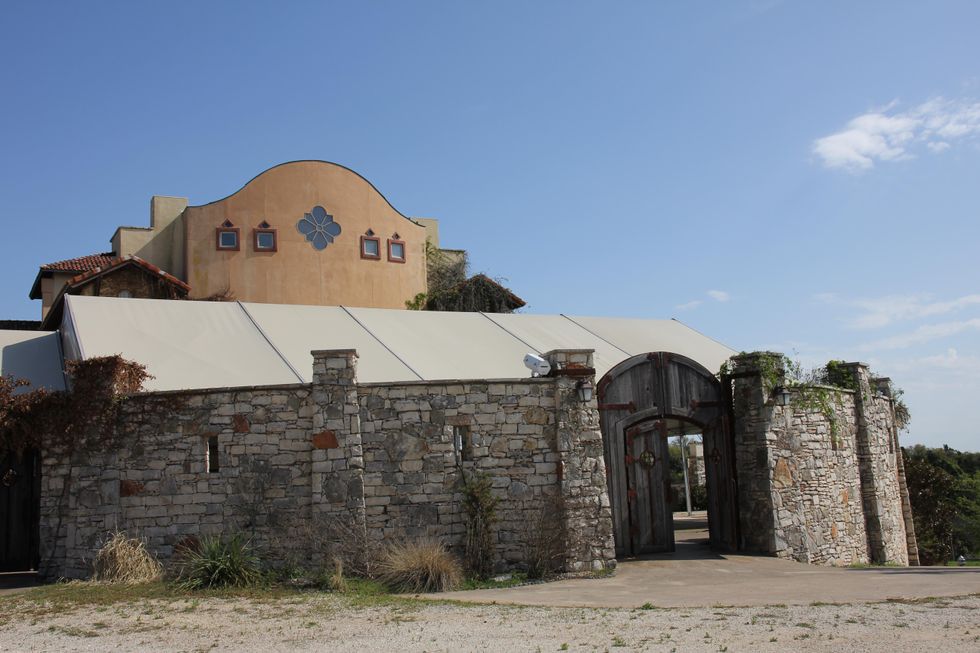 Willie Nelson is celebrating his 88th birthday in signature style. The Austin country music star announced he'll spend his birthday with marijuana-loving fans everywhere with a three-day virtual cannabis convention.
Alongside his brand Luck Presents, Nelson will work to destigmatize marijuana use with his fest, called Luck Presents: Planting the Seed, on April 26-29.
Singer Nathaniel Rateliff will host the convention, which will feature "musical collaborations, comedy sketches, cooking demonstrations, health-focused activities and more." The fest will also hold speakers and panel discussions about misconceptions of the plant, the history of marijuana and its pervasiveness in today's culture.
The convention will also raise funds for Headcount's Cannabis Voter Project, an organization that works to get cannabis-friendly voters registered. Those interested in joining the summit will need to make a $10 minimum donation to get the golden ticket into the fest.
"The Cannabis Voter Project believes it's important for the cannabis community to be an active and informed voting bloc," the organization's website reads.
In a statement, Nelson said he hopes to educate people on marijuana misconceptions with his latest foray into cannabis culture.
"I think people need to be educated to the fact that marijuana is not a drug," Nelson said. "Marijuana is an herb and a flower. God put it here. If He put it here and He wants it to grow, what gives the government the right to say that God is wrong?"
Nelson has dipped his toes into the weed landscape before—an outspoken weed enthusiast, Nelson started his own brand of recreational marijuana in 2015, followed by CBD brand Willie's Remedy, which focuses more on health and wellness.
Most recently, Nelson opened up about the pandemic, smoking weed and living a more sustainable life for his SXSW debut in March.