Get connected with our daily update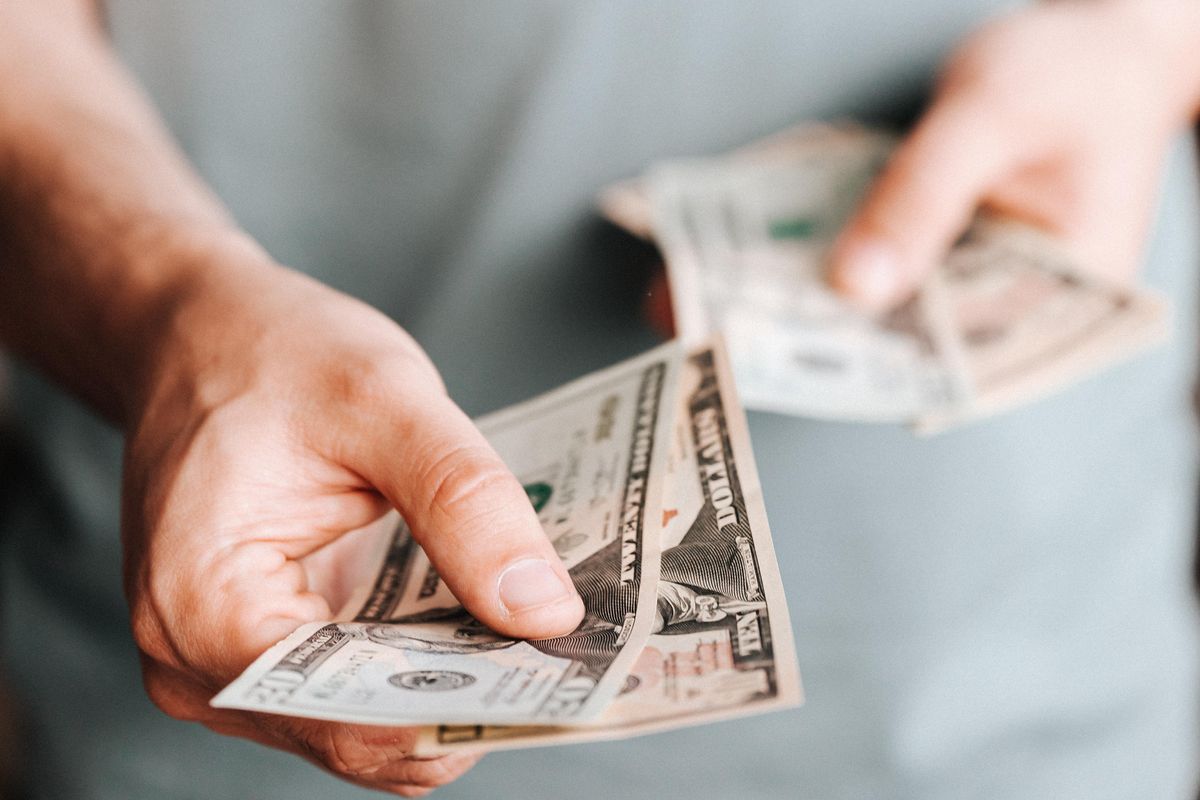 For those who live on a budget, Austin's growth can be a source of stress. It's hard to imagine living on $1,000 a month, but if I can do it, then anyone can.
---
While in college at Texas State University in San Marcos, I held a few jobs, ranging from unpaid intern to retail cashier to newspaper editor, none of which paid more than peanuts. From 2017-2019, I had a $9 an hour retail job, and I raked in a little less than $1,000 per month.
With a little bit of creativity and budgeting talent, here's how I would make $1,000 per month work in Austin: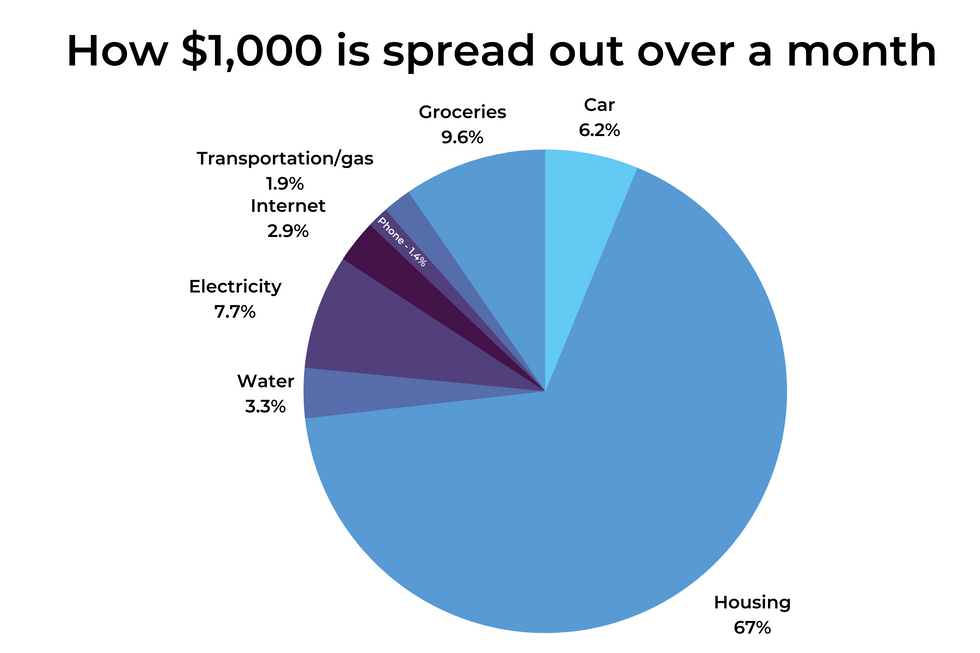 (Laura Figi/Austonia)
Housing
When you're only working with $1,000 per month, most likely you will end up spending close to 70% of your income on rent and the rest on other necessities, with little leftover.
While I lived in San Marcos, I was able to split a two-bedroom apartment with just one other person, slashing the $850/month rent and roughly $100 utilities in half. Rent at $850 for a two-bedroom might be hard to find in Austin, so consider moving outside the Austin metro area if you have reliable transportation to the city (I'll address transportation further down). Otherwise, a breakdown of cheaper neighborhoods to apartment shop at in Austin can be found here.
Tips for low-cost living:
Find a roommate—or two or three—to cut the cost of rent.
Avoid rent-by-the-room leases as they tend to favor the landlord. Instead, you'll want to sign a joint-lease agreement, so rent is split 50/50.
Try not to sign a lease during the summer—that's the busiest moving season and you're more likely to get a better deal in fall or winter.
Don't use electricity if you're not in the room and try to keep your water usage down.
If you conserve, you preserve valuable cash. A breakdown of essential costs: water at an average of $35 per month, electricity averaging at $65-100 depending on the season, internet can be found for as cheap as $30 per month and cell phone service as cheap as $15. If you can find a living situation that will pay one or more of your utilities, like I did, it will put that much more money back in your pocket.
Transportation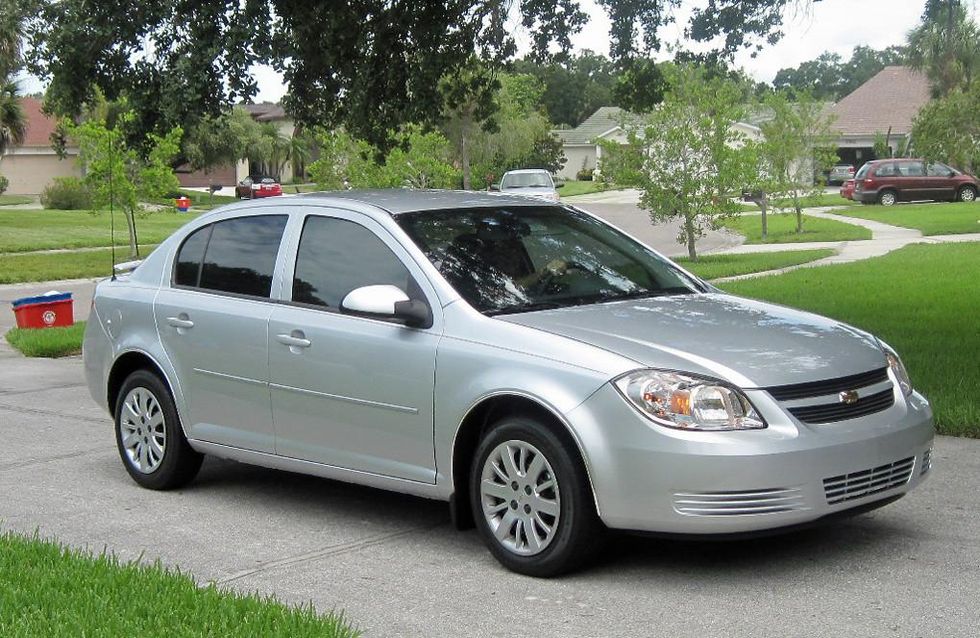 (Roger W/CC)
A car payment is simply not doable under this budget. So you'll need to make do with the car that was gifted to you or you paid off in full, especially if you're planning on living just outside the city. If you're a biker, that's also a cost-efficent way to get around—especially with Austin being a bike-friendly city. Otherwise, there's always public transportation to get you around.
I paid off my 2009 Chevrolet Cobalt when I bought it and tried to drive as little as possible to avoid having to pay for yet another tank of gas. If you choose to drive, insurance can be as low as $65 per month and a single tank of gas costs around $25.
Austin's Capital Metro offers bus and rail services from Downtown to Leander with various routes and stops. A 31-day bus pass will cost $41.25 at the most reduced rate, which equates to how much one might spend on car fuel.
Food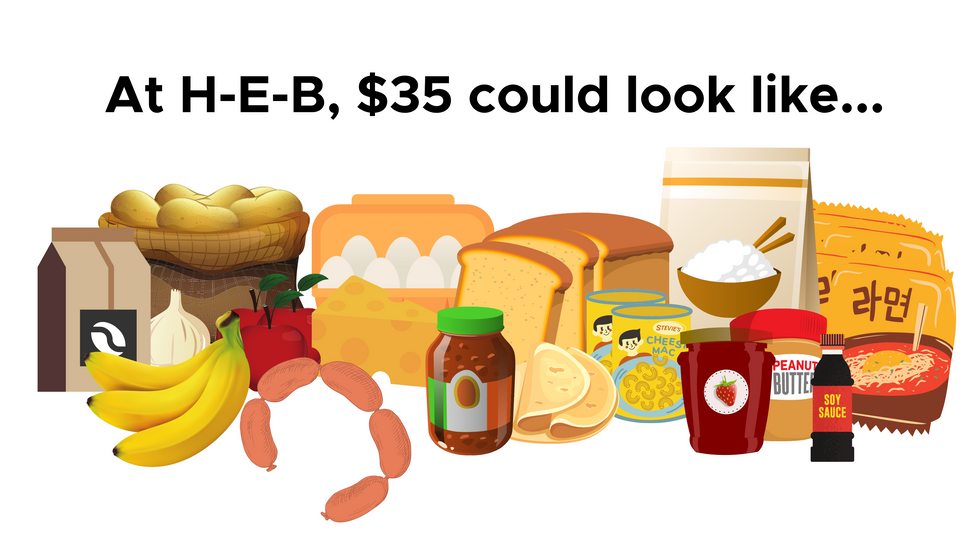 (Laura Figi/Austonia)
With only between $35-105 left for food, you will need to maximize how you shop. Buy what is on sale and try to limit your perishables to what you can consume before they spoil. It seems self-explanatory but 30-40% of food is wasted in the U.S., which equates to about a pound per person, per day.
I buy foods I know I like so that money doesn't go to waste. I'm a firm believer in eating breakfast every day, so my mornings usually started with some tea and something light. I'm not much of a cook so quick and easy food is my go-to. I buy food that can be enjoyed in a variety of ways so I never have to get tired of them—if you keep anything in stock, make sure it is spices and sauces.
Rice is incredibly cheap, versatile, can be eaten for every meal and it isn't uncommon for me to do so. And for protein, a bag of frozen chicken thighs can be found at your local grocery store for less than $5, and it'll last you days with various ways to cook it.
Unfortunately, eating out isn't something that can be done often so when I do, I enjoy it!
Buying other essentials: clothes, furniture and more
Don't buy anything new. And that means anything. From clothes to furniture to cars to moving boxes, you can get nearly everything pre-loved. However, just because it is used doesn't mean it has to look cheap or junky; the goal is to appear as if your items are brand new without having to spend huge sums of cash.
Consignment stores, Facebook Marketplace and Goodwill are excellent locations to find discounted or sometimes even free goods. Amazon Warehouse has a section on its website that sells open-box items, though most often they are still brand new. There is simply no reason to pay full price for anything, plus it's better for the planet!
Play money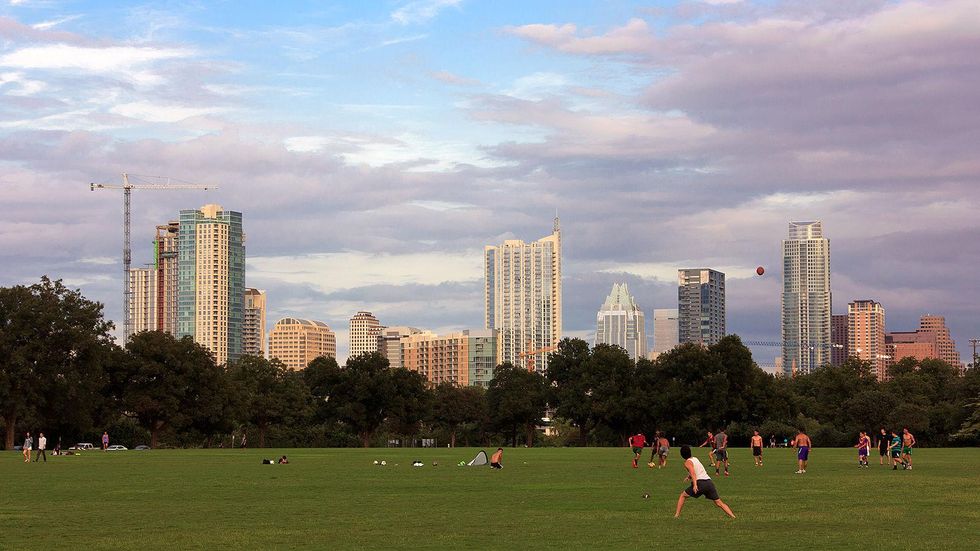 The hard reality is that when you're working with a tight budget, spending money is usually the first to go. Set up a rainy day fund for a splurge and enjoy all the free (or close to free) activities Austin has to offer. Become a Zilker Park explorer extraordinaire or tour some of the many museums around the city like The Blanton, which is free on the first Thursday of every month, or the Mexic-Arte museum, which is free on Sundays. The Umlauf Sculpture Garden is only $5 per person and never ceases to delight with its uniquely structured art. Don't neglect your wants but don't let them be the source of your monetary stress.
Now go get that coin!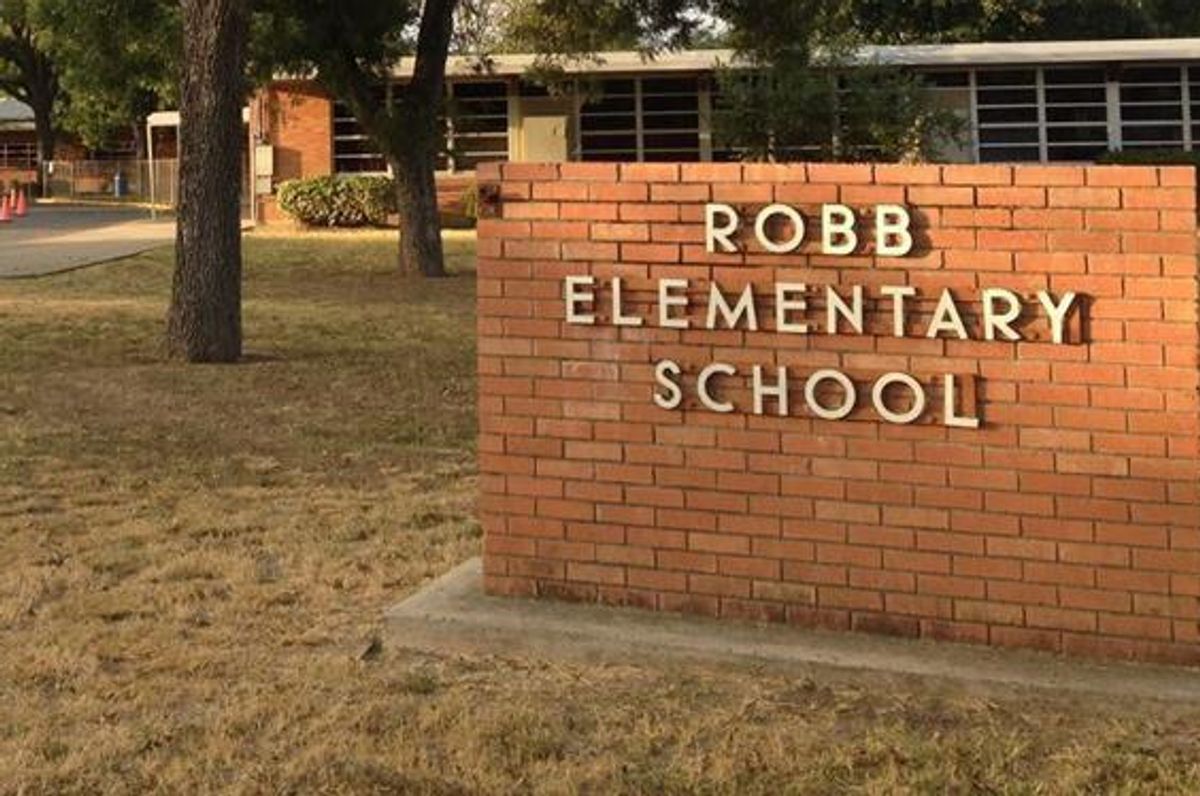 Nineteen kids and two adults are dead after a shooting at Robb Elementary School in Uvalde, Texas—a small town an hour and a half west of San Antonio—on Tuesday afternoon.
Gov. Greg Abbott said the suspect, 18-year-old Salvador Ramos, is believed to have been killed by the police. The Uvalde Police Department said the shooting began at 11:43 a.m. Tuesday.
"What happened in Uvalde is a horrific tragedy that cannot be tolerated in the state of Texas," Abbott said. "He shot and killed—horrifically, incomprehensibly."

Texans are grieving for the victims of this senseless crime & for the community of Uvalde.

Cecilia & I mourn this horrific loss & urge all Texans to come together.

I've instructed @TxDPS & Texas Rangers to work with local law enforcement to fully investigate this crime. pic.twitter.com/Yjwi8tDT1v
— Greg Abbott (@GregAbbott_TX) May 24, 2022
According to University Health Hospital officials, a 66-year-old woman and 10-year-old girl arrived in critical condition. Uvalde Memorial Hospital reportedly received 13 children for treatment and two individuals who were already deceased. At the time, it was believed 14 had died in this shooting.

The shooter prompted a lockdown at the elementary school of just under 550 students, with San Antonio Police sending SWAT, and Eagle chopper and Crime Scene Investigators.
According to White House press secretary Karine Jean-Pierre, President Joe Biden has been briefed on the tragedy and "His prayers are with the families impacted by this awful event, and he will speak this evening when he arrives back at the White House."
At 21 deaths, it is the deadliest school shooting in Texas and one of the deadliest in the U.S. since 26 at Sandy Hook Elementary lost their lives. This is the U.S.'s 213th mass shooting of 2022.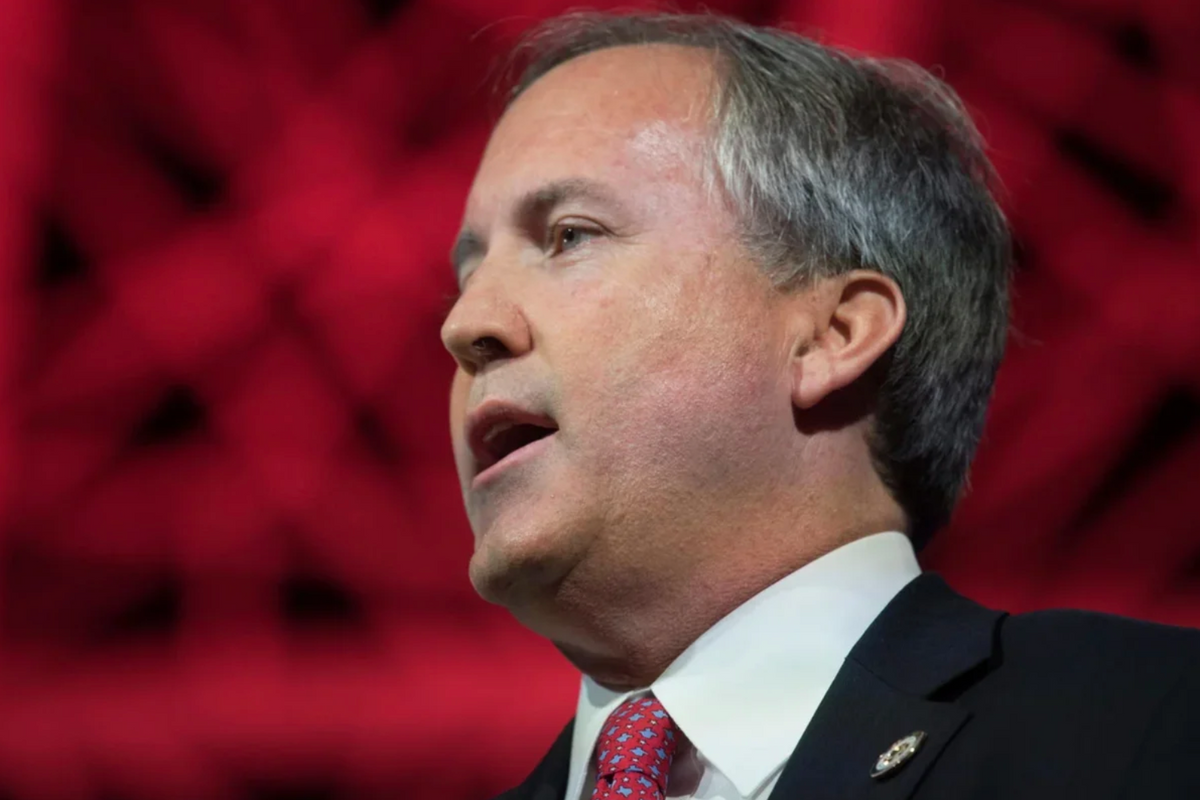 Paxton has faced a securities fraud indictment for seven years. More recently, the FBI began investigating him for abuse of office after eight of his former top deputies accused him of bribery. He also reportedly had an extramarital affair. Paxton denies all wrongdoing.
Bush, who has served for seven years as the state's land commissioner, campaigned on restoring integrity to the attorney general's office and hit Paxton for his legal and ethical troubles. He also criticized Paxton's legal acumen, saying some of his lawsuits were frivolous, including one that he filed to overturn the 2020 results in four battleground states where former President Donald Trump lost.
But none of Bush's attacks gained traction with socially conservative voters in the runoff, who said they preferred Paxton's combative style to Bush's more civil and polished approach. Voters cited Paxton's frequent lawsuits against the Biden administration on immigration and COVID-19 policies, as well as his efforts on hot-button social issues like abortion and LGBTQ rights.
While Bush had supporters who embraced his vision of a more diverse Republican Party that welcomed people of different viewpoints, a majority of voters tied him to his family's center-right, pro-business politics. That approach is not conservative enough for today's Texas GOP, which has largely turned against establishment candidates. His opponents rallied around a call to "end the Bush dynasty" and lambasted Bush for his rightward shift during the campaign.
In the lead-up to the runoff, Bush said he supported state investigations into families that provided gender-affirming health care to transgender children, and he made border security a priority issue.
Paxton hit Bush for his change of tone, resurfacing 2014 comments from Bush in which he expressed support for the Texas Dream Act, a 2001 law that allows undocumented immigrants to receive in-state tuition at public universities. Bush now says he supports the Republican Party of Texas' platform to repeal the law.
The race was also noteworthy for its negative campaigning. Paxton's camp created an attack website titled GeorgePBushFacts.com that denounced him as a "RINO establishment darling who has sold out Texas" and hit him for his office's management of Hurricane Harvey relief funds and its handling of the redevelopment of the Alamo.
Bush struck back with KenTheCrook.com, which proclaimed "it's time to fire Ken Paxton" and detailed several legal and ethical issues that have plagued Paxton, including the FBI investigation, his securities fraud case and his reported extramarital affair.
But none of the attacks stuck to Paxton, who continued campaigning with socially conservative groups while avoiding head-to-head encounters with Bush where he could expose himself to attack.
Bush, who had challenged Paxton to five debates in the runoff and pledged to take the battle to the incumbent, was frustrated in his attempts to draw out Paxton. He also received no help from the two defeated candidates in the Republican primary, former Texas Supreme Court Justice Eva Guzman and U.S. Rep. Louie Gohmert, R-Tyler, who refused to endorse in the race.
Things got worse for Bush as a slew of GOP officeholders, including Lt. Gov. Dan Patrick, released their endorsements of Paxton. Bush had been fighting an uphill battle since last year, when Trump rebuffed his request for an endorsement and instead sided with Paxton.
Paxton never took his foot off the pedal, continuing to file immigration lawsuits against the Biden administration and wading into legal battles over LGBTQ rights during the campaign. He frequently went on cable news shows to attack the Biden administration's policies and lumped in Bush as the state's "liberal land commissioner" with a "woke" agenda.
Paxton also fought back against those who questioned his ethics or legal acumen. When the state bar announced it was investigating a complaint against him for professional misconduct, Paxton called it a political attack and denounced the members of the disciplinary committee looking into the complaint as "leftist" Democratic sympathizers.
As the runoff election neared, polls showed Paxton with a strong lead over Bush. One poll found that 40% of Republican primary voters said they would never vote for Bush.
Paxton closed out the campaign confidently, attending packed meetings of conservative voters. Bush released a late flurry of negative attack ads against Paxton but did not gain the boost he needed.
Last week, Bush's camp told reporters it would not have media availability on Election Day, a clear sign it did not expect a positive outcome. Paxton's team, meanwhile, planned an election day watch party just north of Austin.
Paxton will face the winner of the Democratic runoff – either Brownsville lawyer Rochelle Garza or former Galveston Mayor Joe Jaworksi – in the November general election, where the odds are in his favor, as no Democrat has won a statewide seat in Texas since 1994.