Austonia AM
100% Austin news, info, and entertainment, straight to your inbox at 6 a.m. every morning.
In five minutes, you're fully informed and ready to start another great day in our city.
Get connected with our daily update
For those who live on a budget, Austin's growth can be a source of stress. It's hard to imagine living on $1,000 a month, but if I can do it, then anyone can.
---
While in college at Texas State University in San Marcos, I held a few jobs, ranging from unpaid intern to retail cashier to newspaper editor, none of which paid more than peanuts. From 2017-2019, I had a $9 an hour retail job, and I raked in a little less than $1,000 per month.
With a little bit of creativity and budgeting talent, here's how I would make $1,000 per month work in Austin: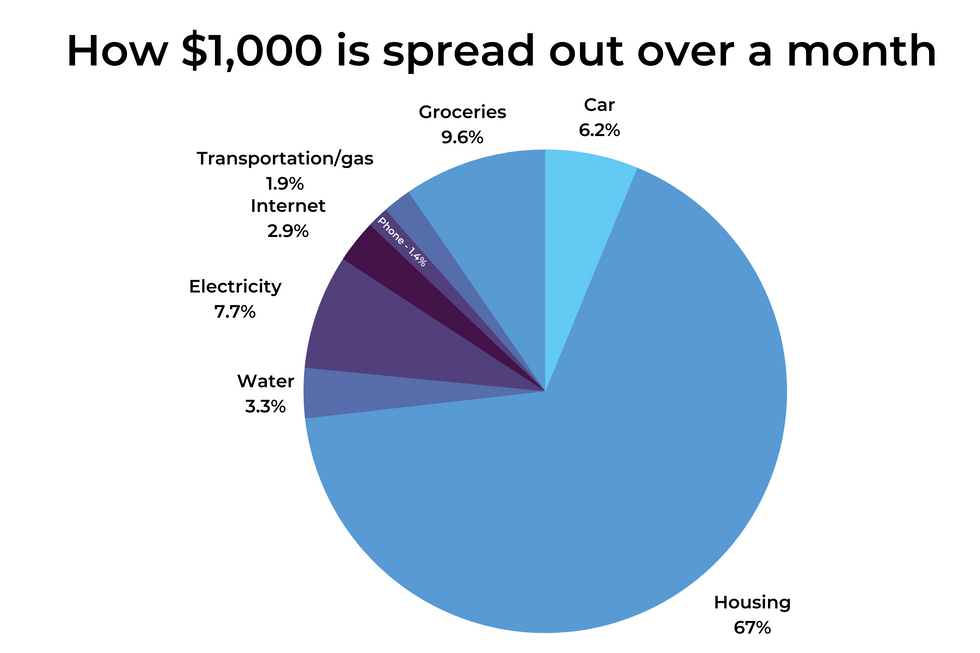 (Laura Figi/Austonia)
Housing
When you're only working with $1,000 per month, most likely you will end up spending close to 70% of your income on rent and the rest on other necessities, with little leftover.
While I lived in San Marcos, I was able to split a two-bedroom apartment with just one other person, slashing the $850/month rent and roughly $100 utilities in half. Rent at $850 for a two-bedroom might be hard to find in Austin, so consider moving outside the Austin metro area if you have reliable transportation to the city (I'll address transportation further down). Otherwise, a breakdown of cheaper neighborhoods to apartment shop at in Austin can be found here.
Tips for low-cost living:
Find a roommate—or two or three—to cut the cost of rent.
Avoid rent-by-the-room leases as they tend to favor the landlord. Instead, you'll want to sign a joint-lease agreement, so rent is split 50/50.
Try not to sign a lease during the summer—that's the busiest moving season and you're more likely to get a better deal in fall or winter.
Don't use electricity if you're not in the room and try to keep your water usage down.
If you conserve, you preserve valuable cash. A breakdown of essential costs: water at an average of $35 per month, electricity averaging at $65-100 depending on the season, internet can be found for as cheap as $30 per month and cell phone service as cheap as $15. If you can find a living situation that will pay one or more of your utilities, like I did, it will put that much more money back in your pocket.
Transportation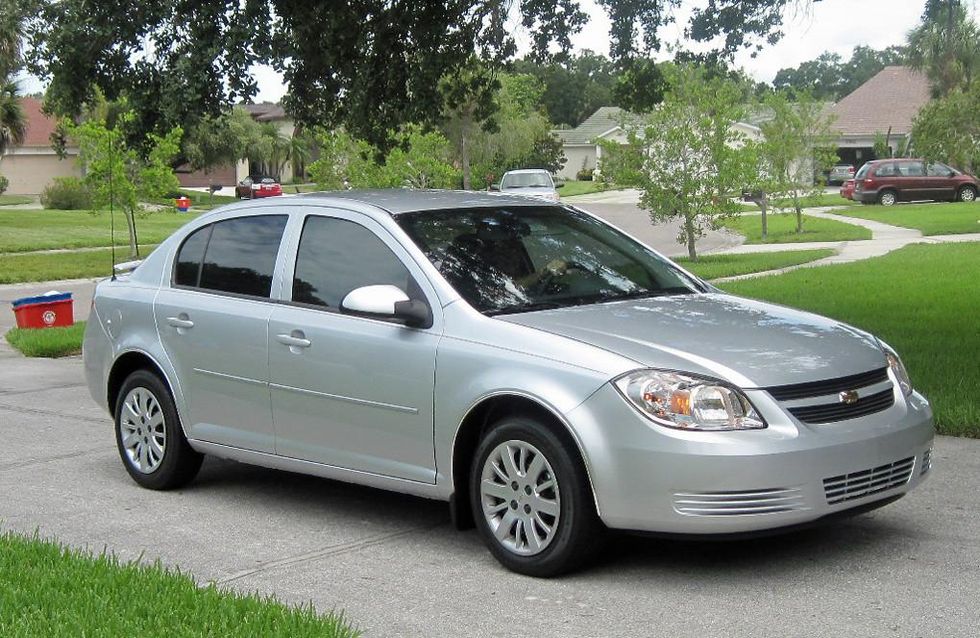 (Roger W/CC)
A car payment is simply not doable under this budget. So you'll need to make do with the car that was gifted to you or you paid off in full, especially if you're planning on living just outside the city. If you're a biker, that's also a cost-efficent way to get around—especially with Austin being a bike-friendly city. Otherwise, there's always public transportation to get you around.
I paid off my 2009 Chevrolet Cobalt when I bought it and tried to drive as little as possible to avoid having to pay for yet another tank of gas. If you choose to drive, insurance can be as low as $65 per month and a single tank of gas costs around $25.
Austin's Capital Metro offers bus and rail services from Downtown to Leander with various routes and stops. A 31-day bus pass will cost $41.25 at the most reduced rate, which equates to how much one might spend on car fuel.
Food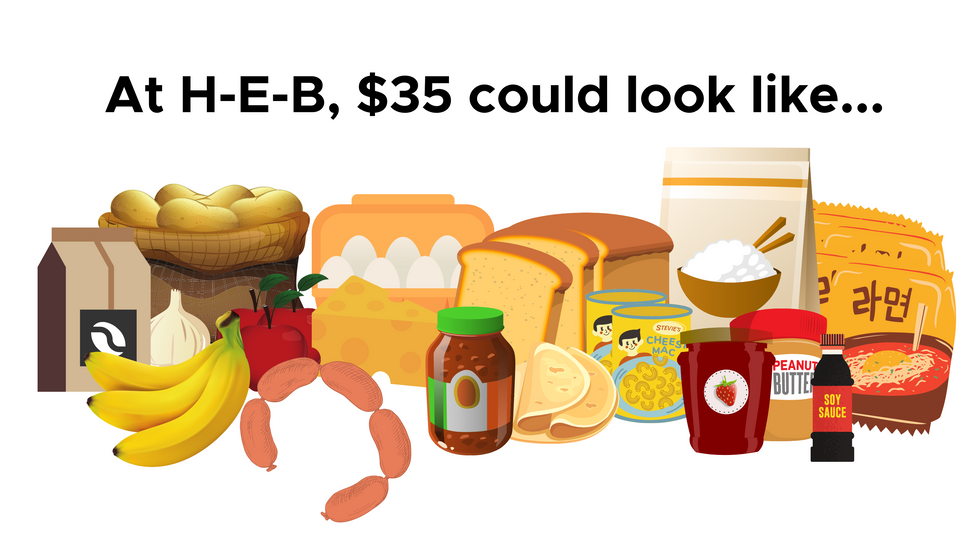 (Laura Figi/Austonia)
With only between $35-105 left for food, you will need to maximize how you shop. Buy what is on sale and try to limit your perishables to what you can consume before they spoil. It seems self-explanatory but 30-40% of food is wasted in the U.S., which equates to about a pound per person, per day.
I buy foods I know I like so that money doesn't go to waste. I'm a firm believer in eating breakfast every day, so my mornings usually started with some tea and something light. I'm not much of a cook so quick and easy food is my go-to. I buy food that can be enjoyed in a variety of ways so I never have to get tired of them—if you keep anything in stock, make sure it is spices and sauces.
Rice is incredibly cheap, versatile, can be eaten for every meal and it isn't uncommon for me to do so. And for protein, a bag of frozen chicken thighs can be found at your local grocery store for less than $5, and it'll last you days with various ways to cook it.
Unfortunately, eating out isn't something that can be done often so when I do, I enjoy it!
Buying other essentials: clothes, furniture and more
Don't buy anything new. And that means anything. From clothes to furniture to cars to moving boxes, you can get nearly everything pre-loved. However, just because it is used doesn't mean it has to look cheap or junky; the goal is to appear as if your items are brand new without having to spend huge sums of cash.
Consignment stores, Facebook Marketplace and Goodwill are excellent locations to find discounted or sometimes even free goods. Amazon Warehouse has a section on its website that sells open-box items, though most often they are still brand new. There is simply no reason to pay full price for anything, plus it's better for the planet!
Play money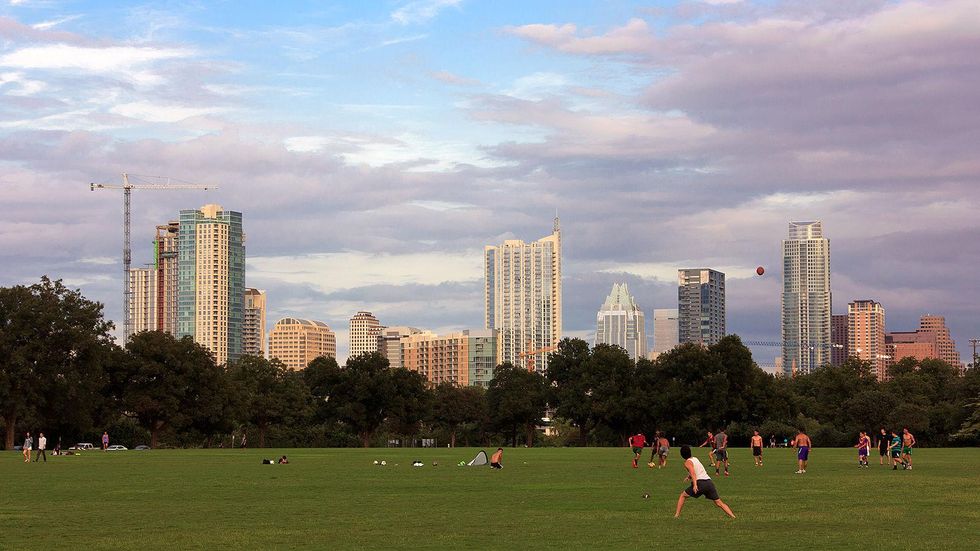 The hard reality is that when you're working with a tight budget, spending money is usually the first to go. Set up a rainy day fund for a splurge and enjoy all the free (or close to free) activities Austin has to offer. Become a Zilker Park explorer extraordinaire or tour some of the many museums around the city like The Blanton, which is free on the first Thursday of every month, or the Mexic-Arte museum, which is free on Sundays. The Umlauf Sculpture Garden is only $5 per person and never ceases to delight with its uniquely structured art. Don't neglect your wants but don't let them be the source of your monetary stress.
Now go get that coin!
A second person connected to Saturday morning's Sixth Street mass shooting has been arrested. The Austin Police Department confirmed they arrested a 17-year-old male suspect in Killeen on Monday.
The suspect has been identified as Jeremiah Roshaun Leland James Tabb, who will be charged as an adult with aggravated assault, officials confirmed. He was arrested without incident while enrolled in a summer school class.
Police arrested the first suspect, a 16-year-old male, on Saturday evening. It is still not known what charges the suspect will face and since he is a minor, court records and identity will likely remain confidential.
The shooting occurred in the early morning hours of Saturday, June 12, when two men fired shots into a large crowd on the 400 block of East Sixth Street and injured 13, killing one. Investigators believe there was "some type of disturbance" between the two parties.
A 25-year-old tourist visiting from New York, named Douglas John Kantor, succumbed to his injuries while in the hospital on Sunday afternoon. He leaves behind family and his high-school sweetheart.
The investigation is still ongoing and information can still be reported by calling 911 or the police tip line at 512-472-TIPS.
(Pexels)
With high temperatures looming over Austin for the next week, The Electric Reliability Council of Texas, which controls about 90% of the state's electricity flow, is asking residents to conserve energy usage through Friday, June 18.
ERCOT issued the conservation alert via Tweet on Monday afternoon, saying that a high number of "forced generation outages combined with potential record electric use" during June have created tight grid conditions. Austin Energy echoed the request.
🔊CONSERVATION URGED! @ERCOT_ISO is asking Texans to reduce electric use as much as possible today, 6/14 through Friday, 6/18, due to statewide grid conditions.
ERCOT says a significant number of power generators have forced outages for repairs. (1/2)
— Austin Energy (@austinenergy) June 14, 2021
ERCOT is attributing the "tight grid conditions" to more electric generators than usual being shut down for repairs.
June is going to be hot—temperatures are expected to peak around 96 degrees every day through Friday. It's just the start of the Texas summer season with high temperatures likely not dipping below 90 degrees for the rest of the month.
ERCOT data indicated that energy demand may exceed capacity during peak heat hours. According to ERCOT, approximately 11,000 MW of generation is on forced outages for repairs and today's peak load forecast may exceed 73,000 MW. The previous record for June was 69,100 megawatts in 2018.
One MW typically powers 200 homes on a summer day.
ERCOT shared voluntary guidelines to reduce energy usage:
Set your thermostat to 78 degrees or higher–every degree of cooling increases your energy use by 6-8%.
Turn off lights and pool pumps and avoid using large appliances like ovens, washing machines and dryers.
If you don't need something–turn it off and unplug it if possible.
ERCOT has been under scrutiny since the grid collapsed in February during Winter Storm Uri, leaving millions of Texans in the cold and dark for days. The mass outage prompted a series of changes, including resignations, termination of President and CEO Bill Magness and a state investigation.
ERCOT previously said in May that it expected a relatively mild summer for emergency conditions and said it expects a peak energy demand of 77,144 MW through September.
Family, friends and the community are remembering Douglas John Kantor, the 25-year-old who was killed on Sixth Street after a mass shooting that injured 13 others early Saturday morning.
Kantor, who was visiting from New York and lived in Michigan, died in a hospital just after noon on Sunday after being "shot in the abdomen, just below the rib cage," according to his brother Nick Kantor.
One other victim remains in critical condition. Two suspects have been arrested as police continue to investigate the incident.
"He suffered from the time of the injury until time of death, it was the most gruesome thing," Nick Kantor told KVUE. "It's painful to discuss, but I think the public deserves to know what my brother suffered."
Nick Kantor released a statement to KVUE following his sibling's death, calling the shooting a "senseless tragedy" that "put an end to all his dreams."
According to Nick, Douglas Kantor was "looking forward to marrying his high school sweetheart of 10 years and starting a family." He had recently bought a house after receiving his master's degree in business at Michigan State, where he also completed four years in computer engineering.
Kantor was employed with Ford Motor Company as a product manager and had also used his computer science skills to develop a website for his family's air conditioning and heating business. Nick Kantor said Douglas was "loved by his family, friends and everyone who met him."
City officials and community members joined Nick Kantor in remembering Douglas Kantor.
Mayor Steve Adler released the following statement regarding Kantor's death:
"The loss suffered by the Kantor family is unimaginable. Doug Kantor leaves behind family, friends, and the future he was building. His senseless death has filled us with enormous grief, and even more resolve to stop this from happening here and across the country. Our hearts go out to all of Doug Kantor's loved ones."
A new Facebook page labeled the Downtown Austin Mass Shooting Survivors has issued a survivors fund for the 13 other victims injured.