Get connected with our daily update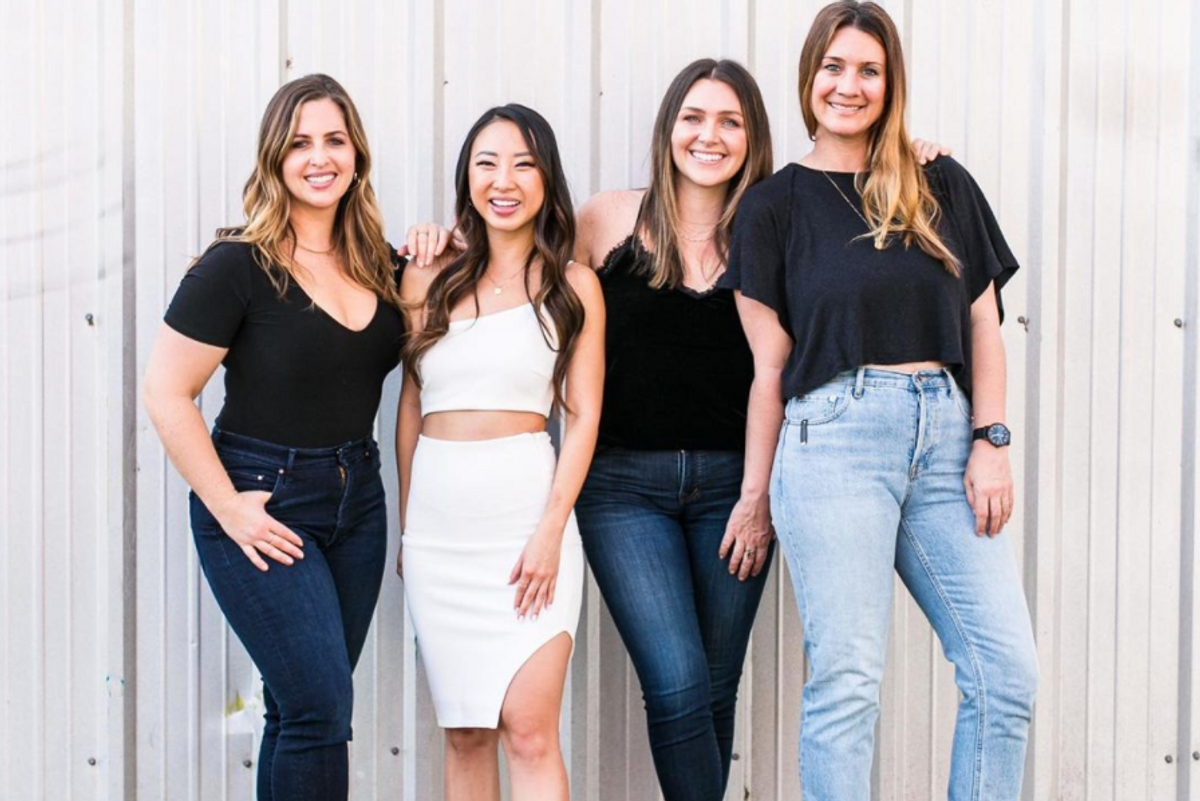 When city services shut down, four Austin influencers stepped up to bring thousands of free meals to the community.
---
As Winter Storm Uri left residents across the city without power and water, Mylk Collective founder Chelsea Hughes, Cara Caulkins of Cara Caulkins Communications, A Taste of Koko food blogger Jane Ko and 365thingsAustin Kristy Owen knew they needed to use their platform to bring help to fellow Austinites.
By Monday, Caulkins was contacted by Deep Eddy Vodka to begin coordinating with restaurants that may have leftover food to give to those in need.
Knowing that both Hughes and Ko had raised money during the hectic beginning of the pandemic, Caulkins contacted them to help get the ball rolling.
The trio, alongside 365thingsaustin's Kristy Owen, made a GoFundMe last Wednesday and began organizing a restaurant network that spanned across the city. Ko, who has covered the local restaurant scene for about a decade, said that she contacted at least 150 restaurants as they looked for candidates. Early volunteers, including The Peached Tortilla owner Jerry Silverstein, cooked their leftover reserves with a gas oven in the dark as they continued to have no power.
Three days later, the Winter Storm Relief Fund had raised over $100,000 in funding, passed out thousands of free meals to residents in need, and teamed up with dozens of local restaurants.
The outreach served more than just those without food to eat during the storm. Hughes said that providing free meals served as a boost for both citizens in need and restaurants who had lost money on a frozen Valentine's Day weekend and were sitting on a stockpile of food.
"Our mission was twofold: feeding the public and underserved communities, hospitals and ems workers but also giving back to the rest who have lost so much throughout this pandemic and with this truly historic storm," Hughes said. "Our mission is also to continue whatever this rebuild process looks like and to continue to be a resource for whatever restaurants that need this."
They soon learned that Austin's water utility also gave out later on in the week, but many restaurants still needed to feed and pay their employees as the crisis began to worsen. Ko said that it was heartwrenching to hear back from eager volunteers who had gone to their food trucks or restaurants and found broken pipes, unusable kitchens and water damage.
"It was heartbreaking to me to have restaurants and food trucks reach out to me and then check on their food truck and say, 'I'm sorry Jane, our pipes are busted we can't cook," Ko said. "They have families they need to take care of."
Eventually, the three discovered specific pockets in the community that were suffering more than others in the disaster. In far north and southwest Austin, communities had been without power or water for days. Some populations had no transportation to get to water distribution hubs, and hospitals and EMS workers were falling apart as they spent days without power or water. Alongside their partners, the group visited hospitals and first responder locations with free, warm meals from various restaurants.
Rumors spread of apartment complex residents drinking pool water during the disaster, homes flooding irreparably, and many living in subfreezing conditions for much of the storm. Hughes said the incident was eye-opening to how privileged many in the community, including herself, are on a regular basis.
"It was the first time in our lives that we had to wonder how we were going to get our next meal and how we are going to be warm and how those basic needs are going to be met," Hughes said. "It made me realize how underserved certain communities are. This is a moment in my life where I know I always want to use my contacts now to be a resource to help underserved communities in my city."
When the situation progressed, the community doubled down and began donating more. In three hours on Wednesday, Ko said the GoFundMe had already reached $10,000. By Thursday, funding swelled to $70,000, surpassing its goal by over $50,000 and sitting above $150,000 into last weekend. On Monday of this week, Ko estimated that the group had helped coordinate over 30,000 free meals.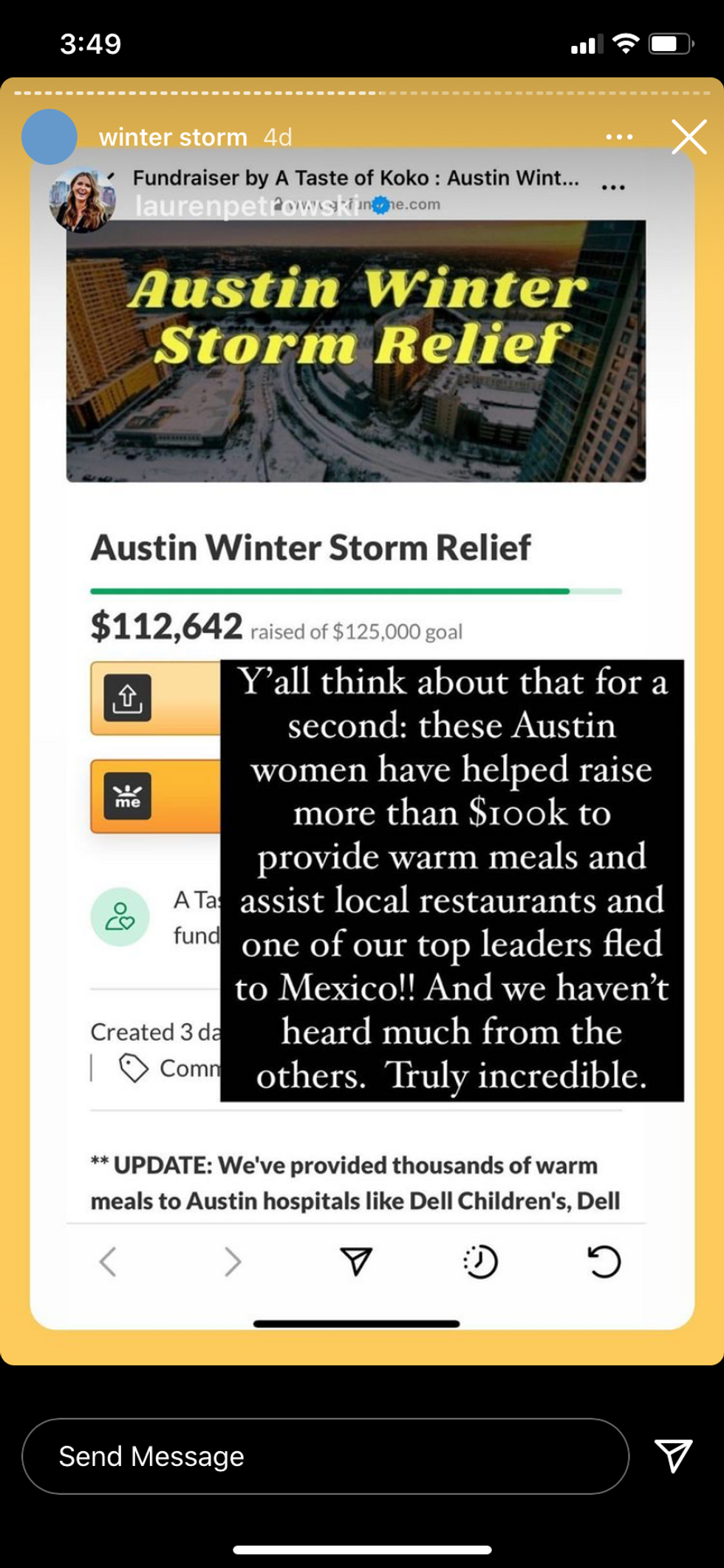 The GoFundMe was not the only source of donations going into Austin area restaurants. After Deep Eddy communicated with Caulkins, the local brand began sponsoring restaurants on its own to provide hundreds of meals at a time. Large local companies such as Kendra Scott and Bumble came in to help, while national brands like Red Bull also funneled their contributions into the community.
Caulkins noted that the influence of social media was really highlighted as the three used their profiles, including Ko's @atasteofkoko account and @365thingsaustin, to get the word out.
"This really speaks to the power of social media," Caulkins said. "We were able to raise these funds and also allowed these platforms to be a community resource."
Austin Winter Storm Relief Fund kept the city running when power and water failed
All images courtesy of Cara Caulkins.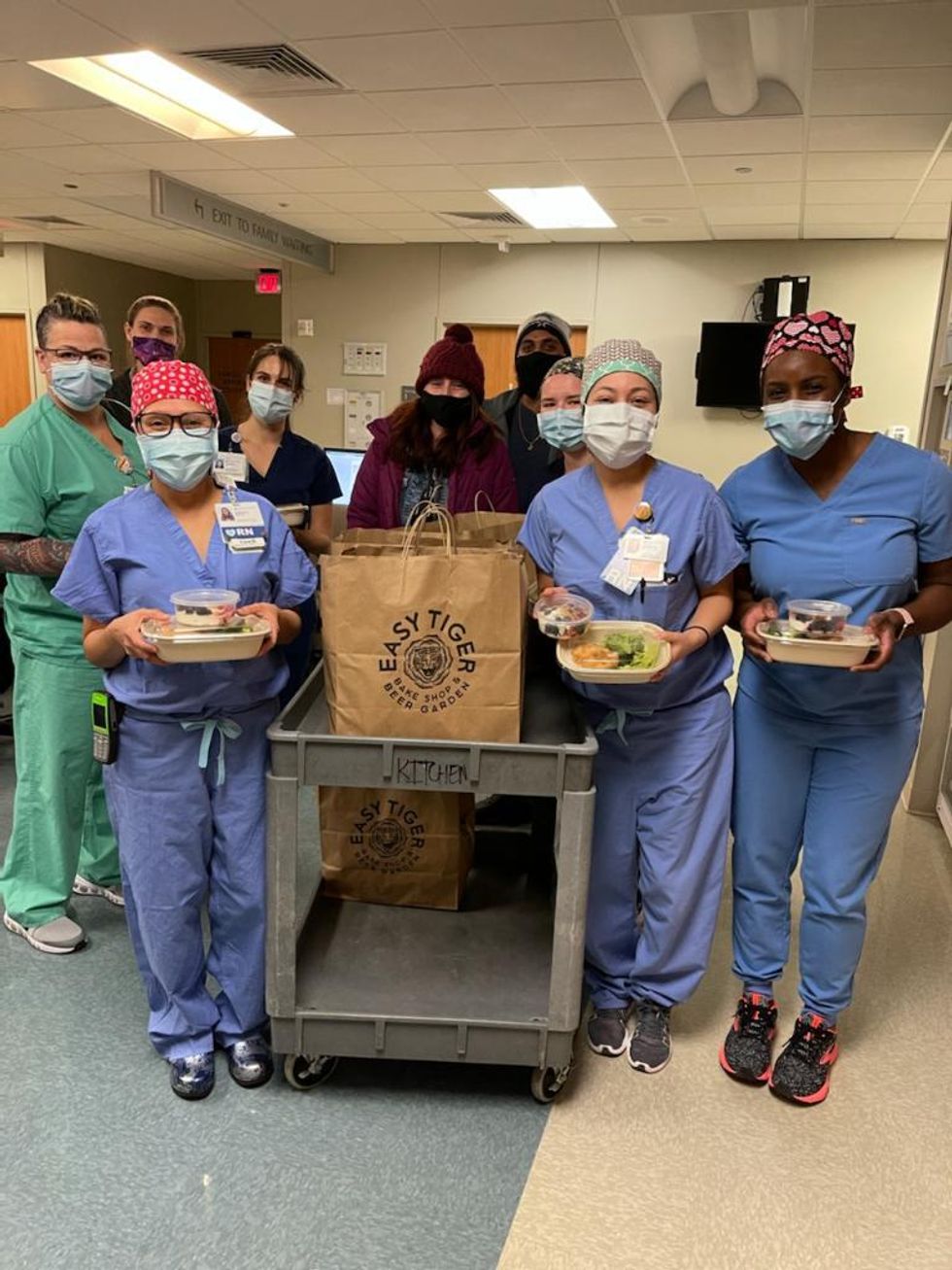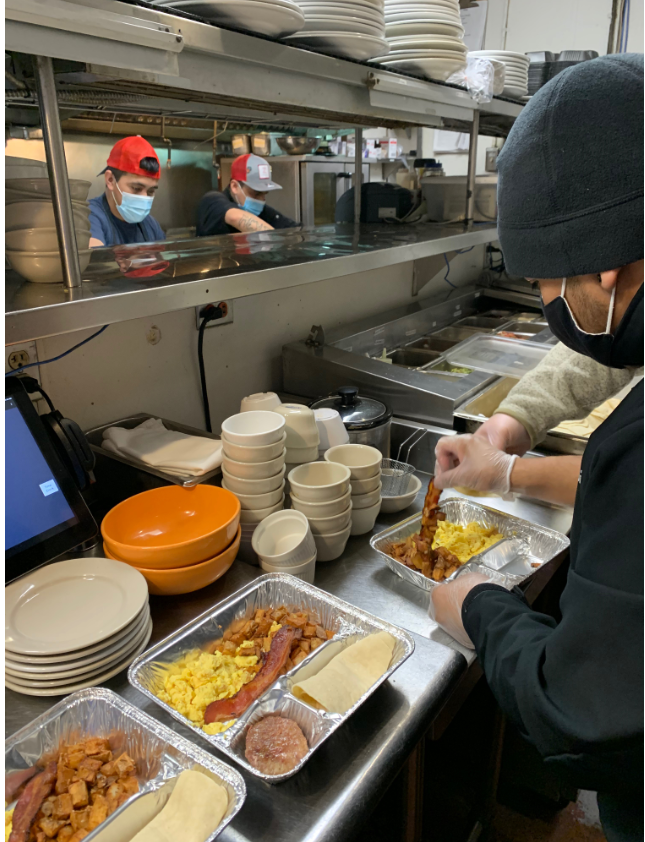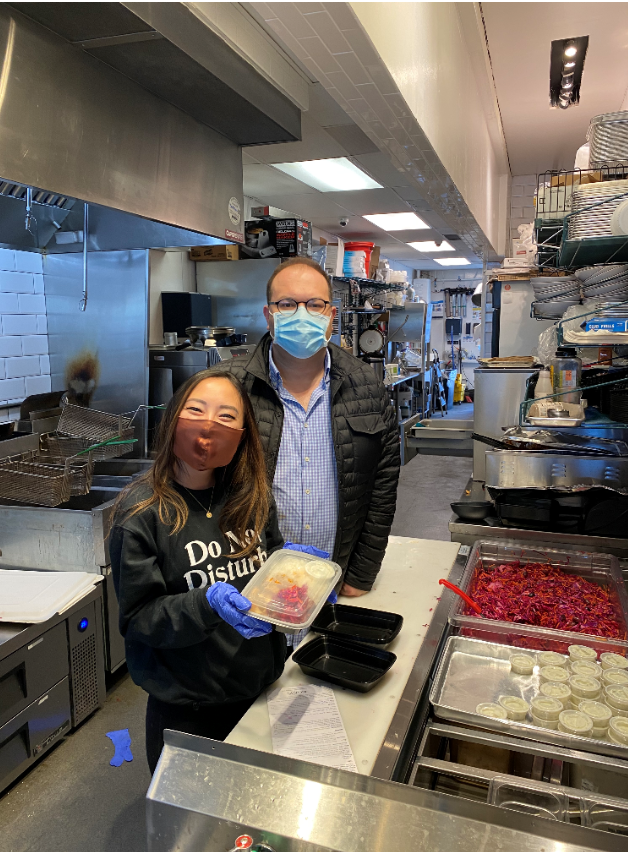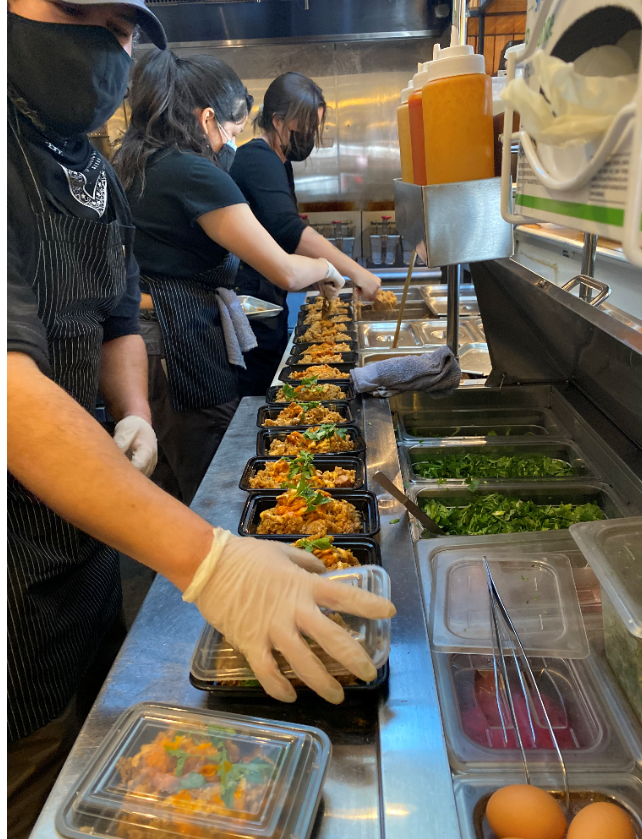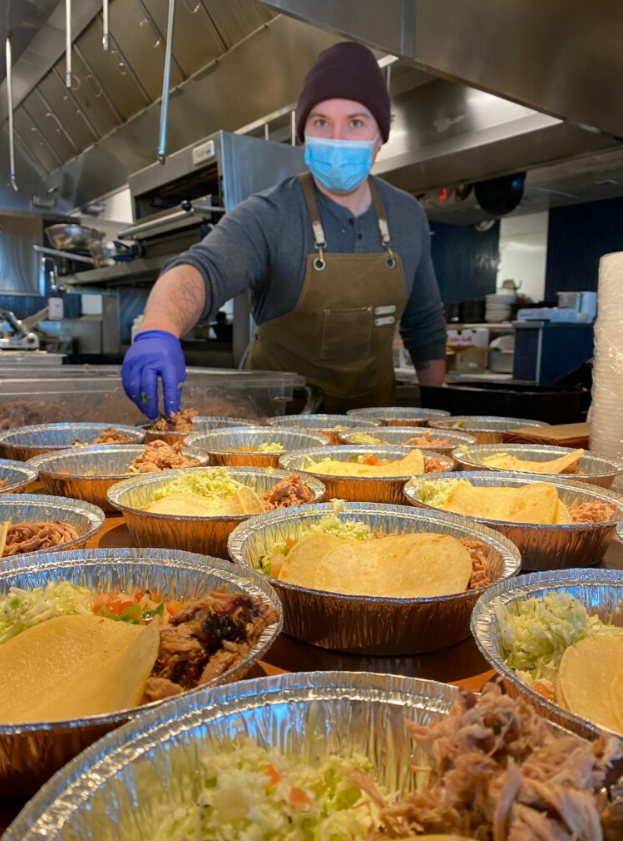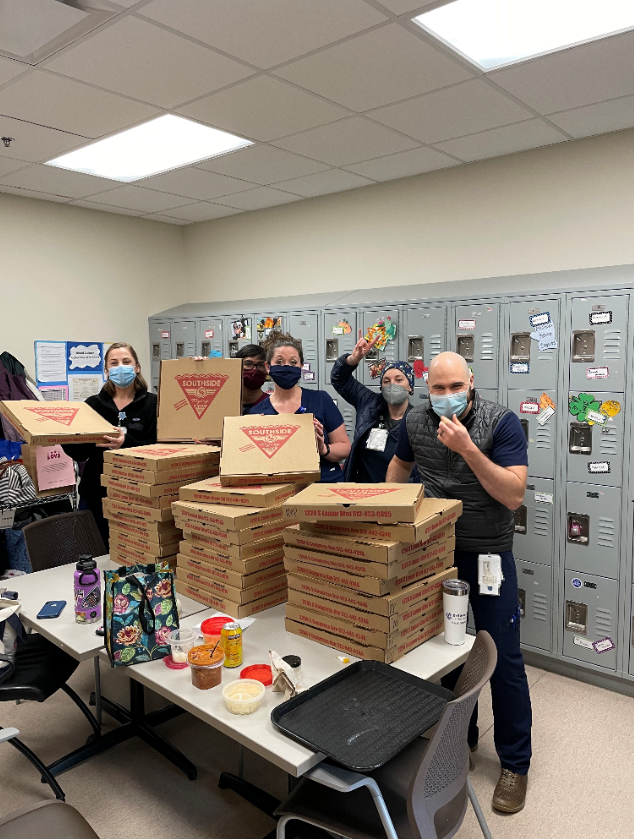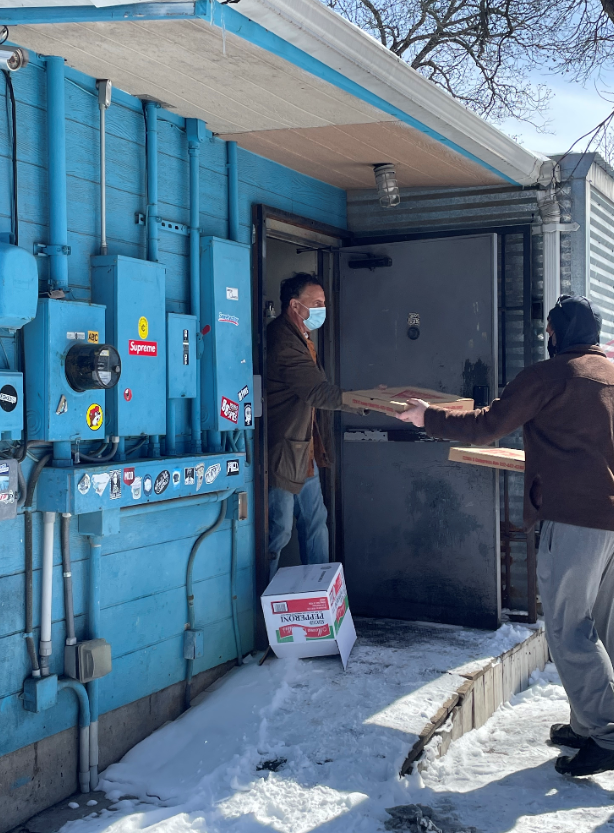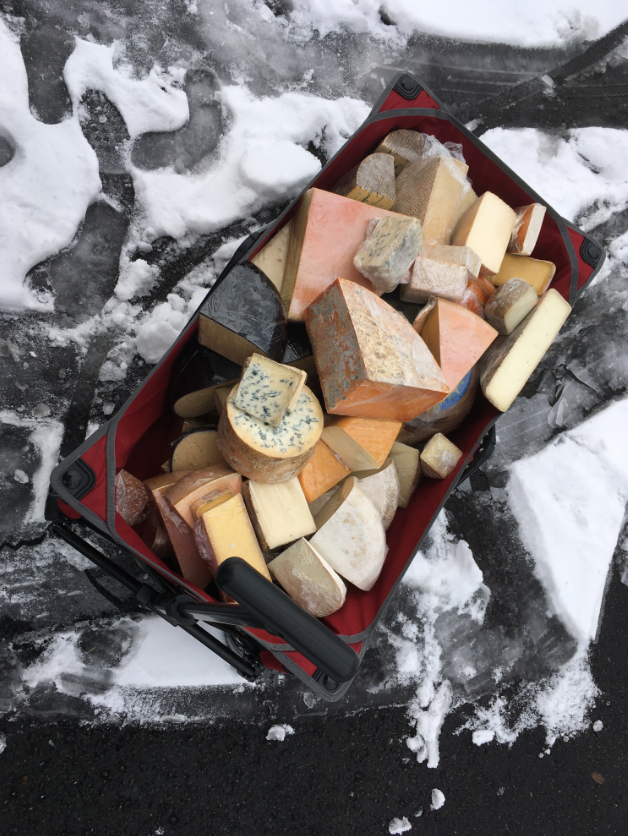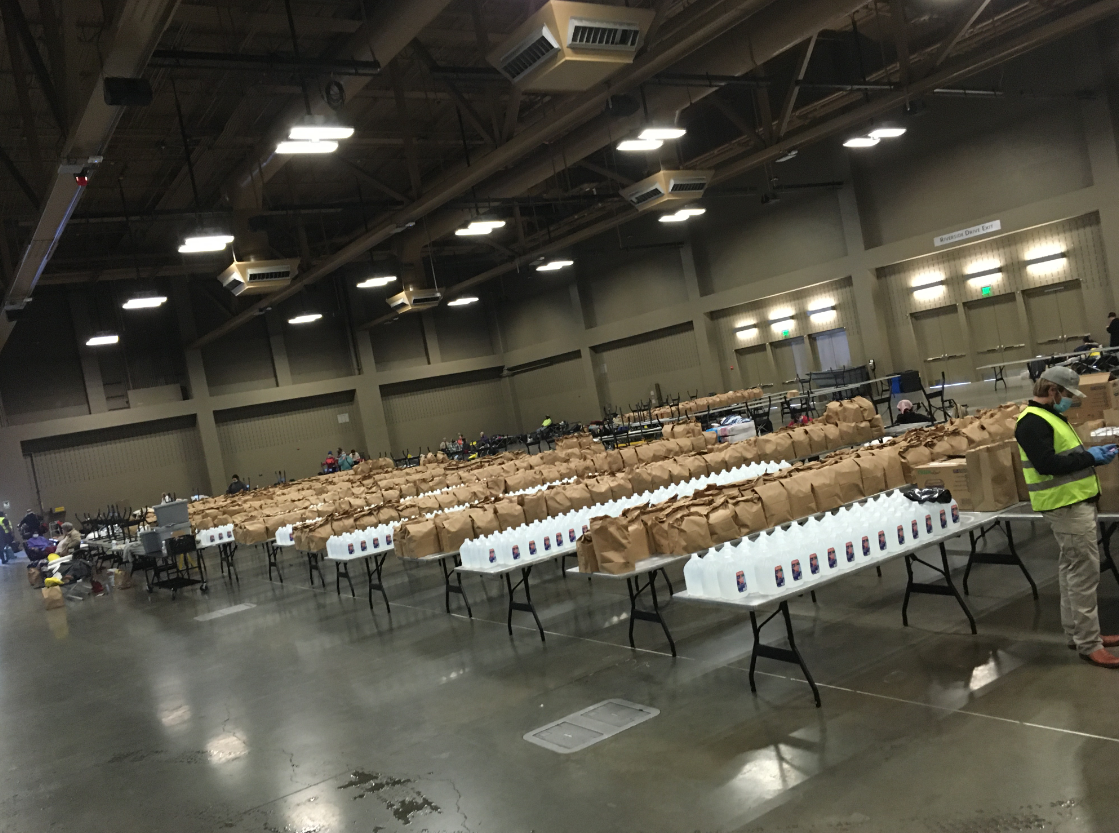 Although water has been restored, the boil-water ban has been lifted and temperatures are way above freezing, the recovery process is not over. In addition to restaurants and businesses losing money, the city will have weeks of repairs and damages to fix before the storm becomes a distant memory.
The remaining funds that went unused have since been donated to Good Work Austin, a kitchen program that aims at feeding underserved populations.
All the influencers have hopes that things will change within the community as residents continue to band together to rebuild and repair what was lost to Winter Storm Uri. Caulkins said that she wants the disaster to continue the trend of young, passionate members of the community taking city leadership positions.
"I think we're seeing a lot of younger voices and I think that's also something that things like this show," Caulkins said. "It would be great to see that continue because we're maybe a little bit more in touch with what is happening around us and wanting to make a difference and hopefully that will make an impact on city officials that are representing us in the future."
Despite the disaster, Ko said that the huge outpour of donations and volunteers that came through in the worst of times is exactly what makes Austin special.
"I love Austin, and I think this is what makes the city so great, that you have citizens like us that are willing to step up," Ko said. "Many, many people stepped up during this time. While Texas is strong, I think Austin is stronger."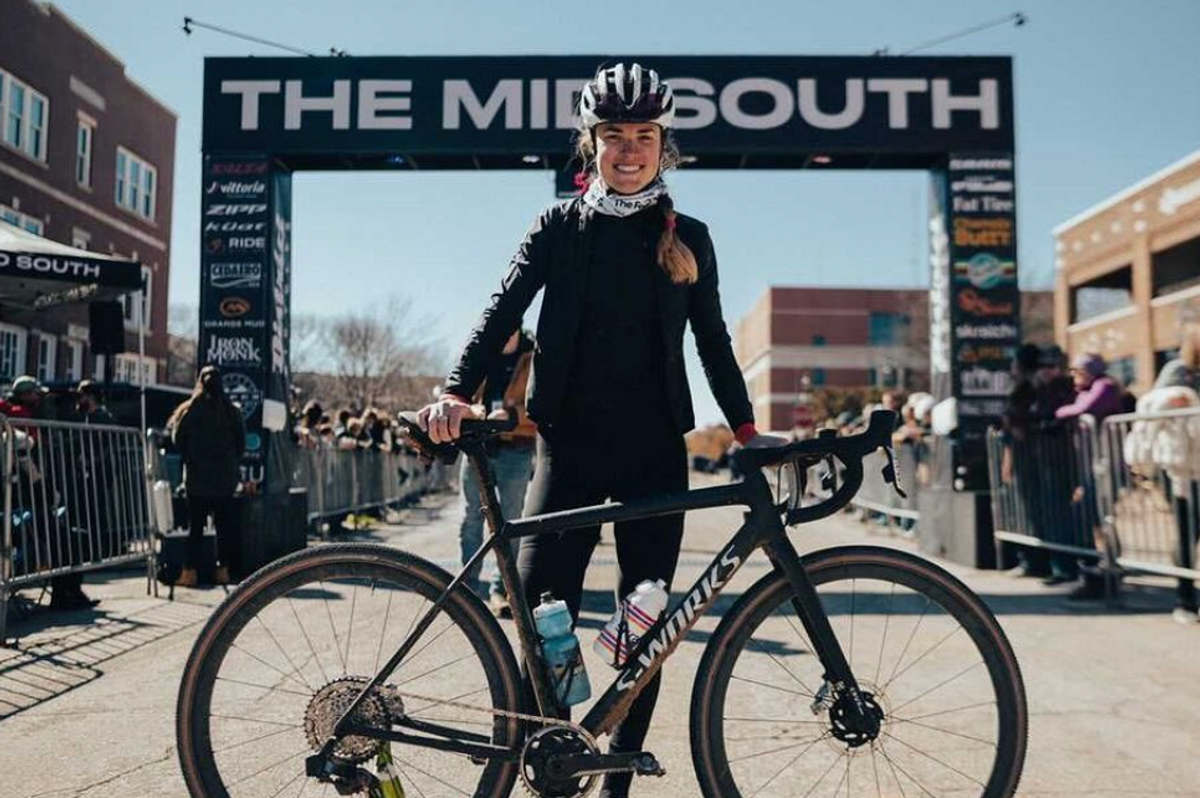 Austin police are investigating the killing of Moriah "Mo" Wilson after she was found with gunshot wounds inside an Austin home.
Wilson, a gravel and mountain bike racer, was visiting Austin from Colorado in preparation for the Gravel Locos race on Saturday taking place in Hico, a small town 2 hours from Austin.
On Wednesday, her roommate came home and found Wilson unresponsive with "a lot of blood near her," police said. It is now being investigated as a suspicious death. No further information on the suspect or motive behind the killing are available at this time.
Wilson recently had become a full-time biker after winning a slew of races in the past year.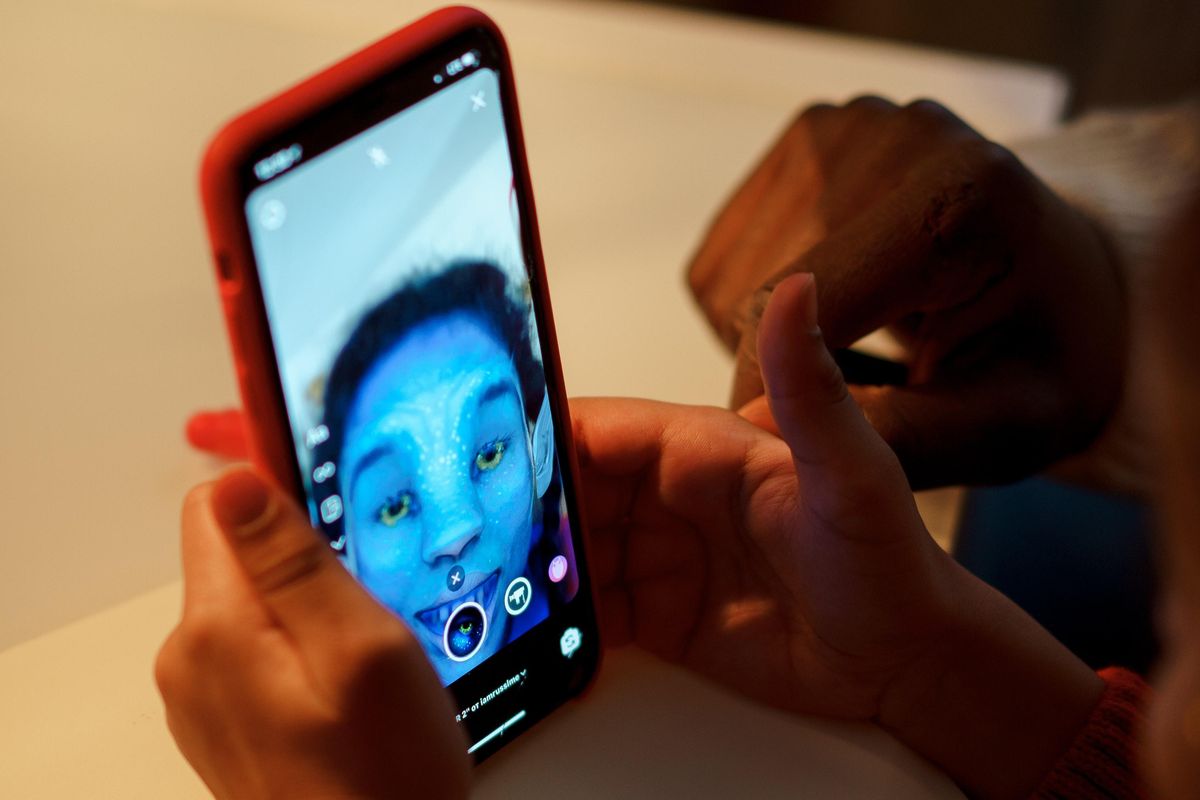 Some of your favorite Instagram filters can't be used in Texas anymore and Austinites are sounding off on social media.
Meta, Facebook and Instagram's parent company, announced on Wednesday that certain filters would no longer be available in Texas.
The change is a result of Texas Attorney General Ken Paxton's lawsuit against Meta, alleging the company uses facial recognition technology that violates laws in Texas. A release from Meta says it stopped using facial recognition tech in November 2021 and denies Paxton's allegations.
Some Austinites bemoaned the shift, saying some of their favorite filters were now unavailable.
But more often than not, locals joked about the ban.
And some in-between chose to show off some natural beauty.
Finally, some are trying to cash in on the opportunity.
Meta said it plans to create an opt-in system for both Texas and Illinois residents, who are facing the same issues.