Get connected with our daily update
When city services shut down, four Austin influencers stepped up to bring thousands of free meals to the community.
---
As Winter Storm Uri left residents across the city without power and water, Mylk Collective founder Chelsea Hughes, Cara Caulkins of Cara Caulkins Communications, A Taste of Koko food blogger Jane Ko and 365thingsAustin Kristy Owen knew they needed to use their platform to bring help to fellow Austinites.
By Monday, Caulkins was contacted by Deep Eddy Vodka to begin coordinating with restaurants that may have leftover food to give to those in need.
Knowing that both Hughes and Ko had raised money during the hectic beginning of the pandemic, Caulkins contacted them to help get the ball rolling.
The trio, alongside 365thingsaustin's Kristy Owen, made a GoFundMe last Wednesday and began organizing a restaurant network that spanned across the city. Ko, who has covered the local restaurant scene for about a decade, said that she contacted at least 150 restaurants as they looked for candidates. Early volunteers, including The Peached Tortilla owner Jerry Silverstein, cooked their leftover reserves with a gas oven in the dark as they continued to have no power.
Three days later, the Winter Storm Relief Fund had raised over $100,000 in funding, passed out thousands of free meals to residents in need, and teamed up with dozens of local restaurants.
The outreach served more than just those without food to eat during the storm. Hughes said that providing free meals served as a boost for both citizens in need and restaurants who had lost money on a frozen Valentine's Day weekend and were sitting on a stockpile of food.
"Our mission was twofold: feeding the public and underserved communities, hospitals and ems workers but also giving back to the rest who have lost so much throughout this pandemic and with this truly historic storm," Hughes said. "Our mission is also to continue whatever this rebuild process looks like and to continue to be a resource for whatever restaurants that need this."
They soon learned that Austin's water utility also gave out later on in the week, but many restaurants still needed to feed and pay their employees as the crisis began to worsen. Ko said that it was heartwrenching to hear back from eager volunteers who had gone to their food trucks or restaurants and found broken pipes, unusable kitchens and water damage.
"It was heartbreaking to me to have restaurants and food trucks reach out to me and then check on their food truck and say, 'I'm sorry Jane, our pipes are busted we can't cook," Ko said. "They have families they need to take care of."
Eventually, the three discovered specific pockets in the community that were suffering more than others in the disaster. In far north and southwest Austin, communities had been without power or water for days. Some populations had no transportation to get to water distribution hubs, and hospitals and EMS workers were falling apart as they spent days without power or water. Alongside their partners, the group visited hospitals and first responder locations with free, warm meals from various restaurants.
Rumors spread of apartment complex residents drinking pool water during the disaster, homes flooding irreparably, and many living in subfreezing conditions for much of the storm. Hughes said the incident was eye-opening to how privileged many in the community, including herself, are on a regular basis.
"It was the first time in our lives that we had to wonder how we were going to get our next meal and how we are going to be warm and how those basic needs are going to be met," Hughes said. "It made me realize how underserved certain communities are. This is a moment in my life where I know I always want to use my contacts now to be a resource to help underserved communities in my city."
When the situation progressed, the community doubled down and began donating more. In three hours on Wednesday, Ko said the GoFundMe had already reached $10,000. By Thursday, funding swelled to $70,000, surpassing its goal by over $50,000 and sitting above $150,000 into last weekend. On Monday of this week, Ko estimated that the group had helped coordinate over 30,000 free meals.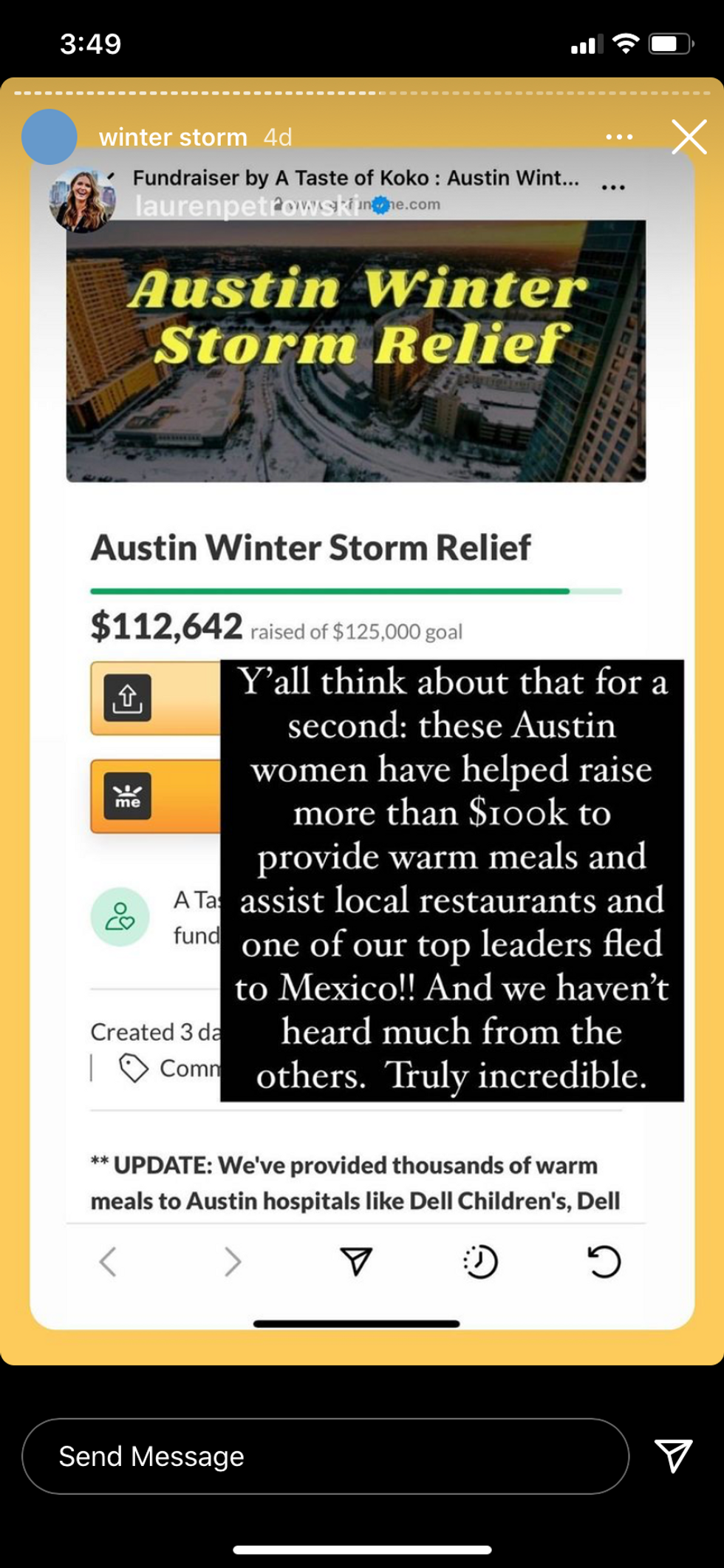 The GoFundMe was not the only source of donations going into Austin area restaurants. After Deep Eddy communicated with Caulkins, the local brand began sponsoring restaurants on its own to provide hundreds of meals at a time. Large local companies such as Kendra Scott and Bumble came in to help, while national brands like Red Bull also funneled their contributions into the community.
Caulkins noted that the influence of social media was really highlighted as the three used their profiles, including Ko's @atasteofkoko account and @365thingsaustin, to get the word out.
"This really speaks to the power of social media," Caulkins said. "We were able to raise these funds and also allowed these platforms to be a community resource."
Austin Winter Storm Relief Fund kept the city running when power and water failed
All images courtesy of Cara Caulkins.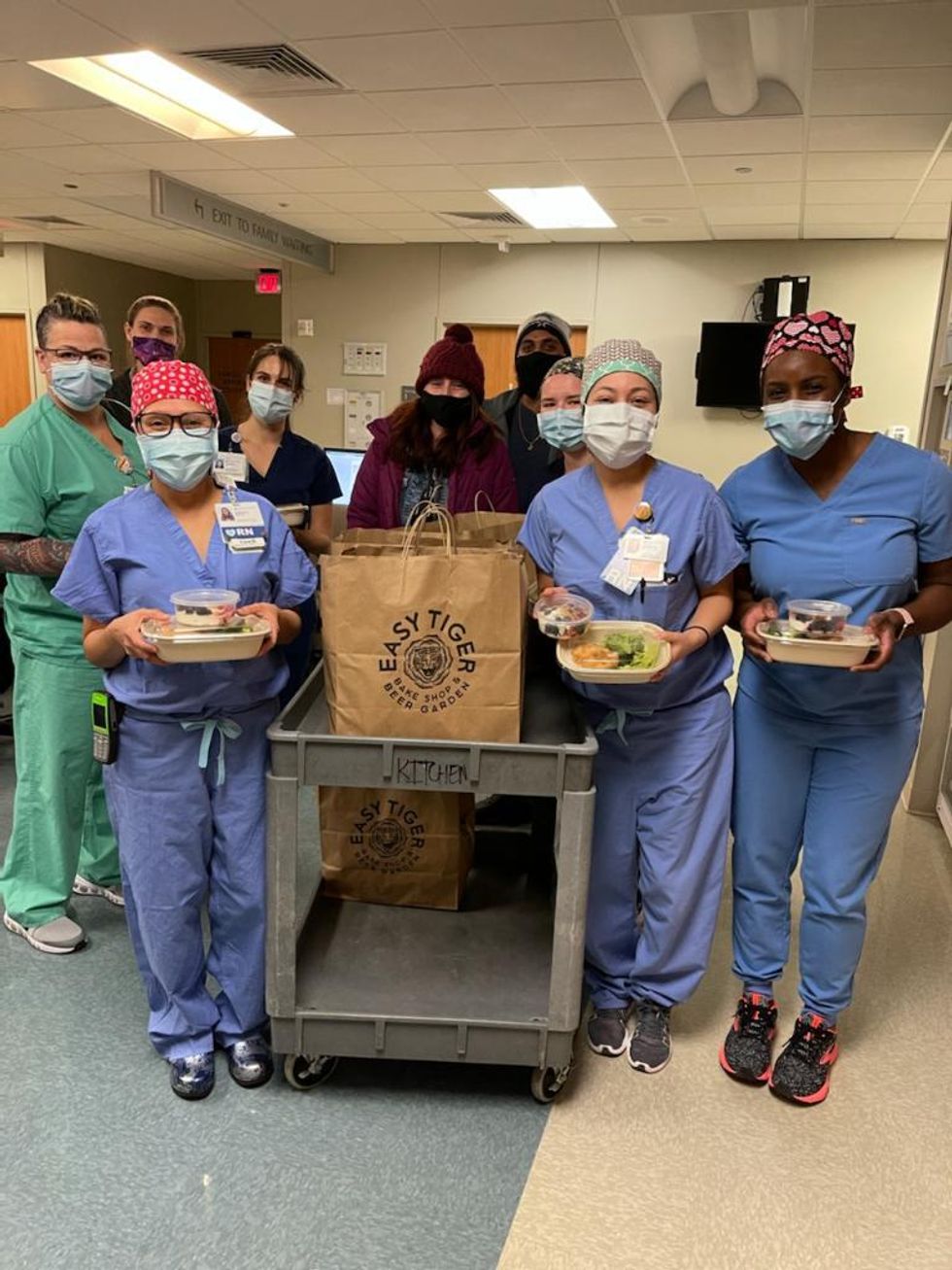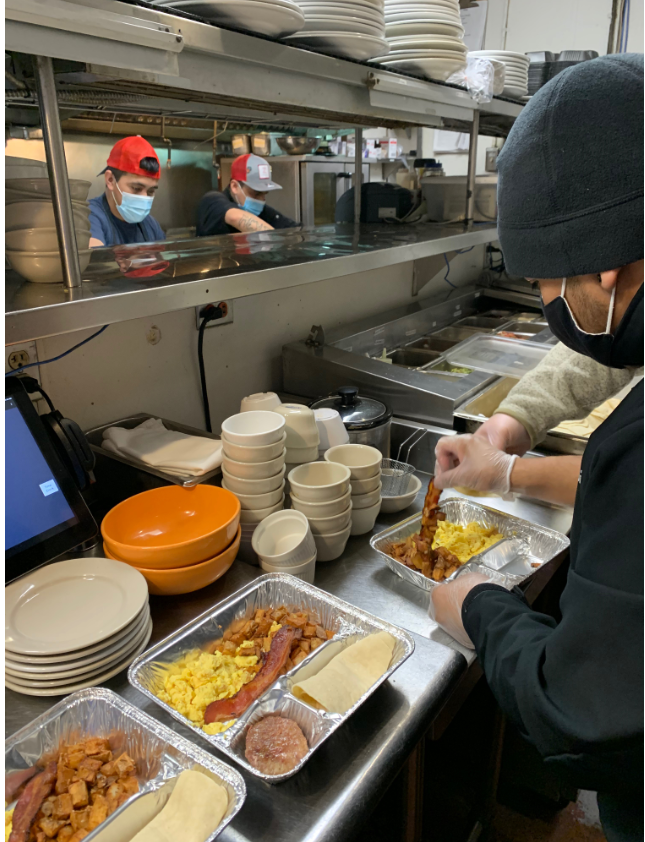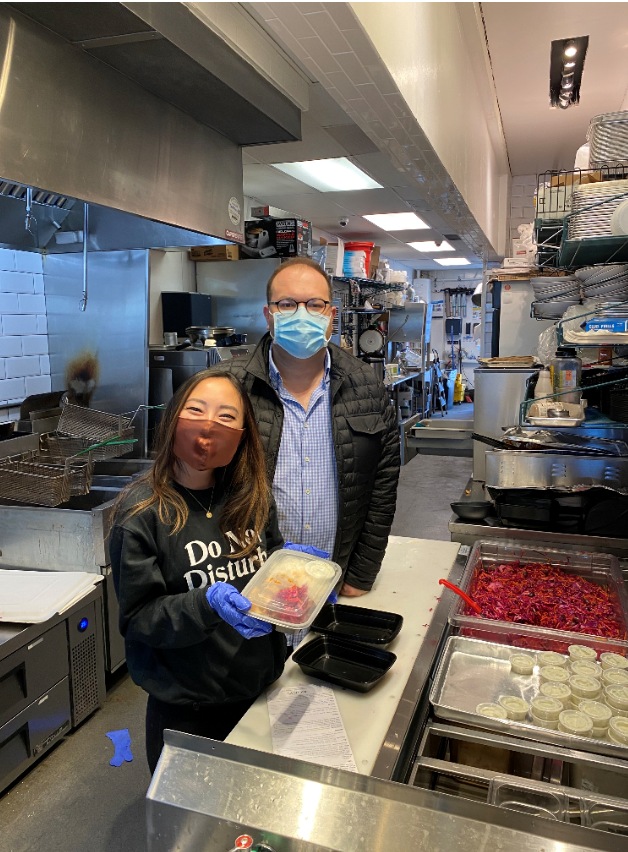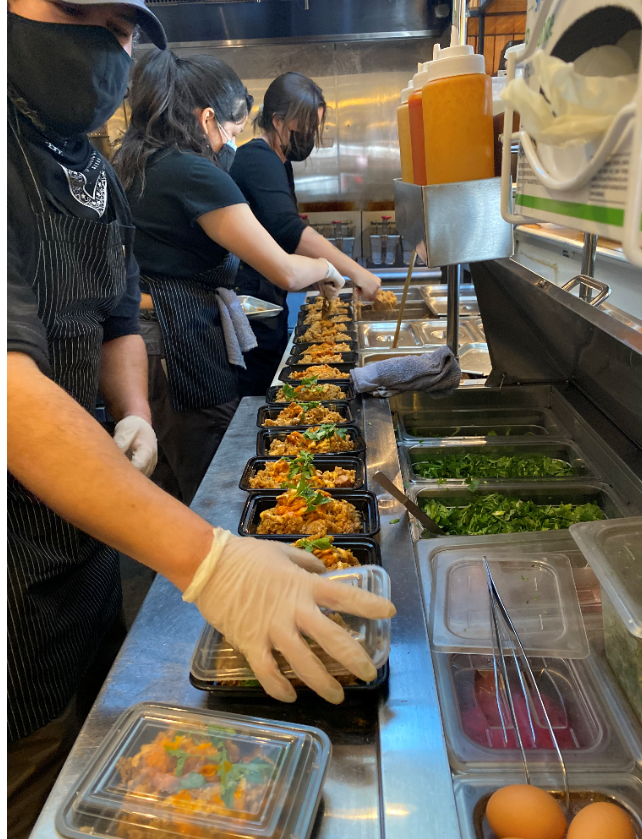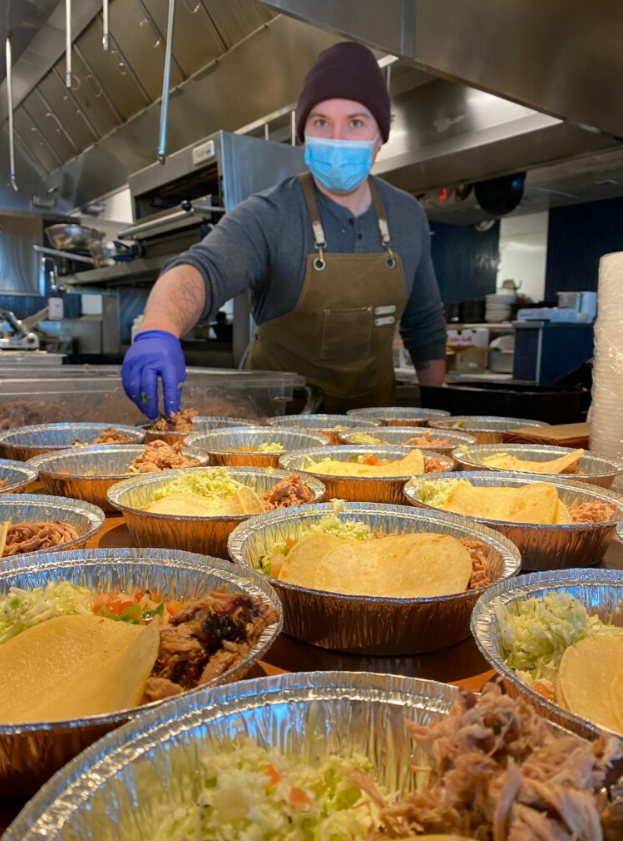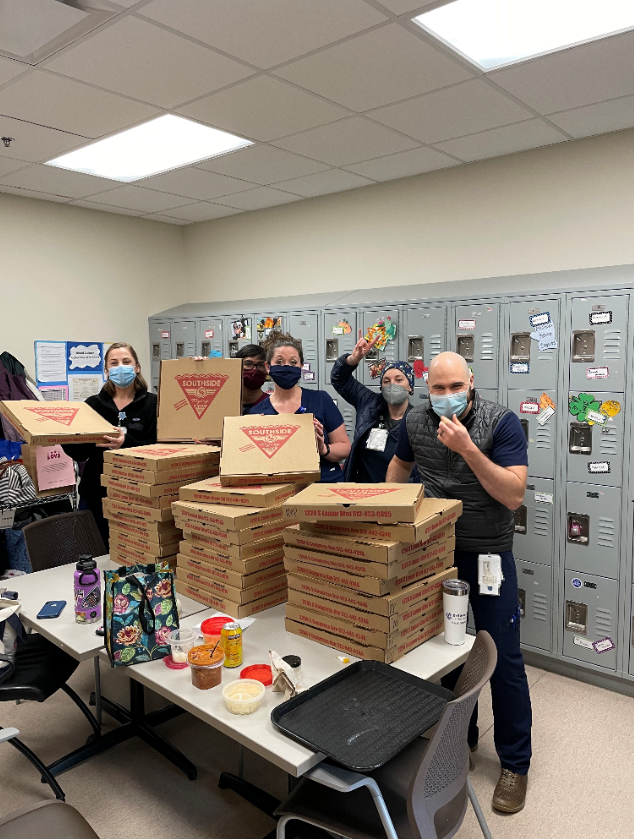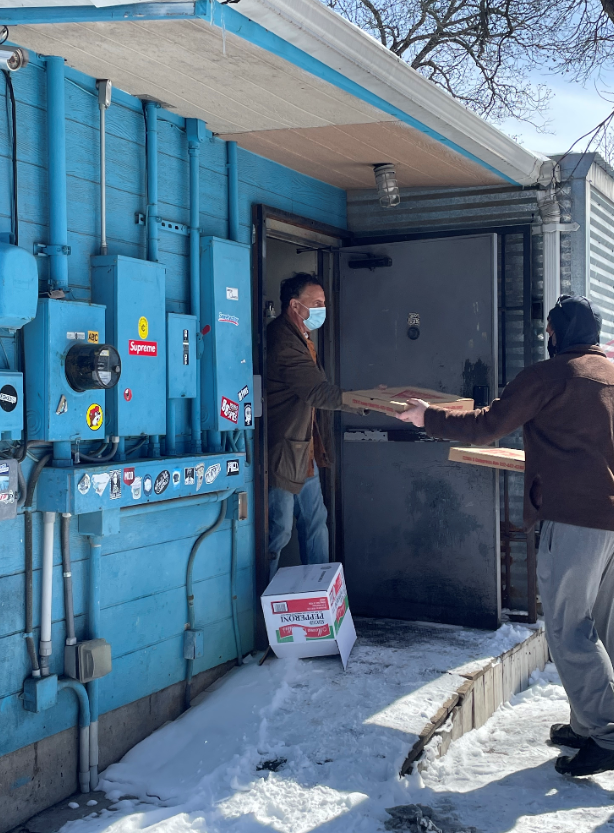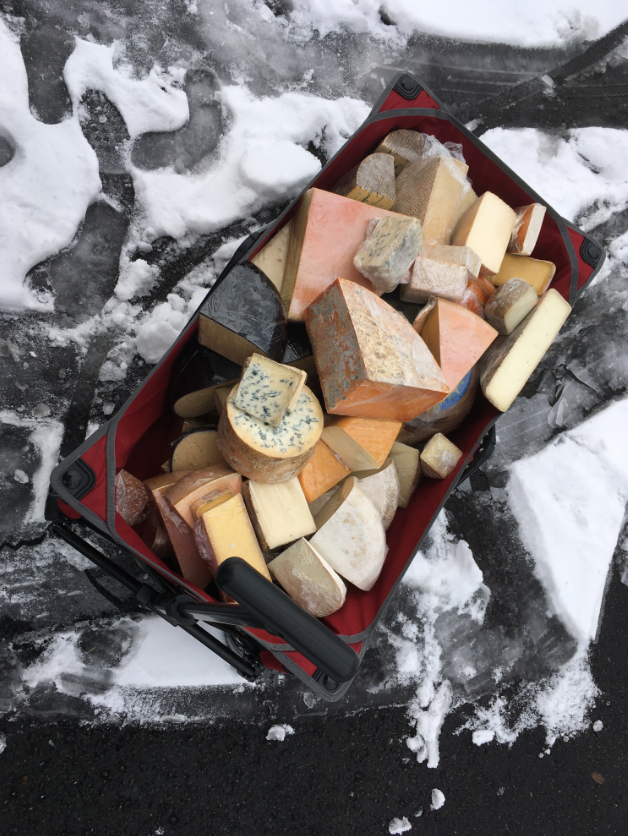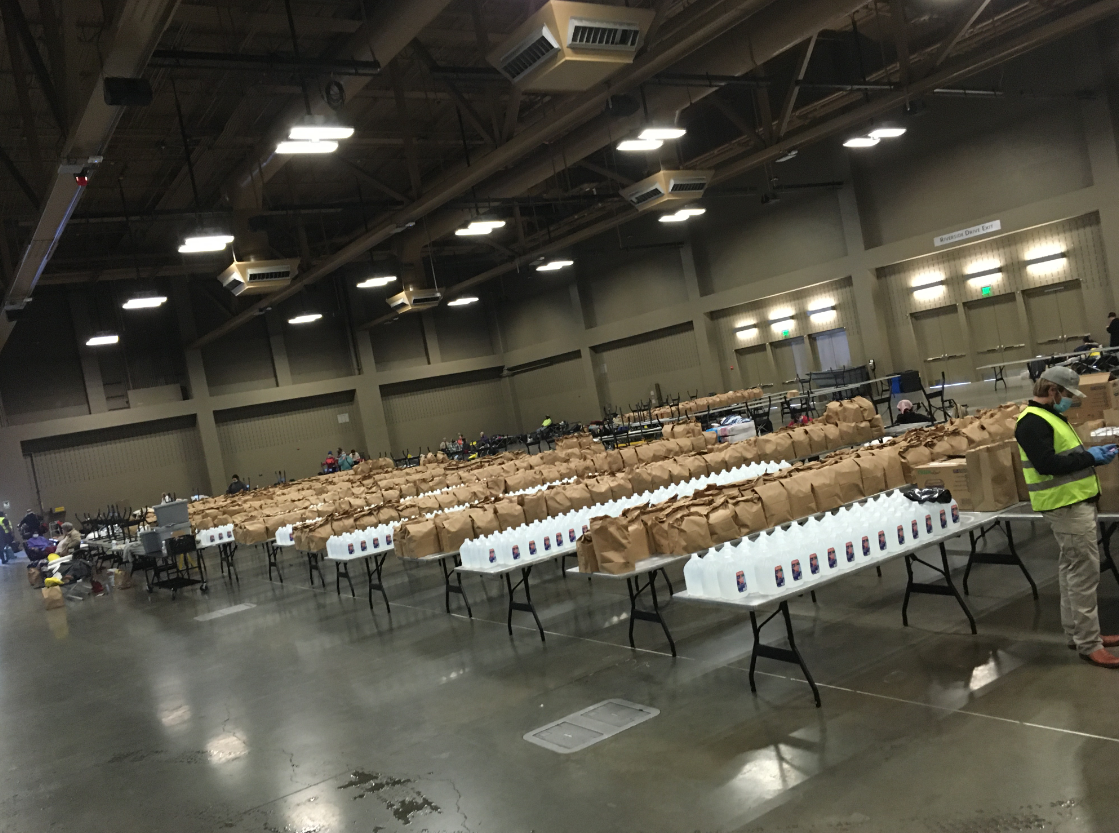 Although water has been restored, the boil-water ban has been lifted and temperatures are way above freezing, the recovery process is not over. In addition to restaurants and businesses losing money, the city will have weeks of repairs and damages to fix before the storm becomes a distant memory.
The remaining funds that went unused have since been donated to Good Work Austin, a kitchen program that aims at feeding underserved populations.
All the influencers have hopes that things will change within the community as residents continue to band together to rebuild and repair what was lost to Winter Storm Uri. Caulkins said that she wants the disaster to continue the trend of young, passionate members of the community taking city leadership positions.
"I think we're seeing a lot of younger voices and I think that's also something that things like this show," Caulkins said. "It would be great to see that continue because we're maybe a little bit more in touch with what is happening around us and wanting to make a difference and hopefully that will make an impact on city officials that are representing us in the future."
Despite the disaster, Ko said that the huge outpour of donations and volunteers that came through in the worst of times is exactly what makes Austin special.
"I love Austin, and I think this is what makes the city so great, that you have citizens like us that are willing to step up," Ko said. "Many, many people stepped up during this time. While Texas is strong, I think Austin is stronger."
With marbled interiors and a cool multi-million asking price, a newly listed Westlake Hills-nestled modern mansion will make you feel like a Kardashian.
Atop one of Austin's signature rolling hilltops, 1501 Ridgecrest Drive is similar to one of the plush palaces that one might find in Calabasas. For $10.9 million, the home has four bedrooms, four-and-a-half bathrooms and caps at 10,498 square feet.
Park in the massive, fully air-conditioned garage before walking in, where you'll have eight full spaces to park your collection of cars. If you're not a collector, the garage makes an excellent studio space.
The wide-open living spaces will draw your eyes to the two-story ceilings, glass catwalk, integrated fireplace and wall of floor-to-ceiling windows that overlook the pool.
Though the house was built in 2011, it doesn't show its age. Sleek, clean lines lead seamlessly from the formal living area to an elite open-plan kitchen. Separated by a 25-foot waterfall island that can seat at least eight people, the kitchen is fitted with only the finest Miele and Subzero appliances. The custom cabinets are just as pricey as the rest of the place, finished with custom high-gloss Aston Martin (you read that right) paint.
Upstairs in the sprawling master's suite, there are enough amenities to never have to set foot outside again. Armani tile floors, space for living and a walk-in showcase closet lead into the resort-style bathroom, where you'll find dual vanities, a walk-in shower and a lounging bathtub.
The bedroom is a quick elevator trip away from the "party" room, complete with a bar, wine room and movie theater, only the best for entertaining. If your guests are staying over, rest assured they'll be comfortable with the kitchenette, washer and dryer and spa-like bath in their suite.
Though summer has passed, you can still enjoy the grand lap pool's unobstructed Hill Country views, many private lounging areas, grill a homemade snack at the outdoor kitchen or shoot some hoops at the newly-added court.
The listing is held by Compass' Gary Dolch.
In what could be one of their least energetic showing to date, Austin FC was outperformed by home team San Jose in a 4-0 road loss late Wednesday night.
As the first team officially out of playoff contention in a loss on Saturday, the team seemed defeated from almost the moment they hit the pitch as Quakes standouts Chris Wondolowski and Javier "Chofis" Lopez scored on the team.
A 10th-place San Jose maintained a clean sheet in the match as they inched closer to a last-minute spot in playoffs.
Just as they did in their 1-0 loss Saturday, it was Austin FC who struck first in the match. Captain Alex Ring forced a save from Quakes keeper JT Marcinkowski in just the second minute of play, while star forward Sebastian Driussi followed soon after.
A little over 10 minutes later, San Jose responded with a shot of their own as Austin keeper Brad Stuver was forced into action with a diving save. But with a failing backline and a lack of energy throughout, a frustrated Stuver wouldn't be enough to stave off the home team Quakes in their four-goal triumph.
After a slow first half, San Jose star Chofis was the first to strike after sneaking past Stuver to make it 1-0 for the home team to kick off the second half.
Just five minutes later, Quakes midfielder Benjamin Kikanovic broke free with a fast-paced drive in a play that saw two Asutin FC players hit the ground to double the lead. Stuver and other players were immediately outraged in the controversial call after an apparent handball in the box.
MLS' top all-time scorer Chris Wondolowski capitalized on the slow Austin defense next, taking a pause in the box to score the third goal unmanned in the 59th minute.
Finally, Carlos Fierro clinched the win for the home team after placing a header from six yards out off of a cross and corner kick to end the match 4-0 for San Jose.
Austin Head Coach Josh Wolff attempted to staunch the wound with a series of subs starting at the beginning of the second half, subbing in native Austinite McKinze Gaines for Moussa Djitte and Rodney Redes for Cecilio Dominguez. But no subs were enough to push back against the 'Quakes as the team lost their second match in a row.
Austin FC has four final matches to end the season, including two remaining home matches against the Houston Dynamo at 4 p.m. on Sunday and a final match at Q2 Stadium against Sporting Kansas City at 8 p.m. on Wednesday, Nov. 4.
Here's a live blog of the match:
Tesla's third-quarter profits were released on Wednesday afternoon and current richest-man-on-earth Elon Musk topped the charts since his high-profile transition to Austin.
Q3 held record-high deliveries for the electric vehicle manufacturer, despite chip shortages and supply chain issues. Revenue came in slightly shy of expectations but still yielded the most profitable quarter thus far for Tesla. Plus, adjusted earnings per share are also on the rise.
"A variety of challenges, including semiconductor shortages, congestion at ports and rolling blackouts, have been impacting our ability to keep factories running at full speed," Tesla said in a statement. "We believe our supply chain, engineering and production teams have been dealing with these global challenges with ingenuity, agility and flexibility."
According to Tesla's update, the EV giant's Q3 revenue came in at $13.76 billion—a big year-over-year increase as Tesla recorded $8.77 billion in Q3 of 2020. The expectation was $13.9 billion and though the company came in just a few million lower, it was the company's ninth-straight profitable quarter.
Though earnings were a touch lower than expected, adjusted earnings per share came in at $1.86, where expected had been $1.67, and a year ago was 76 cents per share.
An accomplishment for Tesla this quarter was delivering more than 241,300 vehicles worldwide from its California factory—almost half of what the company delivered throughout all of 2020.
This Q3 update comes on the heels of Tesla's announcement that it would move its headquarters to the capital city. Additionally, the new Gigafactory in southeast Travis County is looking more complete by the day. While full-scale production isn't slated to start until 2022, the factory has already begun testing its robotic assembly line.