Austonia AM
100% Austin news, info, and entertainment, straight to your inbox at 6 a.m. every morning.
In five minutes, you're fully informed and ready to start another great day in our city.
Get connected with our daily update
When city services shut down, four Austin influencers stepped up to bring thousands of free meals to the community.
---
As Winter Storm Uri left residents across the city without power and water, Mylk Collective founder Chelsea Hughes, Cara Caulkins of Cara Caulkins Communications, A Taste of Koko food blogger Jane Ko and 365thingsAustin Kristy Owen knew they needed to use their platform to bring help to fellow Austinites.
By Monday, Caulkins was contacted by Deep Eddy Vodka to begin coordinating with restaurants that may have leftover food to give to those in need.
Knowing that both Hughes and Ko had raised money during the hectic beginning of the pandemic, Caulkins contacted them to help get the ball rolling.
The trio, alongside 365thingsaustin's Kristy Owen, made a GoFundMe last Wednesday and began organizing a restaurant network that spanned across the city. Ko, who has covered the local restaurant scene for about a decade, said that she contacted at least 150 restaurants as they looked for candidates. Early volunteers, including The Peached Tortilla owner Jerry Silverstein, cooked their leftover reserves with a gas oven in the dark as they continued to have no power.
Three days later, the Winter Storm Relief Fund had raised over $100,000 in funding, passed out thousands of free meals to residents in need, and teamed up with dozens of local restaurants.
The outreach served more than just those without food to eat during the storm. Hughes said that providing free meals served as a boost for both citizens in need and restaurants who had lost money on a frozen Valentine's Day weekend and were sitting on a stockpile of food.
"Our mission was twofold: feeding the public and underserved communities, hospitals and ems workers but also giving back to the rest who have lost so much throughout this pandemic and with this truly historic storm," Hughes said. "Our mission is also to continue whatever this rebuild process looks like and to continue to be a resource for whatever restaurants that need this."
They soon learned that Austin's water utility also gave out later on in the week, but many restaurants still needed to feed and pay their employees as the crisis began to worsen. Ko said that it was heartwrenching to hear back from eager volunteers who had gone to their food trucks or restaurants and found broken pipes, unusable kitchens and water damage.
"It was heartbreaking to me to have restaurants and food trucks reach out to me and then check on their food truck and say, 'I'm sorry Jane, our pipes are busted we can't cook," Ko said. "They have families they need to take care of."
Eventually, the three discovered specific pockets in the community that were suffering more than others in the disaster. In far north and southwest Austin, communities had been without power or water for days. Some populations had no transportation to get to water distribution hubs, and hospitals and EMS workers were falling apart as they spent days without power or water. Alongside their partners, the group visited hospitals and first responder locations with free, warm meals from various restaurants.
Rumors spread of apartment complex residents drinking pool water during the disaster, homes flooding irreparably, and many living in subfreezing conditions for much of the storm. Hughes said the incident was eye-opening to how privileged many in the community, including herself, are on a regular basis.
"It was the first time in our lives that we had to wonder how we were going to get our next meal and how we are going to be warm and how those basic needs are going to be met," Hughes said. "It made me realize how underserved certain communities are. This is a moment in my life where I know I always want to use my contacts now to be a resource to help underserved communities in my city."
When the situation progressed, the community doubled down and began donating more. In three hours on Wednesday, Ko said the GoFundMe had already reached $10,000. By Thursday, funding swelled to $70,000, surpassing its goal by over $50,000 and sitting above $150,000 into last weekend. On Monday of this week, Ko estimated that the group had helped coordinate over 30,000 free meals.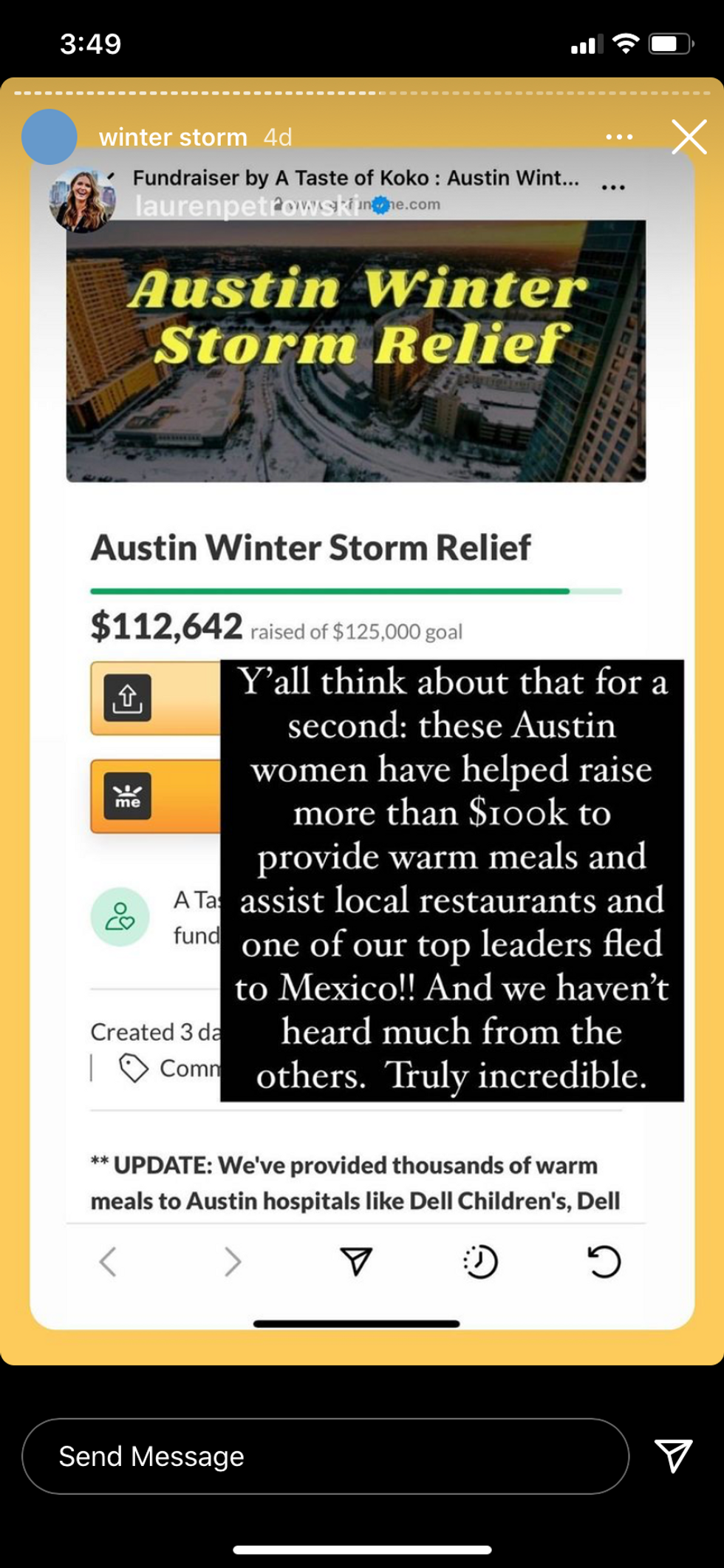 The GoFundMe was not the only source of donations going into Austin area restaurants. After Deep Eddy communicated with Caulkins, the local brand began sponsoring restaurants on its own to provide hundreds of meals at a time. Large local companies such as Kendra Scott and Bumble came in to help, while national brands like Red Bull also funneled their contributions into the community.
Caulkins noted that the influence of social media was really highlighted as the three used their profiles, including Ko's @atasteofkoko account and @365thingsaustin, to get the word out.
"This really speaks to the power of social media," Caulkins said. "We were able to raise these funds and also allowed these platforms to be a community resource."
Austin Winter Storm Relief Fund kept the city running when power and water failed
All images courtesy of Cara Caulkins.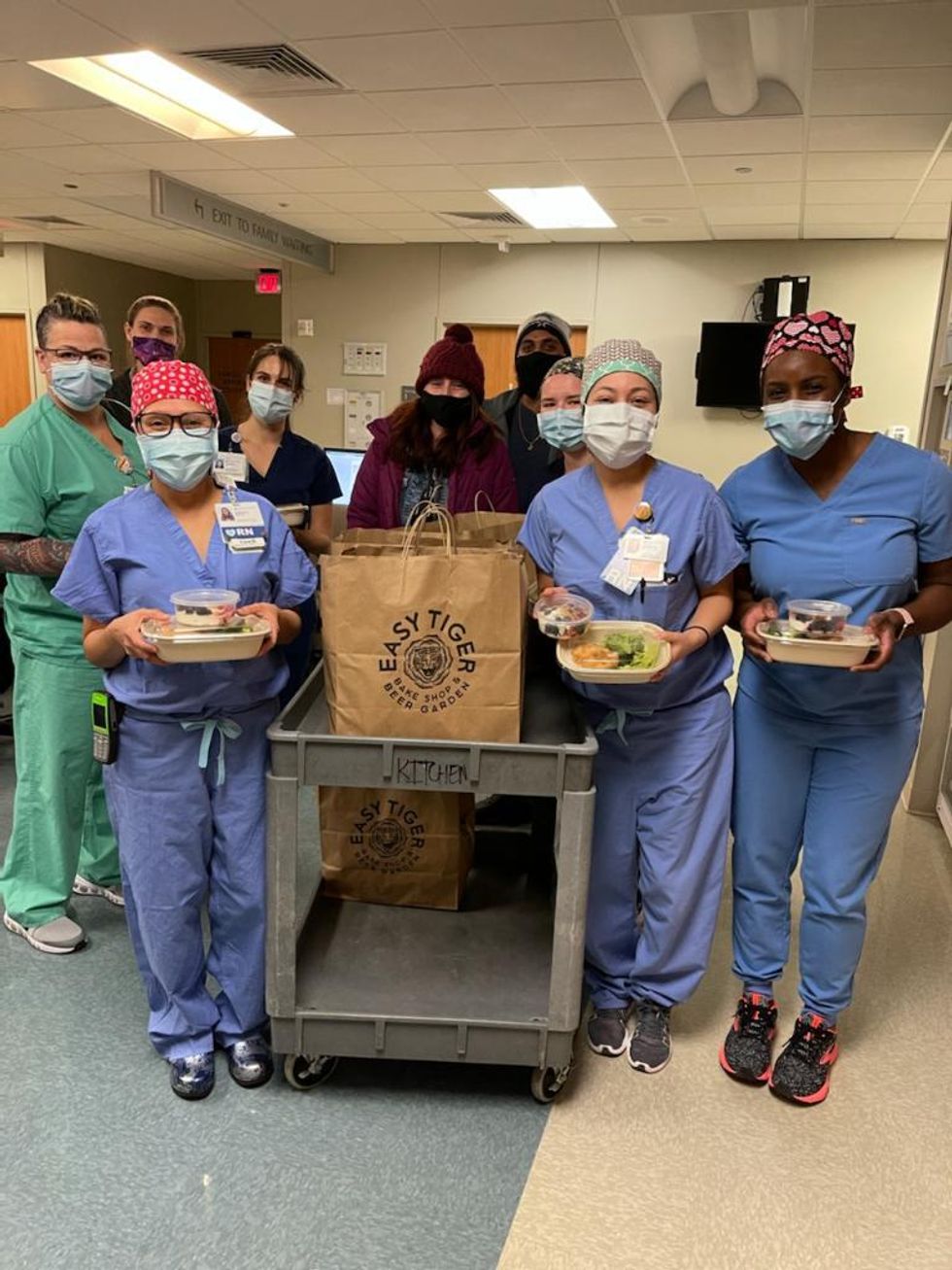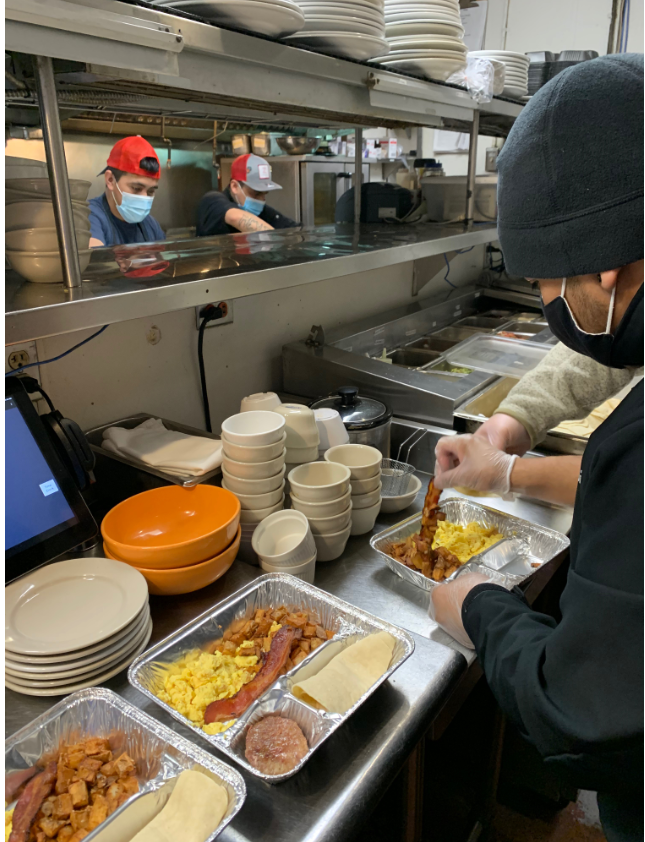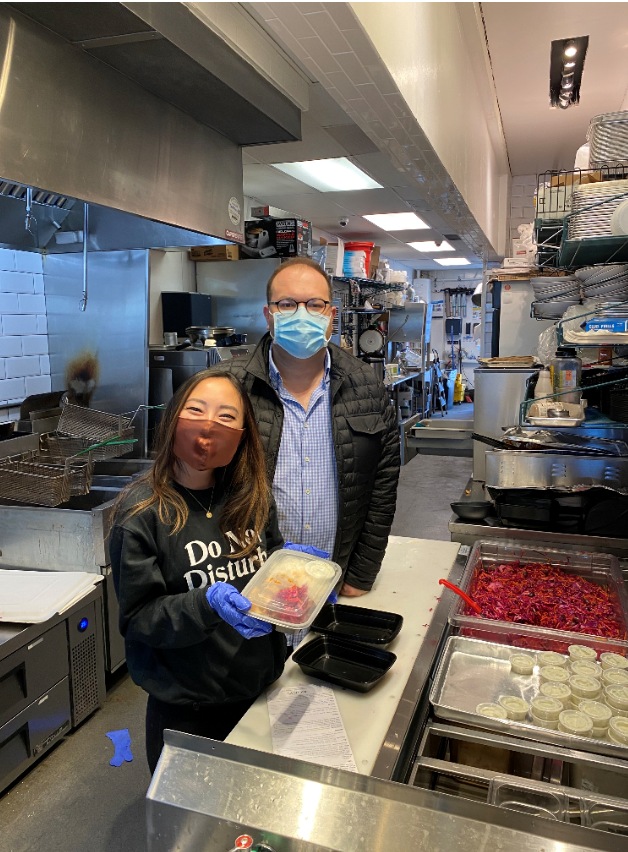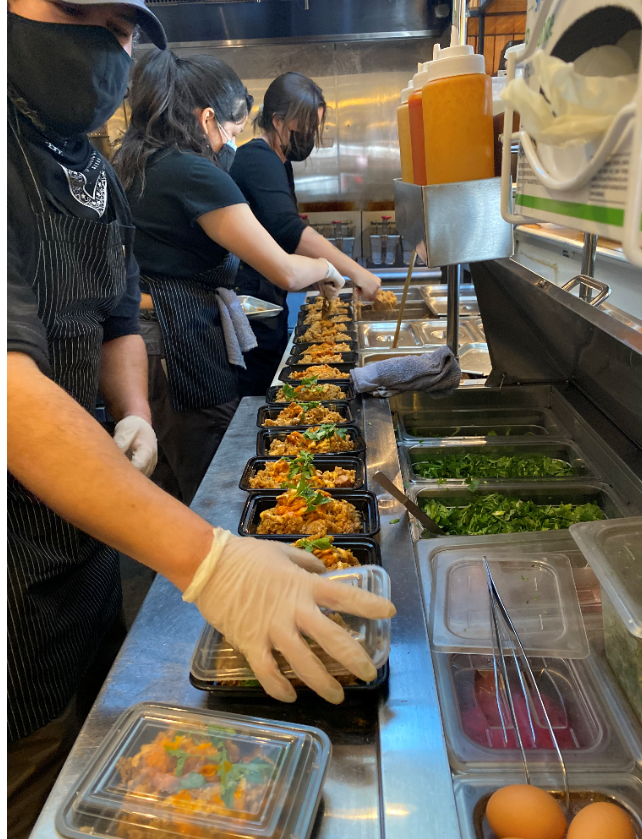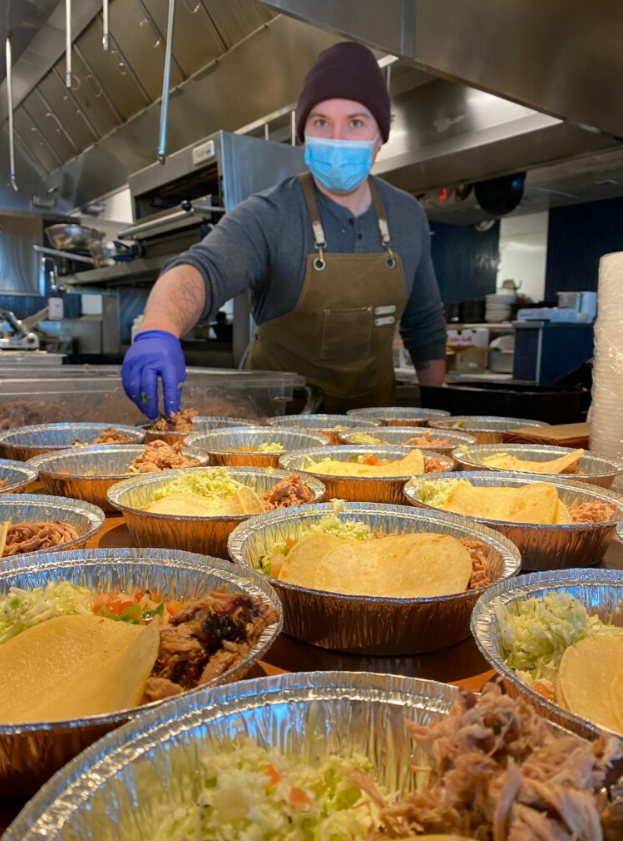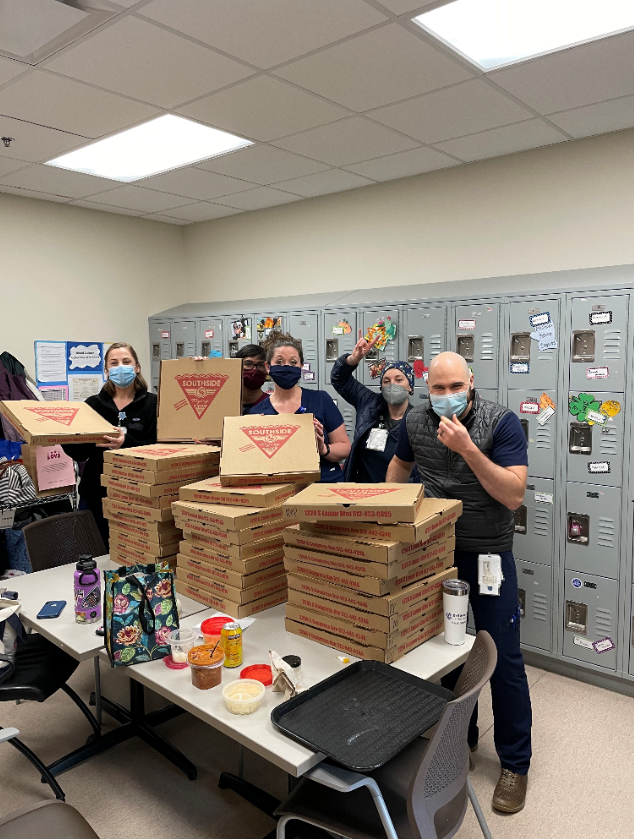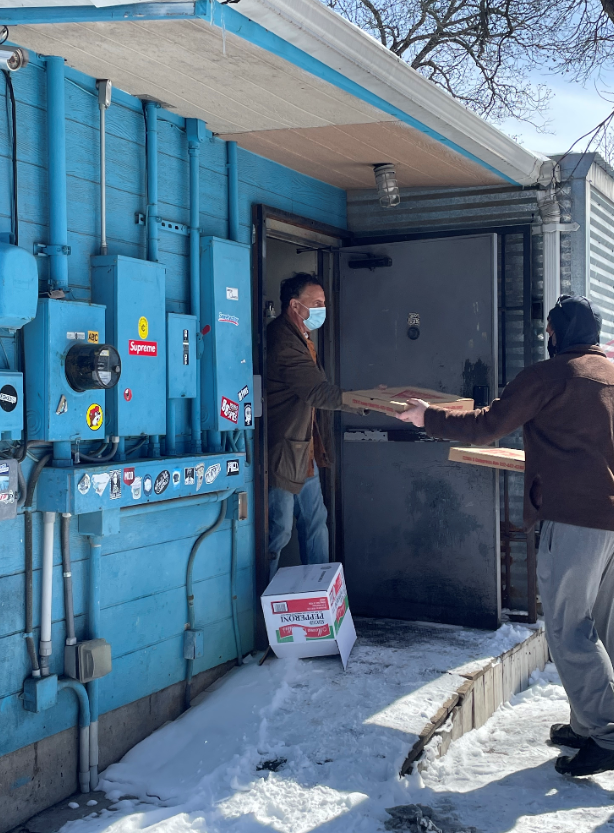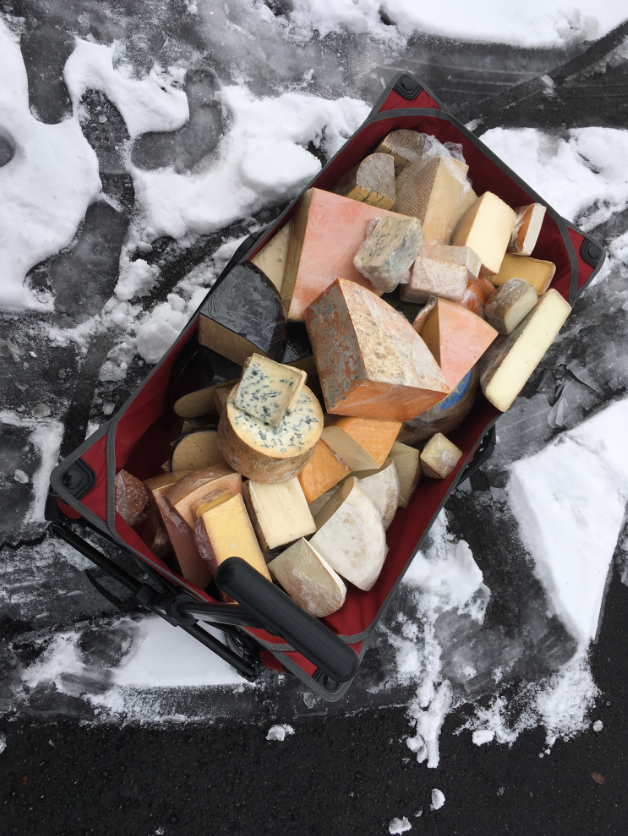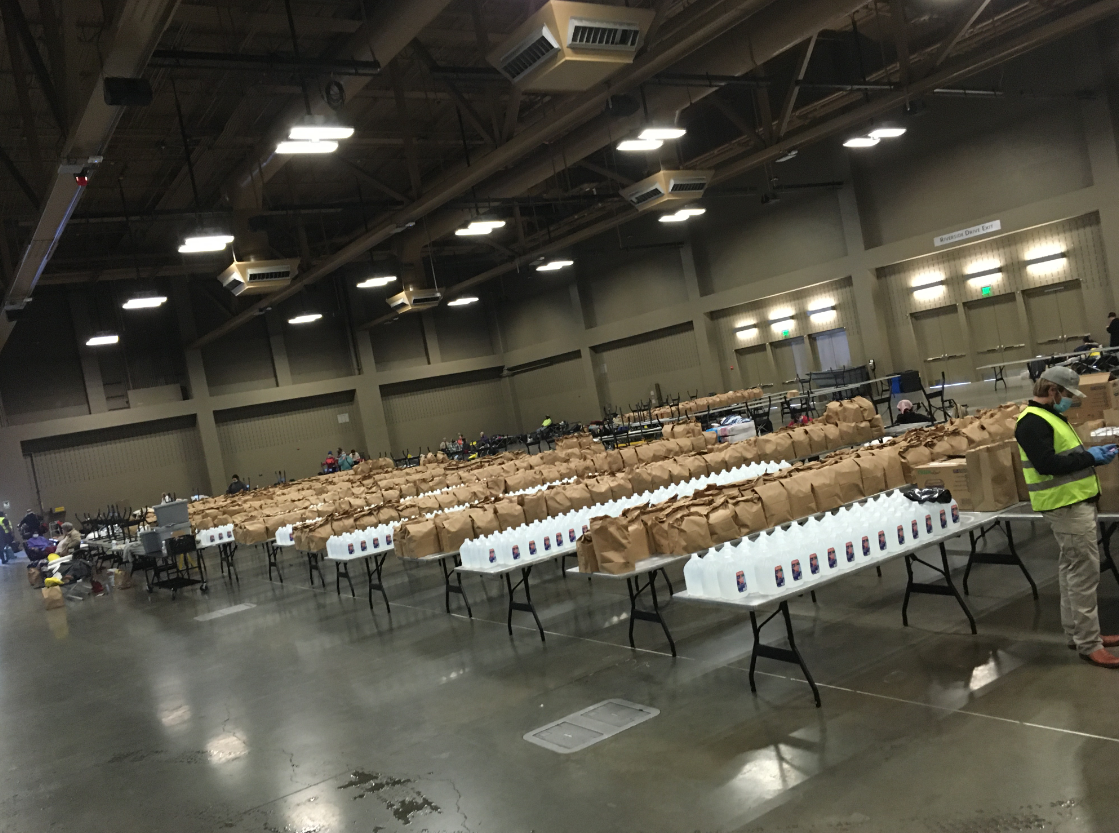 Although water has been restored, the boil-water ban has been lifted and temperatures are way above freezing, the recovery process is not over. In addition to restaurants and businesses losing money, the city will have weeks of repairs and damages to fix before the storm becomes a distant memory.
The remaining funds that went unused have since been donated to Good Work Austin, a kitchen program that aims at feeding underserved populations.
All the influencers have hopes that things will change within the community as residents continue to band together to rebuild and repair what was lost to Winter Storm Uri. Caulkins said that she wants the disaster to continue the trend of young, passionate members of the community taking city leadership positions.
"I think we're seeing a lot of younger voices and I think that's also something that things like this show," Caulkins said. "It would be great to see that continue because we're maybe a little bit more in touch with what is happening around us and wanting to make a difference and hopefully that will make an impact on city officials that are representing us in the future."
Despite the disaster, Ko said that the huge outpour of donations and volunteers that came through in the worst of times is exactly what makes Austin special.
"I love Austin, and I think this is what makes the city so great, that you have citizens like us that are willing to step up," Ko said. "Many, many people stepped up during this time. While Texas is strong, I think Austin is stronger."
In a scene that seemed to mark the pandemic's triumphant end, over 20,000 mostly maskless fans packed into Q2 Stadium for Austin FC's debut at Austin's first professional sports stadium in June. That mask-free utopia couldn't have been possible even a month before, and it may not be possible once more as Austin and the CDC returns to mask recommendations again for the first time since May.
Austin returned to Stage 4 restrictions on July 23 as case rates tripled since the beginning of the month and hospital beds once again filled with COVID patients. The spike comes after the highly contagious Delta variant was detected in Travis County. In its Stage 4 announcement, APH said its recommendations will not affect large events, such as Austin FC games, from operating.
More recently, the CDC updated its recommendation for vaccinated people on Wednesday, saying that all people in high-risk areas—including Austin with more than 50 COVID cases per 100,000 people—wear masks.
With businesses reinstating mask policies and new fear in the air, Q2's carefree party atmosphere may be affected. The club released the following statement to Austonia: "Austin FC encourages all guests to observe Austin Public Health's recommendations and take appropriate action based on individual circumstances."
After Austin voters passed Proposition B, reinstating a ban on public camping, City Council directed staff to look into possible sanctioned campsites where homeless residents could live legally. Now two members are asking to shelve discussion on the controversial topic.
Staff presented dozens of possible sanctioned campsites across each fo the 10 council districts in late May, following the election. But members mostly pushed back on the proposed locations, citing cost, wildfire risk and lack of transparency as concerns.
With updated criteria, staff recommended two sites—one in District 1 and the other in District 8—for further review last week. After being briefed on the options during Tuesday's work session, Mayor Pro Tem Natasha Harper-Madison, who represents District 1, and Council Member Paige Ellis, who represents District 8, issued a joint statement proposing "a pause" on further discussion of temporary sanctioned encampments.
"We are not convinced that these sites would be a cost-effective solution, but rather a band-aid tactic when we need to be supporting the long-term strategy to get folks off the street permanent," they said. "It is our responsibility to look at the situation holistically and objectively, and to spend out city's limited resources on solutions we know can work."
Homeless Strategy Officer Dianna Grey noted that the two locations were imperfect and would require a lot of time and money to outfit as sanctioned campsites during the briefing.
City staff and homeless experts have previously raised concerns about sanctioned encampments, saying they are expensive to maintain, challenging to manage and hard to close, even when intended to to be temporary.
In 2019, staff declined to make recommendations for such sites despite being directed by council to do so, citing 2018 guidance from the U.S. Interagency Council on Homelessness. "Neither authorized encampments nor parking areas provide housing for people experiencing homelessness," staff wrote in a memo. "Rather, each option detracts from the staff resources assigned to addressing this moral imperative."

But with Prop B being enforced and too few shelter beds and affordable units for the estimate unsheltered homeless population in Austin, the city is facing the same predicament that prompted District 9 Council Member Kathie Tovo to pursue possible sanctioned campsites in the first place: "When individuals in encampments ask where they should go, we need to have places to suggest," she said at a May 6 council meeting.
Don't lose your mask just yet—the Centers for Disease Control and Prevention announced it is now recommending masks in areas that are surging as cases rise nationwide and the Delta variant looms.
The CDC announced Tuesday that even fully vaccinated individuals should mask up indoors if their community is experiencing substantial transmission—defined as areas with more than 50 cases per 100,000 people. Travis County is sitting at an average of 94.59 cases per 100,000 over the past seven days, falling into the highest risk category, according to the CDC.
#DeltaVariant surging in U.S. New data show Delta much more contagious than previous versions of #COVID19. Unvaccinated people: get vaccinated & mask until you do. Everyone in areas of substantial/high transmission should wear a mask, even if vaccinated. https://t.co/tt49zOEC8N
— CDC (@CDCgov) July 27, 2021
After two COVID-19 recommendation stage jumps in the last two weeks, from Stage 2 to Stage 4, Austin-area cases are the highest they have been since February. The seven-day average for cases is on an upward trend, reaching 226 on Tuesday.
The CDC is also recommending that all students K-12 wear masks indoors, regardless of vaccination status. A May executive order by Gov. Greg Abbott prohibits schools from requiring masks, regardless of vaccination status. Austin ISD is "strongly" encouraging students to wear masks.
Although vaccinated individuals are still protected against the most severe symptoms of the variant, infections are spreading rapidly and now make up 83% of confirmed cases in the U.S. At least a dozen cases of the delta variant have been confirmed in the Austin area, though there are likely more since testing for it is limited.
CDC Director Dr. Rochelle Walensky said that hospital admissions are "almost exclusively" coming from people who are unvaccinated but those who are vaccinated can still catch and spread the virus.
"Unlike the alpha variant that we had back in May, where we didn't believe that if you were vaccinated you could transmit further, this is different now with the Delta variant," Walensky said. "That leads us to believe that the breakthrough infections, rare that they are, have the potential to pool and transmit at the same with the same capacity as an unvaccinated person."
Research suggests those who become infected carry 1,000 times more of the virus than other variants and could stay contagious for longer.
The announcement comes on the heels of the Biden administration ramping up cautionary measures in the face of the Delta variant. Just last week, the CDC said it had no plans to change its May guidance of vaccinated not having to wear masks unless there was a significant change in the data. Officials met on Sunday night to review new evidence,
according to reports.