Get connected with our daily update
When city services shut down, four Austin influencers stepped up to bring thousands of free meals to the community.
---
As Winter Storm Uri left residents across the city without power and water, Mylk Collective founder Chelsea Hughes, Cara Caulkins of Cara Caulkins Communications, A Taste of Koko food blogger Jane Ko and 365thingsAustin Kristy Owen knew they needed to use their platform to bring help to fellow Austinites.
By Monday, Caulkins was contacted by Deep Eddy Vodka to begin coordinating with restaurants that may have leftover food to give to those in need.
Knowing that both Hughes and Ko had raised money during the hectic beginning of the pandemic, Caulkins contacted them to help get the ball rolling.
The trio, alongside 365thingsaustin's Kristy Owen, made a GoFundMe last Wednesday and began organizing a restaurant network that spanned across the city. Ko, who has covered the local restaurant scene for about a decade, said that she contacted at least 150 restaurants as they looked for candidates. Early volunteers, including The Peached Tortilla owner Jerry Silverstein, cooked their leftover reserves with a gas oven in the dark as they continued to have no power.
Three days later, the Winter Storm Relief Fund had raised over $100,000 in funding, passed out thousands of free meals to residents in need, and teamed up with dozens of local restaurants.
The outreach served more than just those without food to eat during the storm. Hughes said that providing free meals served as a boost for both citizens in need and restaurants who had lost money on a frozen Valentine's Day weekend and were sitting on a stockpile of food.
"Our mission was twofold: feeding the public and underserved communities, hospitals and ems workers but also giving back to the rest who have lost so much throughout this pandemic and with this truly historic storm," Hughes said. "Our mission is also to continue whatever this rebuild process looks like and to continue to be a resource for whatever restaurants that need this."
They soon learned that Austin's water utility also gave out later on in the week, but many restaurants still needed to feed and pay their employees as the crisis began to worsen. Ko said that it was heartwrenching to hear back from eager volunteers who had gone to their food trucks or restaurants and found broken pipes, unusable kitchens and water damage.
"It was heartbreaking to me to have restaurants and food trucks reach out to me and then check on their food truck and say, 'I'm sorry Jane, our pipes are busted we can't cook," Ko said. "They have families they need to take care of."
Eventually, the three discovered specific pockets in the community that were suffering more than others in the disaster. In far north and southwest Austin, communities had been without power or water for days. Some populations had no transportation to get to water distribution hubs, and hospitals and EMS workers were falling apart as they spent days without power or water. Alongside their partners, the group visited hospitals and first responder locations with free, warm meals from various restaurants.
Rumors spread of apartment complex residents drinking pool water during the disaster, homes flooding irreparably, and many living in subfreezing conditions for much of the storm. Hughes said the incident was eye-opening to how privileged many in the community, including herself, are on a regular basis.
"It was the first time in our lives that we had to wonder how we were going to get our next meal and how we are going to be warm and how those basic needs are going to be met," Hughes said. "It made me realize how underserved certain communities are. This is a moment in my life where I know I always want to use my contacts now to be a resource to help underserved communities in my city."
When the situation progressed, the community doubled down and began donating more. In three hours on Wednesday, Ko said the GoFundMe had already reached $10,000. By Thursday, funding swelled to $70,000, surpassing its goal by over $50,000 and sitting above $150,000 into last weekend. On Monday of this week, Ko estimated that the group had helped coordinate over 30,000 free meals.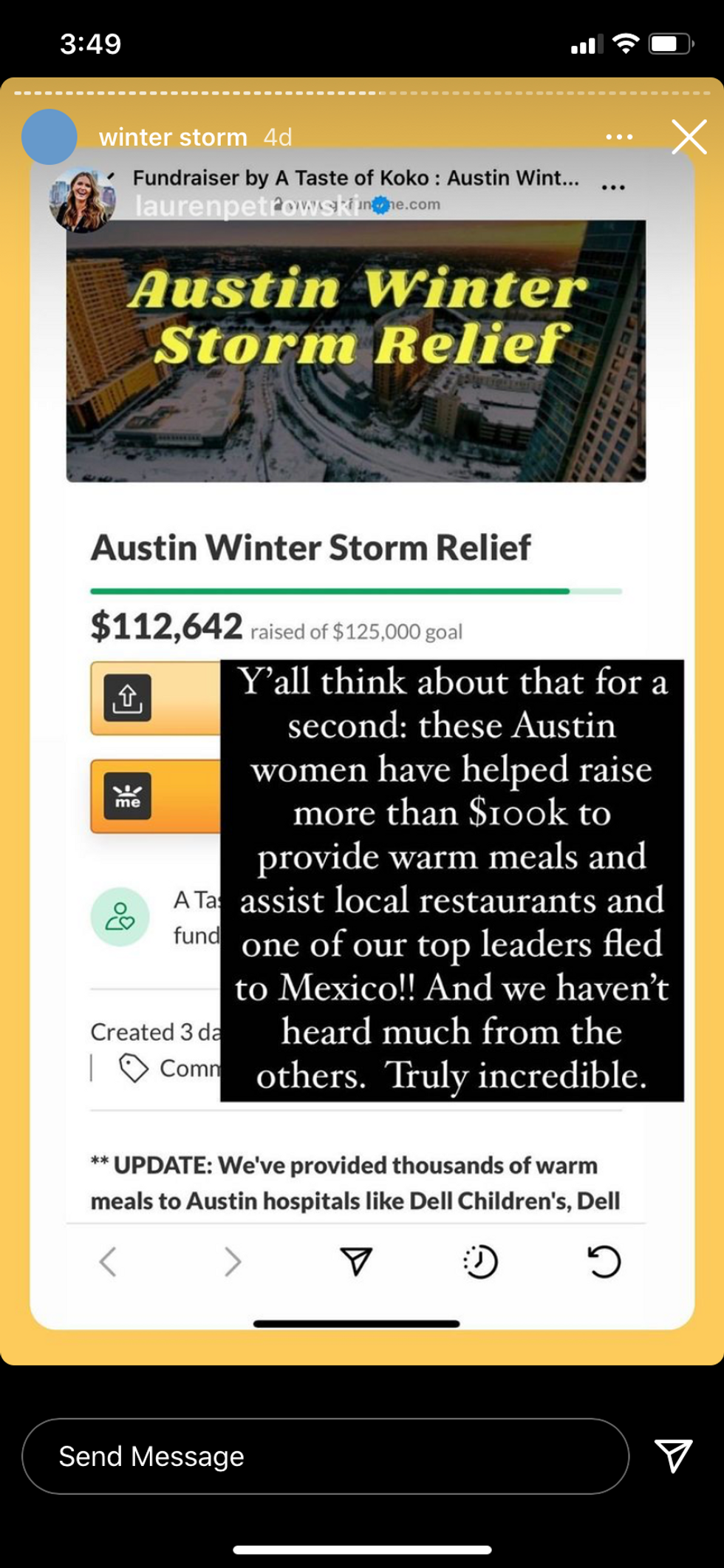 The GoFundMe was not the only source of donations going into Austin area restaurants. After Deep Eddy communicated with Caulkins, the local brand began sponsoring restaurants on its own to provide hundreds of meals at a time. Large local companies such as Kendra Scott and Bumble came in to help, while national brands like Red Bull also funneled their contributions into the community.
Caulkins noted that the influence of social media was really highlighted as the three used their profiles, including Ko's @atasteofkoko account and @365thingsaustin, to get the word out.
"This really speaks to the power of social media," Caulkins said. "We were able to raise these funds and also allowed these platforms to be a community resource."
Although water has been restored, the boil-water ban has been lifted and temperatures are way above freezing, the recovery process is not over. In addition to restaurants and businesses losing money, the city will have weeks of repairs and damages to fix before the storm becomes a distant memory.
The remaining funds that went unused have since been donated to Good Work Austin, a kitchen program that aims at feeding underserved populations.
All the influencers have hopes that things will change within the community as residents continue to band together to rebuild and repair what was lost to Winter Storm Uri. Caulkins said that she wants the disaster to continue the trend of young, passionate members of the community taking city leadership positions.
"I think we're seeing a lot of younger voices and I think that's also something that things like this show," Caulkins said. "It would be great to see that continue because we're maybe a little bit more in touch with what is happening around us and wanting to make a difference and hopefully that will make an impact on city officials that are representing us in the future."
Despite the disaster, Ko said that the huge outpour of donations and volunteers that came through in the worst of times is exactly what makes Austin special.
"I love Austin, and I think this is what makes the city so great, that you have citizens like us that are willing to step up," Ko said. "Many, many people stepped up during this time. While Texas is strong, I think Austin is stronger."
Republic Square Park has turned into a Ford-themed fiesta for its Built to Connect pop-up experience, complete with test drives, off-roading and an inside look at the Tesla-rivaling electric vehicles that the motor vehicle company is planning to integrate over the next decade.
The outdoor driving event is free, open to the public and will stay in the park from now until Oct. 24, offering rides on Bronco Mountain, a 0-40 mph zip in the 2022 all-electric Ford F-150 Lightning and a chance to win an original Ford Bronco.
The event kicked off with a panel of speakers, including Austin Director of Transportation Rob Spillar, Ford General Manager Darren Palmer and engineering specialists discussing Ford's goals to make it so that 50% of the vehicles on the road are electric by 2030.
As an eco-conscious city, Spillar said that around 4,000 vehicles, or 22% of the Texas electric vehicle market, as well as over 15,000 plugins lie in Austin, meaning driving electric just got accessible.
"Austin, as you know, is a fast-growing modern city that is committed to protecting the long term health and viability of our communities and strategies that reduce greenhouse gases, mitigate the effects of climate change and improve the drone quality of life here in Central Texas for all of our residents," Spillar said.
And Ford's electric vehicles are putting up some steep competition for newly-Austin-based company Tesla. The new electric Mustang Mach-E and F-150 Lighting offer amenities that used to be exclusive to Musk's brand, such as the BlueCruise self-driving network. The cars also boast a 300-mile range on a single charge, assisted reverse technology and access to the biggest charging network outside of the home.
Plus, Ford's got affordability on its side. The F-150 Lightning starts at $39,974 and the Mustang Mach-E starts at $42,895, while the cheapest Tesla model, the Model 3, starts at $41,990 and averages 262 miles on a single charge.
Speaking of price, the numbers on the electric vehicles may look like a little more than you'd like to pay for your transport, but Palmer promises it will pay off. In addition to a $7,500 tax credit you can earn for your sustainability, you'll never have to buy a pricey tank of gas again.
"Personally, I have not found one customer ever, who would go back to gas so that says something," Palmer said. "I realized, at $51,000, that car outruns every childhood hero car I ever had."
Texas buyers: take note. The Ford Lightning can power your house for three to 10 days, just in case the statewide power grid fails. You can take it glamping with you, so you don't have to leave the comfort of modern life behind, and in a pinch, Palmer said he's even seen a wedding party powered by the truck.
Ford is investing $30 billion into the U.S. market to meet demand by 2025 and the new electric truck already has over 150,000 reservations.
"I think they're going to take off much faster than you expect—they're going to be extremely, extremely popular next year," Palmer said. "With the incentives that are available today, this is starting to become more mainstream and viable for more and more families. We couldn't have done that before, we didn't have the technology, or the technology at that price."
The event is ongoing through next weekend from 12-9 p.m. Monday-Friday and 9 a.m.- 8 p.m. Saturday and Sunday.
The Austin Police Department is searching for a man who is believed to be behind a series of robberies that is "sexual in nature and is escalating."
Three robbery cases that took place in North Austin within a 30-day period are being investigated by police, who report the victims all had similar descriptions for suspects in the case. The suspect is described as a 20-25-year-old Spanish-speaking Hispanic man, approximately 5'3, thin build, recently shaved with black hair. Police say he is known to typically wear athletic clothing and used a knife on each of the victims.
Here's a breakdown of the cases:
1. At 7:56 a.m. on Sept. 22 at the 1600 block of Rutland Drive, a woman was walking alone and returning from her child's school when a suspect walking by inappropriately touched her. The suspect then grabbed her by the arm, threatened her with a knife and demanded "her property."
2. At 8:10 a.m. on Oct. 11 at 1700 block of Colony Creek Drive, a woman was walking to her child's school when a man approached her with a knife and then demanded her personal items. The suspect then said he would return the items in return for sex.
3. At 11:03 a.m. on Oct. 13 at the 9300 block of Northgate Boulevard, a woman was with her child in the laundry room of an apartment complex when a man walked in performing a sexual act. The suspect demanded personal items from the victim, threatening to hurt the victim and take her child.
Police cautioned the public to walk without earbuds, stay alert and report suspicious activity to the police.