Get connected with our daily update
(Shutterstock)
The latest in a line of University of Texas controversies, The Daily Texan reports Wednesday that the Longhorn band will not attend this Saturday's football game due to band members voting they did not want to play "The Eyes of Texas."
---
According to The Daily Texan, members of the Longhorn Band were surveyed asking if they would be willing to play the song, with the results coming back showing that the band would not have the instrumentation for this weekend if asked to play.
This news comes on the heels of the university community speaking out against "The Eyes of Texas" earlier this year, citing the divisiveness of the song and its racist history. A petition with over 8,000 signatures has made its way around the internet calling for a "re-dedication" of the song.
"All of us on staff will do everything we can to create and maintain space for conversations," Longhorn Band Director Scott Hanna said in a message to band members, obtained by The Daily Texan. The message also stated that the results of the survey would not impact whether the band plays and performs at future games, both home and away.
On Wednesday evening, UT President Jay Hartzell said that a recording of the song will still be played at the game this Saturday and will continue to be played at future games.
In July, Hartzell said in a statement that he wanted "The Eyes of Texas" to be a uniting song that the university, students and athletes had the power to define, or redefine, and that the the university would be held accountable to the institutions core values.
Just two weeks ago, senior quarterback Sam Ehlinger and others were hailed as heroes by boosters and alums for standing and singing "The Eyes of Texas" after the four overtime defeat at the hands of the Oklahoma Sooners.
Athletic Director Chris Del Conte told fans in his weekly email last Wednesday that the University would continue to play "The Eyes of Texas" while also looking into the songs history and what the contemporary meaning of a song over 100 years old is.

"I do want to clarify that I have had many conversations with our head coaches outlining my expectations that our teams show appreciation for our University, fans, and supporters by standing together as a unified group for "The Eyes," while we work through this issue," Del Conte wrote last week.
This story was edited from its first publication to add the comment from the UT president.
More on the issue: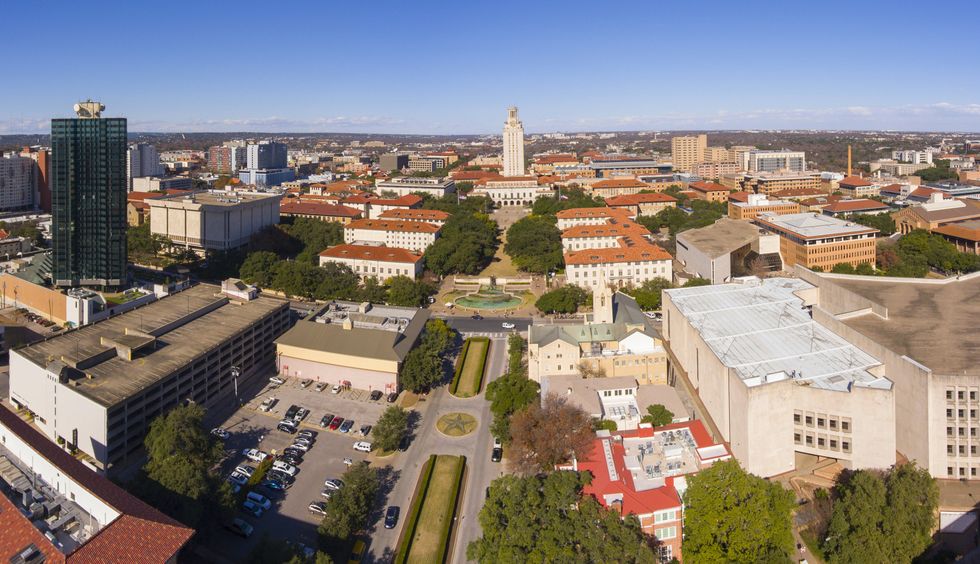 Longhorn football players ask University of Texas to get rid of 'Eyes of Texas,' create more inclusive campus
Concerning levels of cylindrospermopsin were discovered on Sept. 22 after a person got sick and samples were sent to get tested on Sept. 9. Signs will be posted at access points to Sculpture Falls that people and their pets should not injest or swim in the water.
Unlike the harmful algae making dogs sick in parts of Lake Travis and Lady Bird Lake in past summers, these toxins are found in the water, the city says. Barton Creek visitors are asked to avoid stagnant water especially.
The toxins also result in different health effects than the harmful algae in Lady Bird Lake, including liver and kidney damage. If exposed, people can feel:
Fever
Headache
Vomiting
Bloody diarrhea
If exposed, people should seek medical attention and report it to 311.
TinyFest Texas 2021
When: 10 a.m. Saturday – 5 p.m. Sunday
Where: Jourdan-Bachman Pioneer Farms, 10621 Pioneer Farms Drive
What: Tour tiny houses, van converstions, shipping container homes and more at this year's TinyFest. Grab tickets here for a weekend of speakers, workshops and panel discussions plus live music, food and more!

Fierce Whiskers Grand Opening
When: 12 p.m. Saturday
Where: Fierce Whiskers, 5333 Fleming Court
What: Fan of whiskey? Come along to the free grand opening of Fierce Whiskers Distillery's new tasting room. Enjoy bites from a food truck, oysters, musical performances and a raffle.

Austin Summer Carnival
When: 6 p.m. Saturday – 2 a.m. Sunday
Where: The Venue ATX, 516 East 6th St.
What: Don your dancing outfit for this carnival that celebrates the African heritage with Brazilian, Latin and Caribbean rhythms in Austin. Snag your tickets here.

Beginner's Succulent Arrangement and Planting
When: 3 p.m. – 4 p.m. Sunday
Where: Succulent Native, 5501 North Lamar Blvd.
What: Calling all first-time planters: Get your hands dirty and learn about succulent and cactus arrangement and care. No tools required! Grab your tickets here.