Get connected with our daily update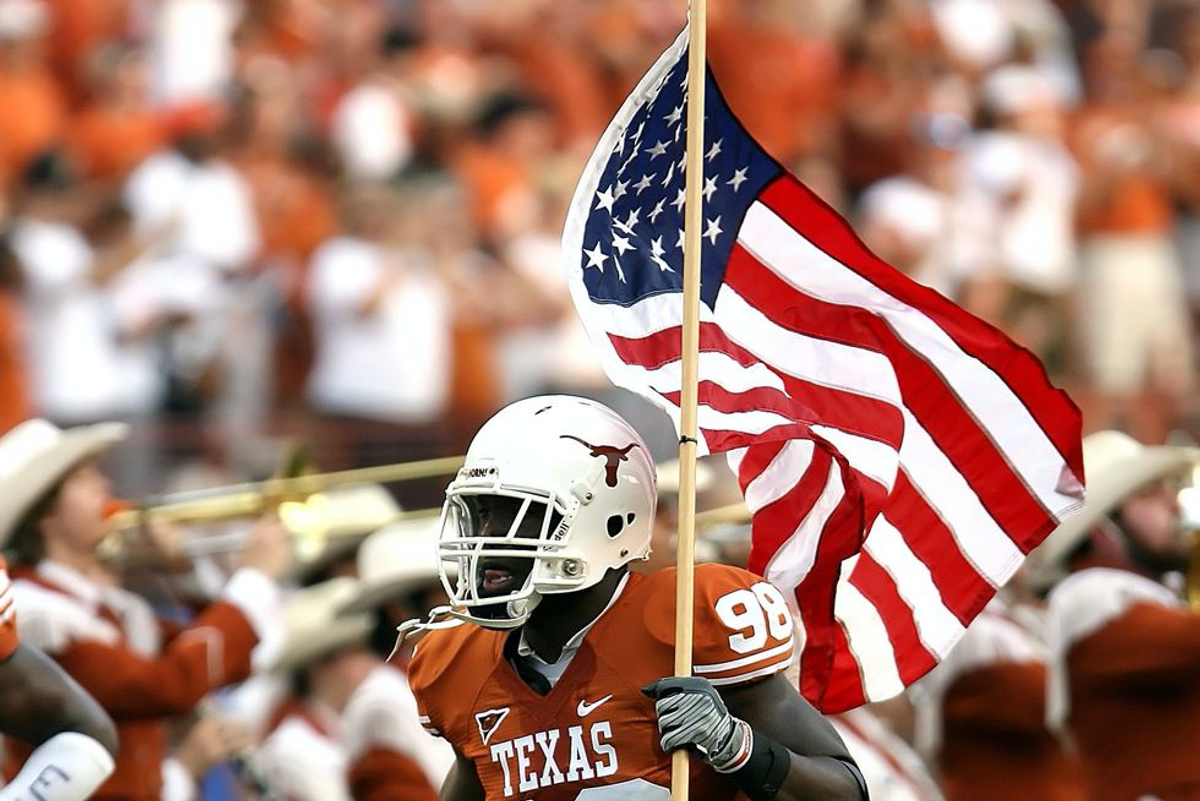 (Pexels)
Fall football for the Texas Longhorns is unlikely, Austin's health authority said Tuesday, despite an announcement last week that DKR-Texas Memorial Stadium would operate at limited capacity.
---
"I think college football in the fall is going to be a stretch," Austin-Travis County Interim Health Authority Dr. Mark Escott told county commissioners on Tuesday.
University of Texas Athletic Director Chris Del Conte's announcement about the stadium came as a surprise to local health officials, who have been in discussions with UT about plans for the fall athletic season.
"We were caught a little off guard ... that they intended to open the stadium with 50% capacity, which is in the neighborhood of 50,000 people in one place," Dr. Escott said. "I'll say again what I said a month or two ago, and that is that large gatherings were the first thing to close down and should be the last thing to open up again."
Even with more stringent limitations, a fall football season poses risks.
"Quite frankly, I think it's going to be a struggle for us to even allow teams to play on the field without a crowd," Dr. Escott said. "I think it's not really living in the realm of reality for what we're likely to experience this fall."
He cited concerns about the risk to athletes, many of whom are people of color, and their families, who may be at higher risk of hospitalization and death because of health inequities exacerbated by the COVID-19 pandemic.
"I think we've seen in professional baseball, which is naturally social distanced, that disease spread is happening," Dr. Escott said.
ESPN reported yesterday that 11 players and two coaches for the Miami Marlins tested positive for the coronavirus. Others, including the Nationals' Juan Soto, were diagnosed last week, leading to cancelled games.
If UT continues with its plans for a fall football season, similar cancellations and other disruptions are likely as players, trainers and coaches are exposed to the virus, Dr. Escott said.
Commissioner Brigid Shea said she hopes UT is taking his advice—"or at least listening to you," she said.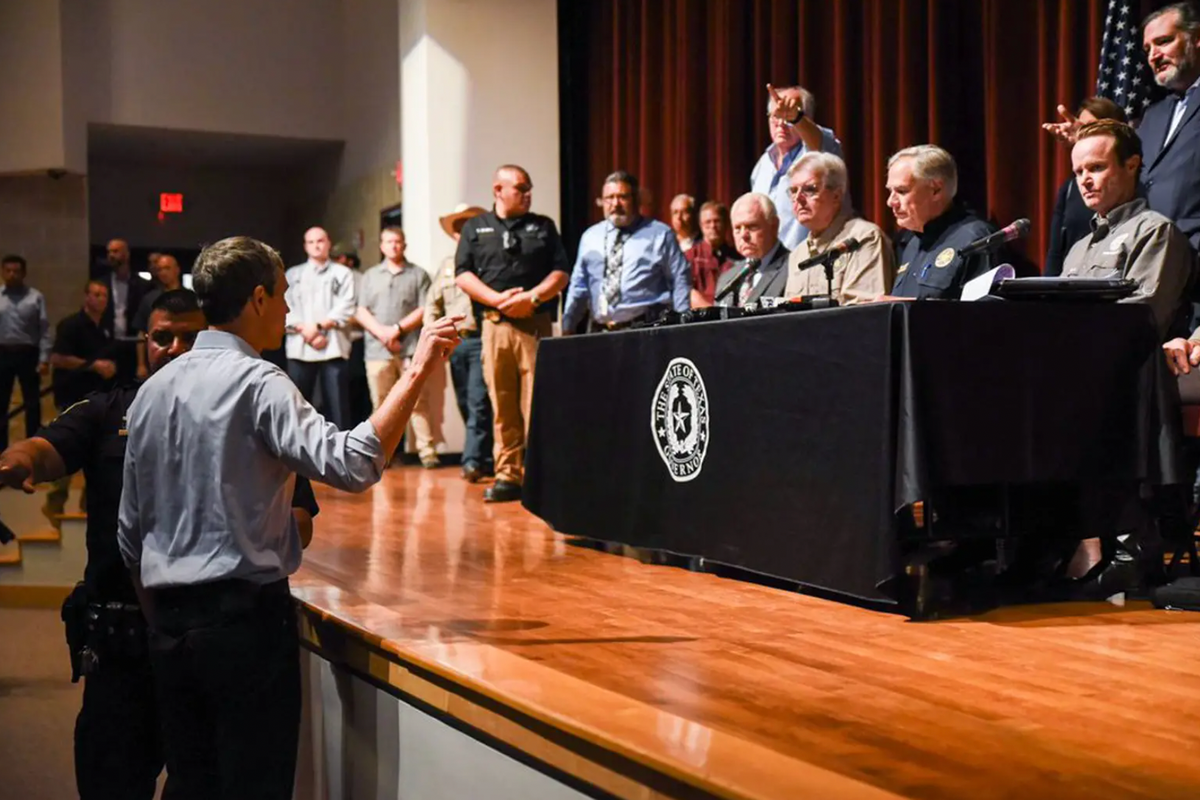 By Patrick Svitek
Beto O'Rourke caused a dramatic scene on Wednesday when he angrily confronted Gov. Greg Abbott at his news conference about the Uvalde school shooting, yelling, "This is on you."
After Abbott was done giving his initial remarks, O'Rourke approached the stage and told Abbott he was "doing nothing" to combat gun violence. He said the Uvalde massacre, in which a gunman killed 19 children and two adults, was "totally predictable."
Some of the Republican officials onstage with Abbott quickly denounced O'Rourke, telling him to go away. Another man onstage used expletives to criticize O'Rourke for interrupting the event.O'Rourke was eventually escorted away amid the unruly scene.
"I can't believe that you're a sick son of a bitch that would come to a deal like this to make a political issue," Uvalde Mayor Don McLaughlin told O'Rourke at one point.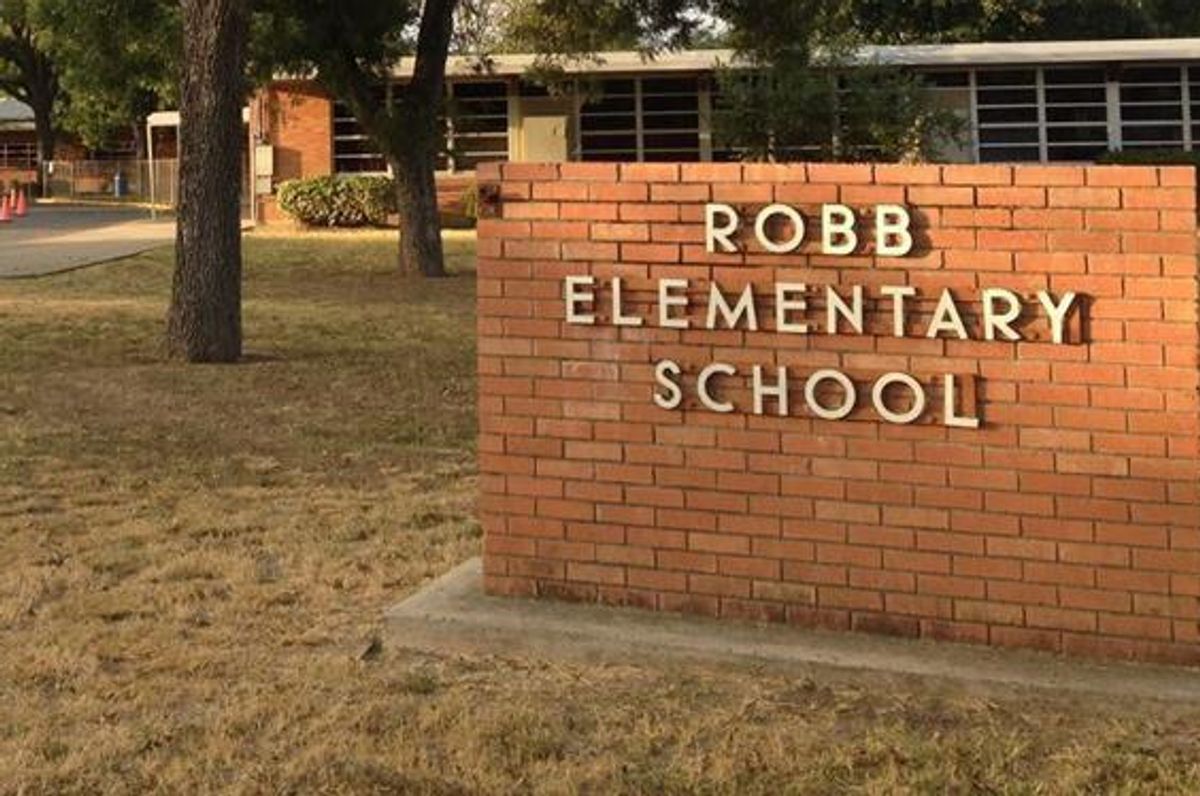 Nineteen kids and two adults are dead after a shooting at Robb Elementary School in Uvalde, Texas—a small town an hour and a half west of San Antonio—on Tuesday afternoon.
Gov. Greg Abbott said the suspect, 18-year-old Salvador Ramos, is believed to have been killed by the police. The Uvalde Police Department said the shooting began at 11:43 a.m. Tuesday.
"What happened in Uvalde is a horrific tragedy that cannot be tolerated in the state of Texas," Abbott said. "He shot and killed—horrifically, incomprehensibly."

Texans are grieving for the victims of this senseless crime & for the community of Uvalde.

Cecilia & I mourn this horrific loss & urge all Texans to come together.

I've instructed @TxDPS & Texas Rangers to work with local law enforcement to fully investigate this crime. pic.twitter.com/Yjwi8tDT1v
— Greg Abbott (@GregAbbott_TX) May 24, 2022
According to University Health Hospital officials, a 66-year-old woman and 10-year-old girl arrived in critical condition. Uvalde Memorial Hospital reportedly received 13 children for treatment and two individuals who were already deceased. At the time, it was believed 14 had died in this shooting.

The shooter prompted a lockdown at the elementary school of just under 550 students, with San Antonio Police sending SWAT, and Eagle chopper and Crime Scene Investigators.
According to White House press secretary Karine Jean-Pierre, President Joe Biden has been briefed on the tragedy and "His prayers are with the families impacted by this awful event, and he will speak this evening when he arrives back at the White House."
At 21 deaths, it is the deadliest school shooting in Texas and one of the deadliest in the U.S. since 26 at Sandy Hook Elementary lost their lives. This is the U.S.'s 213th mass shooting of 2022.