Austonia AM
100% Austin news, info, and entertainment, straight to your inbox at 6 a.m. every morning.
In five minutes, you're fully informed and ready to start another great day in our city.
Get connected with our daily update
The excitement is building and tensions are rising as the University of Texas at Austin prepares for the first home game of its Texas Longhorns football team on Saturday—the largest gathering in Austin since the brink of the pandemic in March.
---
Game Week, the week leading up to the pre-season matchup against UT-El Paso—set for 7 p.m. Saturday at Darrell K Royal-Texas Memorial Stadium—was marked by peppy "can't wait for Saturday!" posts on social media and cautionary messages from those who fear it will create another COVID-19 spike in Austin.
"It's Game Week! #HookEm" the UT athletics department tweeted on Monday, in a post that was shared 275 times.
On Wednesday, Austin Travis County Interim Health Authority Mark Escott asked students and fans to stay home and "avoid gatherings" after UT reported 100 cases as a result of three clusters of the coronavirus on West Campus.
"Let's watch football at home this year, and keep each other safe," he said.
Within 24 hours, UT Athletics posted: "2 more days, y'all!"
Longhorns will allow up to 18,000 fans to attend Saturday's game. Student attendees are required to get tested on Friday before being allowed in.
Some say that's not enough with Escott postulating that as many as 50 people could show up at the game with the virus and turn it into a super-spreader event.
The game comes at a time when university students are struggling with a new, limited, no-parties-allowed normal.

It also brings in much-needed revenue to universities and colleges that are struggling with layoffs, UT-Austin being no exception.
Don't lose your mask just yet—the Centers for Disease Control and Prevention announced it is now recommending masks in areas that are surging as cases rise nationwide and the Delta variant looms.
The CDC announced Tuesday that even fully vaccinated individuals should mask up indoors if their community is experiencing substantial transmission—defined as areas with more than 50 cases per 100,000 people. Travis County is sitting at an average of 94.59 cases per 100,000 over the past seven days, falling into the highest risk category, according to the CDC.
#DeltaVariant surging in U.S. New data show Delta much more contagious than previous versions of #COVID19. Unvaccinated people: get vaccinated & mask until you do. Everyone in areas of substantial/high transmission should wear a mask, even if vaccinated. https://t.co/tt49zOEC8N
— CDC (@CDCgov) July 27, 2021
After two COVID-19 recommendation stage jumps in the last two weeks, from Stage 2 to Stage 4, Austin-area cases are the highest they have been since February. The seven-day average for cases is on an upward trend, reaching 226 on Tuesday.
The CDC is also recommending that all students K-12 wear masks indoors, regardless of vaccination status. A May executive order by Gov. Greg Abbott prohibits schools from requiring masks, regardless of vaccination status. Austin ISD is "strongly" encouraging students to wear masks.
Although vaccinated individuals are still protected against the most severe symptoms of the variant, infections are spreading rapidly and now make up 83% of confirmed cases in the U.S. At least a dozen cases of the delta variant have been confirmed in the Austin area, though there are likely more since testing for it is limited.
CDC Director Dr. Rochelle Walensky said that hospital admissions are "almost exclusively" coming from people who are unvaccinated but those who are vaccinated can still catch and spread the virus.
"Unlike the alpha variant that we had back in May, where we didn't believe that if you were vaccinated you could transmit further, this is different now with the Delta variant," Walensky said. "That leads us to believe that the breakthrough infections, rare that they are, have the potential to pool and transmit at the same with the same capacity as an unvaccinated person."
Research suggests those who become infected carry 1,000 times more of the virus than other variants and could stay contagious for longer.
The announcement comes on the heels of the Biden administration ramping up cautionary measures in the face of the Delta variant. Just last week, the CDC said it had no plans to change its May guidance of vaccinated not having to wear masks unless there was a significant change in the data. Officials met on Sunday night to review new evidence,
according to reports.

The Moody Center, a $338 million, 530,000-square-foot multipurpose arena at the University of Texas at Austin, celebrated its topping out on Tuesday.
With the final beam placed, the arena's steel-frame structural phase—which involved more than 5.3 million pounds of steel—is complete.

"This past year has been full of unprecedented events, not to mention weather challenges, and yet the women and men working on this project continue to deliver," Moody Center General Manager and Senior Vice President Jeff Nickler said in a press release.
To celebrate the topping out Oak View Group, the development and investment firm behind the Moody Center will affix a tree to the final beam in keeping with the time-honored tradition.

The practice dates back to ancient Scandinavian religious rites, which involved placing a tree atop new buildings to appease tree-dwelling spirits displaced during the construction process, according to the International Association of Bridge, Structural and Ornamental Ironworkers in Washington D.C.
After the steel-frame structure phase, the development will move on to enclosing and finishing the interior of the Moody Center.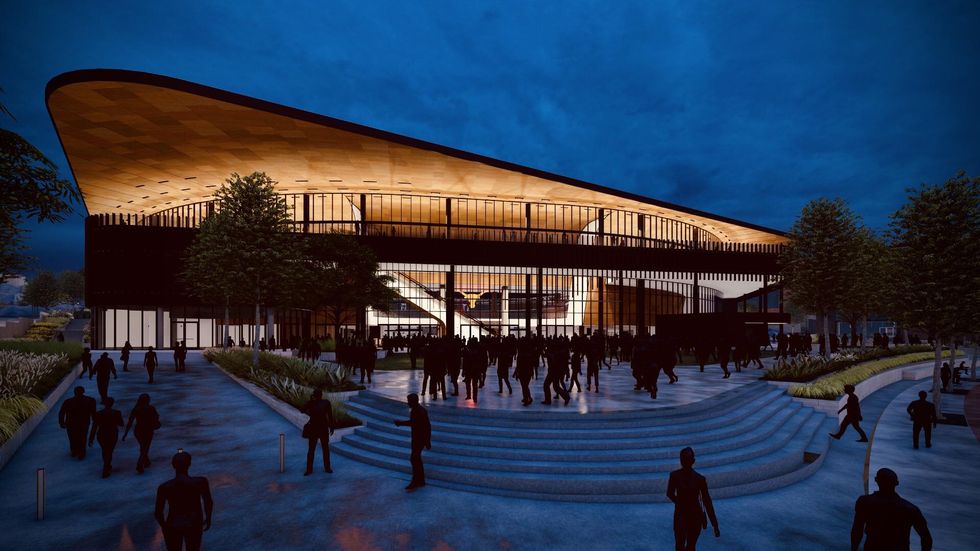 Rendering of the Moody Center. (Moody Center)
The arena is set to open next April and already has some major acts scheduled for its inaugural year, including The Weeknd, Justin Bieber, John Mayer and The Killers. It will replace the 43-year-old Frank C. Erwin Jr. Center and serve as the home of UT's men's and women's basketball games, among other sports and community events.
Editor's Note: This is a column by an active dater in Austin, who asked that her name not be used to tell this story.
I can't take the credit for coining the term "vaxxed and waxed" but I don't think there's a more appropriate theme for summer 2021. Let's talk about it.
But first, I'll rewind for a hot second back to March 2020. Fresh out of a five-year relationship, recently moved back to Austin and thrown full force into a global pandemic. I couldn't think of a more disastrous combo for a newly single gal looking for a harmless rebound make-out session. A girl can dream, right?
And while there was absolutely zero chance of meeting someone in person, unless of course, we're talking about love at first sight in the Purell aisle at H-E-B, the apps seemed like my only option. Oh boy, was it dismal. While there were a few dates sprinkled throughout the last year and a half, I wasn't into "FaceTime dating" phenomenon that seemingly took the digital dating scene by storm.
After a few cringy interactions, I decided to retire the apps to focus on more fruitful pandemic efforts like sourdough starters, tie-dying every last article of clothing I own, and rewatching all 136 episodes of Gilmore Girls.
Fast forward to now, as we have slowly but surely started to creep our way back to some semblance of normalcy, I knew it was time for vaxxed and waxed hot girl summer. I could just feel it. It was time to dust off those apps. It was time to get laid.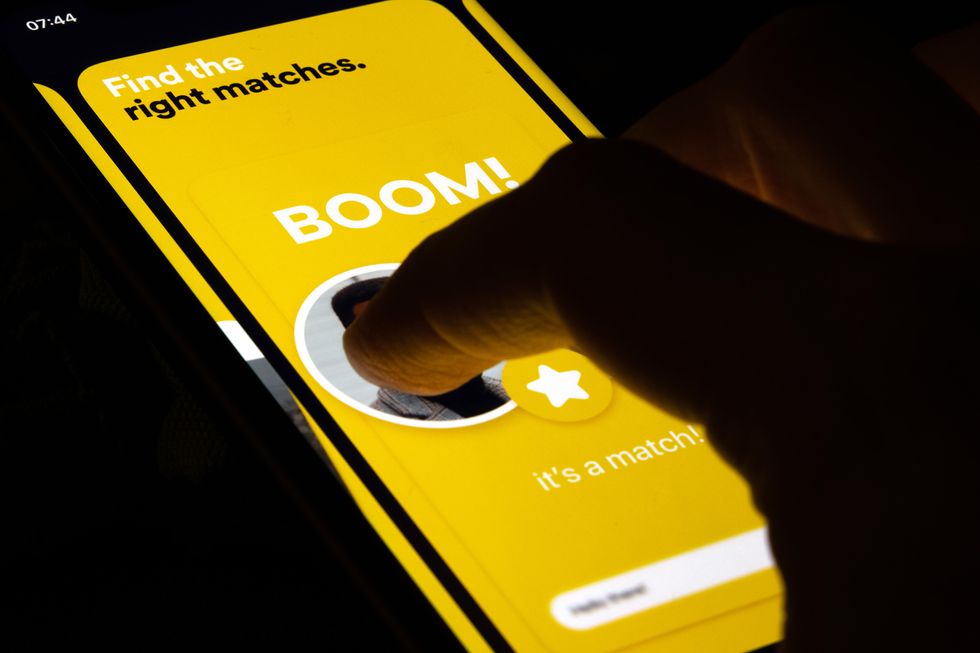 (Shutterstock)
So, who is one of the first people I matched with on Bumble? My high school ex-boyfriend. I can't make this shit up. I swear.
We all know the age-old joke of the hot high school boyfriend, captain of the football team, peaks at age 18, and then is bald and fully embracing the dad bod by the age of 30. I'm not going to lie, that does good things for the ego. And of course, that would happen to anyone but me.
This said high school ex-boyfriend, as Bumble so kindly revealed, has somehow seemed to escape the whole concept of aging, and looks the same, if not better, than he did at 18. Dammit.
Our DMs back and forth quickly picked up, so we decided to meet for a sushi date in the park. We picked up takeout from Uchi and took it to Republic Square Park for a cute little picnic on the hill.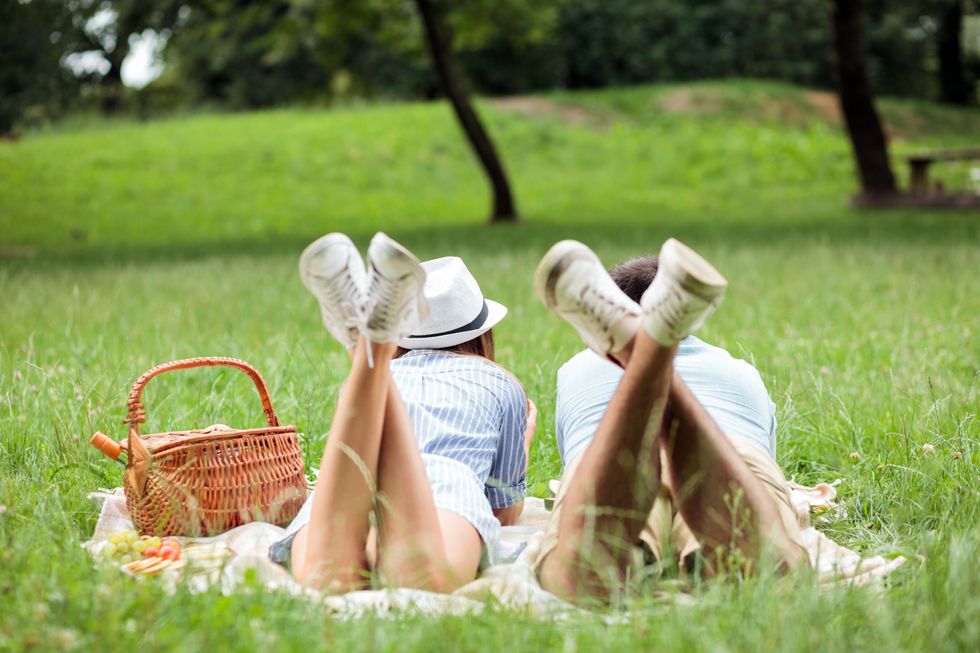 (Shutterstock)
Next thing you know, I'm not even eating my $100 takeout meal, debatably from my favorite restaurant in Austin, but rather making out with this for lack of a better word, stranger, I haven't seen in 10 years.

But you know what, sometimes you find yourself fresh out of lockdown at the age of 30, making out in a public park with your ex-boyfriend from high school that you matched with on Bumble, getting the most action you've had in over a year.
So, cheers to a vaxxed and waxed hot girl summer. If this is just the beginning, I'm here for it.