Get connected with our daily update
Editor's Note: This is a column written by Shannon Gill, an evolutionary astrologer and life coach who serves as president of the Austin Astrological Society. To learn more about her work, or to schedule a personal session, you may contact her at shannonleigill.com. The column was edited by Russell von Ohlhausen.
Feeling like you're in a transition period? It could come down to the stars, according to astrologers including Austin Astrological Society President Shannon Gill.
---
For those not well-versed in the world of the Zodiac, the study of astrology is one of humanity's oldest collective endeavors, going back thousands of years. The 12 constellations represented by their corresponding Zodiac signs are identified with the Sun's path along the Earth's ecliptic and can be observed throughout the year.
After the fiery, creative and playful Leo season, the Sun is now transitioning into Virgo. Here's what that will look like:
This is a time where we take the creative passion of the Lion, Leo's namesake, and offer it into service of the Earthy world. Virgo is the 'Soul Mother' archetype and is here to assist us to create 'order out of chaos'. Whew, what-a-job! This is the month to separate the wheat from the chaff, as Summer's garden of abundance comes to completion and we begin the transition into the Fall harvest season. It's a time for grounding, getting organized, and preparing for the shifting of the energies to come.
Aries (March 21- April 19)
This month may bring about relationship challenges for you, dear Arian. You may experience this as resistance or opposition from others resulting in disputes, minor or major. One of your deeper evolutionary lessons in this lifetime is collaborative compromise! Put your energy into fruitful co-creations. Practice compassionate listening, resist digging your heels into the soil, and you may surprise yourself and get what you wanted after all. The new moon September 6th may bring a moment of insecurity with moving forward with certain goals, but by September 20th's full moon, you will have managed to align your personal will with higher will.
Taurus (April 20-May 20)
Taureans, your world has been a bit more topsy-turvy than you may be comfortable with. September offers you some rays of later summer sunshine to relax into your natural state of calm and tranquility. You may, however, face a crossroads of sorts where you may need to make some quick pertinent decisions. You should have the clarity to do so with self confidence. Your greatest growth area this month is relationships; any issues that have been festering beneath the surface will tend to reveal themselves. Remember your deepest work in this life is to anchor yourself into self love, and emotional self reliance. Practice non-attachment!
Gemini (May 21-June 20)
Light-hearted Twins, you have been put to the test this year! Your principal purpose is the dissemination of knowledge; yet, this time in history will go down as the most confusing and confounding in the world of information. Remind yourself that it's ok to not know sometimes. You are mastering duality and paradox in this lifetime. The Sun supports you this month towards slow successes. It may feel like you have to work harder than usual. The September 6th new moon brings a burst of personal power towards birthing a new chapter. Even a misstep is perfect through the evolutionary lens.
Cancer (June 21-July 22)
Crabs, you may be pried out of your comfortable shell as you feel challenged by authority or the collective narrative. September's tempo and demands may feel edgy, leading to nervous irritability. Tap into your profound watery intuition where the Sun's clear Virgoan light can help you see clearly and avoid reactivity. It's a wild world out there these days, and you may feel an increased desire for intimacy and comfort to bring balance and ease the tensions and chaos, and this month brings a lovely flow of relational energetics.
Leo (July 23-August 22)
We can depend on you to be the life of the party radiant Leo, yet in September you may experience mild feelings of heaviness or pessimism, which are not native to your central nature. Accepting certain realities and taking responsibility will ease the weight and build your character in lasting ways. Remember Leos, you are here to lead with your heart! Some friendships may hit a wall, so be ready to let go if need be. You will have great Mercurial flow this month, increasing your capacity to communicate with clarity and to navigate the terrain consciously.
Virgo (August 23-September 22)
Happy Re-Birth Day soulful Virgos! This is your month to be celebrated in all the ways you serve the world. There is a pile up of planets in your sign, giving you a cosmic outpouring of creative vision and the ability to bring it into fruition. There are moments throughout the month you may find yourself in Neptune's fogginess. Through the axiom, "as above, so below", you will find your way! Make sure to shine, and your projects, associations, and creative actions will connect you to your karmic destiny. Don't dream small—plan big and get ready for your next trip around the Sun!
Libra (September 23-October 22)
This month, you too will get a boost from many planets passing through your sign, enhancing your magnetism and creativity. Let flow the elan vital, to breathe life into your Airy aspirations! September also brings with it a sprinkling of good luck fairy dust (which Libras love); it could be just what you need to incite a partner, new or old! Partnership is a focal point of your evolution. September may require a period of shadow work but the transformation will be well worth it in the end.
Scorpio (October 23-November 21)
The Sun shines upon you, little creature of the night, with rays of enthusiasm and buoyancy. Come out from under that rock and launch a creative endeavor. You may have an "ah-ha" life altering moment or flash of genius insight into your future which steers you onto a new course. Wrap yourself in feel-good vibes and cultivate some tactile intimacy. Around the 15th you could dig up something potentially upsetting as you go a little deeper. Overall you should enjoy a softer side to yourself, and an increased in compassion for the current state of our world, which is much needed!
Sagittarius (November 22-December 21)
Sagittarians, this month may test your capacity to expand your mind. Knowing this, your invitation is to loosen up on your belief systems a bit, peer behind the curtain of someone else's experience, and adjust your own level of reality. There is a war on beliefs currently brewing in our world, and you are here to help us move beyond the consensus mindset. This is a great month to accomplish your intentions and you will have the perseverance to see things through. And finally,love and money feature highly and should flow forth in abundance, if you keep your mind right!
Capricorn (December 22-January 19)
Industrious Capricorn, you should feel accomplished, as the Earth-sign Sun gives its support to your hard work. However, you may be challenged by other people not meeting your expectations. It's not easy for you Caps, but remember "to live and let live"—not everyone has the same work ethic as you. Practicing restraint in your dealings with others will avoid conflict and potentially create creative alliances forwarding the projects dear to your heart. The New Moon is prime time to ground your next project, yet you still have to stop, smell the roses, and make time for your own self care.
Aquarius (January 20-February 18)
You radical ambassadors of the New Age, it's time to lay a little real groundwork from the mental energy you've used in conceptualizing a future. You may feel torn this month however, itching to break free from restrictions, charged with revolt or ready to run. Remember though, it is our deep interconnected root system of real souls which enables us to fly so high. Expansion and opportunities are abundant all year for you. Doors will open to new timelines where needed. Stay connected to your heart to bring balance to that futuristic mind of yours! This is your year to bring your dreams into reality!
Pisces (February 20-March 20)
Polar Pisces, you do know that you are the opposite sign of this transit in Virgo, right? You may feel a little bit confronted with the Sun counterposing each of you throughout the month. Showing up fully (with boundaries intact), rather than hiding, is your best option. Be ready to face some of your flaws with grace. You Fishies have to balance the being and the doing while not letting the details merely flow by you. A retreat into nature may be needed to rebalance your nervous system. Stay connected to the natural flow of elements. You are of the most empathic of all the signs, so remember to keep your waters clear to channel your purest insights.
Actor, director and screenwriter Justin Theroux isn't the only famous member of his family. His canine companion Kuma made waves online this past weekend supporting Austin Pets Alive!—and Jennifer Aniston is a fan.
Theroux launched Kuma's own Instagram account on Saturday with a link to Austin Pets Alive!'s website in her bio. And the grey pitbull mix is already garnering the kind of attention worthy of her movie star dad: As of Monday night, she has over 55,000 followers.
Chief among them is Jennifer Aniston, who posted a photo of Theroux and his newly online dog on her Instagram story yesterday with fond words for the Austin shelter.
"Love what these two are doing to help people who help pups who help people," the 'Friends' star, and Theroux's ex-wife, wrote. "They helped save 60 pups at Austin Pets Alive! yesterday."
Theroux began volunteering at the shelter while filming 'The Leftovers' in Austin when he fell in love with the shelter's pitbulls, according to Dr. Ellen Jefferson, Austin Pets Alive! president and CEO.
"We are thrilled that he and Kuma are spreading the word about the work APA! is doing and the need to keep Austin no-kill," she said, referring to the shelter's commitment to save animals most at risk for euthenasia.
Theroux adopted his mut in 2018 after Kuma was rescued—dirty and injured—from the aftermath of Hurricane Harvey by A Chance to Bloom Dog Rescue, based in Conroe, Texas.
While Kuma is not from APA!, Theroux connected with the Conroe-based non-profit while visiting the Austin shelter, and he has remained "an enthusiastic supporter" ever since, Jefferson said.
Read more on celebrity dogs: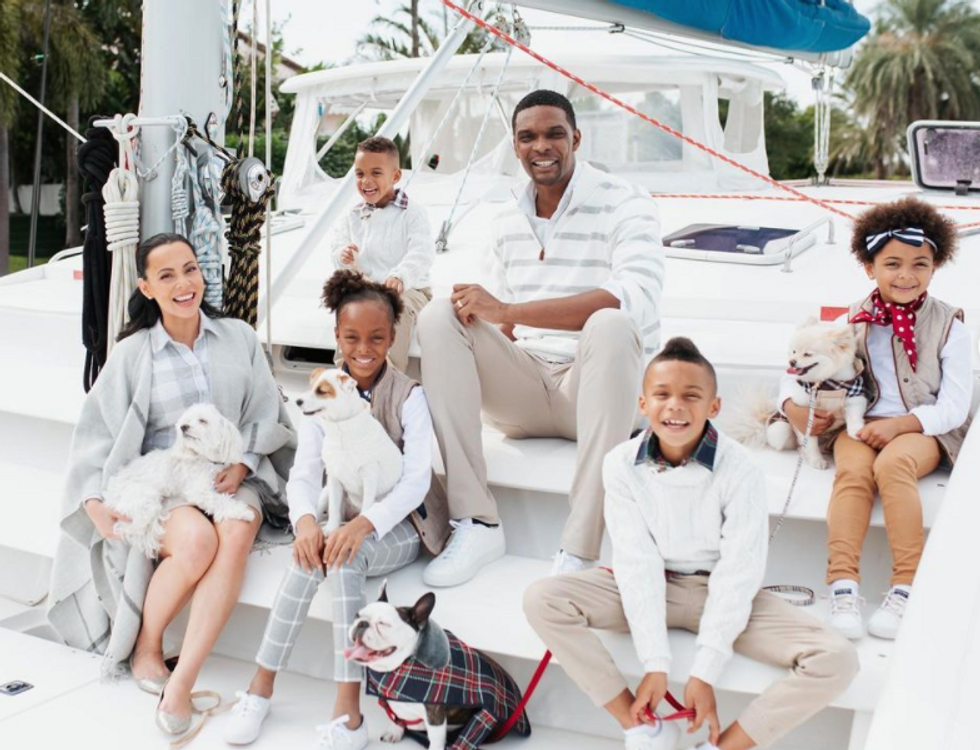 Star power gets furry: Meet the dogs of Austin's celebs
Six days a week, thousands of onlookers tune in to live streams to watch the pros rake it all in at high-stakes poker tournaments. The big-name poker players aren't in Las Vegas or even Oklahoma's finest casinos—instead, they're where Texas Hold 'Em gets its name.

Gambling may be illegal in Texas, but over a hundred poker houses are using a loophole to open up shop across the state, especially in Austin and Dallas.
The classic poker game is finally getting played for real cash around the Lone Star State thanks to an exception in Texas' gambling ban that allows poker games to be played in private residences. Instead of taking a cut from the pot like traditional gambling ventures, private poker houses don't make money from the results of a game; instead, they get their revenue from membership and hourly fees.
It's a business strategy that's gone (mostly) unchallenged by Texas politicians, especially as the industry begins to heat up.
Austin may now have around 20 poker houses around town, but it wasn't long ago that one stood alone like a small town saloon. The city's premiere poker house, Texas Card House, was founded in 2015 and has since grown to include a YouTube channel with over 30,000 subscribers, a wide range of gameplay and regular visits from big-name poker gurus like Brad Owen and Doug Pope.
David Lagana, a content creator who has worked in college sports and Hollywood, was brought into the scene in May as the house's live streams began to blow up. He said the live streaming battleground is only beginning.
"The space is ever-growing," Lagana said. "It's been interesting to try and find a lane that everybody can succeed. It's all about finding something that people want to watch on a nightly basis."
Carolyn Hapgood, who has worked for Texas Card House for three years, has made a name for herself as a live stream producer, dealer and player herself with the company. She's seen Texas Card House grow from a two-room card house to the most well-known poker venue in Austin with another branch in Dallas.
"It was a teeny tiny little house with five tables, and that was the first legal card house in the state," Hapgood said. "And since then it's blown up."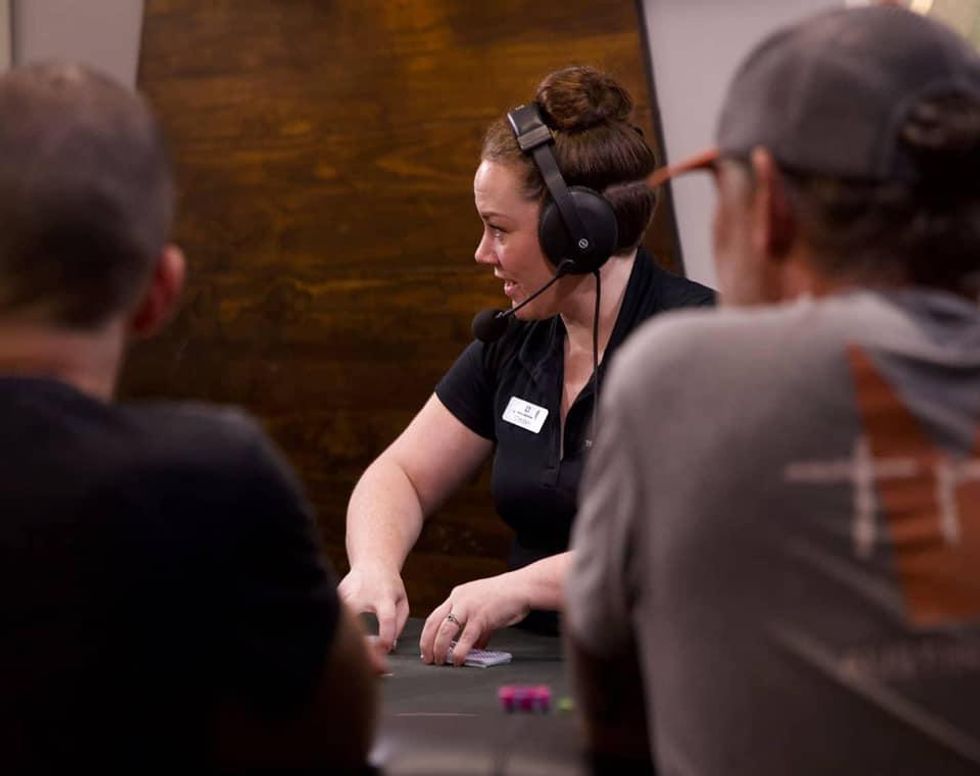 Texas Card House dealer Carolyn Hapgood has been working with Austin's premier poker house since 2018. (Texas Poker House Austin/Facebook)
From $100 pots to buy-ins of $15,000 or more, Texas Card House has it all, especially as in-state players learn more about the game. Hapgood said there isn't really a typical poker player at the house—instead, the poker table forms an "interesting little ecosystem" that includes college students, a 93-year old Vietnam War veteran, online gamblers, old-school players and everyone in between. The diversity at the table has been enhanced even further by COVID as people clamor to return to in-person events.
But Texas Card House no longer holds a "royal flush" in Austin's poker culture. The Lodge, based in Round Rock, is now expanding to over 60 tables, the largest in Texas, while Palms Social Club, owned by Texas Card Houses' original owner Sam Von Kennel, brought service staff and a refined atmosphere to the Austin scene.
Hapgood said the base of poker players is very large and continues to grow, forming a community as players form friendships on and off the table.
"My favorite part of the poker community is how much fun we have," Hapgood said. "You sit at a table with eight of your friends, everyone's kind of just having a good time. There's a lot of players who will, you know, call or text each other after they're done playing, and they end up inviting each other barbecues, and going out to dinner with their families and stuff like that... those are my favorite people to hang out with."
Getting involved in the poker scene is as easy as tuning into a live stream, and Lagana hopes to see more outsiders like himself get inspired by poker in the future.
"It's kind of like life," Lagana said. "Life isn't just one hand to play... you're only in control of sort of what's in your hand (and) you can't play the card that you weren't dealt with. So it's really been a fascinating life lesson for me."
From four-time Grammy-nominee turned big-screen actor, Black Pumas frontman Eric Burton will debut in the sci-fi short film "Devexity," which is written, directed by and stars Austinites.
The film, brought to life by Austin-based filmmaker Luke Lidell, will premiere on Oct. 7 at the Native Hostel while Burton is in town for Austin City Limits Fest. Then, "Devexity" will head off to film festival screenings, according to a report by The Austin Chronicle.
Following Burton as the film's protagonist, named Jean, "Devexity" takes place across several different settings and surfaces an existential response from the watcher. Burton stars alongside fellow Austinites Ali Pentecost, Dominique Pitts and New Yorker Madison Murrah in the partially black-and-white film.
The film was shot over the course of four days in October 2020, which Lidell said was a challenge of "focus" and "trust" to create. With a variety of scenes and intertwining narratives, the film dives into the topic of virtual reality.

A musician in addition to a filmmaker, Lidell previously directed the film "Telekinetic" in 2018. The script for "Devexity" was written by Lidell with Burton in mind for the lead after meeting him during a music video project in 2017—Lidell said Burton helped him shape the characters along the way.
Now that the door has been opened for work between Burton and Lidell, you're likely to see the pair collaborate again—a Black Pumas documentary is being rumored.