Get connected with our daily update
Editor's Note: This is a column written by Shannon Gill, an evolutionary astrologer and life coach who serves as president of the Austin Astrological Society. To learn more about her work, or to schedule a personal session, you may contact her at shannonleigill.com. The column was edited by Russell von Ohlhausen.
Feeling like you're in a transition period? It could come down to the stars, according to astrologers including Austin Astrological Society President Shannon Gill.
---
For those not well-versed in the world of the Zodiac, the study of astrology is one of humanity's oldest collective endeavors, going back thousands of years. The 12 constellations represented by their corresponding Zodiac signs are identified with the Sun's path along the Earth's ecliptic and can be observed throughout the year.
After the fiery, creative and playful Leo season, the Sun is now transitioning into Virgo. Here's what that will look like:
This is a time where we take the creative passion of the Lion, Leo's namesake, and offer it into service of the Earthy world. Virgo is the 'Soul Mother' archetype and is here to assist us to create 'order out of chaos'. Whew, what-a-job! This is the month to separate the wheat from the chaff, as Summer's garden of abundance comes to completion and we begin the transition into the Fall harvest season. It's a time for grounding, getting organized, and preparing for the shifting of the energies to come.
Aries (March 21- April 19)
This month may bring about relationship challenges for you, dear Arian. You may experience this as resistance or opposition from others resulting in disputes, minor or major. One of your deeper evolutionary lessons in this lifetime is collaborative compromise! Put your energy into fruitful co-creations. Practice compassionate listening, resist digging your heels into the soil, and you may surprise yourself and get what you wanted after all. The new moon September 6th may bring a moment of insecurity with moving forward with certain goals, but by September 20th's full moon, you will have managed to align your personal will with higher will.
Taurus (April 20-May 20)
Taureans, your world has been a bit more topsy-turvy than you may be comfortable with. September offers you some rays of later summer sunshine to relax into your natural state of calm and tranquility. You may, however, face a crossroads of sorts where you may need to make some quick pertinent decisions. You should have the clarity to do so with self confidence. Your greatest growth area this month is relationships; any issues that have been festering beneath the surface will tend to reveal themselves. Remember your deepest work in this life is to anchor yourself into self love, and emotional self reliance. Practice non-attachment!
Gemini (May 21-June 20)
Light-hearted Twins, you have been put to the test this year! Your principal purpose is the dissemination of knowledge; yet, this time in history will go down as the most confusing and confounding in the world of information. Remind yourself that it's ok to not know sometimes. You are mastering duality and paradox in this lifetime. The Sun supports you this month towards slow successes. It may feel like you have to work harder than usual. The September 6th new moon brings a burst of personal power towards birthing a new chapter. Even a misstep is perfect through the evolutionary lens.
Cancer (June 21-July 22)
Crabs, you may be pried out of your comfortable shell as you feel challenged by authority or the collective narrative. September's tempo and demands may feel edgy, leading to nervous irritability. Tap into your profound watery intuition where the Sun's clear Virgoan light can help you see clearly and avoid reactivity. It's a wild world out there these days, and you may feel an increased desire for intimacy and comfort to bring balance and ease the tensions and chaos, and this month brings a lovely flow of relational energetics.
Leo (July 23-August 22)
We can depend on you to be the life of the party radiant Leo, yet in September you may experience mild feelings of heaviness or pessimism, which are not native to your central nature. Accepting certain realities and taking responsibility will ease the weight and build your character in lasting ways. Remember Leos, you are here to lead with your heart! Some friendships may hit a wall, so be ready to let go if need be. You will have great Mercurial flow this month, increasing your capacity to communicate with clarity and to navigate the terrain consciously.
Virgo (August 23-September 22)
Happy Re-Birth Day soulful Virgos! This is your month to be celebrated in all the ways you serve the world. There is a pile up of planets in your sign, giving you a cosmic outpouring of creative vision and the ability to bring it into fruition. There are moments throughout the month you may find yourself in Neptune's fogginess. Through the axiom, "as above, so below", you will find your way! Make sure to shine, and your projects, associations, and creative actions will connect you to your karmic destiny. Don't dream small—plan big and get ready for your next trip around the Sun!
Libra (September 23-October 22)
This month, you too will get a boost from many planets passing through your sign, enhancing your magnetism and creativity. Let flow the elan vital, to breathe life into your Airy aspirations! September also brings with it a sprinkling of good luck fairy dust (which Libras love); it could be just what you need to incite a partner, new or old! Partnership is a focal point of your evolution. September may require a period of shadow work but the transformation will be well worth it in the end.
Scorpio (October 23-November 21)
The Sun shines upon you, little creature of the night, with rays of enthusiasm and buoyancy. Come out from under that rock and launch a creative endeavor. You may have an "ah-ha" life altering moment or flash of genius insight into your future which steers you onto a new course. Wrap yourself in feel-good vibes and cultivate some tactile intimacy. Around the 15th you could dig up something potentially upsetting as you go a little deeper. Overall you should enjoy a softer side to yourself, and an increased in compassion for the current state of our world, which is much needed!
Sagittarius (November 22-December 21)
Sagittarians, this month may test your capacity to expand your mind. Knowing this, your invitation is to loosen up on your belief systems a bit, peer behind the curtain of someone else's experience, and adjust your own level of reality. There is a war on beliefs currently brewing in our world, and you are here to help us move beyond the consensus mindset. This is a great month to accomplish your intentions and you will have the perseverance to see things through. And finally,love and money feature highly and should flow forth in abundance, if you keep your mind right!
Capricorn (December 22-January 19)
Industrious Capricorn, you should feel accomplished, as the Earth-sign Sun gives its support to your hard work. However, you may be challenged by other people not meeting your expectations. It's not easy for you Caps, but remember "to live and let live"—not everyone has the same work ethic as you. Practicing restraint in your dealings with others will avoid conflict and potentially create creative alliances forwarding the projects dear to your heart. The New Moon is prime time to ground your next project, yet you still have to stop, smell the roses, and make time for your own self care.
Aquarius (January 20-February 18)
You radical ambassadors of the New Age, it's time to lay a little real groundwork from the mental energy you've used in conceptualizing a future. You may feel torn this month however, itching to break free from restrictions, charged with revolt or ready to run. Remember though, it is our deep interconnected root system of real souls which enables us to fly so high. Expansion and opportunities are abundant all year for you. Doors will open to new timelines where needed. Stay connected to your heart to bring balance to that futuristic mind of yours! This is your year to bring your dreams into reality!
Pisces (February 20-March 20)
Polar Pisces, you do know that you are the opposite sign of this transit in Virgo, right? You may feel a little bit confronted with the Sun counterposing each of you throughout the month. Showing up fully (with boundaries intact), rather than hiding, is your best option. Be ready to face some of your flaws with grace. You Fishies have to balance the being and the doing while not letting the details merely flow by you. A retreat into nature may be needed to rebalance your nervous system. Stay connected to the natural flow of elements. You are of the most empathic of all the signs, so remember to keep your waters clear to channel your purest insights.
East Austin restaurant la Barbecue has been robbed a third time in less than three months, according to a post on the restaurant's Instagram.
In the post, the restaurant included photos of what appeared to be a man exiting a minivan from surveillance footage.
"This guy pulled up in a car full of stuff… he ripped our gate open and stole a couple empty kegs," the post said. "The ring system scared him off so he did not venture back into the area. PLEASE EVERYONE ON THE EAST SIDE BE CAREFUL!!! This guy goes back into his car to grab something before he goes in. I am hoping he won't be back!!"
The robbery comes as many restaurant and food truck owners have been on guard from recent break-ins. East Austin cheesesteak truck R&B's Steak and Fries has also been robbed three times in around three months, according to owner Kris Elliott. Elliot said the truck was last robbed around a month and a half ago.
"When the weather gets cold, it seems like these things start to happen more often," Elliott said. "We're just happy no one got hurt."
Additionally, he said all 5 of the food trucks in their lot have experienced burglaries. The landlord of the space is taking action by investing in alarm and camera systems. "Been very tough dealing with this problem as us small business owners are just trying to survive during the pandemic," Elliott said.
And it's not just in East Austin. North Austin restaurants Eldorado Cafe and Chez Zee Bistro were both broken into and robbed on the weekend of Jan. 8, while over a dozen food truck robberies and break-ins were reported in the latter half of 2021.
Some, like Chez Zee's Deborah Velasco, wonder if the understaffed Austin Police Department's decision to no longer respond to non-emergency calls is part of the problem. Xose Velasco, owner of East Austin's Discada, said owners are keeping their guard up in the wake of the robberies as he was robbed twice within a month of reopening in November 2021.
"We try to keep the lights on," Velasco said. "We're a little bit more careful."
After 12 months, the long-anticipated massive Tesla factory in Southeast Travis County is up and operating and everyone wants a look inside.
Phase 1 of Giga Texas appears to be tied up as production of the Model Y Tesla is underway, the electric car company revealed on Wednesday in its fourth-quarter earnings call. The factory, located on the former Harold Green-turned Tesla Road, sits on more than 2,000 acres of land in southeast Travis County.
Here's a glimpse inside the factory.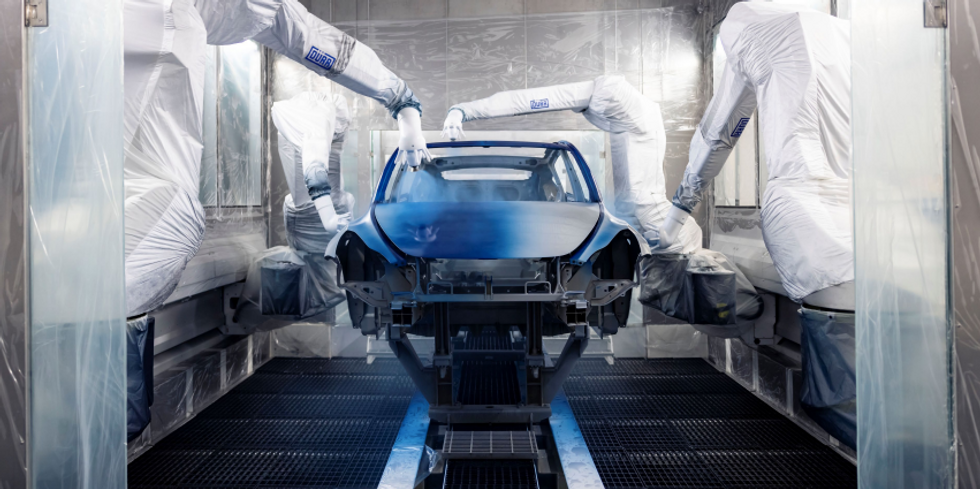 (Tesla)
Model Ys will be the first Teslas to come out of Giga Texas with an estimated delivery of August. The wait estimate comes after Tesla noted supply chain issues have affected their factories, which have been running below capacity for several quarters. A deep blue metallic like this goes for $1,000 more than a white or silver Model Y, totaling $61,990.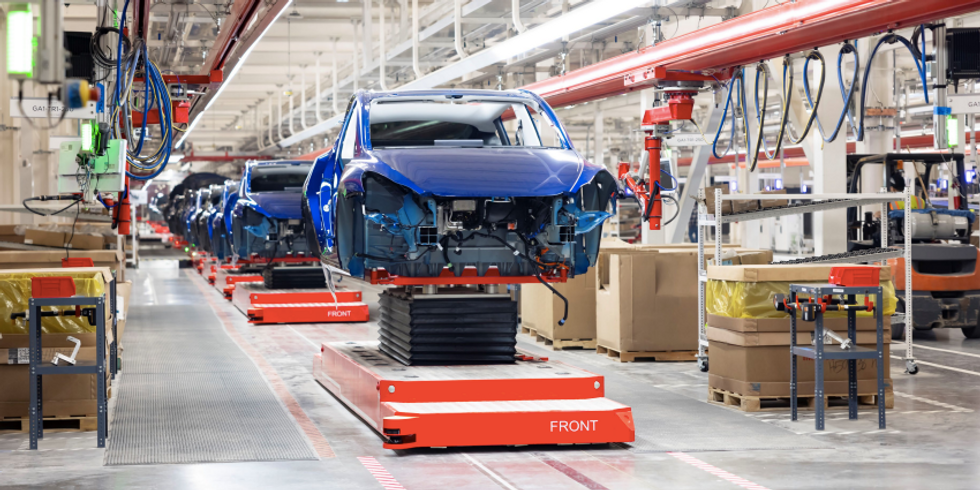 Model Ys began being produced at Giga Texas at the end of 2020. In general assembly at the factory, the Teslas get their major interior components to finish the vehicle.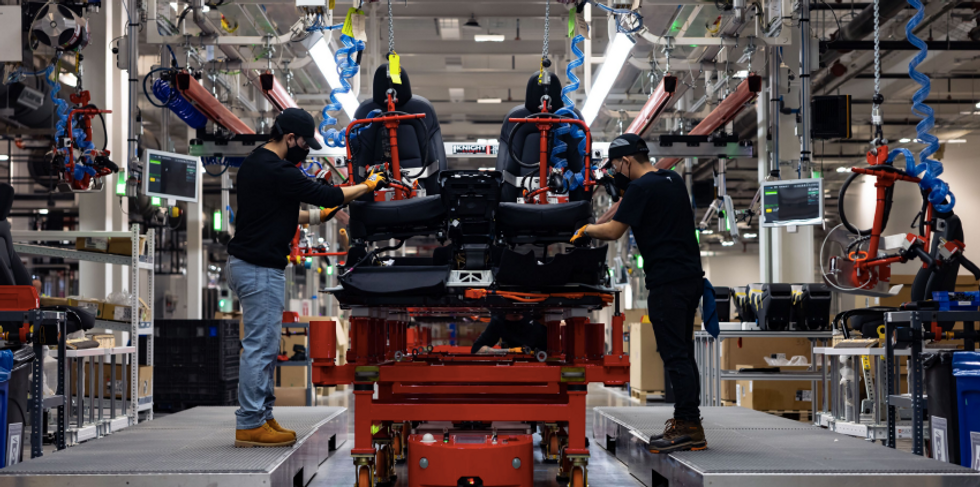 (Tesla)
Workers at Austin's Gigafactory are attaching seats to a structural battery pack. It's been described by some as the biggest difference between Texas-made Model Y's and the current version at the Fremont, California factory. It shouldn't have a major impact on the owner's experience, but Tesla has updated instructions for the jacking procedure, as the lift points are different.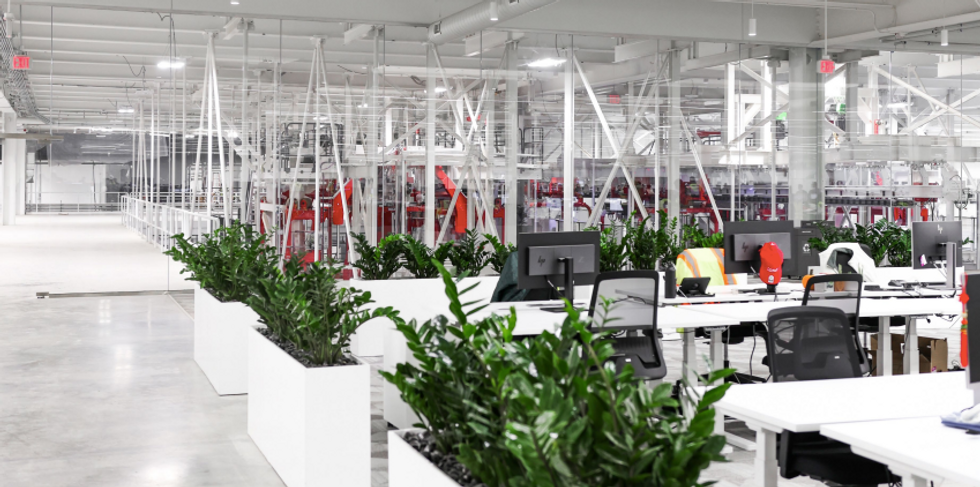 With a sleek, open office setup, workers can take in a view of the factory from their seats. It's a component CEO Elon Musk wanted for what is now the headquarters of Tesla.
On the Austin, Texas public location Snapchat, a photo of inside Giga Texas has appeared. On the left you can see a sneak peek of a Model Y body.pic.twitter.com/N7zliZ5vkL

— Sawyer Merritt (@Sawyer Merritt) 1643081462
With Snapchat's maps, anyone can look at everyday activity happening at the factory. To view these geographically-linked stories, click the bottom left "map" icon and search "Tesla Giga Texas." Once you've found it, you can view the Snapchat story of those in and around the facility. While most stories stay up for only 24 hours, Giga Texas is a designated place on Snapchat, allowing users to view a collection of photos and videos from the inside.
Following Model Ys, Texas-made Teslas will include the Cybertruck, Semi and Model 3. But it might be a while before those other models arrive. EV makers have been hit hard by the chip shortage, and it's thought that changing features are contributing to Cybertruck delays as Tesla works to compete in the electric pickup market.
Joe Rogan paid a visit to buddy Elon Musk this week. The two have been seen around town since both moving to Texas. Naturally, Rogan was impressed with the prototype.
If you're dying to get a closer look at this factory, you just might get to. In December, Musk said the factory would have tours available to the community early this year.