Get connected with our daily update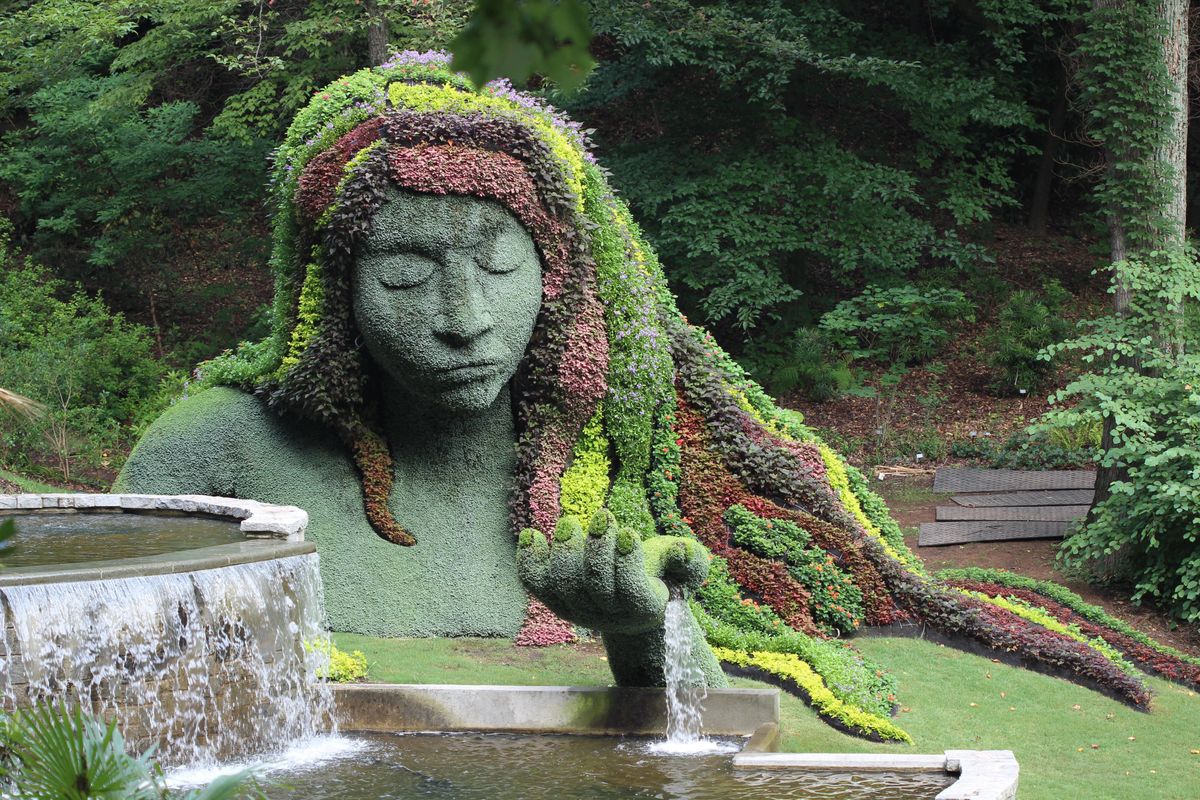 Editor's Note: This is a column written by Shannon Gill, an evolutionary astrologer and life coach who serves as president of the Austin Astrological Society. To learn more about her work, or to schedule a personal session, you may contact her at shannonleigill.com. The column was edited by Russell von Ohlhausen.
Feeling like you're in a transition period? It could come down to the stars, according to astrologers including Austin Astrological Society President Shannon Gill.
---
For those not well-versed in the world of the Zodiac, the study of astrology is one of humanity's oldest collective endeavors, going back thousands of years. The 12 constellations represented by their corresponding Zodiac signs are identified with the Sun's path along the Earth's ecliptic and can be observed throughout the year.
After the fiery, creative and playful Leo season, the Sun is now transitioning into Virgo. Here's what that will look like:
This is a time where we take the creative passion of the Lion, Leo's namesake, and offer it into service of the Earthy world. Virgo is the 'Soul Mother' archetype and is here to assist us to create 'order out of chaos'. Whew, what-a-job! This is the month to separate the wheat from the chaff, as Summer's garden of abundance comes to completion and we begin the transition into the Fall harvest season. It's a time for grounding, getting organized, and preparing for the shifting of the energies to come.
Aries (March 21- April 19)
This month may bring about relationship challenges for you, dear Arian. You may experience this as resistance or opposition from others resulting in disputes, minor or major. One of your deeper evolutionary lessons in this lifetime is collaborative compromise! Put your energy into fruitful co-creations. Practice compassionate listening, resist digging your heels into the soil, and you may surprise yourself and get what you wanted after all. The new moon September 6th may bring a moment of insecurity with moving forward with certain goals, but by September 20th's full moon, you will have managed to align your personal will with higher will.
Taurus (April 20-May 20)
Taureans, your world has been a bit more topsy-turvy than you may be comfortable with. September offers you some rays of later summer sunshine to relax into your natural state of calm and tranquility. You may, however, face a crossroads of sorts where you may need to make some quick pertinent decisions. You should have the clarity to do so with self confidence. Your greatest growth area this month is relationships; any issues that have been festering beneath the surface will tend to reveal themselves. Remember your deepest work in this life is to anchor yourself into self love, and emotional self reliance. Practice non-attachment!
Gemini (May 21-June 20)
Light-hearted Twins, you have been put to the test this year! Your principal purpose is the dissemination of knowledge; yet, this time in history will go down as the most confusing and confounding in the world of information. Remind yourself that it's ok to not know sometimes. You are mastering duality and paradox in this lifetime. The Sun supports you this month towards slow successes. It may feel like you have to work harder than usual. The September 6th new moon brings a burst of personal power towards birthing a new chapter. Even a misstep is perfect through the evolutionary lens.
Cancer (June 21-July 22)
Crabs, you may be pried out of your comfortable shell as you feel challenged by authority or the collective narrative. September's tempo and demands may feel edgy, leading to nervous irritability. Tap into your profound watery intuition where the Sun's clear Virgoan light can help you see clearly and avoid reactivity. It's a wild world out there these days, and you may feel an increased desire for intimacy and comfort to bring balance and ease the tensions and chaos, and this month brings a lovely flow of relational energetics.
Leo (July 23-August 22)
We can depend on you to be the life of the party radiant Leo, yet in September you may experience mild feelings of heaviness or pessimism, which are not native to your central nature. Accepting certain realities and taking responsibility will ease the weight and build your character in lasting ways. Remember Leos, you are here to lead with your heart! Some friendships may hit a wall, so be ready to let go if need be. You will have great Mercurial flow this month, increasing your capacity to communicate with clarity and to navigate the terrain consciously.
Virgo (August 23-September 22)
Happy Re-Birth Day soulful Virgos! This is your month to be celebrated in all the ways you serve the world. There is a pile up of planets in your sign, giving you a cosmic outpouring of creative vision and the ability to bring it into fruition. There are moments throughout the month you may find yourself in Neptune's fogginess. Through the axiom, "as above, so below", you will find your way! Make sure to shine, and your projects, associations, and creative actions will connect you to your karmic destiny. Don't dream small—plan big and get ready for your next trip around the Sun!
Libra (September 23-October 22)
This month, you too will get a boost from many planets passing through your sign, enhancing your magnetism and creativity. Let flow the elan vital, to breathe life into your Airy aspirations! September also brings with it a sprinkling of good luck fairy dust (which Libras love); it could be just what you need to incite a partner, new or old! Partnership is a focal point of your evolution. September may require a period of shadow work but the transformation will be well worth it in the end.
Scorpio (October 23-November 21)
The Sun shines upon you, little creature of the night, with rays of enthusiasm and buoyancy. Come out from under that rock and launch a creative endeavor. You may have an "ah-ha" life altering moment or flash of genius insight into your future which steers you onto a new course. Wrap yourself in feel-good vibes and cultivate some tactile intimacy. Around the 15th you could dig up something potentially upsetting as you go a little deeper. Overall you should enjoy a softer side to yourself, and an increased in compassion for the current state of our world, which is much needed!
Sagittarius (November 22-December 21)
Sagittarians, this month may test your capacity to expand your mind. Knowing this, your invitation is to loosen up on your belief systems a bit, peer behind the curtain of someone else's experience, and adjust your own level of reality. There is a war on beliefs currently brewing in our world, and you are here to help us move beyond the consensus mindset. This is a great month to accomplish your intentions and you will have the perseverance to see things through. And finally,love and money feature highly and should flow forth in abundance, if you keep your mind right!
Capricorn (December 22-January 19)
Industrious Capricorn, you should feel accomplished, as the Earth-sign Sun gives its support to your hard work. However, you may be challenged by other people not meeting your expectations. It's not easy for you Caps, but remember "to live and let live"—not everyone has the same work ethic as you. Practicing restraint in your dealings with others will avoid conflict and potentially create creative alliances forwarding the projects dear to your heart. The New Moon is prime time to ground your next project, yet you still have to stop, smell the roses, and make time for your own self care.
Aquarius (January 20-February 18)
You radical ambassadors of the New Age, it's time to lay a little real groundwork from the mental energy you've used in conceptualizing a future. You may feel torn this month however, itching to break free from restrictions, charged with revolt or ready to run. Remember though, it is our deep interconnected root system of real souls which enables us to fly so high. Expansion and opportunities are abundant all year for you. Doors will open to new timelines where needed. Stay connected to your heart to bring balance to that futuristic mind of yours! This is your year to bring your dreams into reality!
Pisces (February 20-March 20)
Polar Pisces, you do know that you are the opposite sign of this transit in Virgo, right? You may feel a little bit confronted with the Sun counterposing each of you throughout the month. Showing up fully (with boundaries intact), rather than hiding, is your best option. Be ready to face some of your flaws with grace. You Fishies have to balance the being and the doing whilenot letting the details merely flow by you. A retreat into nature may be needed to rebalance your nervous system. Stay connected to the natural flow of elements. You are of the most empathic of all the signs, so remember to keep your waters clear to channel your purest insights.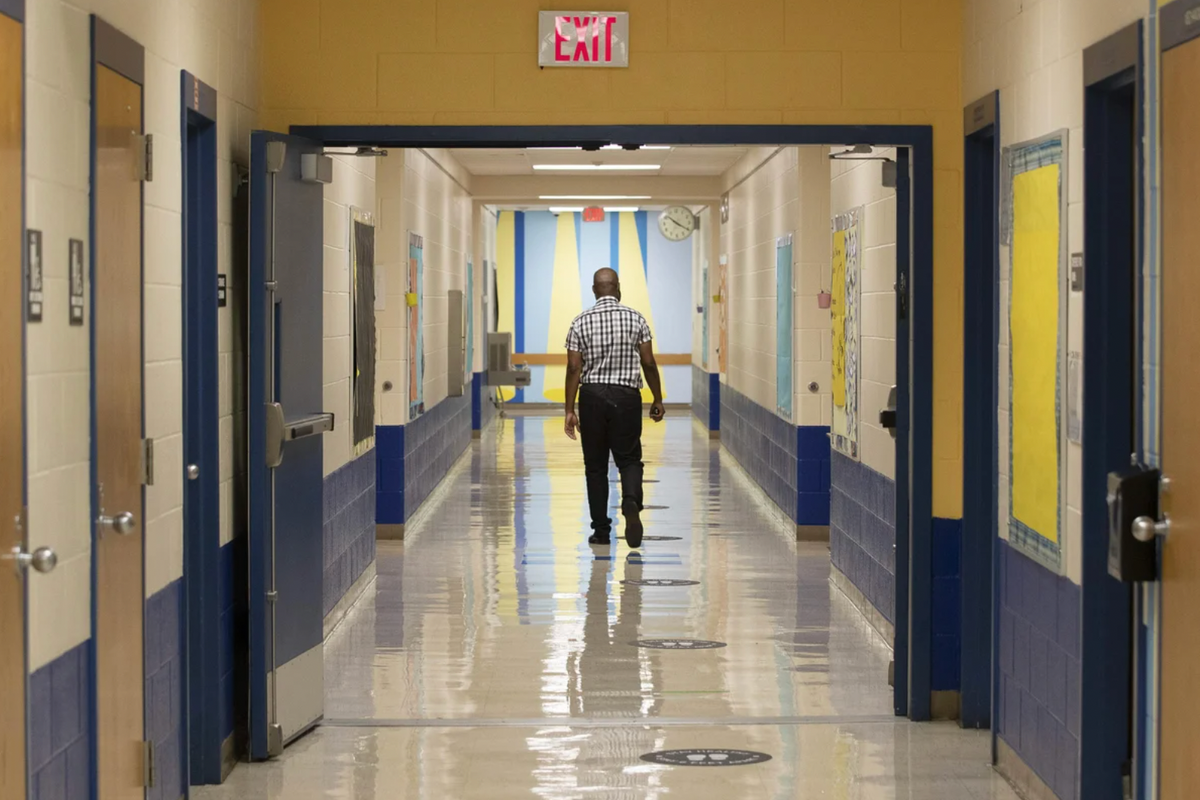 Matias Segura swept his hand across a whiteboard in his office at AISD headquarters, describing how an entrance vestibule works. It might remind you of a sally port at a prison. The vestibule is designed to protect our children from the active shooters who have plagued our nation since Columbine in 1999.
"You start with the signage," he said. "You know exactly where the entrance is, and that's for first responders too. We really want to make sure we keep up with visitor patterns. If they come in, they go through a system. Driver's license, background check, which takes about a minute. We have a software system."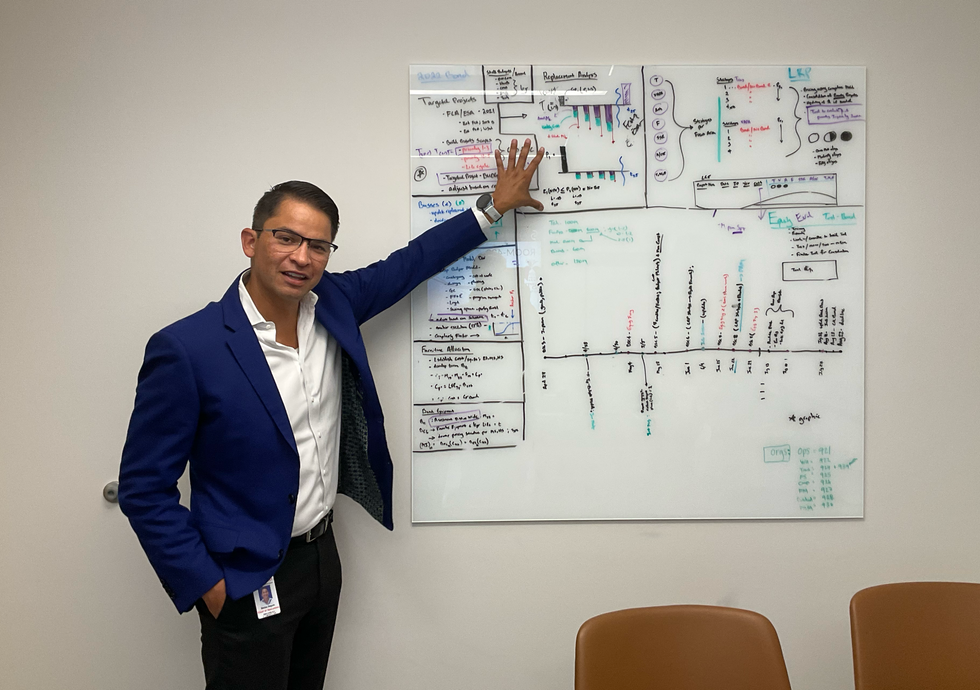 AISD Director of Operations Matias Segura explains the overall school construction and what the entry vestibule looks like. (Rich Oppel)
The vestibule has two sets of locked doors. The exterior set has an audio-visual intercom, operated by a desk officer who has a view of visitor parking, the building approach and the vestibule. If allowed in, a visitor is buzzed through and then faces questioning and clearance by the desk officer. The visitor is given a card-reader pass. If a second person attempts to "trail in" behind another visitor, he is trapped in the vestibule until his status is determined. The second set of doors, into the main school building, remains locked and shut. It is open when students arrive in the morning.
Thus, the days of walking into the school, maybe waving at the principal's executive assistant and strolling off to the cafeteria for lunch with your daughter are gone, a relic of a more bucolic time when "active shooters" were never imagined. But one must ask, what do we give up for greater safety?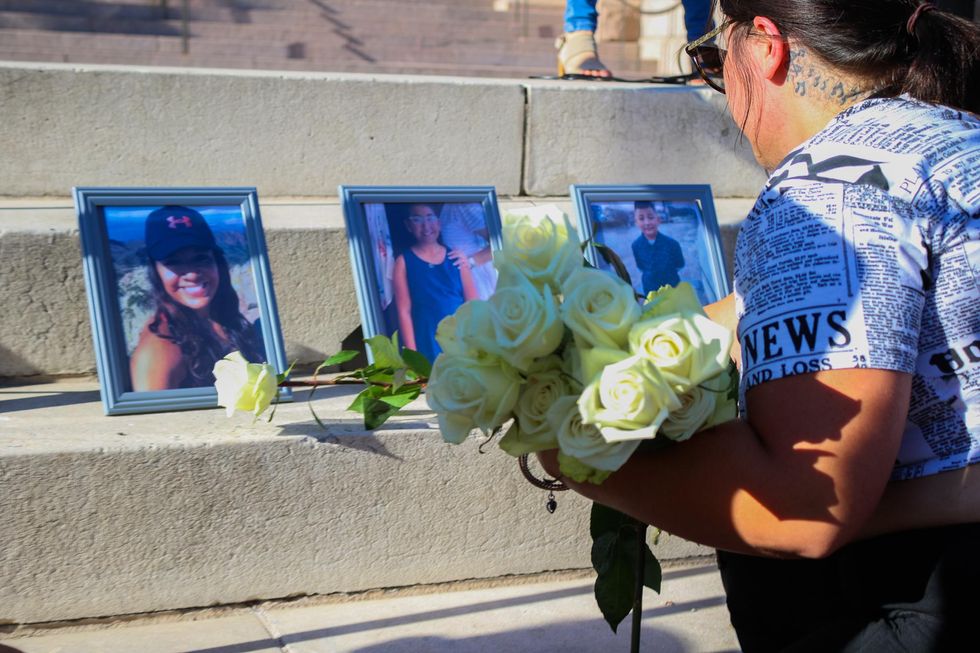 Austinites remembered the Uvalde shooting victims in a vigil at the Texas Capitol in May. (Tony Fuentes)
Some critics argue that we are at risk of losing traditional values in the redesign of schools, courthouses, hospitals, churches and shopping centers. Writing in The Washington Post, architecture critic Philip Kennicott said the nation's gun culture "threatens an essential precondition for democracy: its public space… Ideals of openness, flow, transparency and access will no longer be sustainable."
Segura contemplates the question. At 41, he has held his job as AISD director of operations for four and a half years. Prior to that he was a consultant who led the team to build Austin's new courthouse. His Austin and Texas roots are deep. He was born here, graduated from Bowie High, and went off to Lubbock to earn a degree in civil engineering from Texas Tech. He returned to secure an MBA at the University of Texas at Austin. He and his wife Joy Burson-Segura have two daughters who attend AISD schools. Segura said he and his operations team love AISD, care deeply about their work, and want citizens "to see us as partners."
Back to what we lose in hardening the schools.
Segura says, "We think about students' health. Having daylight, bringing light into a hardened facility, being able to access outdoor learning areas, (which is) hypercritical, especially in what we have learned in the pandemic." Segura doesn't like the idea of moats around schools (exotic, expensive) nor of classroom bomb shelters (what would teachers and students think about their looming presence?), efforts that are being tried elsewhere.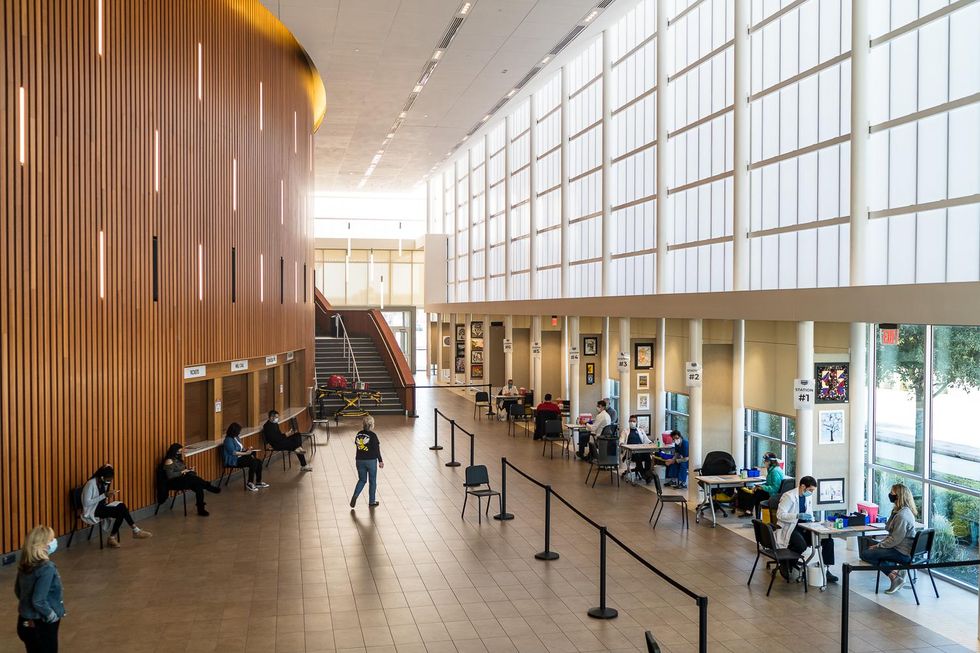 Healthcare workers receive the Moderna COVID-19 vaccine at the AISD Performing Arts Center in Mueller in 2021. (Jordan Vonderhaar)
AISD must juggle school security with the historic use of our schools for other purposes, such as voting, PTA-PTO meetings, community fairs, and, more recently, COVID-19 testing, vaccinations and food distribution. AISD does not want to end those uses, so the challenge is to design schools with separate rooms or places for those uses.
Clearly, Segura has thought about balancing conflicting equities. For him, it's not all locked doors and blank brick or concrete walls. He stresses the importance of building a culture that includes shared responsibility of all school employees where, for example, a custodian could ask a stranger whether they have a visitor's badge. All staffers should be well-trained in security measures, knowledgeable about new technology, and committed to working as a team to protect students, teachers and others. "We are working very, very hard on the culture," he says. "Also, we need (financial) investment if we are going to move the needle."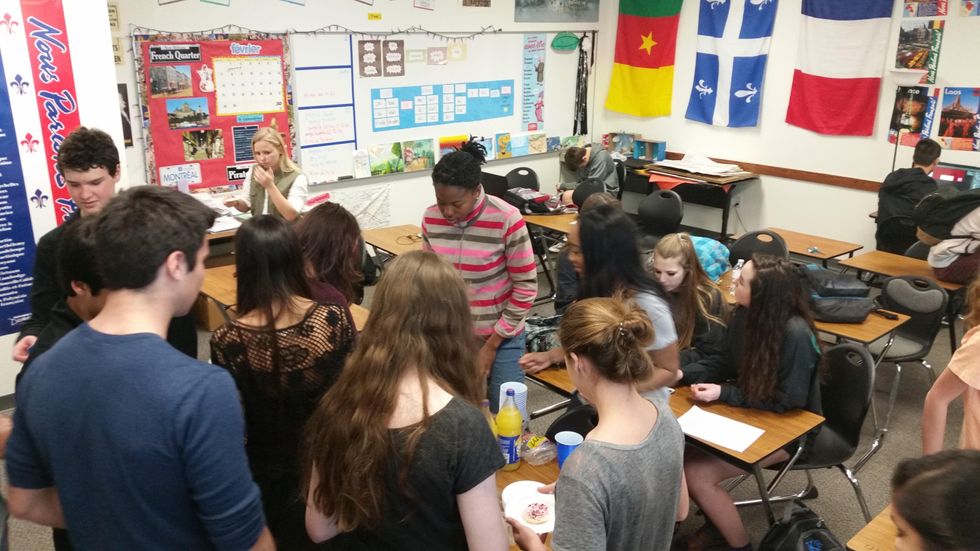 (Laura Figi)
Kennicott, the Washington Post critic, quotes the late Sen. Patrick Moynihan, a sociologist and New York Democrat, who said, "Architecture is inescapably a political art, and it reports faithfully for ages to come what the political values of a particular era were. Surely, ours must be openness and fearlessness in the face of those who hide in darkness."
But that was in 2001. What messages will Austin's new public schools convey to future generations about our 2021 political values?
"First and foremost, these are education spaces that belong to our community. Our objective is to create incredible learning experiences for our students and at the same time ensure that the students and staff are safe." He said he wants people to view schools as "inspired," places where they would want to send their children. "Great things are happening in that space," and that teachers see a place where they want to work and where they feel safe.
Voters in AISD will decide Nov. 8 on a $2.44 billion bond package to provide "funding for improvements to enhance safety, centers on equity, benefits every campus, and addresses affordability," according to AISD officials.