Get connected with our daily update
As new food trends reach Austin, it seems that the bigger the better, and machetes are not an exception.
Stretching as long as 2 feet, a machete is essentially a deliciously huge quesadilla wrapped in a long sheet of corn masa and filled with cheese, different types of meat and various toppings. The size and appearance of the dish resemble its namesake, a machete blade.
---
Since the 1960s, machetes have been a popular dish in Mexico City. Luckily for us Texans, the giant quesadillas have reached the Austin food scene and are perfectly large enough to share with friends.
Here is where you can try machetes in Austin.
​Machetes Doña Leova, 10600 N. Lamar Blvd.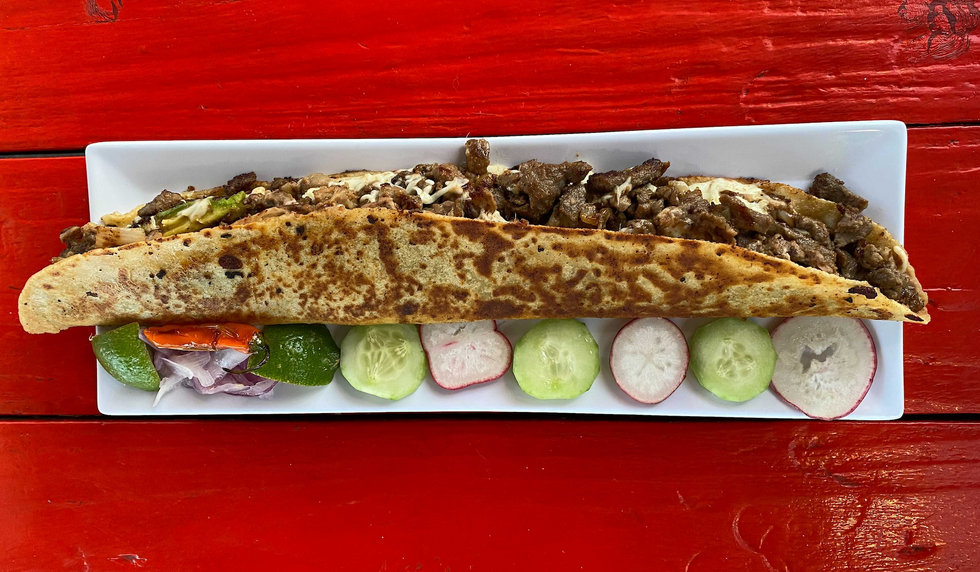 Don't let this huge machete intimidate you. Machetes Doña Leova has all the proteins and toppings available to make the best flavorful machete. With pastor, beef, chicken, shrimp, vegetables and many other traditional Mexican meats, Austinites can try an authentic machete right on home turf. The food truck also offers tacos, burritos, quesadillas and gorditas if you're not up for the massive food challenge.
Authenticos Michoacanos, 4329 S. Congress Ave. 
Authenticos Michoacanos is another location in Austin where you can find the traditional Mexico City dish of machetes. The food truck offers several different types of proteins such as beef, pork, chicken, suadero, pork carnitas, chorizo, campechano, tripa and chicharron. You can fill up your belly with delicious machetes, or other traditional staple foods such as tacos, gorditas, quesadillas all with fresh ingredients.
Casita Nicole Antojitos Mexicanos, 9618 Menchaca Road
Another food truck in the Austin machetes game, Casita Nicole Antojitos Mexicanos has over 18 ingredients to make machetes perfect for you. You have the option to order a mini version or the real deal, which is a 2 foot long machete. From fish and shrimp, to chicharrones and vegetables, the food truck has all the ingredients to make a machete for any food lover and more. You can also find Mexican burgers, burritos, sandwiches and more at Casita Nicole Antojitos Mexicanos.

Aparicio's Cafe, 9310 Georgian Dr.
As far as giant food dishes go, Aparicio's has you covered. The food truck offers traditional machetes, but as most Austin places do, brings a fun and different twist to tradition. Aparicio's has seven different types of machetes: carne asada, pastor and pineapple, carnivore, pizza, hot Cheeto, barbecue chicken and philly cheese. The uniquely made machetes are original in size and filling in nature, so make sure you round up some friends before ordering.
Taqueria Casita Vizuet, 10014 N. Lamar Blvd.
Adding to the list of machetes in Austin, Taqueria Casita Vizuet has the gigantic quesadillas on deck. Located down the street from Machetes Dona Leova, the food truck competitor puts itself on the map with fresh ingredients and a list of traditional Mexican proteins and sauces.

Next: Explore Austin's BBQ scene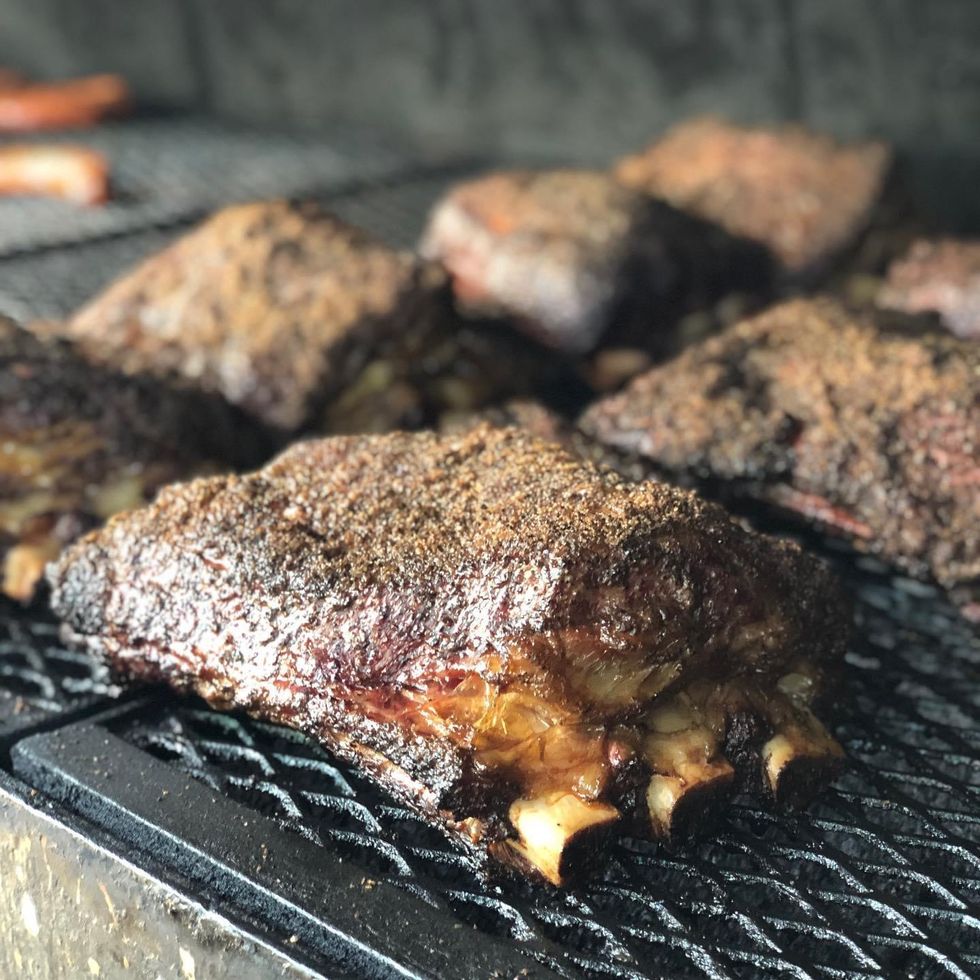 Meat, smoke and sauce: A guide to the best Austin barbeque
The Texas French Bread Bakery, located on 2900 Rio Grande Street, has been completely destroyed after a fire erupted on Monday night.
The Austin Fire Department responded to the fire just before 11 p.m., where they arrived to see flames coming from the roof of the bakery. Firefighters fought the fire for about an hour before the roof collapsed.
While no one was injured in the fire, firefighters say the historic building was completely totaled.
AFD determined that the fire was accidental and caused by mechanical failure. AFD said the damages amounted to $1.6 million total: $1.1 million in structural damage and $500,000 in damage to the contents of the bakery.

This year, Texas French Bread will celebrate 40 years of business. Before the bakery occupied the building, it was the Rome Inn, a music venue that hosted 1970s artists like Stevie Ray Vaughan.
Austin's first major league team is ready to extend its reach with a new collaborative sports complex The Pitch, an Austin FC destination packed with local food, beverages and Verde fervor is set to open in Northeast Austin in February.
The Pitch, a collaboration between Austin FC and Karlin Real Estate, among other entities, will be located in the 50-acre Parmer Pond District, which already hosts the club's practice facility St. David's Performance Center.
Dubbed a "true destination" for both soccer fans and the community, The Pitch will consist of multilevel shipping containers designed by Mark Odom Studio that will carve out into a 1,200-seat stadium complete with a soccer pitch made of turf, food and beverage options and a five-acre "Parmer Pond" featuring jogging trails.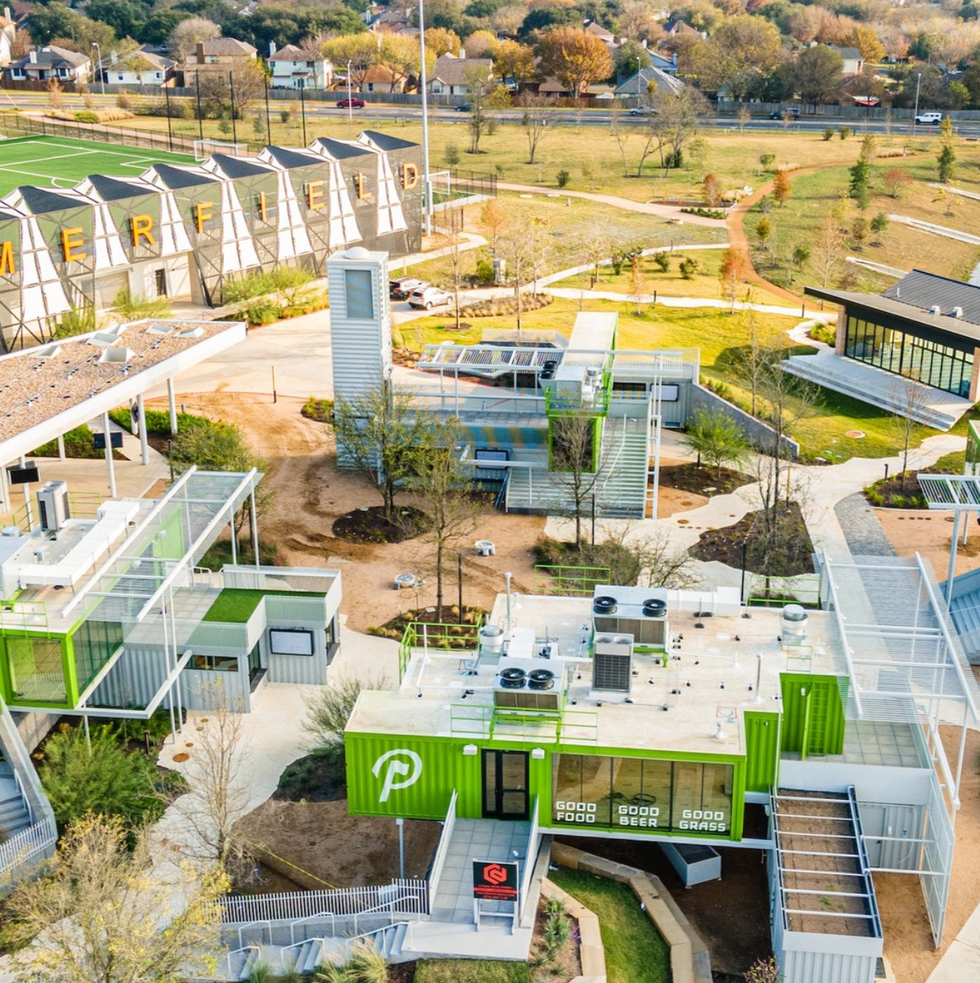 Made from multilevel shipping containers, The Pitch will include food and a 1,200-seat soccer pitch made from artificial turf. (The Pitch)
"The launch of Karlin's new food and entertainment experience will greatly enhance the Parmer development while perfectly complimenting St. David's Performance Center," Austin FC founder Anthony Precourt said. "The Pitch... will offer a strong variety of food options and gathering spaces for guests who will utilize St. David's Performance Center and Parmer Field for a variety of events."
The Pitch project lead Dave Greeley, who helped come up with the concept, is a former president of Austin FC parent company, Two Oak Ventures.
"The vision behind The Pitch at the Parmer Pond District is to be a first-of-its-kind sports, dining and entertainment destination," said Dave Greeley, The Pitch project lead and Team Orbis president. "This will be an unmatched experience for Parmer Austin tenants, Austin FC and club supporters, and the community."
With its proximity to the practice center, the venture hopes to contribute to the growing "soccer city" of Austin during Austin FC matches and youth games with the Austin FC Academy hosted at the St. David's Performance Center.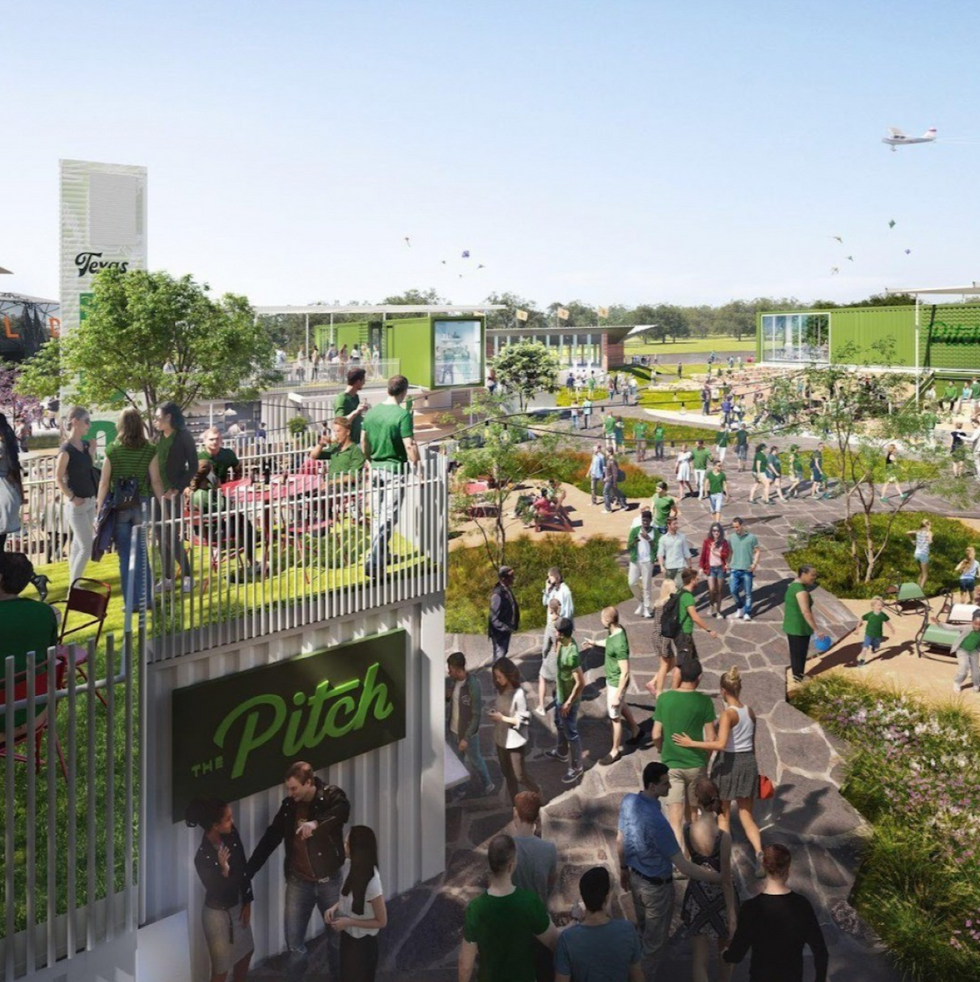 The Pitch hopes to converge both community and club interests with Austin FC. (The Pitch)
In addition to the soccer pitch, stadium and pond, The Pitch will provide a foody experience made by the creative team behind Austin staples like Fareground and Easy Tiger. The complex will offer local bites including:
Ranger Burger, which offers beers and burgers made from highly-coveted Wagyu beef direct from Ranger Cattle in East Austin
Ga Roti, which merges flavors from Northern Vietnam with the culinary techniques of France to create a unique rotisserie chicken joint
Taco Flats, a local taco chain serving Mexico City-style tacos, micheladas and more
Sand Bar, which fulfills its namesake with beauty cocktails, local beers and a sand volleyball court
Coffee Club, a coffee shop and bakery
Corner Kick Bar, the soccer-focused main bar of The Pitch complete with "tunes, TVs and (a) beer garden"
The Pitch will squeeze between St. David's Performance Center and Parmer Pond alongside the southern edge of Parmer Austin, a Karlin Real Estate venture that will eventually include multifamily housing, corporate office space and an aerospace and defense center.