Get connected with our daily update
As new food trends reach Austin, it seems that the bigger the better, and machetes are not an exception.
Stretching as long as 2 feet, a machete is essentially a deliciously huge quesadilla wrapped in a long sheet of corn masa and filled with cheese, different types of meat and various toppings. The size and appearance of the dish resemble its namesake, a machete blade.
---
Since the 1960s, machetes have been a popular dish in Mexico City. Luckily for us Texans, the giant quesadillas have reached the Austin food scene and are perfectly large enough to share with friends.
Here is where you can try machetes in Austin.
​Machetes Doña Leova, 10600 N. Lamar Blvd.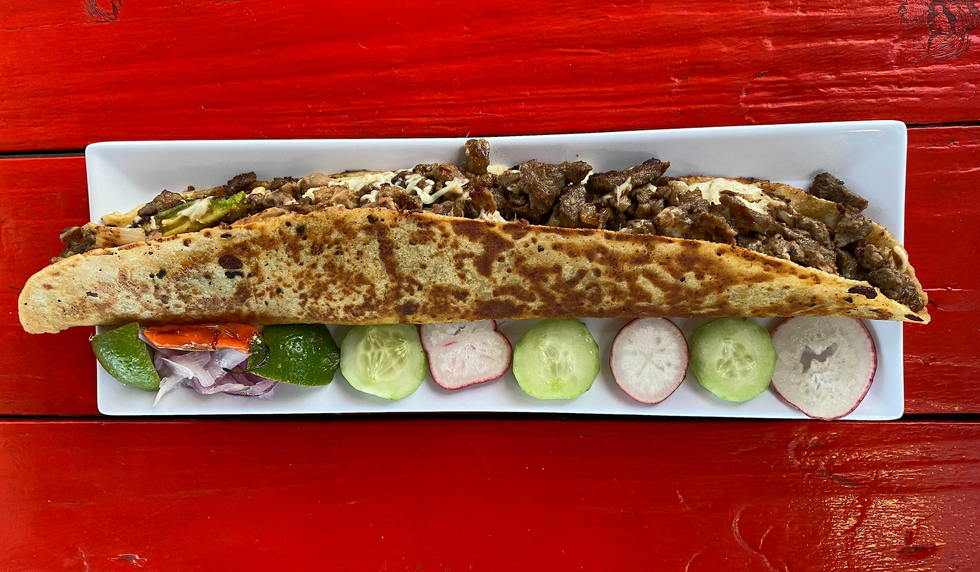 Don't let this huge machete intimidate you. Machetes Doña Leova has all the proteins and toppings available to make the best flavorful machete. With pastor, beef, chicken, shrimp, vegetables and many other traditional Mexican meats, Austinites can try an authentic machete right on home turf. The food truck also offers tacos, burritos, quesadillas and gorditas if you're not up for the massive food challenge.
Authenticos Michoacanos, 4329 S. Congress Ave. 
Authenticos Michoacanos is another location in Austin where you can find the traditional Mexico City dish of machetes. The food truck offers several different types of proteins such as beef, pork, chicken, suadero, pork carnitas, chorizo, campechano, tripa and chicharron. You can fill up your belly with delicious machetes, or other traditional staple foods such as tacos, gorditas, quesadillas all with fresh ingredients.
Casita Nicole Antojitos Mexicanos, 9618 Menchaca Road
Another food truck in the Austin machetes game, Casita Nicole Antojitos Mexicanos has over 18 ingredients to make machetes perfect for you. You have the option to order a mini version or the real deal, which is a 2 foot long machete. From fish and shrimp, to chicharrones and vegetables, the food truck has all the ingredients to make a machete for any food lover and more. You can also find Mexican burgers, burritos, sandwiches and more at Casita Nicole Antojitos Mexicanos.

Aparicio's Cafe, 9310 Georgian Dr.
As far as giant food dishes go, Aparicio's has you covered. The food truck offers traditional machetes, but as most Austin places do, brings a fun and different twist to tradition. Aparicio's has seven different types of machetes: carne asada, pastor and pineapple, carnivore, pizza, hot Cheeto, barbecue chicken and philly cheese. The uniquely made machetes are original in size and filling in nature, so make sure you round up some friends before ordering.
Taqueria Casita Vizuet, 10014 N. Lamar Blvd.
Adding to the list of machetes in Austin, Taqueria Casita Vizuet has the gigantic quesadillas on deck. Located down the street from Machetes Dona Leova, the food truck competitor puts itself on the map with fresh ingredients and a list of traditional Mexican proteins and sauces.

Next: Explore Austin's BBQ scene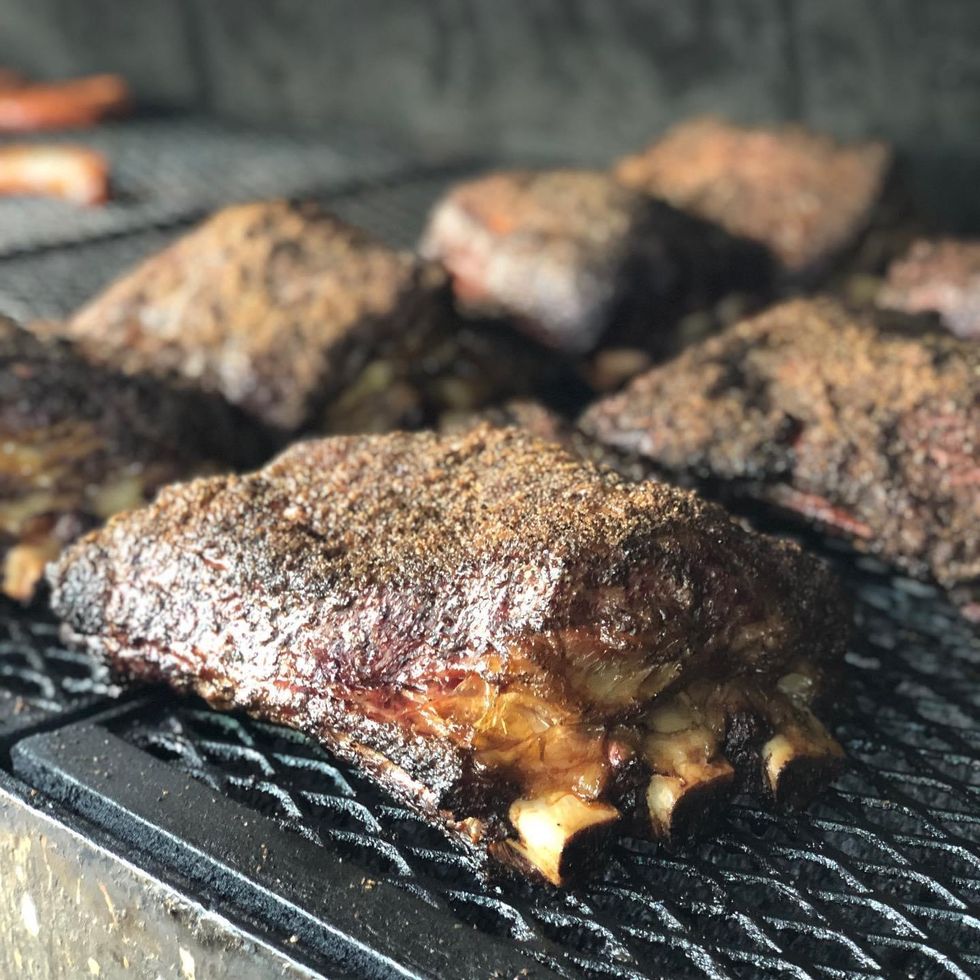 Meat, smoke and sauce: A guide to the best Austin barbeque
Concerning levels of cylindrospermopsin were discovered on Sept. 22 after a person got sick and samples were sent to get tested on Sept. 9. Signs will be posted at access points to Sculpture Falls that people and their pets should not injest or swim in the water.
Unlike the harmful algae making dogs sick in parts of Lake Travis and Lady Bird Lake in past summers, these toxins are found in the water, the city says. Barton Creek visitors are asked to avoid stagnant water especially.
The toxins also result in different health effects than the harmful algae in Lady Bird Lake, including liver and kidney damage. If exposed, people can feel:
Fever
Headache
Vomiting
Bloody diarrhea
If exposed, people should seek medical attention and report it to 311.
TinyFest Texas 2021
When: 10 a.m. Saturday – 5 p.m. Sunday
Where: Jourdan-Bachman Pioneer Farms, 10621 Pioneer Farms Drive
What: Tour tiny houses, van converstions, shipping container homes and more at this year's TinyFest. Grab tickets here for a weekend of speakers, workshops and panel discussions plus live music, food and more!

Fierce Whiskers Grand Opening
When: 12 p.m. Saturday
Where: Fierce Whiskers, 5333 Fleming Court
What: Fan of whiskey? Come along to the free grand opening of Fierce Whiskers Distillery's new tasting room. Enjoy bites from a food truck, oysters, musical performances and a raffle.

Austin Summer Carnival
When: 6 p.m. Saturday – 2 a.m. Sunday
Where: The Venue ATX, 516 East 6th St.
What: Don your dancing outfit for this carnival that celebrates the African heritage with Brazilian, Latin and Caribbean rhythms in Austin. Snag your tickets here.

Beginner's Succulent Arrangement and Planting
When: 3 p.m. – 4 p.m. Sunday
Where: Succulent Native, 5501 North Lamar Blvd.
What: Calling all first-time planters: Get your hands dirty and learn about succulent and cactus arrangement and care. No tools required! Grab your tickets here.