Get connected with our daily update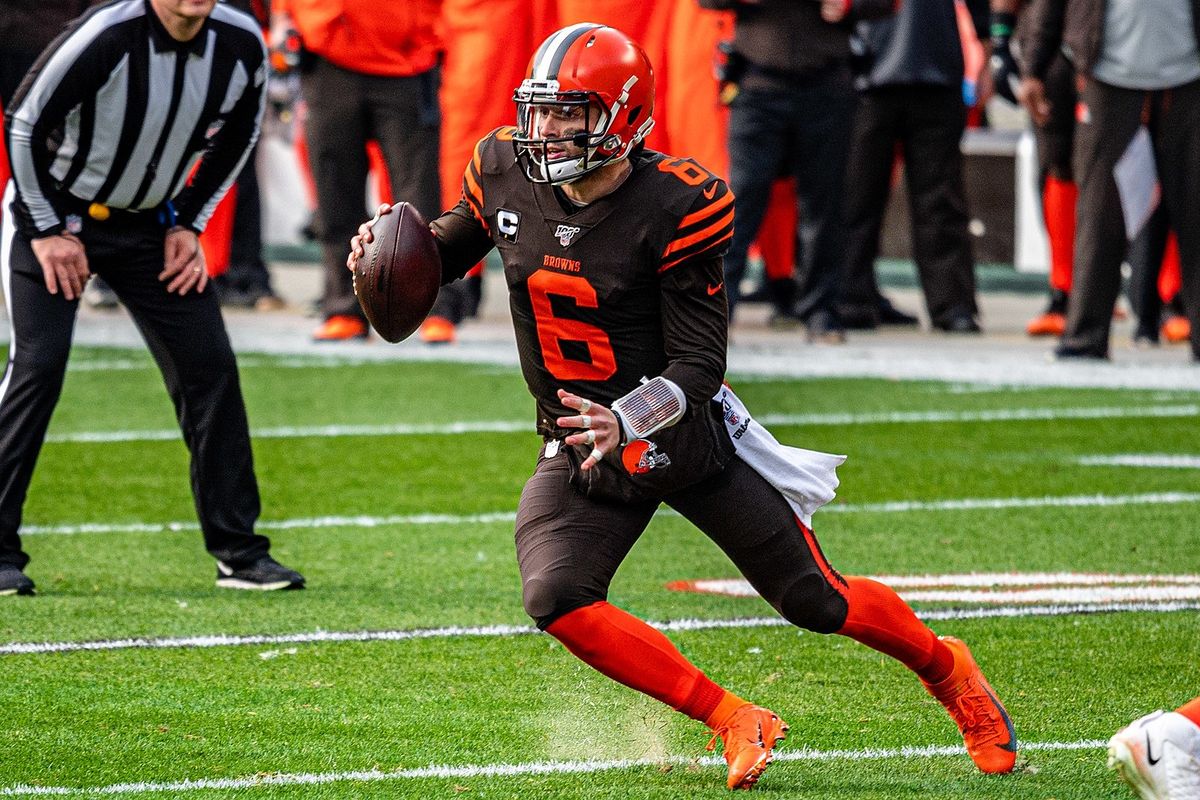 (Erik Drost/CC)
Austin is known for many things, prying itself as the Live Music Capital of the World. What sometimes gets overlooked, however, is the countless athletes who come out of the area.
Here's a non-comprehensive look at the athletes who call Austin home.
---
Jarrett Allen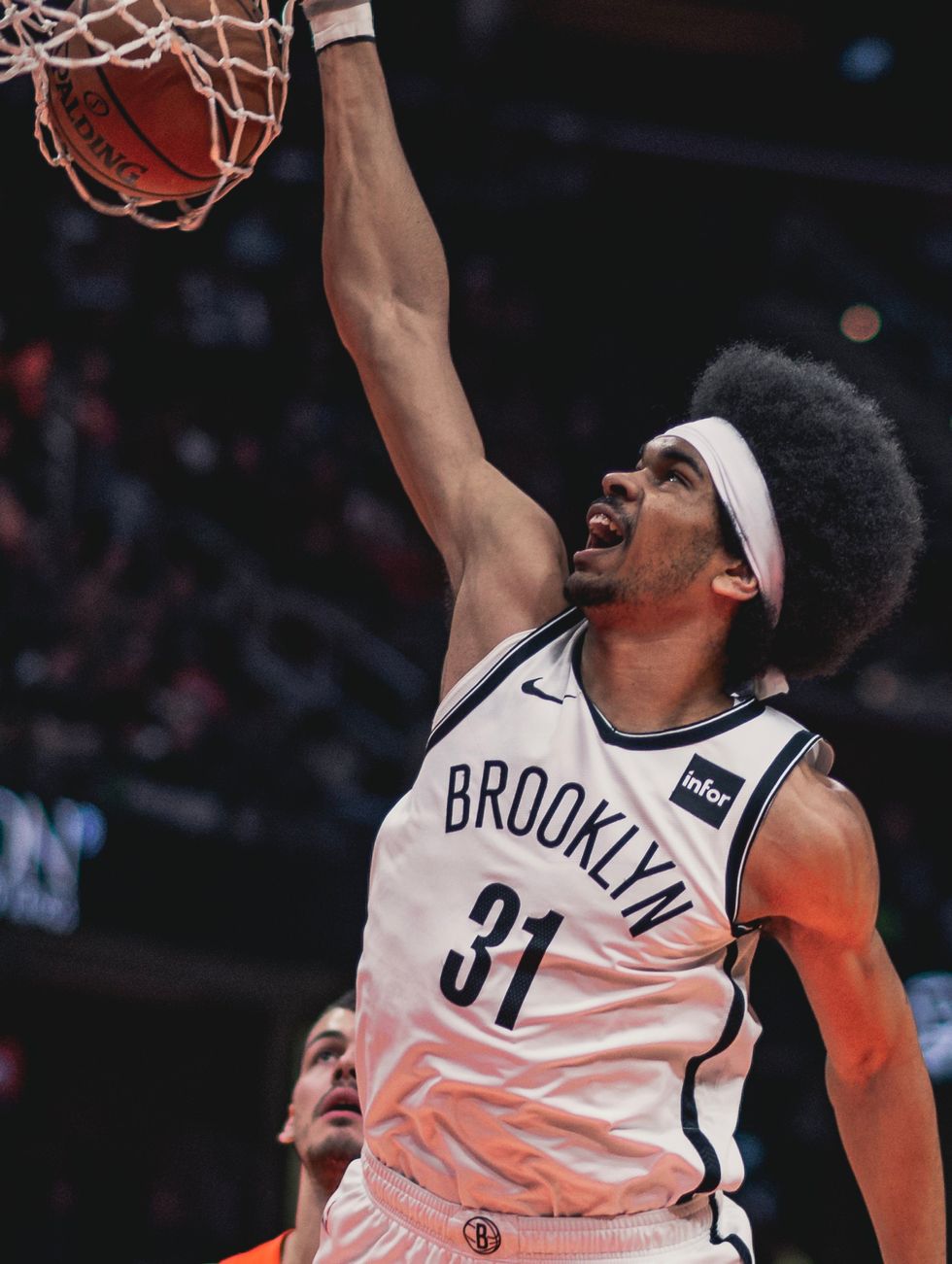 (Erik Drost/Flickr)
The former first round pick by the Brooklyn Nets began his career at Round Rock High School before transferring to St. Stephen's Episcopal School in Austin. While in high school, Allen impressed scouts and fans with his athleticism and rebounding, helping the team become the McDonald's All American team in 2016. In 2016, Allen was named the International Basketball Federation Americas Under 18 Championship team for the U.S., where Allen and his team won gold against Brazil. After two state titles with St. Stephens, Allen decided to stay in Austin and committed to the University of Texas where he played one season for the Longhorns. Allen averaged 13 points and eight rebounds his lone freshmen season. His standout moment while at UT was his 22 point,19 rebound game against the University of Kansas. Allen was the 22nd pick in the 2017 draft and has averaged 10 points and 7.8 rebounds in his three NBA seasons.
Drew Brees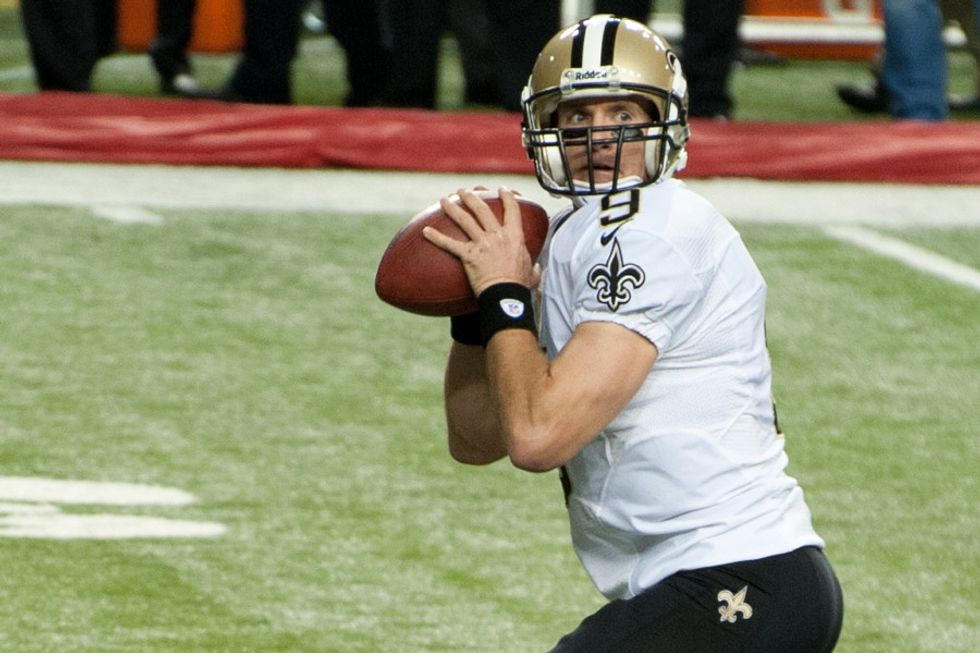 (Seatacular/Flickr)
Before he was throwing touchdown passes on Sundays, the New Orleans Saints quarterback was lighting up the scoreboard for the Westlake Chaparrals. After moving to Austin with his family as a kid, Brees excelled in baseball and football. In 1996, his junior year of High School, Brees led the 16-0 Chaparrals to the state championship winning Texas High School 5A Most Valuable Offensive Player in the process. In the two years as a starter for Westlake, Brees threw for over 5,000 yards and 50 touchdowns, making a 28-0-1 record. Even with all the high school success, Brees did not receive any scholarship offers from UT or Texas A&M. Brees would eventually end up in New Orleans, winning the franchise only Super Bowl and setting countless NFL records in the process.
Mark Calaway "The Undertaker"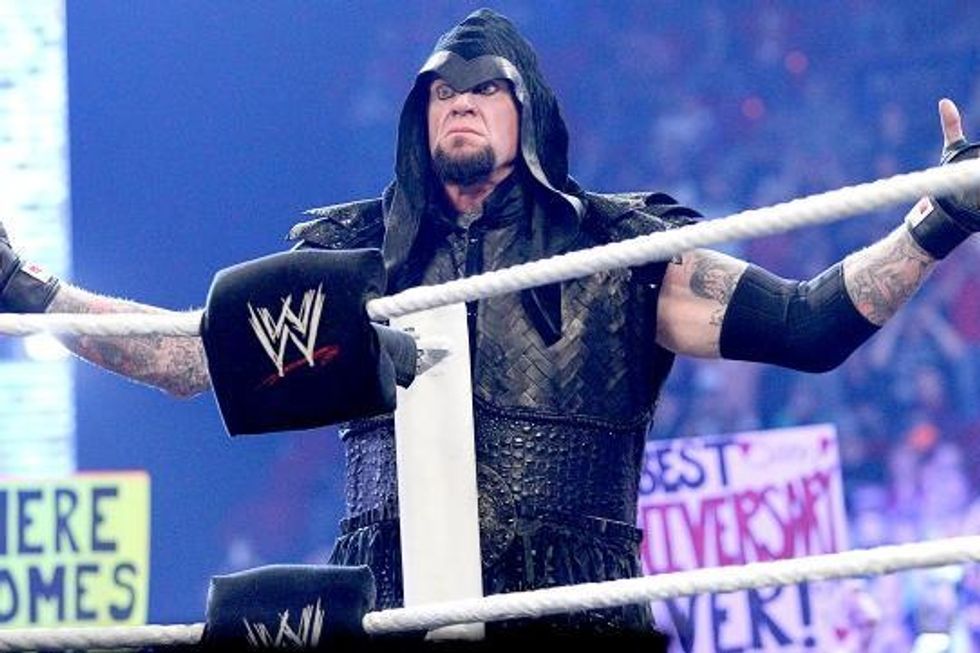 One of the most famous wrestlers alive, Mark Calaway otherwise known as "The Undertaker," is an Austinite. The longest tenured wrestler with a 30-year career, The Undertaker is also a seven time world heavyweight champion with the World Wrestling Federation which later became World Wrestling Entertainment. Starting in the late 1980's Calaway began wrestling on the Texas circuit before moving from the World Champion Wrestling to the the WWF where he made his debut as Kane the Undertaker. The Undertaker is universally recognized as one of the greatest wrestlers of all time and has had fellow Austin legend Mark Henry, the World's Strongest Man, and WWE chairman Vince McMahon both say that The Undertaker is their favorite. Calaway is now semi-retired and living in Austin.
Nick Foles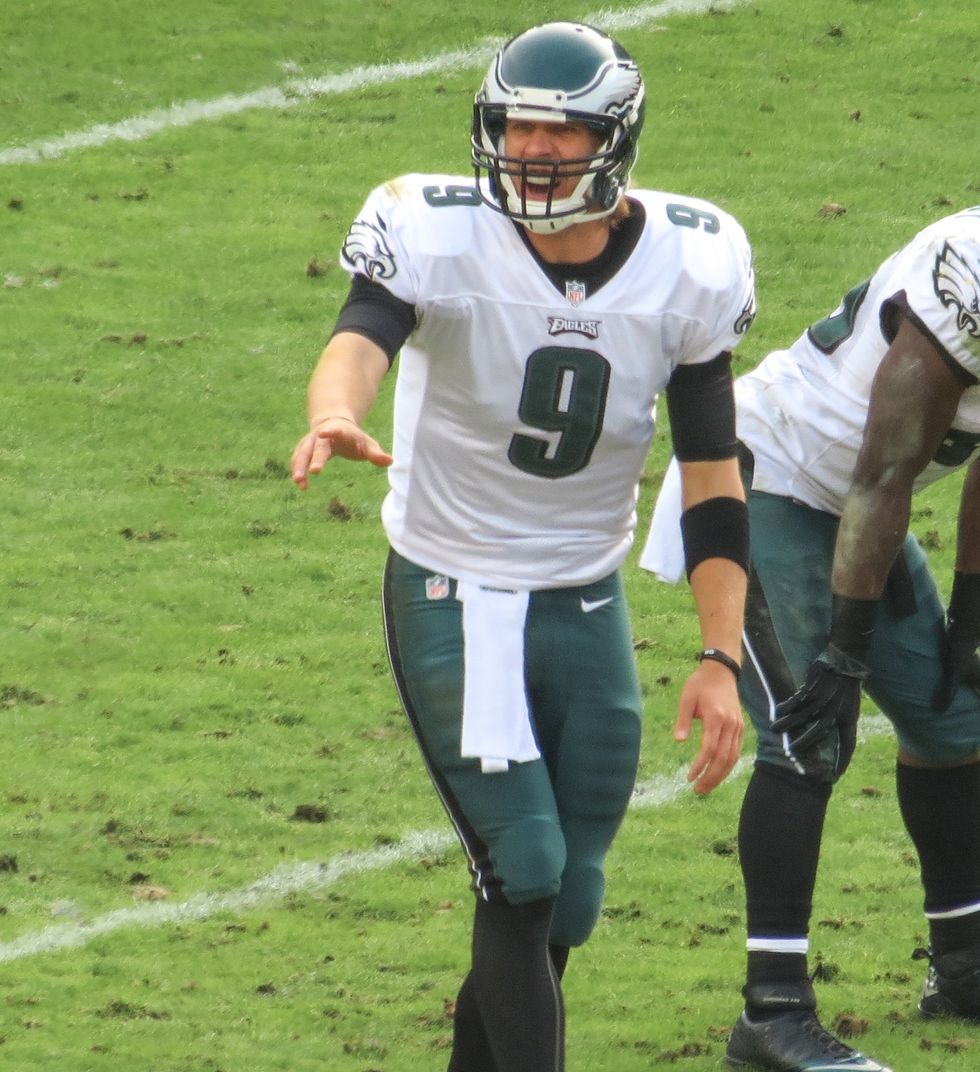 Born and raised in Austin, Foles also played for the Westlake Chapparrals football team graduating in 2007. As the starting quarterback for two years, Foles threw for 56 touchdowns and 5,600 yards. Foles broke many of the records that Drew Brees had set while playing for Westlake. After graduating from the University of Arizona, Foles was drafted in the third round by the Philadelphia Eagles in 2012. After a short stint with the Eagles, he was traded to the St. Louis Rams for former Oklahoma quarterback Sam Bradford before eventually ending back up on the Eagles team in 2017. Foles would take over for an injured Carson Wentz and lead the Eagles to an improbable 2018 Super Bowl victory over the New England Patriots, winning Super Bowl MVP honors in the process. Foles currently plays for the Chicago Bears.
Michael Griffin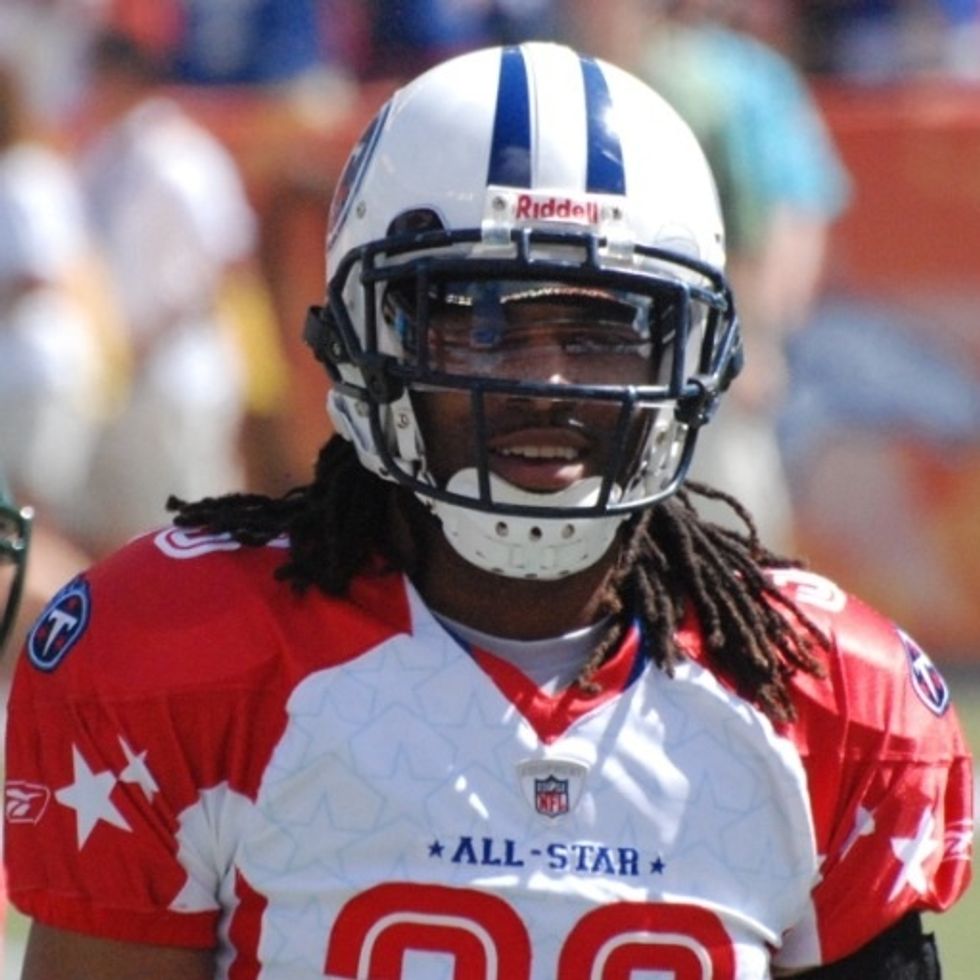 (Michele Moore/ CC)
The Austin native attended Bowie High School where he was a two-year starter at running back and defensive back, winning district and state honors in the process. Griffin decided to stay at home and attend the UT where he started his college career as a true freshman. Griffin is ranked in the top ten in tackles at UT and his eight blocked kicks ranks second all time in NCAA Division I history. Griffin was also a major piece for the 2005 National Champion Longhorns team that was able to defeat the University of Southern California in what some considered the greatest college football game ever played. Griffin intercepted a pass at the goal in what was a major turning point in the game. The two time All American was drafted in the first round in 2007 by the Tennessee Titans making two Pro Bowls and being named second team all pro in 2010 during his nine-year career. Griffin and former college teammate Brian Orakpo co-own Gigi's Cupcakes in Austin recently.
Baker Mayfield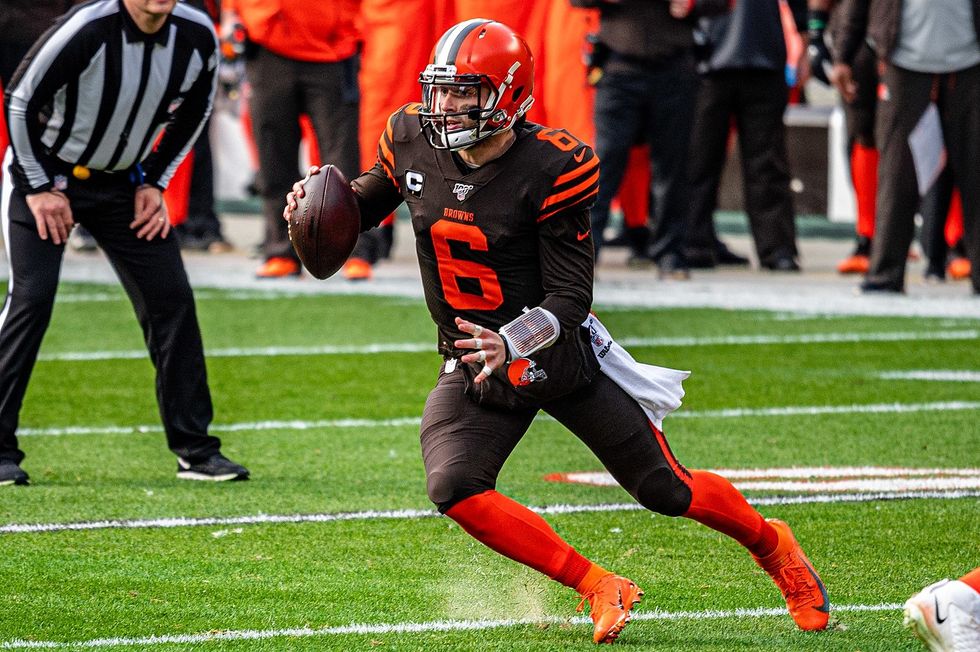 (Erik Drost/CC)
The former Heisman Trophy winner started his career playing football at Lake Travis playing for the Cavaliers. While in High School, Mayfield had a 25-2 record winning the 2011 4A State Championship. Two years as the starting quarterback, the eventual No. 1 overall pick threw for more than 6,000 yards and 67 touchdowns. After starting his college career at Texas Tech, Mayfield eventually ended up playing for the Oklahoma Sooners where he had one of the best careers in college football history. The two time All American is the only walk-on ever to win the Heisman Trophy, college football's most prestigious award given to the most outstanding player. Mayfield also had the third highest number of first place votes ever for the award, totalling 732 first place votes. In 2018, the Cleveland Browns drafted Mayfield first overall. Baker showed that the Browns made the right choice quickly by setting the rookie quarterback touchdown record with 27. During the coronavirus pandemic, Mayfield had his Browns' wide receivers over at his Austin home to train.
Andy Roddick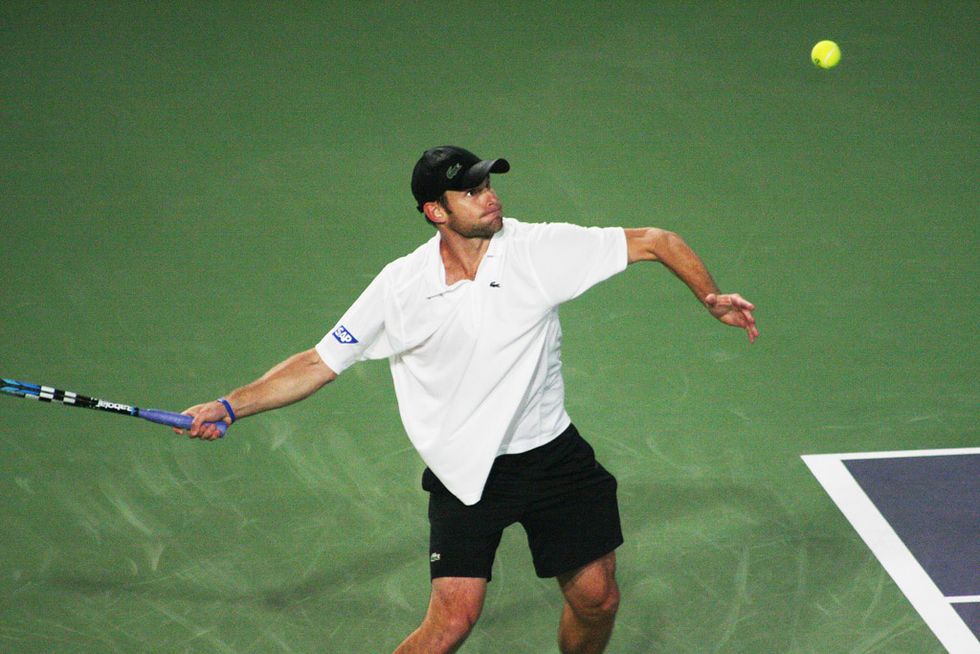 (CC)
The former No. 1 player Andy Roddick moved to Austin with his family and lived there for seven years before moving to Boca Raton, Florida to help further his brother's tennis career. Roddick had his first major victory when in 2000 he won the Australian Open junior singles title at 17. Entering the pros at 18, Roddick proved he was the real deal after beating No. 4 Pete Sampras in the Miami Masters. Later that year he beat No. 1 Gustavo Kuerten and had excellent finishes in the 2001 French Open and Wimbledon. In 2003 at 21 years old, Roddick achieved his goal of being the No. 1 player in the world, becoming the youngest American to hold the rank. In 2017 Roddick was inducted into the International Tennis Hall of Fame. He currently resides in Austin.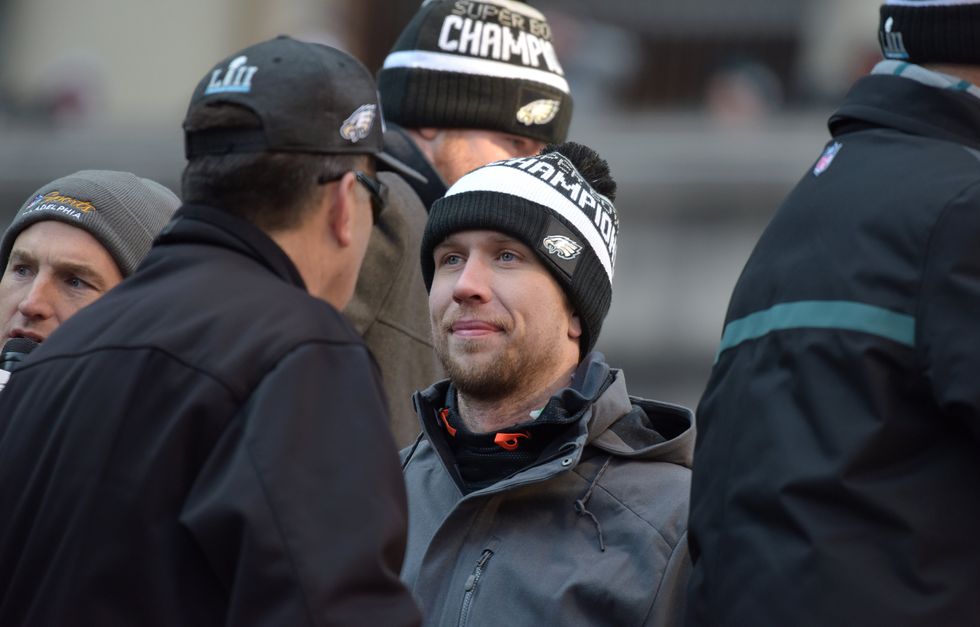 Austin's own Nick Foles returns to spotlight in come-from-behind NFL win(Matt Smith/Shutterstock)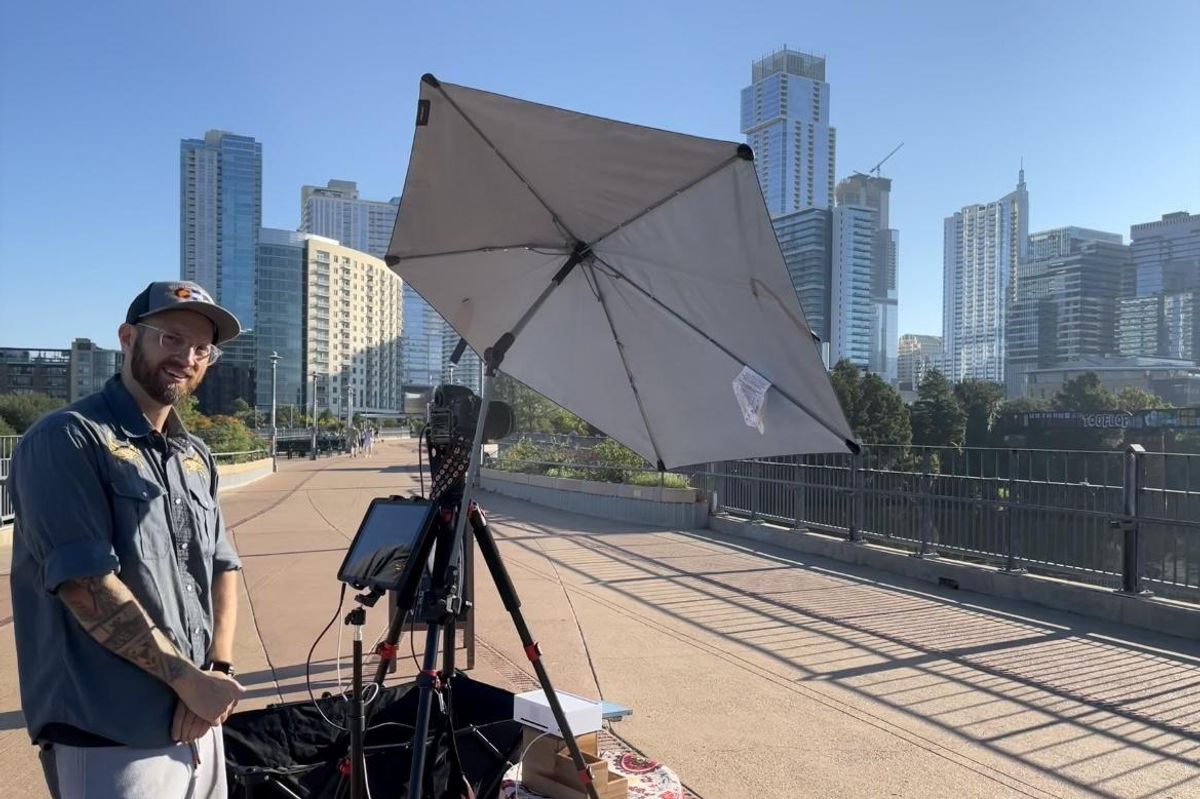 Nicklaus Pereksta says he loves photographing enthusiastic people, and it's why his latest gig offering pictures to people out on Lady Bird Lake's hike and bike trail is going smoothly. He sets up his gear on the Pfluger pedestrian bridge and puts out a sign: Photos, $10.
"Overwhelmingly, this has been a really positive experience," Pereksta said. "I get excited when I wake up in the morning and I can't wait to go to work."
Bikers and joggers are excited about it too. On the pedestrian bridge leading to downtown Thursday morning, a man on an e-bike rode up and posed, wanting more photos.
"I posted the last pictures on Instagram and people loved it. They asked, 'where is this guy?'" the biker told Pereksta. Bashfully, Pereksta, who also photographs landscapes and at weddings and other events, said he was happy to hear that.
Pereksta started these photos about a month ago, after the strenuous runs required in his valet job started causing pain in his legs. And though he has a passion for photography, he wasn't so sure when he started working independently if it would work out.
He felt uncertain about the demand for it and was also worried about having lots of expensive equipment out in the open.
"Then like the first day was nothing but high praise and people are like, this is so awesome. This is great. I've never seen anything like this before. I was like, Wow, this was really good, like positive turnout. So I got encouraged."
Now, he wants to expand and is thinking of contacting the Mueller Farmers Market about how to become a vendor. Still, he'll carry a connection to photographing on the bridge since the word bridge is related to his last name.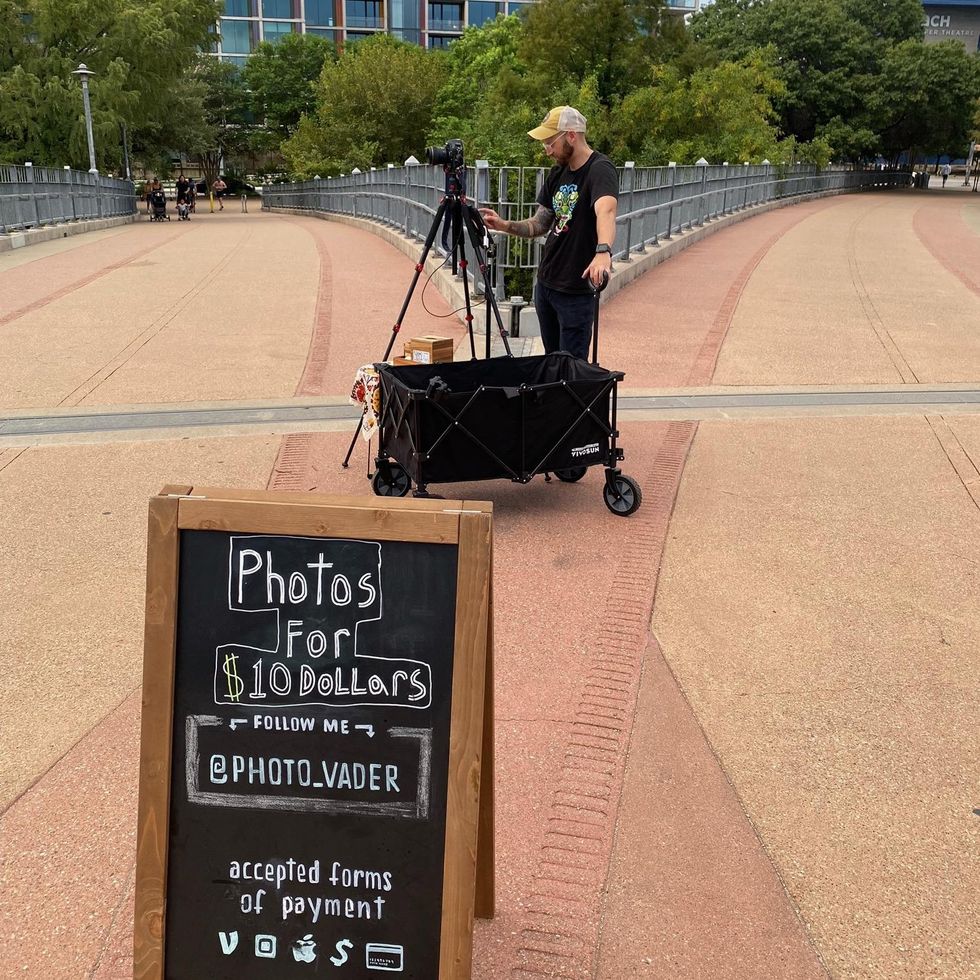 (Dewey C.)
"It's a name my great, great, great grandfather came up with when he was marrying somebody. It's actually quite a romantic name. It means a joining of two bridges," Pereksta said. "So, I thought it was ironic that I'm set up on a bridge. I'm kind of representing my last name right now."
Austonia talked to Pereksta about life in Austin, where he's lived for eight years after living in Boston doing band photography.
What was your first experience with Austin?
I came here to visit some friends and they took me to Barbarella. So we went to Barbarella and I was like, 'wow, this place is great.' And then the restaurants and the food and going to Barton Springs. I was like, 'this is amazing.' Because there's nothing like that in Boston. If you want to go to a natural spring, you got to go to New Hampshire. There's no pools in the city at all. So there's lots of swimming out here.
What do you like best about Austin?
You go to any little quiet bar and there's a band playing that should be like onstage for a sold out show. Yeah, they're playing to 10 people, right? Like, one of the best bands ever and they're playing for 10 people, right? And just little magic moments like that are pretty fun. You just run into little random weird things.
What do you think makes Austin different from other places?
There's no fall.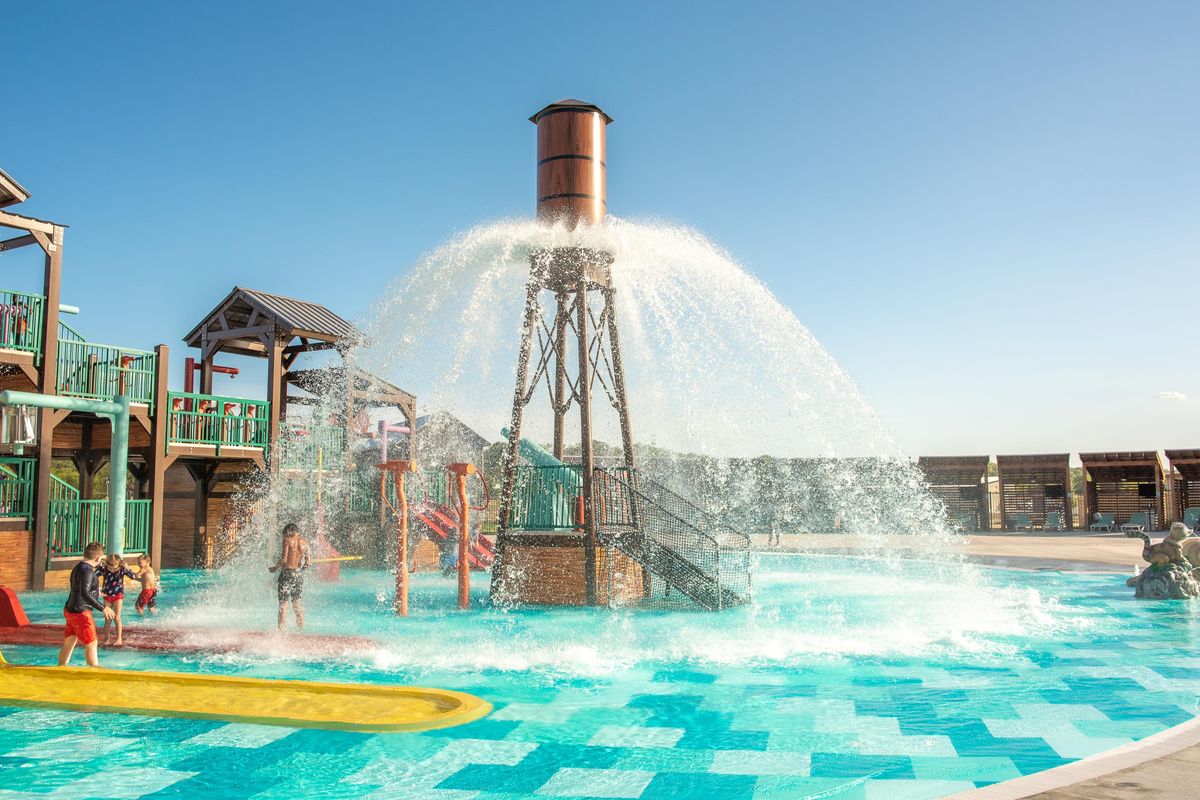 Camp Fimfo Waco
Camp Fimfo Waco, a brand new camping resort, is kicking off football and fall camping season in style! With top-notch amenities, premium accommodations, and 10 weekends of fall fun, there's no better place to have a fall camping getaway, especially if you're a Baylor football fan!
Fall promises to be a one-of-a-kind camping experience. From Sept. 16 to Nov. 24, weekends will be packed with fall-themed activities, including special Halloween weekends in October. Campers can enjoy activities like fall crafts, campground trick-or-treating, costume contests, site decorating, outdoor movie nights, and more!