Get connected with our daily update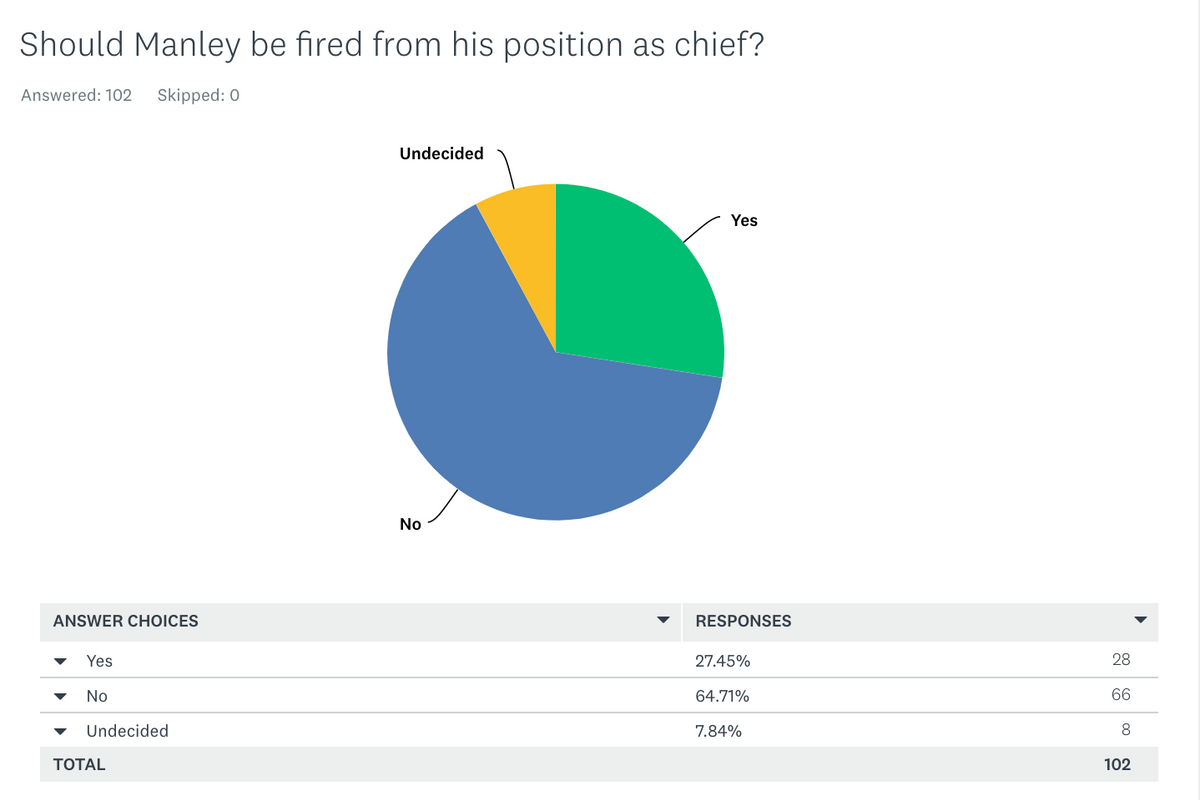 Survey results via Survey Monkey
With City Manager Spencer Cronk appearing in front of a City Council committee tomorrow to talk about a plan for the Austin Police Department, we asked you earlier this week if Austin Police Chief Brian Manley should be fired from his position.
---
A majority of you said no.
In the survey that ran from Monday afternoon to Wednesday at noon, 64% of participants voted against firing Manley. Respondents left comments saying Manley is doing a good job and that other people should be blamed for any unrest with APD.
"Chief Manley is one of the top professional police leaders in our country. He truly cares about Austin. Does the department need to rethink some of their policies? Of course they do. We all need to continually strive to improve ourselves. It is absolutely insane what this council is doing!! The policies that APD have been implementing come from the council. Maybe they should look at themselves before casting dispersions on others," one comment stated.
Of the participants, 27% voted in favor of firing Manley. Comments from those voters said he showed a lack of leadership, accountability and initiative to provide reform.
"I think our community is at the point of no return for being able to trust Manley's APD. It's time for new leadership. I also think City Manager Cronk should be replaced. Both men have shown little to no compassion and sincerity in their response to the violence from APD. They are not committed to change. They are committed to placating through toeing the status quo," one comment stated.
Only 7% voted "Undecided."
"It's not just him," one comment stated. "We can't just blame Manley. He inherited a mess! APD needs a total over haul from policies, laws, old laws, Jim Crow mentality, systemic prejudice..."
The outcome for Manley can only be ultimately decided by the city manager with recommendations from the City Council.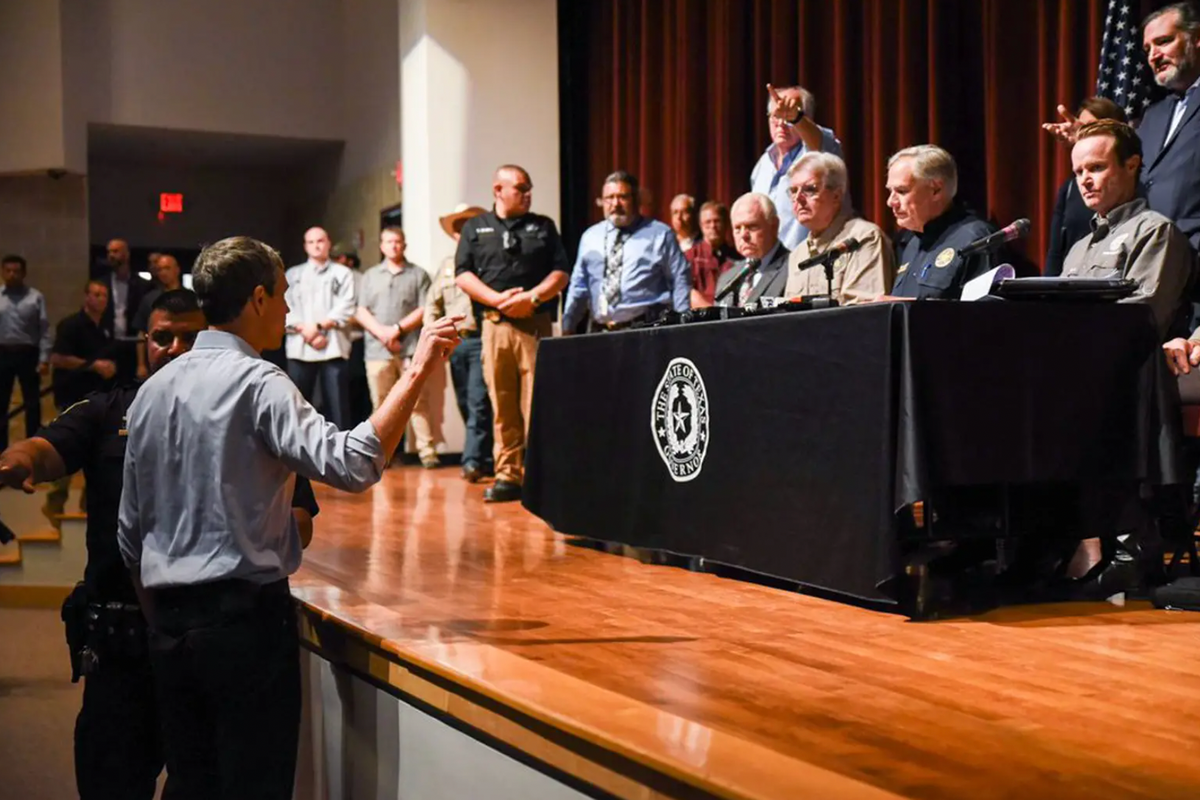 By Patrick Svitek
Beto O'Rourke caused a dramatic scene on Wednesday when he angrily confronted Gov. Greg Abbott at his news conference about the Uvalde school shooting, yelling, "This is on you."
After Abbott was done giving his initial remarks, O'Rourke approached the stage and told Abbott he was "doing nothing" to combat gun violence. He said the Uvalde massacre, in which a gunman killed 19 children and two adults, was "totally predictable."
Some of the Republican officials onstage with Abbott quickly denounced O'Rourke, telling him to go away. Another man onstage used expletives to criticize O'Rourke for interrupting the event.O'Rourke was eventually escorted away amid the unruly scene.
"I can't believe that you're a sick son of a bitch that would come to a deal like this to make a political issue," Uvalde Mayor Don McLaughlin told O'Rourke at one point.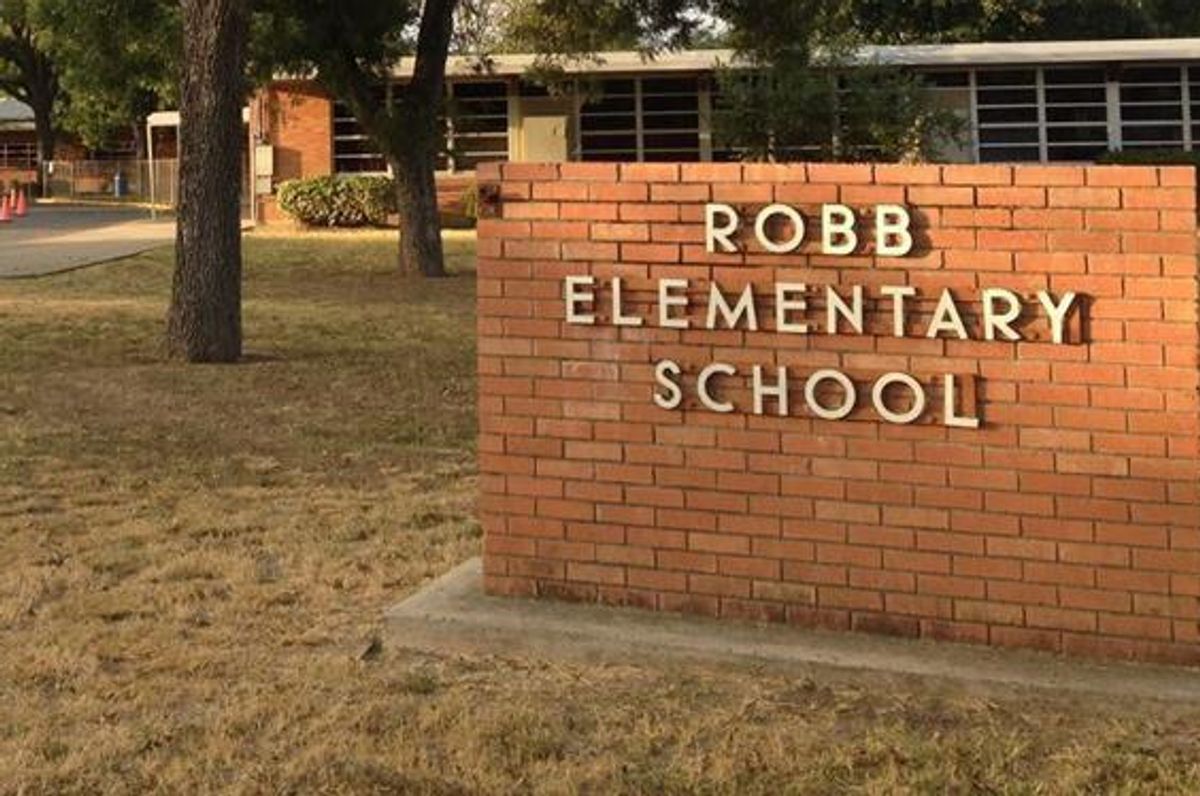 Nineteen kids and two adults are dead after a shooting at Robb Elementary School in Uvalde, Texas—a small town an hour and a half west of San Antonio—on Tuesday afternoon.
Gov. Greg Abbott said the suspect, 18-year-old Salvador Ramos, is believed to have been killed by the police. The Uvalde Police Department said the shooting began at 11:43 a.m. Tuesday.
"What happened in Uvalde is a horrific tragedy that cannot be tolerated in the state of Texas," Abbott said. "He shot and killed—horrifically, incomprehensibly."

Texans are grieving for the victims of this senseless crime & for the community of Uvalde.

Cecilia & I mourn this horrific loss & urge all Texans to come together.

I've instructed @TxDPS & Texas Rangers to work with local law enforcement to fully investigate this crime. pic.twitter.com/Yjwi8tDT1v
— Greg Abbott (@GregAbbott_TX) May 24, 2022
According to University Health Hospital officials, a 66-year-old woman and 10-year-old girl arrived in critical condition. Uvalde Memorial Hospital reportedly received 13 children for treatment and two individuals who were already deceased. At the time, it was believed 14 had died in this shooting.

The shooter prompted a lockdown at the elementary school of just under 550 students, with San Antonio Police sending SWAT, and Eagle chopper and Crime Scene Investigators.
According to White House press secretary Karine Jean-Pierre, President Joe Biden has been briefed on the tragedy and "His prayers are with the families impacted by this awful event, and he will speak this evening when he arrives back at the White House."
At 21 deaths, it is the deadliest school shooting in Texas and one of the deadliest in the U.S. since 26 at Sandy Hook Elementary lost their lives. This is the U.S.'s 213th mass shooting of 2022.