Get connected with our daily update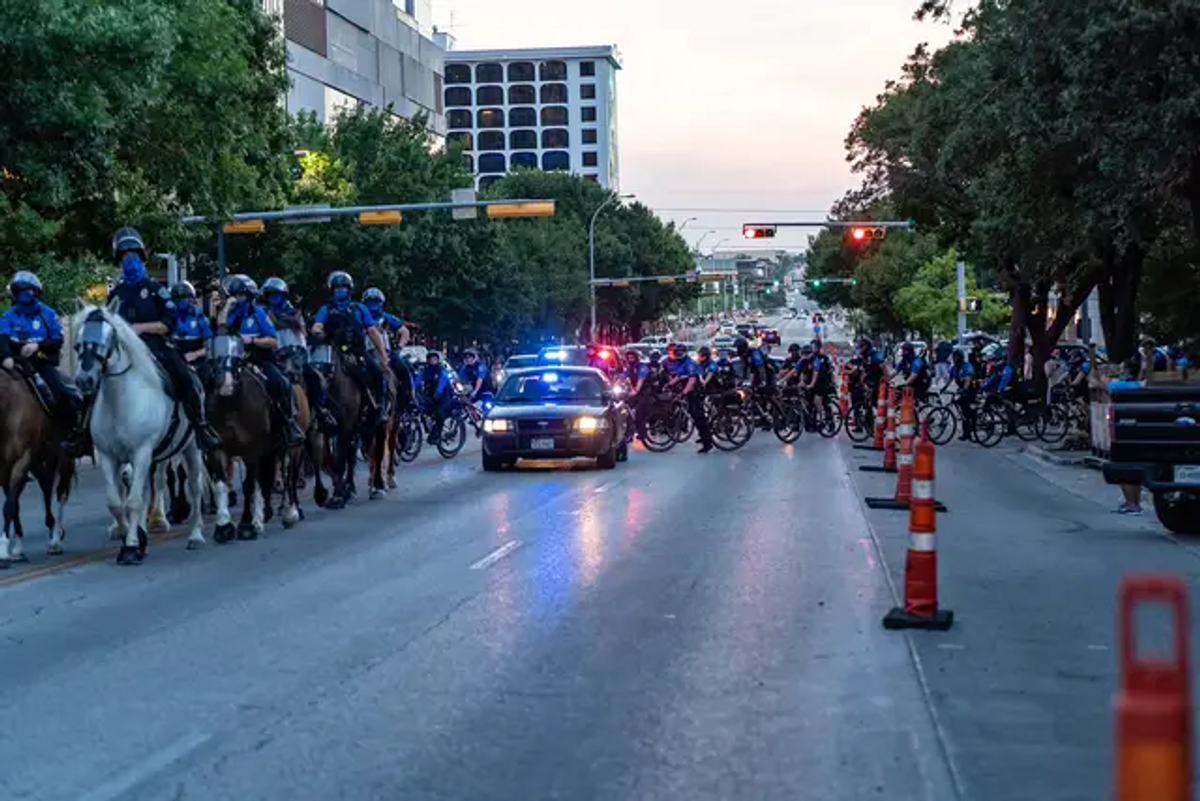 (Jordan Vonderhaar)
Austin Police Chief Brian Manley met with Lance Armstrong and employees of his bike shop, Mellow Johnny's, at Armstrong's request last week to discuss staff concerns about police relations with the community, in a move prompted by the shop's decision to stop selling bikes to the city for use by the police department, the former Tour de France cyclist said on his podcast.
---
Mellow Johnny's announced two weeks ago that it would be canceling its $314k contract with the city, signed in 2019, to sell 40 bikes each year for five years to the police department for use by its bike patrols. The shop has sold bikes to the city for police for years under similar agreements, police have said.
The store's general manager, Will Black, told Austonia on Wednesday that while the decision hasn't changed and wasn't addressed in the meeting, it was congenial and the chief was "very generous and allowed us to engage and ask questions."
"It was a chance to get everybody in the same room and just have a conversation," Black said.
Armstrong said on the Aug. 13 episode of his podcast, The Move, that the shop's decision to cancel the contract is "not a situation that I support."
He also said he was "sick and tired of everybody screaming" at each other over the issue, which pitted the business against the police and some members of the public in a war of words at a time when the community is grappling with police reform.
Police supporters in the community also lashed back at Armstrong, who said "people were upset with this show, they were upset with the shop, and I get it."
A clip of his podcast, The Move, was posted on his Instagram account on Monday.
Armstrong, who founded and co-owns Mellow Johnny's, whose "World Headquarters" flagship is a sprawling downtown store, training center and cafe, called the discussion over defunding the police "crazy talk" but also acknowledged that police reform "must happen."
"I wish I had an answer or solution, but I damn sure wasn't going to let it sit without having a conversation, and so we shall see," Armstrong said on the podcast. "Like most things, you try to see both sides of it."
Black declined to comment on Armstrong's position on the decision.
Shop managers said in a Facebook post two weeks ago that the decision was made "in the context of the current evaluation of community policing in Austin." The post said that while the shop is not anti-police, the decision was based on the business' desire to "do the most to suture these divides and place our community on the right side of history."
The post, which garnered 8.7K comments, also referenced "very real threats" the store had been getting since news came out about the decision, adding that they were certain that police would still protect them from their detractors.
Mellow Johnny's also has a store just outside Fort Worth, a location they call "The Trailhead."
Black said nothing had changed regarding the contract with the city and that Manley started the conversation by saying he wasn't there to discuss the bike contract, which isn't under APD's purview.
"It was more about having the staff here understand day-to-day functions and operations of APD and all the challenges they face," Black said. "It was more about that, we really didn't discuss the contract in any specificity."
Armstrong said he sought counsel from former Austin Police Chief Art Acevedo, now chief of police in Houston, and then called Manley.

"I got Manley's number, and I said, 'Chief, we have a workforce at Mellow Johnny's that's not happy, and this is their decision," Armstrong said in a video clip of his podcast, posted this week on his Instagram account. "I'm put in a terrible spot. I need you to come down, and I need you to have a conversation."

Armstrong said he joined Manley and the Mellow Johnny's staff in a private meeting, where Manley spoke for about 20 to 30 minutes and then listened to the opinions and "tough questions" from the staff.

"Kudos to Chief Manley, kudos to the staff," Armstrong said, adding the meeting "was non-hostile, was smart, was open, honest transparent. ...The staff listened and Manley listened."
"I cannot think of the last time in America where everybody said time out, stop screaming, let's all get in a room and talk about this," Armstrong said. "So, I don't know what the ultimate outcome will be—I know what I would like for it to be—but at least we sat in the room together."
Austin police could not be reached immediately for comment.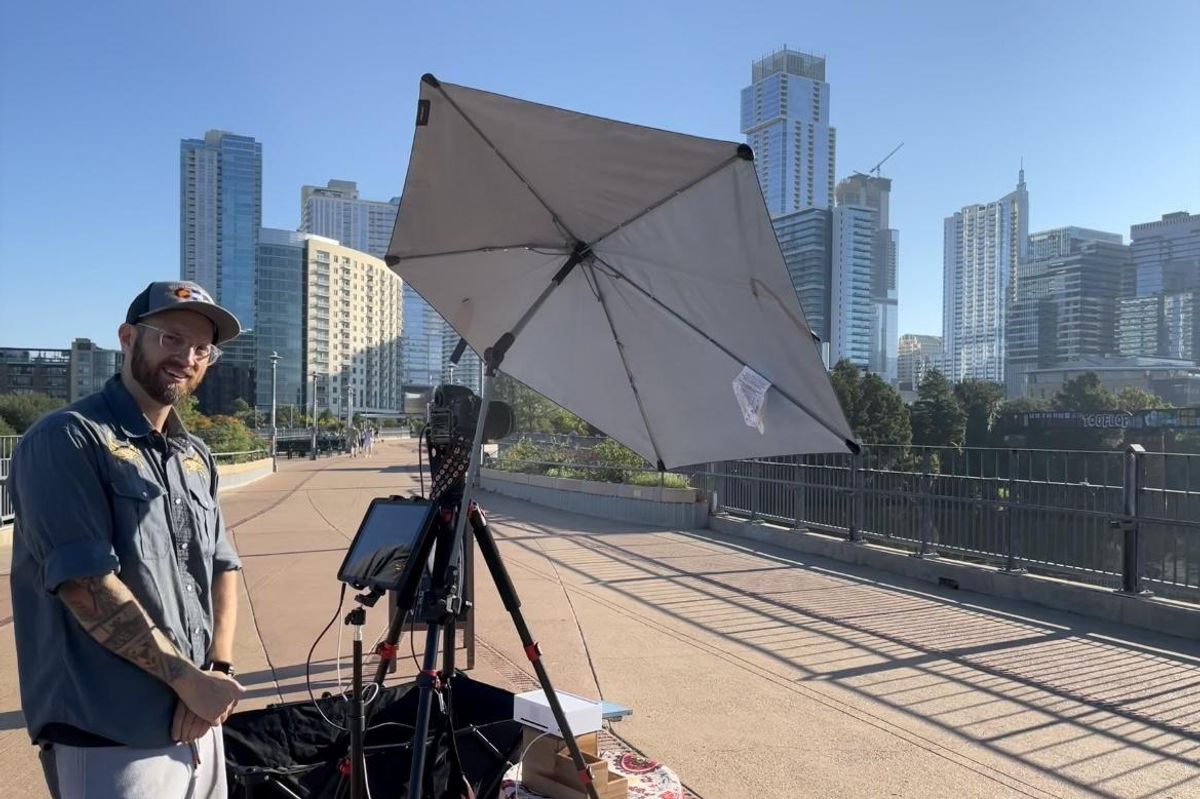 Nicklaus Pereksta says he loves photographing enthusiastic people, and it's why his latest gig offering pictures to people out on Lady Bird Lake's hike and bike trail is going smoothly. He sets up his gear on the Pfluger pedestrian bridge and puts out a sign: Photos, $10.
"Overwhelmingly, this has been a really positive experience," Pereksta said. "I get excited when I wake up in the morning and I can't wait to go to work."
Bikers and joggers are excited about it too. On the pedestrian bridge leading to downtown Thursday morning, a man on an e-bike rode up and posed, wanting more photos.
"I posted the last pictures on Instagram and people loved it. They asked, 'where is this guy?'" the biker told Pereksta. Bashfully, Pereksta, who also photographs landscapes and at weddings and other events, said he was happy to hear that.
Pereksta started these photos about a month ago, after the strenuous runs required in his valet job started causing pain in his legs. And though he has a passion for photography, he wasn't so sure when he started working independently if it would work out.
He felt uncertain about the demand for it and was also worried about having lots of expensive equipment out in the open.
"Then like the first day was nothing but high praise and people are like, this is so awesome. This is great. I've never seen anything like this before. I was like, Wow, this was really good, like positive turnout. So I got encouraged."
Now, he wants to expand and is thinking of contacting the Mueller Farmers Market about how to become a vendor. Still, he'll carry a connection to photographing on the bridge since the word bridge is related to his last name.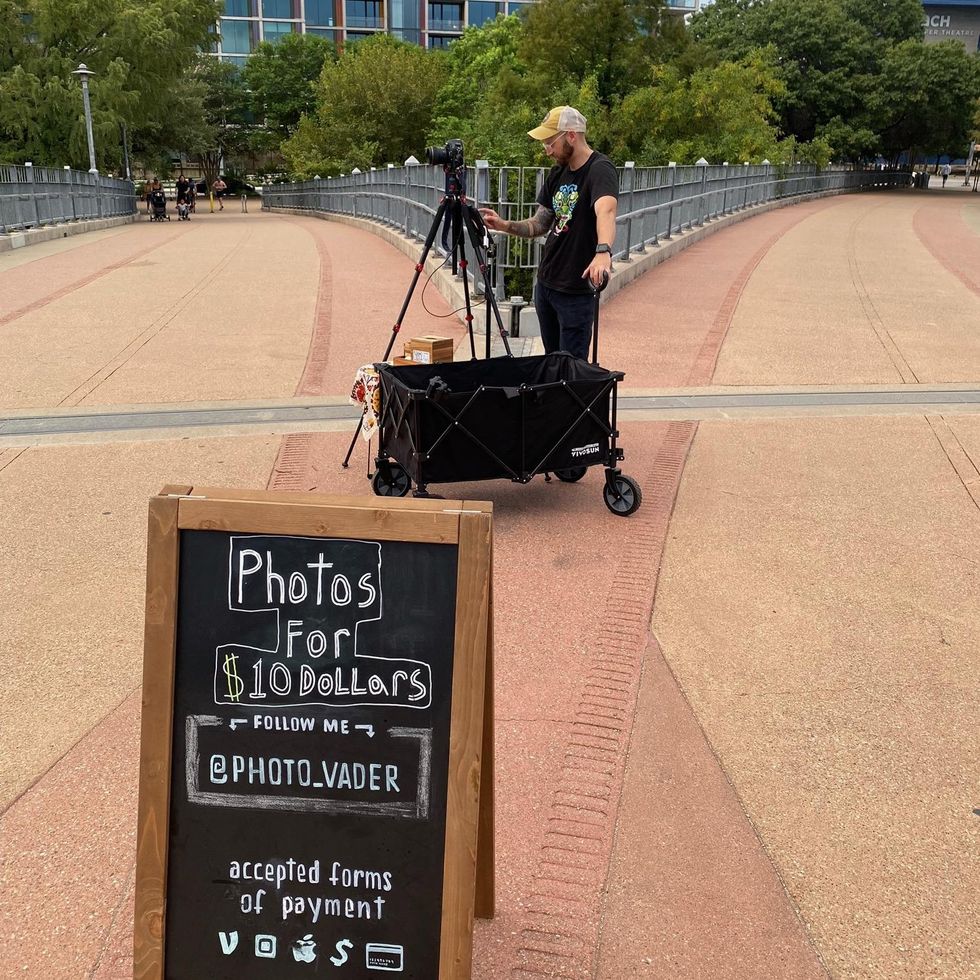 (Dewey C.)
"It's a name my great, great, great grandfather came up with when he was marrying somebody. It's actually quite a romantic name. It means a joining of two bridges," Pereksta said. "So, I thought it was ironic that I'm set up on a bridge. I'm kind of representing my last name right now."
Austonia talked to Pereksta about life in Austin, where he's lived for eight years after living in Boston doing band photography.
What was your first experience with Austin?
I came here to visit some friends and they took me to Barbarella. So we went to Barbarella and I was like, 'wow, this place is great.' And then the restaurants and the food and going to Barton Springs. I was like, 'this is amazing.' Because there's nothing like that in Boston. If you want to go to a natural spring, you got to go to New Hampshire. There's no pools in the city at all. So there's lots of swimming out here.
What do you like best about Austin?
You go to any little quiet bar and there's a band playing that should be like onstage for a sold out show. Yeah, they're playing to 10 people, right? Like, one of the best bands ever and they're playing for 10 people, right? And just little magic moments like that are pretty fun. You just run into little random weird things.
What do you think makes Austin different from other places?
There's no fall.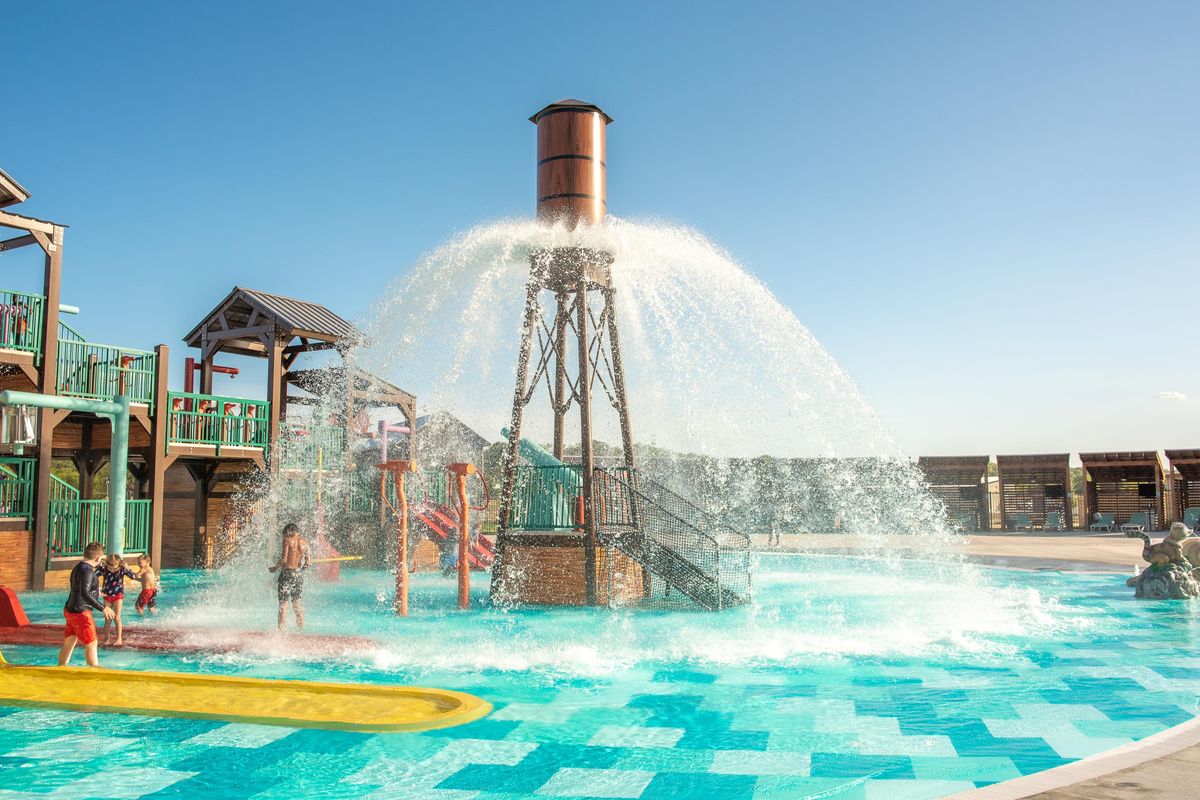 Camp Fimfo Waco
Camp Fimfo Waco, a brand new camping resort, is kicking off football and fall camping season in style! With top-notch amenities, premium accommodations, and 10 weekends of fall fun, there's no better place to have a fall camping getaway, especially if you're a Baylor football fan!
Fall promises to be a one-of-a-kind camping experience. From Sept. 16 to Nov. 24, weekends will be packed with fall-themed activities, including special Halloween weekends in October. Campers can enjoy activities like fall crafts, campground trick-or-treating, costume contests, site decorating, outdoor movie nights, and more!