Get connected with our daily update
(Laura Figi/Austonia)
More than 200 Austin bars have recently reclassified as restaurants, bypassing Travis County health rules that keep bars closed amid COVID-19 concerns.
---
Some bars in Texas, shut down since late June, reopened last week at 50% capacity where local officials deemed it safe. Travis County ultimately kept bars closed because "the risk to our public health is too great," Judge Sam Biscoe said.
But at least 203 Austin bars are eligible to reopen anyway, based on mid-October permit records from the Texas Alcoholic Beverage Commission. These bars submitted paperwork proving they have on-site food service facilities where customers can order at least two entrees at the same time alcohol is served.
There has been a significant surge in converted bars locally since state-issued guidance in August told bars how to reopen as restaurants. Here is a map showing every Austin establishment that successfully applied to reopen.
Keep in mind that permit changes don't necessarily mean every business on the map reopened just yet.

Bars that were unable to reclassify as restaurants remain closed in Travis County. Since the pandemic started in March, Austin bars have only been allowed to open for about five weeks, from mid-May until late June when shutdown orders were reissued statewide.

Texas restaurants—including converted bars—can operate at 75% capacity as long as tables remain distanced and there are no more than 10 people per party.
In Austin, the city has established the "Shop the Block" pilot program to encourage businesses to expand outdoor operations during the pandemic. However, only 17 restaurants and converted bars have active permits to expand into private parking lots as well as public sidewalks, parking spaces and streets.
Many of the existing participants, mostly converted bars, have renewed their permit. The outdoor expansion into private parking lots and public rights of way is free as long as the expanded area doesn't include a tent or seat of more than 49 people. If so, then it's $306 per month.
Additional application, usage and inspection fees apply for public space closures. Most applicants have expanded into their private parking lots, avoiding those fees in the process.
See more details of each successful applicant in the map above. The city is encouraging more applicants for the sparsely used pilot program, which runs through at least Dec. 15.
More on bars: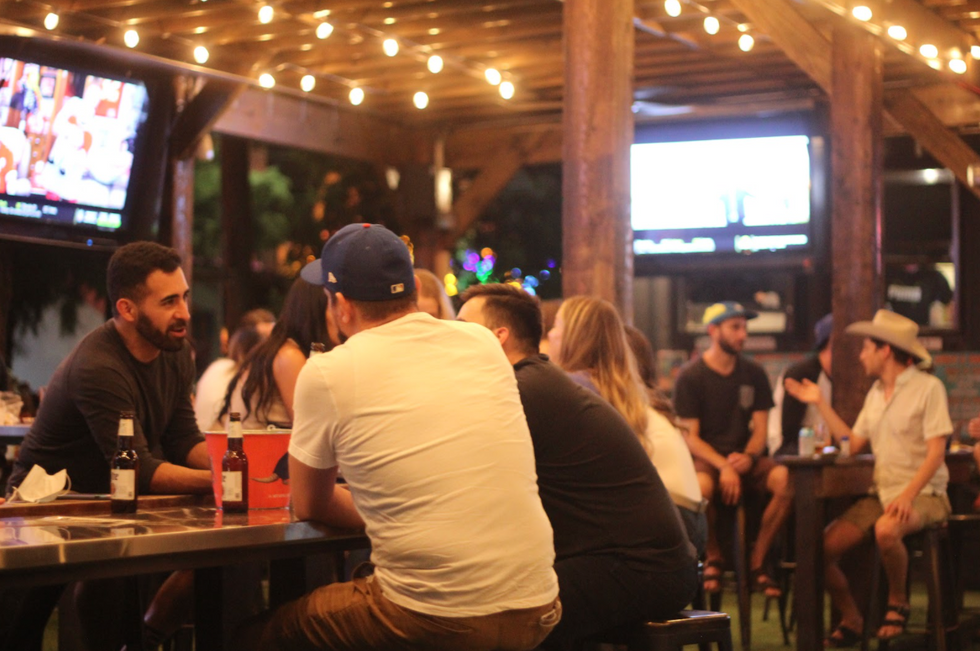 Travis County judge says bars must remain closed after governor granted authority to reopen (Laura Figi/Austonia)
(Tito's Handmade Vodka)
Ingredients:
750 mL Tito's Handmade Vodka
1 1/2 cup toasted pecans
Directions: Toast pecans in a 350°F oven until they become aromatic (about 5 minutes). Let pecans cool, drop them into a resealable jar, and fill with Tito's Handmade Vodka. Store in a cool, dark place for 1 month, if you can wait that long.
Small businesses have struggled through a long and arduous year, working to keep their livelihood afloat in a sea of uncertainty. This holiday season poses the opportunity to not only give gifts to your favorite people but also give back to your favorite local artists, Austin icons and small businesses.
So skip the line and shop small. There are hundreds of businesses to support around Austin, so if nothing here strikes a chord, visit the <a href="https://ibuyaustin.com/Find-a-local-business/" rel="noopener noreferrer" target="_blank">Austin Independent Business Alliance directory</a> for more.
The Austin Winery
<div id="7f64f" class="rm-shortcode" data-rm-shortcode-id="3400579315aa2bd42eeff0f20ebc659e"><blockquote class="instagram-media" data-instgrm-captioned data-instgrm-version="4" style=" background:#FFF; border:0; border-radius:3px; box-shadow:0 0 1px 0 rgba(0,0,0,0.5),0 1px 10px 0 rgba(0,0,0,0.15); margin: 1px; max-width:658px; padding:0; width:99.375%; width:-webkit-calc(100% - 2px); width:calc(100% - 2px);"> <div style="padding:8px;"> <div style=" background:#F8F8F8; line-height:0; margin-top:40px; padding:50% 0; text-align:center; width:100%;"> <div style=" background:url(data:image/png;base64,iVBORw0KGgoAAAANSUhEUgAAACwAAAAsCAMAAAApWqozAAAAGFBMVEUiIiI9PT0eHh4gIB4hIBkcHBwcHBwcHBydr+JQAAAACHRSTlMABA4YHyQsM5jtaMwAAADfSURBVDjL7ZVBEgMhCAQBAf//42xcNbpAqakcM0ftUmFAAIBE81IqBJdS3lS6zs3bIpB9WED3YYXFPmHRfT8sgyrCP1x8uEUxLMzNWElFOYCV6mHWWwMzdPEKHlhLw7NWJqkHc4uIZphavDzA2JPzUDsBZziNae2S6owH8xPmX8G7zzgKEOPUoYHvGz1TBCxMkd3kwNVbU0gKHkx+iZILf77IofhrY1nYFnB/lQPb79drWOyJVa/DAvg9B/rLB4cC+Nqgdz/TvBbBnr6GBReqn/nRmDgaQEej7WhonozjF+Y2I/fZou/qAAAAAElFTkSuQmCC); display:block; height:44px; margin:0 auto -44px; position:relative; top:-22px; width:44px;"> </div></div><p style=" margin:8px 0 0 0; padding:0 4px;"> <a href="https://www.instagram.com/p/CH5zZd0FC6w/" style=" color:#000; font-family:Arial,sans-serif; font-size:14px; font-style:normal; font-weight:normal; line-height:17px; text-decoration:none; word-wrap:break-word;" target="_top"></a></p> </div></blockquote></div><p><a href="https://www.theaustinwinery.com/" target="_blank" rel="noopener noreferrer">The Austin Winery</a>, located on 440 E. St. Elmo Road, already gives bulk discounts, because let's face it, 2020 has been a rough year. Whether you gift this local wine to someone else or stockpile for the next pandemic, <a href="https://www.austintexas.org/coupon/20%25-off-pickup-orders-free-wine-delivery-in-austin/1168/" target="_blank" rel="noopener noreferrer">take 20% off</a> a pickup order and get free Austin delivery through the rest of the year.<br></p>
Away Spa at W. Austin
<div id="b2292" class="rm-shortcode" data-rm-shortcode-id="c7920a53b54fdbe6b4f3cfb882b1f751"><blockquote class="instagram-media" data-instgrm-captioned data-instgrm-version="4" style=" background:#FFF; border:0; border-radius:3px; box-shadow:0 0 1px 0 rgba(0,0,0,0.5),0 1px 10px 0 rgba(0,0,0,0.15); margin: 1px; max-width:658px; padding:0; width:99.375%; width:-webkit-calc(100% - 2px); width:calc(100% - 2px);"> <div style="padding:8px;"> <div style=" background:#F8F8F8; line-height:0; margin-top:40px; padding:50% 0; text-align:center; width:100%;"> <div style=" background:url(data:image/png;base64,iVBORw0KGgoAAAANSUhEUgAAACwAAAAsCAMAAAApWqozAAAAGFBMVEUiIiI9PT0eHh4gIB4hIBkcHBwcHBwcHBydr+JQAAAACHRSTlMABA4YHyQsM5jtaMwAAADfSURBVDjL7ZVBEgMhCAQBAf//42xcNbpAqakcM0ftUmFAAIBE81IqBJdS3lS6zs3bIpB9WED3YYXFPmHRfT8sgyrCP1x8uEUxLMzNWElFOYCV6mHWWwMzdPEKHlhLw7NWJqkHc4uIZphavDzA2JPzUDsBZziNae2S6owH8xPmX8G7zzgKEOPUoYHvGz1TBCxMkd3kwNVbU0gKHkx+iZILf77IofhrY1nYFnB/lQPb79drWOyJVa/DAvg9B/rLB4cC+Nqgdz/TvBbBnr6GBReqn/nRmDgaQEej7WhonozjF+Y2I/fZou/qAAAAAElFTkSuQmCC); display:block; height:44px; margin:0 auto -44px; position:relative; top:-22px; width:44px;"> </div></div><p style=" margin:8px 0 0 0; padding:0 4px;"> <a href="https://www.instagram.com/p/CHx4JPoJWbu/" style=" color:#000; font-family:Arial,sans-serif; font-size:14px; font-style:normal; font-weight:normal; line-height:17px; text-decoration:none; word-wrap:break-word;" target="_top"></a></p> </div></blockquote></div><p>Give the gift of the oh-so-important self care this year, plus enjoy a little bit of it for yourself as well. With a $250 gift card purchase, receive an extra $25 spa voucher. Located on 200 Lavaca St., Austin residents also receive <a href="https://www.austinawayspa.com/texasresidents" target="_blank" rel="noopener noreferrer">20% off of certain services</a>—how can you afford not to go?</p>
Half Price Books
<div id="1fe88" class="rm-shortcode" data-rm-shortcode-id="7f5ac65fbadb3b621ba9a69d6556aa28"><blockquote class="instagram-media" data-instgrm-captioned data-instgrm-version="4" style=" background:#FFF; border:0; border-radius:3px; box-shadow:0 0 1px 0 rgba(0,0,0,0.5),0 1px 10px 0 rgba(0,0,0,0.15); margin: 1px; max-width:658px; padding:0; width:99.375%; width:-webkit-calc(100% - 2px); width:calc(100% - 2px);"> <div style="padding:8px;"> <div style=" background:#F8F8F8; line-height:0; margin-top:40px; padding:50% 0; text-align:center; width:100%;"> <div style=" background:url(data:image/png;base64,iVBORw0KGgoAAAANSUhEUgAAACwAAAAsCAMAAAApWqozAAAAGFBMVEUiIiI9PT0eHh4gIB4hIBkcHBwcHBwcHBydr+JQAAAACHRSTlMABA4YHyQsM5jtaMwAAADfSURBVDjL7ZVBEgMhCAQBAf//42xcNbpAqakcM0ftUmFAAIBE81IqBJdS3lS6zs3bIpB9WED3YYXFPmHRfT8sgyrCP1x8uEUxLMzNWElFOYCV6mHWWwMzdPEKHlhLw7NWJqkHc4uIZphavDzA2JPzUDsBZziNae2S6owH8xPmX8G7zzgKEOPUoYHvGz1TBCxMkd3kwNVbU0gKHkx+iZILf77IofhrY1nYFnB/lQPb79drWOyJVa/DAvg9B/rLB4cC+Nqgdz/TvBbBnr6GBReqn/nRmDgaQEej7WhonozjF+Y2I/fZou/qAAAAAElFTkSuQmCC); display:block; height:44px; margin:0 auto -44px; position:relative; top:-22px; width:44px;"> </div></div><p style=" margin:8px 0 0 0; padding:0 4px;"> <a href="https://www.instagram.com/p/CH0pVWOhkHC/" style=" color:#000; font-family:Arial,sans-serif; font-size:14px; font-style:normal; font-weight:normal; line-height:17px; text-decoration:none; word-wrap:break-word;" target="_top"></a></p> </div></blockquote></div><p>Texas-business Half Price Books is not skimping on the sales this year, and some of the deals even carry over into the new year. <a href="https://blackfriday.com/ads/black-friday/half-price-books" target="_blank" rel="noopener noreferrer">Take 20% off</a> of your online book haul and for every $25 gift card you give away, any HPB will give you $5 off in January. </p>
Kendra Scott
<div id="9364d" class="rm-shortcode" data-rm-shortcode-id="0dffe48a630a52143f0f01295d32318c"><blockquote class="instagram-media" data-instgrm-captioned data-instgrm-version="4" style=" background:#FFF; border:0; border-radius:3px; box-shadow:0 0 1px 0 rgba(0,0,0,0.5),0 1px 10px 0 rgba(0,0,0,0.15); margin: 1px; max-width:658px; padding:0; width:99.375%; width:-webkit-calc(100% - 2px); width:calc(100% - 2px);"> <div style="padding:8px;"> <div style=" background:#F8F8F8; line-height:0; margin-top:40px; padding:50% 0; text-align:center; width:100%;"> <div style=" background:url(data:image/png;base64,iVBORw0KGgoAAAANSUhEUgAAACwAAAAsCAMAAAApWqozAAAAGFBMVEUiIiI9PT0eHh4gIB4hIBkcHBwcHBwcHBydr+JQAAAACHRSTlMABA4YHyQsM5jtaMwAAADfSURBVDjL7ZVBEgMhCAQBAf//42xcNbpAqakcM0ftUmFAAIBE81IqBJdS3lS6zs3bIpB9WED3YYXFPmHRfT8sgyrCP1x8uEUxLMzNWElFOYCV6mHWWwMzdPEKHlhLw7NWJqkHc4uIZphavDzA2JPzUDsBZziNae2S6owH8xPmX8G7zzgKEOPUoYHvGz1TBCxMkd3kwNVbU0gKHkx+iZILf77IofhrY1nYFnB/lQPb79drWOyJVa/DAvg9B/rLB4cC+Nqgdz/TvBbBnr6GBReqn/nRmDgaQEej7WhonozjF+Y2I/fZou/qAAAAAElFTkSuQmCC); display:block; height:44px; margin:0 auto -44px; position:relative; top:-22px; width:44px;"> </div></div><p style=" margin:8px 0 0 0; padding:0 4px;"> <a href="https://www.instagram.com/p/CH8HBNNgvfj/" style=" color:#000; font-family:Arial,sans-serif; font-size:14px; font-style:normal; font-weight:normal; line-height:17px; text-decoration:none; word-wrap:break-word;" target="_top"></a></p> </div></blockquote></div><p>Kendra may not be a "small" business anymore but it started small with Austin roots. From Nov. 29 through Dec. 2, take 25% off of everything (yes, everything!) in the store and an extra 30% off of $300 or more for the "Yellow Friday" sale.</p>
Lilla & Beth
<div id="4c901" class="rm-shortcode" data-rm-shortcode-id="f95a34010ca819c655a05ddb7c0933cf"><blockquote class="instagram-media" data-instgrm-captioned data-instgrm-version="4" style=" background:#FFF; border:0; border-radius:3px; box-shadow:0 0 1px 0 rgba(0,0,0,0.5),0 1px 10px 0 rgba(0,0,0,0.15); margin: 1px; max-width:658px; padding:0; width:99.375%; width:-webkit-calc(100% - 2px); width:calc(100% - 2px);"> <div style="padding:8px;"> <div style=" background:#F8F8F8; line-height:0; margin-top:40px; padding:50% 0; text-align:center; width:100%;"> <div style=" background:url(data:image/png;base64,iVBORw0KGgoAAAANSUhEUgAAACwAAAAsCAMAAAApWqozAAAAGFBMVEUiIiI9PT0eHh4gIB4hIBkcHBwcHBwcHBydr+JQAAAACHRSTlMABA4YHyQsM5jtaMwAAADfSURBVDjL7ZVBEgMhCAQBAf//42xcNbpAqakcM0ftUmFAAIBE81IqBJdS3lS6zs3bIpB9WED3YYXFPmHRfT8sgyrCP1x8uEUxLMzNWElFOYCV6mHWWwMzdPEKHlhLw7NWJqkHc4uIZphavDzA2JPzUDsBZziNae2S6owH8xPmX8G7zzgKEOPUoYHvGz1TBCxMkd3kwNVbU0gKHkx+iZILf77IofhrY1nYFnB/lQPb79drWOyJVa/DAvg9B/rLB4cC+Nqgdz/TvBbBnr6GBReqn/nRmDgaQEej7WhonozjF+Y2I/fZou/qAAAAAElFTkSuQmCC); display:block; height:44px; margin:0 auto -44px; position:relative; top:-22px; width:44px;"> </div></div><p style=" margin:8px 0 0 0; padding:0 4px;"> <a href="https://www.instagram.com/p/CH8F_Oulu1n/" style=" color:#000; font-family:Arial,sans-serif; font-size:14px; font-style:normal; font-weight:normal; line-height:17px; text-decoration:none; word-wrap:break-word;" target="_top"></a></p> </div></blockquote></div><p>For some unique Austin-centric decor, gifts, clothes and accessories, <a href="https://www.lillabeth.com/" target="_blank">Lilla &amp; Beth</a>, located on 1911 Aldrich Street, has you covered this year. The more you buy, the more you save so take 10% off purchases under $50, 15% off purchases over $50 and 20% off purchases over $100. Everyone will wish they had gotten you as their secret Santa!</p>
Record Store Crawl
<img lazy-loadable="true" src="https://assets.rebelmouse.io/eyJhbGciOiJIUzI1NiIsInR5cCI6IkpXVCJ9.eyJpbWFnZSI6Imh0dHBzOi8vYXNzZXRzLnJibC5tcy8yNDgyNzk5Ni9vcmlnaW4uanBnIiwiZXhwaXJlc19hdCI6MTYzODcyOTIzMH0.tGkJ9sOB3AI3Mev0rf_h-ZaUOO4-KfVgRO3mUckvzPQ/img.jpg?width=980" id="6e233" class="rm-shortcode" data-rm-shortcode-id="4a20cc26c9be0201045b17c0d7993ab4" data-rm-shortcode-name="rebelmouse-image" /><p>Self-described "magic school bus that takes you to record stores and bars," the 2020 <a href="https://www.recordstorecrawl.com/?frontpage=true" target="_blank" rel="noopener noreferrer">Record Store Crawl</a> will make holiday shopping more fun than ever before. The Record Store Crawl will drive you to 10 record stores in the area, complete with a band on the bus for entertainment. Last year, the event helped sell 2 million records at local retailers nationwide, so this is a great way to have fun and help out the music industry.</p>
Roam Homegrown
<div id="e2418" class="rm-shortcode" data-rm-shortcode-id="0ed8000c5859b55fc66cca94b64ecfa2"><blockquote class="instagram-media" data-instgrm-captioned data-instgrm-version="4" style=" background:#FFF; border:0; border-radius:3px; box-shadow:0 0 1px 0 rgba(0,0,0,0.5),0 1px 10px 0 rgba(0,0,0,0.15); margin: 1px; max-width:658px; padding:0; width:99.375%; width:-webkit-calc(100% - 2px); width:calc(100% - 2px);"> <div style="padding:8px;"> <div style=" background:#F8F8F8; line-height:0; margin-top:40px; padding:50% 0; text-align:center; width:100%;"> <div style=" background:url(data:image/png;base64,iVBORw0KGgoAAAANSUhEUgAAACwAAAAsCAMAAAApWqozAAAAGFBMVEUiIiI9PT0eHh4gIB4hIBkcHBwcHBwcHBydr+JQAAAACHRSTlMABA4YHyQsM5jtaMwAAADfSURBVDjL7ZVBEgMhCAQBAf//42xcNbpAqakcM0ftUmFAAIBE81IqBJdS3lS6zs3bIpB9WED3YYXFPmHRfT8sgyrCP1x8uEUxLMzNWElFOYCV6mHWWwMzdPEKHlhLw7NWJqkHc4uIZphavDzA2JPzUDsBZziNae2S6owH8xPmX8G7zzgKEOPUoYHvGz1TBCxMkd3kwNVbU0gKHkx+iZILf77IofhrY1nYFnB/lQPb79drWOyJVa/DAvg9B/rLB4cC+Nqgdz/TvBbBnr6GBReqn/nRmDgaQEej7WhonozjF+Y2I/fZou/qAAAAAElFTkSuQmCC); display:block; height:44px; margin:0 auto -44px; position:relative; top:-22px; width:44px;"> </div></div><p style=" margin:8px 0 0 0; padding:0 4px;"> <a href="https://www.instagram.com/p/CIBGx0urxvs/" style=" color:#000; font-family:Arial,sans-serif; font-size:14px; font-style:normal; font-weight:normal; line-height:17px; text-decoration:none; word-wrap:break-word;" target="_top"></a></p> </div></blockquote></div><p>Give the gift of relaxation with the help of <a href="https://roamhomegrown.com/" target="_blank" rel="noopener noreferrer">Roam Homegrown's collection</a> of candles, soaps, scents and self care goodies. To celebrate the holidays, the Austin-based, women-owned company is giving 10% sitewide until Dec. 31. This offer has no minimum so you can gift as much or as little as your heart desires.</p>

<p class="">Make sure to check business hours before heading out, it is COVID-19 after all.</p>