Get connected with our daily update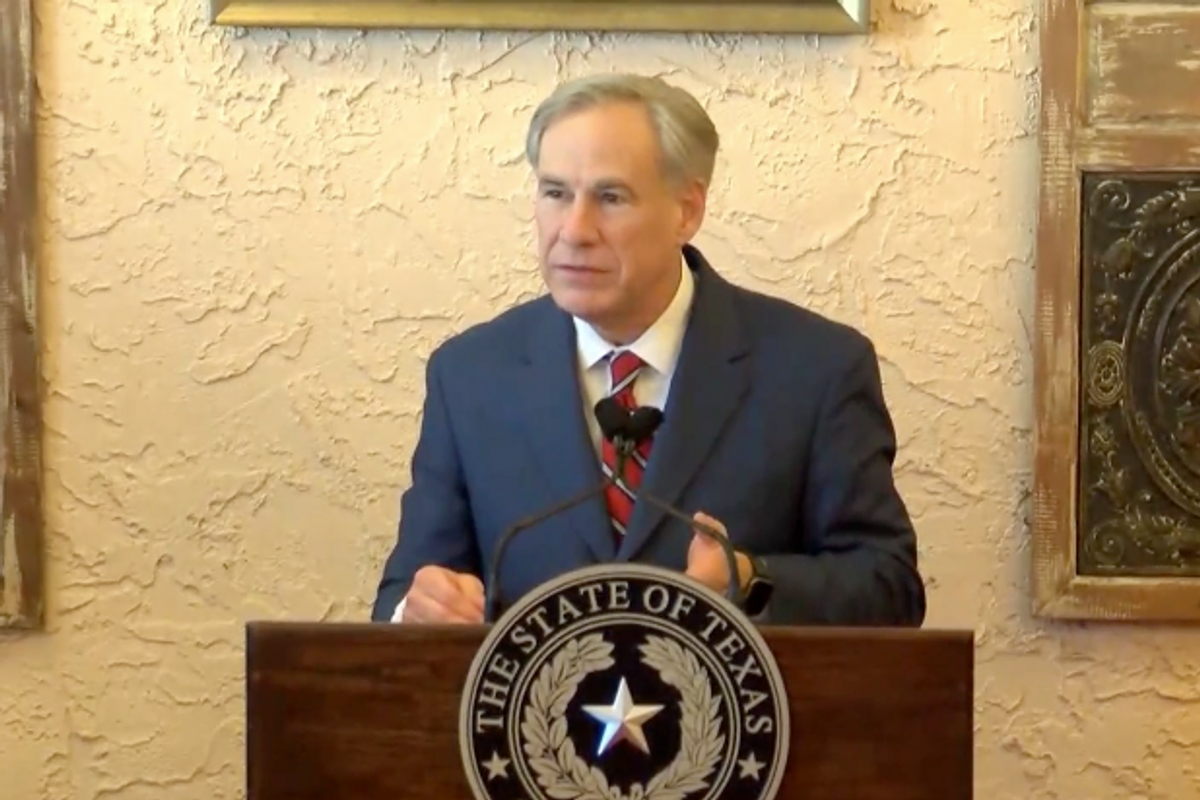 In a statewide press conference on Tuesday, Gov. Greg Abbott said that Texas would end the statewide mask mandate and "open Texas 100%."

Effective Wednesday, March 10, Abbott's newest executive order will rescind statewide COVID-19 restrictions, including limiting business capacity and requiring customers to wear masks in businesses. The order will also ensure that any business can now operate at full capacity.
---
"It is clear from the recoveries, vaccinations ... that state mandates are no longer needed," Abbott said at the press conference. "Every business that wants to be open, should be open."
Abbott cited lowering case rates, better protections against the virus and record-high vaccine shipments as motivations for lifting the mandate.
Although the state will not mandate masks or limit business capacity, if a county's COVID hospital capacity reaches above 15% for seven straight days, then county judges may use mitigation strategies. Abbott said that he does not believe this will occur and that no punishments can be enforced if residents choose not to follow the mandates.
"Under no circumstance can a county judge put anybody in jail for not following COVID orders, and no penalties can be imposed for failing to wear a face mask," Abbott said. "More importantly, we believe there will not be the threshold met for hospitalizations for county judges to even consider implementing those strategies because Texas will continue to work collaboratively with all counties to speed the vaccination process."
According to Abbott, Texas has now administered 5.7 million vaccine shots and are now administering about 1 million vaccines a week. Abbott also said the COVID-19 positivity rate is the lowest on Tuesday than it has been in four months.
Abbott said that 50% of Texas' seniors are projected to be vaccinated by Wednesday, March 10, while all seniors should be able to get a vaccine if they choose by the end of March. Some medical experts have predicted that every Texan who wants a vaccine may be able to get one in a few months.
While restrictions are lifted, Abbott said that Texans need to continue to be vigilant and follow their own personal safety protocol to keep themselves and their neighbors safe.

"Removing state mandates does not end personal responsibility," Abbott said. "To stay safe, Texans should continue to follow medical advice on preventing COVID just as they do on other medical issues. At this time, people and businesses don't need the state telling them how to operate."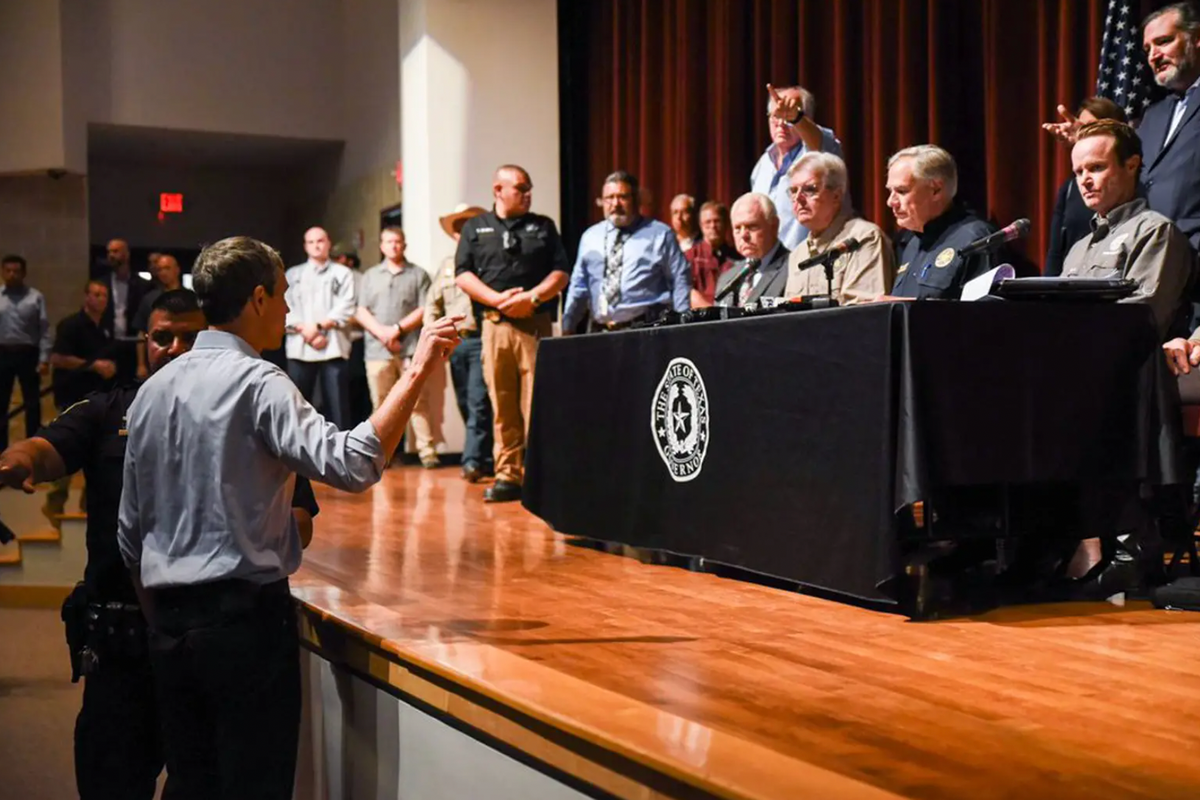 By Patrick Svitek
Beto O'Rourke caused a dramatic scene on Wednesday when he angrily confronted Gov. Greg Abbott at his news conference about the Uvalde school shooting, yelling, "This is on you."
After Abbott was done giving his initial remarks, O'Rourke approached the stage and told Abbott he was "doing nothing" to combat gun violence. He said the Uvalde massacre, in which a gunman killed 19 children and two adults, was "totally predictable."
Some of the Republican officials onstage with Abbott quickly denounced O'Rourke, telling him to go away. Another man onstage used expletives to criticize O'Rourke for interrupting the event.O'Rourke was eventually escorted away amid the unruly scene.
"I can't believe that you're a sick son of a bitch that would come to a deal like this to make a political issue," Uvalde Mayor Don McLaughlin told O'Rourke at one point.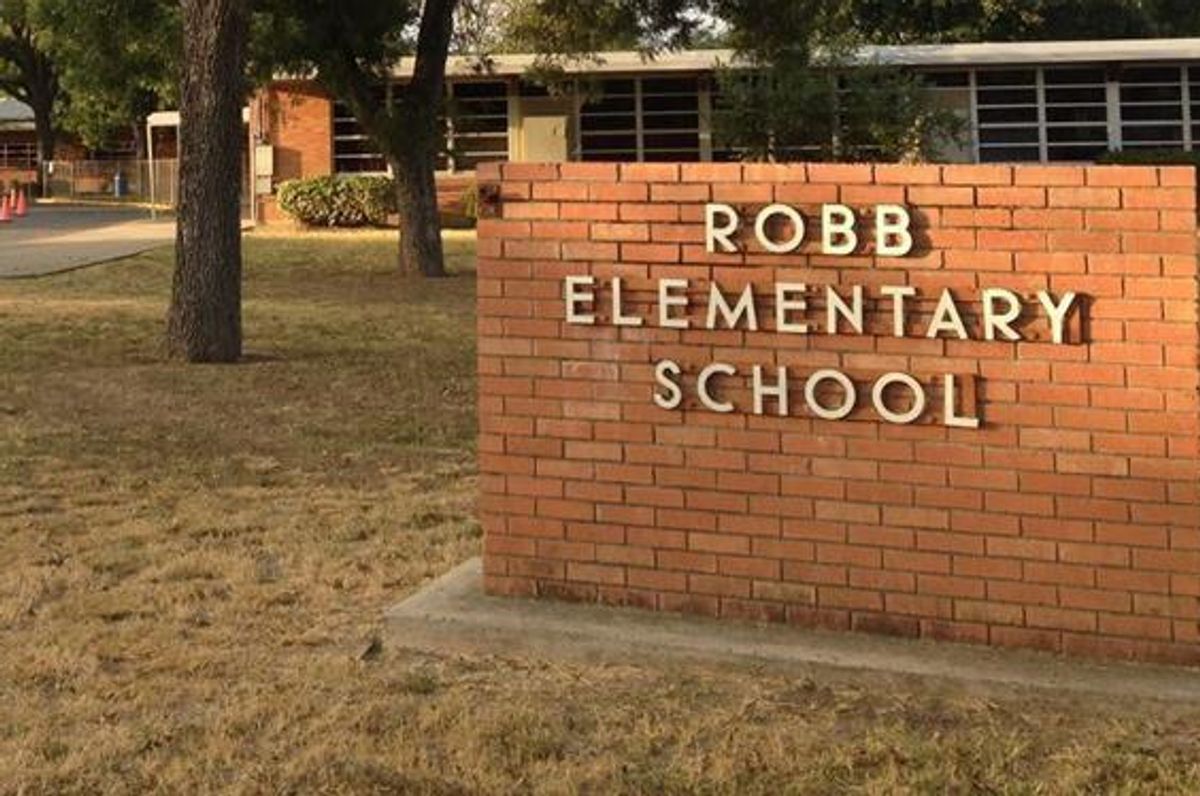 Nineteen kids and two adults are dead after a shooting at Robb Elementary School in Uvalde, Texas—a small town an hour and a half west of San Antonio—on Tuesday afternoon.
Gov. Greg Abbott said the suspect, 18-year-old Salvador Ramos, is believed to have been killed by the police. The Uvalde Police Department said the shooting began at 11:43 a.m. Tuesday.
"What happened in Uvalde is a horrific tragedy that cannot be tolerated in the state of Texas," Abbott said. "He shot and killed—horrifically, incomprehensibly."

Texans are grieving for the victims of this senseless crime & for the community of Uvalde.

Cecilia & I mourn this horrific loss & urge all Texans to come together.

I've instructed @TxDPS & Texas Rangers to work with local law enforcement to fully investigate this crime. pic.twitter.com/Yjwi8tDT1v
— Greg Abbott (@GregAbbott_TX) May 24, 2022
According to University Health Hospital officials, a 66-year-old woman and 10-year-old girl arrived in critical condition. Uvalde Memorial Hospital reportedly received 13 children for treatment and two individuals who were already deceased. At the time, it was believed 14 had died in this shooting.

The shooter prompted a lockdown at the elementary school of just under 550 students, with San Antonio Police sending SWAT, and Eagle chopper and Crime Scene Investigators.
According to White House press secretary Karine Jean-Pierre, President Joe Biden has been briefed on the tragedy and "His prayers are with the families impacted by this awful event, and he will speak this evening when he arrives back at the White House."
At 21 deaths, it is the deadliest school shooting in Texas and one of the deadliest in the U.S. since 26 at Sandy Hook Elementary lost their lives. This is the U.S.'s 213th mass shooting of 2022.