Get connected with our daily update
In a statewide press conference on Tuesday, Gov. Greg Abbott said that Texas would end the statewide mask mandate and "open Texas 100%."

Effective Wednesday, March 10, Abbott's newest executive order will rescind statewide COVID-19 restrictions, including limiting business capacity and requiring customers to wear masks in businesses. The order will also ensure that any business can now operate at full capacity.
---
"It is clear from the recoveries, vaccinations ... that state mandates are no longer needed," Abbott said at the press conference. "Every business that wants to be open, should be open."
Abbott cited lowering case rates, better protections against the virus and record-high vaccine shipments as motivations for lifting the mandate.
Although the state will not mandate masks or limit business capacity, if a county's COVID hospital capacity reaches above 15% for seven straight days, then county judges may use mitigation strategies. Abbott said that he does not believe this will occur and that no punishments can be enforced if residents choose not to follow the mandates.
"Under no circumstance can a county judge put anybody in jail for not following COVID orders, and no penalties can be imposed for failing to wear a face mask," Abbott said. "More importantly, we believe there will not be the threshold met for hospitalizations for county judges to even consider implementing those strategies because Texas will continue to work collaboratively with all counties to speed the vaccination process."
According to Abbott, Texas has now administered 5.7 million vaccine shots and are now administering about 1 million vaccines a week. Abbott also said the COVID-19 positivity rate is the lowest on Tuesday than it has been in four months.
Abbott said that 50% of Texas' seniors are projected to be vaccinated by Wednesday, March 10, while all seniors should be able to get a vaccine if they choose by the end of March. Some medical experts have predicted that every Texan who wants a vaccine may be able to get one in a few months.
While restrictions are lifted, Abbott said that Texans need to continue to be vigilant and follow their own personal safety protocol to keep themselves and their neighbors safe.

"Removing state mandates does not end personal responsibility," Abbott said. "To stay safe, Texans should continue to follow medical advice on preventing COVID just as they do on other medical issues. At this time, people and businesses don't need the state telling them how to operate."
Capital Metro has been awarded $750,000 from the Federal Transit Administration to go toward Project Connect's Orange Line, documents show.
The FTA announced the funding round on Thursday, which dispersed $11 million across 12 states and 20 projects. The money is meant to connect communities to affordable transit and housing through the FTA Pilot Program for Transit-Oriented Development planning.
CapMetro said the funds will go toward projects at eight stations spanning 6.5 miles on the South end of the Orange Line, which has a total of 22 stations. The full project stretches across the 20 miles from Southpark Meadows to Tech Ridge.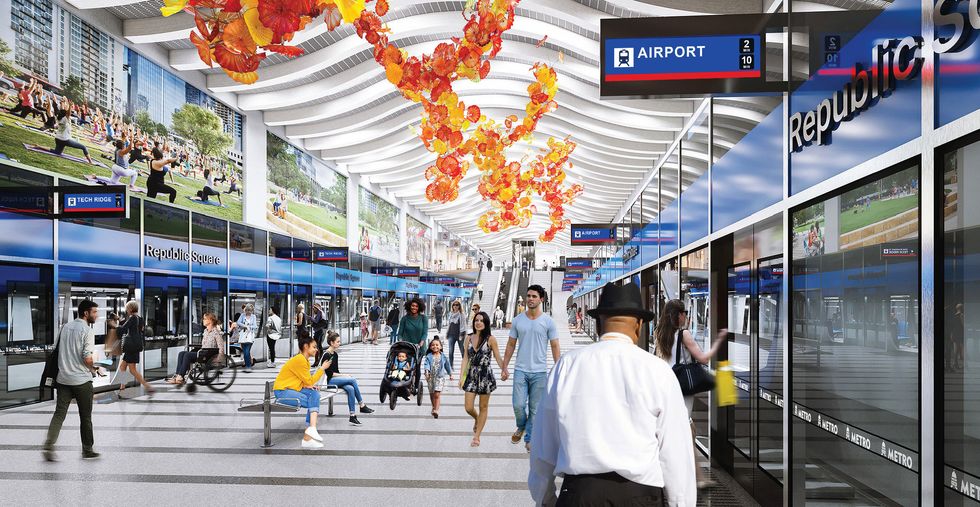 Republic Square station is along the Orange Line. (Project Connect rendering)
Once it's complete, which officials estimate will be in 2028, the Orange Line will reach the following stations:
Tech Ridge (Park & Ride)
North Lamar International District
Crestview
The Triangle
UT campus
Republic Square
Auditorium Shores
South Congress
Southpark Meadows (Park & Ride)
A $500 million mixed-use development spanning 1,400 acres is coming to Southeast Austin, near Tesla's headquarters at Giga Texas.
Plans for the development by Houston-based real estate firm Hines include 2,500 houses along with multi-family and townhomes, and commercial land. Hines is partnering with Trez Capital, Sumitomo Forestry and Texas-based Caravel Ventures.
The development, which is known as Mirador, will be located off the 130 Toll and Highway 71, which the developers say provides easy access to the Circuit of the Americas Formula 1 racetrack and other Austin attractions like restaurants, parks and live music venues.
Hines also boasts amenities like a 60-acre lake, over 600 acres of greenbelt, community parks, trails and a swimming pool.
"As Austin continues to grow into the tech epicenter of Texas, coupled with a supply-constrained market, the demand for new housing is at its highest," Dustin Davidson, managing director at Hines, said. "Mirador will be critical in providing more options for Austin's growing population and we are excited to work alongside our partners given they each provide a unique and valued perspective in single-family development."
The local housing market has been hot in recent years, with home sales accelerating earlier in the pandemic. In July 2021, the Austin metro area hit its pricing peak at $478,000. As Austonia previously reported, the area has been expected to see the Tesla effect, with the new workforce driving up demand for housing and other services.
The single-family houses are expected to be developed over the course of six years, in phases. Construction on the homes is expected to start this year and home sales will begin in 2023.