Austonia AM
100% Austin news, info, and entertainment, straight to your inbox at 6 a.m. every morning.
In five minutes, you're fully informed and ready to start another great day in our city.
Get connected with our daily update
Oscar-winner and Austin institution Matthew McConaughey will "talk shop" with the nation's leading infectious disease expert, Dr. Anthony Fauci, in a live interview Thursday evening on Instagram, the star posted on social media Tuesday.
---
The talk will happen at 5:30 p.m. (CST) on Thursday.
No details were given in the Instagram post, which drew 89k likes in the first few hours it was posted.
But it touched off a debate over Fauci, head of the U.S. National Institute of Allergy and Infectious Diseases, and the politics of masking, social distancing and COVID-19 on the comment thread.

"Dude would have us locked in our homes until 2025 if he called the shots. Then we'd be in hazmat suits when he "allowed" us to go outside. Not a fan...," wrote one follower.
"Classic anti-science Trumper, rofl. Absurd," someone replied.
Nearly half of Travis County residents 16 and older are fully vaccinated, as of Friday afternoon, according to the Texas Department of State Health Services. And an even greater portion likely have immunity.
Austin-Travis County Interim Health Authority Dr. Mark Escott estimates that around 70% of local residents have some form of immunity to COVID-19, either because they have recovered from the disease or are vaccinated. This is approaching the threshold for herd immunity.
"We're starting to approach that 70% mark of combined disease and vaccination, so we may start to see some significant changes when it comes to disease trends," he told council members and county commissioners on Tuesday.
Escott arrived at this percentage by assuming that there is no overlap between those who have had COVID and those who have been vaccinated. "While there's certainly some overlap … there does not seem to be a lot of overlap between those two," he said.
Herd immunity occurs when enough people are immune to a disease that it is unlikely for someone who contracts the disease to spread it. With no one to infect, the disease dies out.

Public health experts have said herd immunity for COVID will require around 80% of the population to be immune based on its relative infectiousness.
Although natural immunity contributes to herd immunity and is partially responsible for the sharp downturn in the number of new COVID infections in recent months, vaccination is the gold standard among experts because of the increased security it offers.
Austin Mayor Steve Adler celebrated the new CDC guidance as proof of vaccines' efficacy. "Since more people will not be wearing masks, it makes it even more important to get vaccinated," he said in a statement Friday.

The U.S. Food and Drug Administration issued an emergency use authorization for Pfizer's vaccine among children 12 to 15
on Monday
, further expanding eligibility.
It's that time again! Austin FC is back in Cali to take on the second Los Angeles powerhouse, LA Galaxy, at 2:30 p.m. this Saturday. The match will be shown on Univision and will be live on Twitter, and I'll be documenting the biggest saves and plays that could make you drop your beer right here.
Follow along for a live feed of the Austin FC match.
75' The Chicharito dam breaks, LA Galaxy scores
⚽️ x 7️⃣@CH14_ scores his league-leading seventh of the season! #LAvATX pic.twitter.com/28zLnOmKWb

— Major League Soccer (@MLS) May 15, 2021
Chicharito finally got one past Stuver with his seventh goal in five matches this season. LA Galaxy goes up 2-0, and Chicharito is now a league leader in goals scored.
58' Subs bring new fire to the ptich
Subs:

➡️Rodney Redes
⬅️ Jared Stroud

➡️ Sebastian Berhalter
⬅️Diego Fagundez

➡️ Kekuta Manneh
⬅️ Danny Hoesen

— Austonia (@austonianews) May 15, 2021
Austin FC takes out Jared Stroud, Diego Fagundez and Danny Hoesen to shake up the lineup. Rodney Redes begins threatening the line immediately at right wing, and sub Kekuta Manneh gets two shots in within a few minutes of coming on to the pitch. Cecilio Dominguez switches to the No. 9 position.
Second half begins, Austin strikes back
46' | Back for the second half!#LAvATX | 1-0 pic.twitter.com/TgkzaT412D

— Austin FC (@AustinFC) May 15, 2021
Austin FC has been outplayed by the Galaxy so far, but the club made two quick attempts as they went for a turnaround at the start of the second half. A shot by Danny Pereira goes high and wide, and a header by Danny Hoesen is just a bit too high.
38' Jimenez out on injury
38' | Sub for #AustinFC

➡️ Nick Lima
⬅️ Hector Jimenez pic.twitter.com/YQTbfpcAHx

— Austin FC (@AustinFC) May 15, 2021
Austin FC brings out the stretcher for right back Hector Jimenez, who fell in an attempt to save the LA Galaxy goal. Jimenez is replaced by Nick Lima after just 38 minutes in his first start with Austin FC.
35' LA Galaxy scores, goes up 1-0
Ball over the top + calm finish from @SLletget!@LAGalaxy grab the opener. #LAvATX pic.twitter.com/bU1cVbEKM7

— Major League Soccer (@MLS) May 15, 2021
LA Galaxy's Sebastian Lletget scores the match opener after overpowering a diving Hector Jimenez, curling a shot over Stuver to make the match 1-0.
25' Brad Stuver with a diving save!
BIG TIME BRAD.

Take a bow, sir. 👏 pic.twitter.com/66kpgJ9o1e

— Austin FC (@AustinFC) May 15, 2021
Austin FC saw its first major threat from the formidable Chicharito when a penalty was drawn on Jhohan Romana. In his usual game-saving fashion, keeper Brad Stuver kept the scoreboard empty with a diving save in the bottom right corner.

2:05 p.m.- Austin FC lineup is released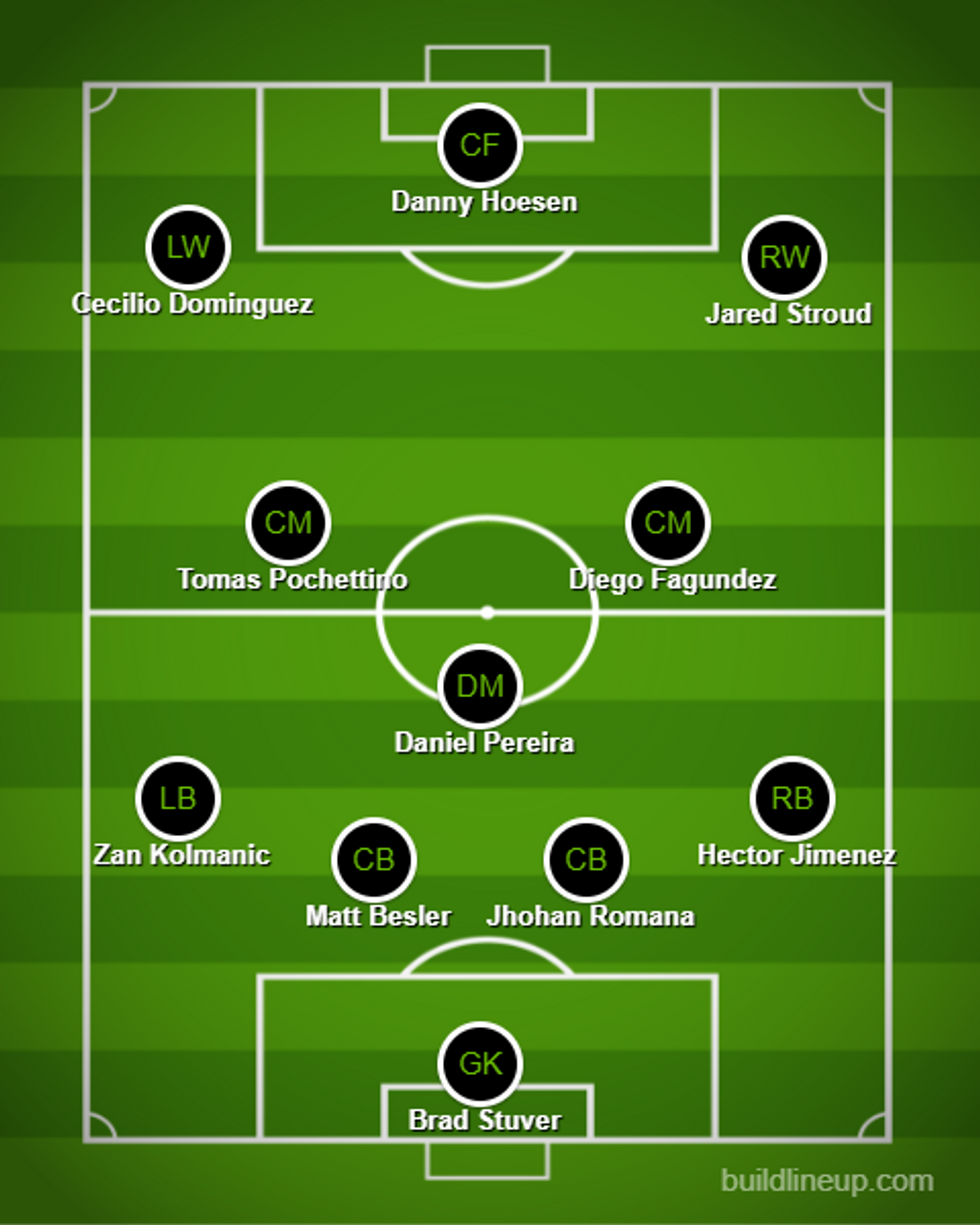 Austin FC has big lineup changes heading into the big match, but the moves were mostly expected. Captain Alex Ring is out due to a second yellow card last match, and the club put standout rookie Daniel Pereira in his stead. Danny Hoesen is back at the crown of the lineup, and there are rumors that fellow striker Jon Gallagher didn't travel with the team due to injury. He's not on the bench this week.
Finally, Hector Jimenez gets his first start with the club at right back in the stead of Nick Lima.
2:00 p.m.- Los Verdes watch party, South-side style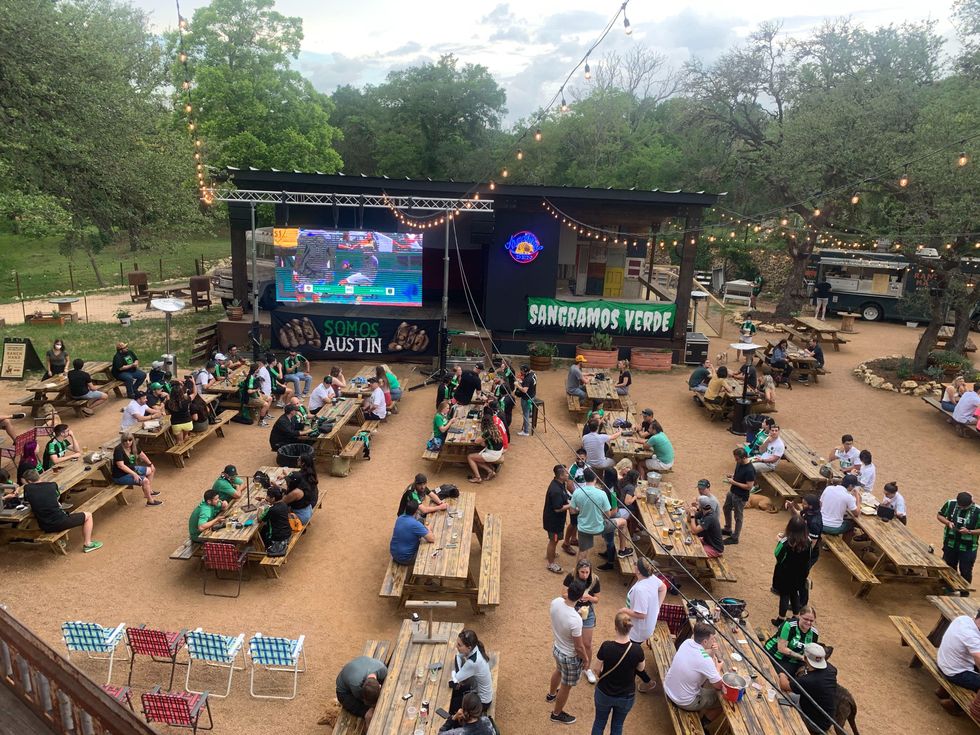 (Claire Partain/Austonia)
Hundreds of people are at the Los Verdes watch party, including myself and a celebrity appearance in La Murga, Austin FC's own fan band.
Cheers can be heard every time an Austin FC player is featured on the screen on the Univision broadcast.