Get connected with our daily update
Austin is already weird, but it may be attracting even weirder visitors.
Cleveland Browns quarterback Baker Mayfield and his wife, Emily, said aliens made their presence known in the Austin metro. Mayfield, an Austin native, reported Wednesday that he was "almost 100%" certain the two spotted a UFO near Lake Travis that evening.
---
Mayfield said in a Tweet that he and Emily saw a "bright ball of light" come straight down from the sky on their way home from dinner.
Emily also tweeted after the incident, saying she's normally a UFO skeptic but was "thrown off" from what she saw.
The two posts combined for over 30,000 likes. Most fans responded with NFL memes, but a few others said they had seen the strange "ball of light" too. One user, Ohio reporter Mike Polk Jr., said the UFO had a strange message to give him: Baker needs to extend his contract with the Cleveland Browns.
The two Mayfields' strange encounter is hardly the first UFO sighting in Austin. Just last week, texasufosightings.com reported on a Nov. 30 sighting in the city that was caught on video and posted to Youtube.
On Jan. 13, a Round Rock resident reported to the National UFO Reporting Center, a national database that records possible UFO sightings, that they saw two crafts, glowing orange and red, near their apartment complex "almost daily." Thirty-seven sightings were reported in the Austin metro in 2020, with a strange cluster of four occurrences reported over a three-day span from Oct. 1-3.
Mayfield may have had the most recent "Close encounter of the Third Kind," but he's definitely not the only one to have had otherworldly sightings in the city whose slogan is "Keep Austin Weird."
Terry Black's Barbecue is journeying outside of the smoked meats sphere and into the hospitality sector, announcing plans to open "Friday Mountain," a resort-style vineyard near Driftwood.
According to a report from the Austin Business Journal, Friday Mountain will be located on 64 acres at 150 Concord Circle, featuring a boutique hotel with 22 rooms, a 14-acre vineyard and a 20,000-square-foot underground wine facility, a spa, event space, all-day café and high-end restaurant. Construction is poised to start in the next month.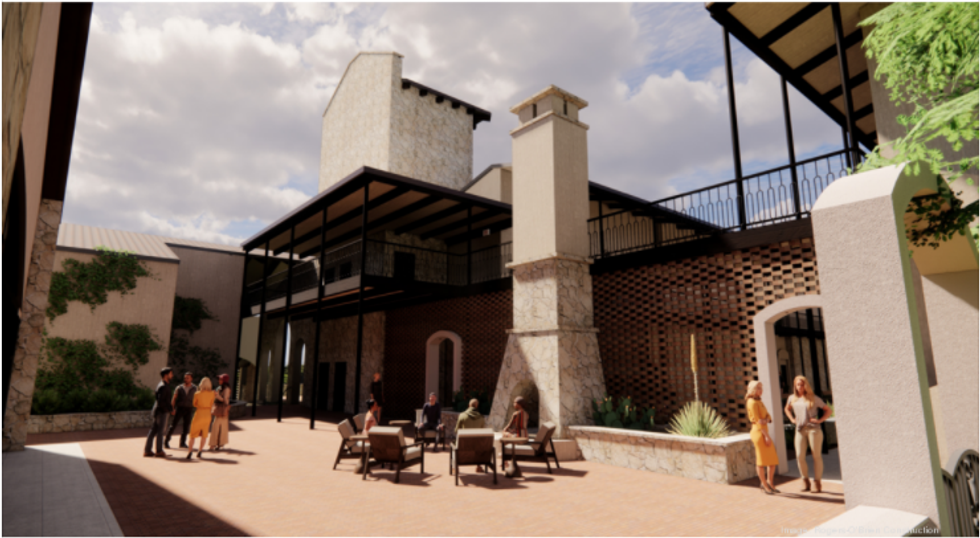 The courtyard outside of the event space will echo Hill Country architecture. (Rogers-O'Brien Construction)
Co-owner Mark Black said he expects construction to last about 10 months, hoping for opening early next year, and would hire around 140 employees: 60 full-time and 80 part-time.
The new project has long been in the works for the restaurateurs—including Mark's twin brother Mike and sister Christina—who come from the same lineage as those behind Lockhart's Black's BBQ but separated the business due to a falling out within the family.
Friday Mountain was originally planned to be a wedding venue but issues arising about noise, traffic and environmental concerns led the Dripping Springs City Council to ask for updated plans.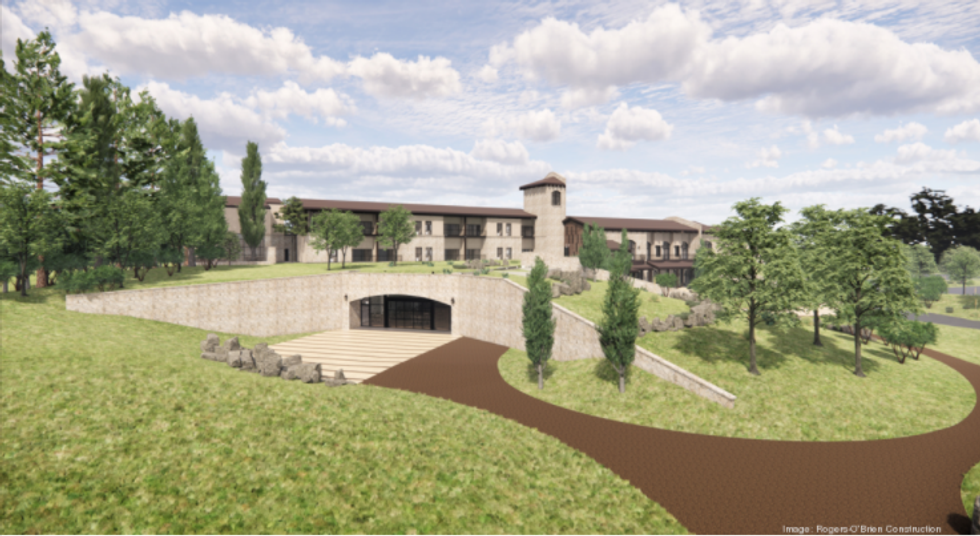 A rendering of the entrance to the planned underground wine cave. (Rogers-O'Brien Construction)
In the new plans, which have since been submitted, Black said he heard the neighborhood's concerns and is focusing on working with the right contractors to avoid issues. Black said he knows not everyone will be on board with the venue but that it will provide a little something for everyone.
To bring the concept to life, Black is partnering with engineers at Kimley-Horn and Associates Inc., architects at Lawrence Group, and Rogers-O'Brien Construction Co. Ltd. as the general contractor.
As for the vineyard, Black has partnered with Salt Lick Cellars to have wine aged and ready to drink wine upon opening and will hand off wine making operations to enthusiast Phil Price.
According to a Texas Department of Licensing and Regulation filing, the project will cost an estimated $20 million to be completed in January 2023.
From Your Site Articles
Related Articles Around the Web
The Texas French Bread Bakery, located on 2900 Rio Grande Street, has been completely destroyed after a fire erupted on Monday night.
The Austin Fire Department responded to the fire just before 11 p.m., where they arrived to see flames coming from the roof of the bakery. Firefighters fought the fire for about an hour before the roof collapsed.
While no one was injured in the fire, firefighters say the historic building was completely totaled.
AFD determined that the fire was accidental and caused by mechanical failure. AFD said the damages amounted to $1.6 million total: $1.1 million in structural damage and $500,000 in damage to the contents of the bakery.

This year, Texas French Bread will celebrate 40 years of business. Before the bakery occupied the building, it was the Rome Inn, a music venue that hosted 1970s artists like Stevie Ray Vaughan.