Get connected with our daily update
Austinites are welcoming the news that Oscar winner, erstwhile bongo player and minority Austin FC owner Matthew McConaughey is reportedly considering a run for Texas governor.
McConaughey's supporters say he offers a centrist alternative to Gov. Greg Abbott and is demonstrably popular. In a recent Austonia poll, 56% of the 255 respondents said they would give a McConaughey bid the "Greenlights."
---
His opponents mostly agree with this assessment. But they worry that a McConaughey campaign could divert voters away from a more progressive candidate, like Beto O'Rourke, who is also reportedly mulling a bid, and strengthen Abbott's foothold among Republicans.
They are in the minority, however. A recent poll conducted by the Dallas Morning News and the University of Texas at Tyler found that McConaughey would beat Abbott 45% to 33%, with 22% opting for someone else.
Name recognition

Ryan Glanzer, 38, has lived in Austin for the last decade and recently tweeted that he would do whatever is needed to support a McConaughey administration, despite the actor's vagueness about his political beliefs. "I don't really know much of anything about his position on any of the matters that I'm most concerned about, including things like climate change and gun control, but I know that he couldn't be worse than Abbott," he told Austonia.
Glanzer, who described himself as left of center and voted for Elizabeth Warren in the 2020 Democratic primary, compared McConaughey to Joe Biden, a popular centrist who prevailed against an entrenched Republican incumbent. "This is like the presidential election all over again, honestly, because there's a big name and broader, more centrist appeal," he said. "I just feel like McConaughey's going to have a better chance of winning."
Glanzer's not alone in this assessment. His wife, Lauren, supports a McConaughey administration. So too would Gilberto Hinojosa, chair of the Texas Democratic Party, who recently told Politico he would welcome him on the ticket. "He's young, good-looking, smart and has a little wildness—but this is Texas. We like that stuff," he told the news site.

matthew mcconaughey running for Governor would be wild. I honestly think he could win it too.

— Steezy D (@DJSteezyD) March 11, 2021
Brendan Steinhauser, an Austin-based GOP strategist, thinks the Texas political establishment is overestimating the importance of political experience and underestimating McConaughey's popular appeal, which has been built over decades, from the 1993 film "Dazed and Confused" to his involvement with the University of Texas and Austin FC to his philanthropic efforts. "He just has the cool factor," he said. "And that counts for a lot in our culture."
Splitting the vote
Although some Austinites see a McConaughey run as a surefire strategy to elect a more centrist governor, others, including seventh-generation liberal Austinite Henry Hudson, 26, think it is a bad idea. "He's unqualified to have a career in government, and after having a celebrity president for four years, I don't think it's necessarily a good idea to elect actors to public office," he said.
If Matthew McConaughey is going to run for governor, Beto will lose and we will end up with Abbott again. McConaughey is extremely problematic and he needs to stay in his lane and GTFO.
— 💛Henry Hudson🏳️🌈 (@bleakboss) April 18, 2021
Hudson has other concerns about McConaughey, whom he thinks should run for a local office, such as city council member or county commissioner, before setting his sights on the Governor's Mansion. This could also help illuminate McConaughey's political beliefs. "I have no idea what his ideology is," he said.

McConaughey, who has described himself as "aggressively centrist," may benefit from this confusion. A big, generic, future-looking campaign could serve him better than taking stances on divisive issues such as permitless carry, abortion and Medicaid expansion, Steinhauser said.
Whether McConaughey will announce a run remains uncertain. But the chatter may only strengthen his profile among Texas voters. "Buzz is a good thing," Steinhauser said. "It's good for Matt McConaughey Inc."
Capital Metro has been awarded $750,000 from the Federal Transit Administration to go toward Project Connect's Orange Line, documents show.
The FTA announced the funding round on Thursday, which dispersed $11 million across 12 states and 20 projects. The money is meant to connect communities to affordable transit and housing through the FTA Pilot Program for Transit-Oriented Development planning.
CapMetro said the funds will go toward projects at eight stations spanning 6.5 miles on the South end of the Orange Line, which has a total of 22 stations. The full project stretches across the 20 miles from Southpark Meadows to Tech Ridge.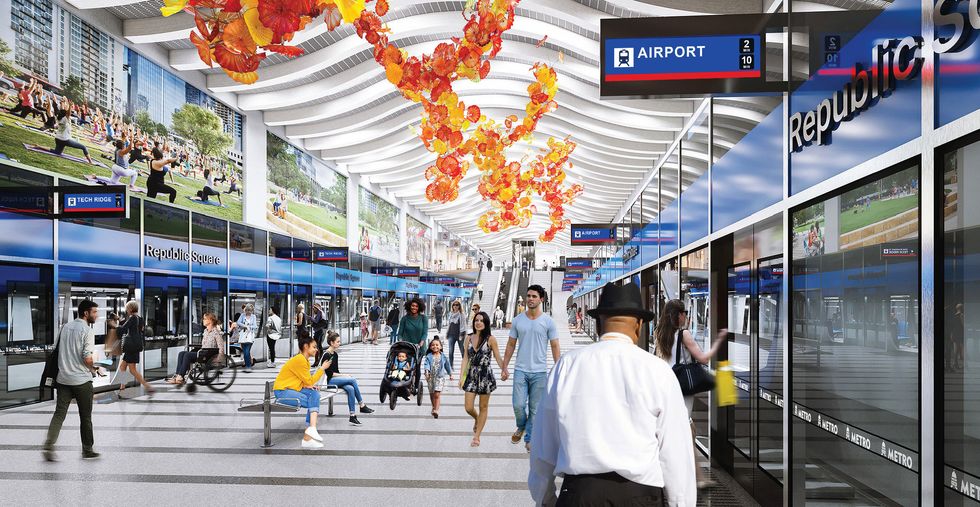 Republic Square station is along the Orange Line. (Project Connect rendering)
Once it's complete, which officials estimate will be in 2028, the Orange Line will reach the following stations:
Tech Ridge (Park & Ride)
North Lamar International District
Crestview
The Triangle
UT campus
Republic Square
Auditorium Shores
South Congress
Southpark Meadows (Park & Ride)
A $500 million mixed-use development spanning 1,400 acres is coming to Southeast Austin, near Tesla's headquarters at Giga Texas.
Plans for the development by Houston-based real estate firm Hines include 2,500 houses along with multi-family and townhomes, and commercial land. Hines is partnering with Trez Capital, Sumitomo Forestry and Texas-based Caravel Ventures.
The development, which is known as Mirador, will be located off the 130 Toll and Highway 71, which the developers say provides easy access to the Circuit of the Americas Formula 1 racetrack and other Austin attractions like restaurants, parks and live music venues.
Hines also boasts amenities like a 60-acre lake, over 600 acres of greenbelt, community parks, trails and a swimming pool.
"As Austin continues to grow into the tech epicenter of Texas, coupled with a supply-constrained market, the demand for new housing is at its highest," Dustin Davidson, managing director at Hines, said. "Mirador will be critical in providing more options for Austin's growing population and we are excited to work alongside our partners given they each provide a unique and valued perspective in single-family development."
The local housing market has been hot in recent years, with home sales accelerating earlier in the pandemic. In July 2021, the Austin metro area hit its pricing peak at $478,000. As Austonia previously reported, the area has been expected to see the Tesla effect, with the new workforce driving up demand for housing and other services.
The single-family houses are expected to be developed over the course of six years, in phases. Construction on the homes is expected to start this year and home sales will begin in 2023.