Austonia AM
100% Austin news, info, and entertainment, straight to your inbox at 6 a.m. every morning.
In five minutes, you're fully informed and ready to start another great day in our city.
Get connected with our daily update
First Hollywood, now politics: it seems Austinite Matthew McConaughey can find support in just about anything he does, including running for governor of Texas.
---
While he hasn't confirmed that leading Texas is his next move, he seems to have the backing for it. In a poll by The Dallas Morning News and the University of Texas at Tyler, McConaughey is leading over current Gov. Greg Abbott in the double digits.
Of the 1,126 voters polled on April 6-13, McConaughey holds a 12-point lead with 45% saying they would put him in office. Abbott got 33% of voters, while 22% said they would vote for someone else.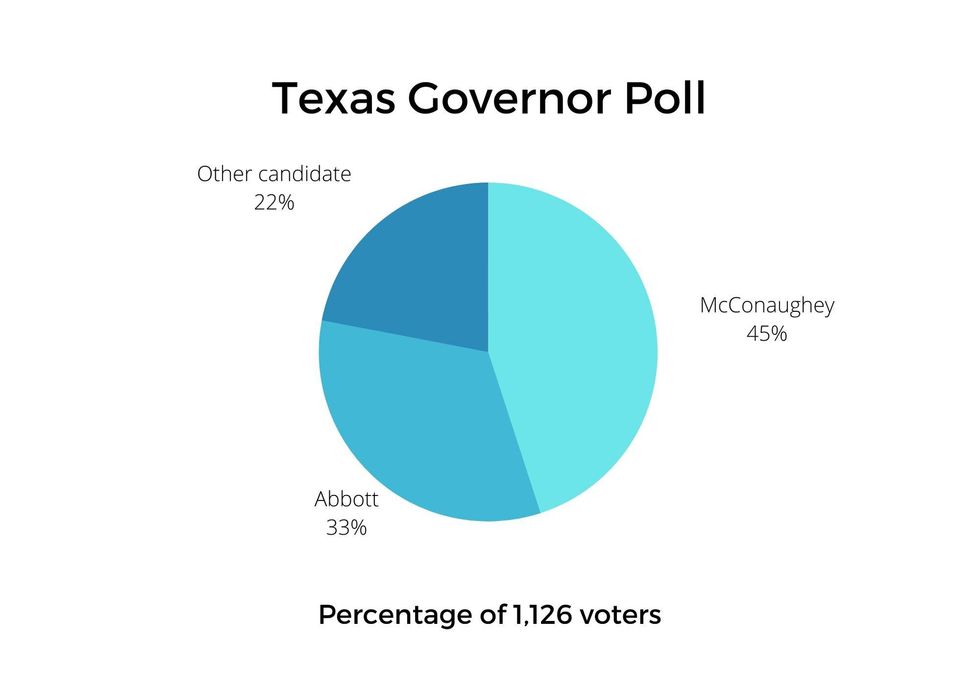 McConaughey has solid support on both sides, but Democrats, in particular, would like to see Austin's Minister of Culture as governor. While 66% of Democrats said they would vote for McConaughey, 8% would vote for Abbott and 22% said they would vote for someone else. Republicans are still intrigued by the possibility, with 30% saying they would vote for McConaughey, 56% saying they would reelect Abbott and 14% saying they would support someone else. Of the independent voters polled, 44% said they'd vote for McConaughey, a 14-point lead over Abbott.

Similarly, in an Austonia poll ran last month, where 255 voted, these were the results:
McConaughey 48%
Abbott 34%
Unsure 18%
While McConaughey hasn't officially decided to put his name on the ballot, he's publicly mulled it over several times.
In an interview on The Balanced Voice podcast in November, McConaughey said running for governor was "a true consideration."
"What is my leadership role?" McConaughey said." Because I do think I have some things to teach and share, and what is my role? What's my category in my next chapter of life that I'm going into?"
On "The Hugh Hewitt Show" in November, McConaughey said he could see himself looking into politics once the dust settles and conflicts are no longer at an all-time high.
"That wouldn't be up to me. It would be up to the people more than it would me," McConaughey said. "Look, politics seems to be a broken business to me right now and when politics redefines its purpose, I could be a hell of a lot more interested."
Meanwhile, Abbott has faced significant challenges including the COVID-19 pandemic and Texas' historic winter storm during his time in office. The same poll revealed he still has the support of his party with 77% of Republicans saying they approve of how Abbott has handled being in office. By contrast, 40% of Democrats strongly disapprove of his time in office.
While McConaughey is in the lead, according to the study, he still has some obstacles before he gets his name on the ballot box. Aside from his general apathy with the current political climate, McConaughey hasn't clearly shown which political party he would run for.
His lack of association with a political party might hurt him, since 32% of Republicans wanted a more conservative or Trump-esque governor and 66% of Democrats want a progressive leader. He appears to be a dream for centrists, however, and he's one of the few recent Texan candidates that a significant portion of both parties seem to agree on.
With his star power and signature Texan charm, McConaughey might just have one more job position to add to his jack-of-all-trades resume come Election Day.
Ingredients:
1 1/2 oz of hibiscus-infused Tito's Handmade Vodka
2 oz sparkling water
1 oz fresh lime juice
3/4 oz simple syrup
1 tsp allspice dram
Directions: Add infused Tito's Handmade Vodka, lime juice, and simple syrup to a shaker with ice. Shake and strain into a glass over fresh ice. Top with sparkling water, and garnish with a lime slice. Enjoy!
A week after Texas added two congressional seats and California lost one, state officials reported a population decline in 2020 for the first time in the Golden State's history.
California fell by over 182,000 people from January 2020 to January 2021, dropping almost 0.5% to cap out at around 39.5 million people. It is still the nation's most populous state.
For over thirty years, California has seen more people leave than move in from other states, state officials said, with 6.1 million people moving out and 4.9 million coming in last year. Immigration and births kept California growing, but the state saw a shrink in international migration in 2020 due to COVID and the White House's hold on visas.
Of the steady flow of ex-Californians moving to other states, more are moving to Texas than any other state. Many are relocating to Austin, which has been labeled a "little California" by billionaire resident Elon Musk and continues to grow astronomically.
Meanwhile, California cities including Los Angeles, San Diego, San Jose and San Francisco saw a population decline.
With immigration and state migration on the decline, the Golden State was also hit with a spike in deaths- 51,000 people died from COVID in 2020, and all but seven of the state's counties saw death rates higher than the three-year average.
Still, the California Department of Finance said a "slightly positive annual growth" can be expected next year as the state recovers from COVID deaths and political repercussions.