Get connected with our daily update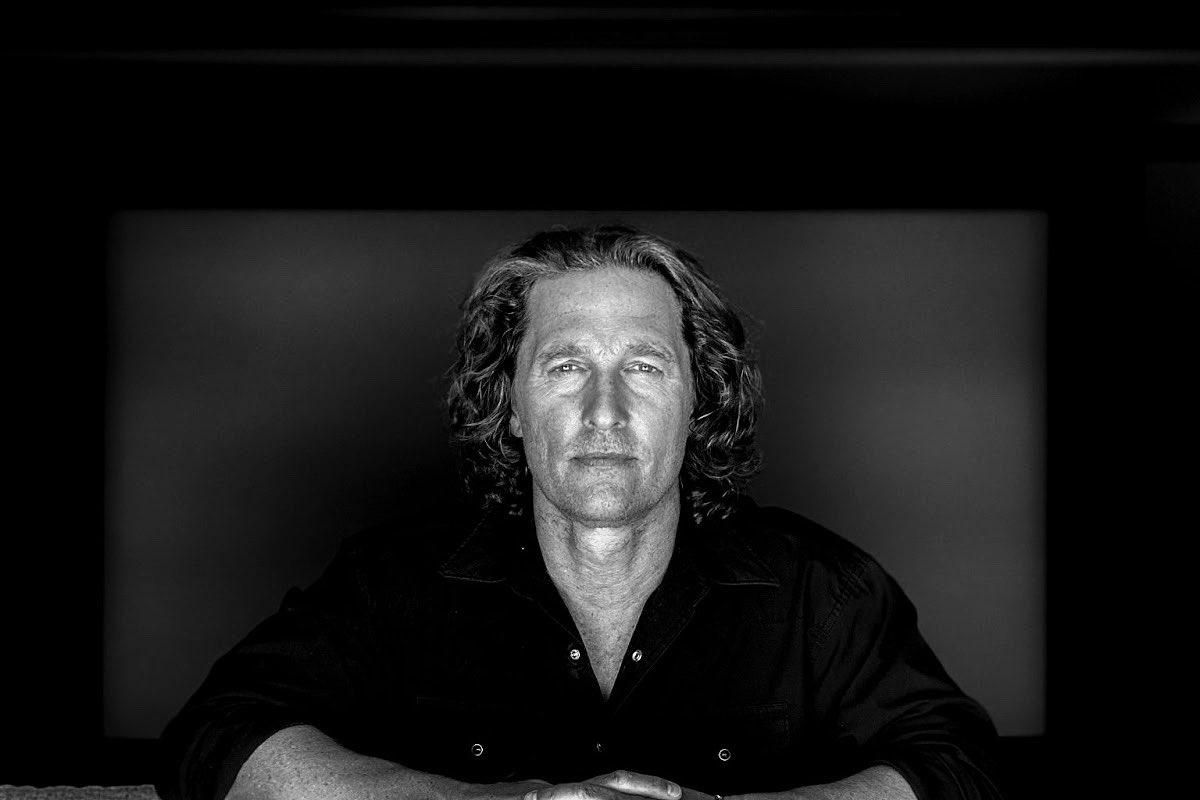 Minister of Culture Matthew McConaughey continues to give vague commentary on his potential gubernatorial run, calling politics a "bag of rats" and debating on whether he could make an impactful change in a New York Times' Sway podcast interview.
---
McConaughey, who has hinted at a potential run for the November 2022 election for months, told Sway on the podcast that came out Thursday he was still "measuring" his options for the governor's race.
"One side I'm arguing is 'McConaughey exactly, that's why you need to go get in there. The other side is, 'that's a bag of rats man,'" McConaughey said. "Don't touch that with a 10-foot pole... you have another category to have influence... help how you think you can help and even heal divides.'"
While McConaughey said he's been learning from political mentors, sources told The Hollywood Reporter that McConaughey "hasn't been fundraising or gathering a potential staff, aside from a few exploratory phone calls."
The Oscar-winning actor has rallied Texans around a cause or two before—as part-owner of new MLS franchise Austin FC, he's been seen on the field banging a conga drum to ecstatic fans, and his "We're Texas" concert fundraiser raised $7.8 million for Texas residents in the wake of the February winter storm.
:speaking_head_in_silhouette: "Alright, alright, alright!"

Incredible scenes as @AustinFC moved into Q2 Stadium over the weekend for their home opener, and @McConaughey brought his drum along to get the fans fired up! :drum_with_drumsticks::fire:

pic.twitter.com/QUTW3HAWGZ
— FreeSports :tv: (@FreeSports_TV) June 21, 2021
And his likable "poet-statesman" persona has transferred into the political sphere already. In a September poll of 1,148 Texan voters conducted by the Dallas Morning News and the University of Texas at Tyler, McConaughey beat Abbott 44% to 35%.

But new threats have been added to the mix. In September, an Axios report found that former congressman Beto O'Rourke would soon be announcing his run on the Democratic ticket. O'Rourke side-eyed McConaughey's ambiguous political stance in a statement and said he is "a really popular figure whose political views have not in any way been fixed."
"I don't know, for example, who he voted for in the most consequential election since 1864 in this country," O'Rourke added.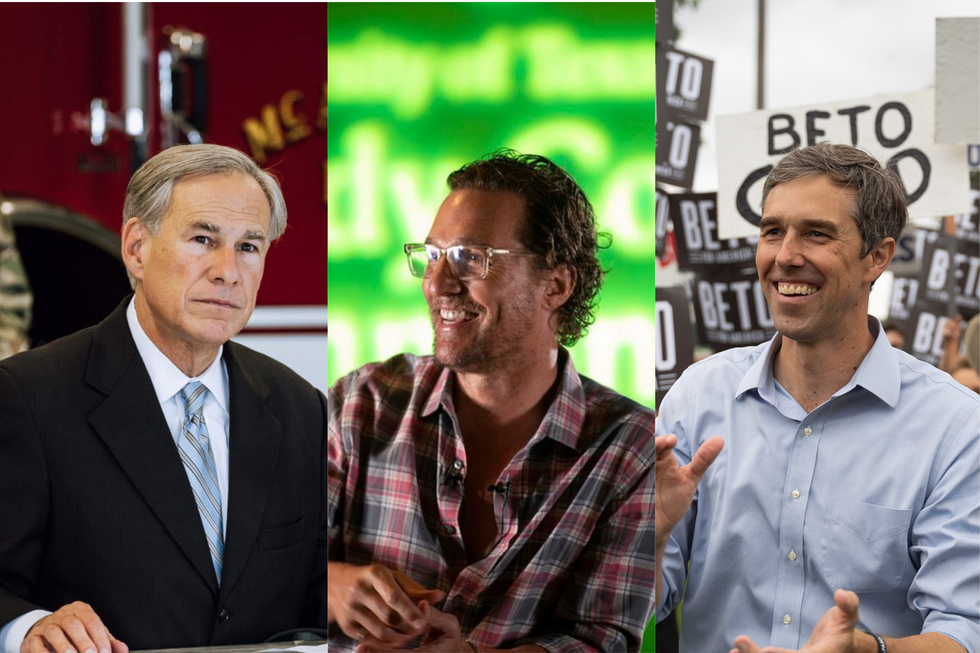 (Office of the Texas Governor, UT Moody College of Communication, Beto O'Rourke/Facebook)
But McConaughey said in the Sway interview that he didn't view the comment as a diss.
"I don't take that as shade," McConaughey said. "He called me a good man. I say he's a good man... he believes in what he's selling and his heart is in the right place and he's got the right compassion that a liberal-sided politician needs."
Despite commentary on masking and statements disagreeing with Texas' new controversial abortion laws, McConaughey continues to avoid political affiliation. The ambiguity is intentional—he said in the Sway interview that he believes it necessary to be "aggressively centrist" in order to "salvage democracy."
"People want a third party and we've got one and it doesn't have a name right now and it is the majority," McConaughey said. "I'm hesitant to throw labels... but there is a sleeping giant right now."
While he'd be the first independent elected to the governor's office since 1859 if he succeeded, the tactic could pay off in an increasingly politically frustrated population, especially with Beto a strong candidate on the Democratic ticket.
Still, some of that easy agreeableness will surely fade if the actor is to enter the political domain. The move seems less likely with each coming interview, but voters could still see the McConaughey name in the ballot box if he decides he can make a real impact.
"Is that a place to make real change or is it a place where right now it's a fixed game, you go in there, you just put on a bunch of band-aids, in four years you walk out and they rip them off and you're gone?" McConaughey said. "I'm not interested in that."
McConaughey will need to decide whether or not to shake up the gubernatorial race by Dec. 13, the deadline for all candidates to file their bids.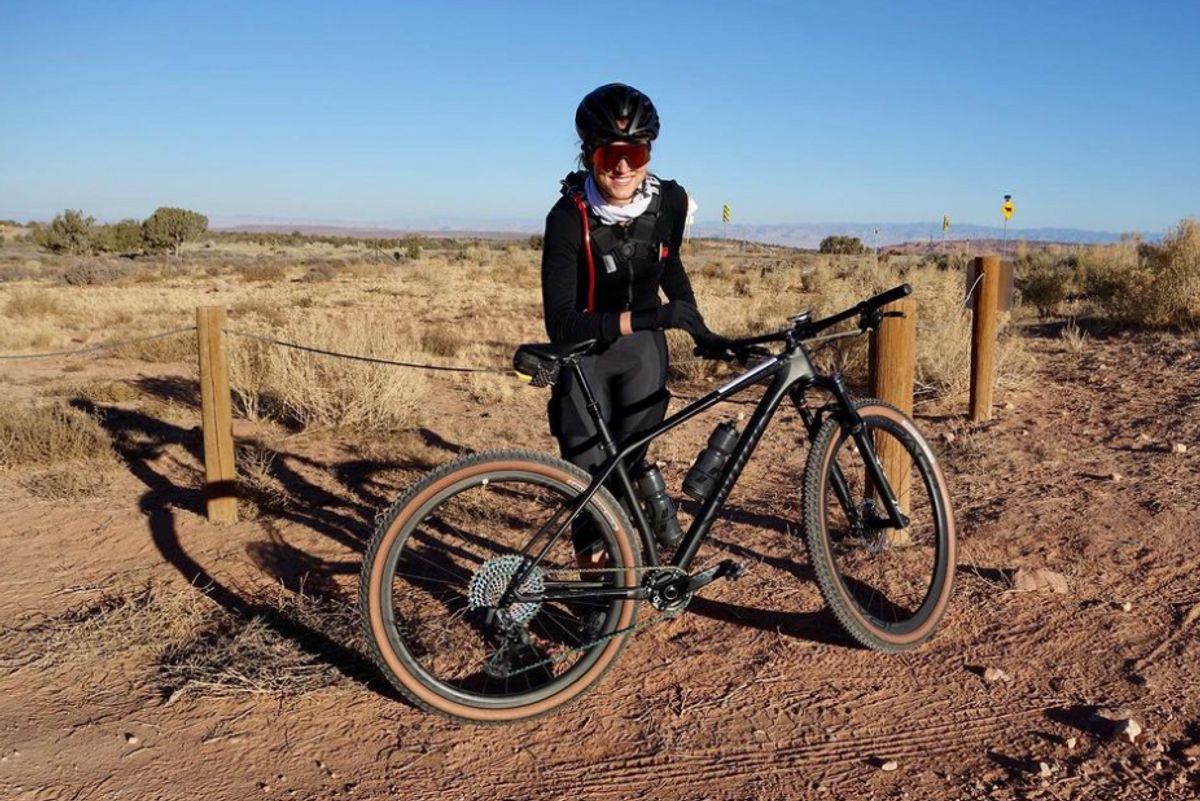 Austin police have charged Kaitlin Marie Armstrong, a local cyclist, for the murder of Moriah "Mo" Wilson.
Wilson, a rising star in the gravel and mountain bike community, was found dead with gunshot wounds inside an East Austin home on the night of May 11 when she was in town for the weekend Gravel Locos race in Hico, Texas.
Police believe Wilson was having a relationship with a man Armstrong was also in a relationship with. The man, another gravel cyclist, Colin Strickland, has since issued a statement on the murder.
In his statement, he said he had a brief romantic relationship with Wilson in October 2021 before he resumed his relationship with Armstrong, but that he remained friends with Wilson. "There is no way to adequately express the regret and torture I feel about my proximity to this horrible crime. I am sorry, and I simply cannot make sense of this unfathomable tragedy.
NEW: Austin professional cyclist Colin Strickland has just released a statement about the murder of cyclist Moriah Wilson, clarifying his relationship with her and expressing "torture about my proximity to this horrible crime." pic.twitter.com/KnIna3mWrE
— Tony Plohetski (@tplohetski) May 20, 2022
Wilson, a 25-year-old Vermont native living in Colorado, had won a slew of races becoming a fan favorite. She had just become a full-time racer this year.
Anyone with information on this crime can contact Austin police at 512-974-TIPS or contact Crime Stoppers anonymously at 512-472-8477.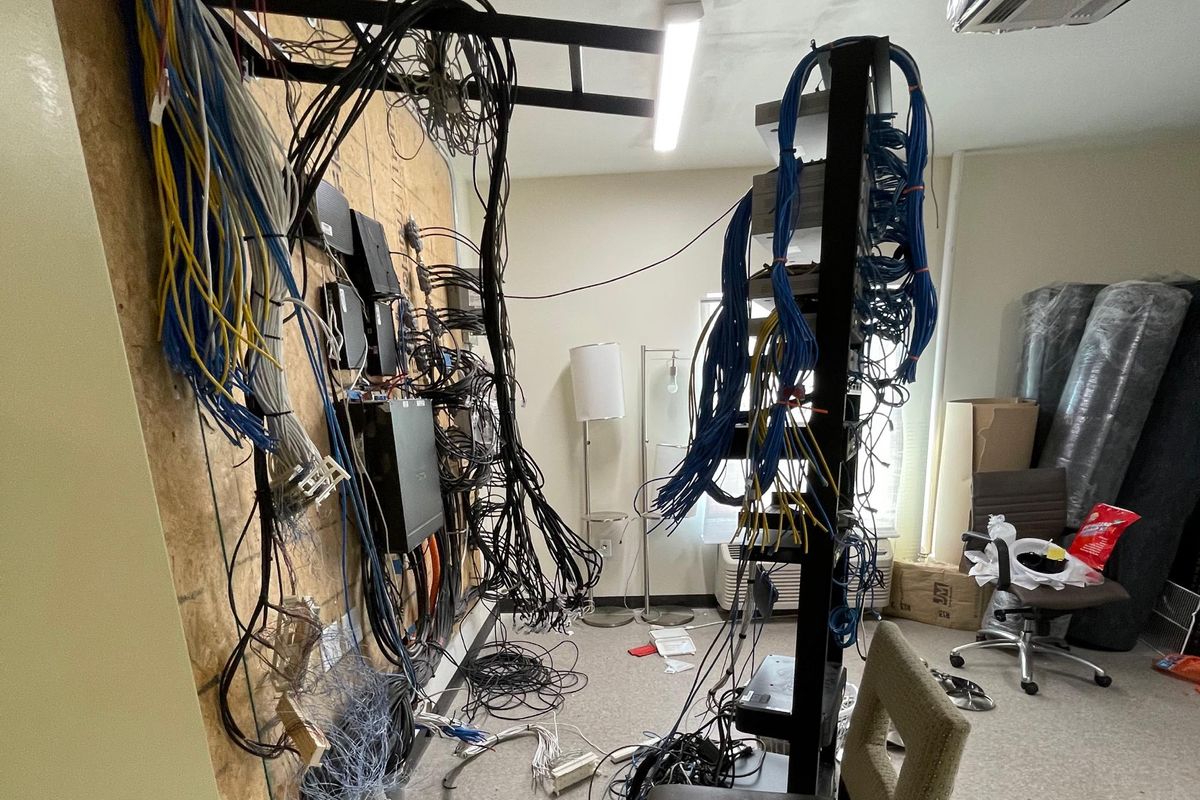 Austin has added 24-hour security to the city-owned Pecan Gardens property, which will be converted into supportive housing for people exiting homelessness, after the former hotel was found with months of damage and vandalism May 5.
The building, which was broken into and stripped of copper and had people illegally sleeping inside of it, has been secured, Kelly said in a Friday press conference. Kelly said the city confirmed a measure to implement 24-hour security, including updates every 60 days until the property opens up as supportive housing.
"We cannot let this happen to any vacant city-owned property ever again," Kelly said. "This blatant act of disregard and criminal behavior will not be tolerated in our community."
The city bought the former hotel in August 2021 for $9.5 million with plans to renovate the property into a 78-unit supportive housing property. Those 55 or older that are experiencing chronic homelessness can qualify to live at the site once it is completed in late 2022-early 2023.
While the council was set to discuss a $4 million deal with Family Eldercare to begin converting the property Thursday, Kelly pulled the item for a later executive session due to security concerns. But the council did approve an item to authorize city leaders to begin negotiating other renovation contracts.
"I want to thank my colleagues for pumping the brakes on this contract and realizing that we owe the community not only an apology, but reassurance that the protection of the assets the city owns is vital to the success of achieving our intended goals," Kelly said.
When the building was found vandalized May 5, Kelly, who presides over the district containing the property, said damage included:
Damage spanning all three floors of the building and is in nearly every room.
The entire hotel was stripped of copper.
Destroyed washers, dryers, air conditioners and electrical wiring.
People sleeping at the hotel without permission.
On Tuesday, Austin's Homeless Strategy Officer Dianna Gray apologized and said there was no security due to a delay in processing the request.
"The intent had been to have security on site previous to this event," Gray said. "It had been requested, and there was a delay in the request, so it had not been initiated. We acknowledge that as a failure and apologize."
Kelly said city staff, the Austin Police Department and the Williamson County Sheriff's Office are investigating what happened at the property and encouraged those who know anything about the investigation to call Crime Stoppers at 512-872-8477.