Never miss a story
Sign up for our free daily morning email...
...and afternoon text update
Get connected with our daily update
(Greg Giannukos)
In the backyard of Justine's Brasserie, a "super-sexy," late-night French bistro at the east end of Fifth Street, behind the new pandemic-friendly dining cabanas and just next to a lit-up pagoda, is a small trailer.
Inside is a kind of old-fashioned photo booth. Wood-lined and hung with haunting tintype portraits—printed on glass plates, similar in style to a daguerreotype—the studio is modeled on traveling wagons from the Civil War era.
British fine art photographer Adrian Whipp first learned about the tintype process while in school for visual communication. But he didn't think of it as a modern process until he discovered the work of John Coffer, an American tintype photographer who traveled across the country with a horse-and-wagon in the late 1970s and early '80s, taking portraits of Civil War reenactors. "It was just such an interesting story that it stuck in the mind," he said.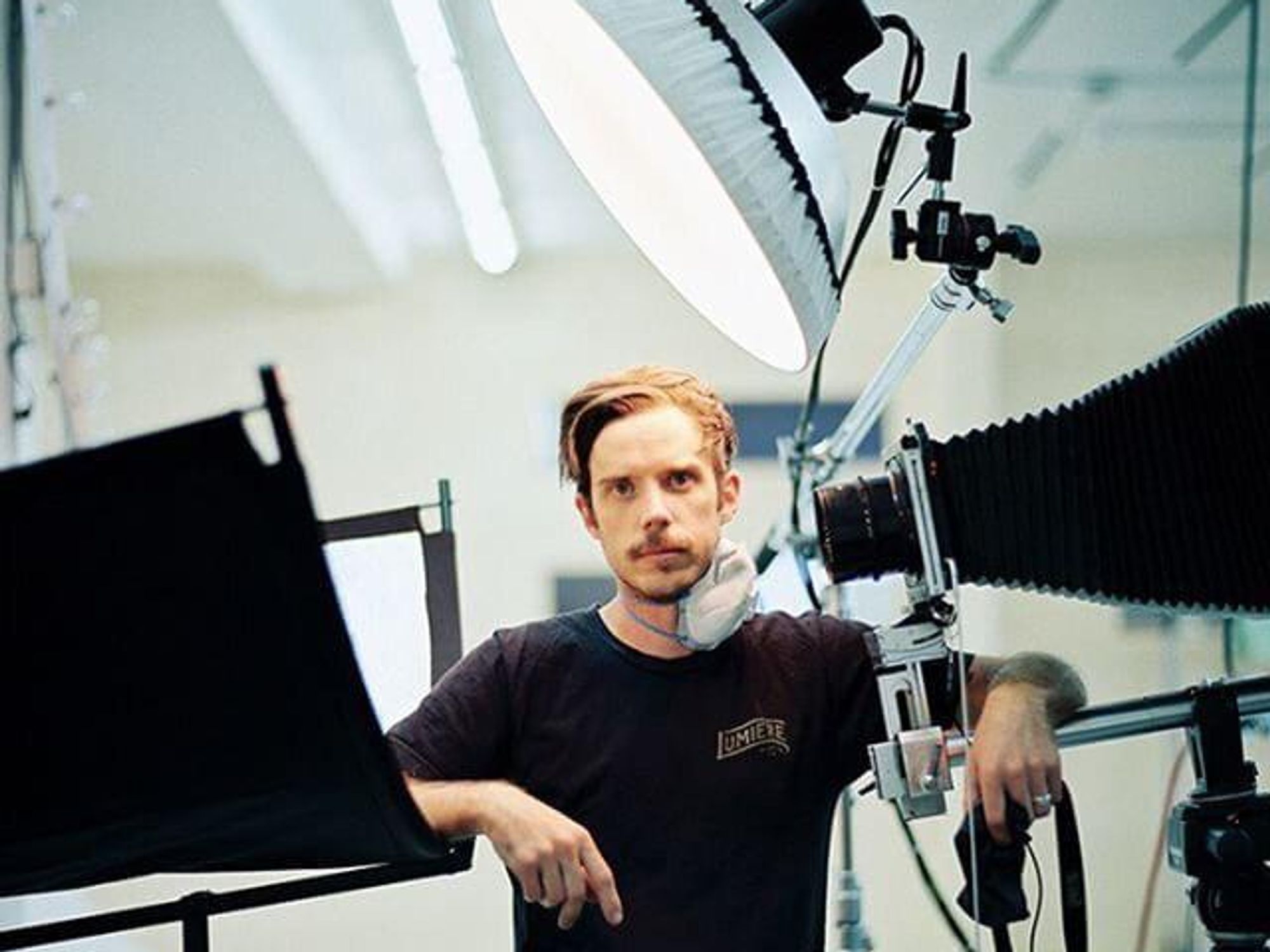 Adrian Whipp is the photographer behind Lumiere Tintype. (Jonathan Canlas)
Using Coffer's photography manual, Whipp taught himself the recipe and process, which he described as chemically similar to black-and-white film photography. In 2013, after a few years of trial and error, he opened Lumiere in Austin. The timing was inauspicious; many local portrait studios were closing due to the growth of digital photography. But the business has been busy from day one. "That need, I think, that people have for a portrait that lasts, I don't think it went anywhere," he said. "People still want an heirloom, something that they can put on a wall and hand down to their kids."

In the pre-pandemic period, Lumiere was based at Justine's most of the year, except for a summer traveling season. Over the course of a typical evening, Whipp would develop 30 to 35 tintype photographs, starting with families and babies in the early evening before ending with tipsy adults sometime around 2 a.m. "I'm pretty good at wrangling drunk people these days," he told Austonia. "People do cut loose a little bit in the evening."

Last March, however, Justine's closed for three months due to COVID-19. As soon as it reopened, Lumiere resumed business, with a few modifications. Now customers schedule an appointment in advance online; there are around 20 slots per evening. This process is a little bit more orderly than the old walk-in system, Whipp said, but there are still elements of spontaneity.
Tintype photography is finicky. Temperature changes, humidity levels and contamination can all interfere with the final photograph. "Pretty much every night something goes wrong," Whipp said. Sometimes it adds to the photograph, but other times it compromises the quality.

Some of Whipp's subjects can also prove challenging. He loves shooting kids, especially those whose families have returned to his studio year after year, and pets, but the intense flash required to produce a clear photograph can be startling. "It's pretty high stakes," he said.
Once Whipp takes the photograph, he begins developing the plate, submerging it in a tray of solution. "That's kind of what people pay for," he said. "That experience of watching the film develop. It's almost as magical as the film itself."
Whipp mostly runs Lumiere on his own, although he receives a lot of support from his wife, Lauren. A couple of assistants also help him on commercial and editorial shoots, which he does four or five times a year for well vetted clients, such as fellow Austin businesses Helm Boots and Revival Cycles. Where a photographer using a digital camera might deliver 15,000 photos, edited and photoshopped, at the end of a multi-day shoot, he might have 40 tintypes. The upside, however, is "a campaign that looks like really nothing else on the market," he said.

Digital photography is even more dominant than it was when Lumiere opened nearly a decade ago. More than three in four Americans own a smartphone, which likely has a camera roll with thousands of personal photographs. A formal, one-shot portrait may seem outmoded, but Whipp's schedule remains booked thanks to word-of-mouth referrals and walk-ins. "It's funny to see people kind of put their phones down and stare into the fixer tray," Whipp said of his nightly routine. "Not many things can do that."
(storyofanartist.net)
The spirit of Austin legend and acclaimed singer-songwriter Daniel Johnston is alive and well as the late artist's family and the Daniel Johnston Estate auction a brand-new, never-before-seen and unconventional piece.
Titled "Daniel Johnston is Alive Somewhere," the piece was released on the auction site foundation app on Friday at 2 p.m. It will be available for 24 hours on auction as a nonfungible token, also known as an NFT.
NFTs are tokens that represent unique digital items, like artwork, video, audio and other forms of creative work. At 4 p.m., the piece was bidding at just over $3,000.
Though on a different medium than Johnston's traditional works, the whimsical piece features six of Johnston's signature "friendly frogs"—the very same that adorn Guadalupe Street and 21st Street—over a keyboard excerpt from Johnston's song "Fly Eye," from his 1985 release "Continued Story." The happy multi-colored frogs blink individually while responding "Fine thank you," to the evocative question, "Hi, How are You?" which shares the name of the artist's 1983 album.

This is the first of several pieces of art that the estate plans to auction.
Johnston passed away in Waller, Texas, where he lived next door to his parents, in 2019. The art piece, an authentic drawing by the celebrated artist, was discovered shortly after his death and became the foundation of the final product. Fittingly, Johnston was famous for merging visual art with his music.
Dick Johnston, the artist's brother, said it was important to Johnston that people were able to enjoy his creations and he was always open to embracing new technology, despite his internet-free lifestyle.
The Johnston Estate also launched a new website, which will sell drawings and post galleries. Known for his childlike qualities, many of the pieces in his array of works are drawn with colored markers and pens.
Honoring a spirit so widely celebrated in Austin, The Contemporary Austin Jones Center will host "Daniel Johnston: I Live My Broken Dreams," an exhibit that intertwines his visual art and music. The exhibit will run from Sept. 11—the two-year anniversary of his death—through May 20, 2022.
From Your Site Articles
Related Articles Around the Web
Get your summer reading lists ready, y'all.
Some Austin Public Library locations will reopen for limited capacity, in-person express services on May 10, just shy of 14 months after all APL locations closed last March due to the COVID-19 pandemic.
Twelve APL branches will reopen as part of the phased reopening: Central, Carver, Hampton Branch at Oak Hill, Manchaca, Milwood, North Village, Old Quarry, Ruiz, Spicewood Springs, St. John, Windsor Park and Yarborough.
These locations have been offering curbside pickup since last June. Starting next month, they will also offer the following in-person services: book and material browsing and checkout, printing and copying, public computers and Wi-Fi access, new library cards, holds pickup and checkout, and technology and reference help.
APL's remaining eight branches will reopen starting June 28, except those under renovation.
All APL branch locations have implemented pandemic-friendly changes, including a masking requirement, placing plexiglass barriers at all circulation desks, separating furniture and computers at least six feet apart and installing air purification equipment in their HVAC systems.
(El Arroyo/Twitter)

April Fool's Day is hard on reporters and newsreaders alike. The annual tradition can leave confusion, pain and joy in its wake.
To make things a little easier this April Fool's, we compiled a list of pranks we found across the Austin metro today. Some needed a little work to be convincing, while we're still not sure if others are real or fake.
Here are 7 April Fool's jokes to spice up your afternoon:
1. El Arroyo's 'stolen' sign
It is with great sadness that we share some disheartening news… Our famous marquee sign has been stolen. If you have any information about the whereabouts of the sign, or any leads, please comment. #BringBackTheSign #ElArroyoSign pic.twitter.com/4aeiJVPpPB

— El Arroyo (@ElArroyo_ATX) April 1, 2021
We may have fallen hardest to this one. Early on April Fool's morning, the restaurant announced that their iconic sign was missing. They even provided security footage shots of what appeared to be four suspects at the scene at around 4 a.m. Thursday morning.
Many said the restaurant was crying wolf, and it was awfully suspicious timing that the iconic sign, which features hilarious new phrases every single day, would go missing on pranksters' favorite day of the year.
On a phone call with Austonia, a restaurant employee chuckled mysteriously and said, "no comment," when asked about the missing sign at 12:25 p.m.
The restaurant later revealed that the precious sign was found at the Yeti location. In a Tweet, the restaurant mocked Austinites and said, "Y'all fell hard for that one, huh?"
We certainly did. This might be the best prank of the day, and it certainly created an authentically Austin April Fool's panic.
2. Did Elon Musk buy Austin?
BREAKING: Elon Musk purchases all of Austin, declares himself "Iron Mayor." Read more: https://t.co/Ux13loxl1t pic.twitter.com/mI7ppWzB0p

— Austin Chronicle (@AustinChronicle) April 1, 2021
In the early hours of April Fool's morning, the Austin Chronicle revealed some shocking news. Gov. Greg Abbott had signed away the Texas Capitol, giving the entire city to billionaire Elon Musk, who declared himself the "Iron Mayor."
In the shocking announcement, the Chronicle wrote that Musk appeared via hologram at the signing ceremony and said if there's ever a scandal about him, he'd like it to be called "Elongate." Some, like Attorney General Ken Paxton, decried the statement as "fake news," while Austin Mayor Steve Adler said having a "Technoking" leader that wishes to colonize Mars isn't that off-brand for the "weird" city of Austin.
Don't worry though—Musk couldn't quite get his hands on the Texas Capitol or University of Texas campus.
Technically, this hasn't been confirmed or denied, but we haven't seen any "Iron Mayor" activity today. Some say the prank was a little too real and that the mysterious tech giant is "scary enough as it is."
A for effort on this one, Austin Chronicle.
3. Camila McConaughey goes classic prankster on her kids
Camila McConaughey became a bad influence for mischievous kids everywhere when she pulled a prank on her son, Livingston, and Matthew himself.
McConaughey took video as she fed her unsuspecting son and husband toothpaste-filled Oreos.
"Spicy," Livingston cried after taking a big bite. "You tricked us!"
Everything was not "alright, alright alright" for Mr. McConaughey. A bit more disgruntled than his son, McConaughey exclaimed "Nasty, what is that?" as he threw the remaining Oreo off a balcony.
Camila even provided a link for more April Fool's ideas, a power move that could inspire thousands of aspiring pranksters.
4. Is Austin's housing market slowing down?
The Austin-based realty group said words that have almost never been spoken by Austinites—especially in the past year.
In an Instagram post Thursday morning, the company posted the harrowing phrase, "the Austin housing market is slowing down." No need to fear—the culprit behind the quote is "literally nobody."
In the post, they said "can't even get through the sentence a second time," adding "Happy April Fool's Day!"
A good marketing trick, but it's not fooling anyone who's seen the city's booming housing market recently.
5. Old Thousand goes emo
Chinese food chain Old Thousand is transforming its two locations for April Fool's Day.
At their location on Burnet, the restaurant is now emo sandwich shop Jimmy Eat Sandwich. All day, they'll be jamming to pop punk, selling T-shirts and offering classic sandwiches.
At their 11th Street location, the restaurant is fusing with Red Lobster-esque meals as "Old Lobster." Menu items include twists like cheddar "Bae" scallion pancakes, crab rangoons and shrimp scampi lo mein.
Seems like this yummy, punk twist on April Fool's is really taking off.
6. Messi comes to Austin
Messi is going to sign with Austin Bold FC next season...got ya...April Fools or whatever.

— Austin Bold FC (@AustinBoldFC) April 1, 2021
I guess they are technically Austin's first-ever pro team, but USL soccer club Austin Bold FC isn't fooling anyone.
The team announced they were signing Lionel Messi for next season—and immediately gave away the prank in the same tweet. For those who don't know, Messi is considered one of the best professional soccer players of all time.
Even the most diehard Austin soccer fans would've had a hard time believing this one even without the quick disclaimer.
7. Austin EMS workers get a veggie surprise
The Austin Emergency Center should know better than to mess with Austinites and their tacos.
AEC staff were surprised to see their Taco Cabana boxes were hiding veggies instead of Tex-Mex meals. Luckily for both the center and staff, the AEC revealed where the real tacos were hiding soon after.
From Your Site Articles
Related Articles Around the Web