Get connected with our daily update
One of Austin's oldest and most historic venues is resurrecting with the goal of reinvigorating Austin's pandemic-battered live music scene.
The Austin Planning Commission voted on Tuesday to move forward with a redevelopment plan that would bring the Austin Opera House back to life, adding housing, a music history museum and retail space around it.
Originally part of the old Terrace Motel in the 1950s, The Austin Opera (or "Opry") House has seen better days. It was revitalized by Austin music legend Willie Nelson in late 1975 and celebrated cultural virtuosos like Etta James, B.B. King, Tina Turner, Stevie Ray Vaughn, and of course the red-headed stranger himself, on stage throughout the 1980s.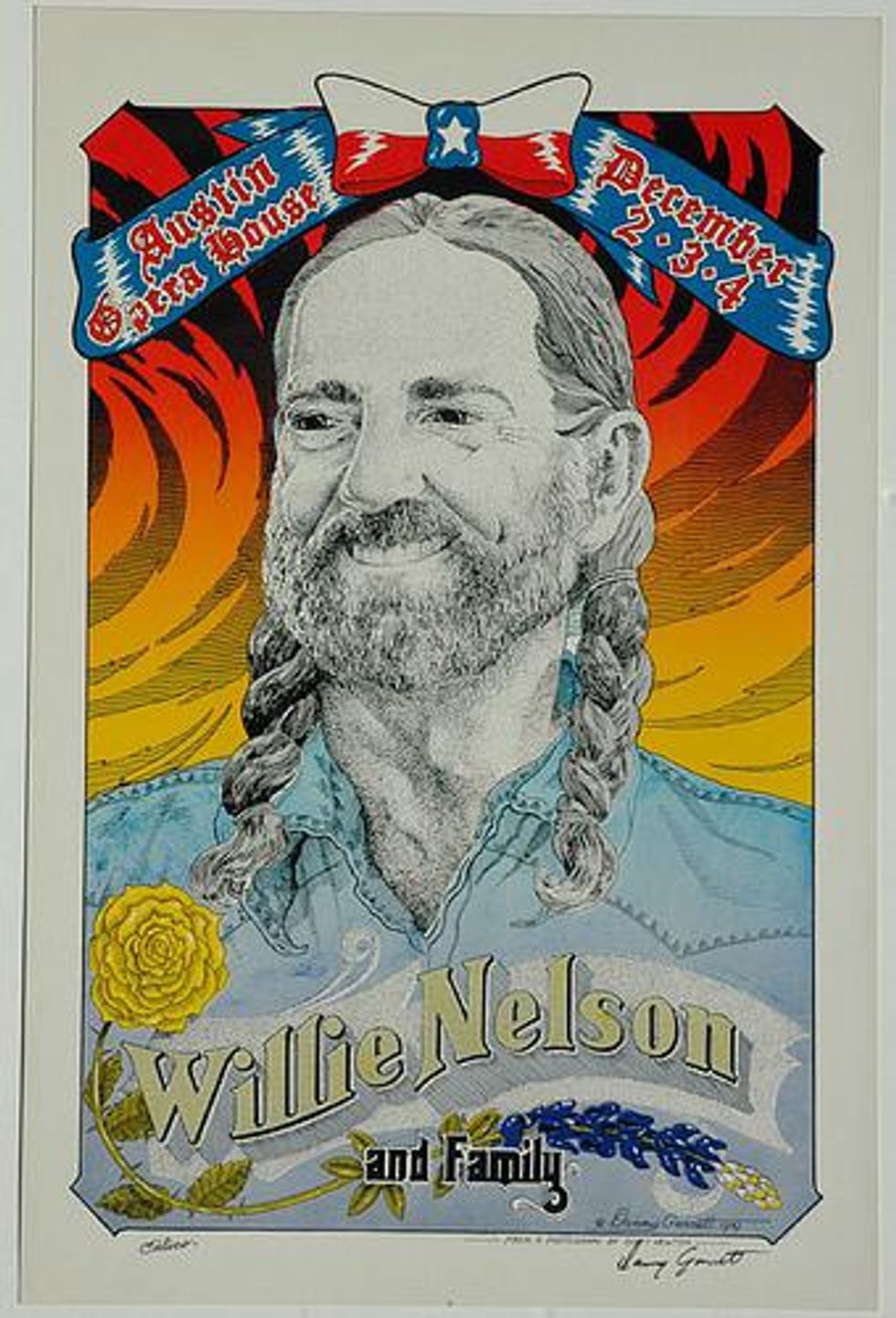 (Jerry Garcia's Brokendown Palaces)
Now, the Opera House, 200 Academy Drive, is headed for a new chapter: property owner Spearhead Academy Ltd. is on a mission to turn the 4.6-acre South Congress lot and adjoining Arlyn Studios into a redevelopment with 120 housing units, office, retail and restaurant spaces that surround the 17,500-square-foot Opera House.
The project would put much-needed housing back into Austin's urban core, though residents and planning commissioners have raised concerns that the development could overcrowd the area.
But there's a plan in place to avoid that—project officials said multifamily housing, a courtyard and an underground garage will separate the existing neighborhood from the new one. The new space will also make the city more walkable, directing foot traffic down Music Lane.
The City recommended removing the site from the Fairview Park Neighborhood Conservation Combining District, moving it into mixed-use zoning and limiting the building height to 40 feet, which still needs to be cleared through city council.
Ready to switch focus to another global Austin festival? South By Southwest announced over 160 sessions on Wednesday and is offering their lowest prices of the March 2022 event to those that register by 2 a.m. Friday.
Those who register by the deadline will see the lowest possible prices as well as the best deals through SXSW Housing & Travel.
The global music, film and media event released over 160 topics for its SXSW Conference event, which will take place in-person and feature speakers from the forefront of tech, film and TV, music and more from March 11-20. Key topics for this year's panels include a future-forward "2050" section, civic engagement, climate change, tech and startups and more within the media realm.
Notable speakers announced for the 2022 event include Chef Andrew Zimmern, Platformer News Founder Casey Newton, David Kelley, Co-Founder and CEO of The 19th Emily Ramshaw, Nickelodeon's Chief Marketing Officer Jenny Wall and VP at Amazon Web Services Sandy Carter.
The world-renowned fest has brought the best to Austin for over 30 years but was forced to remain virtual for both the 2020 and 2021 events in the midst of the pandemic. Last year's speakers and films included Austin greats including Oscar-winner Matthew McConaughey, music legend Willie Nelson and hotel powerhouse Liz Lambert as well as former President George W. Bush.
Check out all of the scheduled conferences so far for 2022 here.
The new Moody Center announced its grand opening celebration will feature country music icon George Strait and special guests Willie Nelson and the Randy Rogers Band on Friday, April 29, 2022.
The opening celebration—titled 'Strait from Moody Center'—will only be the second time the legendary Texas musicians will have shared a stage in their longstanding careers. The venue will pack in 15,000 fans for the rare show, which also happens to take place on (one of) Nelson's birthdays.
"I'm so glad I'll get to 'sing one with Willie' and I can't think of a better place to do it than Austin, Texas," Strait said in a release. "Willie is an incredible musician and an even better person, so I know this will be a great night together along with our friends from Randy Rogers Band."
The long-awaited Moody Center has been under construction since 2019, but has already booked big-name shows like The Weeknd and Justin Bieber. It will replace the Frank Erwin Center, 1701 Red River Street.
"While planning our grand opening celebration, we knew we had an obligation to pay homage to the Lone Star State," Moody Center General Manager Jeff Nickler said. "George, Willie and Randy are all Texas natives who have built legendary careers while having an unbelievable impact on the country music industry. It doesn't get any bigger than this."
The "King of Country," who just finished up performing at both weekends of ACL, has earned the third-most certifications out of musicians across all genres and Nelson, who turns 89 next year, has been making music since Strait was born. Needless to say, the concert will go down in history. The show will open with San Marcos-native Randy Rogers Band.
Tickets for the show go on sale on Friday, Oct. 22 at 10 a.m., though American Express cardholders can purchase tickets starting Wednesday, Oct. 13 at 10 a.m.
University of Texas visiting professor and Austin podcaster Brené Brown is onto her next showbiz endeavor—an eight-episode unscripted series adapted from Brown's latest book, "Atlas of the Heart: Mapping Meaningful Connection and the Language of Human Experience," on HBO Max.
The series, which will simply be called "Atlas of the Heart," will begin production later this month in Austin.
"The real gift of expanding our language, practicing this work, and cultivating meaningful connections is being able to go anywhere without the fear of getting lost," Brown said. "When fear, anxiety, and uncertainty leave us feeling adrift and untethered in our lives, our first instinct is to look out into the distance to find the nearest shore. The shore isn't something outside of us—the solid ground we're seeking is within us. It's not always easy to find, but it's there."
The show will be produced by Austin-based Weird Lucy Productions, delving into Brown's decades-long research of "the range of emotions and experiences that define what it means to be human." Among them are anguish, wonder, awe, anxiety, envy, jealousy, resentment, compassion, empathy, disappointment, regret and overwhelm.
"At HBO Max, we pride ourselves on telling stories representative of all walks of life, and those stories would mean nothing without the language of emotion and the shared experience," Head of Original Content for HBO Max Sarah Aubrey said. "By bringing Dr. Brown's extensive research to life through film, television, and pop culture, we are able to demonstrate deep connection and insight that will resonate with our viewers."
The show will be produced by Brown herself, in addition to Jesse Ignjatovic, Evan Prager, Barb Bialkowski and Jared Morell for Den of Thieves. Meaghan Rady will executive produce.
A wearer of many hats, Brown has two podcasts that are running in the meantime: "Dare to Lead" and "Unlocking Us," which are both on Spotify. Brown is also an author with several best-selling books like "Braving the Wilderness," "The Gifts of Imperfection" and "The Power of Vulnerability."