Get connected with our daily update
(Never Settle Media/Shutterstock)
Welcome to austonia.com, a new local news site for Austin. We're local people producing local stories. 100% free for news, trends, controversies, celebrities. Sign up for daily updates to get our latest stories in your inbox.
It seems like a simple question: When will movie theaters reopen in Austin and elsewhere, and when will we be able to see the traditional summer blockbusters?

---
But the answer is far from simple. In fact, most theater owners don't want to talk about it or make any promises. And that's probably to be expected, since no one knows whether the novel coronavirus that shut everything down in March will be causing trouble through the July holiday box-office bonanza.

Representatives of the Alamo Drafthouse, which operates six theaters in the Austin area, say they are not ready to talk about reopening plans and re-released an earlier statement, saying that any reopening will be "a very complex project that involves countless new procedures and equipment, all of which will require extensive training."
Another large chain, Plano-based Cinemark, said the company is "currently working toward a mid-summer opening date, contingent upon health and safety regulations, as well as availability of studio content." The Cinemark representative said that the first major release currently scheduled is Christopher Nolan's "Tenet," set for July 17. But the representative said that it's important to note that a return to "normalcy" might span multiple months.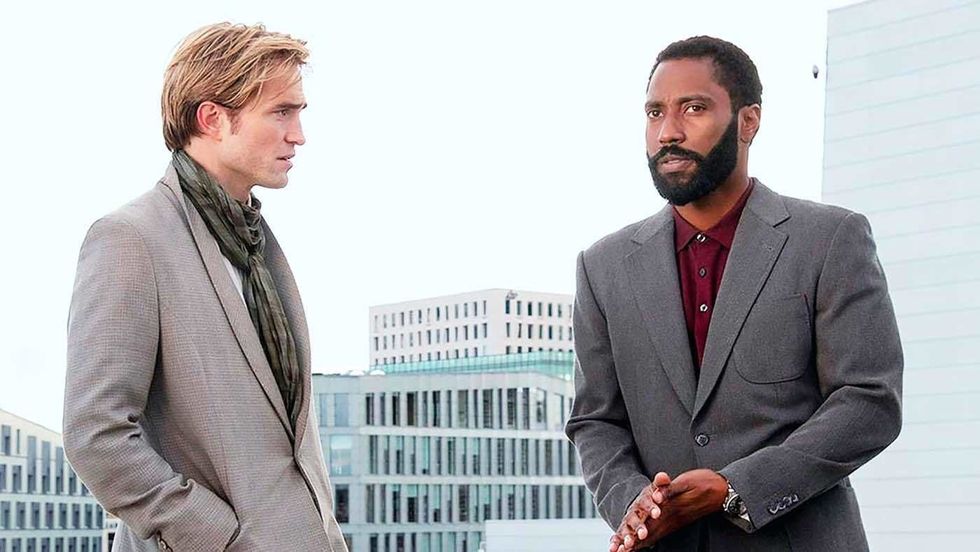 (Warner Bros.
Cinemark's mention of "Tenet" is key. It's a major Warner Bros. release, with a budget of around $200 million, according to various industry sources, and if lots of theaters aren't in a position to be open by mid-July, then it might be pushed to a later date. And that would probably delay the opening of theaters even longer.
So far, Warner Bros. is sticking with the July 17 release date, but a new trailer released online in late May does not mention a specific date for a theatrical debut. And that has set off a new round of internet speculation about whether the movie will be pushed back to August or even later.
The key point is this: If Hollywood isn't releasing any big movies because of fears about the coronavirus, then theaters have little reason to reopen.
That's not to say that some theaters haven't bucked conventional wisdom. Evo Entertainment in Kyle and Santikos Entertainment in San Antonio have opened a few screens but with significant safety requirements and much-reduced capacity. But since Hollywood has stopped its new releases, they have reduced ticket prices and are showing older movies, like the Harry Potter series, "Dirty Dancing," "Grease" and some movies like "The Invisible Man" that were released just before the virus-related closures.

The Austin Film Society, which operates an art theater off of Middle Fiskville Road, is still closed, even though it's offering streaming of arthouse movies on its website, as are the Violet Crown and the Alamo Drafthouse.

A spokesperson for the AFS Cinema said that any reopening of the theater "is going to take careful consideration."
Cinemark representatives say they, like everyone else, are waiting to see what happens with the transmission of the virus as well as what Hollywood ultimately decides. Here's some of what they've compiled for what they hope will be the summer and fall seasons, although it's all subject to change:
Tenet
July 17
Mulan
July 24
The Spongebob Movie
Aug. 7
WW84
Aug. 14
A Quiet Place Part II
Sept. 4
The Conjuring
Sept. 11
Black Widow
Nov. 6
No Time to Die!
Nov. 27
If studios keep pushing back films like "Tenet," then there will be a domino effect. And theater owners in Austin and across the country could face even more problems with rent and upkeep of properties.

Sky Cinemas in Dripping Springs has already closed—permanently. "With our business closed due to COVID and no revenue coming in, we were unable to pay our rent," the company said in a statement posted on the web in May.
Sky Cinemas was founded by Bill Banowsky, who also founded the Violet Crown Cinema in Austin, which eventually expanded to Santa Fe, N.M., and Charlottesville, Va.
"I don't think anyone knows when Hollywood will start releasing films again," Banowsky wrote in an email. "This is not a three-month problem, with the movie theater business opening up again in July and carrying on where it left off. There will be substantial lingering effects from this virus. It may take a year or more before the movie industry returns to pre-COVID levels of business."
About half of U.S. theaters operating under the Alamo Drafthouse name are franchises. And like Sky Cinemas, they're apparently feeling the economic pain.
On May 15, three Alamo franchise locations in the Phoenix area filed for Chapter 11 bankruptcy protection, according to Craig Paschich, majority owner of the franchises.

In a statement issued to the news media, Paschich said he hopes the theaters will reopen eventually. "Our intention is to use this opportunity to reorganize our finances and plan for the road ahead," the statement says. "We're also currently working closely with the corporate team in Austin to determine our next steps."
Editor's note: This article has been updated with additional comment.
Five Austin companies joined Google's second Startups Black Founders Fund on Wednesday, earning $100,000 each as part of the $10 million initiative geared toward giving Black entrepreneurs access to funding for their startups.
The fund gave $100,000 to 50 founders nationwide, including Austin companies CustomerX.i, Journey Foods, Sandbox Commerce, The Mentor Method and Tadeblock.
The founders will receive the funding without giving up any ownership of their startups and will gain access to Google technical support including up to $120,000 in donated search Ads from Google.org and up to $100,000 in Google Cloud credits. The Austin companies will also join a select few—the fund is only two years old and last year rewarded 76 Black-led startups with up to $100,000 as well.
Google's Startup funds can be used to boost Black founders' companies into success—last year, founders raised up to $50 million in capital after recieving the funds, and 80% of the companies used their funds to create jobs.
Founders from last year's batch then paid it forward by nominating new companies and announcing the winners via Zoom.
Here's a look at those 5 founders in Austin:
A member of the Independent Citizens Redistricting Commission (ICRC) contacted council members asking for their home addresses despite a charter provision prohibiting the ICRC from considering such information in its mapping process, according to emails obtained by the Bulldog through a public information request.
Four council members or their staffers replied providing home addresses: Alison Alter, Paige Ellis, Mackenzie Kelly, and Leslie Pool, according to the emails dated August 9th to Aug. 17.
Austinites will once again be able to take a nonstop flight to London as Austin-Bergstrom International Airport resumes transatlantic travel this fall.
Starting Oct. 13, British Airways will offer its direct flight from ABIA to London-Heathrow Airport three times a week on Wednesday, Friday and Sunday. The airline, which has been operating in Austin since 2013, had halted service at the start of the pandemic over a year ago.
"We can't wait to welcome our customers back on board our Austin flights and we are honored to be playing our part in reuniting families and friends with their loved ones after such a long time apart," said Marie Hilditch, British Airways' head of North America sales.
Safety protocols the airline is taking include:
social distancing measures
wearing of facemasks
providing hand sanitizer stations
cleaning all surfaces after every flight
fully recycling the air once every two to three minutes through HEPA filters, which remove microscopic bacteria and virus clusters with over 99.9% efficiency
The announcement comes as COVID-19 testing requirements to enter the UK are scheduled to stop on Oct. 4. for vaccinated Americans.
Additionally, a Monday White House announcement allows fully vaccinated international travelers to enter the U.S. starting in early November with proof of a negative COVID-19 test. The ban, which was implemented in 2020, restricted travelers from a number of European countries, Iran and China throughout the pandemic.