Get connected with our daily update
(Never Settle Media/Shutterstock)
Welcome to austonia.com, a new local news site for Austin. We're local people producing local stories. 100% free for news, trends, controversies, celebrities. Sign up for daily updates to get our latest stories in your inbox.
It seems like a simple question: When will movie theaters reopen in Austin and elsewhere, and when will we be able to see the traditional summer blockbusters?

---
But the answer is far from simple. In fact, most theater owners don't want to talk about it or make any promises. And that's probably to be expected, since no one knows whether the novel coronavirus that shut everything down in March will be causing trouble through the July holiday box-office bonanza.

Representatives of the Alamo Drafthouse, which operates six theaters in the Austin area, say they are not ready to talk about reopening plans and re-released an earlier statement, saying that any reopening will be "a very complex project that involves countless new procedures and equipment, all of which will require extensive training."
Another large chain, Plano-based Cinemark, said the company is "currently working toward a mid-summer opening date, contingent upon health and safety regulations, as well as availability of studio content." The Cinemark representative said that the first major release currently scheduled is Christopher Nolan's "Tenet," set for July 17. But the representative said that it's important to note that a return to "normalcy" might span multiple months.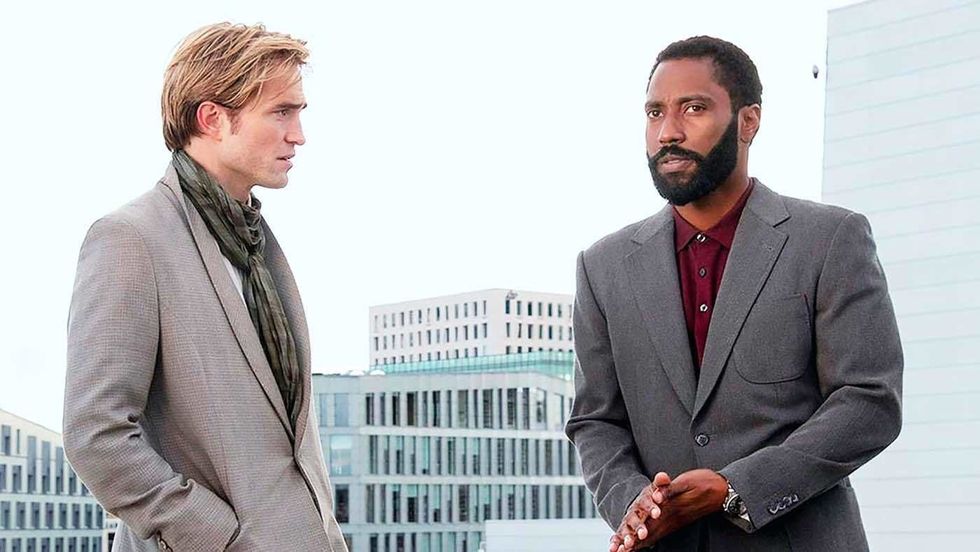 (Warner Bros.
Cinemark's mention of "Tenet" is key. It's a major Warner Bros. release, with a budget of around $200 million, according to various industry sources, and if lots of theaters aren't in a position to be open by mid-July, then it might be pushed to a later date. And that would probably delay the opening of theaters even longer.
So far, Warner Bros. is sticking with the July 17 release date, but a new trailer released online in late May does not mention a specific date for a theatrical debut. And that has set off a new round of internet speculation about whether the movie will be pushed back to August or even later.
The key point is this: If Hollywood isn't releasing any big movies because of fears about the coronavirus, then theaters have little reason to reopen.
That's not to say that some theaters haven't bucked conventional wisdom. Evo Entertainment in Kyle and Santikos Entertainment in San Antonio have opened a few screens but with significant safety requirements and much-reduced capacity. But since Hollywood has stopped its new releases, they have reduced ticket prices and are showing older movies, like the Harry Potter series, "Dirty Dancing," "Grease" and some movies like "The Invisible Man" that were released just before the virus-related closures.

The Austin Film Society, which operates an art theater off of Middle Fiskville Road, is still closed, even though it's offering streaming of arthouse movies on its website, as are the Violet Crown and the Alamo Drafthouse.

A spokesperson for the AFS Cinema said that any reopening of the theater "is going to take careful consideration."
Cinemark representatives say they, like everyone else, are waiting to see what happens with the transmission of the virus as well as what Hollywood ultimately decides. Here's some of what they've compiled for what they hope will be the summer and fall seasons, although it's all subject to change:
Tenet
July 17
Mulan
July 24
The Spongebob Movie
Aug. 7
WW84
Aug. 14
A Quiet Place Part II
Sept. 4
The Conjuring
Sept. 11
Black Widow
Nov. 6
No Time to Die!
Nov. 27
If studios keep pushing back films like "Tenet," then there will be a domino effect. And theater owners in Austin and across the country could face even more problems with rent and upkeep of properties.

Sky Cinemas in Dripping Springs has already closed—permanently. "With our business closed due to COVID and no revenue coming in, we were unable to pay our rent," the company said in a statement posted on the web in May.
Sky Cinemas was founded by Bill Banowsky, who also founded the Violet Crown Cinema in Austin, which eventually expanded to Santa Fe, N.M., and Charlottesville, Va.
"I don't think anyone knows when Hollywood will start releasing films again," Banowsky wrote in an email. "This is not a three-month problem, with the movie theater business opening up again in July and carrying on where it left off. There will be substantial lingering effects from this virus. It may take a year or more before the movie industry returns to pre-COVID levels of business."
About half of U.S. theaters operating under the Alamo Drafthouse name are franchises. And like Sky Cinemas, they're apparently feeling the economic pain.
On May 15, three Alamo franchise locations in the Phoenix area filed for Chapter 11 bankruptcy protection, according to Craig Paschich, majority owner of the franchises.

In a statement issued to the news media, Paschich said he hopes the theaters will reopen eventually. "Our intention is to use this opportunity to reorganize our finances and plan for the road ahead," the statement says. "We're also currently working closely with the corporate team in Austin to determine our next steps."
Editor's note: This article has been updated with additional comment.
Officials are asking certain residents in Bastrop State Park to evacuate as crews work to put out a "very active fire" that is currently 0% contained.
The Texas A&M Forest Service has responded to help local fire departments with the Rolling Pines Fire at 100 Park Road 1A, which is consuming 300 acres. Residents of Pine Hill Drive, Pine Tree Loop, Linda Lane and Lisa Lane are being asked to evacuate.
Aviation resources have been called to assist.

According to the Bastrop County Office of Emergency Management, the wildfire sparked during a prescribed burn that took place today, despite wildfire warnings. Park Road 1C from Harmon Road to Park Road 1A had been closed for the prescribed burn.
The blaze is in the same location as the Bastrop Complex Fire of 2011, which burned for 55 days, killing two people, destroying 34,000 acres and around 1,700 homes and buildings. The fire, which started in 2011, became the most destructive wildfire in Texas at the time.
A hotbed for fires, the Hidden Pines Fire started at the same location in 2015, destroying 4,600 acres and 64 structures.
Some road closures have been put in place at State Highway 21 South Shore Lake Bastrop and East State Highway 21.
This is a developing story and will be updated as information becomes available.
After months of record-setting periods for Austin real estate, the Austin Board of Realtors announced Tuesday that the metro's housing market accounted for over $23 billion of economic activity in 2021, making it the biggest year yet for both home sales and median home prices in the metro.
The Austin-Round Rock MSA saw 41,316 homes sold in 2021, 2.5% more than a record-setting 2020. Median home prices skyrocketed as well, rising 30.8% from 2020 to $450,000. The housing market also saw unprecedented impact on Austin's economy, with sales dollar volume jumping to over $23.38 billion, and more homes hit the market in 2021 than any previous year, increasing by 5.9% to 46,449 total homes listed.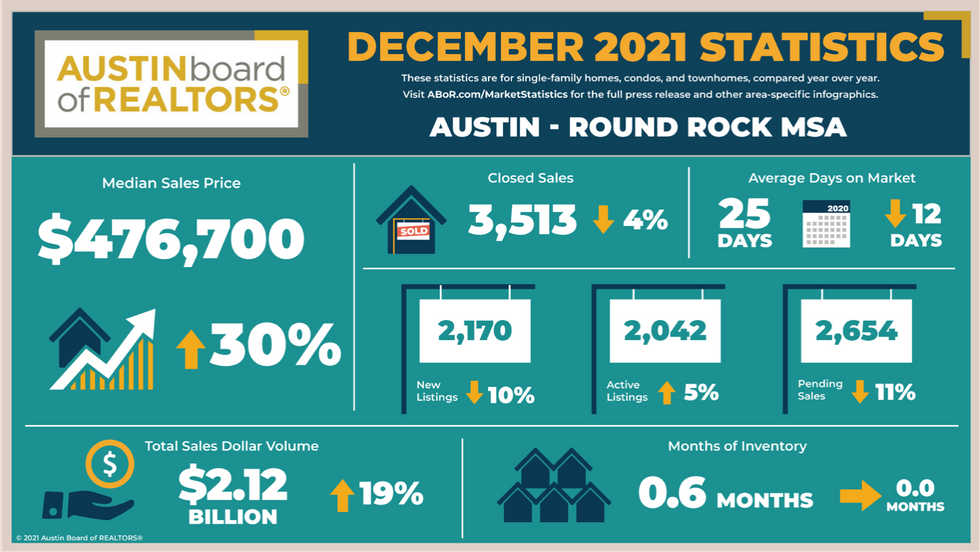 (Austin Board of Realtors)
As many recent Austin homebuyers have experienced firsthand, Austin Board of Realtors 2022 President Cord Shiflet said 2021 was the most "exciting, complicated, fast-paced and record-setting housing market" in Austin's history.
Shiflet dubbed the market as "complicated" for a reason—Austin became a case study on supply and demand in 2021, with demand far outpacing the number of active listings, which dropped by 48.2% to 2,348 homes in 2021.
The metro ended the year with 0.6 months of inventory, a far cry from a "healthy" six-month supply, and houses were snatched at breakneck speeds, spending 25 fewer days on the market when compared to 2020. The average home was on the market for 20 days.
But low inventory is more due to high demand than a stagnant homebuilding market, Mark Sprague, Independence Title's state director of information capital, said in the report.
"In 2021, the record number of homes sold were demand-driven transactions and that demand was influenced greatly by companies continuing to target the region for job creation and expansion," Sprague said. "Even though more homes are being built, listed and sold than ever before, our region is still nowhere close to having a comfortable amount of supply to meet the demand, which is why home prices continue to rise steadily."
Over 23,000 jobs have been promised by companies across the metro as of December 2021, breaking the 2020 record, according to Opportunity Austin, the economic development arm of the Greater Austin Chamber of Commerce. With an influx of major factories and offices, including Tesla's Giga Texas, Samsung's Taylor plant and a planned 33-floor Facebook office, Sprague said the region's booming market paired with a struggling inventory and supply chain issues could be a double-edged sword in 2022.
"In short, 2022 will see a robust market for home sales and property values, but the region must do more to address inventory, " Sprague said.
Shiflet recommended that potential homebuyers make a decision ahead of predicted increases in interest rates and home prices and said that he hopes local politicians will continue to prioritize affordable housing in the election year.
Still, Shiflet said a record-breaking housing market reflects Austin's growing reputation as a hub for talent, tech jobs and a good quality of life.
"With all the new jobs across the region from exciting companies like Tesla and Samsung, Austin was put on the world's stage and captured the hearts and attention of so many," Shiflet said. "We are lucky to call Austin our home when it has so much to offer from a great quality of life to a wonderful destination for innovation and opportunity."