Austonia AM
100% Austin news, info, and entertainment, straight to your inbox at 6 a.m. every morning.
In five minutes, you're fully informed and ready to start another great day in our city.
Get connected with our daily update
(HodgePodge Media)
When the COVID-19 pandemic began prompting shutdowns in March, Austin resident Jonathan Osborne and his childhood friend, Brandon Camp, were about halfway through writing a scripted podcast for kids.
---
The pair were inspired to create a production company, Austin-based HodgePodge Media, after observing the explosion of podcasts among adults. With kids of their own, they separately arrived at the same conclusion. "We both had this individual light bulb pop up over our collective heads in which we realized that, although the space was really blossoming, the kids podcasting space was not," said Camp, who is based in Los Angeles and wrote and directed the 2018 family movie Benji.
Then the COVID-19 pandemic happened.
Rather than continue with their script, Osborne and Camp scrapped their draft and began work on a new one—Quaranteen'd—about a ragtag crew of kids who believe they have found a cure to the pandemic. Its first four episodes are available now, with a new one debuting each week.
Producing the quarantine-themed show while sheltering in place required some ingenuity.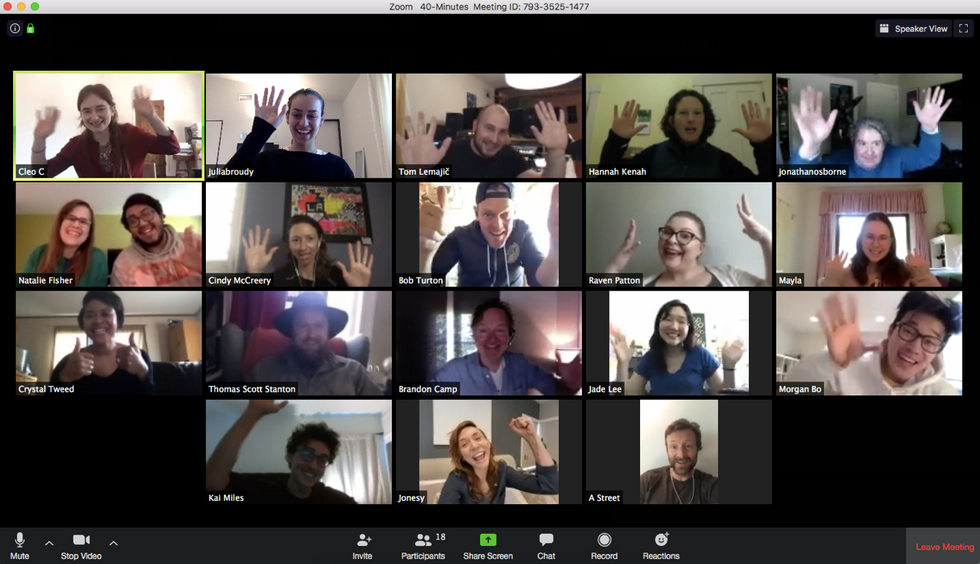 The cast and crew of Quaranteen'd held long Zoom calls.
(HodgePodge Media)
With the help of Cindy McCreery, an associate screenwriting professor at the University of Texas at Austin, they hired a team of young writers, who fleshed out the story over long Zoom calls. "We treated it like any traditional Hollywood writers' room," Camp said.
In search of a cast, they created an Instagram account and put out a call. Close to 2,000 submissions filtered in. "We completely underestimated how much time people had on their hands," Osborne said.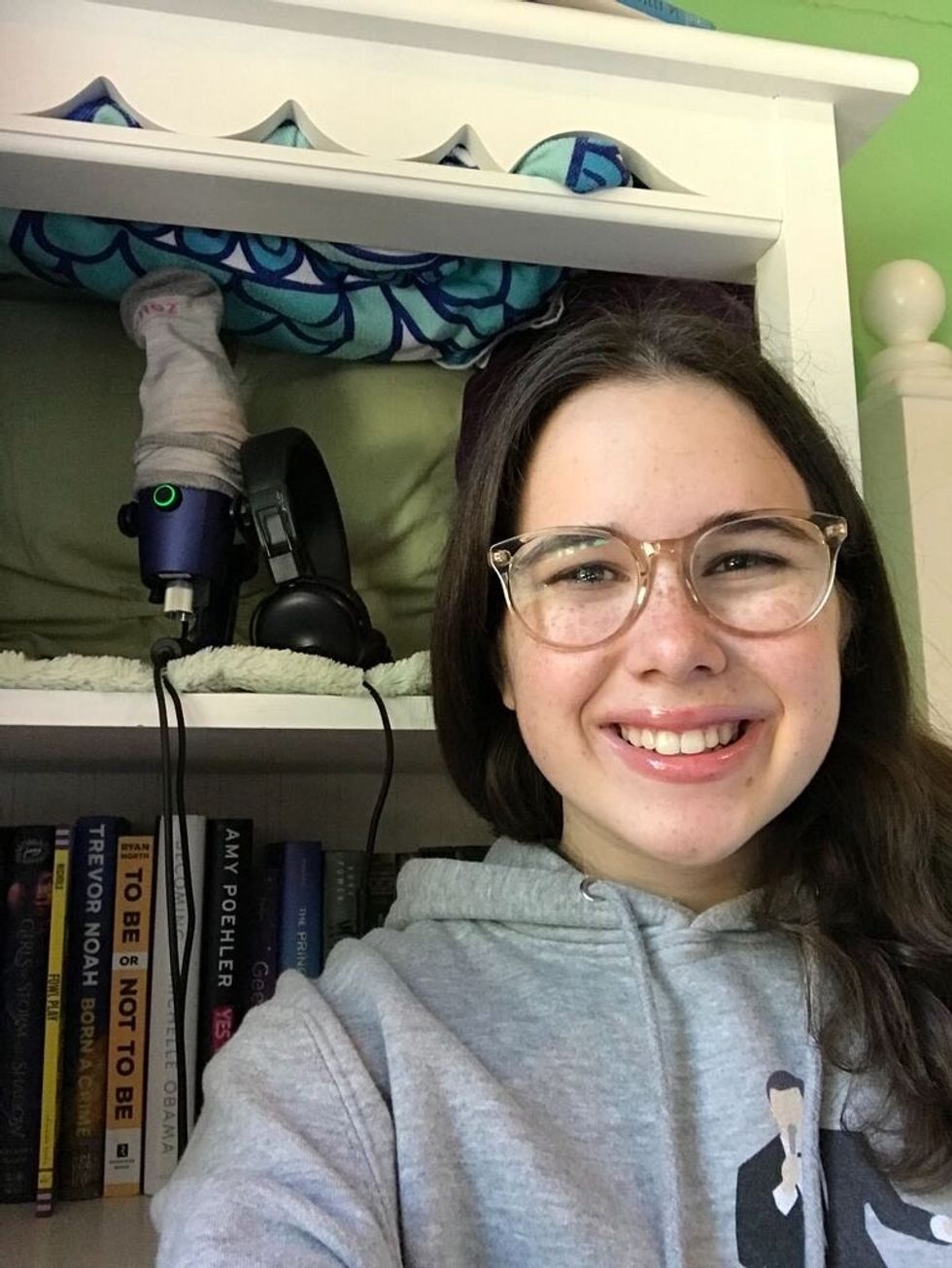 Mayla Montgomery plays the lead role in Quaranteen'd
(HodgePodge Media)
Mayla Montgomery, a rising seventh grader at Round Rock ISD, plays lead character Zoe Cross, a teenager who believes she's discovered the cure—but it is being hidden by the Bridge Corp., which stands to profit from the pandemic. "She's always fired up and passionate about something," Montgomery says of her character.
After hearing about Quaranteen'd from her neighbor, an executive producer of the show, Montgomery decided to try out. She put together a resume with her experience with improv at the local comedy club ColdTowne Theatre and musical theater. After submitting her audition, she was "shocked" to receive a callback. Her surprise doubled when she was offered the role.

Soon, Montgomery received a recording kit from Osborne and Camp. "We've been shipping equipment all over the country," Osborne said, adding that they soon learned how to conduct mic tests over Zoom and instruct the actors to wrap themselves in blankets for the best sound quality.
Sometimes kids' productions are shoddily made and don't take their audience very seriously, Camp said, but he wanted Quaranteen'd to be a true cinematic experience—on par with films by Steven Spielberg and moves such as The Goonies and Star Wars.
Montgomery said she has listened to the first few episodes with her younger brother, who is usually a little too distracted to sit through things. But Quaranteen'd has him hooked.
"We're not surprised because this is what we always felt like we were capable of bringing to the space, but it certainly has been pleasant," Camp said of the reaction so far.
Once this season is over, Osborne and Camp plan to tackle an even more ambitious project: remotely producing a musical podcast.
"The irony is that this is the time of isolation and yet I feel like we have brought together this family for this family podcast," Camp said. "Amid the 2 a.m. sessions with the sound engineering and pulling out hair and wondering why the heck we're doing this—those are the moments that have certainly inspired me and kept me going."
In a match marred by injuries and key player absences, Austin FC lost 2-0 in Los Angeles for the second time on Saturday to West Division titan LA Galaxy.
Austin FC goalkeeper Brad Stuver was tasked with the near-insurmountable task of holding back the LA Galaxy's Chicharito, who is now the league's top scorer this season, and he nearly succeeded.
The club saw its first major threat from the formidable Chicharito when a penalty was drawn on Jhohan Romana. In his usual game-saving fashion, Stuver leapt to the right to kept the scoreboard empty and block what many thought would be the league leader's first goal of the match.
With a Hector Jimenez injury midway through play, a Jon Gallagher absence due to injury and a man down as Captain Alex Ring sat the bench, however, the team was unable to get a win in their second trip to Los Angeles.
Austin FC was slated to play against the odds after Ring was benched due to a second yellow card last week. To cover the wound, the club put standout rookie Daniel Pereira in his stead and placed Danny Hoesen back at the crown of the lineup after fellow striker Gallagher stayed home.
Hector Jimenez got his first start with the club at right back in the stead of Nick Lima, but the run was short-lived. The 32-year-old suffered an injury after attempting to save the first LA Galaxy goal, but Galaxy midfielder Sebastian Lletget still scored the match opener after popping a shot over Stuver to make the match 1-0.
Austin FC plateaued through much of the first half, and the forces of the universe were in the Galaxy's favor as they encroached on Austin's defense.
The club found new stamina, as they usually do, when a set of subs were brought in to up the club's tempo, and ten minutes of the match were entirely Kekuta Manneh's. Manneh, the club's only player with Austin ties, subbed in the 60th minute of play and immediately made an attempt on goal. The winger would make three more attempts, one of which just missed the top right corner of goal, before LA made its next advances on Austin's defense.
Head coach Josh Wolff said he hoped for a goal for Manneh, who doesn't often get to hit the pitch.
"His contributions were obvious, and I would have liked to see him get a goal there," Wolff said.
It looked like Austin might tie it up during the "Kekuta Era," but Chicharito played true to his stats. Stuver went head-to-head with Chicharrito once again and lost as he scored his seventh goal in five matches in the 77th minute of play.
Matt Besler said he was up for a challenge as the club's central defender and he's unsurprised at Chicharito's success. Besler also said and he respects Chicharito on and off the pitch becuase of his openness about mental illness.
"I was looking forward to the challenge," Besler said. "His recognition of where the space is world class, and it's no surprise that he's scored goals everywhere that he's gone. I respect him as a player and I also respect him off the field."
Another attempt on goal was made by the Galaxy's Kevin Cabral, who sunk one in past Stuver just minutes later, but the goal was called offsides. Still, the match came to an anticlimactic end as Austin FC was unable to get one in goal and lost 2-0.
Besler, who has seen the ebbs and flows of his Sporting Kansas City, his club of 12 years, said that it takes patience to be a successful team. Still, he's impressed that Austin FC has made as much ground as they have in their expansion year.
"I understand that it's going to be a process, and we are in our fifth game of our existence, but the fact that we're at where we are at isa good sign," Besler said. "Towards the last third of the season, that's when hopefully we can peak and look a lot like our final product."
Austin FC will have a chance to snap their two-match losing streak as they head to Nashville SC for their sixth-straight road match at 8 p.m.on Sunday.
Nearly half of Travis County residents 16 and older are fully vaccinated, as of Friday afternoon, according to the Texas Department of State Health Services. And an even greater portion likely have immunity.
Austin-Travis County Interim Health Authority Dr. Mark Escott estimates that around 70% of local residents have some form of immunity to COVID-19, either because they have recovered from the disease or are vaccinated. This is approaching the threshold for herd immunity.
"We're starting to approach that 70% mark of combined disease and vaccination, so we may start to see some significant changes when it comes to disease trends," he told council members and county commissioners on Tuesday.
Escott arrived at this percentage by assuming that there is no overlap between those who have had COVID and those who have been vaccinated. "While there's certainly some overlap … there does not seem to be a lot of overlap between those two," he said.
Herd immunity occurs when enough people are immune to a disease that it is unlikely for someone who contracts the disease to spread it. With no one to infect, the disease dies out.

Public health experts have said herd immunity for COVID will require around 80% of the population to be immune based on its relative infectiousness.
Although natural immunity contributes to herd immunity and is partially responsible for the sharp downturn in the number of new COVID infections in recent months, vaccination is the gold standard among experts because of the increased security it offers.
Austin Mayor Steve Adler celebrated the new CDC guidance as proof of vaccines' efficacy. "Since more people will not be wearing masks, it makes it even more important to get vaccinated," he said in a statement Friday.

The U.S. Food and Drug Administration issued an emergency use authorization for Pfizer's vaccine among children 12 to 15
on Monday
, further expanding eligibility.