Get connected with our daily update
(HodgePodge Media)
When the COVID-19 pandemic began prompting shutdowns in March, Austin resident Jonathan Osborne and his childhood friend, Brandon Camp, were about halfway through writing a scripted podcast for kids.
---
The pair were inspired to create a production company, Austin-based HodgePodge Media, after observing the explosion of podcasts among adults. With kids of their own, they separately arrived at the same conclusion. "We both had this individual light bulb pop up over our collective heads in which we realized that, although the space was really blossoming, the kids podcasting space was not," said Camp, who is based in Los Angeles and wrote and directed the 2018 family movie Benji.
Then the COVID-19 pandemic happened.
Rather than continue with their script, Osborne and Camp scrapped their draft and began work on a new one—Quaranteen'd—about a ragtag crew of kids who believe they have found a cure to the pandemic. Its first four episodes are available now, with a new one debuting each week.
Producing the quarantine-themed show while sheltering in place required some ingenuity.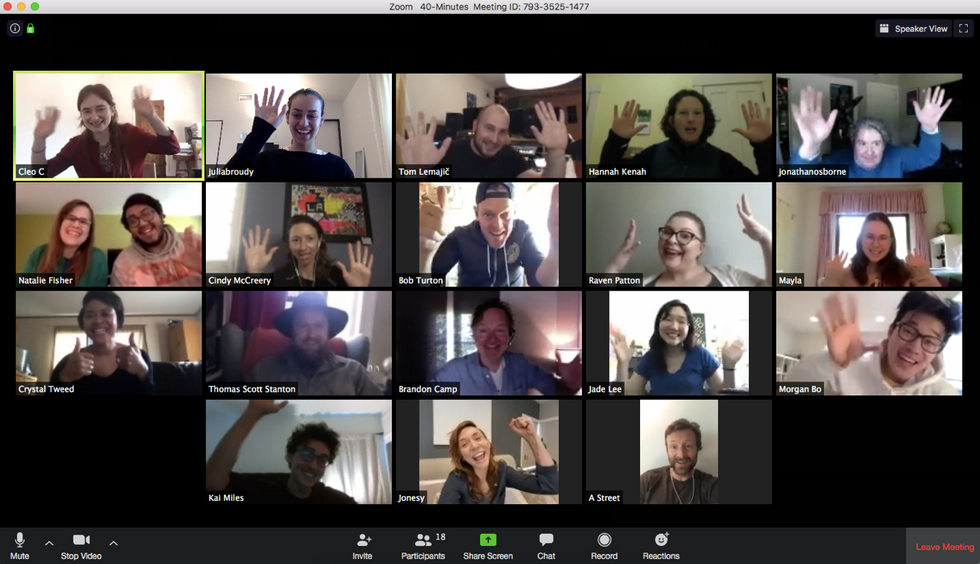 The cast and crew of Quaranteen'd held long Zoom calls.
(HodgePodge Media)
With the help of Cindy McCreery, an associate screenwriting professor at the University of Texas at Austin, they hired a team of young writers, who fleshed out the story over long Zoom calls. "We treated it like any traditional Hollywood writers' room," Camp said.
In search of a cast, they created an Instagram account and put out a call. Close to 2,000 submissions filtered in. "We completely underestimated how much time people had on their hands," Osborne said.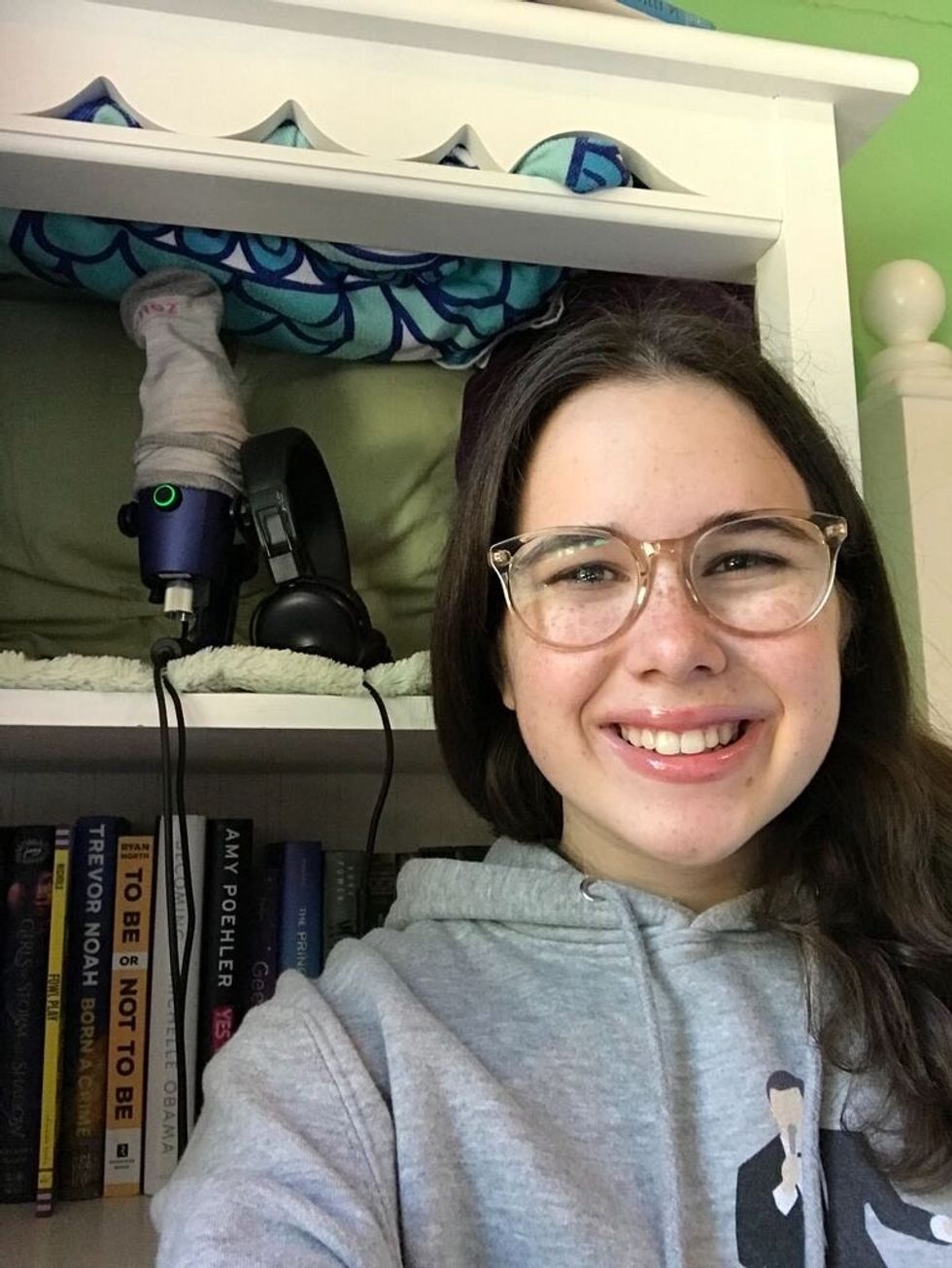 Mayla Montgomery plays the lead role in Quaranteen'd
(HodgePodge Media)
Mayla Montgomery, a rising seventh grader at Round Rock ISD, plays lead character Zoe Cross, a teenager who believes she's discovered the cure—but it is being hidden by the Bridge Corp., which stands to profit from the pandemic. "She's always fired up and passionate about something," Montgomery says of her character.
After hearing about Quaranteen'd from her neighbor, an executive producer of the show, Montgomery decided to try out. She put together a resume with her experience with improv at the local comedy club ColdTowne Theatre and musical theater. After submitting her audition, she was "shocked" to receive a callback. Her surprise doubled when she was offered the role.

Soon, Montgomery received a recording kit from Osborne and Camp. "We've been shipping equipment all over the country," Osborne said, adding that they soon learned how to conduct mic tests over Zoom and instruct the actors to wrap themselves in blankets for the best sound quality.
Sometimes kids' productions are shoddily made and don't take their audience very seriously, Camp said, but he wanted Quaranteen'd to be a true cinematic experience—on par with films by Steven Spielberg and moves such as The Goonies and Star Wars.
Montgomery said she has listened to the first few episodes with her younger brother, who is usually a little too distracted to sit through things. But Quaranteen'd has him hooked.
"We're not surprised because this is what we always felt like we were capable of bringing to the space, but it certainly has been pleasant," Camp said of the reaction so far.
Once this season is over, Osborne and Camp plan to tackle an even more ambitious project: remotely producing a musical podcast.
"The irony is that this is the time of isolation and yet I feel like we have brought together this family for this family podcast," Camp said. "Amid the 2 a.m. sessions with the sound engineering and pulling out hair and wondering why the heck we're doing this—those are the moments that have certainly inspired me and kept me going."
The Texas French Bread Bakery, located on 2900 Rio Grande Street, has been completely destroyed after a fire erupted on Monday night.
The Austin Fire Department responded to the fire just before 11 p.m., where they arrived to see flames coming from the roof of the bakery. Firefighters fought the fire for about an hour before the roof collapsed.
While no one was injured in the fire, firefighters say the historic building was completely totaled.
AFD determined that the fire was accidental and caused by mechanical failure. AFD said the damages amounted to $1.6 million total: $1.1 million in structural damage and $500,000 in damage to the contents of the bakery.

This year, Texas French Bread will celebrate 40 years of business. Before the bakery occupied the building, it was the Rome Inn, a music venue that hosted 1970s artists like Stevie Ray Vaughan.
Austin's first major league team is ready to extend its reach with a new collaborative sports complex The Pitch, an Austin FC destination packed with local food, beverages and Verde fervor is set to open in Northeast Austin in February.
The Pitch, a collaboration between Austin FC and Karlin Real Estate, among other entities, will be located in the 50-acre Parmer Pond District, which already hosts the club's practice facility St. David's Performance Center.
Dubbed a "true destination" for both soccer fans and the community, The Pitch will consist of multilevel shipping containers designed by Mark Odom Studio that will carve out into a 1,200-seat stadium complete with a soccer pitch made of turf, food and beverage options and a five-acre "Parmer Pond" featuring jogging trails.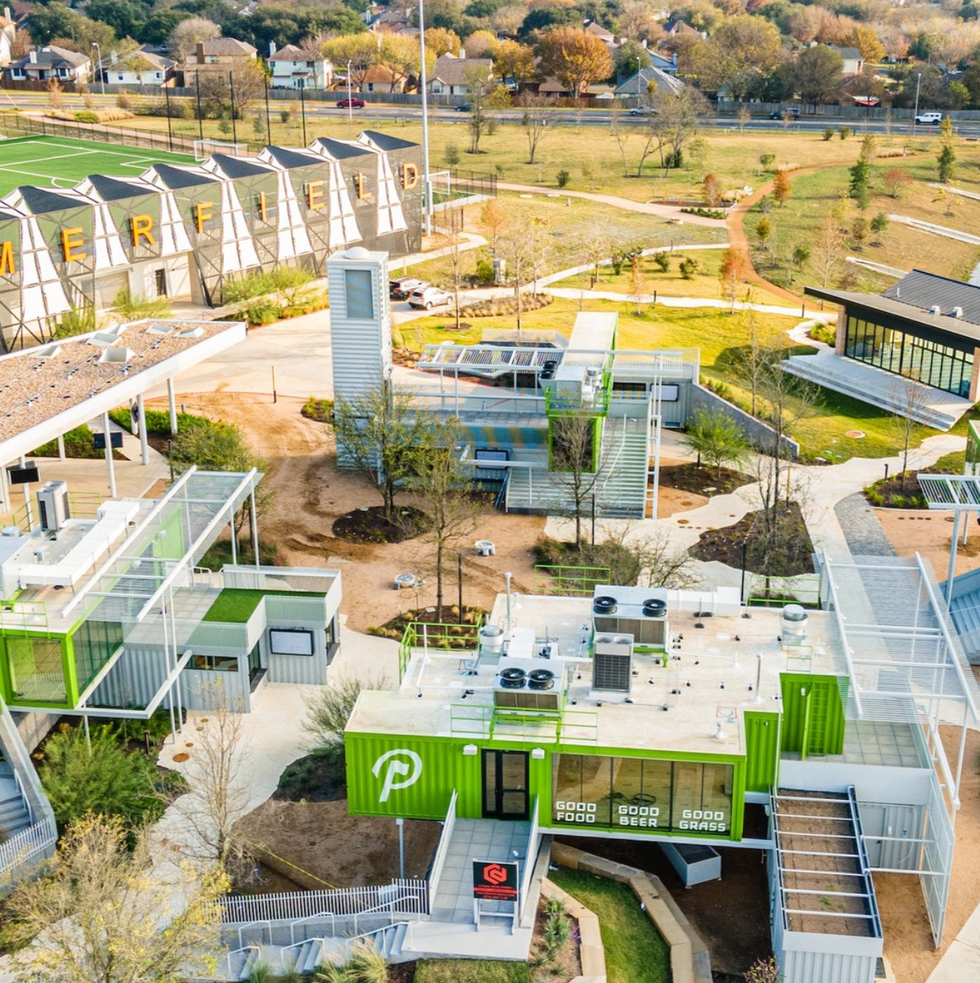 Made from multilevel shipping containers, The Pitch will include food and a 1,200-seat soccer pitch made from artificial turf. (The Pitch)
"The launch of Karlin's new food and entertainment experience will greatly enhance the Parmer development while perfectly complimenting St. David's Performance Center," Austin FC founder Anthony Precourt said. "The Pitch... will offer a strong variety of food options and gathering spaces for guests who will utilize St. David's Performance Center and Parmer Field for a variety of events."
The Pitch project lead Dave Greeley, who helped come up with the concept, is a former president of Austin FC parent company, Two Oak Ventures.
"The vision behind The Pitch at the Parmer Pond District is to be a first-of-its-kind sports, dining and entertainment destination," said Dave Greeley, The Pitch project lead and Team Orbis president. "This will be an unmatched experience for Parmer Austin tenants, Austin FC and club supporters, and the community."
With its proximity to the practice center, the venture hopes to contribute to the growing "soccer city" of Austin during Austin FC matches and youth games with the Austin FC Academy hosted at the St. David's Performance Center.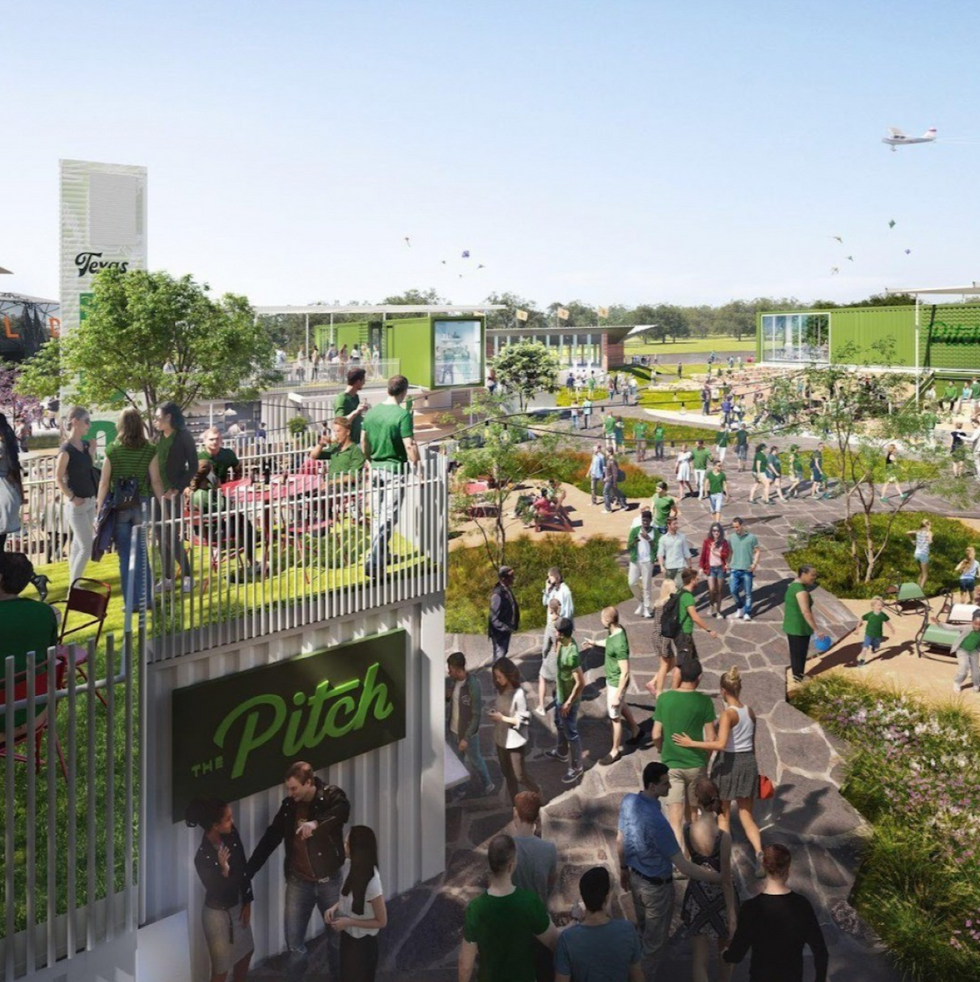 The Pitch hopes to converge both community and club interests with Austin FC. (The Pitch)
In addition to the soccer pitch, stadium and pond, The Pitch will provide a foody experience made by the creative team behind Austin staples like Fareground and Easy Tiger. The complex will offer local bites including:
Ranger Burger, which offers beers and burgers made from highly-coveted Wagyu beef direct from Ranger Cattle in East Austin
Ga Roti, which merges flavors from Northern Vietnam with the culinary techniques of France to create a unique rotisserie chicken joint
Taco Flats, a local taco chain serving Mexico City-style tacos, micheladas and more
Sand Bar, which fulfills its namesake with beauty cocktails, local beers and a sand volleyball court
Coffee Club, a coffee shop and bakery
Corner Kick Bar, the soccer-focused main bar of The Pitch complete with "tunes, TVs and (a) beer garden"
The Pitch will squeeze between St. David's Performance Center and Parmer Pond alongside the southern edge of Parmer Austin, a Karlin Real Estate venture that will eventually include multifamily housing, corporate office space and an aerospace and defense center.