Get connected with our daily update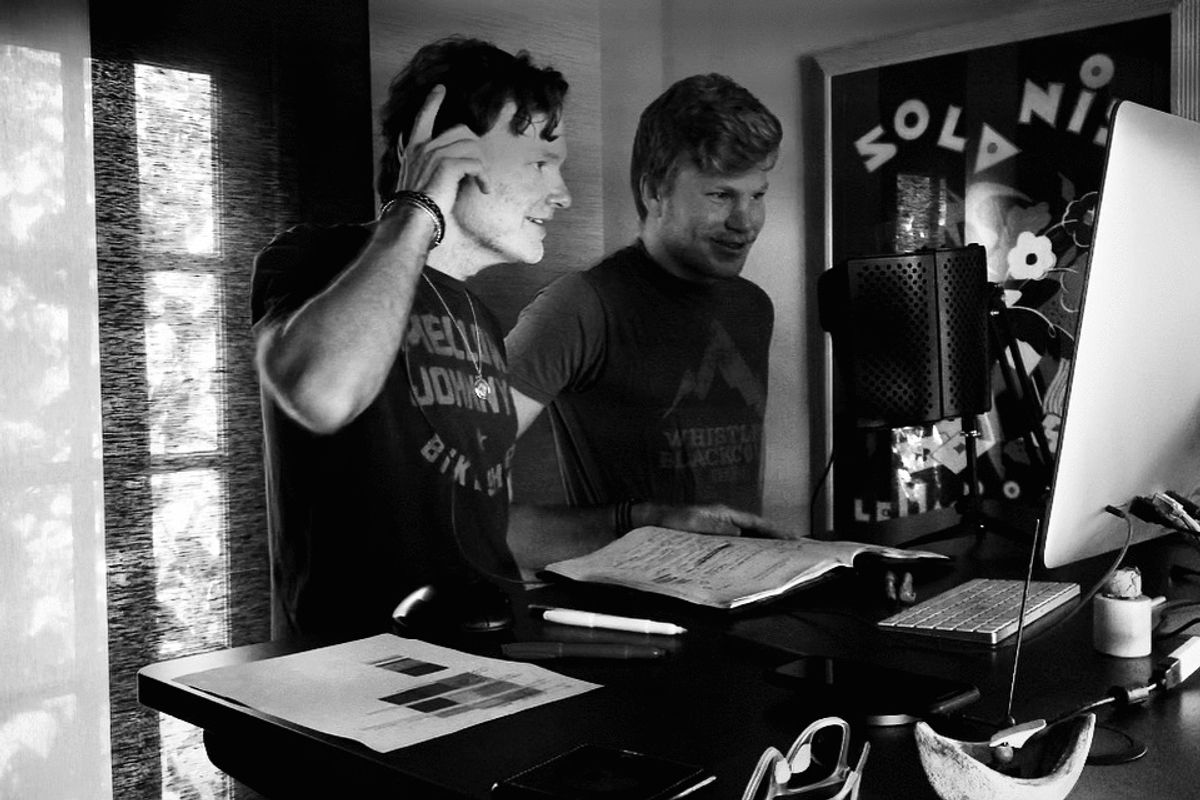 (HodgePodge Media)
When the COVID-19 pandemic began prompting shutdowns in March, Austin resident Jonathan Osborne and his childhood friend, Brandon Camp, were about halfway through writing a scripted podcast for kids.
---
The pair were inspired to create a production company, Austin-based HodgePodge Media, after observing the explosion of podcasts among adults. With kids of their own, they separately arrived at the same conclusion. "We both had this individual light bulb pop up over our collective heads in which we realized that, although the space was really blossoming, the kids podcasting space was not," said Camp, who is based in Los Angeles and wrote and directed the 2018 family movie Benji.
Then the COVID-19 pandemic happened.
Rather than continue with their script, Osborne and Camp scrapped their draft and began work on a new one—Quaranteen'd—about a ragtag crew of kids who believe they have found a cure to the pandemic. Its first four episodes are available now, with a new one debuting each week.
Producing the quarantine-themed show while sheltering in place required some ingenuity.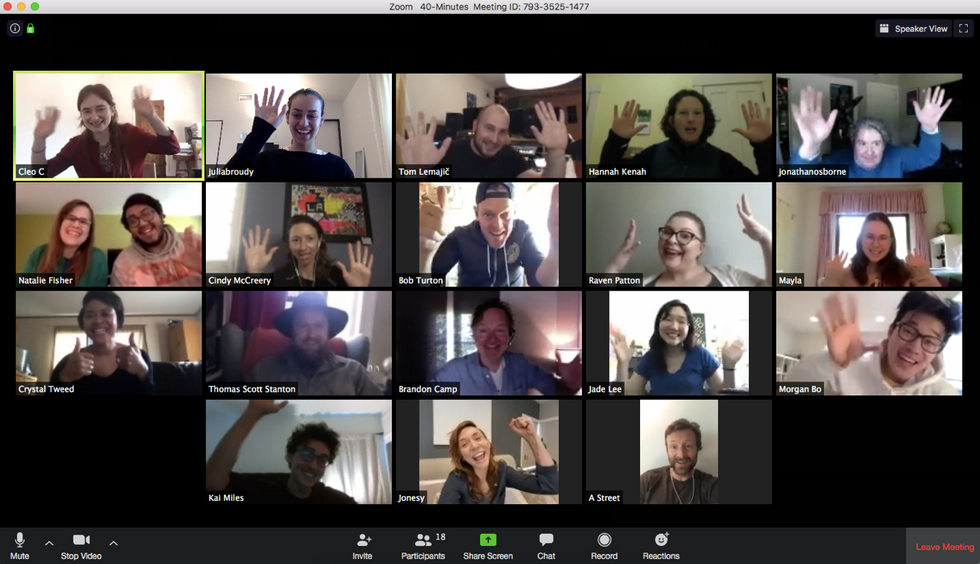 The cast and crew of Quaranteen'd held long Zoom calls.
(HodgePodge Media)
With the help of Cindy McCreery, an associate screenwriting professor at the University of Texas at Austin, they hired a team of young writers, who fleshed out the story over long Zoom calls. "We treated it like any traditional Hollywood writers' room," Camp said.
In search of a cast, they created an Instagram account and put out a call. Close to 2,000 submissions filtered in. "We completely underestimated how much time people had on their hands," Osborne said.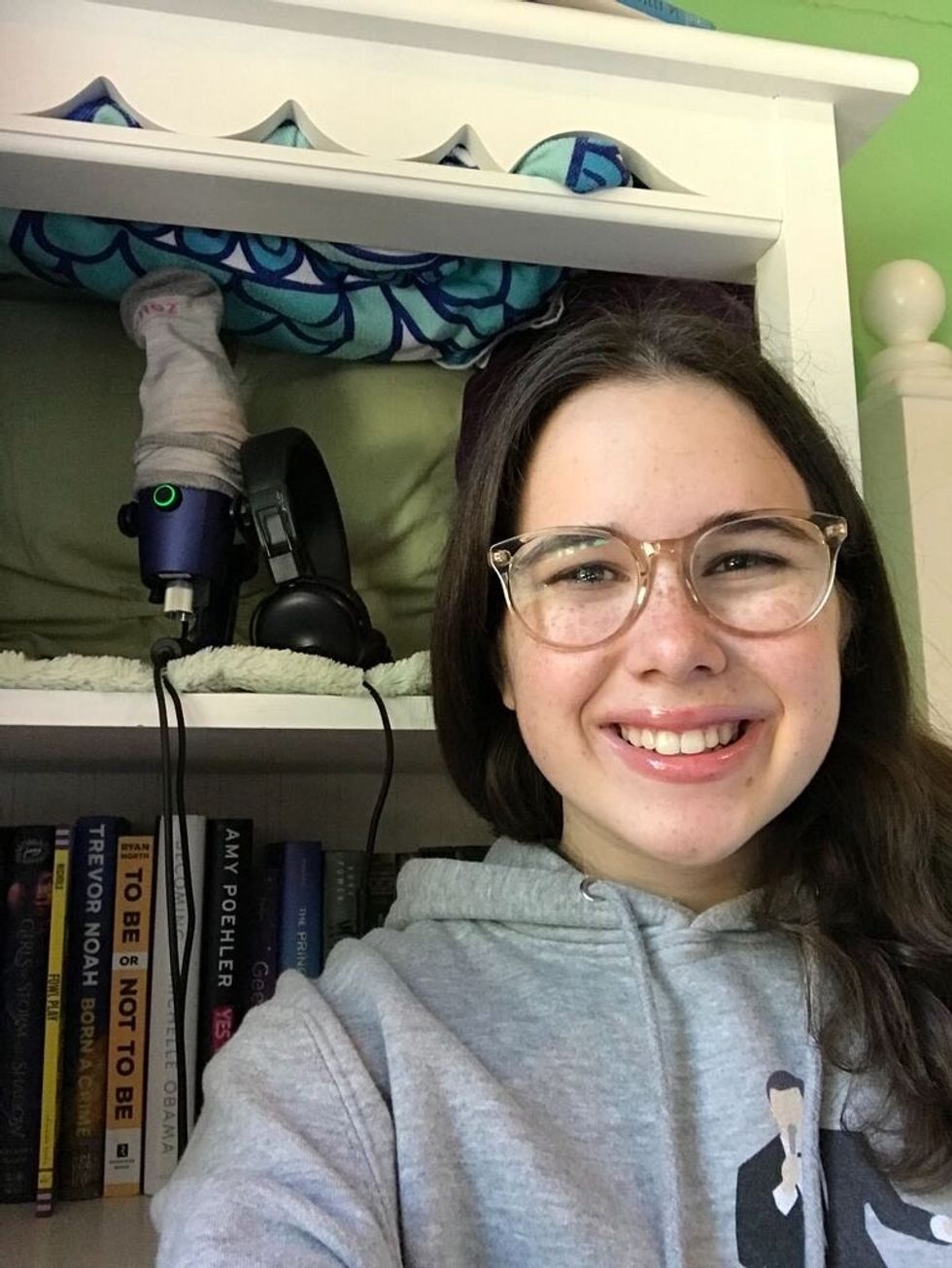 Mayla Montgomery plays the lead role in Quaranteen'd
(HodgePodge Media)
Mayla Montgomery, a rising seventh grader at Round Rock ISD, plays lead character Zoe Cross, a teenager who believes she's discovered the cure—but it is being hidden by the Bridge Corp., which stands to profit from the pandemic. "She's always fired up and passionate about something," Montgomery says of her character.
After hearing about Quaranteen'd from her neighbor, an executive producer of the show, Montgomery decided to try out. She put together a resume with her experience with improv at the local comedy club ColdTowne Theatre and musical theater. After submitting her audition, she was "shocked" to receive a callback. Her surprise doubled when she was offered the role.

Soon, Montgomery received a recording kit from Osborne and Camp. "We've been shipping equipment all over the country," Osborne said, adding that they soon learned how to conduct mic tests over Zoom and instruct the actors to wrap themselves in blankets for the best sound quality.
Sometimes kids' productions are shoddily made and don't take their audience very seriously, Camp said, but he wanted Quaranteen'd to be a true cinematic experience—on par with films by Steven Spielberg and moves such as The Goonies and Star Wars.
Montgomery said she has listened to the first few episodes with her younger brother, who is usually a little too distracted to sit through things. But Quaranteen'd has him hooked.
"We're not surprised because this is what we always felt like we were capable of bringing to the space, but it certainly has been pleasant," Camp said of the reaction so far.
Once this season is over, Osborne and Camp plan to tackle an even more ambitious project: remotely producing a musical podcast.
"The irony is that this is the time of isolation and yet I feel like we have brought together this family for this family podcast," Camp said. "Amid the 2 a.m. sessions with the sound engineering and pulling out hair and wondering why the heck we're doing this—those are the moments that have certainly inspired me and kept me going."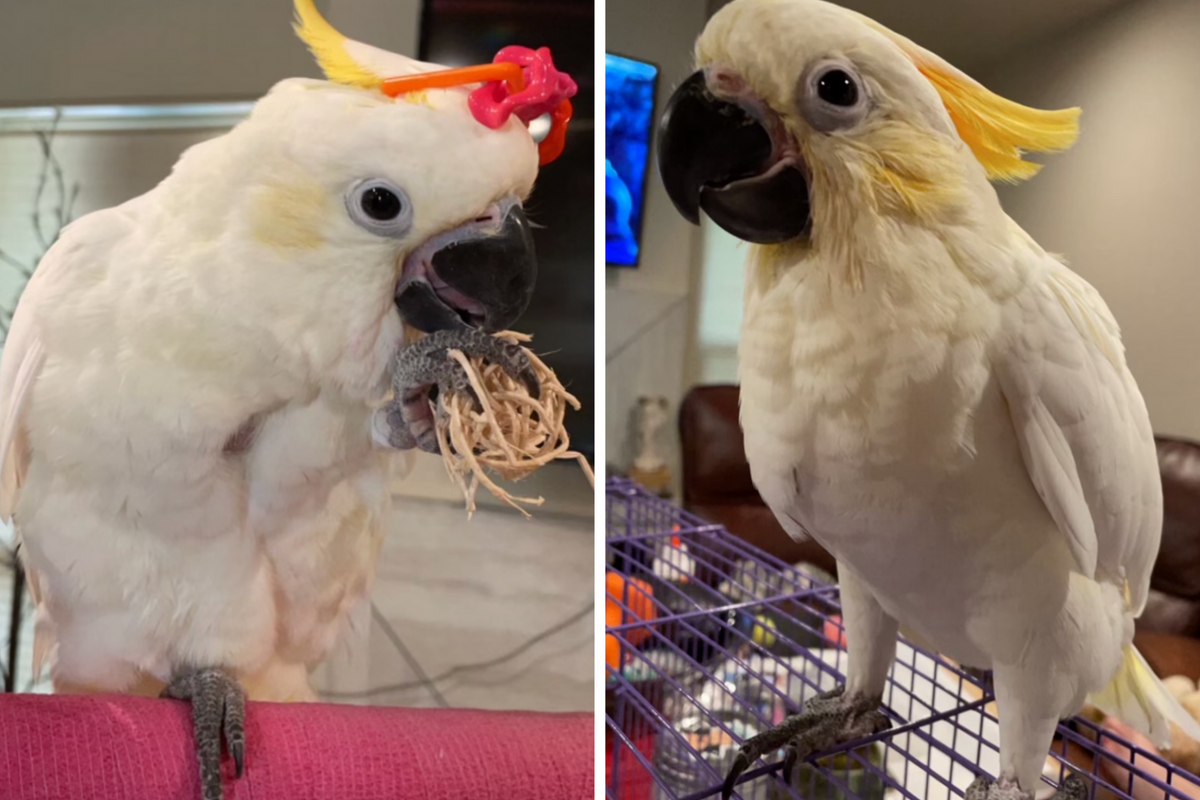 A big-money bird has been stolen from a northwest Austin pet store.
Kelsey Fernandez, the owner of a $6,000 sulphur and citron-crested cockatoo named Lemon Grab, said the emotional support animal was taken from the Gallery of Pets store, around closing time on Sunday.
"I've struggled with mental illness my entire life, and ever since I got him I've been doing so much better," Fernandez told Austonia.
The $6k cockatoo is young and will starve unless he is fed by hand, Fernandez said.
In a surveillance video, a man appears to have something under his shirt as he and two others exit the business around the same time the store believes that Lemon Grab was stolen.
Fernandez said a report has been filed with the Austin Police Department with an $1,000 reward for his return.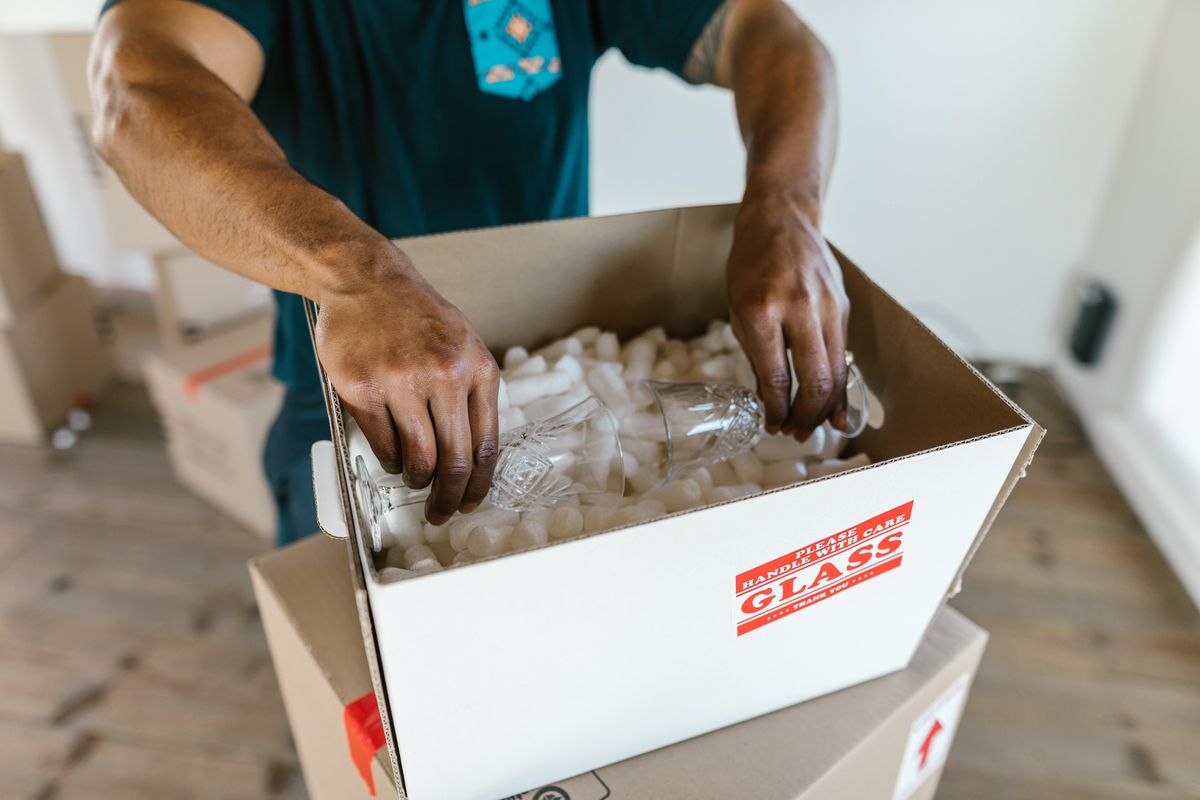 Introverts and personal space lovers may not want to make the move to Austin anytime soon: The Texas capital saw a bigger increase in one-bedroom rent prices than almost any other U.S. city in April, according to a Rent.com report.
Austin's one-bedroom rent has more than doubled—a 112% increase—from April 2021 to 2022, the report said. Only Oklahoma City saw a higher year-over-year increase with a 133% jump.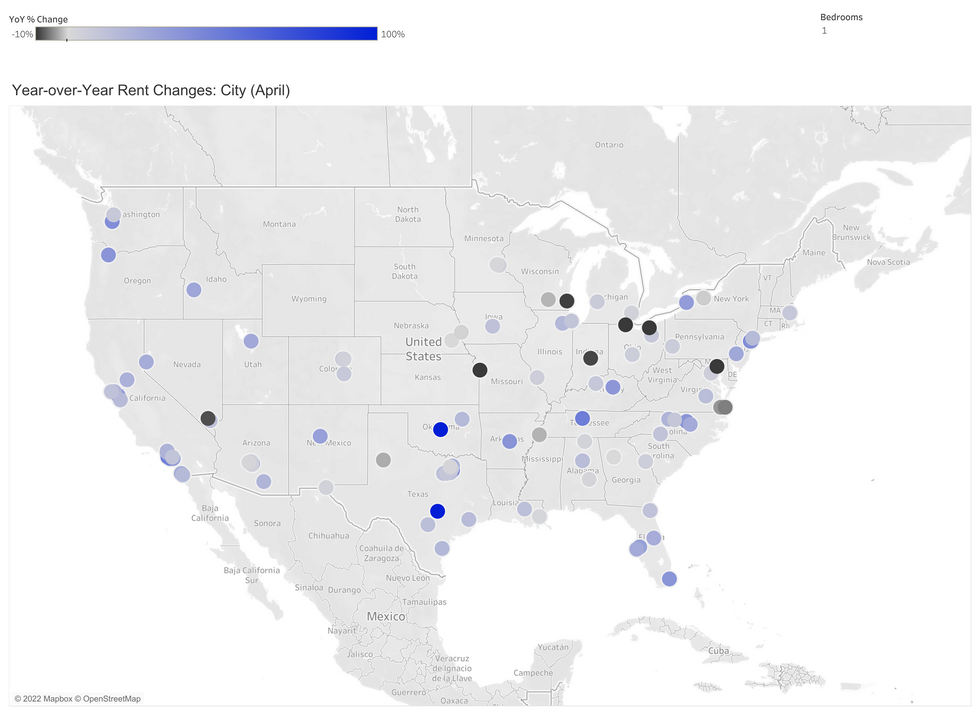 Austin also had the fourth-highest increase in two-bedroom rent, with a 50% increase in the past year. The city joined a nationwide trend where rents were up 8.3% year-over-year across the U.S, a trend exacerbated by a 6.2% increase in inflation in the same time period.
But "not everyone is experiencing inflation the same way," Redfin Deputy Chief Economist Taylor Marr said in the report, and a brunt of the load has gone to cities with more move-ins. While over 90% of state rental markets increased in the last year, that jump was seen most in Sun Belt states, including Texas, Arizona and Florida.
Even with breakneck increases in rent, however, Austin's rent prices still haven't cracked the top 10: the city's one-bedroom apartments are the 12th most expensive in the nation with an average price of $2,918. Meanwhile, its two-bedrooms fall behind Texas cities Frisco, Dallas and Plano and come out 34th on the list with a $2,302 average monthly rent.