Austonia AM
100% Austin news, info, and entertainment, straight to your inbox at 6 a.m. every morning.
In five minutes, you're fully informed and ready to start another great day in our city.
Get connected with our daily update
(HodgePodge Media)
When the COVID-19 pandemic began prompting shutdowns in March, Austin resident Jonathan Osborne and his childhood friend, Brandon Camp, were about halfway through writing a scripted podcast for kids.
---
The pair were inspired to create a production company, Austin-based HodgePodge Media, after observing the explosion of podcasts among adults. With kids of their own, they separately arrived at the same conclusion. "We both had this individual light bulb pop up over our collective heads in which we realized that, although the space was really blossoming, the kids podcasting space was not," said Camp, who is based in Los Angeles and wrote and directed the 2018 family movie Benji.
Then the COVID-19 pandemic happened.
Rather than continue with their script, Osborne and Camp scrapped their draft and began work on a new one—Quaranteen'd—about a ragtag crew of kids who believe they have found a cure to the pandemic. Its first four episodes are available now, with a new one debuting each week.
Producing the quarantine-themed show while sheltering in place required some ingenuity.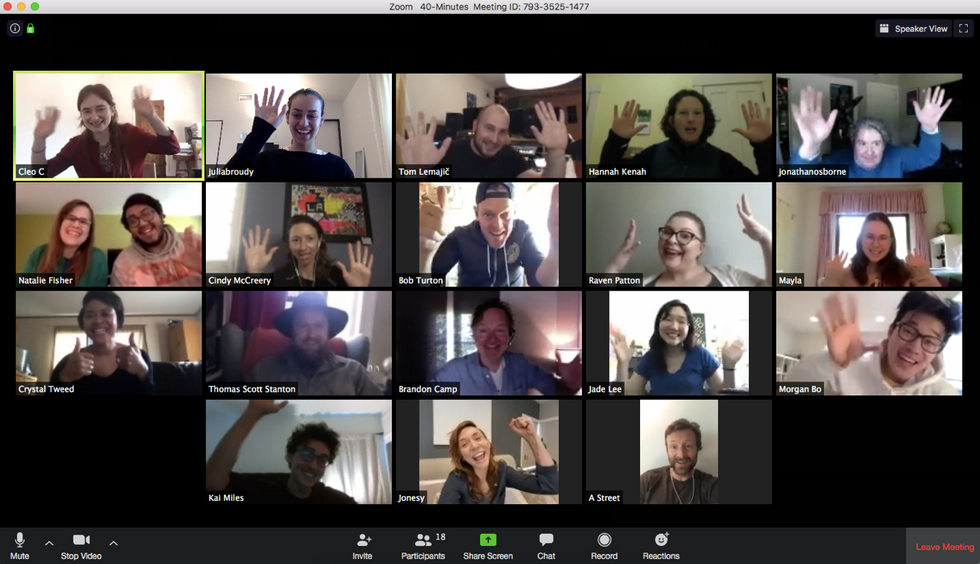 The cast and crew of Quaranteen'd held long Zoom calls.
(HodgePodge Media)
With the help of Cindy McCreery, an associate screenwriting professor at the University of Texas at Austin, they hired a team of young writers, who fleshed out the story over long Zoom calls. "We treated it like any traditional Hollywood writers' room," Camp said.
In search of a cast, they created an Instagram account and put out a call. Close to 2,000 submissions filtered in. "We completely underestimated how much time people had on their hands," Osborne said.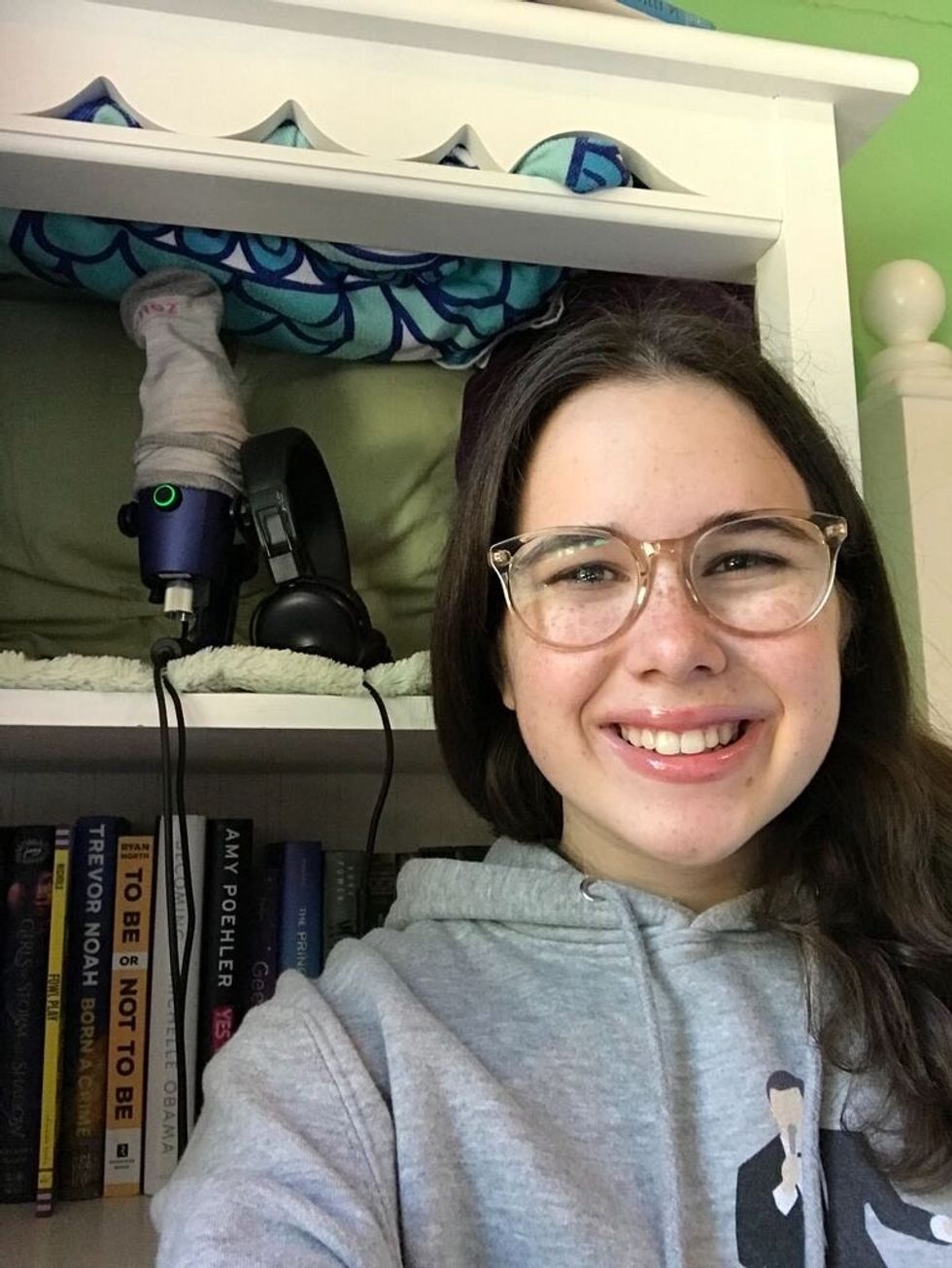 Mayla Montgomery plays the lead role in Quaranteen'd
(HodgePodge Media)
Mayla Montgomery, a rising seventh grader at Round Rock ISD, plays lead character Zoe Cross, a teenager who believes she's discovered the cure—but it is being hidden by the Bridge Corp., which stands to profit from the pandemic. "She's always fired up and passionate about something," Montgomery says of her character.
After hearing about Quaranteen'd from her neighbor, an executive producer of the show, Montgomery decided to try out. She put together a resume with her experience with improv at the local comedy club ColdTowne Theatre and musical theater. After submitting her audition, she was "shocked" to receive a callback. Her surprise doubled when she was offered the role.

Soon, Montgomery received a recording kit from Osborne and Camp. "We've been shipping equipment all over the country," Osborne said, adding that they soon learned how to conduct mic tests over Zoom and instruct the actors to wrap themselves in blankets for the best sound quality.
Sometimes kids' productions are shoddily made and don't take their audience very seriously, Camp said, but he wanted Quaranteen'd to be a true cinematic experience—on par with films by Steven Spielberg and moves such as The Goonies and Star Wars.
Montgomery said she has listened to the first few episodes with her younger brother, who is usually a little too distracted to sit through things. But Quaranteen'd has him hooked.
"We're not surprised because this is what we always felt like we were capable of bringing to the space, but it certainly has been pleasant," Camp said of the reaction so far.
Once this season is over, Osborne and Camp plan to tackle an even more ambitious project: remotely producing a musical podcast.
"The irony is that this is the time of isolation and yet I feel like we have brought together this family for this family podcast," Camp said. "Amid the 2 a.m. sessions with the sound engineering and pulling out hair and wondering why the heck we're doing this—those are the moments that have certainly inspired me and kept me going."
Austonia file photo. (Christa McWhirter/Austonia)
Police have arrested one of two suspects involved in a mass shooting at Austin's Sixth Street in the early morning hours on Saturday, leaving 14 people injured and two in critical condition.
The arrest was made by the Austin Police Department and the Lone Star Fugitive Task Force. One suspect is still at large.
Police started receiving 911 phone calls at 1:24 a.m about a man that fired shots into a large crowd, and responded to a chaotic scene on the 400 block of East Sixth Street. Detectives are surveying video footage captured by bystanders and cameras on the scene to identify the suspect.

The Austin Police Department has narrowed down their search to two male suspects and believes there was "some type of disturbance" between the two parties.
No deaths have been reported. Fourteen victims are receiving treatment in a hospital in stable condition with one treated in an emergency room; two are in critical condition.
According to Interim Police Chief Joseph Chacon, "almost all" of the victims are innocent bystanders but police have not ruled anyone out at this time.
Shooting on 6th Street Austin Texas 6-12-2021 (Aftermath) youtu.be
The shooting occurred on the weekend of the Republic of Texas Motorcycle Rally. With lots of people downtown, police say it was difficult to get EMS in and out of the scene. Police arrived while the scene was still an "active threat," officers "immediately began lifesaving measures" and drove six victims to the hospital in their squad cars, said Chacon, and four were transported in ambulances.
Chacon said that the incident is believed to be isolated, and they optimistic they will be successful in getting the two suspects into custody. Multiple departments, including APD, the FBI, Texas DPS and the ATF, are involved in the investigation.
Austin police are also requesting state troopers for patrol assistance in the coming days. Chacon stressed staffing issues are increasingly making responding to emergency calls "very hard."
"Overall, we remain a safe city," Chacon said. "Also keep in mind when you come downtown, you need to be safety conscious. Be vigilant of your environment and your surroundings."
Today marks the five-year anniversary of the Pulse nightclub shooting in which 49 were killed and 53 wounded in Orlando, Florida. Anyone with information on the shooting is asked to call 911 or 512-472-TIPS.

This story was updated at 2:47 p.m. to include new information and will be updated as more details are revealed.
From Your Site Articles
Related Articles Around the Web
Austin police are investigating a homicide in North Austin where a woman was shot and killed, just hours after a mass shooting in Downtown Austin hospitalized 14 people.
APD is working a suspicious death near the 1900 block of W Rundberg Ln. PIO is en route and will update with media staging location. PIO6
— Austin Police Department (@Austin_Police) June 12, 2021
Police originally responded to Ironhorse Flats Apartments, 1900 block of W. Rundberg Lane, at 3:20 p.m. when they found the woman with multiple gunshot wounds. She was transported to a local hospital, where she was pronounced dead at 4:07 p.m.

No one is in custody as of yet but police are speaking with potential witnesses. Officials said they believe this was an isolated incident with no danger to the public but said possible relation to the downtown shooting has not been specifically ruled out.
Officers could not provide a suspect description and the relationship to the victim is still unknown.
This is a developing story that will be updated as details become available.