Get connected with our daily update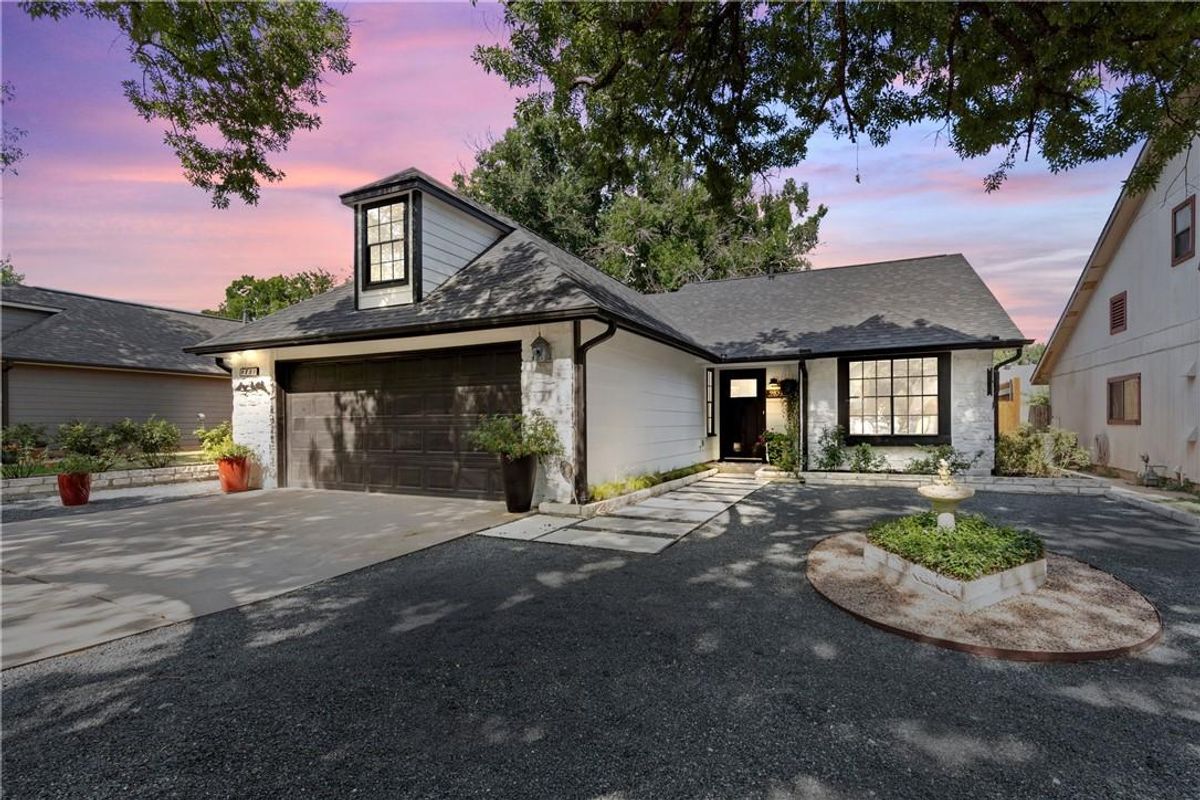 It's slowly but surely becoming easier to buy a house in Austin.
---
According to the Austin Board of Realtors, the median house price in the Austin-Round Rock metropolitan area is $537,475 as of July. Take a look at what that price range can get you.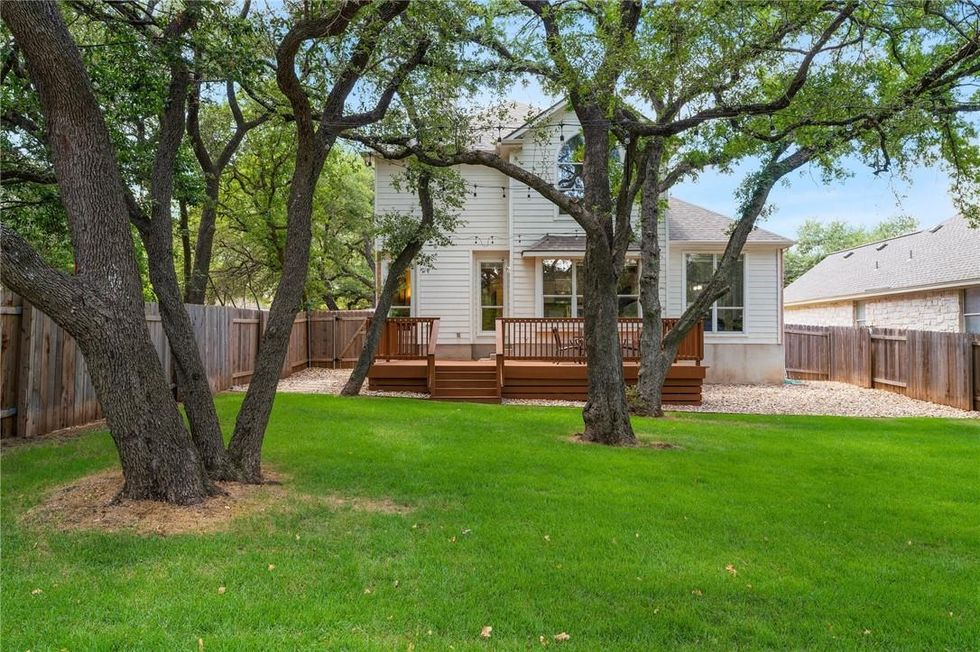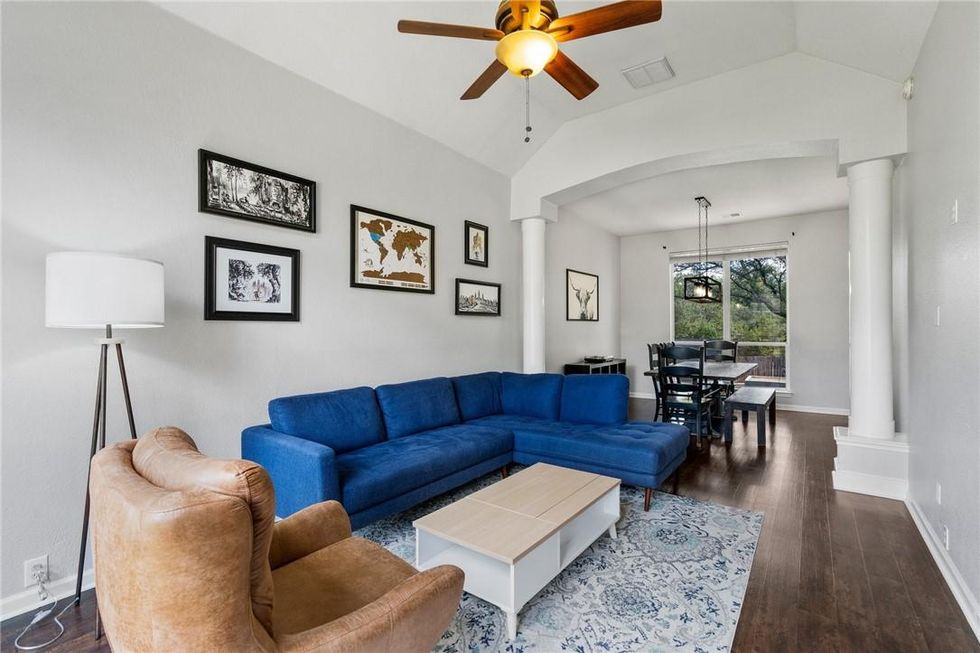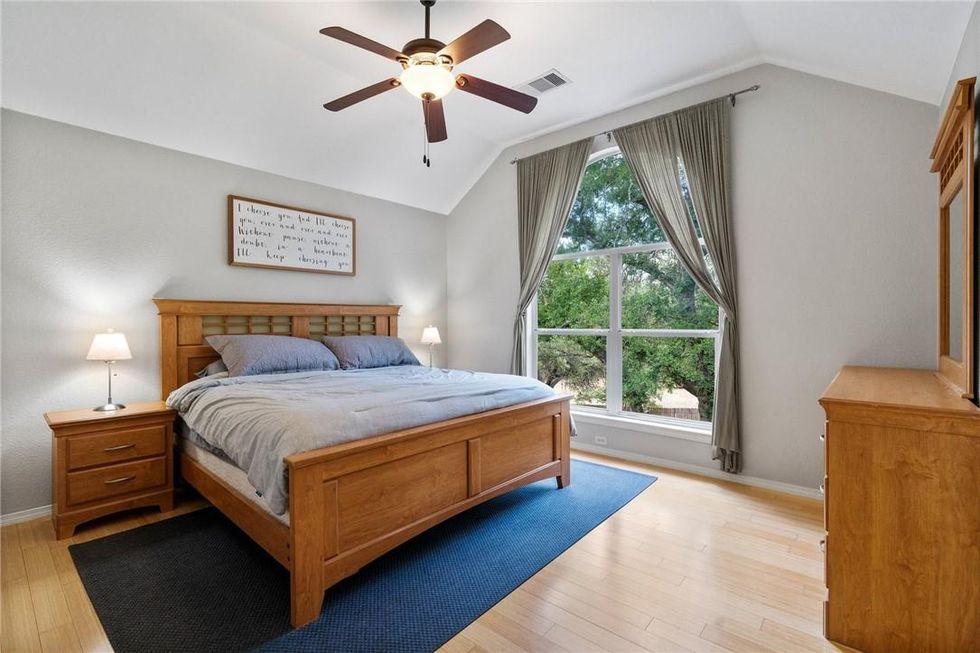 This two-story brick home is the biggest on the list, with four bedrooms and two-and-a-half bathrooms across 2,156 square feet in Round Rock. Characterized by its sky-high ceilings, large windows and newly updated fixtures, the home has a spacious backyard with mature trees, a wooden deck, a lounge area and close proximity to a nearby greenbelt.
This listing is held by Drew Griffin with Compass.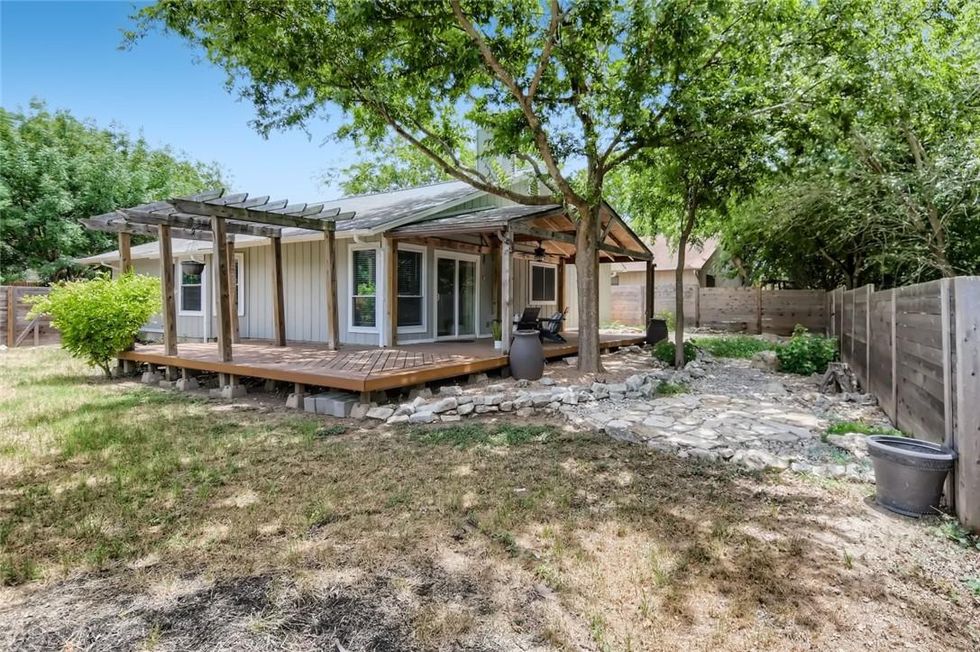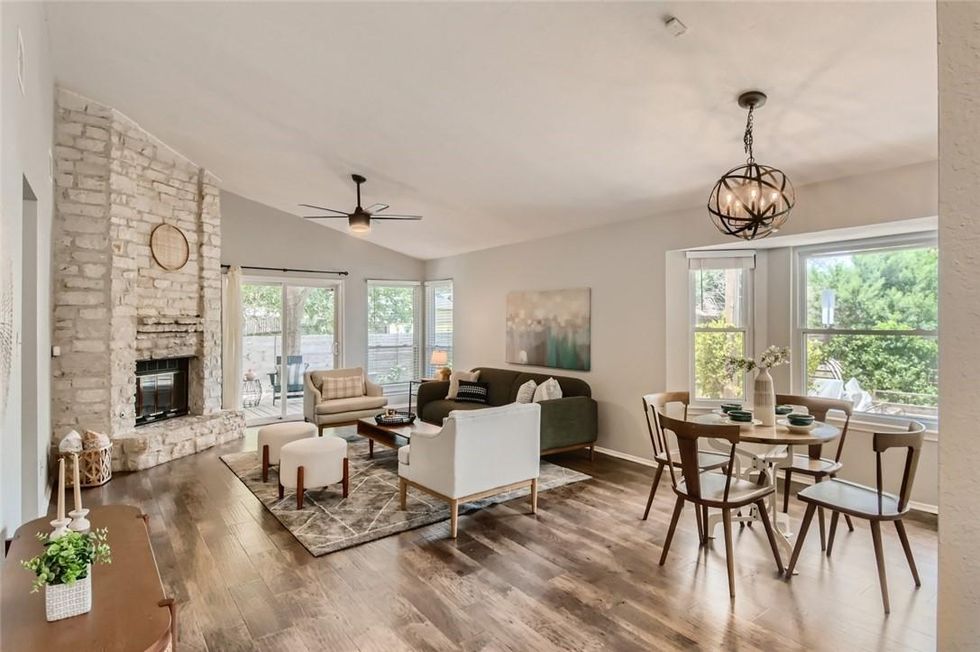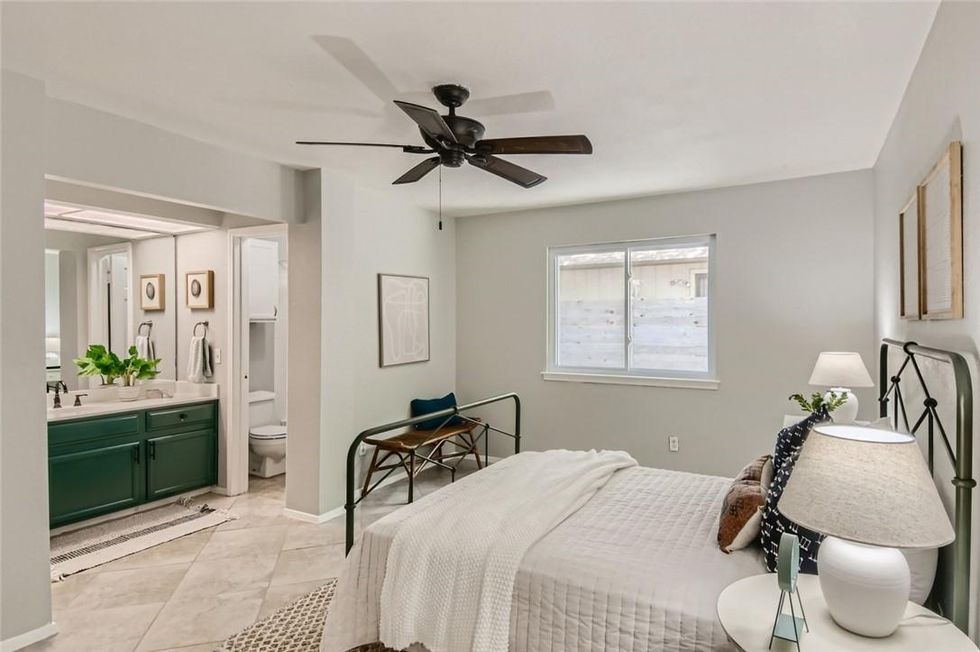 This recently updated three-bedroom, two-bathroom home was built in 1983 but fits in perfectly with the design standards of today. On top of newly-updated floors, roof and windows, this home comes complete with a floor-to-ceiling stone fireplace, a spacious open floor plan and plenty of natural light. The biggest gem of this house is its vaulted and covered back patio, which gives way to a large backyard on a corner lot. At 1,280 square feet, the home is just a few minutes away from The Domain and Q2 Stadium.
This listing is held by Jennifer Buterick and Nicole Marburger with Compass.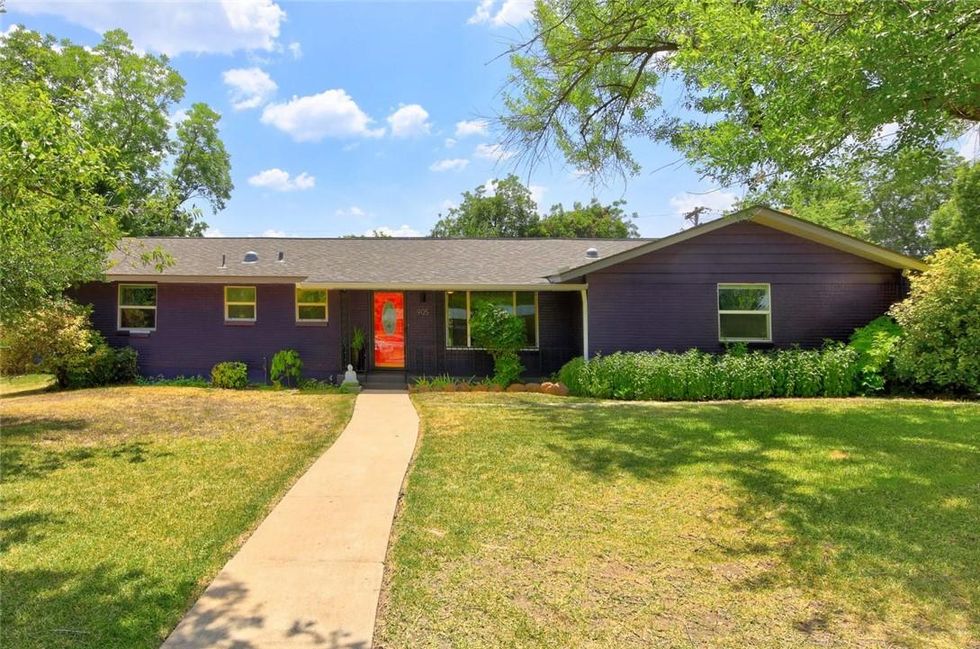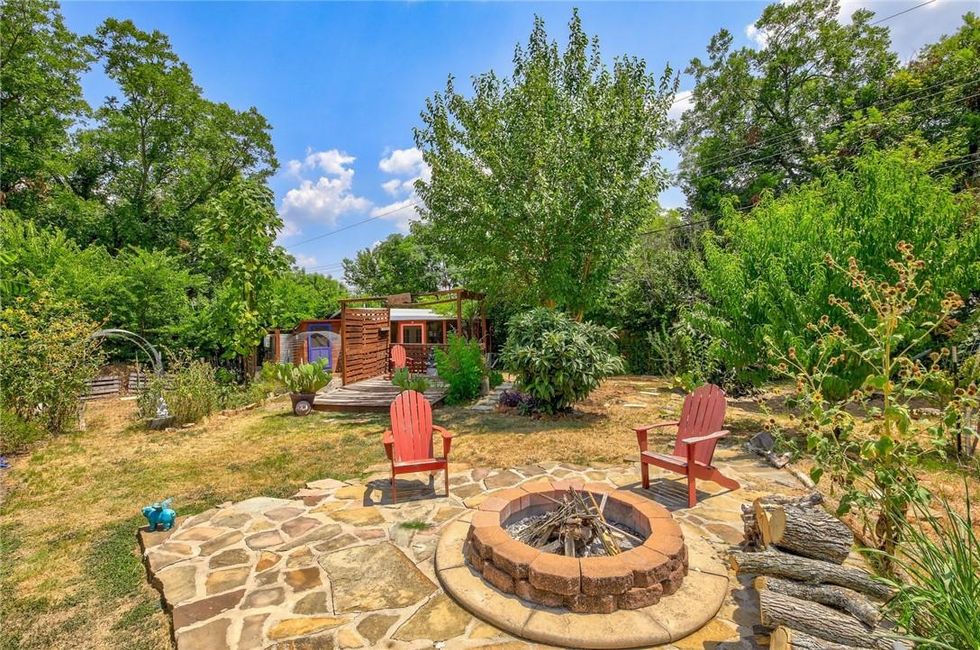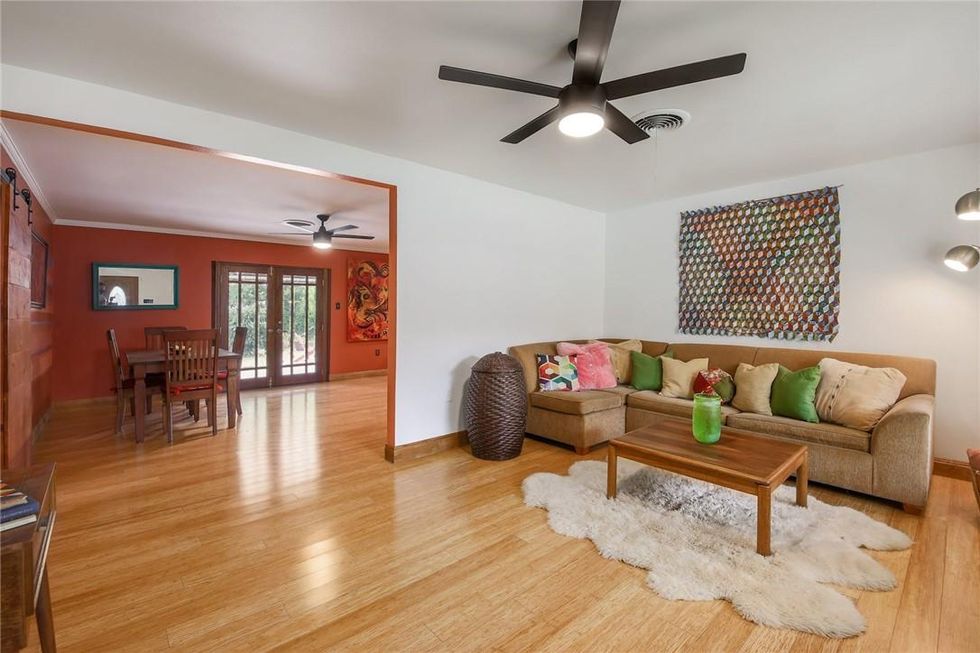 Another retro find, this 2,098-square foot home has character to go around and is looking for a caretaker who will love it as much as the last. With four bedrooms and two bathrooms, the house has plenty of room for a home office and is colorfully painted throughout, including bright blue kitchen cabinets. On a third of an acre, this home comes with 12 fruiting trees in the backyard, solar panels, rain-catching barrels and a converted garage with living space.
This listing is held by Niki Duncan with Compass.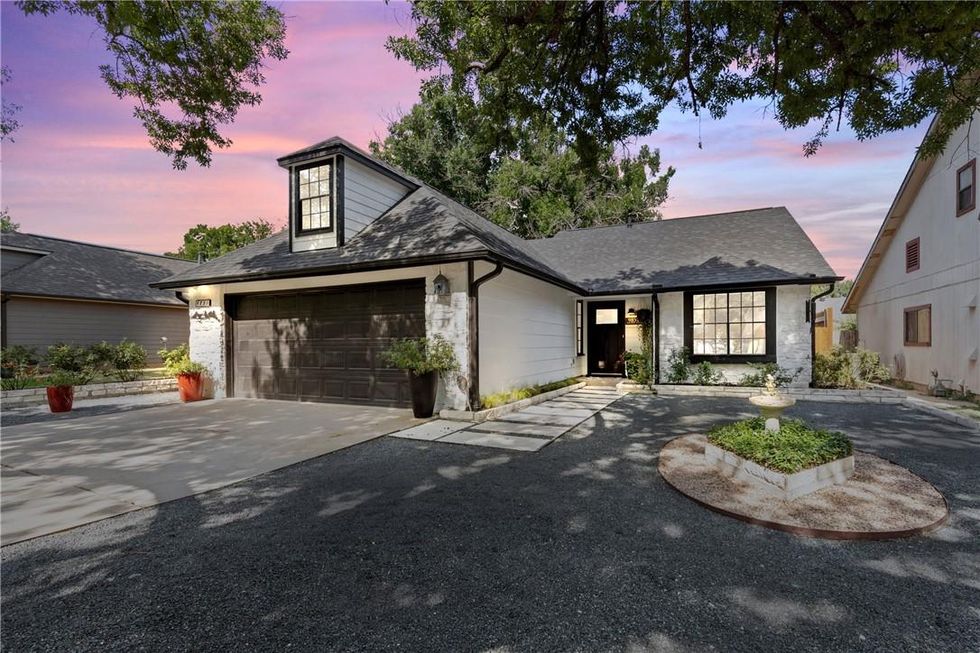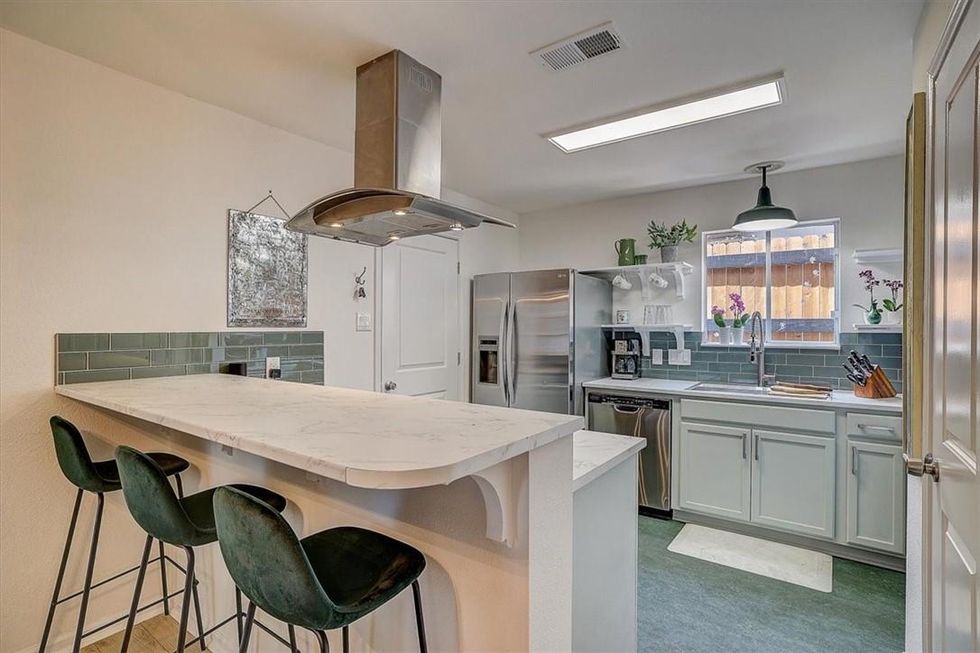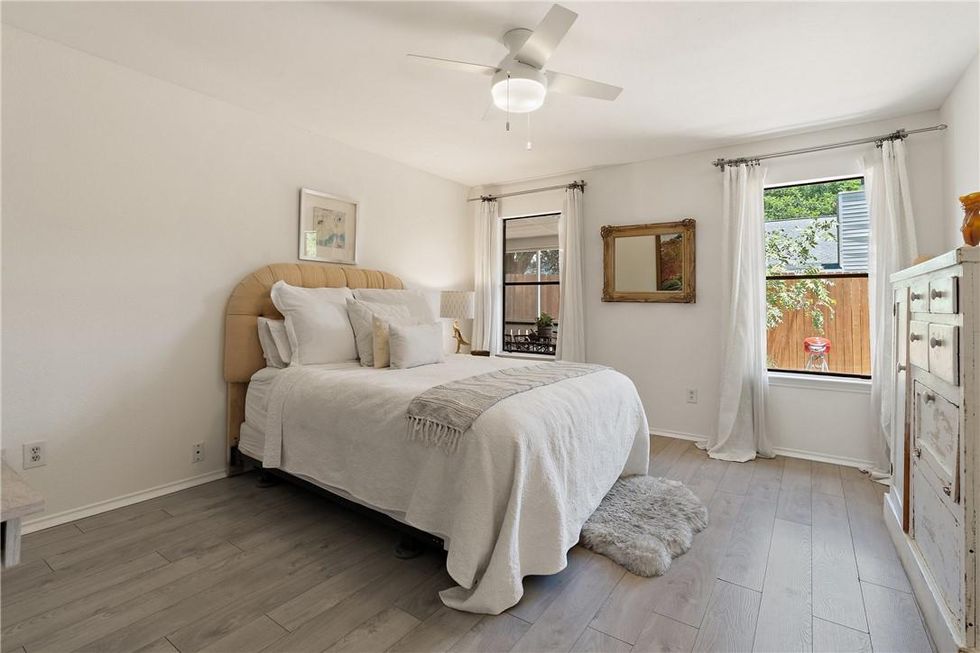 This three-bedroom, two-bathroom South Austin home has a wide-open floor plan and sparkling white interiors. The vaulted ceiling in the living room gives height to the room while the fireplace will keep you warm. An airy master suite comes with double pedestal sinks and two walk-in closets, so you don't have to worry about sharing space with your partner. Enjoy the Texas weather with a private yard, screened-in porch, and fire pit.
This listing is held by Michelle Hendrix and Khani Zulu with Compass.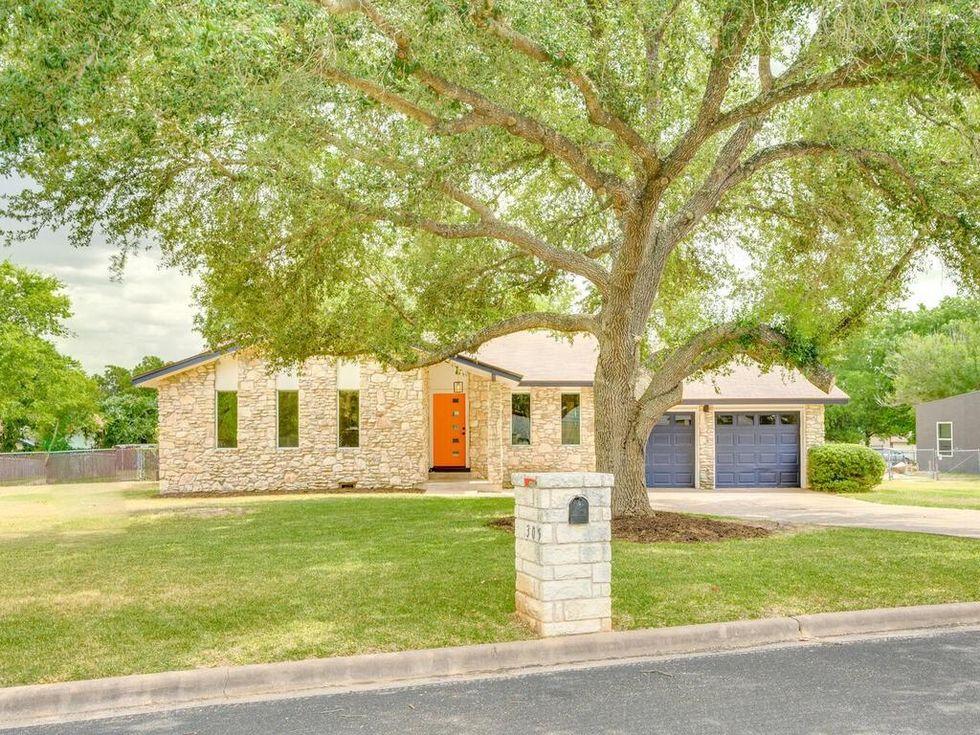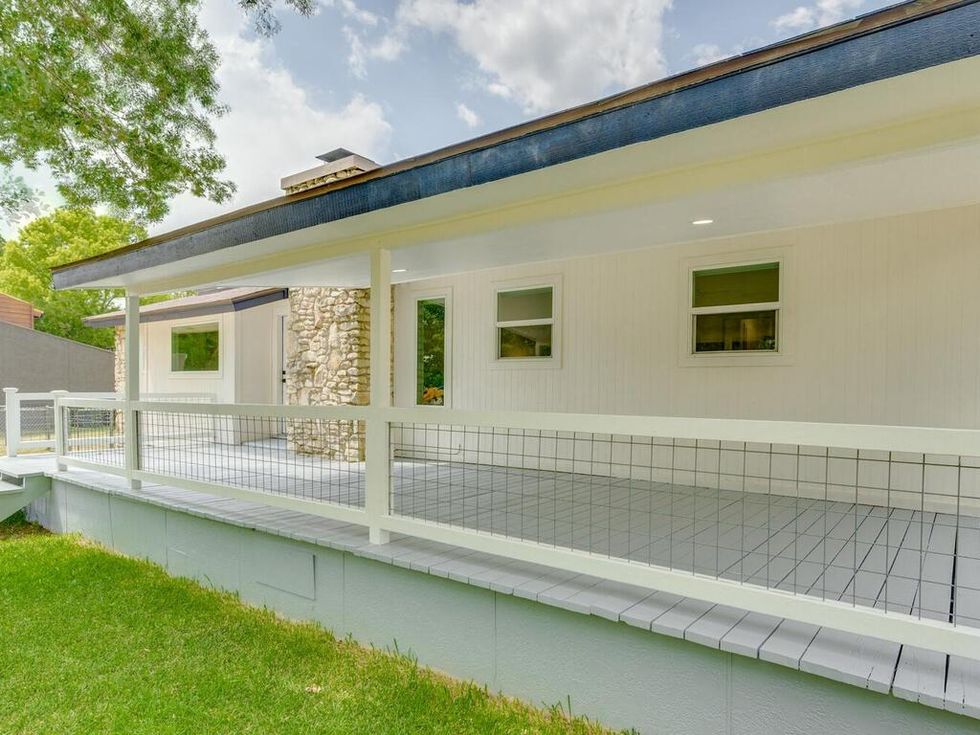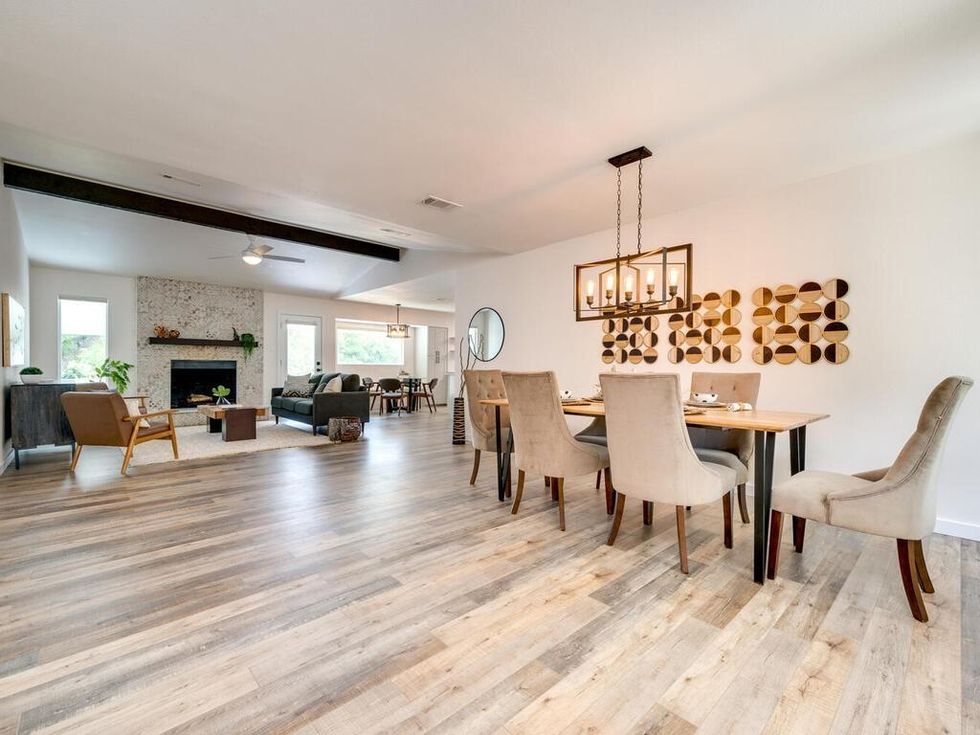 A retro-on-the-outside, single-story home was built in 1973 but has been given a full modern update on the inside. The three-bedroom, two-bathroom, 1,676-square foot home is situated on a half acre of land, complete with an above-ground pool and covered porch to keep you shady during the oppressive heat. Inside, you'll walk directly into an open living and dining area, which features a floor-to-ceiling tiled fireplace, that leads to the breakfast nook, and kitchen with mosaic-tiled backsplash and a built-in wine rack.
This listing is held by Derek Peterson with Compass.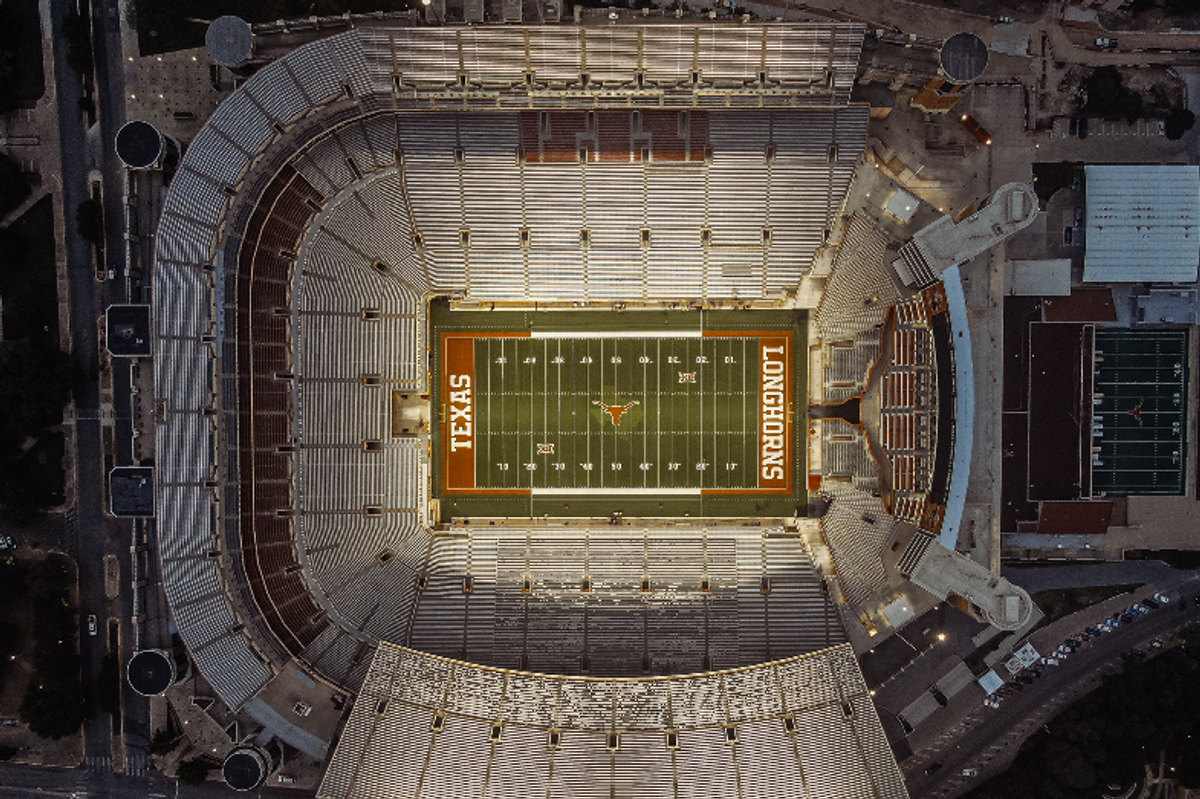 🗓 All weekend
Enjoy summer music with lakeside views all weekend long at longtime Lake Austin hangout Mozart's Coffee Roasters. Free acoustic performances kick off Thursday and run throughout the weekend.
All weekend | 📍Mozart's Coffee Roasters, 3825 Lake Austin Boulevard
🗓 Friday
Swing by Jo's Red River for a coffee and pet some pups along the way to start your weekend. All pets are adoptable, and 20% of drink sales go to the Austin Humane Society.
9-11 a.m. | 📍Darrell K Royal-Texas Memorial Stadium, 2100 San Jacinto Blvd
🗓 Saturday
Texas football is back! The Longhorns are kicking off their 2022 season with a home matchup against the Louisiana-Monroe Warhawks.
7 p.m. | 📍Darrell K Royal-Texas Memorial Stadium, 2100 San Jacinto Blvd
The final showing of the Screen on the Green summer series will feature a screening of Luca, $4 happy hour and popcorn and cotton candy.
8:30 p.m. | 📍 Fareground Austin, 111 Congress Avenue
🗓 Sunday
Celebrate (or mourn) the symbolic end of summer with a Pre-Labor Day party at the oldest bar in Austin. Entertainment includes food, drink and old-school jams from Stretch Musik Band.
7 p.m. | 📍 Historic Victory Grille, 1104 East 11th Street
Seven hours of live music, local brews, cigars and BBQ. It doesn't get more Texan than that.
3- 10 p.m. | 📍Fair Market, 1100 East 5th Street
Wind down from the weekend with a free, donation-based sunset yoga session beside the Barton Springs pool. The event wraps up with a post-yoga night swim dip in the pool.
3- 10 p.m. | 📍Barton Springs Municipal Pool, 2201 William Barton Drive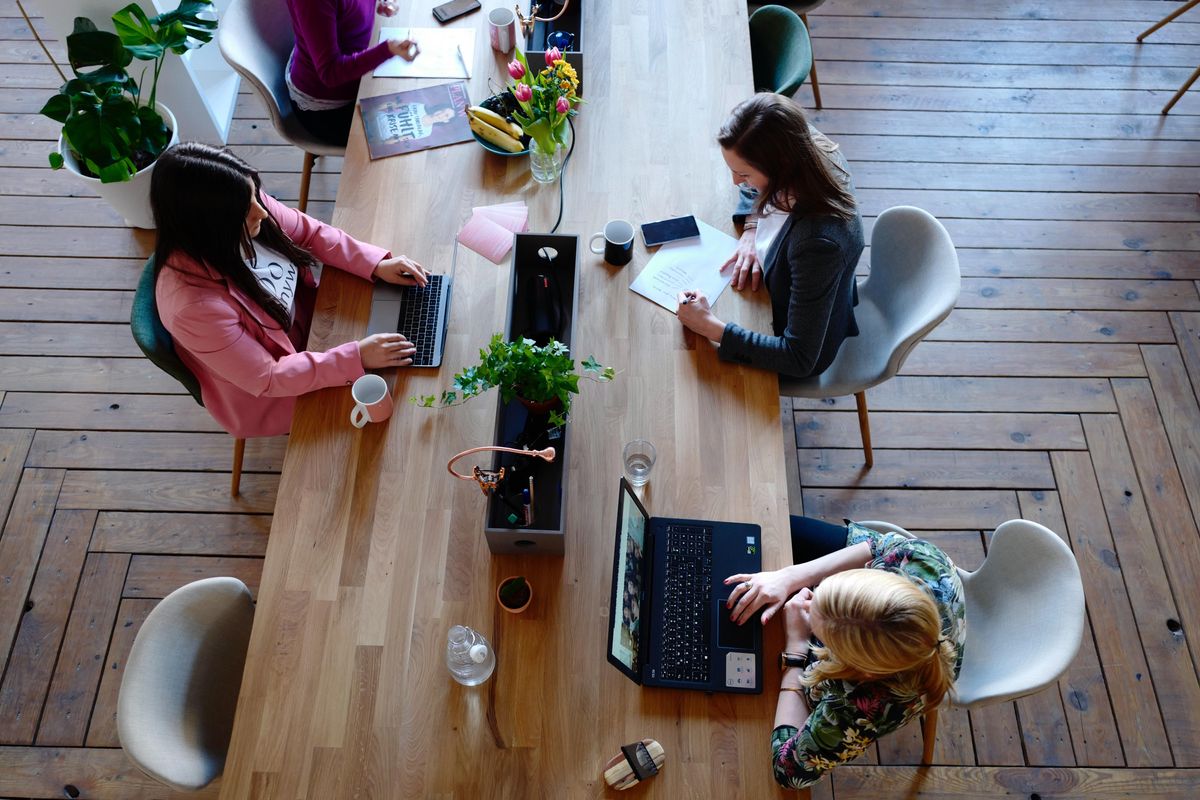 Downtown views might not cut it anymore for getting workers back into the office.
According to real estate agency CBRE, the U.S. downtown office vacancy rate topped office vacancies in the suburbs in the second quarter.
It's the first time it's happened in more than 20 years and reveals that companies might be making a shift out of city centers whether it's to get a better deal on office space or to save workers on commute time and make a return to the office more attractive.
But even with this flip nationwide, it hasn't appeared to reach Austin just yet. In the first quarter of this year, office vacancy rates in downtown and the suburbs were even at nearly 20%. Then in the next quarter, CBRE reported the suburban vacancy rate just above 20% while downtown's was 15.5%.
It could just signal that the trend is slower to catch on in Austin as nationwide momentum for suburban office space carries on.
This week, commercial real estate agency Workspace Property Trust announced it had acquired approximately eight million square feet across 53 suburban office buildings in a deal valued at $1.1 billion. It includes Texas metros like Houston and Dallas, as well as Austin's tech competitors like Silicon Valley and Seattle.
Workspace described the deal as creating convenient and attractive locations for the workforce.
"Driven by the redefinition of work as a result of the pandemic and the continued and unabated demographic shift to the suburbs, more and more Fortune 1000 corporations are rethinking their presence in downtown markets and relocating many of their office needs to suburban locations across the U.S." Roger W. Thomas, a Workspace founder said. "Workspace is poised to lead this transformation."
Thomas went on to note a few major corporations who have announced moves to suburban markets like Intel, Oracle, Tesla, Honeywell and more.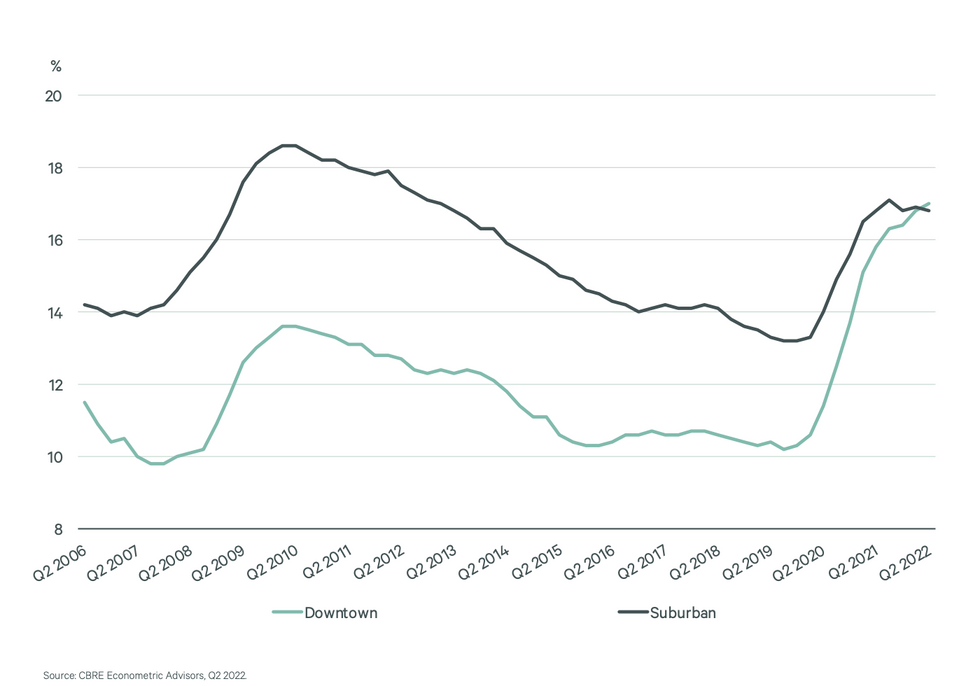 Vacancy rates in U.S. offices (CBRE)
Austin's suburbs have become an ideal spot for some, including Leander which has reigned as one of the fastest growing cities in the U.S. for two years in a row as people are drawn to its more affordable cost of living.
More and more companies are looking at the suburbs too, even if it's not strictly for office space. This spring, Meta announced an $800 million data center in Temple. And recently, Skybox Datacenters and Prologis partnered to purchase 200 acres in Hutto for a data center and are planning for another $548 million data center in Pflugerville.
Downtown and city limits can still flex its growth, however. CBRE notes that Austin joins Nashville, Charlotte and Boston as having the most space under construction as a share of their existing inventory. At least part of that excitement is set in downtown with several projects expected to break ground by the end of the year. Among those, CBRE reports, is the skyscraper poised to be the tallest tower in the state that would add another 700,000 square feet of office space to the construction pipeline.