Austonia AM
100% Austin news, info, and entertainment, straight to your inbox at 6 a.m. every morning.
In five minutes, you're fully informed and ready to start another great day in our city.
Get connected with our daily update
(Christa McWhirter)
The Austin community is still reeling from a hostage incident at a local pediatric practice late last month, in which Dr. Katherine Lindley Dodson was killed in a murder-suicide. The crime remains under investigation, and it is unclear what role the pandemic may have played in the suspect's motives. However, recent studies have found a dramatic increase in suicidal ideation over the course of the pandemic, as many people contend with social isolation and financial stress.
Local mental health providers say that demand for services—whether in the form of client referrals or hotline calls—are up. State and federal emergency orders have improved access to telemedicine, which enables some people with insurance to access therapy virtually, but in-person outreach and other suicide prevention efforts may be affected by the pandemic.
---
Increasing need
The University of Texas Police Department received 368 calls with a mental health element between Jan. 1 and Nov. 17, 2020, compared to 493 calls in the entirety of 2019. Although this represents a slight decrease year-over-year, about half of UT students had a fully online course load, suggesting that for students on campus such calls were more common. "From what we have seen, even in the pandemic, our call volume is high," Lt. Samantha Stanford told Austonia.
UTPD recently created a specialized team of officers—the University Crisis Intervention Team, or UCIT—to respond to 911 calls with a potential mental health element.
Colors of Austin Counseling, a local therapy practice, held 6,606 therapy sessions in 2020—a 60% year-over-year increase—and more than doubled in size, from seven clinicians to 15. "The evolution of our practice has been amazing on the business side of things, and it's devastating to see the need that people have," owner and licensed therapist Vanessa Flores told Austonia.
Despite the clear increase in the number of people seeking out mental health care, Flores and other local therapists said it has not necessarily been accompanied by an increase in the severity of cases.
Integral Care's 24/7 helpline has received more calls since the pandemic began, according to practice administrator and Central Texas Suicide Prevention Coalition co-chair Melody Palmer-Arizola. But most are from people looking for someone to talk to. "A lot of the calls are people who are just like, 'When is this going to be over?'" she said.
A universal concern
The Centers for Disease Control and Prevention found that 11% of U.S. adults reported seriously considering suicide and 40% reported struggling with mental health or substance use during a weeklong period in late June. Alarmed by the mental health repercussions, some people questioned public health officials about the safety of social distancing and other pandemic precautions.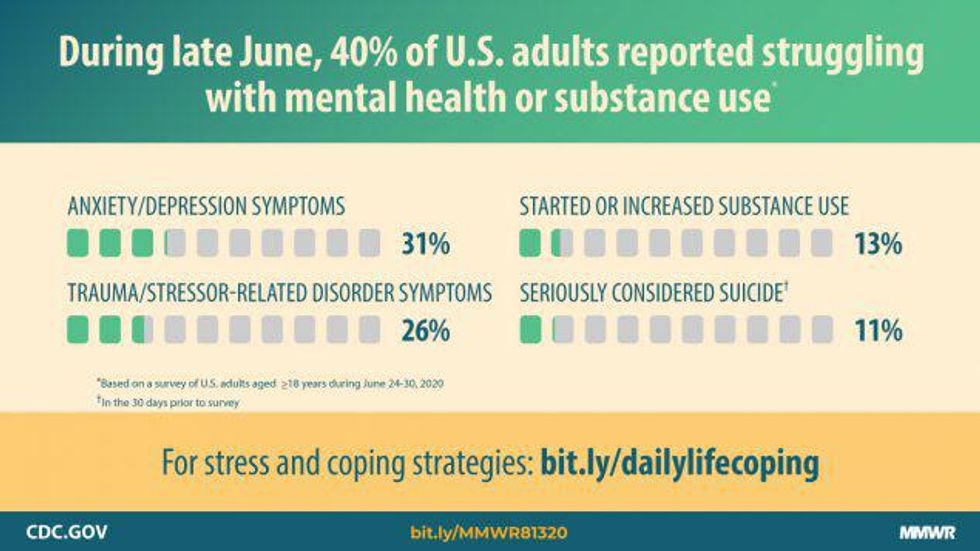 (Centers for Disease Control and Prevention)
Last August, Austin-Travis County Interim Health Authority Dr. Mark Escott addressed this concern in one of his regular COVID-19 briefings. "There's no evidence to support that suicides during COVID-19 … are higher than they were in 2019," he said.

Since then, however, new studies have emerged that suggest suicide may be increasing. "Evidence from previous pandemics suggests a short-term decrease in suicide can occur initially—possibly linked to a 'honeymoon period' or 'pulling together' phenomenon," according to a November editorial in the British Medical Journal. Last month, Nature published a study that found an increase in suicide following an initial decline during the pandemic in Japan.
Real-time American statistics are not yet available and Austonia is awaiting a response from the Austin Police Department regarding the number of calls it has received regarding a mental health crisis. Last week, APD's 911 call operators began using an updated script when greeting callers: "Austin, 9-1-1, do you need police, fire, EMS or mental health services?"
Criminal justice reform advocates have lobbied for this change for years, hoping to limit interactions between police officers, who may not be trained to respond to mental health crises, and people experiencing them. Although it is too early to know the impact of this change, local therapists report that the demand for mental health support and services has increased significantly since the pandemic began.
Access problems
Many mental health care providers have successfully transitioned to teletherapy, offering appointments over video or the phone, but those seeking out mental health treatment may face other challenges posed by the pandemic.
"Affordability is a barrier to entry," said Dr. David Hill, an Austin-based licensed psychologist and member of the Texas Psychological Association, which recently launched a resource guide that includes a psychologist search tool. Many people are facing increased financial stress due to pandemic-related layoffs—and may also have lost their health care coverage. "It's a bit of a catch-22," he added.
Nonprofits that help to fill these gaps are also affected by the pandemic.
Pick With Austin, a local organization that donates guitars and other musical instruments to children and teenagers with depression, saw its outreach curbed by the pandemic because many of its partner organizations—children's hospitals, community therapy groups, juvenile detention centers—were closed to visitors.
"What's happened with the pandemic is we've suddenly been cut off from all of those places," PYA Founder Jeff Curley told Austonia. His son, teenage guitarist Alan Carter Villaruz-Curley, died by suicide in 2010 when he was 18.
In 2019, the nonprofit distributed around 200 guitars. Last year, it was only able to give out around a quarter of that, despite having a surplus amount of donations.
"The pandemic has kept (young people) from going to school, from socializing with friends … so they've actually increased their depression," Curley said.

'Silver lining'
Despite the very serious mental health concerns surfaced by the pandemic, therapists and other experts expressed hope that the current crisis might lead to better health care coverage, wider use of teletherapy and decreased stigma around seeking out support.
Dr. Elizabeth Portman Minne owns Vida Clinic, which provides mental health services to individual clients as well as to school districts, including Austin ISD. Over the course of the pandemic, she has seen children and teenage clients embrace teletherapy. "It's versatile," she told Austonia. "Regardless of whether people are in school or wherever they are, they're still able to stay connected with their therapist."
Texas Gov. Greg Abbott recently identified mental health care funding, statewide broadband access and making permanent some temporary telemedicine regulatory waivers as top priorities this legislative session.
Minne is optimistic that the pandemic, in laying bare so many of the mental health challenges people are facing, will normalize seeking out care.
"It's an odd silver lining of the pandemic," she said. "It kind of made us connect with our own fragility and become more open to reaching out for help."
You can reach the Texas COVID-19 Mental Health Support Line at 833-986-1919 an the National Suicide Prevention Lifeline at 800-273-8255.
Nearly two decades after her debut with the University of Texas and 17 years after her first Olympic gold, softball icon Cat Osterman stepped off the Olympic pitcher's mound for the last time with a silver medal to take back home.
Osterman, a three-time Olympian who has been called the "Michael Jordan of softball," will officially retire from the international realm at 38 after a decorated career that included Olympic golds, years of retirement and plenty of adversity—from a worldwide pandemic to dashed gold-medal dreams.
Osterman and her crew left Tokyo on a bittersweet note on Tuesday with a silver medal in hand.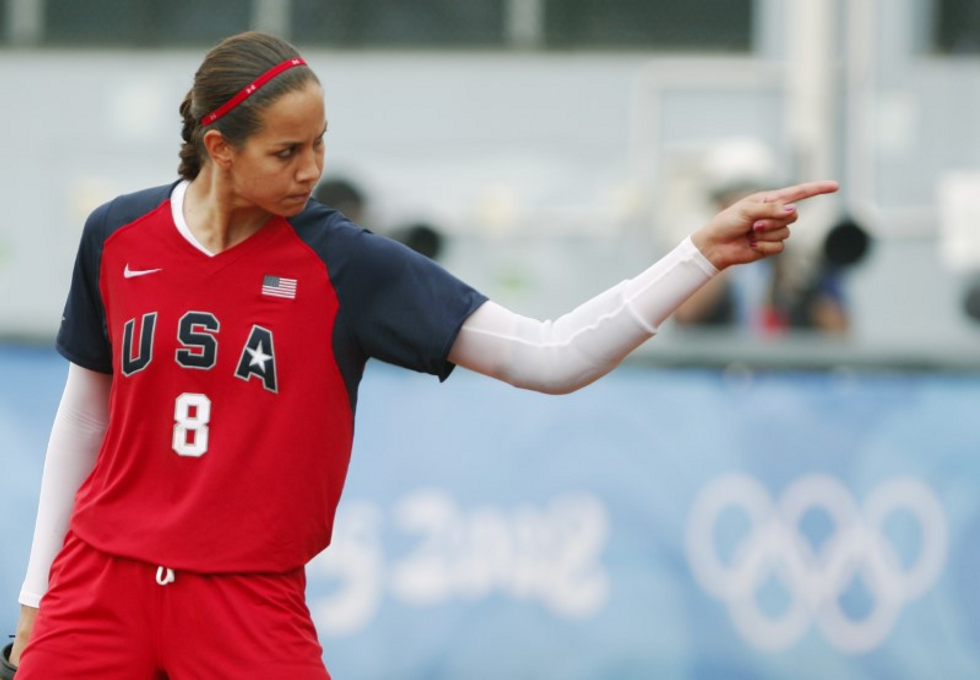 Osterman with Team USA in 2008. (Antoni Majewski/Twitter)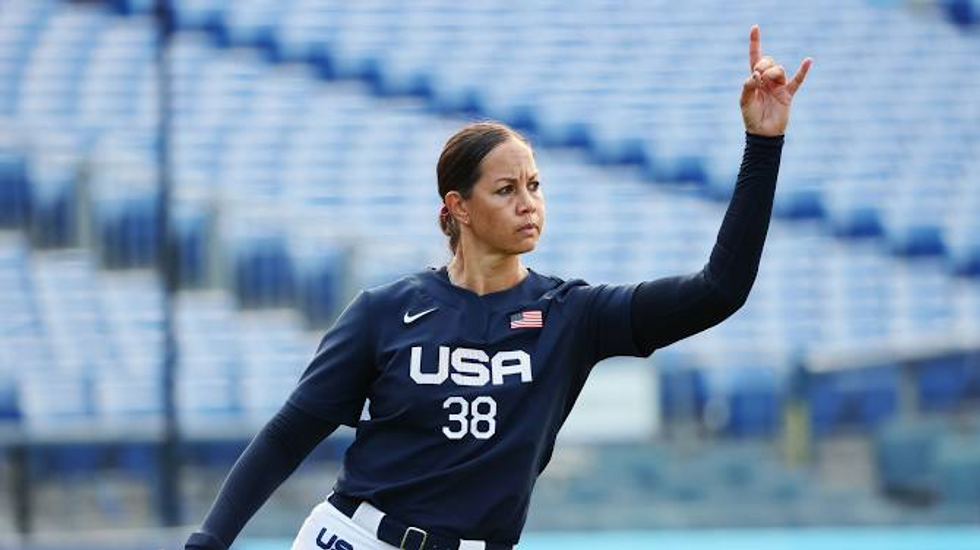 Osterman in the final in 2021. (Antoni Majewski/Twitter)
After a year of sparse in-person training and over a decadelong hiatus, Team USA and Osterman flew to the finals. In five games, the team beat Italy (2-0), Canada (1-0), Mexico (2-0), Australia (2-1), and Japan (2-1).
Deja vu struck in the final match. On one side, Osterman and fellow 2008 Olympic teammate Monica Abbott took the mound; on the other was the 39-year-old Yukiko Ueno, a familiar foe who helped the team beat Team USA last go-round.
"Just like 13 years ago," Ueno said in a press conference, "we were facing each other in the final."
Ueno, who had lost hopes at gold to Osterman in '04, outpitched her longtime opponent with six scoreless innings as Team USA was held to just three hits. The same team that squandered their gold-medal hopes 13 years before had done it once again.
"There's a little bit of disappointment in not bringing home the gold since that's the eye on the prize when you go over there and you know you have a shot at it," Osterman told Austonia. "But more than anything, I'm very proud of the way our team handled everything that was part of this journey and not just the six games."

It's that very loss at the 2008 Olympics that partially motivated Osterman to get back on the mound. She officially put down the glove in 2015 after six seasons with the USSSA Pride, took time with family and began coaching at Texas State University.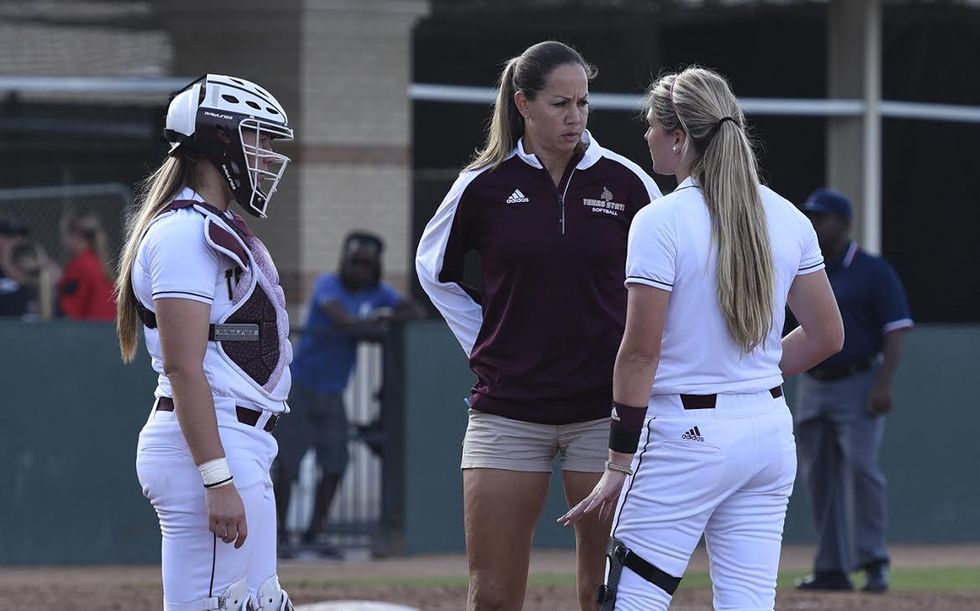 Osterman helped ace Randi Rupp to greatness while a coach at Texas State University. (Active Voice Health/Twitter)
She thought her Olympic endeavors were well over—until talks of reinstating softball into the Games reentered the conversation.
"It wasn't until 2016 or 2017, that it ever crossed my mind to possibly put the USA uniform on again," Osterman said. "After the World Championships in 2010, I walked away, and I thought that my career on the international stage was done. So this was a pleasant kind of new opportunity."
Three years after facing any competition, Osterman was on the field once more with world-class athletes. Some, like Osterman and Abbott, had been playing together long enough to form a formidable "Fire and Ice" duo on the mound. Others had just graduated college.

Osterman said playing with a younger generation of athletes was one of the most rewarding aspects of this year's Games.
"It can be very different when you have 24- and 38-year-olds on the same field," Osterman said. "The adversity put us in some challenging positions and we came through with flying colors. And this group will forever be special just because what we had to go through is so different."
While on the mound, Osterman's job was to give the team a calm start. Off of the field, she felt her role had much of the same effect: she knew that new Olympic feeling, and she served as a deep breath to her first-time teammates.
"There's no words to explain how nervous and excited you get knowing that the whole world can be watching," Osterman. "I think using those emotions and figuring out how to get all our butterflies lined up and going in the right direction, so that way we were all moving together, was kind of my role outside of pitching."
We've heard her retire once before, but this time Osterman said she's gone for good—even from coaching. After her final time with Team USA on Sept. 27, she plans on returning to Austin, where she'll look to work for a nonprofit.
A gold and two silvers will have to do for one of the most decorated athletes in U.S. softball history.
"To be able to say you're a three-time Olympic medalist is a pretty special deal, right?" Osterman. "I played for a long time. But those are the pinnacle, in my mind, and kind of what elicits the dream to keep playing."
Austin is already the Live Music Capital of the World and a major tech hub, but is Tinseltown the next stop for ATX?
Two major Hollywood film studios, HBO and Netflix, have reportedly signed separate short-term leases in Central Texas for parts of this year, ahead of upcoming projects in Central Texas.
According to a report by Austin Business Journal, HBO leased about 110,000 square feet for a year in Kyle Crossing, 1980 Kohlers Crossing in Kyle, about 20 minutes South of Austin. Netflix has leased 20,000 square feet in East Austin, 2008 Alexander Ave, for between 12-18 months.
HBO will film a true-crime series in Lockhart and use the leased space for storage. Netflix will use its space for production but has yet to reveal more details of the shoot.
It is unclear how many people will be stationed at each location—no Austin jobs were posted by the companies as of Monday.
This isn't Austin's first experience in the glamorous world of film; around 400 Central Texans were hired for the AMC production of "Fear of the Walking Dead;" and the CW's "Walker," a reboot of Walker, Texas Ranger, hired Austin actors.
Additionally, Hollywood film production company Line 204 Studios announced in June plans to plant a 546-acre film studio and movie-making facility in Bastrop.
Hospitals are facing a "significant" increase in admissions of pregnant women due to COVID-19 complications, Austin-Travis County health officials say, revealing what could be a long-term side effect of the virus.
Austin-Travis County Health Authority Dr. Desmar Walkes met with three maternal medicine specialists on Monday morning to warn of yet another COVID-19 Delta variant concern: severe cases of the disease affecting unvaccinated mothers-to-be.
The doctors said unvaccinated pregnant women face an increased risk of preterm births, long-term effects, preeclampsia, ICU stays, stillbirths, being put on life support and even death if they are unvaccinated.
"We are really concerned that we are not getting that population of folks to hear this message of the safety of vaccines, so today we're assembled, one and all to say, wear a mask and please get vaccinated," Walkes said. "Vaccinations are the way to prevent severe disease and hospitalizations and death."
Medical Director of Maternal Fetal Medicine at St. David's Women's Center of Texas Dr. Kimberly DeStefano said 95% of pregnant women admitted with COVID-19 are unvaccinated, stressing that all pregnant and lactating women should get the vaccine not only to protect themselves but to protect their babies from infection, which can be passed through breastmilk or birth.
"We know that the earlier in pregnancy you are vaccinated, the more antibodies are present at the time of birth for the infant," DeStefano said. "This is something that's very important, both during the pregnancy and postpartum."
Catching COVID-19 while pregnant can cause adverse effects on the baby, particularly because it increases the risk of preterm births. Baylor Scott & White Maternal Obstetrics Chief of Maternal Medicine Dr. Jessica Ehrig, said that preterm births are one of the "biggest impacts" on childhood development.
"We know that (preterm births) can have long-term effects depending on how early a baby's born," Ehrig said. "It increases the risk for long term respiratory issues, for blindness sometimes (and) for neurologic development delays."
Since mid-July, COVID-19 hospitalizations have been on a steep rise that sent the city back to recommending Stage 4 guidelines. As the seven-day rolling average of hospitalizations surpassed 50 admissions, Stage 5 guidelines could be on the horizon. The city reported 54 new admissions and 546 total new cases on Friday.
Delta is more contagious than chickenpox, Walkes said, and even vaccinated individuals can catch and spread the virus without symptoms. The group of doctors asked everyone, especially pregnant women, to mask while in public as local hospitals pass the Stage 5 threshold.