Austonia AM
100% Austin news, info, and entertainment, straight to your inbox at 6 a.m. every morning.
In five minutes, you're fully informed and ready to start another great day in our city.
Get connected with our daily update
(Christa McWhirter)
The Austin community is still reeling from a hostage incident at a local pediatric practice late last month, in which Dr. Katherine Lindley Dodson was killed in a murder-suicide. The crime remains under investigation, and it is unclear what role the pandemic may have played in the suspect's motives. However, recent studies have found a dramatic increase in suicidal ideation over the course of the pandemic, as many people contend with social isolation and financial stress.
Local mental health providers say that demand for services—whether in the form of client referrals or hotline calls—are up. State and federal emergency orders have improved access to telemedicine, which enables some people with insurance to access therapy virtually, but in-person outreach and other suicide prevention efforts may be affected by the pandemic.
---
Increasing need
The University of Texas Police Department received 368 calls with a mental health element between Jan. 1 and Nov. 17, 2020, compared to 493 calls in the entirety of 2019. Although this represents a slight decrease year-over-year, about half of UT students had a fully online course load, suggesting that for students on campus such calls were more common. "From what we have seen, even in the pandemic, our call volume is high," Lt. Samantha Stanford told Austonia.
UTPD recently created a specialized team of officers—the University Crisis Intervention Team, or UCIT—to respond to 911 calls with a potential mental health element.
Colors of Austin Counseling, a local therapy practice, held 6,606 therapy sessions in 2020—a 60% year-over-year increase—and more than doubled in size, from seven clinicians to 15. "The evolution of our practice has been amazing on the business side of things, and it's devastating to see the need that people have," owner and licensed therapist Vanessa Flores told Austonia.
Despite the clear increase in the number of people seeking out mental health care, Flores and other local therapists said it has not necessarily been accompanied by an increase in the severity of cases.
Integral Care's 24/7 helpline has received more calls since the pandemic began, according to practice administrator and Central Texas Suicide Prevention Coalition co-chair Melody Palmer-Arizola. But most are from people looking for someone to talk to. "A lot of the calls are people who are just like, 'When is this going to be over?'" she said.
A universal concern
The Centers for Disease Control and Prevention found that 11% of U.S. adults reported seriously considering suicide and 40% reported struggling with mental health or substance use during a weeklong period in late June. Alarmed by the mental health repercussions, some people questioned public health officials about the safety of social distancing and other pandemic precautions.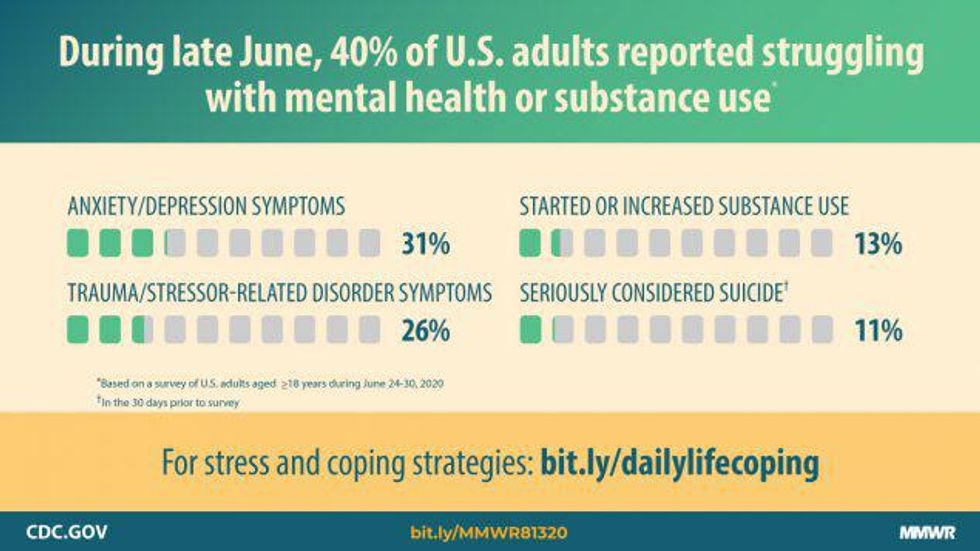 (Centers for Disease Control and Prevention)
Last August, Austin-Travis County Interim Health Authority Dr. Mark Escott addressed this concern in one of his regular COVID-19 briefings. "There's no evidence to support that suicides during COVID-19 … are higher than they were in 2019," he said.

Since then, however, new studies have emerged that suggest suicide may be increasing. "Evidence from previous pandemics suggests a short-term decrease in suicide can occur initially—possibly linked to a 'honeymoon period' or 'pulling together' phenomenon," according to a November editorial in the British Medical Journal. Last month, Nature published a study that found an increase in suicide following an initial decline during the pandemic in Japan.
Real-time American statistics are not yet available and Austonia is awaiting a response from the Austin Police Department regarding the number of calls it has received regarding a mental health crisis. Last week, APD's 911 call operators began using an updated script when greeting callers: "Austin, 9-1-1, do you need police, fire, EMS or mental health services?"
Criminal justice reform advocates have lobbied for this change for years, hoping to limit interactions between police officers, who may not be trained to respond to mental health crises, and people experiencing them. Although it is too early to know the impact of this change, local therapists report that the demand for mental health support and services has increased significantly since the pandemic began.
Access problems
Many mental health care providers have successfully transitioned to teletherapy, offering appointments over video or the phone, but those seeking out mental health treatment may face other challenges posed by the pandemic.
"Affordability is a barrier to entry," said Dr. David Hill, an Austin-based licensed psychologist and member of the Texas Psychological Association, which recently launched a resource guide that includes a psychologist search tool. Many people are facing increased financial stress due to pandemic-related layoffs—and may also have lost their health care coverage. "It's a bit of a catch-22," he added.
Nonprofits that help to fill these gaps are also affected by the pandemic.
Pick With Austin, a local organization that donates guitars and other musical instruments to children and teenagers with depression, saw its outreach curbed by the pandemic because many of its partner organizations—children's hospitals, community therapy groups, juvenile detention centers—were closed to visitors.
"What's happened with the pandemic is we've suddenly been cut off from all of those places," PYA Founder Jeff Curley told Austonia. His son, teenage guitarist Alan Carter Villaruz-Curley, died by suicide in 2010 when he was 18.
In 2019, the nonprofit distributed around 200 guitars. Last year, it was only able to give out around a quarter of that, despite having a surplus amount of donations.
"The pandemic has kept (young people) from going to school, from socializing with friends … so they've actually increased their depression," Curley said.

'Silver lining'
Despite the very serious mental health concerns surfaced by the pandemic, therapists and other experts expressed hope that the current crisis might lead to better health care coverage, wider use of teletherapy and decreased stigma around seeking out support.
Dr. Elizabeth Portman Minne owns Vida Clinic, which provides mental health services to individual clients as well as to school districts, including Austin ISD. Over the course of the pandemic, she has seen children and teenage clients embrace teletherapy. "It's versatile," she told Austonia. "Regardless of whether people are in school or wherever they are, they're still able to stay connected with their therapist."
Texas Gov. Greg Abbott recently identified mental health care funding, statewide broadband access and making permanent some temporary telemedicine regulatory waivers as top priorities this legislative session.
Minne is optimistic that the pandemic, in laying bare so many of the mental health challenges people are facing, will normalize seeking out care.
"It's an odd silver lining of the pandemic," she said. "It kind of made us connect with our own fragility and become more open to reaching out for help."
You can reach the Texas COVID-19 Mental Health Support Line at 833-986-1919 an the National Suicide Prevention Lifeline at 800-273-8255.
Matthew McConaughey is reportedly weighing a run for Texas governor in 2022.
The Austin resident and Oscar winner has been "quietly making calls to influential people in Texas political circles, including a deep-pocketed moderate Republican and energy CEO" as he decides whether to run, according to Politico.
McConaughey said a gubernatorial run is "a true consideration" while on a March episode of Houston's "The Balanced Voice" podcast.
Although most political strategists doubt McConaughey's commitment and viability as a candidate, some are still intrigued by the possibility.
"I find it improbable, but it's not out of the question," Karl Rove, a top Republican strategist with a long history in Austin, told the political news site. He added that the big question is whether McConaughey would run as a Republican, a Democrat or an independent.
Brendan Steinhauser, an Austin-based GOP strategist, told Politico he's surprised McConaughey isn't being taken more seriously. "Celebrity in this country counts for a lot," he said. "It's not like some C-list actor no one likes. He has an appeal."

Texas Gov. Greg Abbott plans to run for a third term and remains popular among Republican voters, 77% of whom approve of his performance as of April, according to the Texas Politics Project.
Some strategists believe an independent McConaughey run would benefit Abbott. But a recent poll from The Dallas Morning News and the University of Texas at Tyler found that McConaughey would beat Abbott, 45% to 33%, with 22% opting for someone else.
Mimi Swartz, an executive editor at Texas Monthly, mulled a McConaughey run in a recent opinion essay from the New York Times. "Texas may not be ready for a philosopher king as a candidate, much less governor," she wrote. "May the best man win, man."
Some JuiceLand production facility workers and storefront employees are organizing to demand wage increases, better working conditions (including air conditioning in the warehouse) and pay transparency, among other asks. They are also calling on staff to strike and customers to boycott the Austin-based company until their demands are met.
JuiceLand responded on Saturday. "We are listening," the company wrote on their Instagram story. "JuiceLand crew now makes guaranteed $15 an hour or more companywide."
JuiceLand, which was founded in 2001 by Matt Shook and now has 35 locations in Austin, Houston and Dallas, acknowledged the rising cost of living across Texas and the added stress of the pandemic in an email to employees on Saturday, part of which @juicelandworkersrights shared on social media. "There's no denying that times are tough and financial security means more now than ever," the company wrote.
Organized JuiceLand workers rejected this proposal, according to a recent post on the @juicelandworkersrights Instagram account, and reiterated their demands.
"Cost of living in Austin is rising exponentially and will only continue to get worse with the tech boom," the post read. "$15 is barely a sustainable living."

Related Articles Around the Web