Get connected with our daily update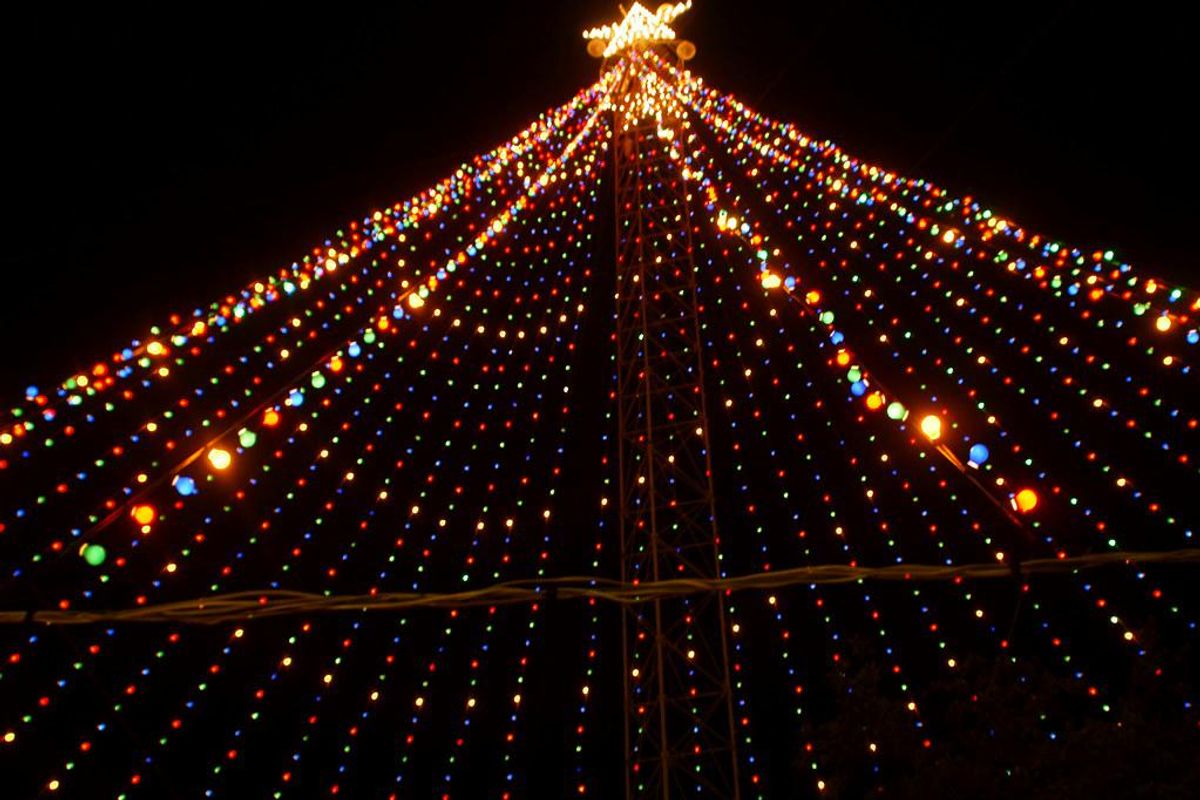 There are many urban legends of how Austins' moonlight towers came to be: some say they were put up to scare off an Austin serial killer—the Servant Girl Annihilator, who terrorized the town—other rumors suggest they were put up to keep crops growing and chickens laying eggs 24 hours a day.
---
However, the murders occurred about 10 years before the towers were erected and they had no such impact on crops or poultry. Austin followed a national trend to install the moontowers but more than 100 years later, Austin is the only city in the world with any moon towers remaining.
Austin purchased 31 moonlight towers, also called moontowers, from the Indiana-based Fort Wayne Electric Company in 1895, using electricity from Austin's first power plant on the Colorado River. Detroit, Michigan; New Orleans, Louisiana; San Jose, California and Wabash, Indiana, all had moonlight towers around the same time.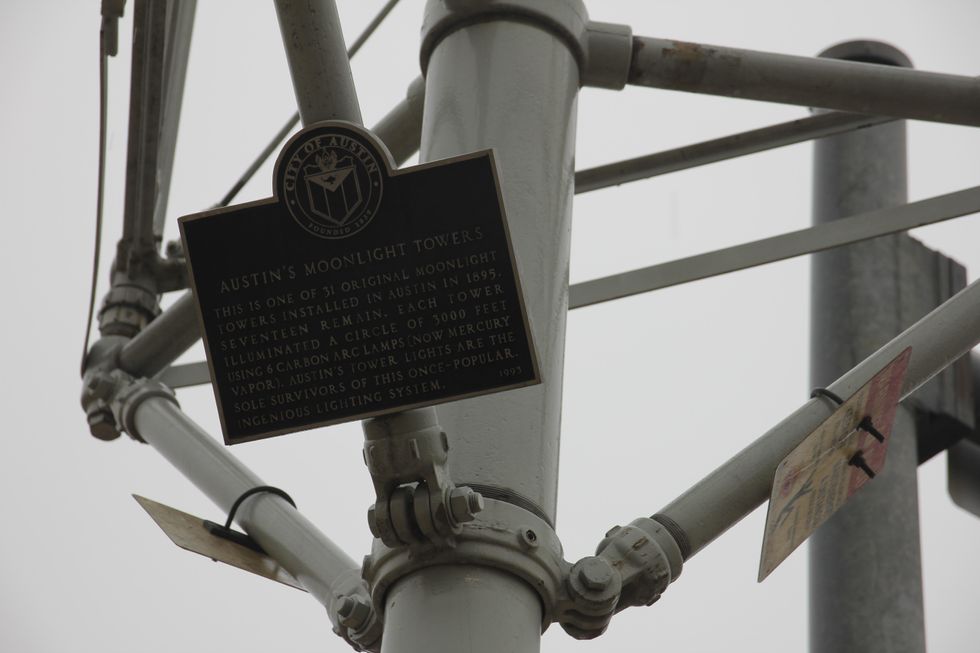 Each tower has a placard describing the history attached. (Laura Figi/Austonia)
They were predecessors to street lights and although the lightbulb was invented in 1879, not even 50% of people had electricity in their homes until around 50 years later. For the first time, residents had the freedom to roam outside their homes after sunset. Moontowers were once an "ingenious lighting system" and emitted a 3,000-foot diameter of light.
The towers' original carbon-arc lamp fittings were exceptionally bright but maintenance-heavy, requiring someone to take an elevator up 165 feet to turn them on every night. The fittings were quickly phased out, replaced by incandescent lamps in the 1920s and then mercury vapor lamps in the 1930s, with switches fitted at the base of the tower.

Only 17 of the original towers remain to this day—15 still sitting in front of their placards and 2 undergoing restoration. They were inducted into the National Register of Historic Places in 1976 and are in the process of a $3.9 million restoration project managed by Austin Energy and Preservation Austin. The towers are also protected by local ordinances in the city.
You can find the towers that are still standing here:
Adding to the list of things that make Austin the unique city it is today, residents have been fascinated by the towers even in obsolescence.

Possibly the most well-known moontower sits in Zilker Park and it is enjoyed every year by crowds at the Trail of Lights when it is decorated with 3,159 lights, becoming the Zilker Holiday Tree.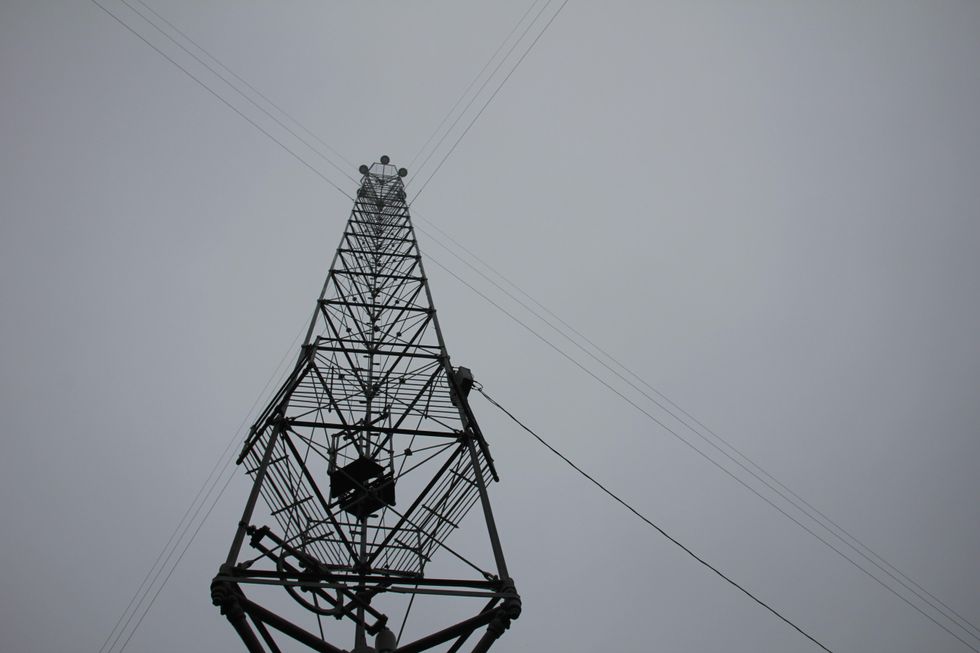 Moon tower at Blanco and W. 12th Street. (Laura Figi/Austonia)
Lovers of 1993 Austin classic "Dazed and Confused" are sure to recognize the "party at the moontower," though the scene was filmed on a set. The tower mentioned in the movie no longer exists. The moontowers even have their own documentary, made by locals Ray Spivey and Jeffrey Kerr, discussing the man who claims to have climbed all the towers (which is not advised) and their history.

Moontower Saloon combines several elements that make Austin what it is: Live music, Hill Country scenery, food trucks and a shared name with an exclusive relic. A few apartments, shopping centers and even ciders also share similar names.
Austin's Moontower Comedy Festival at the Paramount Theatre was launched in 2012 and has since become one of the biggest comedy festivals in the country.
Though not all of the towers remain, seeing them transports visitors back to a different time.
Here are the locations of the towers that are gone forever for being too costly to operate at the time and unuseful once street lamps were put up:
E. 1st Street and Waller Street
E. 6th St. and Medina Street
E. 14th Street and Sabine Street
E. 14th Street and Sabine Street (SW corner)
Hawthorne (became either E. 20th or E. 21st) and Longfellow
Martin Luther King Jr. Boulevard (formerly called 19th Street) and Lavaca Street
E. 16th Street and Brazos Street
E. 2nd Street and Neches Street (Austin Convention Center)
W. 6th Street and Westlynn Street
Dean Keeton Street (formerly called 26th Street) and Whitis Avenue
E. 5th St. and Brazos Street (moved to Leland Street and East Side Drive)
29th Street and Lamar Boulevard
W. 6th Street and Lamar Boulevard
City Park, renamed Emma Long Metropolitan Park (moved to Zilker Park)
North end of Granite Dam (near power station and Ben Hur dock)
Cesar Chavez and Trinity Street (SW corner)
West 4th and Nueces (SW corner)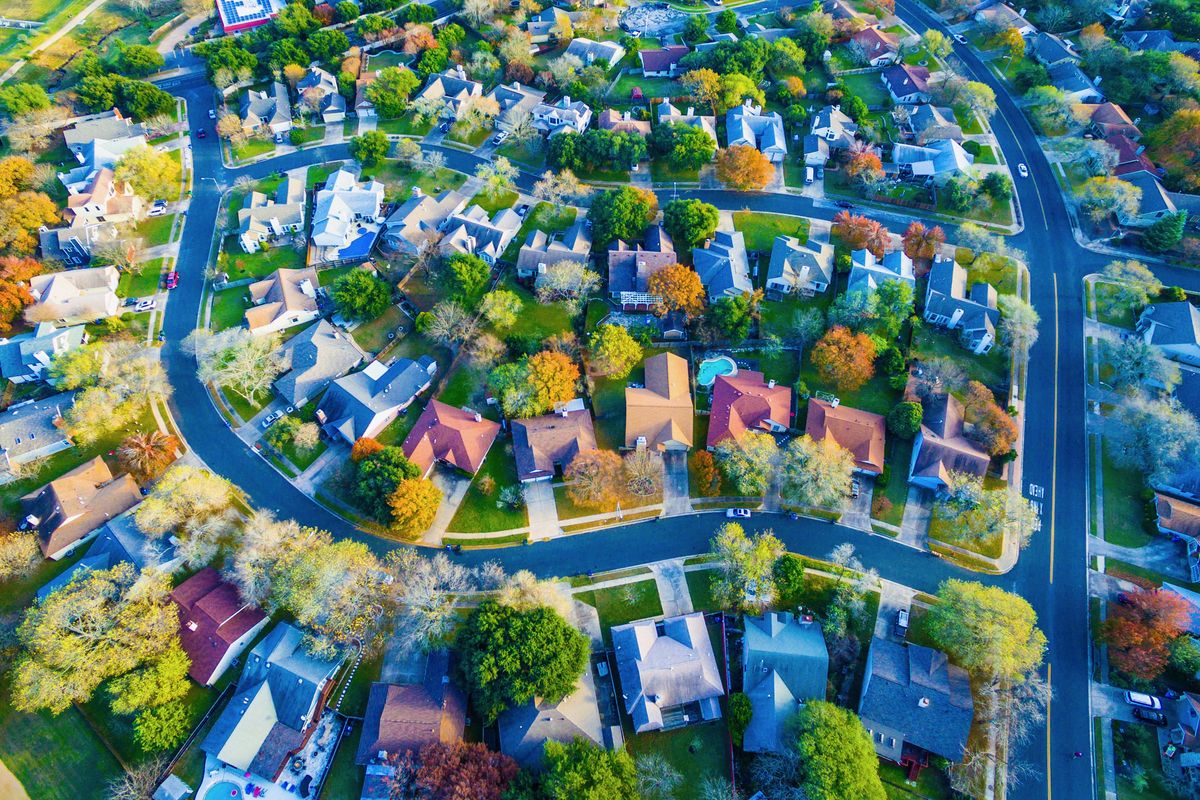 Shutterstock
So you want to buy a house?

To anyone trying to get on the "housing ladder," it's been a discouraging couple of years as prices skyrocketed in a market crowded with buyers bidding against each other for just about any available home.

Things may be calming down, with the Austin Board of REALTORS reporting fewer sales and more available homes this summer.

Mortgage rates have more than doubled in the last year, from around 3% to well over 6% on a 30-year fixed rate loan, getting even more of a bump this week after the Federal Reserve raised bank rates on Wednesday.

So how affordable are homes right now? That, of course, depends on what you want and how much you're able or willing to pay, but here are some rough estimates of what a typical buyer would pay to buy a $650,000 home, which would be considered "mid-price" in today's market.

Mortgage banker Chris Holland (NMLS 211033) of Austin's Sente Mortgage ran some numbers for Austonia to illustrate a typical purchase.


Holland says that while the 30-year fixed rate mortgage is often mentioned in the media, the most popular loan that he's seeing now is a 7/1 adjustable rate mortgage, which has a fixed rate for 7 years and then adjusts every year based on market rates, with a limit on how much it can increase each year. The interest is amortized over a 30-year period. Adjustable Rate Mortgages (ARMs) offer lower rates than fixed rate loans.

Here are the numbers, which are examples. In practice, exact numbers vary with a buyer's credit rating and overall financial situation, and with the rate, which can move up or down at any time.
$650,000 home purchase price
7/1 ARM at 5.875%
5% down payment, equals $32,500
95% financed, equals $617,500
$4,990 payment, including principle and interest (P&I), insurance, and property tax
Typically, a borrower's debt to income ratio needs to be at or below 45%. So for this mortgage, a borrower, or borrowers, would need income of roughly $11,100/month, or $133,200/year. That number could be higher, depending on the buyer's outstanding credit balances on things like credit cards and car loans.
Not included are closing costs, moving costs, maintenance, and any changes a new buyer might want to make to the home.

Holland says he's had a lot of clients approved for loans who were house hunting but have put that on hold, hoping prices come down.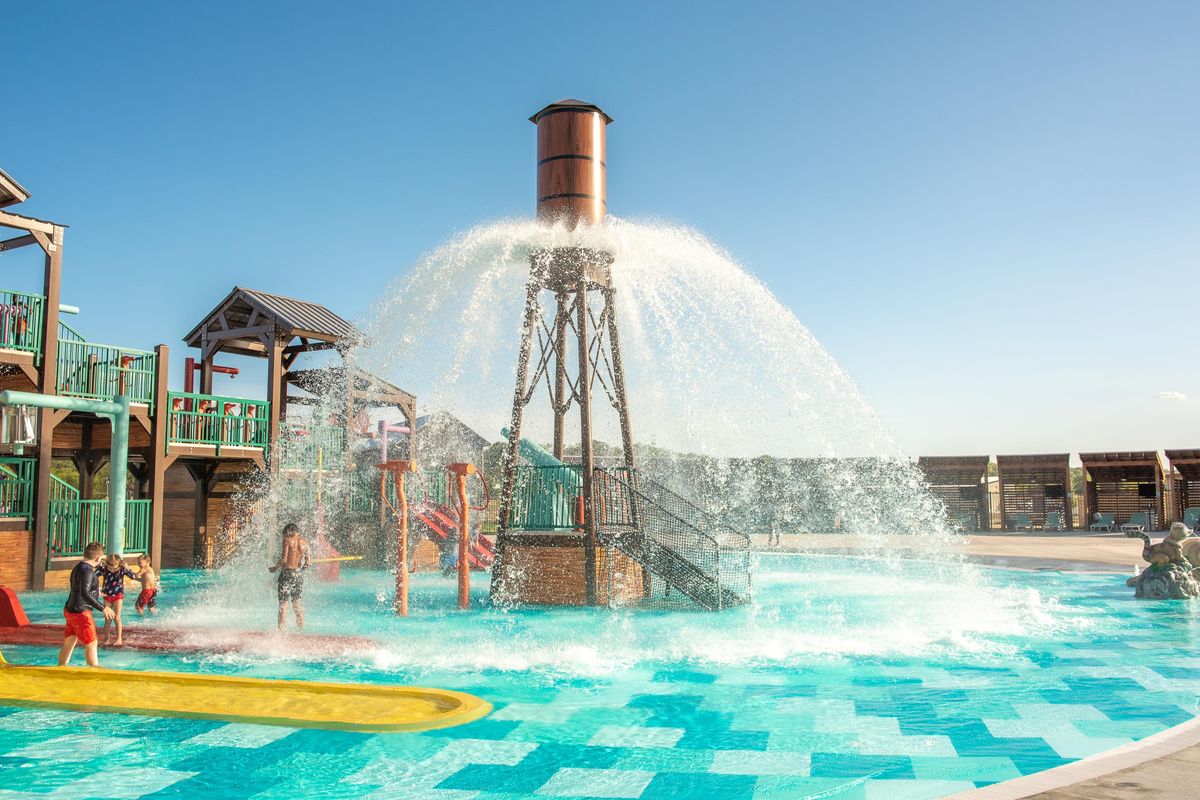 Camp Fimfo Waco
Camp Fimfo Waco, a brand new camping resort, is kicking off football and fall camping season in style! With top-notch amenities, premium accommodations, and 10 weekends of fall fun, there's no better place to have a fall camping getaway, especially if you're a Baylor football fan!
Fall promises to be a one-of-a-kind camping experience. From Sept. 16 to Nov. 24, weekends will be packed with fall-themed activities, including special Halloween weekends in October. Campers can enjoy activities like fall crafts, campground trick-or-treating, costume contests, site decorating, outdoor movie nights, and more!