Austonia AM
100% Austin news, info, and entertainment, straight to your inbox at 6 a.m. every morning.
In five minutes, you're fully informed and ready to start another great day in our city.
Get connected with our daily update
There are many urban legends of how Austins' moonlight towers came to be: some say they were put up to scare off an Austin serial killer—the Servant Girl Annihilator, who terrorized the town—other rumors suggest they were put up to keep crops growing and chickens laying eggs 24 hours a day.
---
However, the murders occurred about 10 years before the towers were erected and they had no such impact on crops or poultry. Austin followed a national trend to install the moontowers but more than 100 years later, Austin is the only city in the world with any moon towers remaining.
Austin purchased 31 moonlight towers, also called moontowers, from the Indiana-based Fort Wayne Electric Company in 1895, using electricity from Austin's first power plant on the Colorado River. Detroit, Michigan; New Orleans, Louisiana; San Jose, California and Wabash, Indiana, all had moonlight towers around the same time.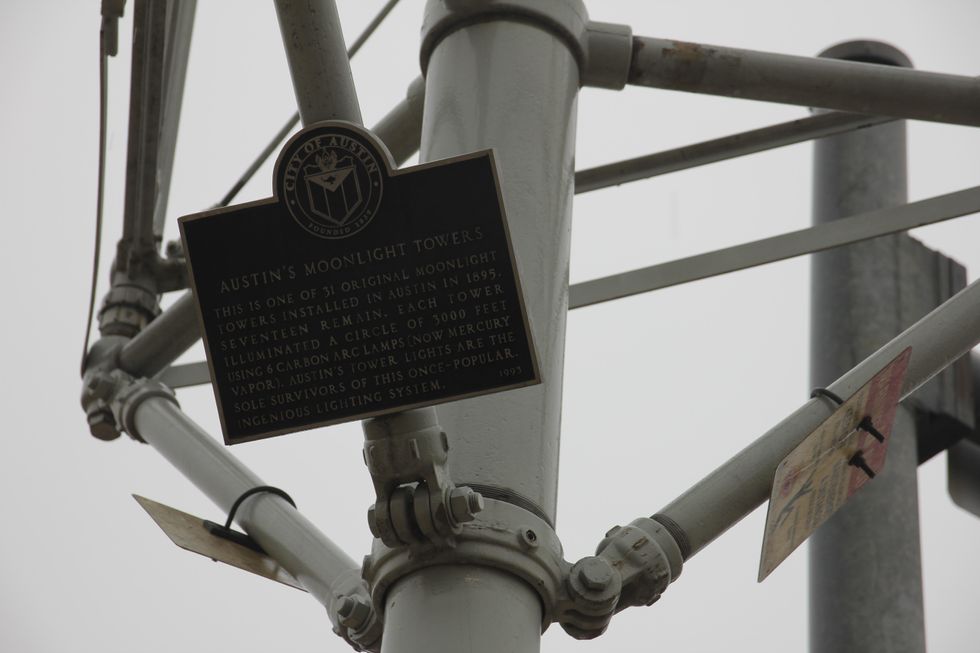 Each tower has a placard describing the history attached. (Laura Figi/Austonia)
They were predecessors to street lights and although the lightbulb was invented in 1879, not even 50% of people had electricity in their homes until around 50 years later. For the first time, residents had the freedom to roam outside their homes after sunset. Moontowers were once an "ingenious lighting system" and emitted a 3,000-foot diameter of light.
The towers' original carbon-arc lamp fittings were exceptionally bright but maintenance-heavy, requiring someone to take an elevator up 165 feet to turn them on every night. The fittings were quickly phased out, replaced by incandescent lamps in the 1920s and then mercury vapor lamps in the 1930s, with switches fitted at the base of the tower.

Only 17 of the original towers remain to this day—15 still sitting in front of their placards and 2 undergoing restoration. They were inducted into the National Register of Historic Places in 1976 and are in the process of a $3.9 million restoration project managed by Austin Energy and Preservation Austin. The towers are also protected by local ordinances in the city.
You can find the towers that are still standing here:
Adding to the list of things that make Austin the unique city it is today, residents have been fascinated by the towers even in obsolescence.

Possibly the most well-known moontower sits in Zilker Park and it is enjoyed every year by crowds at the Trail of Lights when it is decorated with 3,159 lights, becoming the Zilker Holiday Tree.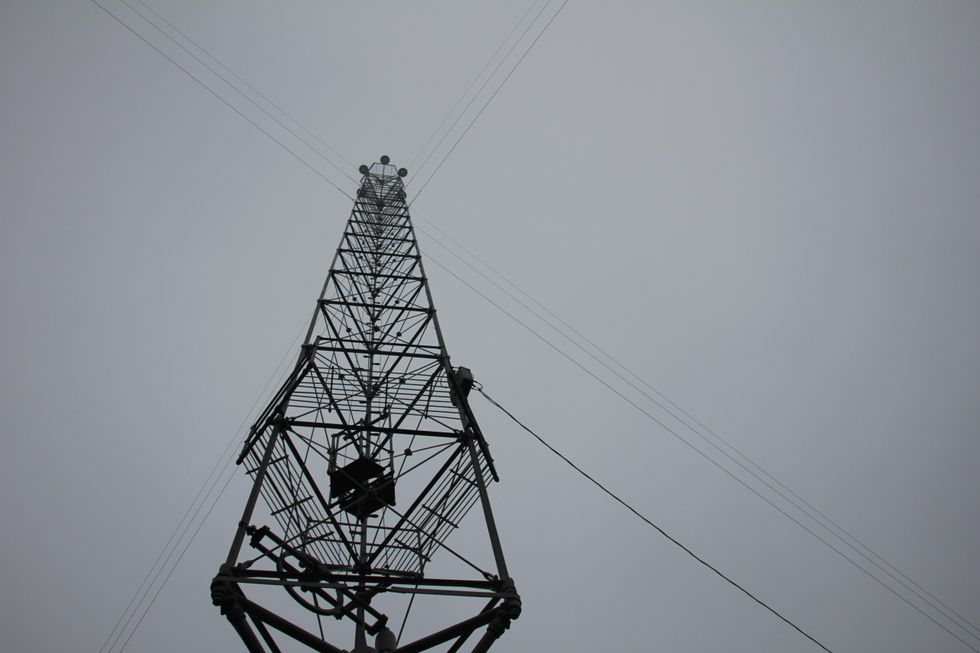 Moon tower at Blanco and W. 12th Street. (Laura Figi/Austonia)
Lovers of 1993 Austin classic "Dazed and Confused" are sure to recognize the "party at the moontower," though the scene was filmed on a set. The tower mentioned in the movie no longer exists. The moontowers even have their own documentary, made by locals Ray Spivey and Jeffrey Kerr, discussing the man who claims to have climbed all the towers (which is not advised) and their history.

Moontower Saloon combines several elements that make Austin what it is: Live music, Hill Country scenery, food trucks and a shared name with an exclusive relic. A few apartments, shopping centers and even ciders also share similar names.
Austin's Moontower Comedy Festival at the Paramount Theatre was launched in 2012 and has since become one of the biggest comedy festivals in the country.
Though not all of the towers remain, seeing them transports visitors back to a different time.
Here are the locations of the towers that are gone forever for being too costly to operate at the time and unuseful once street lamps were put up:
E. 1st Street and Waller Street
E. 6th St. and Medina Street
E. 14th Street and Sabine Street
E. 14th Street and Sabine Street (SW corner)
Hawthorne (became either E. 20th or E. 21st) and Longfellow
Martin Luther King Jr. Boulevard (formerly called 19th Street) and Lavaca Street
E. 16th Street and Brazos Street
E. 2nd Street and Neches Street (Austin Convention Center)
W. 6th Street and Westlynn Street
Dean Keeton Street (formerly called 26th Street) and Whitis Avenue
E. 5th St. and Brazos Street (moved to Leland Street and East Side Drive)
29th Street and Lamar Boulevard
W. 6th Street and Lamar Boulevard
City Park, renamed Emma Long Metropolitan Park (moved to Zilker Park)
North end of Granite Dam (near power station and Ben Hur dock)
Cesar Chavez and Trinity Street (SW corner)
West 4th and Nueces (SW corner)
Ingredients:
1 1/2 oz of hibiscus-infused Tito's Handmade Vodka
2 oz sparkling water
1 oz fresh lime juice
3/4 oz simple syrup
1 tsp allspice dram
Directions: Add infused Tito's Handmade Vodka, lime juice, and simple syrup to a shaker with ice. Shake and strain into a glass over fresh ice. Top with sparkling water, and garnish with a lime slice. Enjoy!
A week after Texas added two congressional seats and California lost one, state officials reported a population decline in 2020 for the first time in the Golden State's history.
California fell by over 182,000 people from January 2020 to January 2021, dropping almost 0.5% to cap out at around 39.5 million people. It is still the nation's most populous state.
For over thirty years, California has seen more people leave than move in from other states, state officials said, with 6.1 million people moving out and 4.9 million coming in last year. Immigration and births kept California growing, but the state saw a shrink in international migration in 2020 due to COVID and the White House's hold on visas.
Of the steady flow of ex-Californians moving to other states, more are moving to Texas than any other state. Many are relocating to Austin, which has been labeled a "little California" by billionaire resident Elon Musk and continues to grow astronomically.
Meanwhile, California cities including Los Angeles, San Diego, San Jose and San Francisco saw a population decline.
With immigration and state migration on the decline, the Golden State was also hit with a spike in deaths- 51,000 people died from COVID in 2020, and all but seven of the state's counties saw death rates higher than the three-year average.
Still, the California Department of Finance said a "slightly positive annual growth" can be expected next year as the state recovers from COVID deaths and political repercussions.