Austonia AM
100% Austin news, info, and entertainment, straight to your inbox at 6 a.m. every morning.
In five minutes, you're fully informed and ready to start another great day in our city.
Get connected with our daily update
Tarrytown's Casis Village shopping center is buzzing with activity on a crisp Sunday afternoon in December. Customers flock to Randall's to check off their grocery lists, grab seasonal lattes from Starbucks and peruse the center's various thrifty boutiques and jewelry stores for Christmas gift inspiration.
For many longtime Austinites, the bustling plaza may bring back memories of the former glory of one of the city's most famous and controversial shopping centers, which has since been reduced to a ghost town by its authoritarian landlord.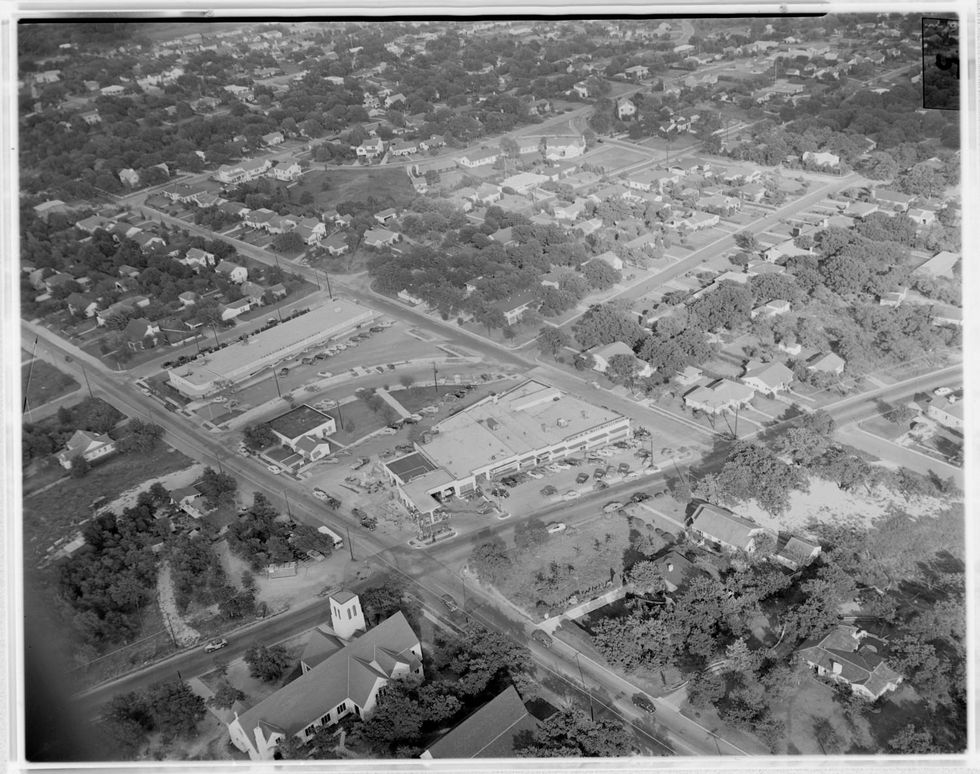 Aerial view of TarryTown Shopping Center flanked on the west by Exposition Boulevard and on the south by Windsor Road in 1948. (Austin History Center, Austin Public Library)
Towering over a corner of the Casis Village that used to belong to a Blockbuster is the Tarrytown Pharmacy. It has served locals since Dec. 6, 1941, the day before Japanese soldiers attacked Pearl Harbor. Far from your run-of-the-mill chain pharmacy, the nearly 80-year-old apothecary beckons customers to roam its aisles and browse its assortment of artisanal gifts, including decorative stationery, denim dresses and scented candles with names like "baltic amber" and "santiago huckleberry."

Before it relocated to Casis Village in 2010, the Tarrytown Pharmacy operated out of the TarryTown Shopping Center, roughly half a mile down the road. These days, the once-thriving center now stands largely desolate, cutting a vastly different figure than the bustling Casis Village.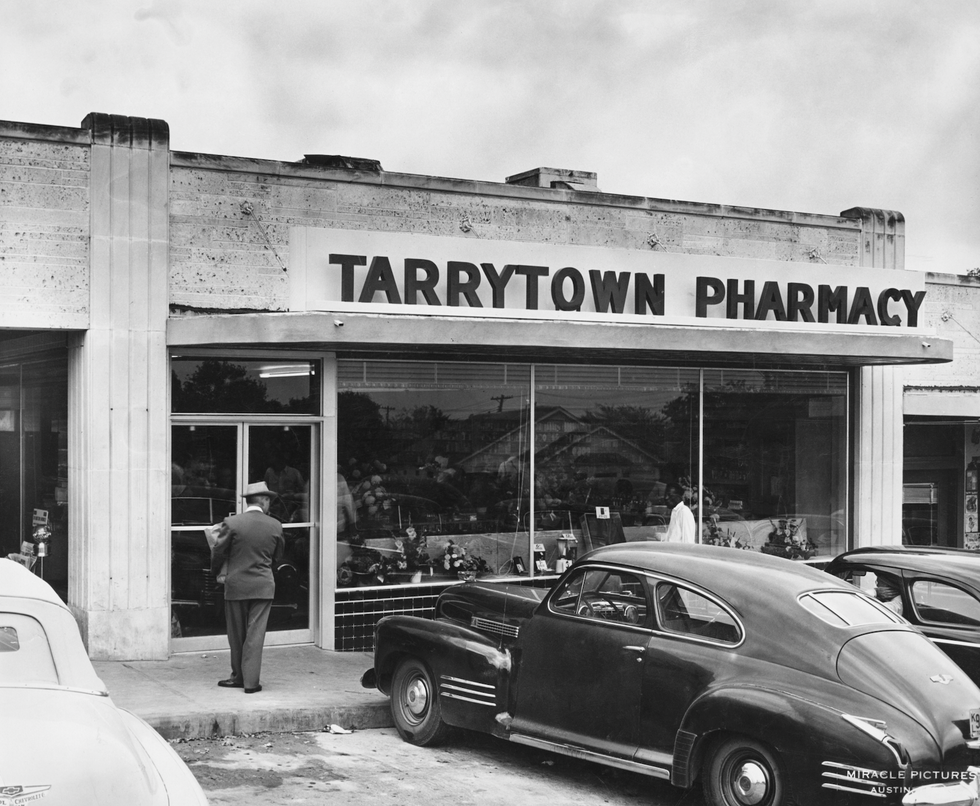 The Tarrytown Pharmacy in the TarryTown Shopping Center before it moved to Casis Village. (Blair Newberry)
Save for the handful of couples eating lunch at vegan gastropub the Beer Plant, there are few customers to be found between the barbershop, liquor store, vegan grocery, various exercise studios and Austin Pets Alive! that occupies the TarryTown Shopping Center's sprawling corner lot.
A sign facing the street next to the TarryTown Shopping Center bears a picture of a lamb on one side and a cow wearing a Santa hat on the other. Its two all-caps slogans create a fitting credo for the center's mercurial landlord, Jeanne Crusemann Daniels: "PEACE TO ALL BEINGS" and "JOY TO ALL BEINGS."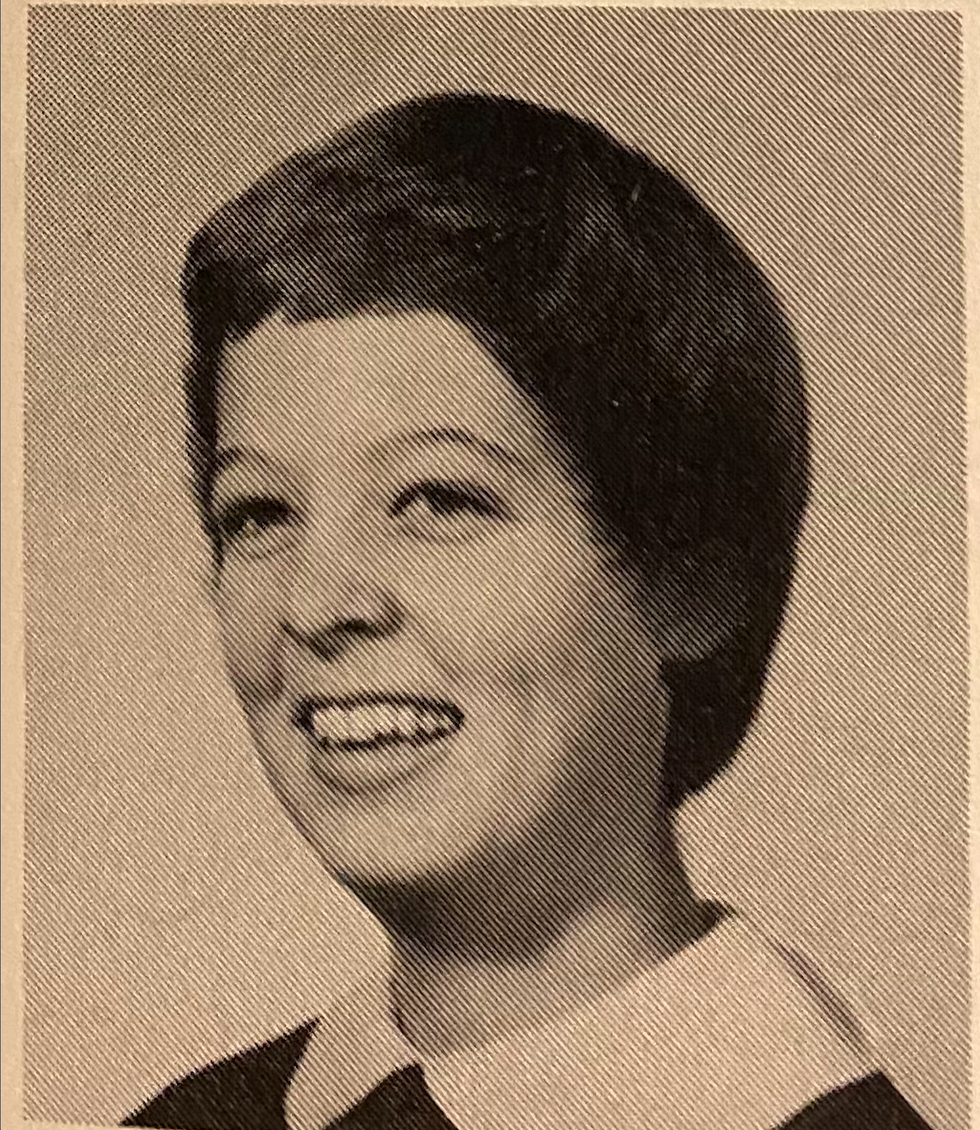 Jeanne Crusemann in high school. (Lynn Pugh Remadna)
A staunch animal rights activist and vegan, Daniels is seldom seen at the TarryTown Shopping Center, but her presence is always felt. Since inheriting the center from her mother Mary Lee Crusemann, in 1999, Daniels has systematically eliminated every business that used or sold animal products.
Restaurants like the beloved Holiday House burger joint and Texas French Bread met the chopping block, as did the TarryTown Pharmacy, which sells drugs tested on animals. But Daniels' policy also extended to the Austin Shoe Hospital, which was ordered to keep its leather shoelaces out of sight from customers; Steve's Liquor & Fine Wines, which was barred from putting caviar in its gift baskets; and the Chevron filling station, which was forced to stop selling milk-based candy bars.
The TarryTown Shopping Center used to be a place where kids could drop their bikes and grab a malt after school, local politicians could hold court over baskets of burgers and fries and customers could get their prescriptions cheerfully refilled by memory. But Daniels' iron-fisted policies have transformed it from a thriving community hub into a barren relic that doesn't adequately meet the needs of the neighborhood, according to several former tenants and longtime Tarrytown residents.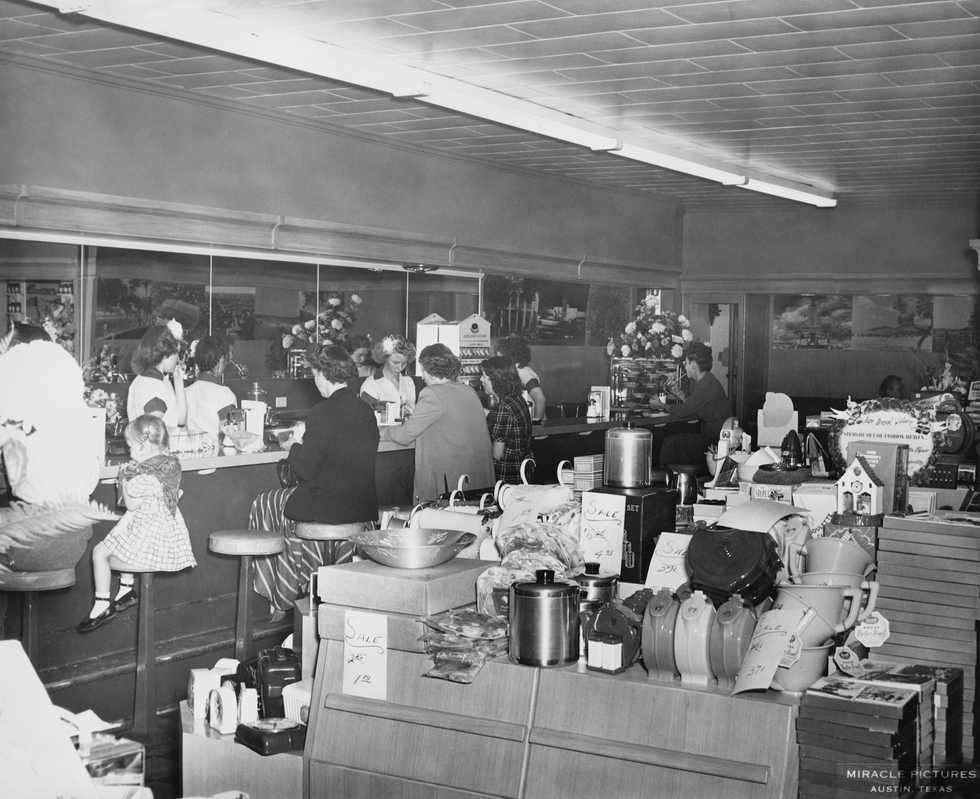 The Tarrytown Shopping Center attracted many for its busy shops and restaurants. (Blair Newberry)
"It was part of the fabric of what made that neighborhood so great," says Mark Newberry, owner of the TarryTown Pharmacy. "And now when you drive by, it's something that you hold against the neighborhood."
Daniels declined to be interviewed for this story, as she has turned down many reporters over the years. When asked about the origin of her commitment to animal rights, she recommended—via Belva Green, owner of the DT Land Group, which manages the TarryTown Shopping Center—two books: Peter Singer's "Animal Liberation: A New Ethics for our Treatment of Animals" and Ernest Freeberg's "A Traitor to His Species: Henry Bergh and the Birth of the Animal Rights Movement."
If Daniels' policies are confounding and infuriating to many Austinites, they're also remarkable. She is a rare breed of a business owner who makes her decisions based solely on principle, not profit. And she is rumored to have passed up much of the latter, declining various offers from locals to buy the TarryTown Shopping Center for several times its estimated value.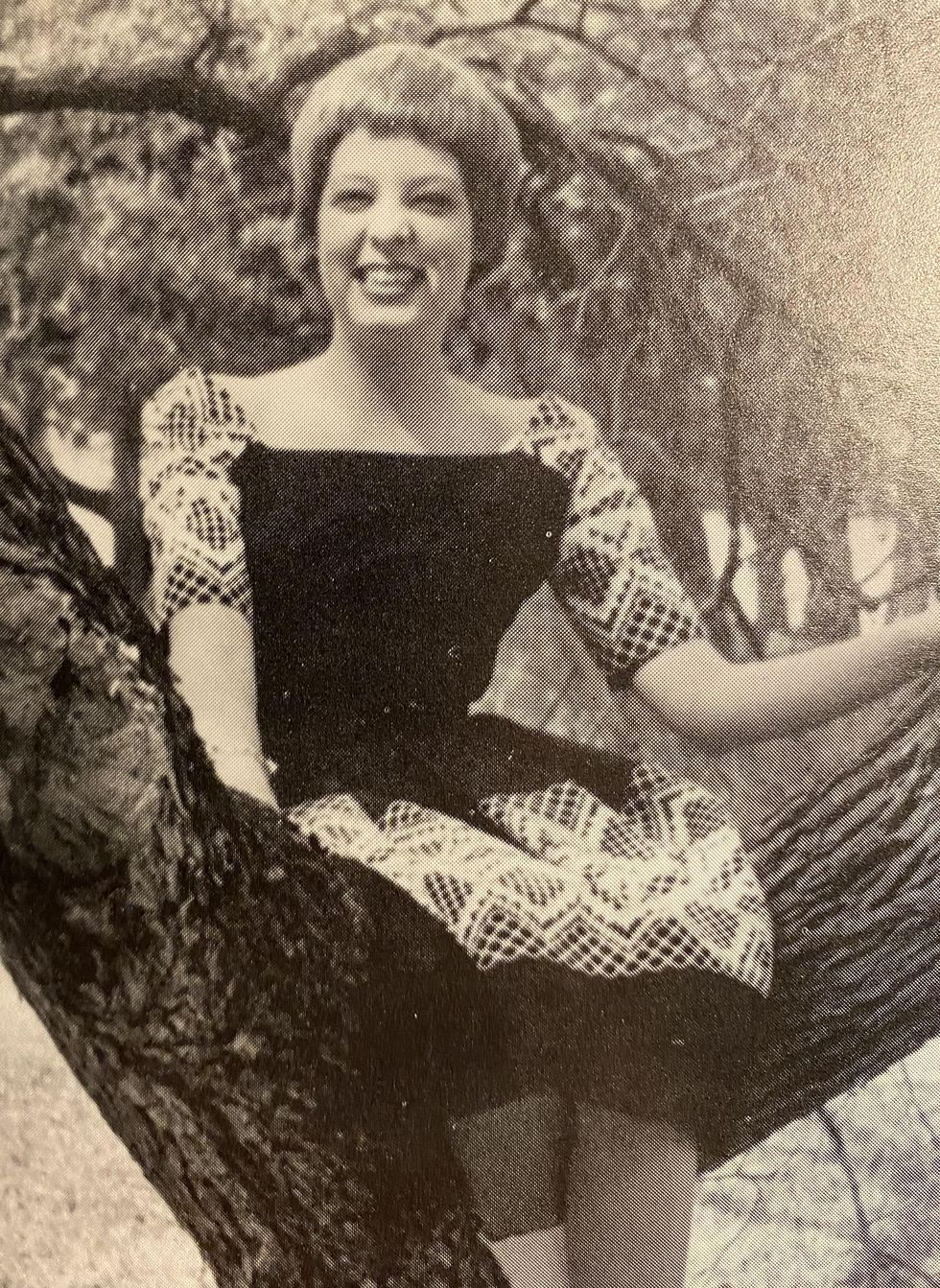 High school yearbook photo of Jeanne Crusemann. (Lynn Pugh Remadna)
"She couldn't care less about making money," Newberry says. "She's trying to drive an agenda. And when you put someone who doesn't care about money and her agenda together, that's very dangerous."
The TarryTown Pharmacy has been in the Newberry family for three generations, since Gatewood Newberry purchased the store from original owner Guy Kelly in the 1940s. At its original Tarrytown Shopping Center location, the pharmacy quickly became a pillar of the community, a place for shoppers to grab a malt at the soda fountain or play a few rounds of pinball at the front of the store while waiting to get their prescriptions filled.
"There was a whole little group from the neighborhood," says Lynn Pugh Remadna, whose family owned a bridge construction company and leased office space in the TarryTown Shopping Center for decades. "They'd sit (in the pharmacy) and just have a great time talking, you know, having their coffee and talking about how to solve the world's problems."
TarryTown shoppers could also congregate at Ralph Moreland's Holiday House and savor one of the owner's famous flame-grilled hamburgers. The local hotspot drew numerous high-profile guests over the years, including golfer Arnold Palmer, actor Dennis Quaid and George W. Bush, then the governor of Texas. Regardless of their resume, every Holiday House customer was treated with the same respect and discretion, per Moreland's policy.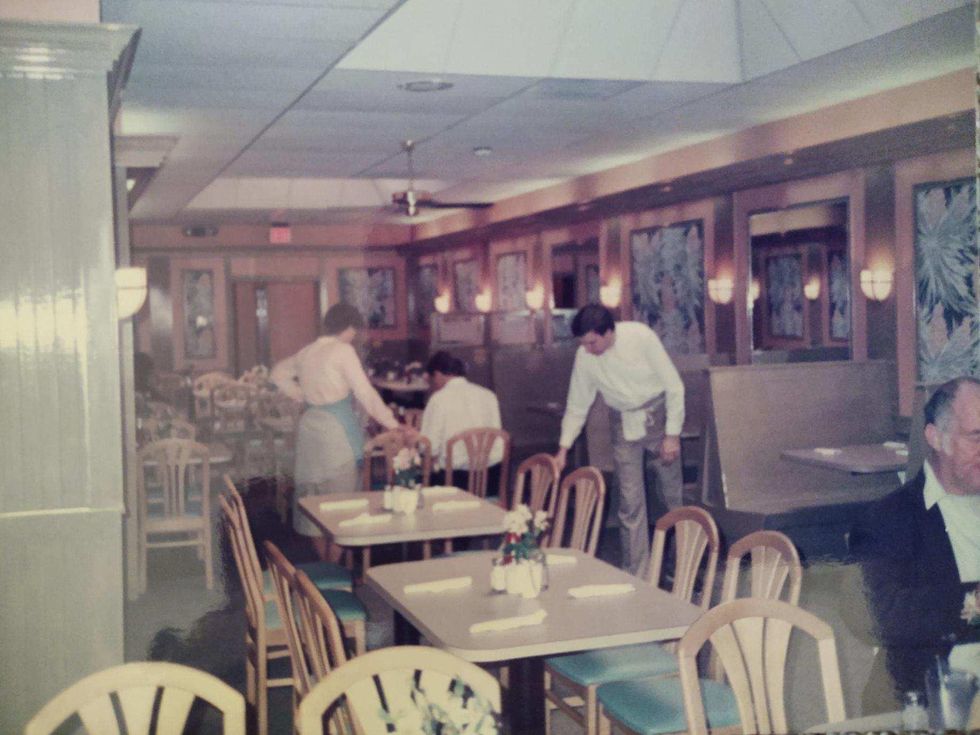 Holiday House in 2004 before it closed. (Jeannie Moreland LeTeff)
In its heyday, the TarryTown Shopping Center radiated friendliness and security. Parents could catch up with their neighbors as they stocked up on weekly provisions at the grocery store, and they knew their kids were in good hands if they went there after school to grab a bite to eat with their hard-earned allowances.
"I remember many times, if I ate all my breakfast, my grandpa would give me 50 cents to $1.50 and tell me to go down to the pharmacy, and I would get special treats, whether it was ice cream or a shake or fudge," says Moreland's granddaughter, Lono Zurita. "Everybody knew everybody's name. It was really a close-knit community."
In 1857, Gov. Elisha Pease purchased the land for the TarryTown estate, then known as Woodlawn, from Texas State Comptroller James Shaw. Pease's grandson, Niles Graham, opened the first phase of Tarrytown—named for the family's New York summer retreat—in 1934 along with his cousin Murray Graham, his sister Carrie Margaret Graham and her husband Paul Crusemann. Five years later, they opened the Tarrytown Shopping Center at the intersection of Windsor Road and Exposition Boulevard, with the goal of providing a one-of-a-kind shopping destination for what would become one of Austin's wealthiest neighborhoods.
For a while, it did just that. "It was one of the finest retail centers in the entire state. I mean, it was jam-packed 24/7," says Newberry, who graduated from high school in 1996 and witnessed many of the TarryTown Shopping Center's banner years. "That parking lot would be 100% full, and some days, it would overflow onto the street. And I remember thinking, wow, I sure am lucky that my dad owns the store because I can park in the back. Because there literally would not be anywhere to park."
Paul Crusemann's son Paul Conrad Crusemann, married Mary Lee Wilson in 1940, and she inherited the center after his death in 1968. Reverently referred to as "Mrs. Crusemann" by many of her tenants, Mary Lee was a tough but fair businesswoman and a razor-sharp dresser whose vintage Jaguar couldn't be missed. Crusemann commanded respect and was particular about what tenants could display on her properties.
Neal Newberry, former owner of the TarryTown Texaco and uncle of Mark Newberry, quickly learned that when he decorated his storefront with commemorative Indy 500 banners one year.
"I saw her at the intersection where the stoplight is," Neal recalls. "She was staring at all these banners, and she made a beeline on the property. I'm standing out there, of course, and she rolls up, cranks her window down and says, 'Neal, you're trashing my property. Get them down.'"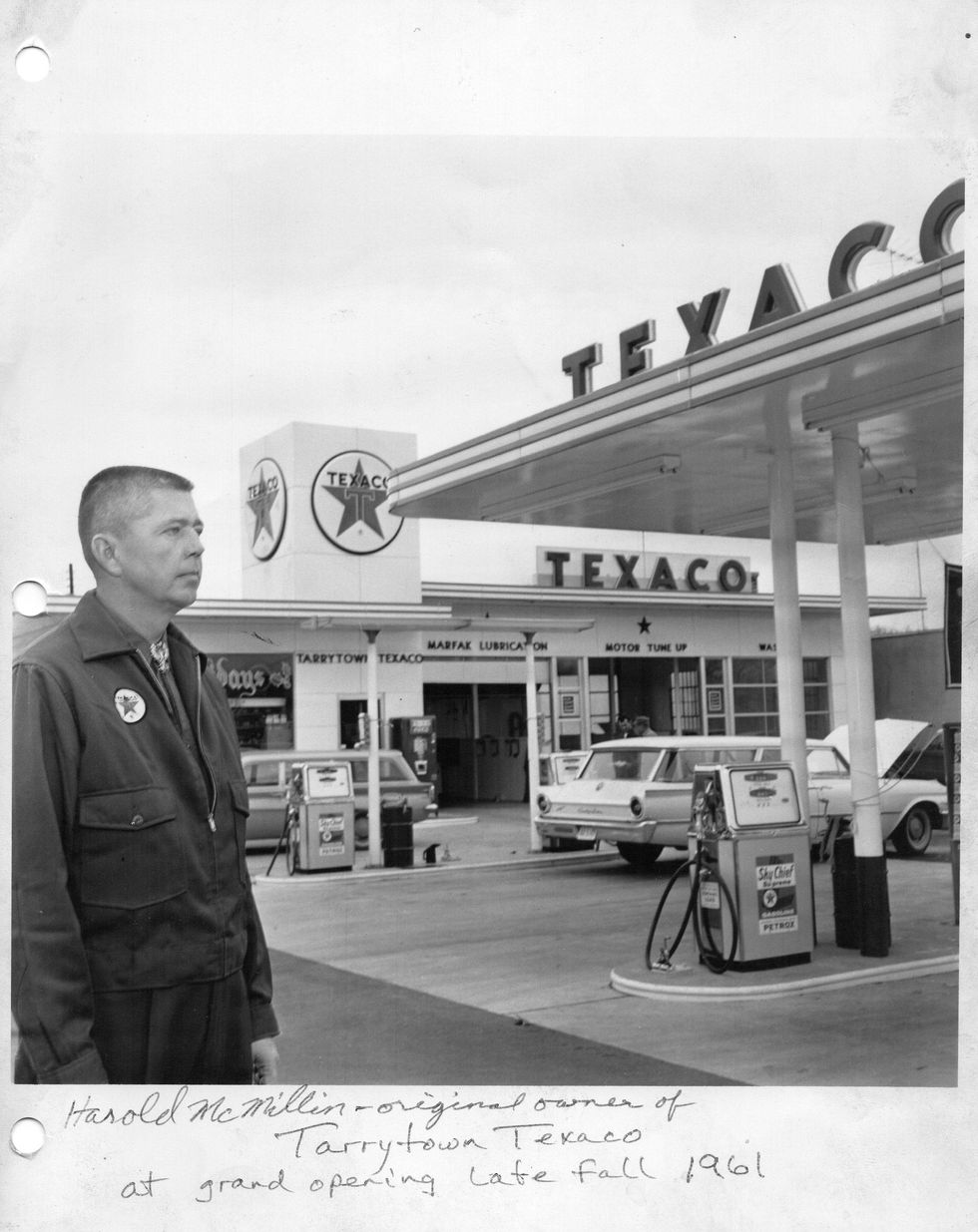 The original owner of the TarryTown Texaco in 1961. (Neal Newberry)
Daniels, whom Remadna describes as a "glamorous, platinum-haired woman" in her later years, did not share her mother's business savvy, according to several former tenants. After inheriting the TarryTown Shopping Center in 1999, she instantly began overhauling it, as if to announce her homecoming with a vengeance.
"When her mother died, she had this big funeral over at Good Shepherd (Episcopal Church). It was like a dog and pony show," says Remadna, who briefly overlapped with Daniels at Austin High School. "It was like, 'Look at me, here I am. I was plain Jane and now look at me. I'm glamorous. I've got the center and y'all can't do anything about it.'" (Speaking of glamour: Several former tenants also talk of a fabled photograph of a pre-vegan Daniels wearing a lavish fur coat that exists somewhere in the ether among old Austinites.)
By that point, Remadna's family had left the TarryTown Shopping Center. Remadna had gone to the City Council on Crusemann's behalf to petition for a renovation of the center in the mid-'80s. The renovation was approved, but Crusemann wanted to place her family in a second-floor office across the street, which wouldn't have worked for her father, Robert Pugh, who suffered from arthritis.
Remadna wonders if the proposed move was part of Daniels' plan to replace the businesses on the main side of the TarryTown Shopping Center with retail. "(My father) didn't want to (leave Tarrytown), but it was kind of forced in some ways," she says. "And after I had gone to the City Council for her to get approval for her redo, I thought, 'Well, that's kind of ironic, isn't it?'"
Under Daniels' draconian rule, restaurants like the Holiday House, Texas French Bread and Chinese restaurant Formosa became the most obvious victims. When their leases prevented Daniels from ousting them entirely, she imposed outlandish restrictions that made it virtually impossible for them to do business.
"One day we were supposed to have a spray, or food safety bug inspection and all that, and she stopped it," Zurita says. "She had people outside on the sidewalk, collecting ants with straws."
The scene would have been farcical if it weren't so dire for Moreland. "You don't fail your complete health inspection, but you get fined from the city if you're not following protocol, which she tried to block," Zurita says. "So it became really, really nightmarish at the end."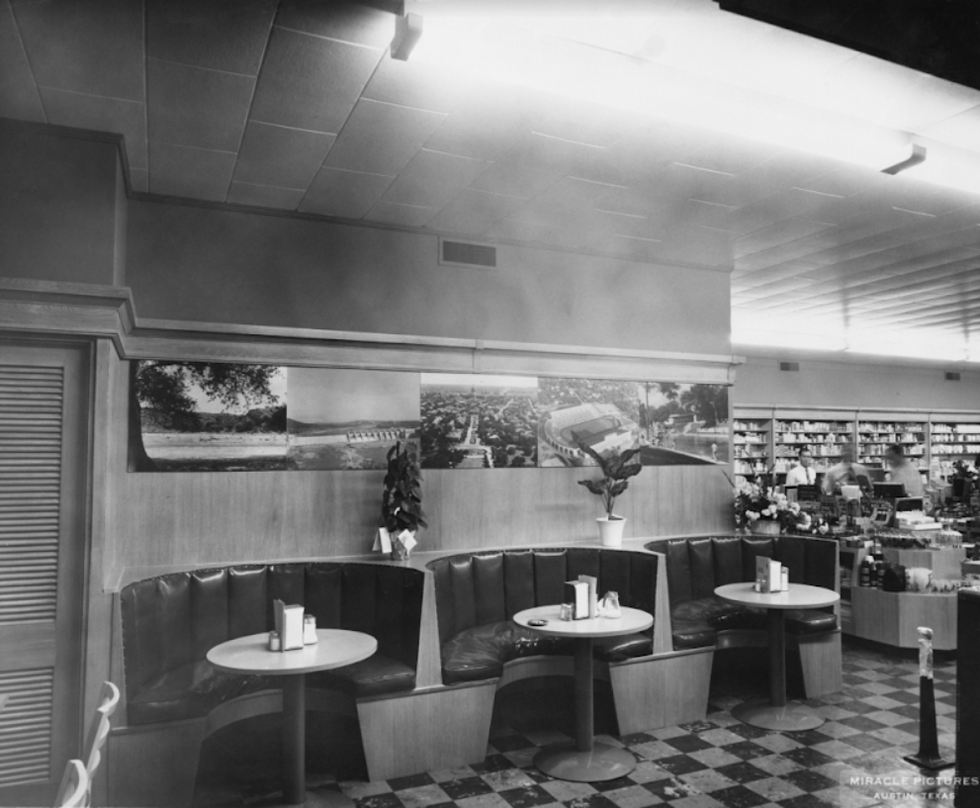 (Blair Newberry)
Newberry likewise had to do pest control after hours on the weekends to fly under Daniels' radar. He had also stopped selling leather-bound planners and beef jerky in the pharmacy, but the final straw came in August of 2009, when Daniels' representative told him he could no longer administer flu shots, which are mostly made using eggs.
"Her representative came and said, 'Hey, you can't give flu shots anymore,'" Newberry recalls. "This is a pharmacy. That's what we do. I can't not give flu shots."
By then, foot traffic at the TarryTown Shopping Center had atrophied to the point that Newberry and his employees had begun parking in front of the pharmacy to give the illusion of a crowd. Newberry had already been looking elsewhere for a new lease, but he immediately pulled the trigger on Casis Village after the flu shot fiasco.
"I thought, this is not even a negotiation for me to get out," he says. "I will take basically whatever (our new landlord) wants to charge me, because this is not long-term where I am. She obviously doesn't want me here. She doesn't like what we're doing. And that was not a good feeling to have."
Some tenants still tried to accommodate Daniels' demands. Moreland briefly added fancier dishes and cocktails to his menu, which Jeannie Moreland LeTeff, Moreland's daughter, says ended in disaster. Others, like Bill Broaddus, who ran the Chevron station where Austin Pets Alive! now stands, protested cheekily. Broaddus stopped selling milk-based candy bars at Daniels' behest, but he began giving every customer who received an oil change a coupon for a free hamburger at Sonic.
"That didn't seem to sit very well," Broaddus says with a laugh.
When he found his new lease offer filled with unreasonable provisions, Broaddus cut his losses and said goodbye to the Chevron station that had been in his family since his father opened it in 1941. He now owns several other stations around Austin, but he still looks back wistfully on his old stomping grounds.
"I miss TarryTown tremendously," Broaddus says. "It's really a special spot and it's a wonderful group of people there, and to me, they were certainly more than customers. They were friends."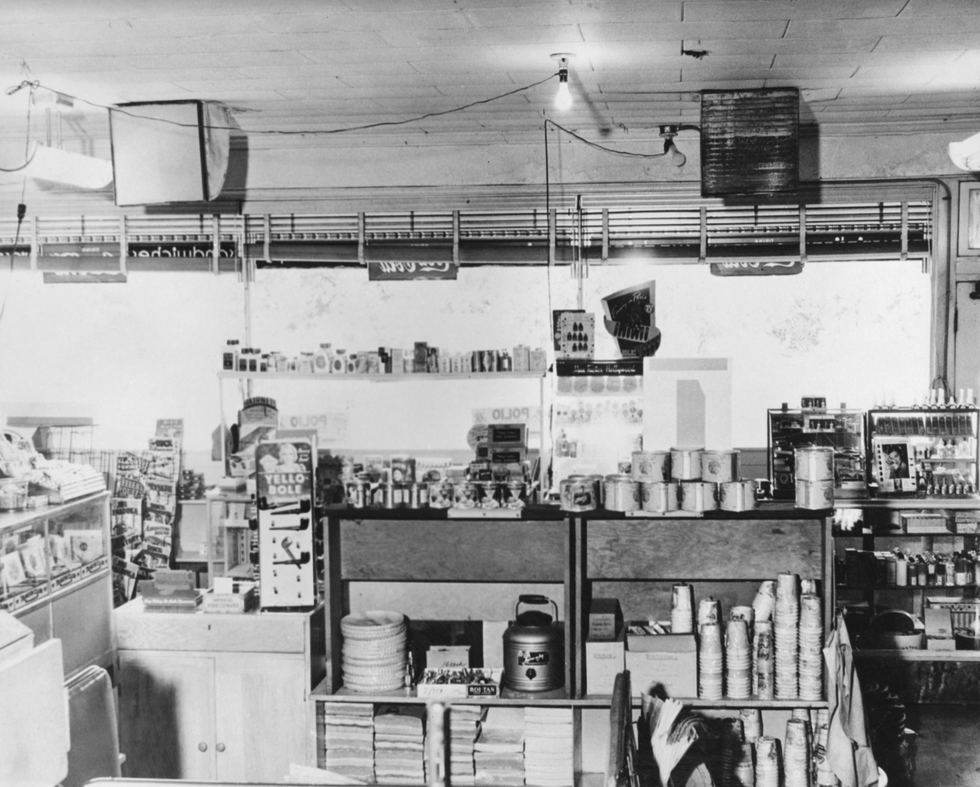 A shop in the TarryTown ShoppingCenter. (Blair Newberry)
With nearly every classic business besides the TarryTown Texaco gone, the Tarrytown Shopping Center of yesteryear is now a distant memory over which longtime Austinites wax nostalgic. Some tenants have been lucky enough to start fresh in new locations, but many of them never reopened after Daniels gave them the ax.
Every closure or relocation was another painful reminder that Daniels had ripped the heart out of a once-flourishing community that set the template for other upscale shopping centers in Austin, leaving a void in the neighborhood that has yet to be filled.
"This is a constant topic of discussion at every holiday party for the last 21 years when we see folks," Mark Newberry says. "I really wish that that would be better, because right now, it's just not. I want what Highland Park has and what River Oaks has and Alamo Heights. We were the first of all of those places, and now (the TarryTown Shopping Center is) the laughingstock of those places."
The center's downward trajectory doesn't seem likely to change, either. Daniels' vice grip on her tenants has only tightened over the years, and she is rumored to have left the center to the SPCA in her will. "I remember hearing at one point she didn't care if the shops sat empty," Zurita says.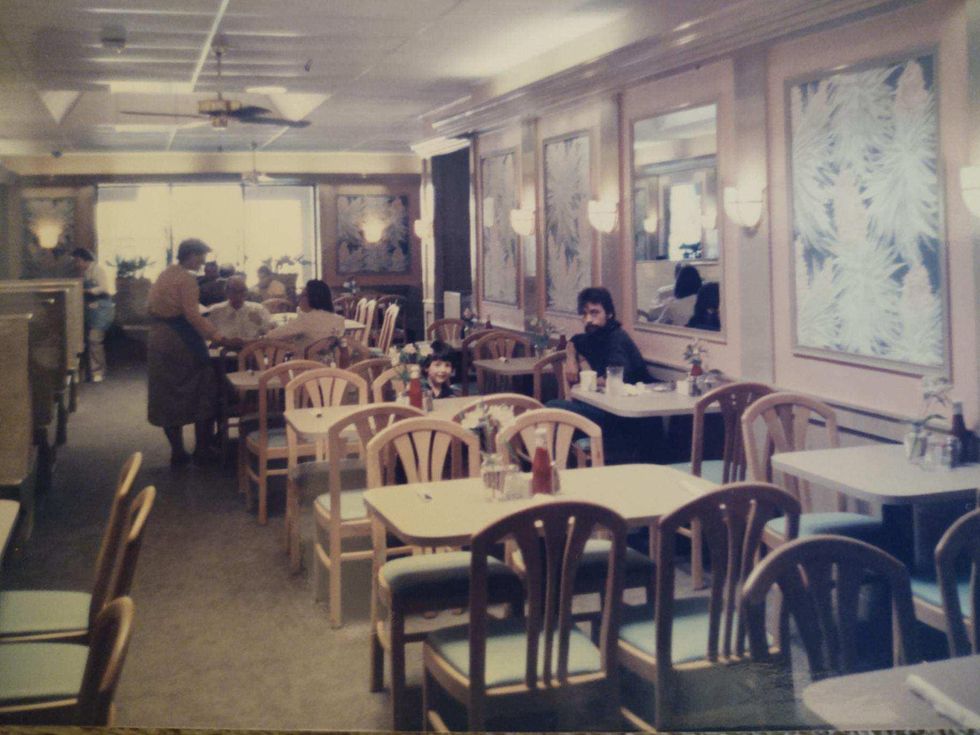 Holiday House in 2004. (Jeannie LeTeff)
These days, it's up to the descendants of Daniels' former tenants to keep the memory of the TarryTown Shopping Center alive. With its secure new lease and bigger, more visible property, Newberry's TarryTown Pharmacy continues to serve customers from Casis Village—with no restrictions on beef jerky, leather goods or flu shots. Meanwhile, Zurita preserves the Holiday House legacy by selling her grandfather's flame-cooked burgers at her Dripping Springs food truck, Lono's Southern Cooking & Keto Cuisine. Her customers remind her that the Holiday House—and the rest of the TarryTown Shopping Center—was more than a place to grab a burger. It was a monument to the best times of their lives.
"There was a group that came before Thanksgiving, and one of the ladies was like 90 years old," Zurita says. "She could barely walk, but they helped her get to a picnic table. And she started crying and she said, I've always dreamed and wished, before I passed on, that I could have my number two cheeseburger one more time.'"
Publisher's note: Austonia has donated $100 to Crema's community sack lunch program, via their @cremabakerycafe Venmo. Feel free to join us in support of this community service.
Colorful paper hearts adorn the walls and meticulously decorated cookies proclaim adorable phrases like "Love you a latte."
At Crema Bakery and Café on Brodie Lane in South Austin, Valentine's Day is more than just the sweet shop's biggest holiday of the year. It's also a tribute to the love that co-owners Jessica and Janessa Tomberlin share for each other.
"We're really blessed in a lot of ways, but none of it would be happening if we didn't have each other," said Jessica Tomberlin. "I feel like our feelings for each other are reflected in our business and our product and our relationships with other people, too. A lot of partners are good cop, bad cop. We're not like that. We're just two halves of a whole."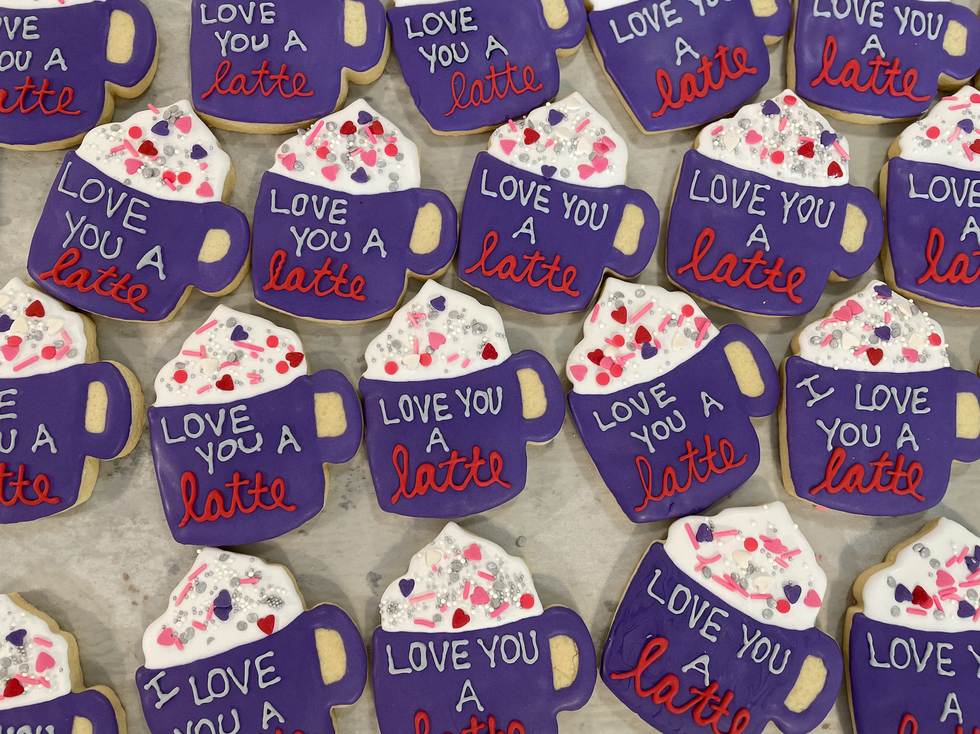 Valentine's-themed cookies are among the offerings at Crema Bakery in South Austin. (Kristin Finan)
The pandemic has brought unprecedented challenges to local restaurants, and Crema is no exception; the Tomberlins credit loyal friends and customers with keeping the bakery's doors open. As a result, the Tomberlins have been able to support the local community through free sack lunches, which they make available to anyone who calls in to request one—no questions asked. Since March 2020, they've distributed more than 1,500 free lunches.
"We just saw a need," said Janessa Tomberlin. "It was just incredible the number of people that were like, 'I'm hungry.' Nobody should have to wonder where their next meal is coming from in this country of all places. We felt like it was the very least we could do to help our community and be a place for people to have a little bit of food security."
Jessica, 42, and Janessa, 37, met when Jessica opened Crema in 2013 and hired Janessa, who had a background in the corporate coffee world. The two quickly became friends and eventually began dating. In October 2017, they tied the knot at Tiny T Ranch in Garfield, on the outskirts of Austin. They didn't have a cake but instead opted for hand pies, which they made themselves. Jessica Tomberlin said the bakery relishes being part of all types of special occasions.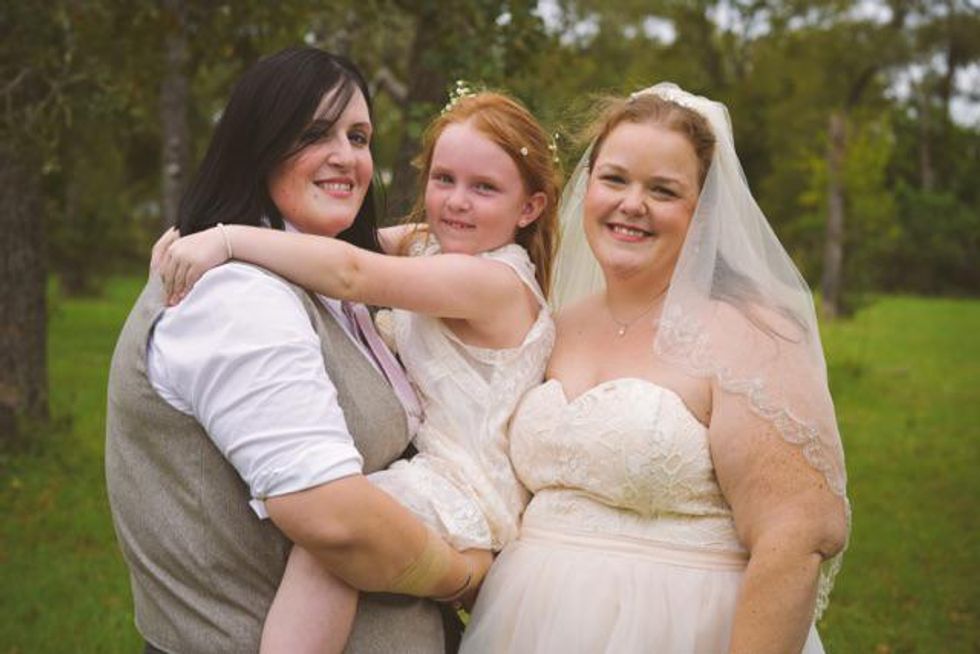 Janessa and Jessica Tomberlin and daughter, Molly. (Seduit Photography)
"We love that we can make somebody's engagement party cake and then do their wedding cake and then a baby shower and then a kid's first birthday," she said. "We love being part of people's lives and part of their families."
As business partners, Janessa runs the front of house, interacting with customers, while Jessica deals more with the product side, although, "being a small business, nothing is ever that simple," Jessica Tomberlin said.
"We teach our baristas how to decorate cupcakes because you never know who is going to need to do what," Jessica Tomberlin said. "That's the essence of a family-owned business–everybody does it for the good of the whole and doesn't really focus on themselves. That's the way Janessa and I have always been, too."
Jessica Tomberlin said 2020 brought challenges the small bakery, which is currently open for takeout and curbside, could never have ever anticipated.
"Any time you have a small business you're always on the edge of everything falling apart, so we've faced a lot of that, but in the last year it's just been a despair that I've never felt before in my life, just not knowing what's going to happen," Jessica Tomberlin said. "Every time I get down where I think I can't get any lower, Janessa picks me up. That's probably the thing I've come to appreciate the most is just that we complemented each other in that way. When one of us can't go on, the other one finds the strength to do it for both of us."
Janessa Tomberlin said Jessica "is like my backbone when I don't have one."
The two have also needed to stay strong for their daughter, Molly, 10, who they call the "littlest cremling" and who, despite not having any social media accounts, has a big following through Crema's social media.
"All these people recognize her, so every time she's up here people like, 'Hey, Molly!'" Jessica Tomberlin said. "She likes to run curbside because people always tip her."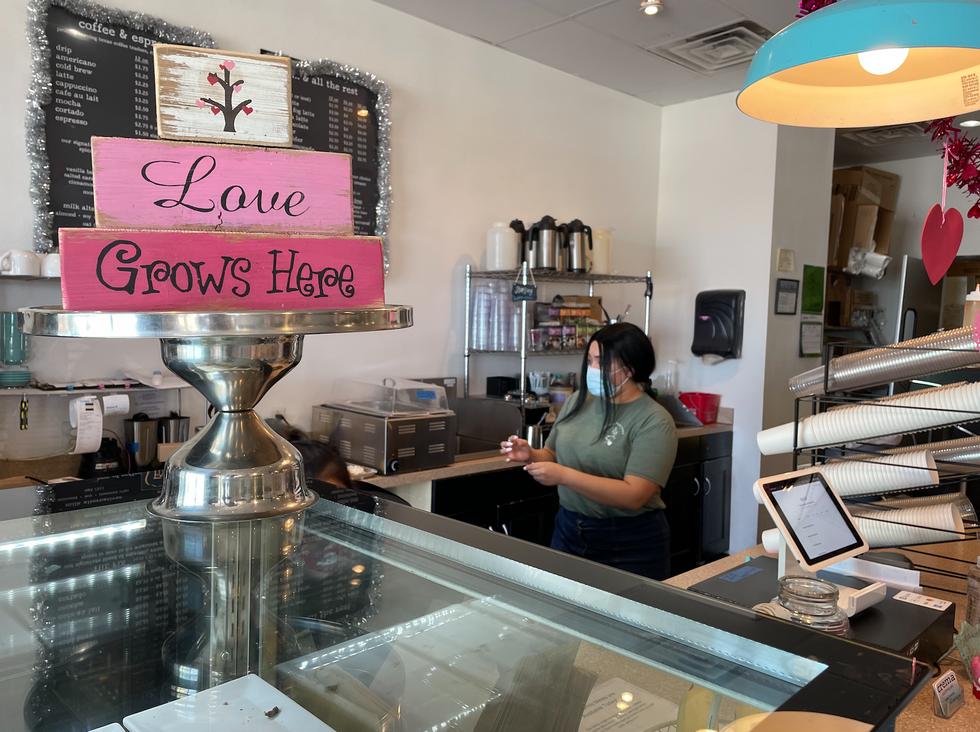 Crema Bakery in South Austin offers a variety of baked goods for takeout and curbside service. (Kristin Finan)
In addition to the free lunch program, the Tomberlins have done fundraisers for causes they are passionate about, such as LGBTQ rights and Black Lives Matter.
"We love being the liberal, hippie, queer-owned bakery. We love being able to embrace those old Austin ideals and give people an outlet for being able to help wherever they can," Jessica Tomberlin said. "We put our politics and our positions out there, which a lot of businesses don't do to be safe, but we also feel like if you can be an advocate for the causes that matter, you should."
With its challenges, the past year has also brought some surprise hits, including a family meal program early in the pandemic and, currently, hot cocoa bombs, which frequently sell out. Once the world begins to open back up, Jessica Tomberlin said, she looks forward to eating out, having some date nights and hopefully resuming a new brunch restaurant project at South First and William Cannon that was in the works before the pandemic.
No matter what happens, though, Jessica Tomberlin said she knows she, Janessa and Molly will be able to weather it together.
"I feel hopeful right now in a way that I haven't in months and months," Jessica Tomberlin said. "There's been a lot of love this year. There's been a lot of sadness, but there's been a lot of love."
More on local businesses: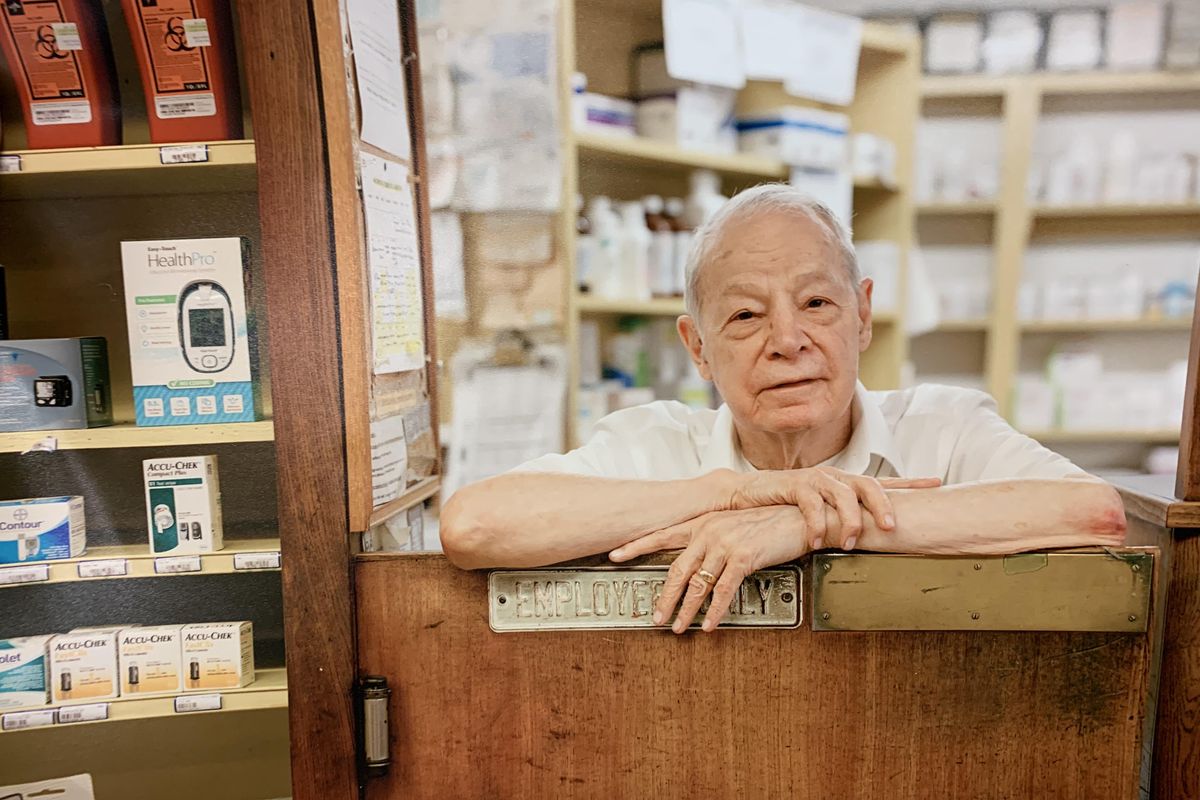 Lambert Labay, 81, is the owner of Nau's Enfield Drug, where he has worked as a pharmacist since 1963. He and his wife, Kathleen Labay, purchased the store in 1971. (Laura Labay)
(Ascendant Capital)
Jeffry Schneider, founder and CEO of the Austin-based real estate investment firm Ascendant Capital, was one of three men arrested on Thursday and charged with defrauding more than 17,000 investors of $1.7 billion in what the Securities and Exchange Commission described as a "Ponzi-like scheme."
"As alleged, by paying investors from an undisclosed and improper source such as investor capital, the defendants repeatedly misled investors about the health and performance of their investments," Acting United States Attorney for the Eastern District of New York Seth DuCharme said in a statement Thursday.

The trio is tied to the New York private equity firm GPB Capital Holdings. Owner and CEO David Gentile and former managing partner Jeffrey Lash were also arrested and charged, along with Schneider.
Between 2015 and 2018, the defendants allegedly promised investors 8% monthly dividends while using investor capital to make such payments. "Gentile and Schneider were aware that the GPB funds were underperforming and authorized repeated distribution payments that used investor funds to cover income shortfalls, to the obvious detriment of investors," according to a Department of Justice press release.
If convicted, each faces up to 20 years in prison.
The Securities and Exchange Commission also charged GPB with violating whistleblower protection laws by allegedly retaliating against a known whistleblower and including language in termination and separation agreements that impeded individuals from whistleblowing, according to a Thursday press release.
(Pexels)
At least 13 former and current University of Texas students were arrested and charged in connection with trafficking counterfeit prescription drugs laced with fentanyl and methamphetamines to UT students in Austin.
"During the course of this investigation, two of the targets died from drug overdoses," U.S. Attorney Gregg N. Sofer said in a statement Friday. "When unsuspecting college kids and other drug seekers put these pills in their mouths, they are playing Russian roulette. They are gambling that profit-seeking drug dealers did not place lethal doses of unknown chemicals or fentanyl in these pills."
Federal, state and local authorities announced the arrests on Friday following a search effort the day before that led to the seizure of large quantities of fentanyl, Adderall, Xanax, LSD, marijuana and psilocybin, or hallucinogenic mushrooms, as well as several firearms and approximately $100,000, according to the U.S. Department of Justice.
The defendants allegedly conspired to distribute the drugs in the Austin metro area since April 2019 and to launder the profits, per a press release.
The Austin Tactical Diversion Squad, a law enforcement task force targeting counterfeit drug trafficking, conducted "Operation Spider Web," as the investigation was called, along with partner agencies, including the Drug Enforcement Administration, the Federal Bureau of Investigation, the Travis County Sheriff's Office and the Austin Police Department.
"This has potentially saved many people from the dangers and risks associated with illegal drug use and furthers our mission of keeping Austin residents safe," APD Chief Brian Manley said in a statement.
Local officials noticed a significant increase in overdoses among UT students over the course of the investigation, which began following a tip submitted early last year, according to a report by the Austin American-Statesman.
If convicted of the drug conspiracy charges, the defendants face between 10 years and life in federal prison. The money laundering conspiracy charges carry sentences of up to 20 years.
Those arrested include:
Varun Prasad, 23, of Austin
Charles Zenker, 26, of Houston
Benny Daneshjou, 68, of Austin
Ashley Larue, 26, of Austin
Drew Zarate, 21, of Austin
Christopher Edwards, 32, of Portland
Jacob Schelling, 21, of Cypress
Madison Scott, 22, of Houston
Adrian Andreescu, 21, of Plano
Niki Shingari, 21, of Austin
Nolan Fogleman, 21, of Austin
Samuel Parry, 23, of Austin
Brandon Carpenter, 27, of Austin
Prasad, Daneshjou, Laru and Zarate were also charged with conspiracy to commit money laundering.
Shingari is a current student at UT, and six others are former students, as the Daily Texan reported.
Daneshjou previously made headlines in 2004, when Oscar-winning actress Sandra Bullock sued the builder, whom she said did shoddy work on her Lake Austin home.