Get connected with our daily update
(Leslee Bassman)
Although the pandemic has stifled real estate projects in much of the nation, developer Turnbridge Equities LLC managed to bring a unique, successful spin to Austin's South Congress area. By encompassing the same moniker as the venue's Music Lane sidestreet, from a branding perspective, the new, multi-use development strikes the right chord.
---
Designed by architecture firm Lake | Flato, the project is constructed along the north end of the South Congress entertainment district at Academy Drive. At a total area of just over 300,000 square feet, the site combines office, retail, restaurant and fitness venues.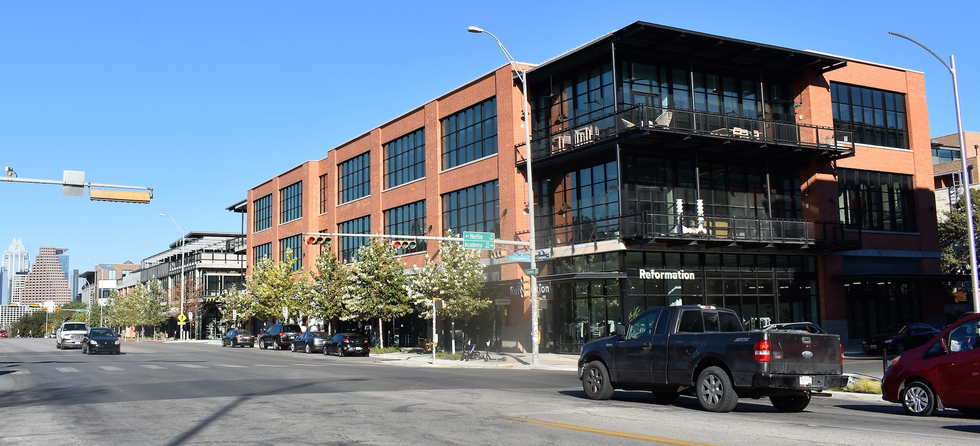 (Leslee Bassman)
"A lot of people don't realize that Music Lane was actually first a street (off) South Congress," said Taylor Shepherd, communications and engagement manager for Endeavor Real Estate, the firm that serves as the commercial real estate leasing agent and property manager for a majority of Music Lane. "The development itself was drawn from that name and that street so we also love that it pays homage to Austin's live music scene."

She said the project aims to fill the gap between downtown and South Austin, with that goal reflected in the mix of local retailers as well as stores that are making their Texas debut in the project.
Retailers include:
Allbirds, Buck Mason, Equinox (fitness)
Everlane
Frame
Le Labo
Lululemon
Madewell Men's
Manready Mercantile
Nak Armstrong
Neighborhood Goods
Parachute
Reformation
Tuft & Needle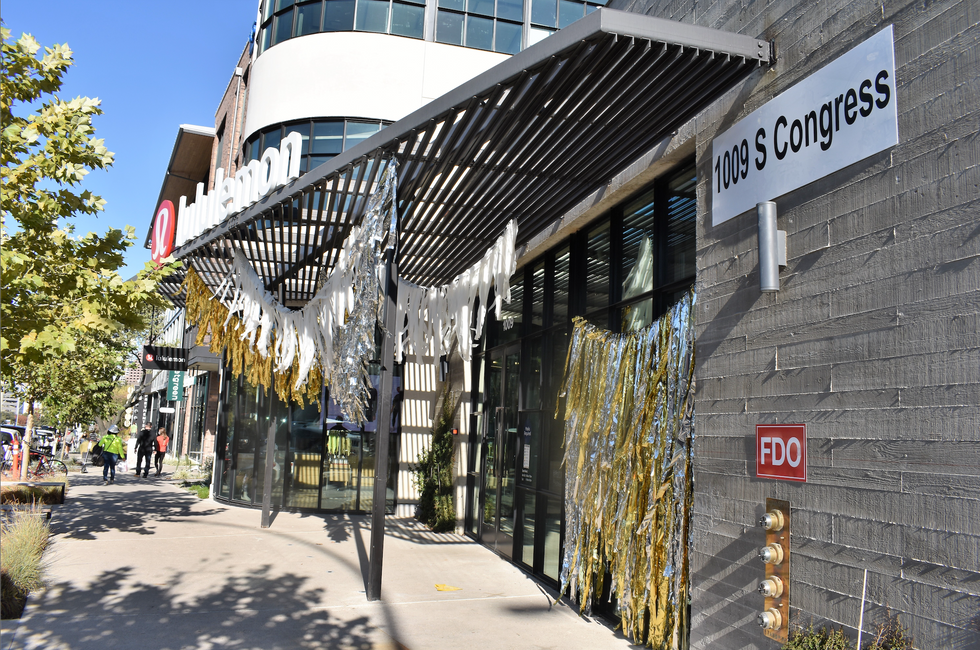 (Leslee Bassman)
"There was a strong desire from the retail community to be on South Congress, something upscale," Turnbridge Principal Roger Plourde said.
Deep and wide, he said two acres within the roughly three-acre tract that was redeveloped offered the opportunity to provide individual tenant spaces within a structure featuring paseos and walkways converging at central spots.

The second and third phases were revitalized from older, garden-style apartments, Plourde said.
However, the timing of the project's opening—to coincide with Austin's iconic SXSW festivals—proved a bit frustrating for the developers as the pandemic took hold, Plourde said.
The first retail tenant, Allbirds, opened just seven days before the commercial district shut down in March, Shepherd said. Two other tenants also opened very briefly that week; however, all three stores closed shortly thereafter, Plourde said. But the project is now on track.
"That was a hard hit," Plourde said of the shops and restaurants that shuttered due to coronavirus precautions. "That was a really tough time for us but I think all of our tenants showed a great deal of resilience. They're all back and with their doors open now."
Four restaurants are now open as well as 14 vendors, with only one retail space remaining to be filled, Shepherd said. Austin-based jeweler Nak Armstrong welcomed customers in his first flagship store on Dec. 8, she said. Global design and strategy firm, Frog Design, erected its sign two days later, and is slated to take occupancy in January, Plourde said.
Restaurants include:
Aba, Prim and Proper (within Neighborhood Goods)
Sunlife Organics
Sweetgreen
Two Hands
According to Bea Reeve-Tucker, communications assistant for Soho House & Co., an offshoot of the London-based exclusive club is slated to be included among Music Lane's inhabitants this summer. The approximately 65,000-square-foot site will be the community's first in Austin and third in the U.S., following New York and Los Angeles openings.
The private group attracts members in creative industries and offers an environment for living, relaxing and dining. The Austin facility will feature a rooftop pool, a members' screening room and 46 bedrooms, Reeve-Tucker stated in an email to Austonia.
Mediterranean restaurant Aba, named for the Hebrew word "father," chose Music Lane as its inaugural location outside of the Windy City. The eatery, owned by dining enterprise Lettuce Entertain You, is centered around a prominent oak tree and, serendipitously, had planned for 70% of its seating to be outdoors, even before the pandemic hit, said Lettuce Associate Partner Sue Kim who recently relocated to Austin.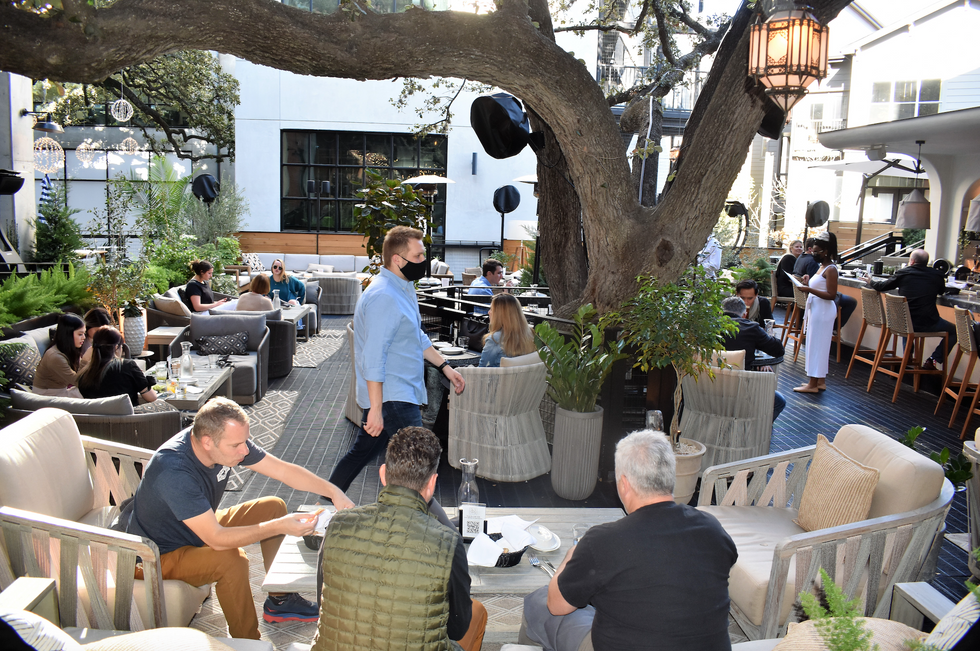 (Leslee Bassman)
The group had been "enamored" with the city for quite some time, she said, visiting for a company retreat in 2017 before the opportunity to join the Music Lane community came along.

"I think South Congress has been a historic part of this city," Kim said. "The location is terrific: it's close to downtown, it's adjacent to some of the existing restaurants and history."
She said the nearby neighborhoods of Bouldin and Travis Heights can benefit from its residents having the amenities that Music Lane offers. And, the project's landscape, its openness and tree preservation, is also a draw for customers, she said.
Shepherd credits Aba's success to its strong following in Chicago's Fulton Market District.
"Aba, as a concept, is about Mediterranean dining and creating this oasis, making people feel like you just landed somewhere in the Mediterranean and have this lush greenery," Kim said. "This is what we created in Chicago on a very large scale roof deck. So, in many ways, it was a really perfect concept for this area given that we wrapped our patio around this beautiful, beautiful oak tree. It is a landmark piece."
Local design and architecture firm Gensler became the development's anchor tenant in March, occupying two floors, or roughly half of the project's approximately 52,000 total square feet of office space, including a skylight, double-story staircase and a 10-foot by 26-foot digital wall, Managing Director Todd Runkle said. However, due to all of its employees working remotely while the pandemic is in play, the new offices wait to be filled, he said.
"There's nothing like this," Runkle said of Music Lane. "We, at Gensler, felt it was about being a part of Austin. That's really why we wanted to be down here. It was a project and space that we thought reflected Austin and where we want to be in the future."
Gensler's 147 employees have recently been working on large-scale projects including creating the Austin FC soccer stadium; developing the city's soon-to-be largest tower, 6XGuadalupe; renovating the University of Texas Moody Center's basketball arena; and expanding the Austin Convention Center. With room for up to 220 employees, the new Music Lane office provides space for the company to grow.
Tritium Partners and Deloitte have joined Gensler as office tenants in the complex.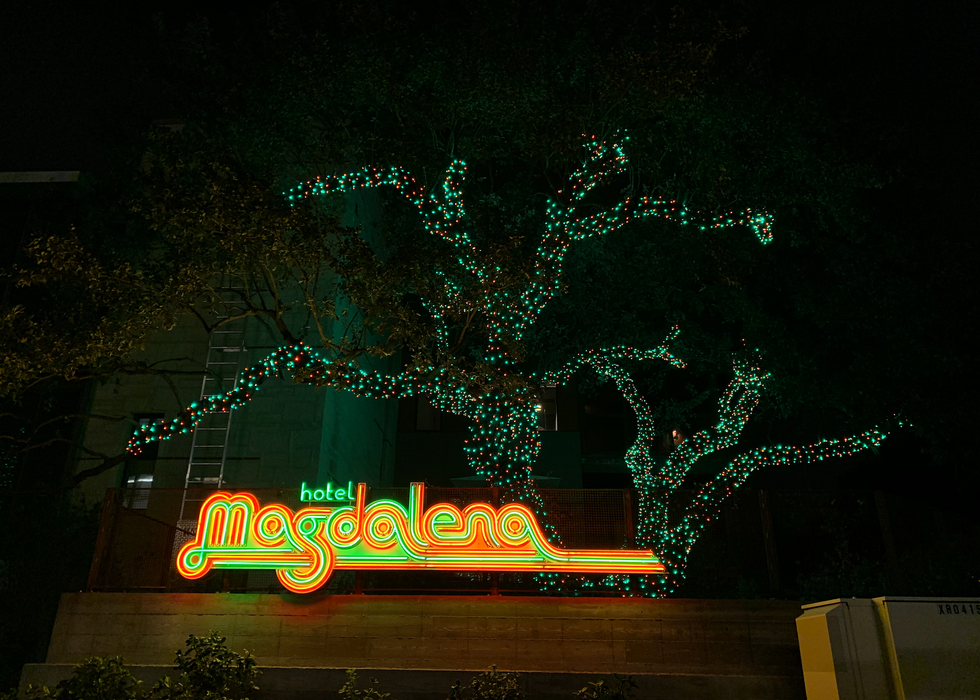 (Isabella Lopes)
Music Lane is in sync with surrounding venues created by former Bunkhouse Group hotelier Liz Lambert, including the recently opened Hotel Magdalena, an 86-room South Congress lodging at Music and Academy, and established Hotel Saint Cecilia that is adding residential units to its site.

But, feedback from locals isn't all positive.
"It's like they built a little domain down there," said Alan Barnett, owner of South Congress gift and accessory shop Prima Dora, after eyeing the Music Lane project. "I'm not sure if I like it or not. I'm trying to be open minded about it. But at the same time, it's like, now you're changing us too much, Austin."
After settling in the neighborhood about two decades ago, he's "watched some incredible houses being moved out of this neighborhood and very modern things being built here."
Barnett touts the area's popularity as stemming from its vintage homes and large trees.
"And now getting rid of those houses, it's going to look like anywhere else," he said.
Diners and shoppers are also unhappy with the scarcity of parking at the new venue.

Shepherd said that issue may stem from patrons not being aware of the project's parking garage—an underground facility that can hold 496 vehicles.
To get the word out about the garage and the development, she said Music Lane and the South Congress Shopping District held the SoCo Stroll this month. The event features holiday activities, retailer discounts and performances through Dec. 31.
Despite the pandemic, construction at Music Lane has been able to continue, Shepherd said.
"We've just been very fortunate to have the majority of our tenants open safely," she said.
Laura Figi contributed to this story.
More on South Congress: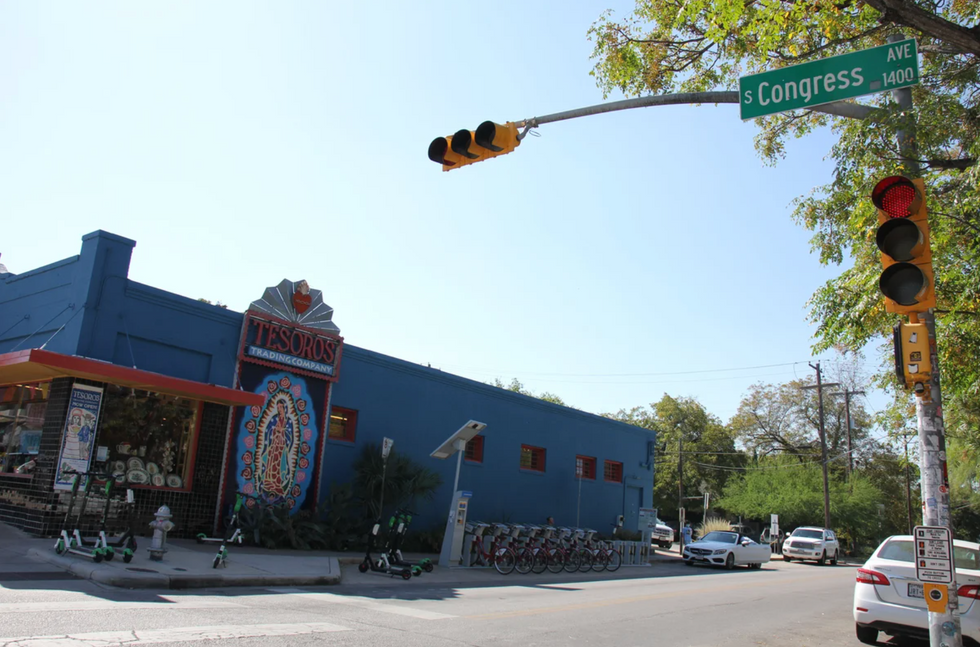 It may not come as a surprise that dating app use surged during the pandemic when many had to swap the benefits of in-person dating for on-screen connections. Bumble revenue swelled to $337.2 million in 2020 compared to $275.5 million, Hinge revenue tripled in the same period and Tinder users broke two records from January to March of 2021.
What may be more intriguing, however, is that many apps anticipate more growth into 2022. Hinge expects to double its revenue by the end of 2021, while Tinder has announced several new features to meet new demands in time for what some are calling a "third surge" of COVID-19.
Vaccinated Austinites who had been eager for "Shot Girl Summer"—a season of in-person dating, going out and making up for time lost—may have to get back on the apps, at least partially, as cases rise higher than they've been since February and mask recommendations reenter the picture.
Austin-area resident Chloe Mohr, a 22-year-old recent college graduate, had sometimes used Tinder before the pandemic. While the app wasn't a supplemental replacement for deeper connections during stay-at-home orders, it did help her stay in the dating game and continue meeting new people.
"Using dating apps during the pandemic was easy when wanting something casual or entertaining," Mohr, who now works in marketing, said.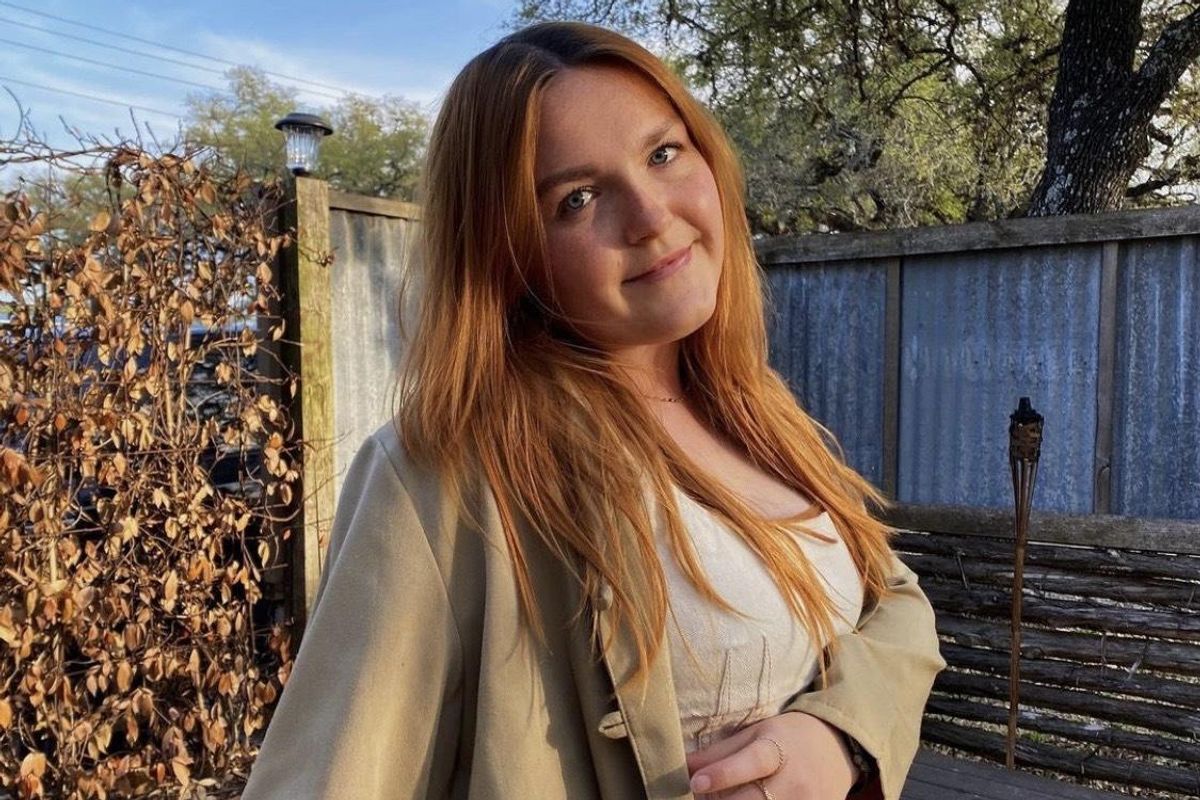 Chloe Mohr turned to Tinder more during the pandemic to stay connected to people. (Chloe Mohr)
Sixty percent of members came to Tinder because they felt lonely and wanted to connect with people, a Tinder study revealed, and chats were 32% longer during the pandemic.

But dating during a pandemic is no walk in the park when there's fear about contracting COVID, Mohr said. She had fears at the beginning
Tinder, Bumble, Hinge and OkCupid have responded to the new dating criteria, adding vaccination badges to profiles in partnership with U.S. and British governments.
In order to meet the demand for a stricter screening process and the superficial nature of swiping, Tinder has also introduced new features that allow users to add videos to their profiles and chat with others before they've even matched.
The new add-ons could be beneficial for the app as interest continues to swell—Google searches for "dating" have hit a five-year high, according to NPR.
But the future of dating could be vastly different—and stay different—even well into the next decade.
According to a Ypulse study, 43% of dating app users said the apps made them feel less lonely in the pandemic. Even post-pandemic, 40% of Tinder users say they plan on video-chatting with their matches before they meet, and being honest, authentic and respecting boundaries have become big talk on the app in the past year.
While it's unclear how the pandemic will shape dating for good, signs show that Austin residents and those nationwide may lean on dating apps once again if social distancing returns to the norm.
With more research done on the COVID-19 Delta variant, Austin Public Health is upping its goal of 70% vaccinated to at least 80% due to the extreme virality of the strain.
As more Delta cases are identified—up to 29 cases are confirmed in Travis County—health officials are urging the unvaccinated to get their shots to contain the spread and relieve hospitals from reaching full capacity.

Austin-Travis County surpassed the Stage 5 threshold on Friday and has reached a seven-day average of 61 hospital admissions. However, Austin health leaders have yet to make an official shift as the Delta variant calls for new guidance, APH Health Authority Dr. Desmar Walkes said at a joint Travis County Commissioners Court meeting on Tuesday morning.
The new guidance has yet to be released, but Walkes said it will take into account the viral load of Delta on both unvaccinated and vaccinated people.
Last week, the Centers for Disease Control and Prevention revealed the Delta variant was as contagious as chickenpox, which has a herd immunity threshold of at least 90% vaccinated.
Although 63.42% of those eligible in Travis County are fully vaccinated, breakthrough cases—where vaccinated people are contracting COVID-19—are being identified. APH has identified 1,496 breakthrough cases of the roughly 800,000 vaccinated. Most breakthrough cases are showing less severe symptoms or are asymptomatic, according to APH.
Health officials are still asking residents to wear masks, although the city cannot mandate any masking orders due to an executive order by Texas Gov. Greg Abbott.
"Our challenge is going to be whether we're going to stand as a community and everyone who can get vaccinated, get vaccinated, and everyone wear a mask—that's what it's going to take," Walkes said.
Save Austin Now is now 2-0 over Austin City Council after its petition to add more staffed police officers to the Austin Police Department was certified, garnering over the 20,000 votes needed to make it on an election ballot.
The petition calls for more police staffing per city resident, quicker response times and more training for city police officers in the wake of increasing violent crime rates nationwide and a year of limited APD staffing. The City Council will now decide whether to implement the ordinance outright or add it to the November election ballot; it will likely do the latter.
Over 25,000 of the 27,778 signatures racked up by the public safety petition were certified as valid, well over the 20,000-vote threshold required to be certified with the City Clerk. City Clerk Jannette Goodall placed the city's seal of approval on the petition on Tuesday morning.
The petition, by the same political group that got the camping ban reinstated through a petition in May, seeks to:
Require minimum staffing of two officers per 1,000 residents
Require a minimum standard of 35% community response time
Add 40 hours of training
Require city council members, Mayor Steve Adler and other city staff to enroll in the Citizens Police Academy
Facilitate minority officer hiring through foreign language proficiency metrics
Austin's 160 patrol vacancies have dropped its staffing rate to 1.2 officers per 1,000 residents, according to the department. APD's response time has increased by about one minute and 50 seconds in a year.
The petition comes nearly a year after APD's budgets were slashed by city council following the summer's Black Lives Matter protests, which saw several demonstrators severely injured as millions called for justice in the police-related deaths of George Floyd and locally Mike Ramos, an unarmed Black man killed by APD officer Christopher Taylor, in April 2020.
Austin and the U.S. have experienced a widespread uptick in violent crime rates in 2021. The city has reached 49 homicides in 2021, higher than the total number of murders in all of 2020 and the 38 homicides in the city in 2019. Austin police officers have seen response times rise as the department suffers increased vacancies and fewer newcomers while cadet classes are being readjusted.
Opponents argue the ordinance would ramp up a policing budget while taking away from other departments including Fire, EMS, violence prevention, and mental health care. City Council Member Greg Casar, the Travis County Democratic Party and the Austin Justice Coalition have spoken out against the organization's latest public safety move, calling out the campaign as a "right-wing petition" that misleads those who sign.
🔥 PANTS ON FIRE: Republican-front group Save Austin Now is lying about their petition!

They say their measure is about police reform, when it's really about devastating our city budget - all for the benefit of the police union. Watch the video here ⬇️ #ATX pic.twitter.com/Z6QQSfhHfH
— Gregorio Casar (@GregCasar) August 2, 2021
The latest battle between city council and Save Austin Now will be decided by Austin residents in the Nov. 2 election.