Get connected with our daily update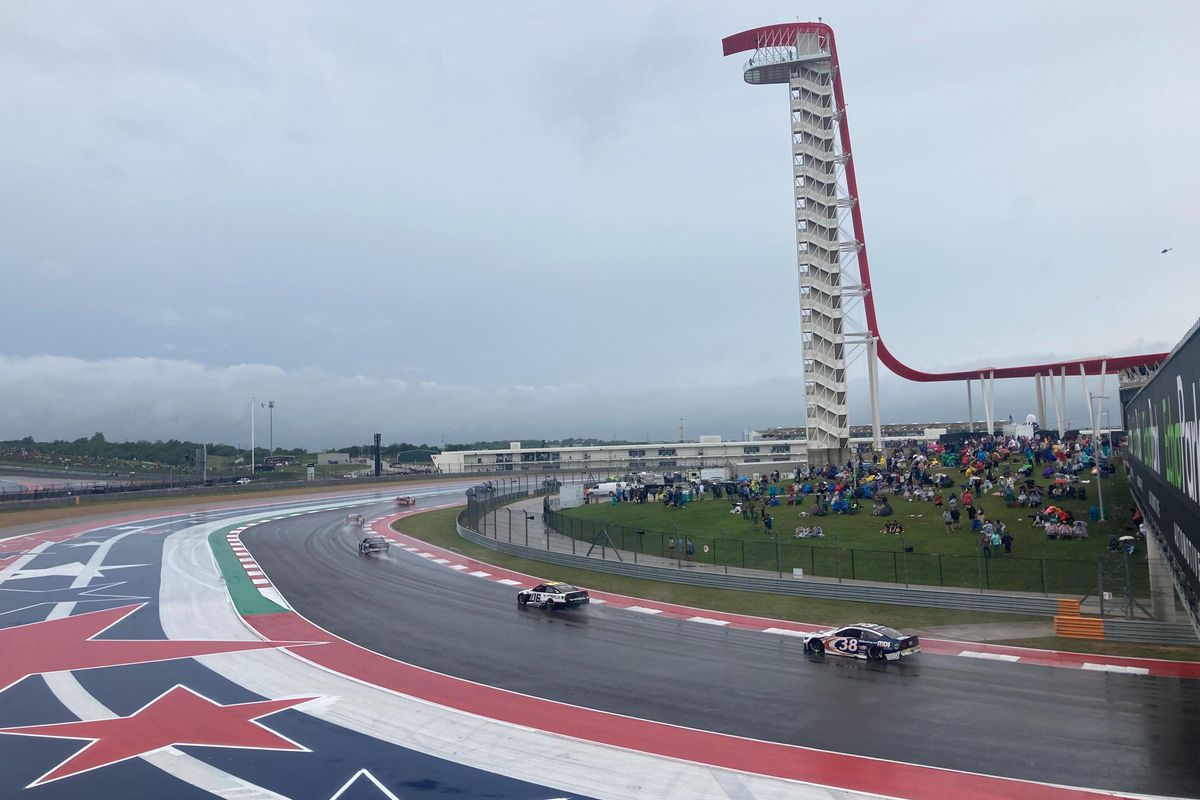 "Start your engines!" Minister of Culture Matthew McConaughey started the race in his signature twang as the grand marshal for Austin's first NASCAR race at Circuit of the Americas on Sunday.
The race ended prematurely due to the rain, but the historic event still made an impact on thousands of Austinites and sports fans from around the country.
---
With low visibility and excess water on the track, drivers had a hard time keeping control in COTA's first NASCAR race. Two crashes marred the first two stages, and a collision between Cole Custer and Martin Truex Jr. had a fiery end as Custer's front end temporarily went up in flames. Both were unhurt, but officials could no longer ignore the rain.
A red flag was flown into the stormy air, and Austin's first race was delayed in the second stage.
As the rain died down, drivers tried to finish the race, but another red flag meant Chase Elliott was the de facto winner of the race.

Even with a less-than-ideal finish, the race was still an unforgettable experience for a range of characters, from locals to travelers from around the country. The sea of cars in the parking lot were dotted with out-of-state license plates. One family that was camping comfortably on the course lawn said they came in from California.
Thomas Revoir and Benjamin Marshall, wearing just overalls and red-white-and-blue bandannas, were coming from North Carolina, but COTA was just a pit stop as they continued a cross-country road trip.
Revoir and Marshall said they were unhappy with the race being called early because "as Americans we don't fear rain."
Meanwhile, locals embraced a new location much closer to home than Dallas' Texas Motor Speedway. The venue has already hosted Formula One races in the past, but Seguin resident Chris Luna said that NASCAR was different.
For Luna and his crew, the race at COTA was more than just a convenience. After his good friend died last month, Luna and his friends decided to go to the race in his honor.
"He used to be the ringleader for us," Luna said. "He had everything for us, tickets and stuff. But we're coming... because he was NASCAR all the way."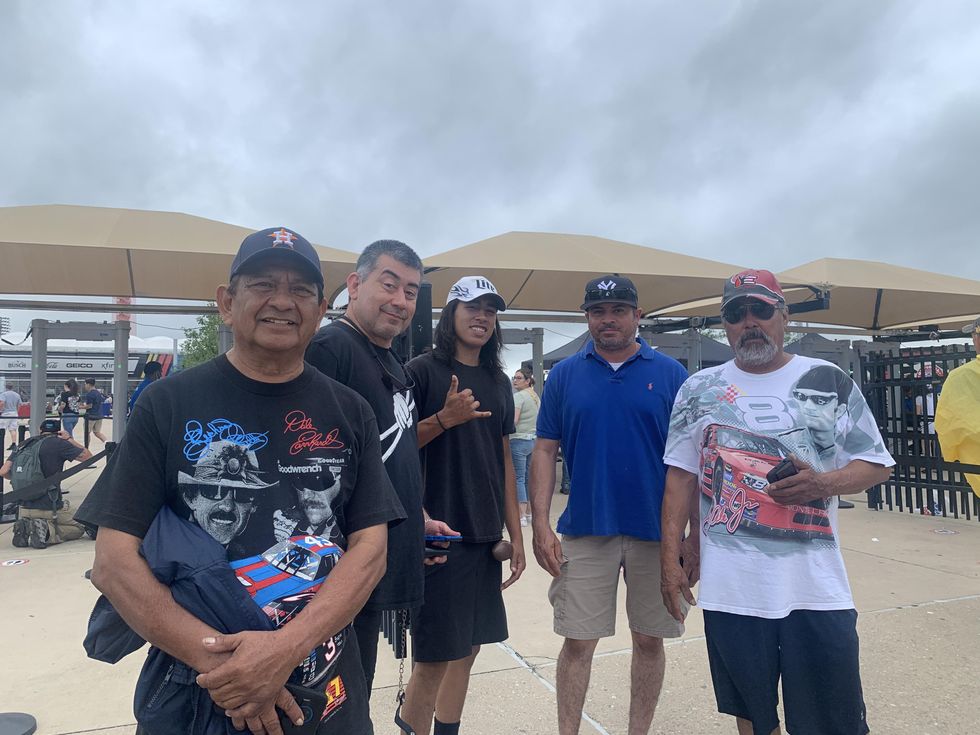 Chris Luna (left) and crew came to the race in honor of their friend who recently passed. (Claire Partain/Austonia)
Even those working the event were excited to see so many in the stands as businesses begin to recover from COVID.

Four women dressed in flaming denim stood out from the crowd. The COTA Girls, who take pictures with fans and work to hype up the stands, said they were happy to be back at work.
On the team, Holly Wood said that the girls usually hype up Formula One races but came to the NASCAR event to get people back into the groove of racing events.
"We're just looking to... get people excited because nobody was out here for a long time," Wood said.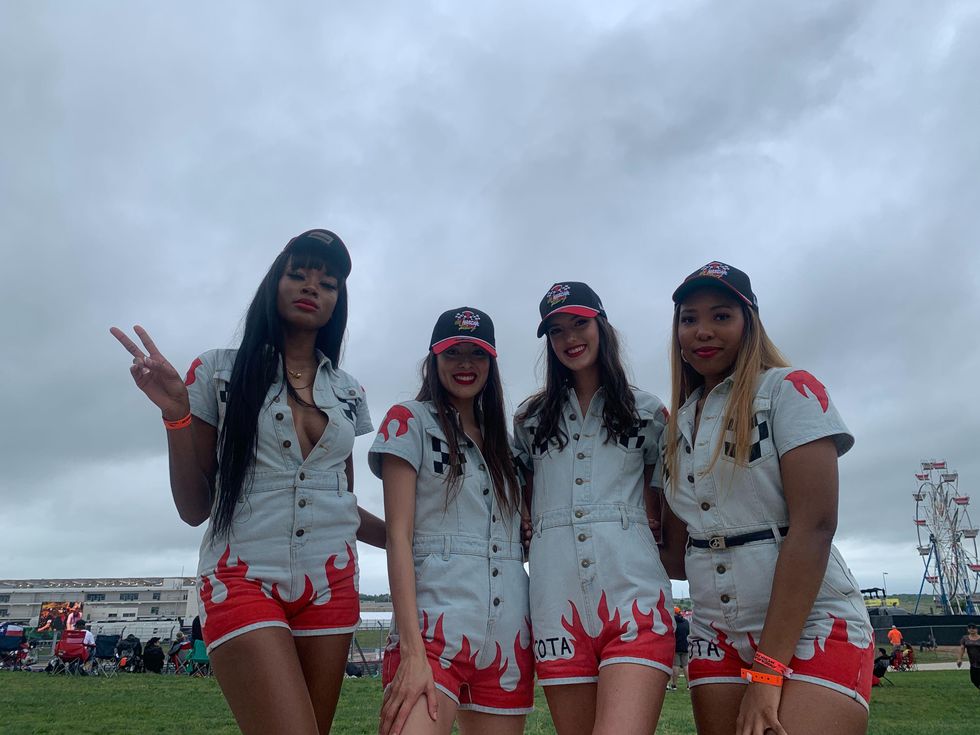 The COTA Girls, dressed in flames, helpe dkeep the crowd lively at the race. (Claire Partain/Austonia)
Food trucks lined the back of the stadium, many of them Austin businesses. Wes Tinsley, co-owner of Quesadillo ATX, said he was grateful to be asked to provide food after a hard year.
"A lot (of businesses) had to shut down but we were fortunate enough to stay afloat, and i hope that this will bring some business for us," Tinsley said. "We're excited to be here and be a part of it for the first time, and hopefully we get a chance to do this again."
The race is part of an explosion of professional sports coming to Austin as it gains recognition and a "boomtown" status. Del and crew sat atop the bleachers of Austin Bold FC, the city's semipro soccer team, to watch the race. Meanwhile, Ray wore a shirt honoring Austin FC, Austin's first professional team of any kind, at the race.
Ray was double-booked for the evening. Directly after catching an adrenaline rush at COTA, he planned on heading to Jack and Ginger's for Austin FC's official watch party.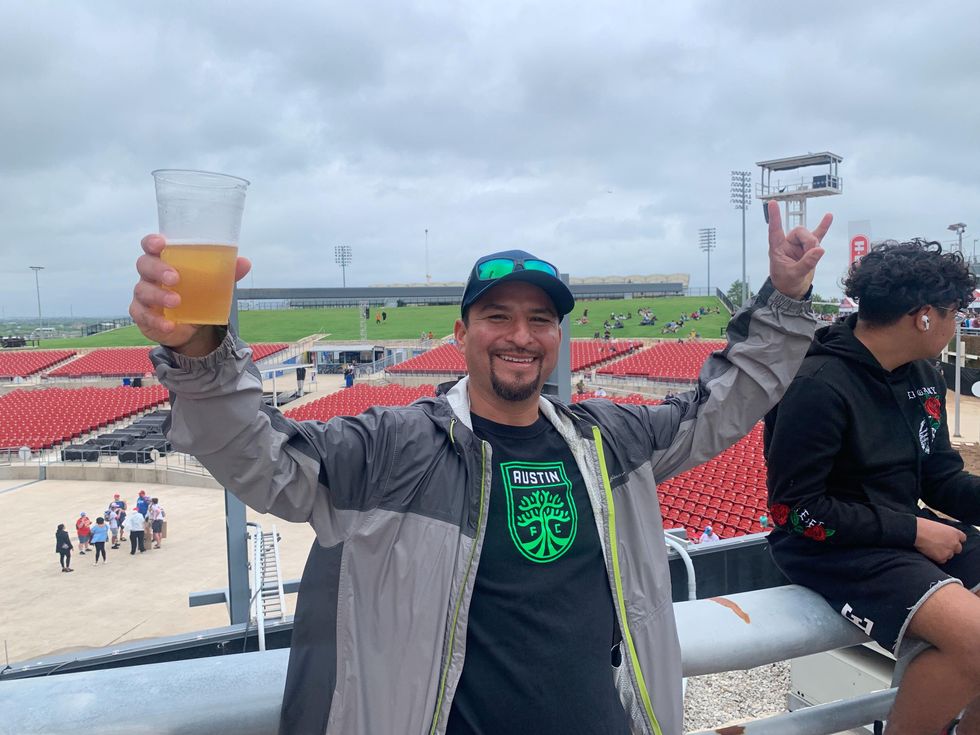 While the race ended, almost literally, in flames, Austin's enthusiasm at COTA's first NASCAR race proves that there's a hunger for more sports at Austin's premier racing venue.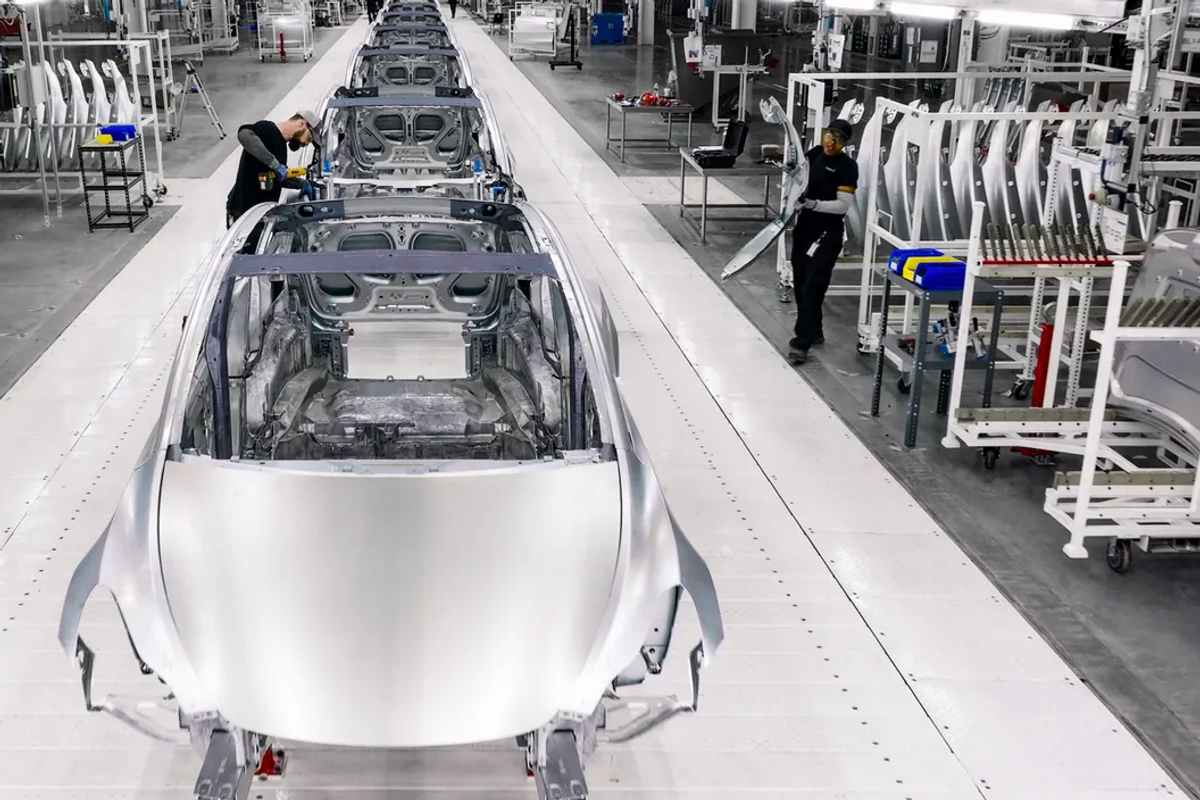 Giga Texas, the massive Tesla factory in southeast Travis County is getting even bigger.
The company filed with the city of Austin this week to expand its headquarters with a new 500,000-square-foot building. The permit application notes "GA 2 and 3 expansion," which indicates the company will make two general assembly lines in the building.
More details about the plans for the building are unclear. The gigafactory has been focused on Model Y production since it opened in April, but the company is also aiming for Cybertruck production to kick off in mid-2023.
While there is room for expansion on the 3.3 square miles of land Tesla has, this move comes after CEO Elon Musk's recent comments about the state of the economy and its impact on Tesla.
In a May interview with Tesla Owners Silicon Valley, Musk said the gigafactories in Berlin and Austin are "gigantic money furnaces" and said Giga Texas had manufactured only a small number of cars.
And in June, Musk sent a company wide email saying Tesla will be reducing salaried headcount by 10%, then later tweeted salaried headcount should be fairly flat.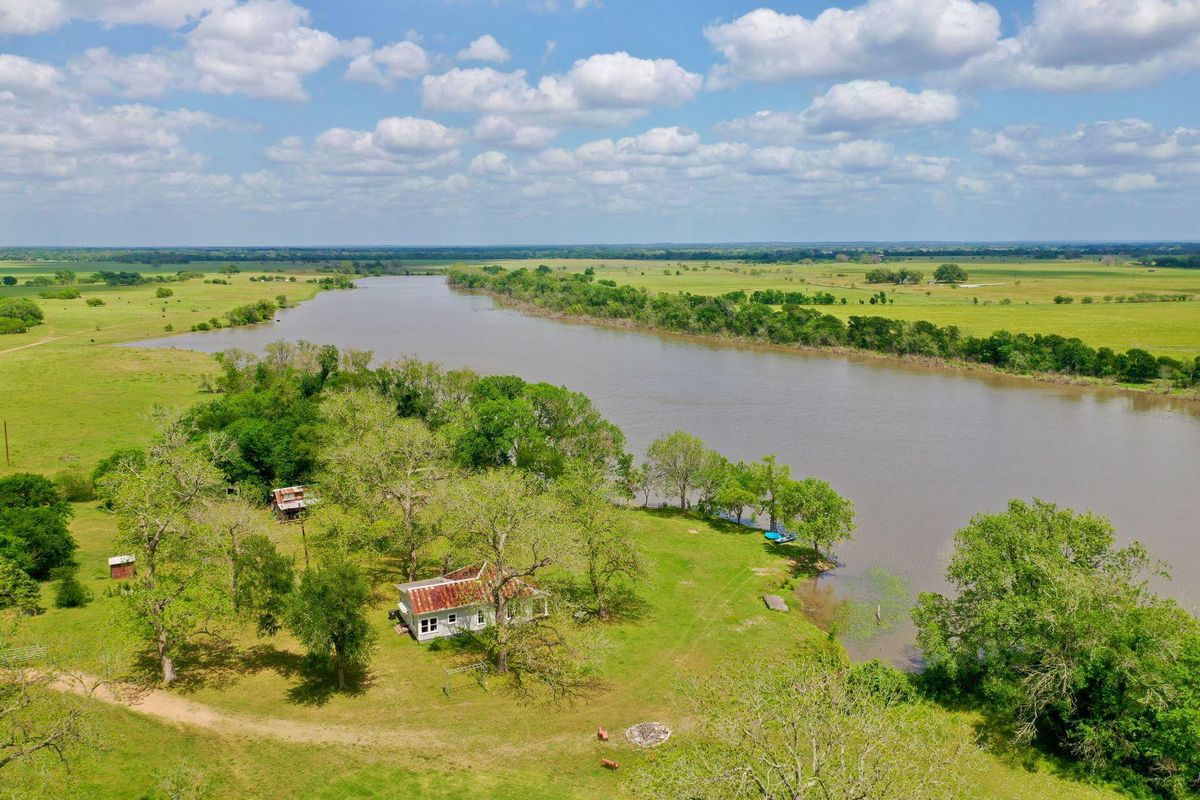 It's been a record-breaking hot summer already and Austin still has a few months of heat to weather. But the heat doesn't have to be so bad if you've got a swimming hole in your backyard, like these three ranches.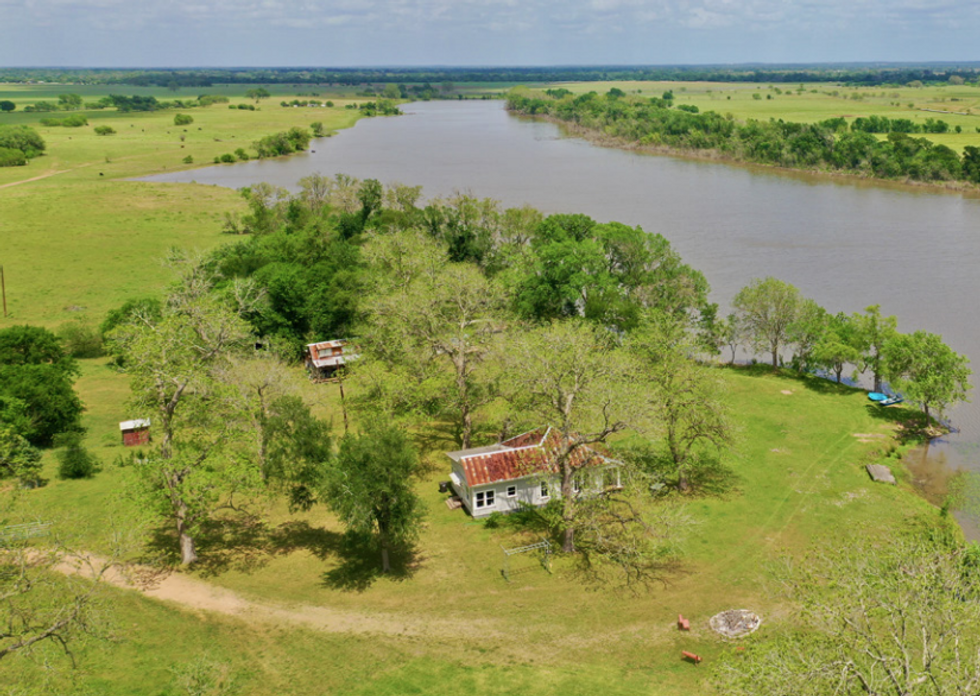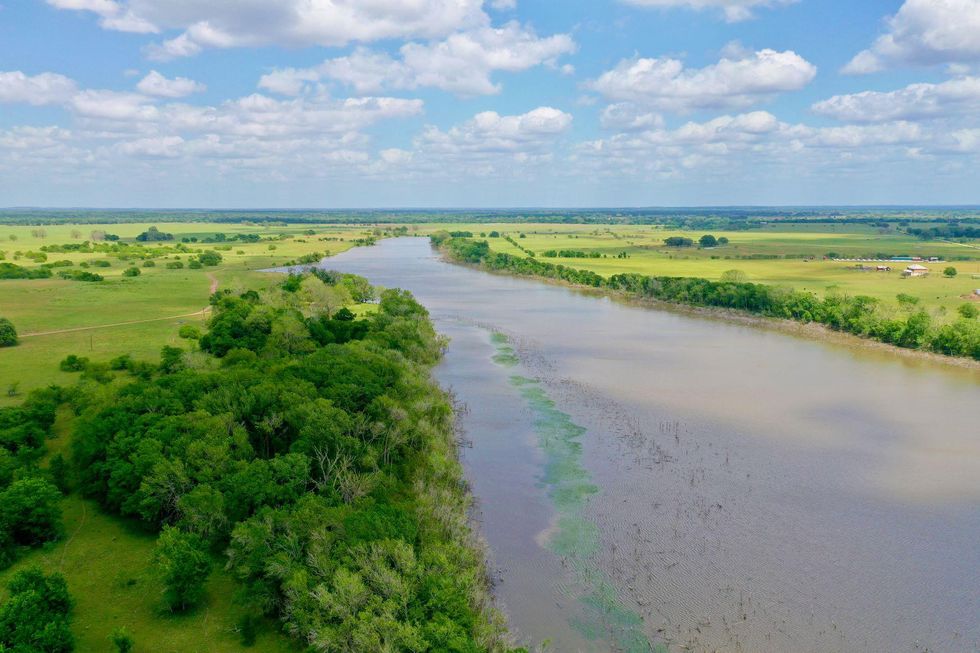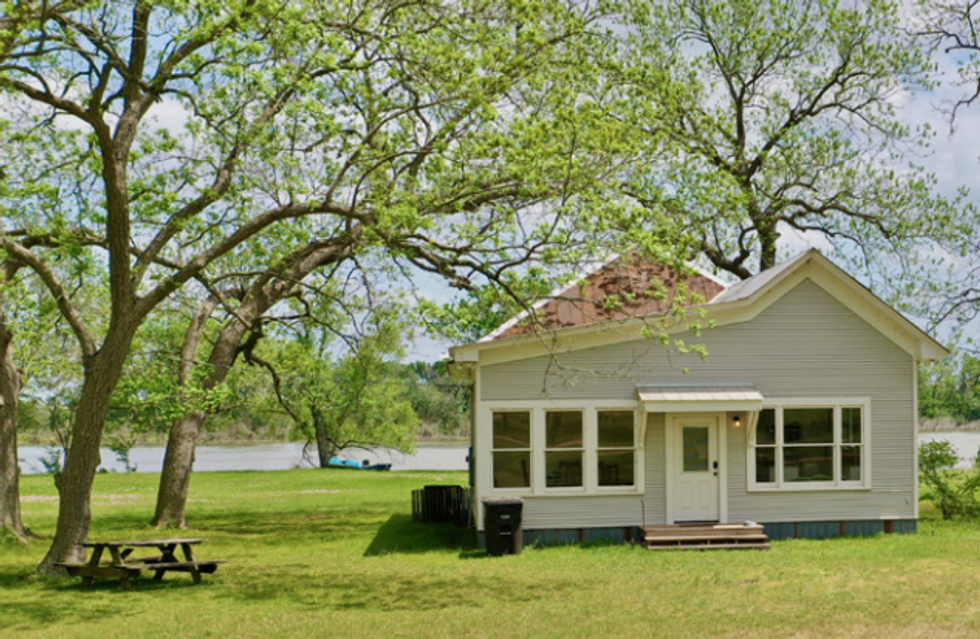 You'll have to leave city limits if you're looking for a proper ranch property like 417 Acres Shipp Lake Ranch, aptly named for its acreage. The property comes built out with three farmhouses, one of which has bedrooms and two bathrooms and two of which have two bedrooms and one bathroom. The nearly untouched property, which surrounds the 100-plus-acre Shipp Lake, has remained in the same family since the early 1900s and gives you picturesque views for the making of a dream home. In fact, the previous owners ran a water ski camp on the property.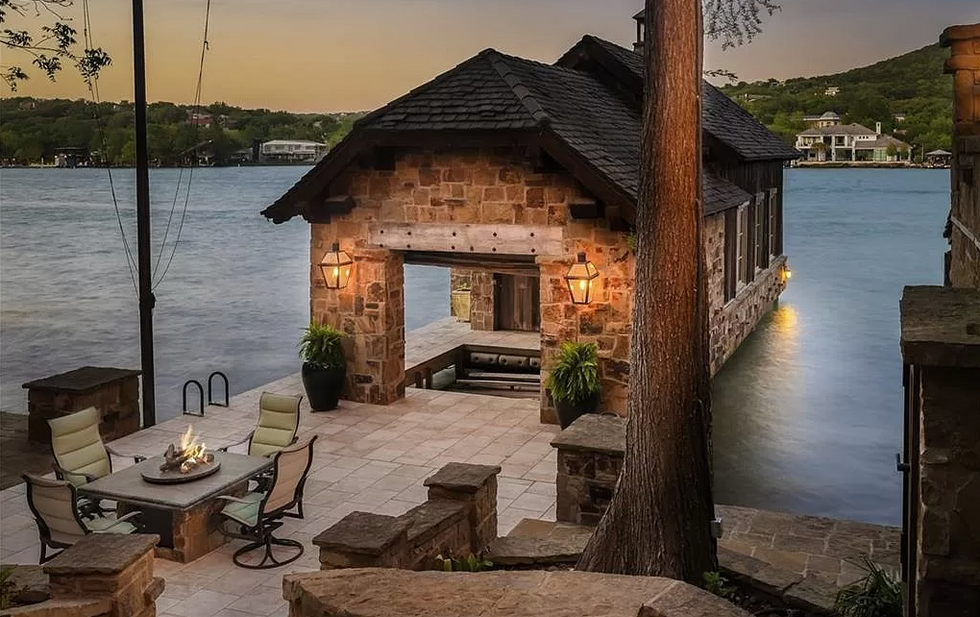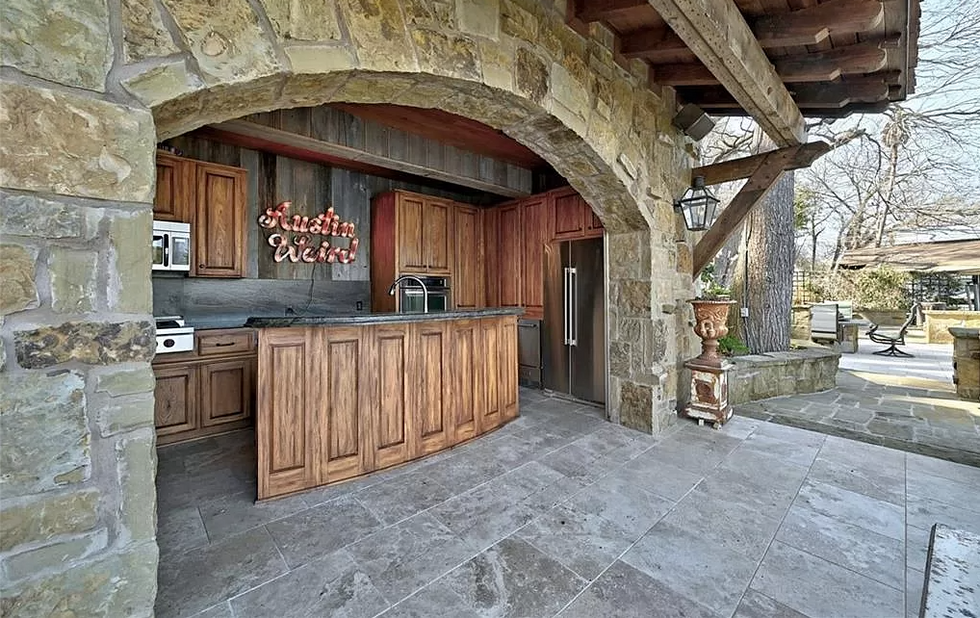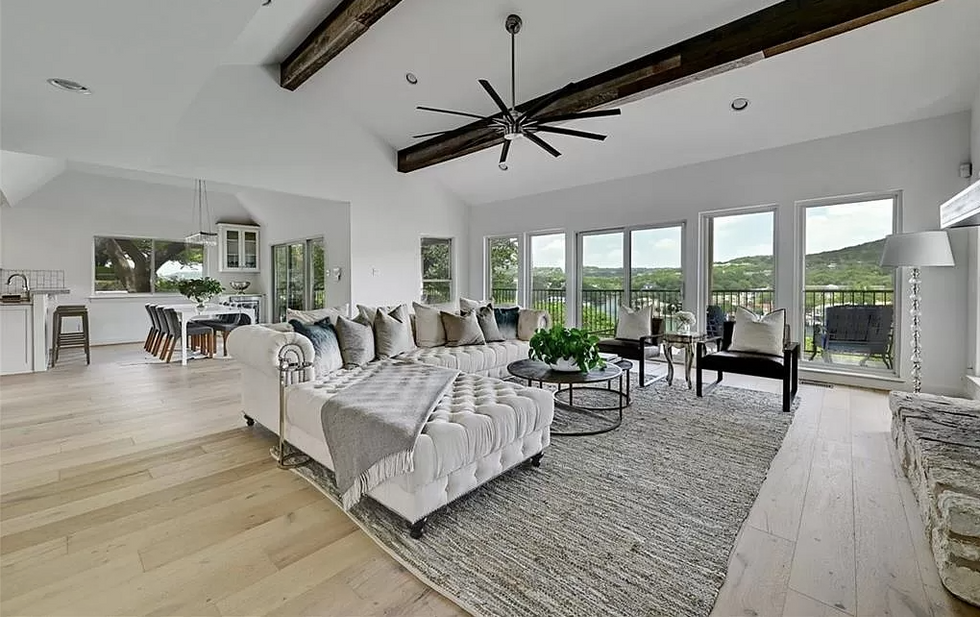 Sitting waterside on Lake Austin, this home gives you the unique opportunity to own a piece of the lush Hill Country with views of Mount Bonnell. The 2,750-square foot, three-bedroom, four-bathroom house allows you to integrate indoor and outdoor life with large windows opening to an outdoor living area. The crown jewel is the .76-acre parcel of land that tapers off to your own lakeside resort, featuring an covered outdoor kitchen, fire pit, stone boat house to store your water sports supplies and veranda sitting at the mouth of the water, perfect for an entertainer.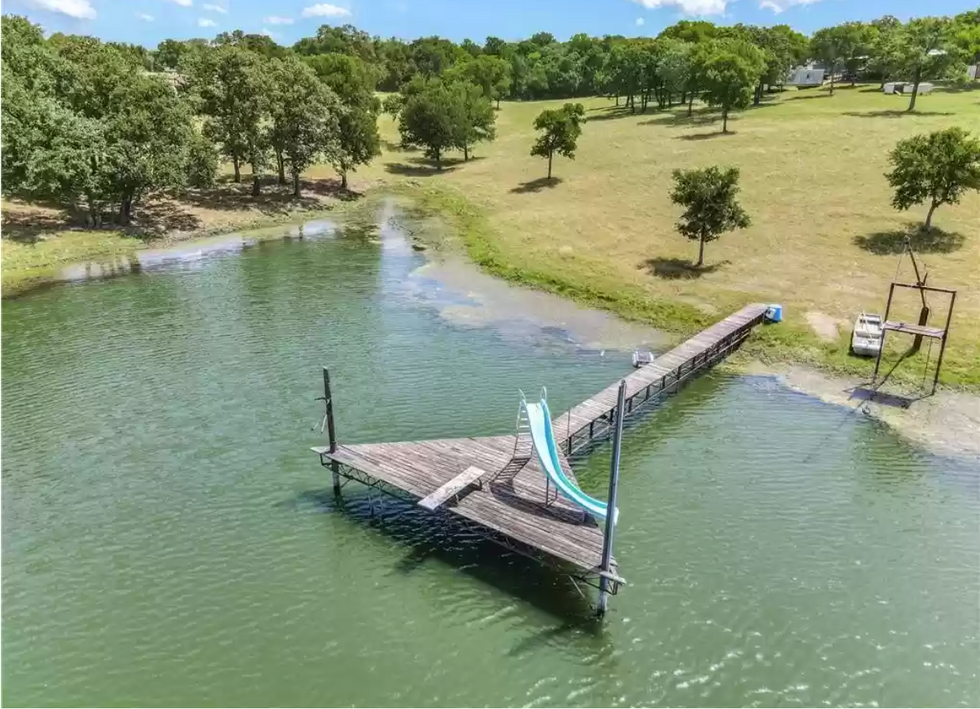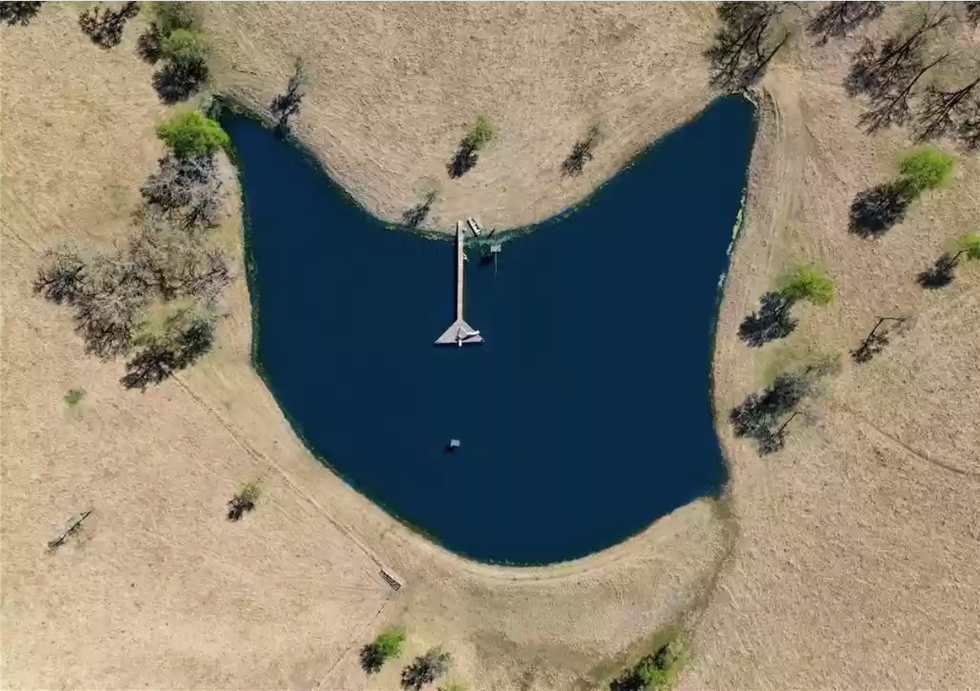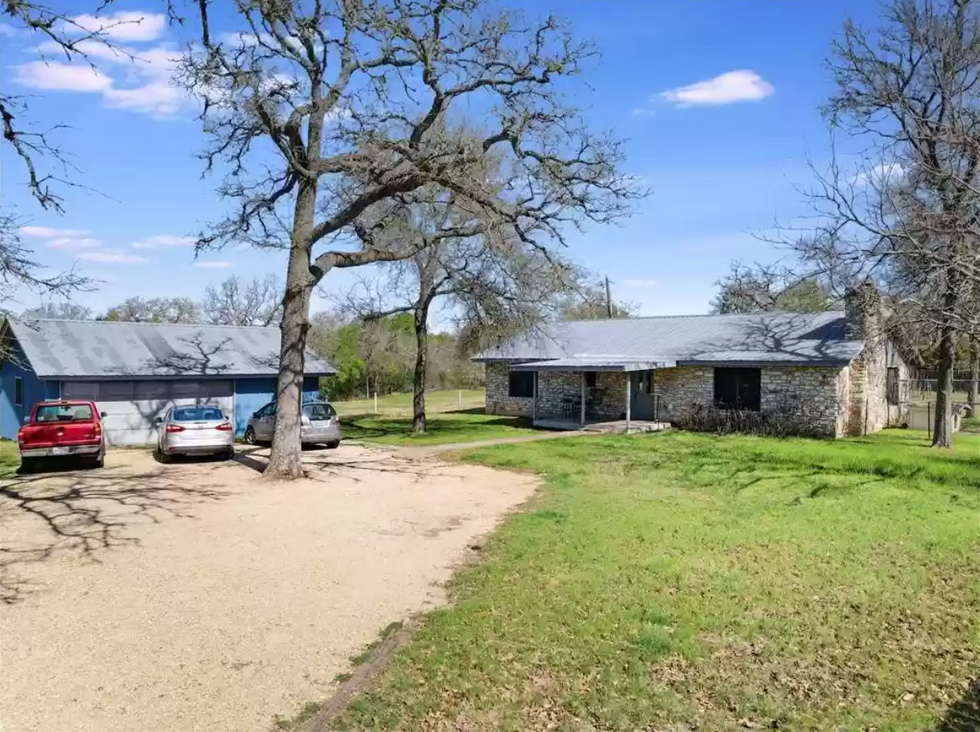 Got dreams of becoming a real Texas rancher? 7814 Brown Cemetery Rd. is the perfect place to start with 40 rolling acres of land and its very own swimming hole. Just east of Austin in Manor, the modest-on-the-outside home clocks at 4,412 square feet with five bedrooms and five-and-a-half bathrooms, but there are an additional two living structures on the property. The horseshoe-shaped pond sits in the heart of the property and comes equipped with a water slide, diving board and a fishing dock.