Get connected with our daily update
"Start your engines!" Minister of Culture Matthew McConaughey started the race in his signature twang as the grand marshal for Austin's first NASCAR race at Circuit of the Americas on Sunday.
The race ended prematurely due to the rain, but the historic event still made an impact on thousands of Austinites and sports fans from around the country.
---
With low visibility and excess water on the track, drivers had a hard time keeping control in COTA's first NASCAR race. Two crashes marred the first two stages, and a collision between Cole Custer and Martin Truex Jr. had a fiery end as Custer's front end temporarily went up in flames. Both were unhurt, but officials could no longer ignore the rain.
A red flag was flown into the stormy air, and Austin's first race was delayed in the second stage.
As the rain died down, drivers tried to finish the race, but another red flag meant Chase Elliott was the de facto winner of the race.

Even with a less-than-ideal finish, the race was still an unforgettable experience for a range of characters, from locals to travelers from around the country. The sea of cars in the parking lot were dotted with out-of-state license plates. One family that was camping comfortably on the course lawn said they came in from California.
Thomas Revoir and Benjamin Marshall, wearing just overalls and red-white-and-blue bandannas, were coming from North Carolina, but COTA was just a pit stop as they continued a cross-country road trip.
Revoir and Marshall said they were unhappy with the race being called early because "as Americans we don't fear rain."
Meanwhile, locals embraced a new location much closer to home than Dallas' Texas Motor Speedway. The venue has already hosted Formula One races in the past, but Seguin resident Chris Luna said that NASCAR was different.
For Luna and his crew, the race at COTA was more than just a convenience. After his good friend died last month, Luna and his friends decided to go to the race in his honor.
"He used to be the ringleader for us," Luna said. "He had everything for us, tickets and stuff. But we're coming... because he was NASCAR all the way."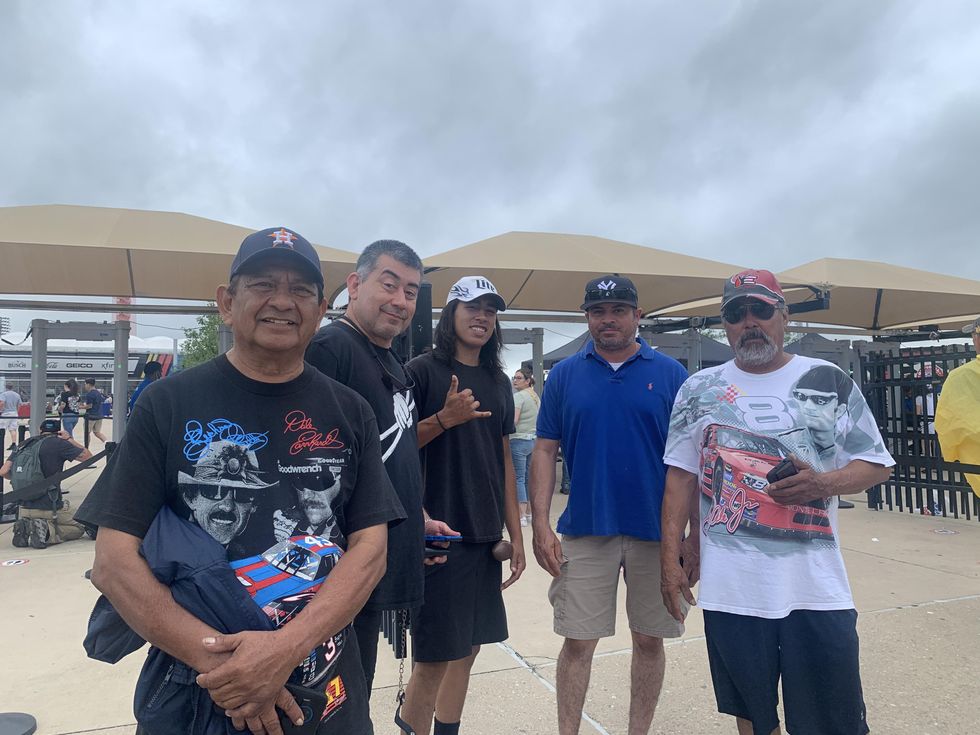 Chris Luna (left) and crew came to the race in honor of their friend who recently passed. (Claire Partain/Austonia)
Even those working the event were excited to see so many in the stands as businesses begin to recover from COVID.

Four women dressed in flaming denim stood out from the crowd. The COTA Girls, who take pictures with fans and work to hype up the stands, said they were happy to be back at work.
On the team, Holly Wood said that the girls usually hype up Formula One races but came to the NASCAR event to get people back into the groove of racing events.
"We're just looking to... get people excited because nobody was out here for a long time," Wood said.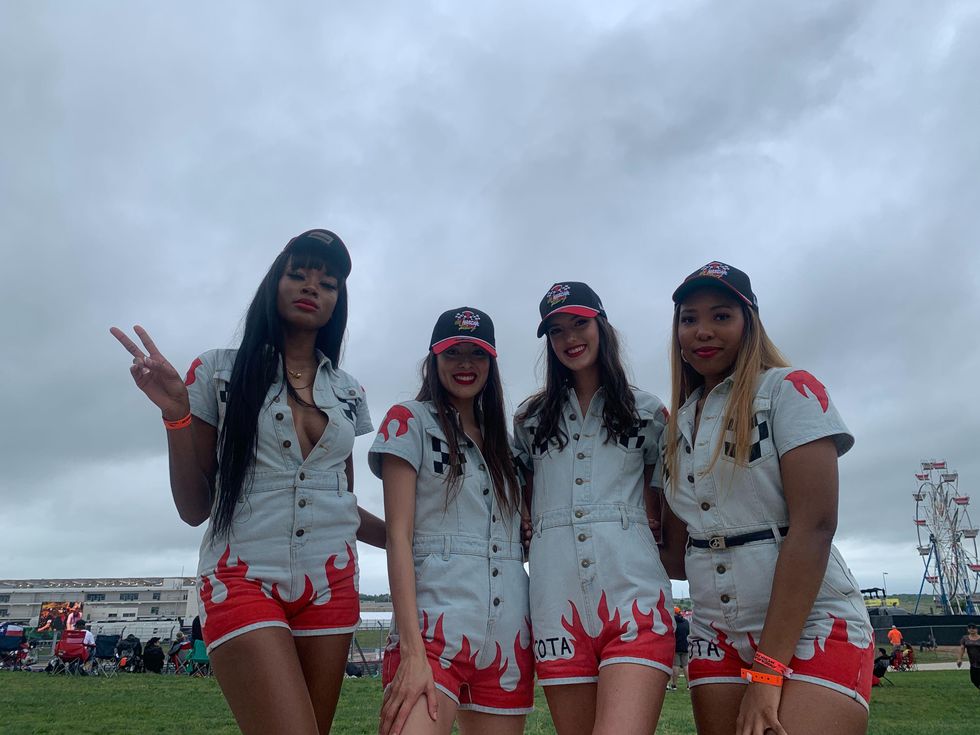 The COTA Girls, dressed in flames, helpe dkeep the crowd lively at the race. (Claire Partain/Austonia)
Food trucks lined the back of the stadium, many of them Austin businesses. Wes Tinsley, co-owner of Quesadillo ATX, said he was grateful to be asked to provide food after a hard year.
"A lot (of businesses) had to shut down but we were fortunate enough to stay afloat, and i hope that this will bring some business for us," Tinsley said. "We're excited to be here and be a part of it for the first time, and hopefully we get a chance to do this again."
The race is part of an explosion of professional sports coming to Austin as it gains recognition and a "boomtown" status. Del and crew sat atop the bleachers of Austin Bold FC, the city's semipro soccer team, to watch the race. Meanwhile, Ray wore a shirt honoring Austin FC, Austin's first professional team of any kind, at the race.
Ray was double-booked for the evening. Directly after catching an adrenaline rush at COTA, he planned on heading to Jack and Ginger's for Austin FC's official watch party.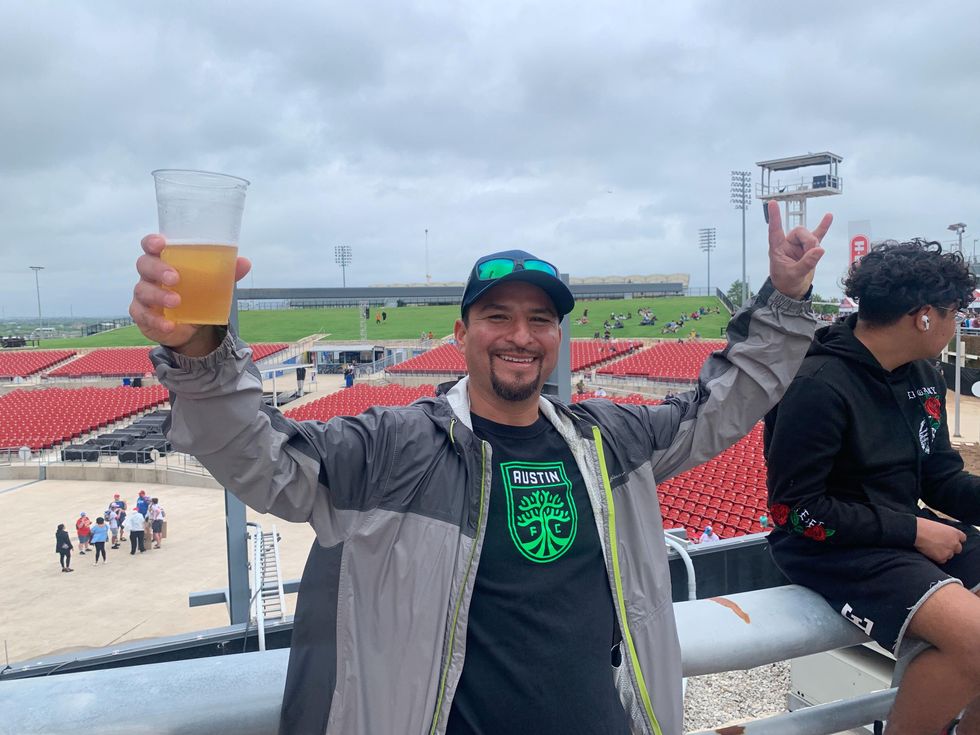 While the race ended, almost literally, in flames, Austin's enthusiasm at COTA's first NASCAR race proves that there's a hunger for more sports at Austin's premier racing venue.
East Austin restaurant la Barbecue has been robbed a third time in less than three months, according to a post on the restaurant's Instagram.
In the post, the restaurant included photos of what appeared to be a man exiting a minivan from surveillance footage.
"This guy pulled up in a car full of stuff… he ripped our gate open and stole a couple empty kegs," the post said. "The ring system scared him off so he did not venture back into the area. PLEASE EVERYONE ON THE EAST SIDE BE CAREFUL!!! This guy goes back into his car to grab something before he goes in. I am hoping he won't be back!!"
The robbery comes as many restaurant and food truck owners have been on guard from recent break-ins. East Austin cheesesteak truck R&B's Steak and Fries has also been robbed three times in around three months, according to owner Kris Elliott. Elliot said the truck was last robbed around a month and a half ago.
"When the weather gets cold, it seems like these things start to happen more often," Elliott said. "We're just happy no one got hurt."
Additionally, he said all 5 of the food trucks in their lot have experienced burglaries. The landlord of the space is taking action by investing in alarm and camera systems. "Been very tough dealing with this problem as us small business owners are just trying to survive during the pandemic," Elliott said.
And it's not just in East Austin. North Austin restaurants Eldorado Cafe and Chez Zee Bistro were both broken into and robbed on the weekend of Jan. 8, while over a dozen food truck robberies and break-ins were reported in the latter half of 2021.
Some, like Chez Zee's Deborah Velasco, wonder if the understaffed Austin Police Department's decision to no longer respond to non-emergency calls is part of the problem. Xose Velasco, owner of East Austin's Discada, said owners are keeping their guard up in the wake of the robberies as he was robbed twice within a month of reopening in November 2021.
"We try to keep the lights on," Velasco said. "We're a little bit more careful."
After 12 months, the long-anticipated massive Tesla factory in Southeast Travis County is up and operating and everyone wants a look inside.
Phase 1 of Giga Texas appears to be tied up as production of the Model Y Tesla is underway, the electric car company revealed on Wednesday in its fourth-quarter earnings call. The factory, located on the former Harold Green-turned Tesla Road, sits on more than 2,000 acres of land in southeast Travis County.
Here's a glimpse inside the factory.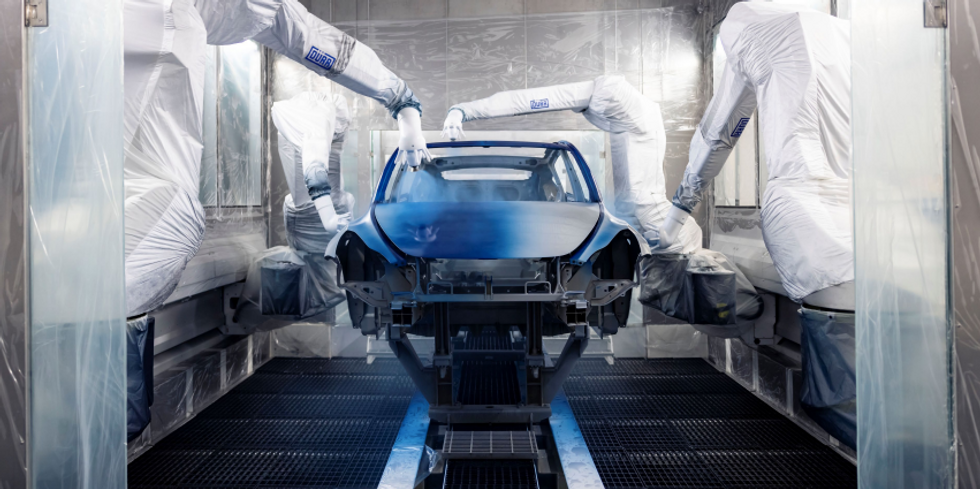 (Tesla)
Model Ys will be the first Teslas to come out of Giga Texas with an estimated delivery of August. The wait estimate comes after Tesla noted supply chain issues have affected their factories, which have been running below capacity for several quarters. A deep blue metallic like this goes for $1,000 more than a white or silver Model Y, totaling $61,990.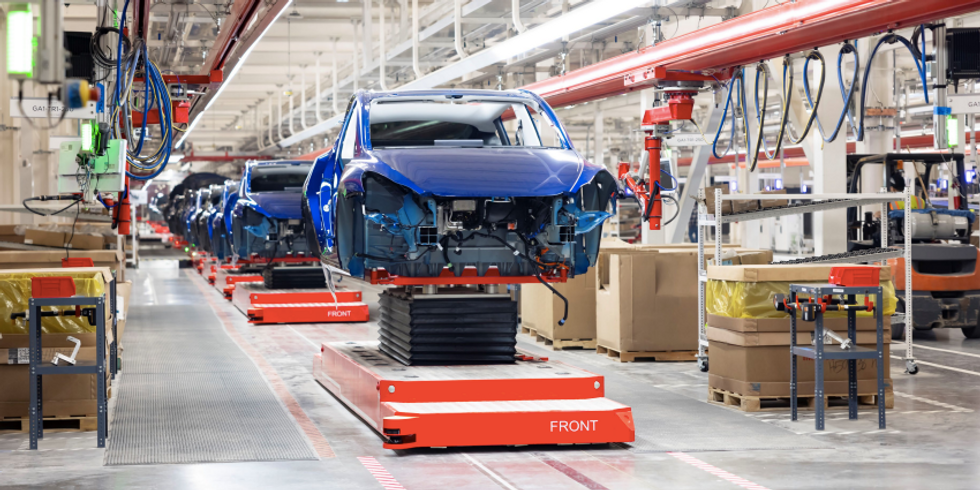 Model Ys began being produced at Giga Texas at the end of 2020. In general assembly at the factory, the Teslas get their major interior components to finish the vehicle.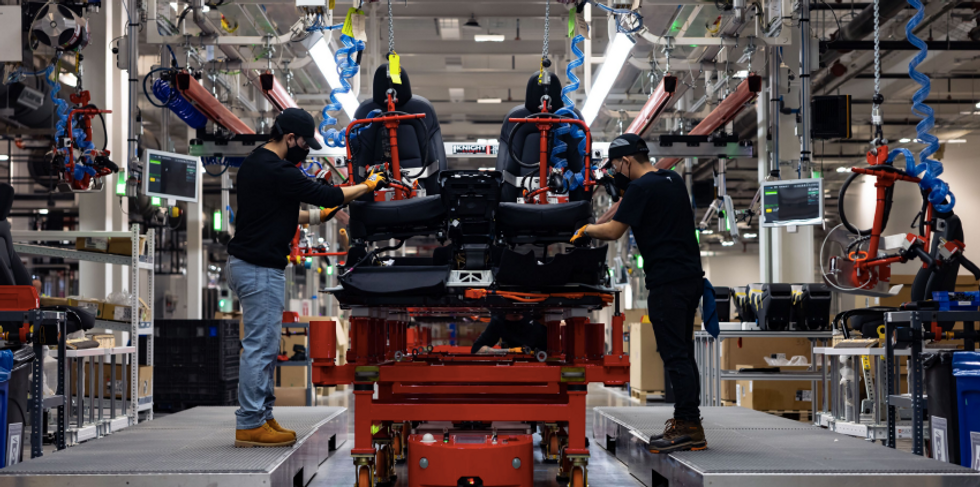 (Tesla)
Workers at Austin's Gigafactory are attaching seats to a structural battery pack. It's been described by some as the biggest difference between Texas-made Model Y's and the current version at the Fremont, California factory. It shouldn't have a major impact on the owner's experience, but Tesla has updated instructions for the jacking procedure, as the lift points are different.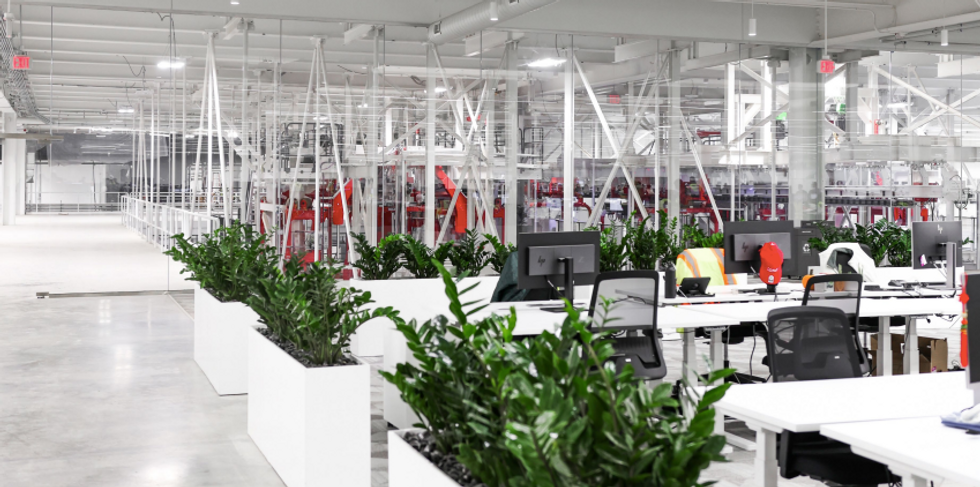 With a sleek, open office setup, workers can take in a view of the factory from their seats. It's a component CEO Elon Musk wanted for what is now the headquarters of Tesla.
On the Austin, Texas public location Snapchat, a photo of inside Giga Texas has appeared. On the left you can see a sneak peek of a Model Y body.pic.twitter.com/N7zliZ5vkL

— Sawyer Merritt (@Sawyer Merritt) 1643081462
With Snapchat's maps, anyone can look at everyday activity happening at the factory. To view these geographically-linked stories, click the bottom left "map" icon and search "Tesla Giga Texas." Once you've found it, you can view the Snapchat story of those in and around the facility. While most stories stay up for only 24 hours, Giga Texas is a designated place on Snapchat, allowing users to view a collection of photos and videos from the inside.
Following Model Ys, Texas-made Teslas will include the Cybertruck, Semi and Model 3. But it might be a while before those other models arrive. EV makers have been hit hard by the chip shortage, and it's thought that changing features are contributing to Cybertruck delays as Tesla works to compete in the electric pickup market.
Joe Rogan paid a visit to buddy Elon Musk this week. The two have been seen around town since both moving to Texas. Naturally, Rogan was impressed with the prototype.
If you're dying to get a closer look at this factory, you just might get to. In December, Musk said the factory would have tours available to the community early this year.