Get connected with our daily update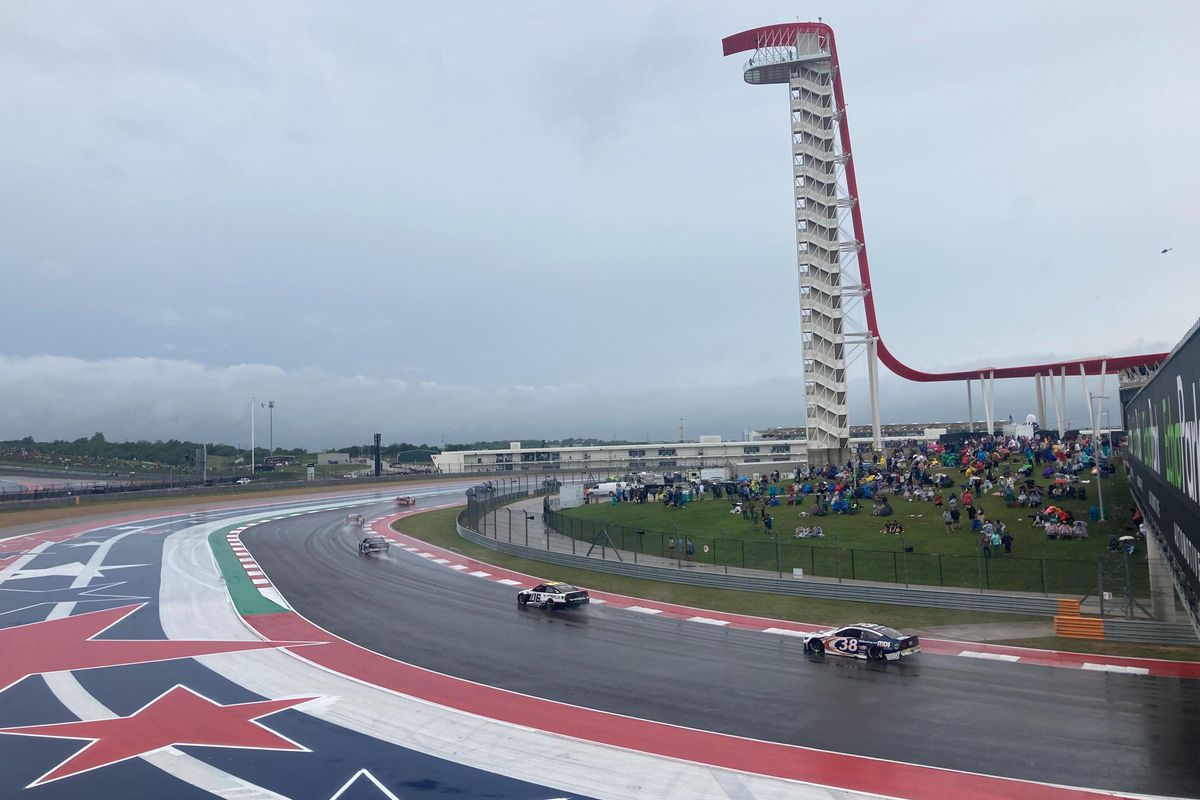 "Start your engines!" Minister of Culture Matthew McConaughey started the race in his signature twang as the grand marshal for Austin's first NASCAR race at Circuit of the Americas on Sunday.
The race ended prematurely due to the rain, but the historic event still made an impact on thousands of Austinites and sports fans from around the country.
---
With low visibility and excess water on the track, drivers had a hard time keeping control in COTA's first NASCAR race. Two crashes marred the first two stages, and a collision between Cole Custer and Martin Truex Jr. had a fiery end as Custer's front end temporarily went up in flames. Both were unhurt, but officials could no longer ignore the rain.
A red flag was flown into the stormy air, and Austin's first race was delayed in the second stage.
As the rain died down, drivers tried to finish the race, but another red flag meant Chase Elliott was the de facto winner of the race.

Even with a less-than-ideal finish, the race was still an unforgettable experience for a range of characters, from locals to travelers from around the country. The sea of cars in the parking lot were dotted with out-of-state license plates. One family that was camping comfortably on the course lawn said they came in from California.
Thomas Revoir and Benjamin Marshall, wearing just overalls and red-white-and-blue bandannas, were coming from North Carolina, but COTA was just a pit stop as they continued a cross-country road trip.
Revoir and Marshall said they were unhappy with the race being called early because "as Americans we don't fear rain."
Meanwhile, locals embraced a new location much closer to home than Dallas' Texas Motor Speedway. The venue has already hosted Formula One races in the past, but Seguin resident Chris Luna said that NASCAR was different.
For Luna and his crew, the race at COTA was more than just a convenience. After his good friend died last month, Luna and his friends decided to go to the race in his honor.
"He used to be the ringleader for us," Luna said. "He had everything for us, tickets and stuff. But we're coming... because he was NASCAR all the way."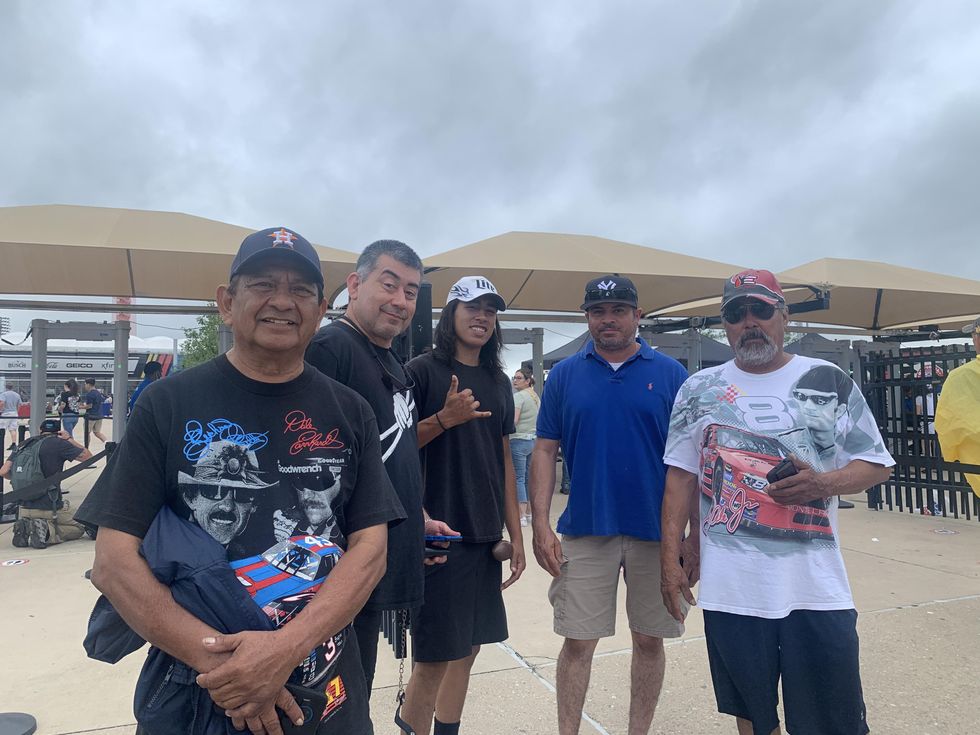 Chris Luna (left) and crew came to the race in honor of their friend who recently passed. (Claire Partain/Austonia)
Even those working the event were excited to see so many in the stands as businesses begin to recover from COVID.

Four women dressed in flaming denim stood out from the crowd. The COTA Girls, who take pictures with fans and work to hype up the stands, said they were happy to be back at work.
On the team, Holly Wood said that the girls usually hype up Formula One races but came to the NASCAR event to get people back into the groove of racing events.
"We're just looking to... get people excited because nobody was out here for a long time," Wood said.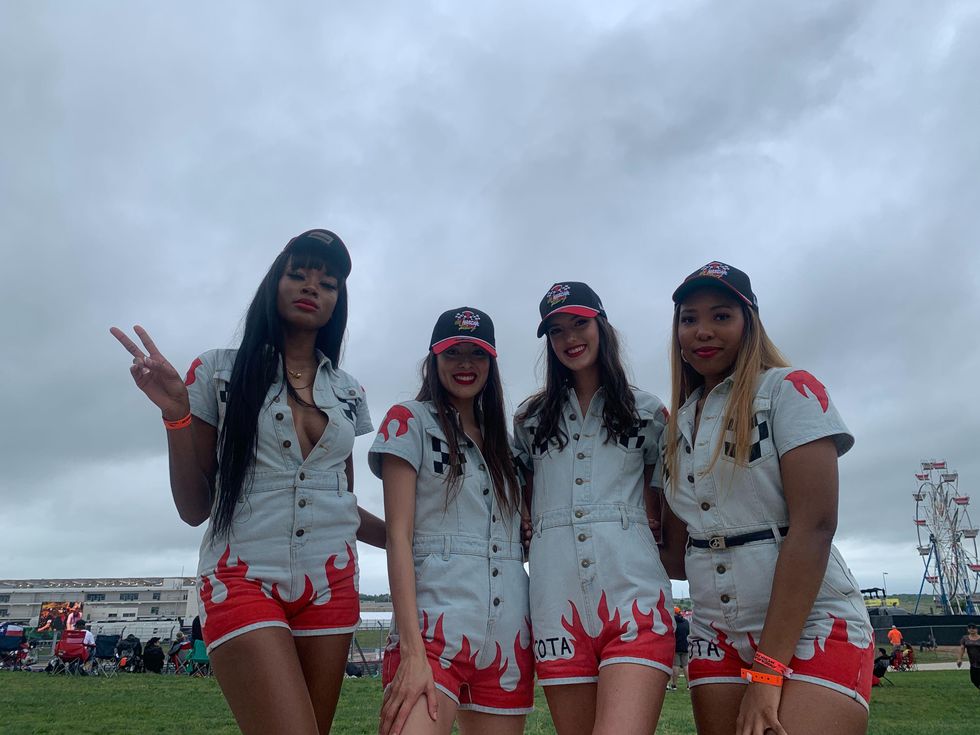 The COTA Girls, dressed in flames, helpe dkeep the crowd lively at the race. (Claire Partain/Austonia)
Food trucks lined the back of the stadium, many of them Austin businesses. Wes Tinsley, co-owner of Quesadillo ATX, said he was grateful to be asked to provide food after a hard year.
"A lot (of businesses) had to shut down but we were fortunate enough to stay afloat, and i hope that this will bring some business for us," Tinsley said. "We're excited to be here and be a part of it for the first time, and hopefully we get a chance to do this again."
The race is part of an explosion of professional sports coming to Austin as it gains recognition and a "boomtown" status. Del and crew sat atop the bleachers of Austin Bold FC, the city's semipro soccer team, to watch the race. Meanwhile, Ray wore a shirt honoring Austin FC, Austin's first professional team of any kind, at the race.
Ray was double-booked for the evening. Directly after catching an adrenaline rush at COTA, he planned on heading to Jack and Ginger's for Austin FC's official watch party.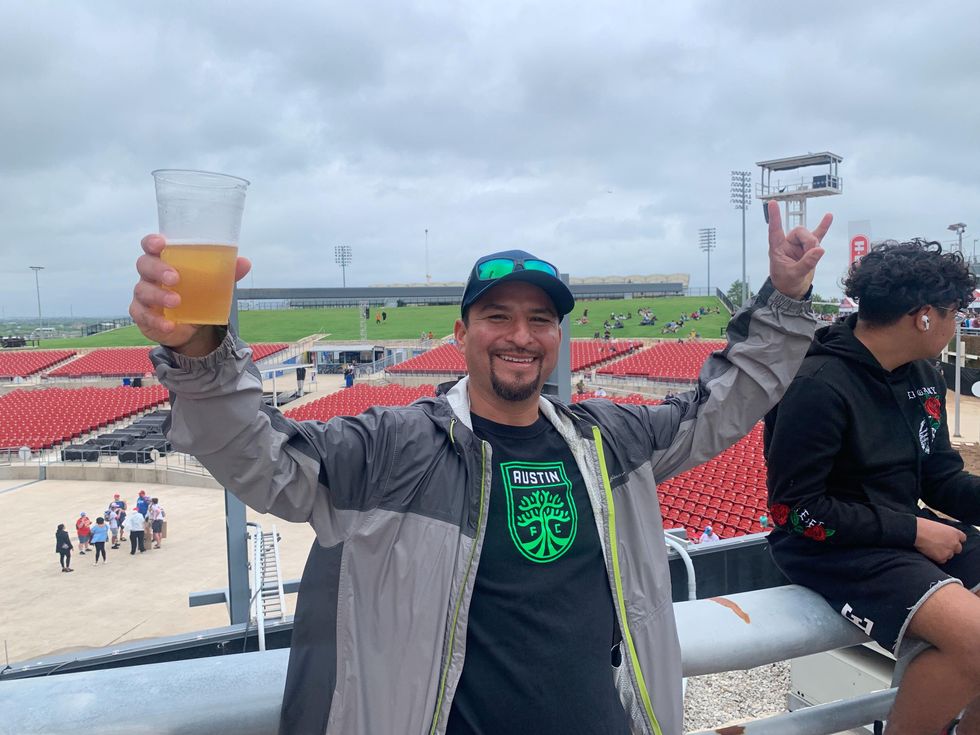 While the race ended, almost literally, in flames, Austin's enthusiasm at COTA's first NASCAR race proves that there's a hunger for more sports at Austin's premier racing venue.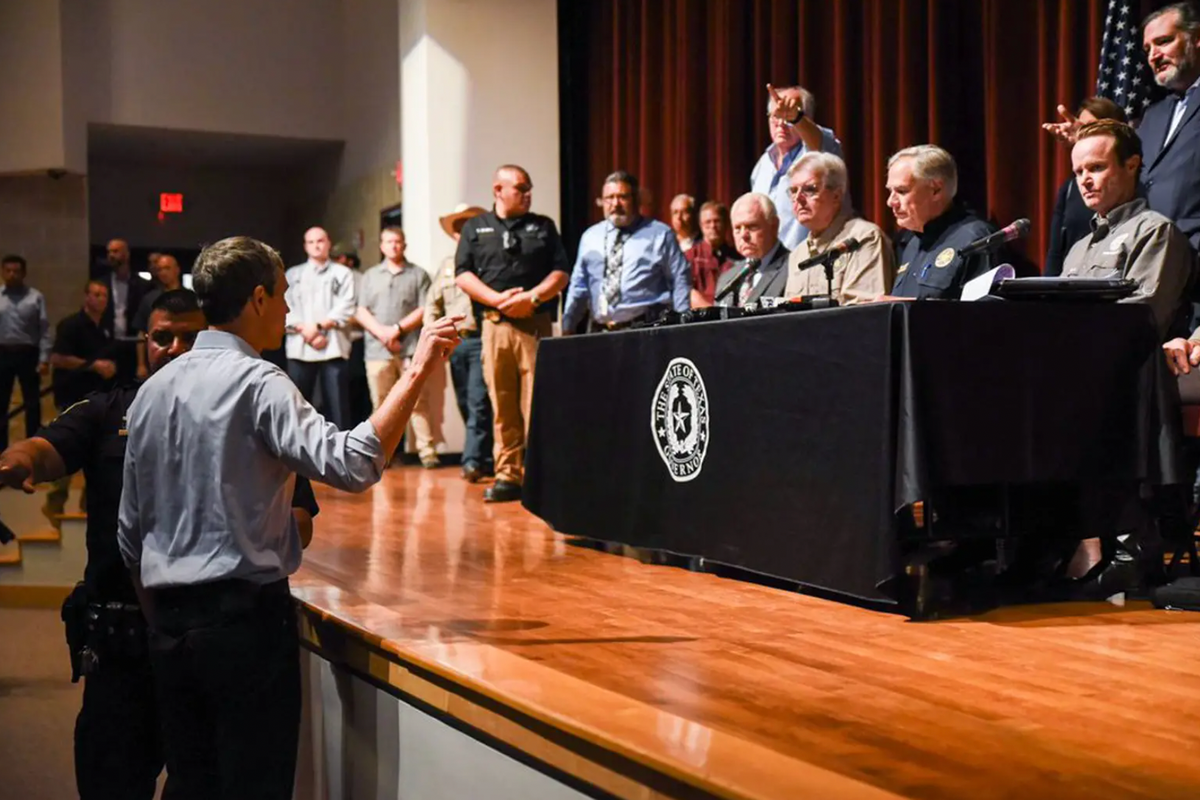 By Patrick Svitek
Beto O'Rourke caused a dramatic scene on Wednesday when he angrily confronted Gov. Greg Abbott at his news conference about the Uvalde school shooting, yelling, "This is on you."
After Abbott was done giving his initial remarks, O'Rourke approached the stage and told Abbott he was "doing nothing" to combat gun violence. He said the Uvalde massacre, in which a gunman killed 19 children and two adults, was "totally predictable."
Some of the Republican officials onstage with Abbott quickly denounced O'Rourke, telling him to go away. Another man onstage used expletives to criticize O'Rourke for interrupting the event.O'Rourke was eventually escorted away amid the unruly scene.
"I can't believe that you're a sick son of a bitch that would come to a deal like this to make a political issue," Uvalde Mayor Don McLaughlin told O'Rourke at one point.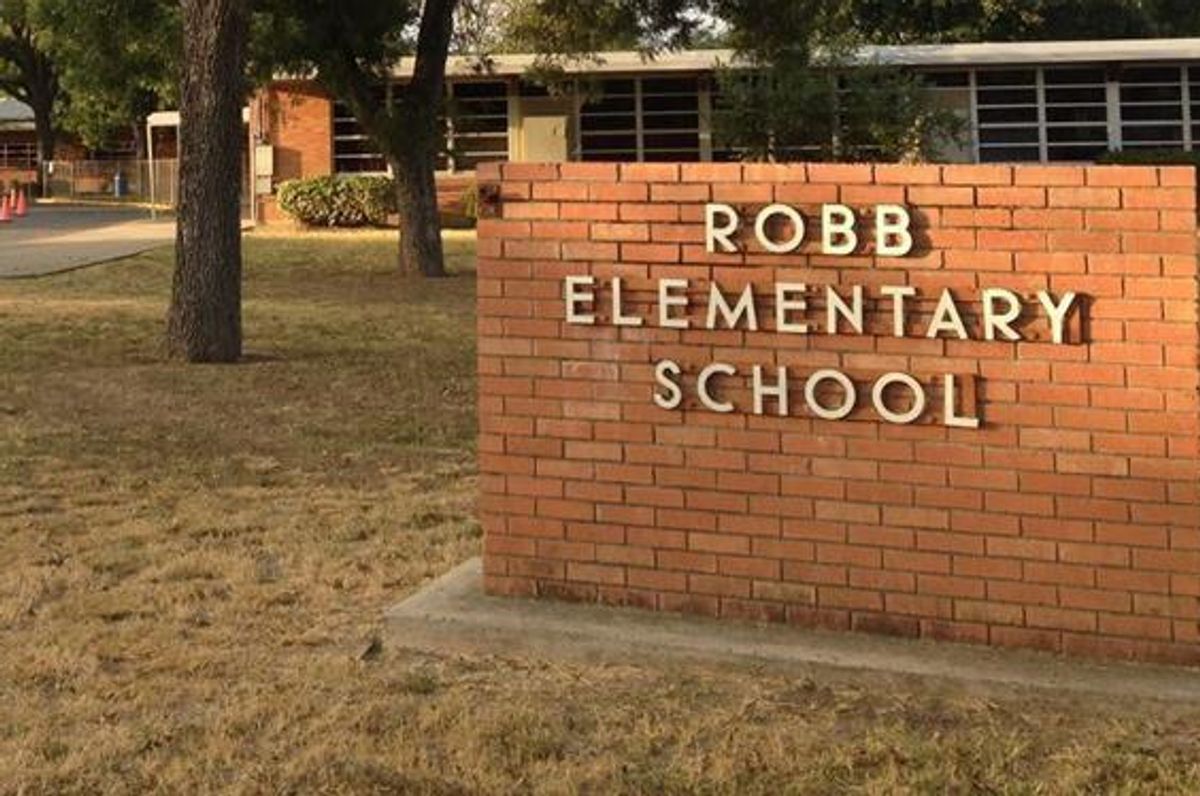 Nineteen kids and two adults are dead after a shooting at Robb Elementary School in Uvalde, Texas—a small town an hour and a half west of San Antonio—on Tuesday afternoon.
Gov. Greg Abbott said the suspect, 18-year-old Salvador Ramos, is believed to have been killed by the police. The Uvalde Police Department said the shooting began at 11:43 a.m. Tuesday.
"What happened in Uvalde is a horrific tragedy that cannot be tolerated in the state of Texas," Abbott said. "He shot and killed—horrifically, incomprehensibly."

Texans are grieving for the victims of this senseless crime & for the community of Uvalde.

Cecilia & I mourn this horrific loss & urge all Texans to come together.

I've instructed @TxDPS & Texas Rangers to work with local law enforcement to fully investigate this crime. pic.twitter.com/Yjwi8tDT1v
— Greg Abbott (@GregAbbott_TX) May 24, 2022
According to University Health Hospital officials, a 66-year-old woman and 10-year-old girl arrived in critical condition. Uvalde Memorial Hospital reportedly received 13 children for treatment and two individuals who were already deceased. At the time, it was believed 14 had died in this shooting.

The shooter prompted a lockdown at the elementary school of just under 550 students, with San Antonio Police sending SWAT, and Eagle chopper and Crime Scene Investigators.
According to White House press secretary Karine Jean-Pierre, President Joe Biden has been briefed on the tragedy and "His prayers are with the families impacted by this awful event, and he will speak this evening when he arrives back at the White House."
At 21 deaths, it is the deadliest school shooting in Texas and one of the deadliest in the U.S. since 26 at Sandy Hook Elementary lost their lives. This is the U.S.'s 213th mass shooting of 2022.