Get connected with our daily update
(World Class)
By Edgar Walters and Dan Rosenzweig-Ziff
Walk through downtown Austin or its rapidly developing nearby neighborhoods and it's impossible to miss the massive black banners draped over office buildings, warehouses and bars. "Another World Class Project," reads one posted to the metal siding of a squat industrial building downtown. Other banners riff on their own ubiquity with a pithy line popularized by DJ Khaled: "Another One."
---
The promotional campaign belongs to an Austin-based real estate investment firm owned by Nate Paul. World Class Capital Group has acquired an enviable portfolio of some of Austin's choicest parcels with ambitious plans to lease or develop them. Paul has described himself in media reports as wanting to become "the youngest self-made real estate billionaire."
These days, Paul's name is associated not just with a real estate empire but with a series of recent high-profile bankruptcies and a much-publicized raid on his home and business office last year by FBI and U.S. Department of Treasury agents. The investigation remained active as recently as April, though no criminal charges have been filed, according to the Austin Business Journal.
And now he has been linked to bribery and abuse-of-office allegations made against Texas Attorney General Ken Paxton.
According to the Houston Chronicle, former top aides to Paxton have alleged that the attorney general inappropriately appointed a special prosecutor to target "adversaries" of Paul, who donated $25,000 to Paxton's reelection campaign in 2018. Those "adversaries" appear to include agents who raided Paul's home and business office, though Paxton has confirmed only that he authorized an investigation into "allegations of crimes relating to the FBI, other government agencies and individuals" and that the investigation involved Paul.

A Paxton-appointed special prosecutor, Brandon Cammack, obtained subpoenas to look into allegations Paul made accusing federal authorities of wrongdoing when they raided his home and offices, according to the Austin American-Statesman.
And a text message, which was first obtained by the Houston Chronicle, sent last week by senior staff at the attorney general's office to Paxton does not specify the nature of the real estate investor's involvement in the "violations of law" they accuse Paxton of committing, but the aides mention Paxton's "relationship and activities with Nate Paul."
Paxton has said the allegations made against him by high-ranking attorneys at his agency are false, brought by "rogue" employees, and that he does not intend to resign. He also said he appointed a special prosecutor to lead the investigation to keep the investigation "independent" of his relationship with Paul.
Paul did not respond to interview requests for this story.
Earlier in his career, media reports called the now 33-year-old investor a "wunderkind," a "rising star" and a "prodigy," with an estimated net worth of nearly $1 billion. Raised in Victoria by Indian immigrant parents, Paul changed his name from Natin to Nate, moved to Austin, enrolled at the University of Texas and then dropped out after acquiring a taste for flipping real estate, according to media reports.
He founded World Class in 2007 and has said he got his start purchasing property at low prices and in a low-interest-rate environment after the 2008 financial crisis. He bought storage facilities, land in Austin, a marina on Lake Travis and a building being used by a call center in south Austin, according to a profile in Forbes. "I was buying at the pit of the crisis," he told the magazine. "In many of those deals, there was no other bidder."
By 2015, he had amassed hundreds of millions of dollars, primarily from institutional investors such as pension funds and insurance companies, according to the Austin Business Journal.
"Is this guy for real?" the publication asked in a 2015 profile of Paul. The next year, he claimed a spot on Forbes' "30 under 30" list of promising young financiers.
"I started with zero," Paul told the Business Journal. "There was no legacy. I'm self-made."
In brief media appearances, Paul has shown off a taste for luxury. In 2013, a New York Post report documented his attendance at Leonardo DiCaprio's 39th birthday party. In 2017, he drove a Forbes reporter around Austin in a Bentley to point out his real estate holdings. He has posed for photos in the Austin Business Journal in his office in the penthouse of Austin's iconic Frost Bank Tower. And he owns a nearly 9,200-square-foot mansion in a wealthy West Austin neighborhood appraised at $2.4 million, according to local tax records.
A 2017 Forbes profile pronounced him a "Texas Tycoon" and estimated his net worth to be about $800 million. Paul's company at the time had $1.2 billion in assets and 10 million square feet of commercial space, ranging from offices to retail outlets to self-storage facilities, according to Forbes.
As his real estate ventures expanded across state lines, with World Class and its related companies opening offices in New York and Los Angeles, Paul attracted controversy at home. Former employees of one of his rooftop bars in Austin sued after the bar allegedly cheated them out of tips, according to Forbes. The case was settled privately in 2014.
And among local musicians, Paul became known as something of a venue-killer, as World Class developed a reputation for buying properties leased by bars and clubs and promptly evicting them as tenants.
Vincent Salvaggio, the owner of downtown rooftop venue Ethics Music Lounge, told the Austin Chronicle in 2018 that World Class Capital locked the bar's doors for delinquent payment immediately after purchasing the property, unbeknownst to Salvaggio.
"They had me locked out before I even got the legal paperwork that they owned it and they haven't let me back in to get my shit — not my sound system, not even my checkbook," Salvaggio told the Chronicle at the time. "They're trying to raise the rent on everything, so it's good for [them] to get people out who are playing lower rent."
Recent local news reports and bankruptcy filings indicate Paul's business may have fallen on difficult times. At least 18 entities connected to World Class Holdings have filed for bankruptcy in the past year, according to the Austin Business Journal. Paul's firm has used the bankruptcy process to "fend off creditors and provide a degree of breathing room as it tries to find a way out of default on multiple loans tied to real estate across the city," the publication reported.
In September, American Express sued Paul and World Class Capital seeking to collect more than $300,000 in credit card debt, court records show.
Meanwhile, Paxton's office has come to Paul's defense in at least one other legal matter, records show. Paul's World Class firm works through a complex web of more than a dozen affiliated business partnerships, which jointly own properties with investors.
A dispute arose two years ago between companies affiliated with World Class and the Roy F. and Joann Cole Mitte Foundation, which invested in multiple Austin properties with the companies. The foundation is an Austin-based nonprofit that provides grants to charitable organizations and academic scholarships for students with financial needs.
The Mitte Foundation sued Paul in 2018, claiming he wasn't sharing financial information on their jointly owned investments that Paul's businesses managed. The case went to arbitration, and on July 1, 2019, a company affiliated with World Class agreed to buy out Mitte's interest in the real estate partnerships for $10.5 million with payment due that August.
It never came, said Ray Chester, the lawyer representing the Mitte Foundation in the case.
In October 2019, the judge in the case ordered a receiver to take over the business partnerships, which would compel Paul to reveal the financial records that Chester said still hadn't been shared with the Mitte Foundation. Chester said that within days, Paul "blatantly defied" the arbitrator's ruling and said he had sold the partnerships at less than half of their market value.
But the sale was to another company affiliated with Paul, Chester said.
"He basically sold it to himself at below market value," Chester said, although court records show the sale was never consummated.
As Paul's firm cycled through teams of attorneys and held back on making the $10.5 million payment, Paxton's office intervened in the case on behalf of World Class and its business affiliates this June, court records show. Paxton argued that his office needed to "protect the interests of the public" because the suit involved a charitable trust.
In July, Paxton asked a judge to halt the case. During that time, Chester said Paxton's office called him five to 10 times per day to try to get him to settle for "pennies on the dollar," calls that Chester characterized as "vaguely threatening."
On Sept. 20, less than two weeks before news broke about the allegations against Paxton, the attorney general's office reversed itself and announced its intention to step away from the case, which is still ongoing.
After filing for bankruptcy in August, the World Class affiliate handling investments in the property did not pay the $10.5 million or turn over the records, Chester said. But a clause in the settlement agreement does allow the Mitte Foundation to take a valuable, larger ownership share in the downtown property, Chester said.
As media reports surfaced detailing Paul's connection to the allegations against Paxton, Texas Republican politicians who had received campaign contributions from Paul announced they would donate the funds to charities. Campaigns for Lt. Gov. Dan Patrick, Comptroller Glenn Hegar, Land Commissioner George P. Bush and U.S. Rep. Chip Roy distanced themselves from Paul's campaign contributions, which ranged from $2,500 to $10,000.
Roy, formerly a top Paxton aide at the Texas attorney general's office, also called on Paxton to resign.
Although Paul has not said much publicly since garnering attention in the past year for the FBI raid and his bankruptcy lawsuits, he frequently shares inspirational quotes on his LinkedIn profile. He shared a Sun Tzu quote this summer: "Pretend to be weak, so your enemy may grow arrogant," appending the hashtag #WorldClass.
On Monday, he posted another update: "Work Hard in Silence, Let Success Make the Noise."
In the Austin Business Journal's 2015 profile of Paul, outside observers praised him with a tinge of skepticism. David Armbrust, a real estate attorney at Armbrust & Brown, called Paul's meteoric rise "very impressive."
"I suppose like many in the real estate business, he may fit into one of two categories — either a rising star or a shooting star," Armbrust said at the time. "Only time will tell."
Shannon Najmabadi and Emma Platoff contributed reporting.
More on this story: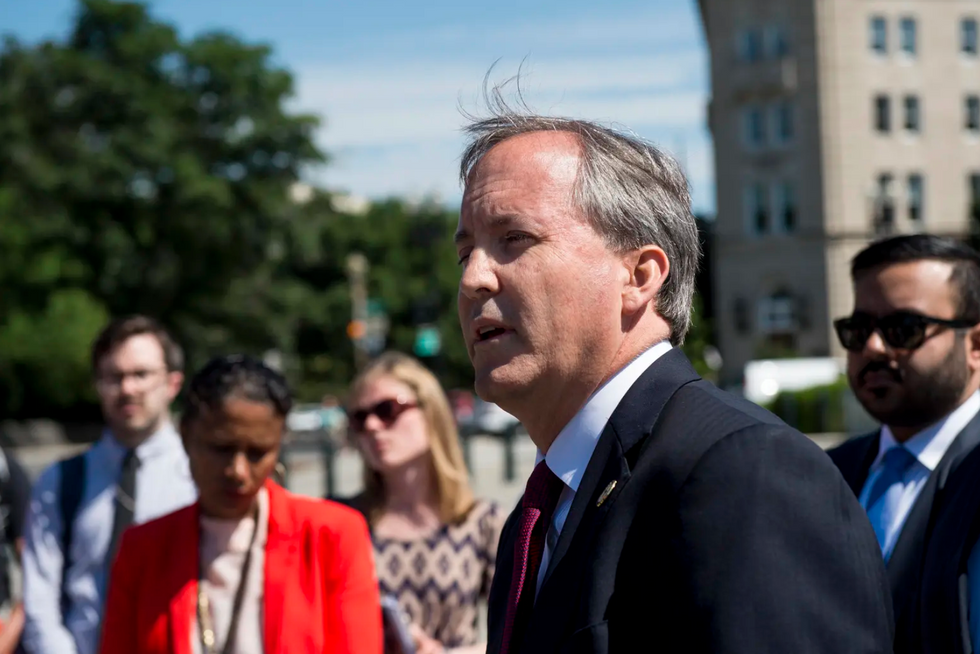 Texas Attorney General Ken Paxton says he won't resign after accusations of criminal activity by top aides (REUTERS/Bill Clark)
Actor, director and screenwriter Justin Theroux isn't the only famous member of his family. His canine companion Kuma made waves online this past weekend supporting Austin Pets Alive!—and Jennifer Aniston is a fan.
Theroux launched Kuma's own Instagram account on Saturday with a link to Austin Pets Alive!'s website in her bio. And the grey pitbull mix is already garnering the kind of attention worthy of her movie star dad: As of Monday night, she has over 55,000 followers.
Chief among them is Jennifer Aniston, who posted a photo of Theroux and his newly online dog on her Instagram story yesterday with fond words for the Austin shelter.
"Love what these two are doing to help people who help pups who help people," the 'Friends' star, and Theroux's ex-wife, wrote. "They helped save 60 pups at Austin Pets Alive! yesterday."
Theroux began volunteering at the shelter while filming 'The Leftovers' in Austin when he fell in love with the shelter's pitbulls, according to Dr. Ellen Jefferson, Austin Pets Alive! president and CEO.
"We are thrilled that he and Kuma are spreading the word about the work APA! is doing and the need to keep Austin no-kill," she said, referring to the shelter's commitment to save animals most at risk for euthenasia.
Theroux adopted his mut in 2018 after Kuma was rescued—dirty and injured—from the aftermath of Hurricane Harvey by A Chance to Bloom Dog Rescue, based in Conroe, Texas.
While Kuma is not from APA!, Theroux connected with the Conroe-based non-profit while visiting the Austin shelter, and he has remained "an enthusiastic supporter" ever since, Jefferson said.
Read more on celebrity dogs: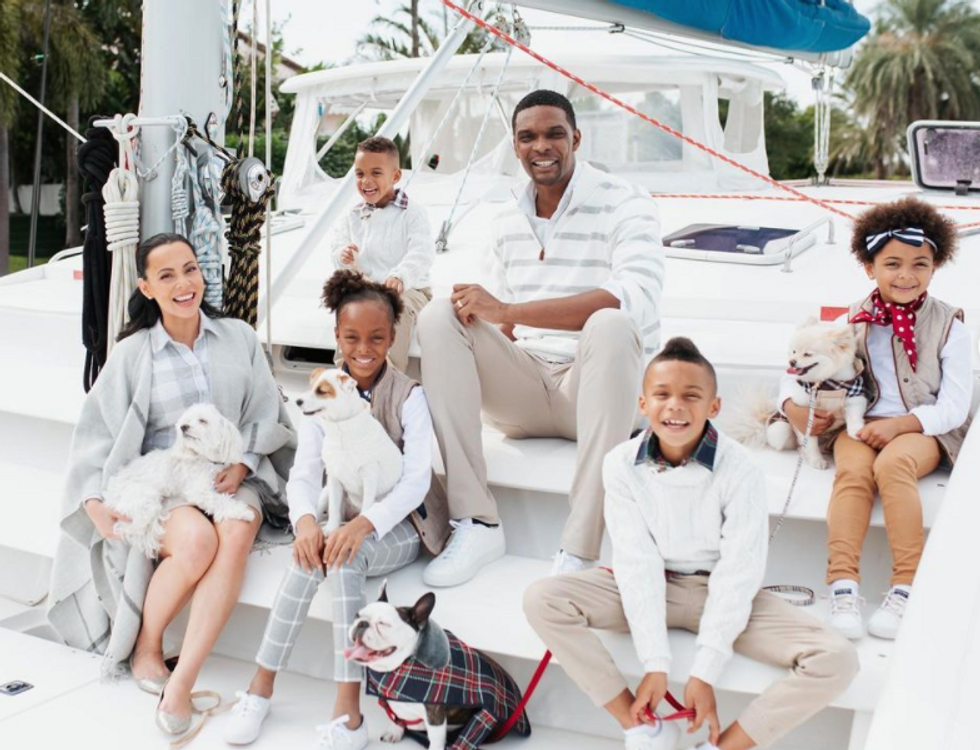 Star power gets furry: Meet the dogs of Austin's celebs
Six days a week, thousands of onlookers tune in to live streams to watch the pros rake it all in at high-stakes poker tournaments. The big-name poker players aren't in Las Vegas or even Oklahoma's finest casinos—instead, they're where Texas Hold 'Em gets its name.

Gambling may be illegal in Texas, but over a hundred poker houses are using a loophole to open up shop across the state, especially in Austin and Dallas.
The classic poker game is finally getting played for real cash around the Lone Star State thanks to an exception in Texas' gambling ban that allows poker games to be played in private residences. Instead of taking a cut from the pot like traditional gambling ventures, private poker houses don't make money from the results of a game; instead, they get their revenue from membership and hourly fees.
It's a business strategy that's gone (mostly) unchallenged by Texas politicians, especially as the industry begins to heat up.
Austin may now have around 20 poker houses around town, but it wasn't long ago that one stood alone like a small town saloon. The city's premiere poker house, Texas Card House, was founded in 2015 and has since grown to include a YouTube channel with over 30,000 subscribers, a wide range of gameplay and regular visits from big-name poker gurus like Brad Owen and Doug Pope.
David Lagana, a content creator who has worked in college sports and Hollywood, was brought into the scene in May as the house's live streams began to blow up. He said the live streaming battleground is only beginning.
"The space is ever-growing," Lagana said. "It's been interesting to try and find a lane that everybody can succeed. It's all about finding something that people want to watch on a nightly basis."
Carolyn Hapgood, who has worked for Texas Card House for three years, has made a name for herself as a live stream producer, dealer and player herself with the company. She's seen Texas Card House grow from a two-room card house to the most well-known poker venue in Austin with another branch in Dallas.
"It was a teeny tiny little house with five tables, and that was the first legal card house in the state," Hapgood said. "And since then it's blown up."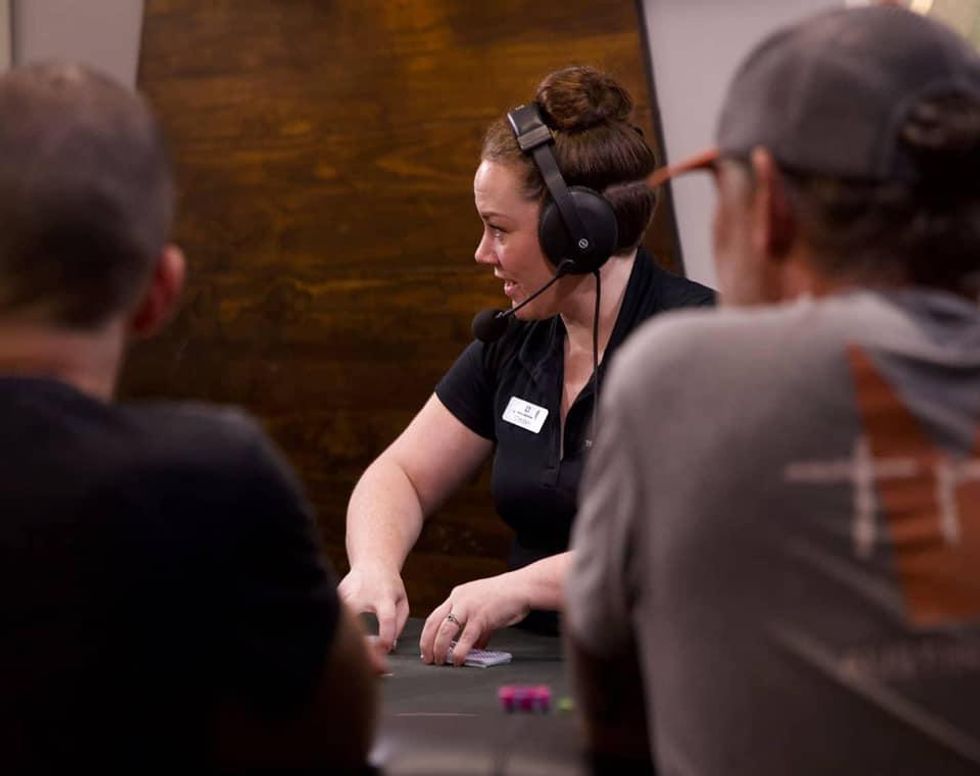 Texas Card House dealer Carolyn Hapgood has been working with Austin's premier poker house since 2018. (Texas Poker House Austin/Facebook)
From $100 pots to buy-ins of $15,000 or more, Texas Card House has it all, especially as in-state players learn more about the game. Hapgood said there isn't really a typical poker player at the house—instead, the poker table forms an "interesting little ecosystem" that includes college students, a 93-year old Vietnam War veteran, online gamblers, old-school players and everyone in between. The diversity at the table has been enhanced even further by COVID as people clamor to return to in-person events.
But Texas Card House no longer holds a "royal flush" in Austin's poker culture. The Lodge, based in Round Rock, is now expanding to over 60 tables, the largest in Texas, while Palms Social Club, owned by Texas Card Houses' original owner Sam Von Kennel, brought service staff and a refined atmosphere to the Austin scene.
Hapgood said the base of poker players is very large and continues to grow, forming a community as players form friendships on and off the table.
"My favorite part of the poker community is how much fun we have," Hapgood said. "You sit at a table with eight of your friends, everyone's kind of just having a good time. There's a lot of players who will, you know, call or text each other after they're done playing, and they end up inviting each other barbecues, and going out to dinner with their families and stuff like that... those are my favorite people to hang out with."
Getting involved in the poker scene is as easy as tuning into a live stream, and Lagana hopes to see more outsiders like himself get inspired by poker in the future.
"It's kind of like life," Lagana said. "Life isn't just one hand to play... you're only in control of sort of what's in your hand (and) you can't play the card that you weren't dealt with. So it's really been a fascinating life lesson for me."
From four-time Grammy-nominee turned big-screen actor, Black Pumas frontman Eric Burton will debut in the sci-fi short film "Devexity," which is written, directed by and stars Austinites.
The film, brought to life by Austin-based filmmaker Luke Lidell, will premiere on Oct. 7 at the Native Hostel while Burton is in town for Austin City Limits Fest. Then, "Devexity" will head off to film festival screenings, according to a report by The Austin Chronicle.
Following Burton as the film's protagonist, named Jean, "Devexity" takes place across several different settings and surfaces an existential response from the watcher. Burton stars alongside fellow Austinites Ali Pentecost, Dominique Pitts and New Yorker Madison Murrah in the partially black-and-white film.
The film was shot over the course of four days in October 2020, which Lidell said was a challenge of "focus" and "trust" to create. With a variety of scenes and intertwining narratives, the film dives into the topic of virtual reality.

A musician in addition to a filmmaker, Lidell previously directed the film "Telekinetic" in 2018. The script for "Devexity" was written by Lidell with Burton in mind for the lead after meeting him during a music video project in 2017—Lidell said Burton helped him shape the characters along the way.
Now that the door has been opened for work between Burton and Lidell, you're likely to see the pair collaborate again—a Black Pumas documentary is being rumored.