Get connected with our daily update
(Kristin Finan/Austonia)
First dates over frosty milkshakes. Family outings for juicy hamburgers.
Nau's Enfield Drug, which opened in 1951, has been a lot of things to a lot of people over its long history in Austin.
---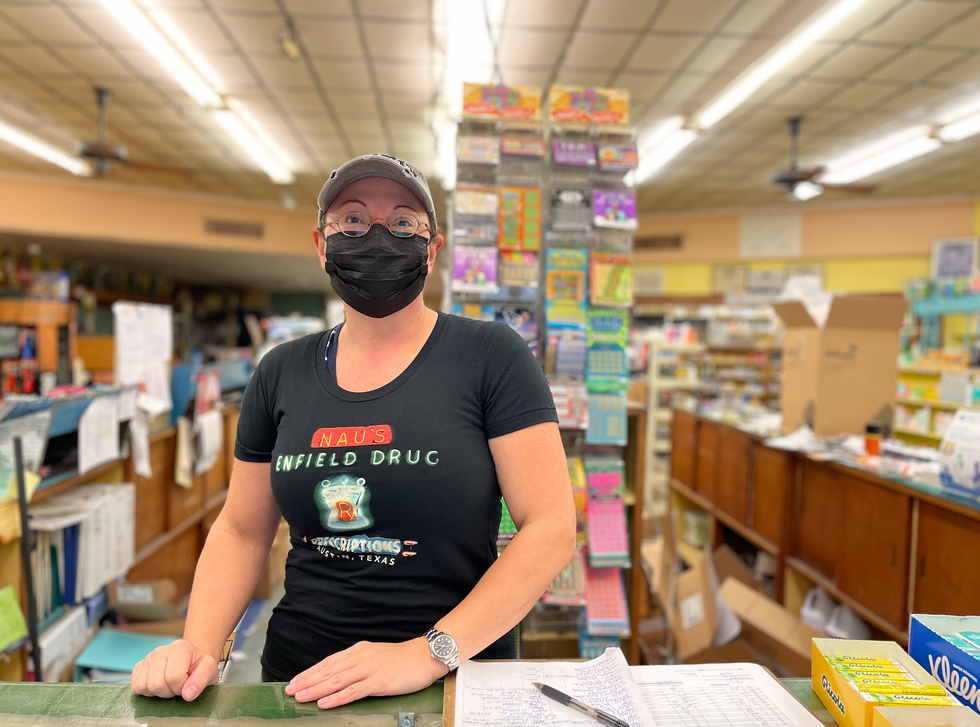 Laura Labay, manager of Nau's, at the store this month. Labay's parents, Lambert and Kathleen, purchased the store in 1971. (Kristin Finan)
For Laura Labay, it's a place that represents the shared dream of her parents, who purchased the business in 1971 just before she was born. It's the place where she grew up helping wipe down sticky booths by the soda fountain and where she still works, side by side with her 81-year-old dad, Lambert Labay, who, in addition to being the owner, has been a pharmacist there since 1963.
"Everyone's heard of Nau's. We're one of the top 10, top 5 businesses that Austin has always been unique for," said Laura Labay, who has managed the store for 23 years. "And we're one of a handful of businesses that still have that community connection and that history."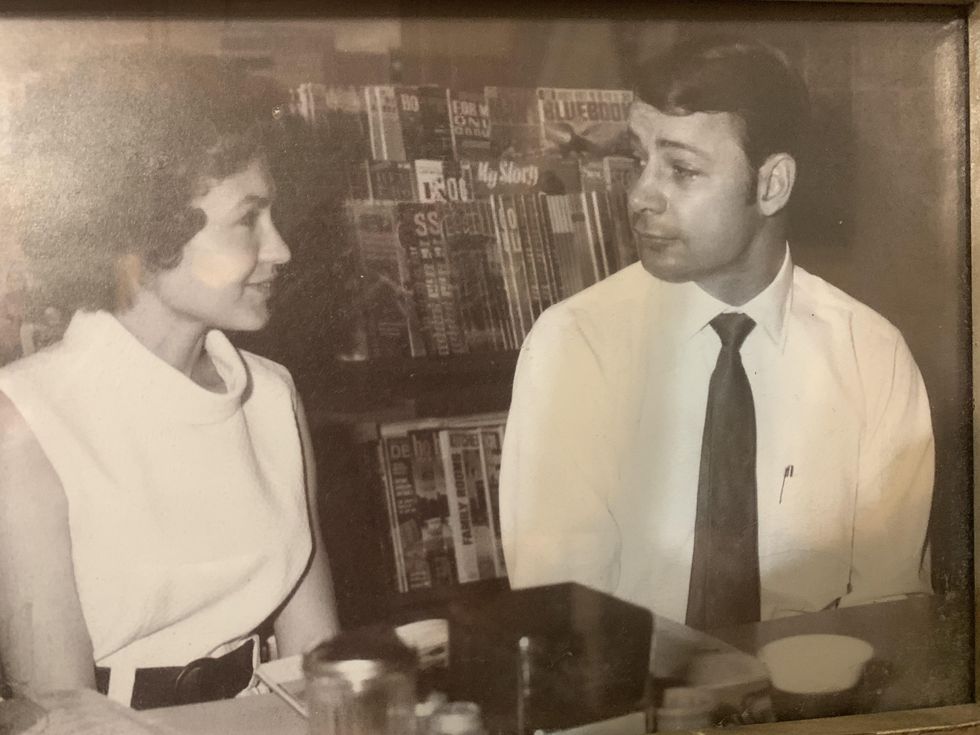 Kathleen and Lambert Labay at Nau's soda fountain in spring 1971, just after they'd purchased the store. Kathleen Labay was pregnant with daughter Laura at the time. (Laura Labay)
Now, due to a series of unfortunate events including the coronavirus pandemic, it's also another Austin institution that's struggling to survive.
"We've talked, unfortunately, a few times about closing. We're still trying to make ends meet," she said, adding that a combination of an emergency restaurant remodel and the pandemic made 2020 the year where "utterly our world crushed."
The Labays own Nau's, the business, but not the building in the Clarksville neighborhood where it's famously located at 1115 West Lynn St. In early 2020, prior to the onset of the pandemic, the cafe portion of the business closed because the property needed some updates including a new air conditioner. Due to the pandemic, however, many of those updates stalled—while the pharmacy and drug store have remained open, the once-famous café has now been shuttered for about a year.
"I really hope that comes back because Austin has lost so many iconic places," said Anne Rapp, a neighborhood resident and Nau's customer, after purchasing a lottery ticket inside the store. "It's places like Nau's that make Austin special and maintain its soul. I think the soul of a town is as important as anything."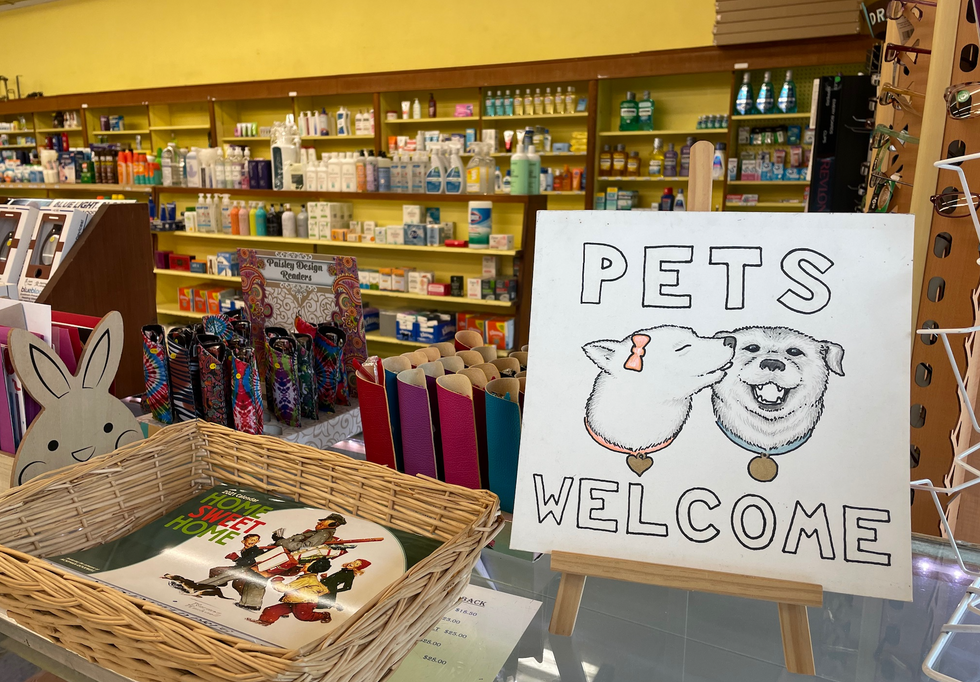 A sign at the entrance of Nau's welcomes four-legged visitors. (Kristin Finan)
Rapp, who works in the film industry, said Nau's "reputation precedes it a little bit."
"I've had many times when big players in Hollywood, from Los Angeles to New York, come here for Austin Film Festival for the weekend," Rapp said. "On more than one occasion, I'll be knocking around with a lot of them and they'll say, 'Can you take me to Nau's? I've heard they have great breakfast.'"
Laura Labay, 49, agreed that the café and soda fountain, which featured never-frozen hamburger patties and from-scratch shakes and sodas, are the heartbeat of Nau's, estimating that sales are down 80% over typical years, "if not worse."
"I could put in a modern-day drink dispenser and modern coolers, but why would anyone come in for that?" she said. "They come in because it looks like a soda fountain. The café is really the driving force that is going to be our salvation."
Right now you can't sink your teeth into a juicy burger or saddle up at the soda fountain, and the store's selection of nostalgic candies, unique soaps and fun gift items is also limited due to difficulties sourcing those items amid the pandemic, but you can still pick up a newspaper, grab a prescription or even arrange a home delivery if you live nearby.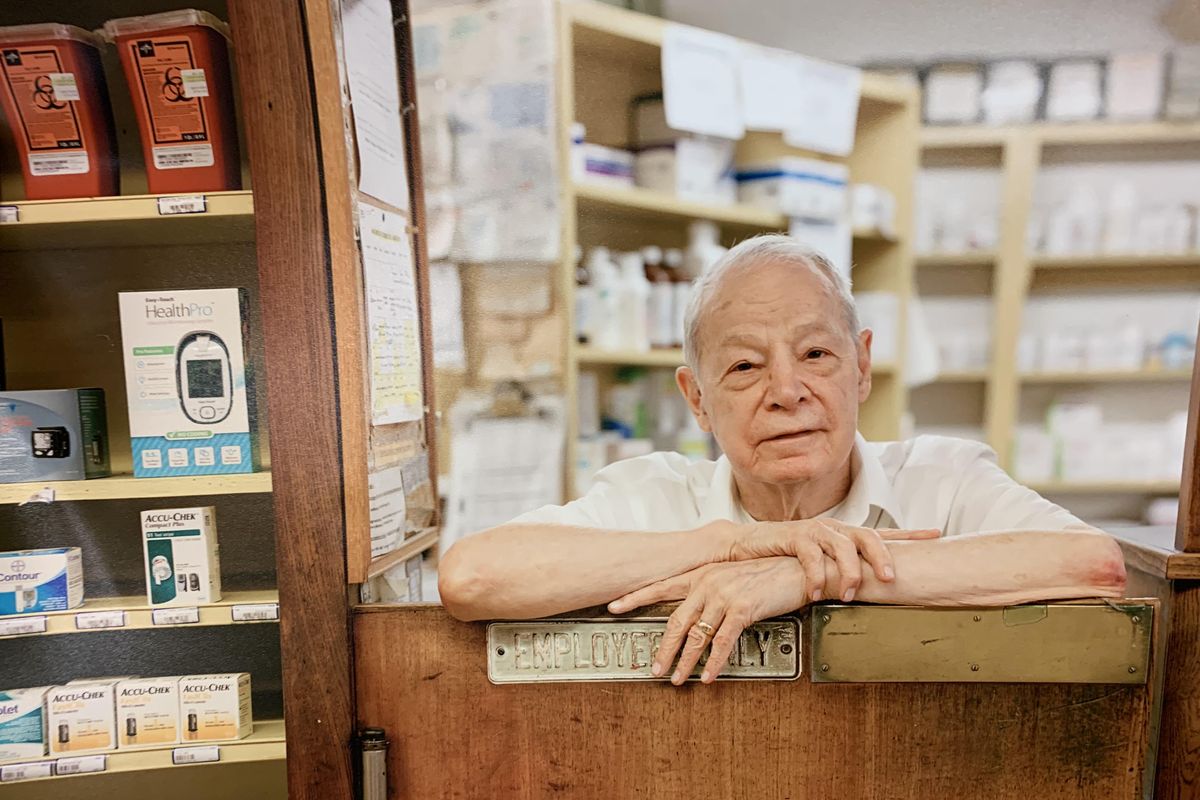 Lambert Labay, 81, is the owner of Nau's Enfield Drug, where he has worked as a pharmacist since 1963. He and his wife, Kathleen Labay, purchased the store in 1971. (Laura Labay)
Laura Labay said many of Nau's customers are more like family, adding that the neighborhood rallied to support the business after her father suffered a heart attack in 2016.

"It was just an outpouring of good faith from our neighbors, all walks of life were trying to help us, and they did. People have memories from growing up here and this is part of their lives," she said. "I don't think you could say that about your neighborhood Starbucks."
Laura Labay said she welcomes anyone who is interested in the café revitalization efforts or in helping to keep Nau's going, in general, to contact her directly.
"Most people would have given up, but I have a dream that this is going to come back to its heyday before my father retires," she said. "I just don't want people to forget about us. We're going to be back, and be better."
Whether you became a home chef when the pandemic began or have always enjoyed crafting delicious meals, it's undeniable that no home is complete without a cozy kitchen.
Not only do these luxurious homes have enviable amenities like natural light, sky-high ceilings and land to grow into, they also boast extraordinary kitchens. These are not your mom's kitchens—we're talking wine fridges, Miele appliances and wet bars.
Take a peek at these five gems on the market now.
In the South Austin Parten community, this castle-like four-bedroom, three-and-a-half bathroom stunner puts you just minutes from Austin, Dripping Springs and other nearby communities. Stark white and black contrasting features give the interiors a clean look, while a large curving staircase serves as a centerpiece for the ground floor. The chef's kitchen is spacious, facing the living room and multiple windows, and immediately draws the eye. Upstairs you'll find a spa-style bathroom, game room with a wet bar and Hill Country Views.
This listing is held by
Adam Zell and Lexie Zell.
This hyper-modern, 3,300-square-foot Scandinavian-styled home is a paradise for natural light in Hyde Park. With four bedrooms and three-and-a-half bathrooms spread across one story, the home rests on concrete columns to protect from extreme climate conditions. Inside, you'll find crisp, clean trim in the open-plan kitchen with built-in luxury appliances and a walk-in pantry. Lofty 12-foot ceilings and gigantic windows set the tone, with a wet bar and second living room for entertaining. When you retire to the master bedroom, enjoy a warm bath in the soaking tub or enjoy the multi-output shower.
This listing is held by Austin Stowell.
In the heart of Westlake, this stacked three-story new build is a sprawling 4,483 square feet with five bedrooms and four-and-a-half bathrooms. The home is centrally located and full of natural light, especially on the open concept first floor, which includes the kitchen, casual dining space and living area. The third floor has a bedroom and loft, perfect for the at-home worker.
This listing is held by Jen Templeton and Cheryl Albanese.
This 3,539 square foot, three-bedroom, three-and-a-half bathroom Tarrytown townhouse is newly remodeled but still holds on to its vintage charm. Bright white cabinets, a green accented island and quartzite countertops in the kitchen give the space a cheery feeling. Entering on the second floor, you'll have to walk downstairs to get to the bedrooms, which include ensuite baths and walk-in showers. The third level bonus room is the perfect place for an at-home office.
This listing is held by
Cindy Fowler
.
​Just outside Austin in the sleepy town of Wimberley, the Backbone Ridge Ranch is one of the city's most "iconic and pristine" properties. On nearly 50 acres of land, the house takes you into nature without getting too far from nearby cities. With 4,369 square feet, six bedrooms and six-and-a-half bathrooms, floor-to-ceiling windows effortlessly light the entire space. You'll feel like a celebrity chef while cooking in the kitchen, even more so entertaining from the outdoor kitchen and living space. The 33,000-gallon quarried limestone pool is perfect for those hot Hill Country summers!
This listing is held by
Nicole Kessler.
Sample some spirits
When: 11:30 a.m. Friday, Saturday and Sunday
Where: Desert Door, 211 Darden Hill Rd. Driftwood
What: Attend Desert Door Distillery's first Explorer Series of 2022. Guests will be able to sample Caliber on its own or in a delicious cocktail.

Eat some chili
When: 12 p.m. Saturday
Where: Sagebrush, 5500 S. Congress Ave.
What: Enjoy great chili and great music at the 14th Annual Chili Cold Blood Chili Cook-Off. All proceeds will be donated to Health Alliance for Austin Musicians in memory of Nick Curran.

Enjoy some local art
When: 4 p.m. Saturday
Where: Neill-Cochran House Museum, 2310 San Gabriel St.
What: The Neil-Cochran House Museum will host a multi-media art exhibition by Austin artist Nell Gottlieb, titled "Land as Persona: An Artist's Journey." Gottlieb works in multiple media to reexamine her coming of age, white and female in the Jim Crow South.

Catch some improv comedy
When: 7 p.m. Sunday
Where: GameOn! ATX, 1515 Dungan Ln.
What: ColdTowne ThrowDowne is an improv comedy tournament between troupes that will take place in front of a live studio audience and streamed live to the world on Twitch.

Catch a Johnny Cash-style show
When: 7:30 p.m. Sunday
Where: Georgetown Palace Theatre, 810 S. Austin Ave.
What: Experience music history with a unique musical about love and faith, struggle and success, rowdiness and redemption, and the healing power of home and family set to the tune of the legendary Johnny Cash.