Austonia AM
100% Austin news, info, and entertainment, straight to your inbox at 6 a.m. every morning.
In five minutes, you're fully informed and ready to start another great day in our city.
Get connected with our daily update
(Kristin Finan/Austonia)
First dates over frosty milkshakes. Family outings for juicy hamburgers.
Nau's Enfield Drug, which opened in 1951, has been a lot of things to a lot of people over its long history in Austin.
---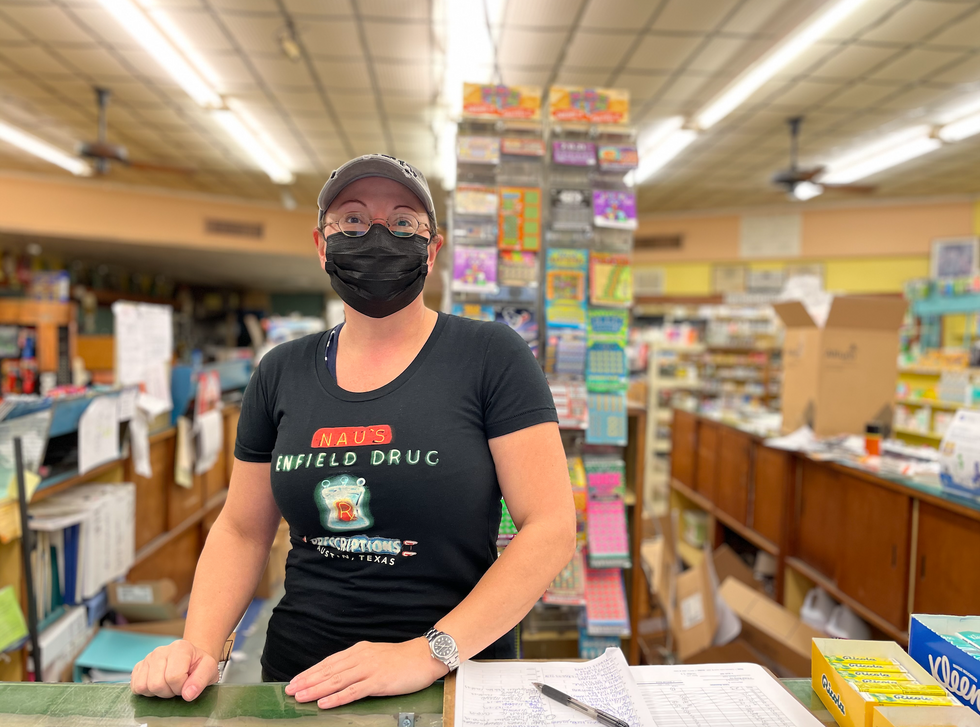 Laura Labay, manager of Nau's, at the store this month. Labay's parents, Lambert and Kathleen, purchased the store in 1971. (Kristin Finan)
For Laura Labay, it's a place that represents the shared dream of her parents, who purchased the business in 1971 just before she was born. It's the place where she grew up helping wipe down sticky booths by the soda fountain and where she still works, side by side with her 81-year-old dad, Lambert Labay, who, in addition to being the owner, has been a pharmacist there since 1963.
"Everyone's heard of Nau's. We're one of the top 10, top 5 businesses that Austin has always been unique for," said Laura Labay, who has managed the store for 23 years. "And we're one of a handful of businesses that still have that community connection and that history."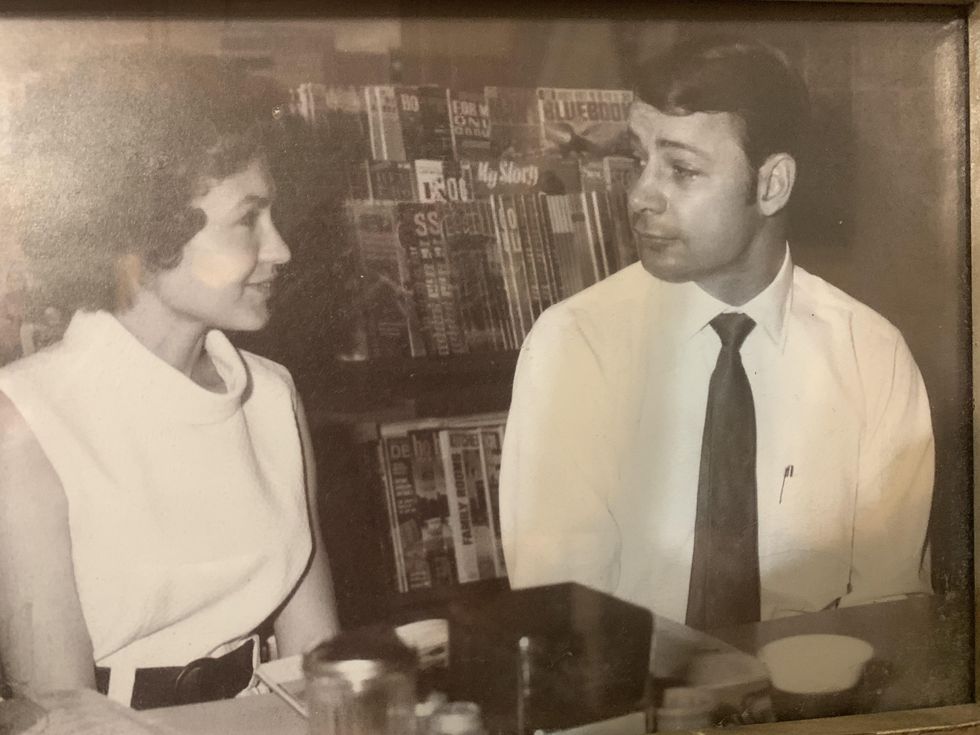 Kathleen and Lambert Labay at Nau's soda fountain in spring 1971, just after they'd purchased the store. Kathleen Labay was pregnant with daughter Laura at the time. (Laura Labay)
Now, due to a series of unfortunate events including the coronavirus pandemic, it's also another Austin institution that's struggling to survive.
"We've talked, unfortunately, a few times about closing. We're still trying to make ends meet," she said, adding that a combination of an emergency restaurant remodel and the pandemic made 2020 the year where "utterly our world crushed."
The Labays own Nau's, the business, but not the building in the Clarksville neighborhood where it's famously located at 1115 West Lynn St. In early 2020, prior to the onset of the pandemic, the cafe portion of the business closed because the property needed some updates including a new air conditioner. Due to the pandemic, however, many of those updates stalled—while the pharmacy and drug store have remained open, the once-famous café has now been shuttered for about a year.
"I really hope that comes back because Austin has lost so many iconic places," said Anne Rapp, a neighborhood resident and Nau's customer, after purchasing a lottery ticket inside the store. "It's places like Nau's that make Austin special and maintain its soul. I think the soul of a town is as important as anything."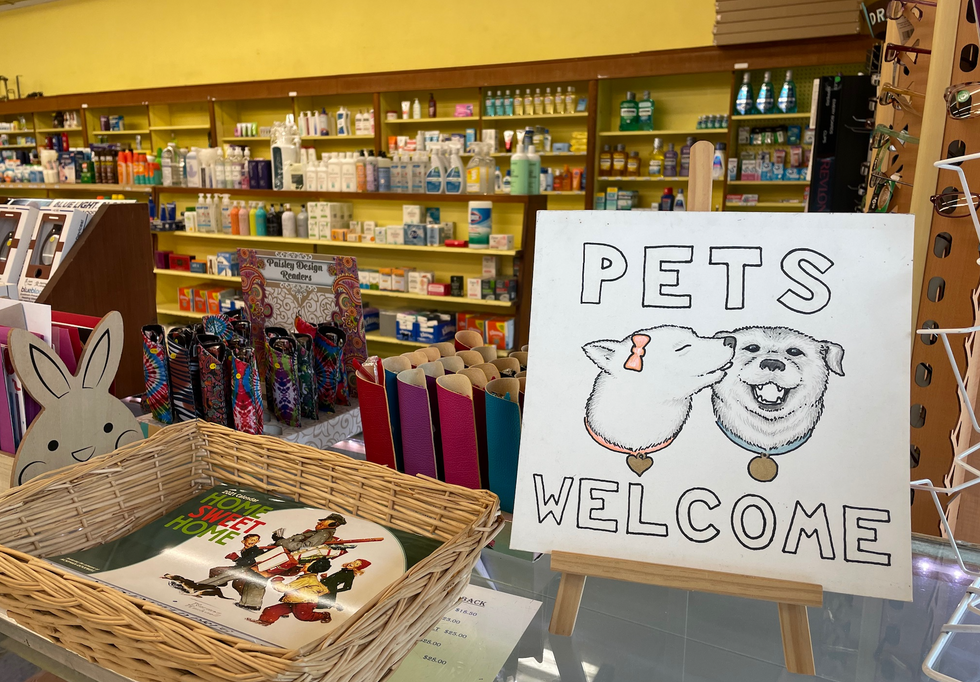 A sign at the entrance of Nau's welcomes four-legged visitors. (Kristin Finan)
Rapp, who works in the film industry, said Nau's "reputation precedes it a little bit."
"I've had many times when big players in Hollywood, from Los Angeles to New York, come here for Austin Film Festival for the weekend," Rapp said. "On more than one occasion, I'll be knocking around with a lot of them and they'll say, 'Can you take me to Nau's? I've heard they have great breakfast.'"
Laura Labay, 49, agreed that the café and soda fountain, which featured never-frozen hamburger patties and from-scratch shakes and sodas, are the heartbeat of Nau's, estimating that sales are down 80% over typical years, "if not worse."
"I could put in a modern-day drink dispenser and modern coolers, but why would anyone come in for that?" she said. "They come in because it looks like a soda fountain. The café is really the driving force that is going to be our salvation."
Right now you can't sink your teeth into a juicy burger or saddle up at the soda fountain, and the store's selection of nostalgic candies, unique soaps and fun gift items is also limited due to difficulties sourcing those items amid the pandemic, but you can still pick up a newspaper, grab a prescription or even arrange a home delivery if you live nearby.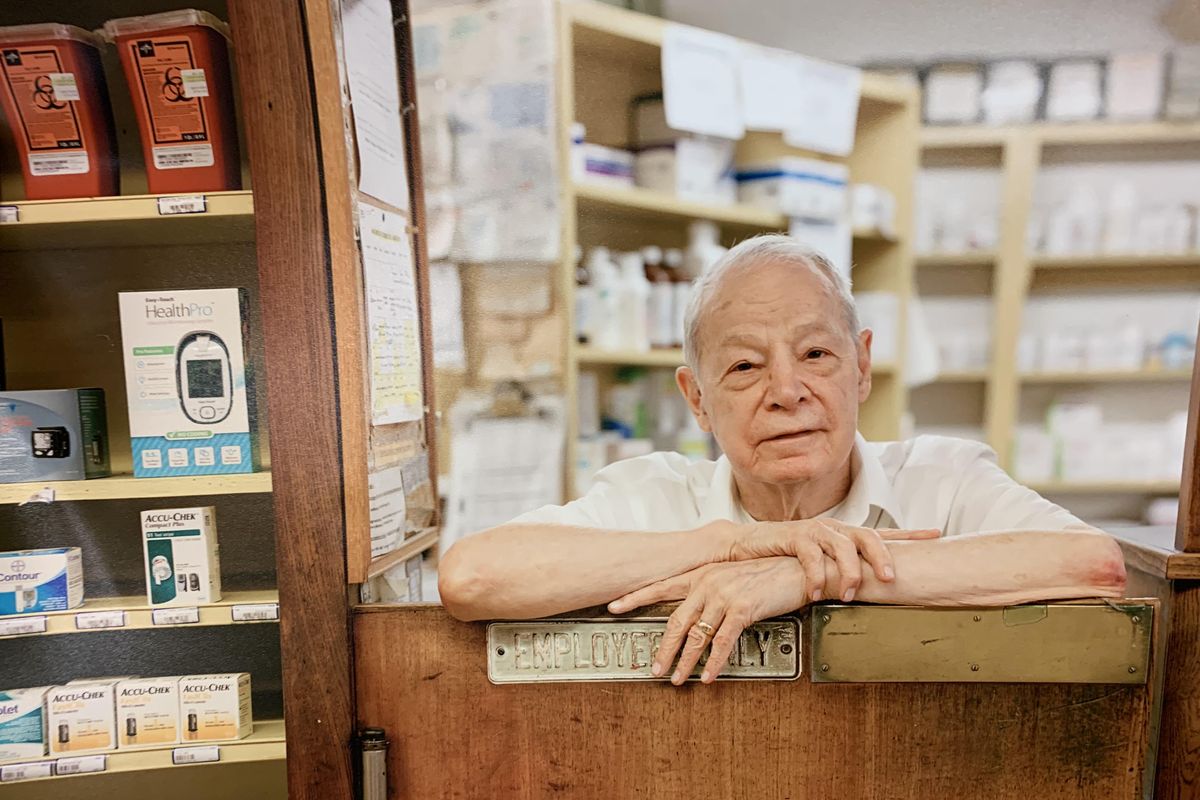 Lambert Labay, 81, is the owner of Nau's Enfield Drug, where he has worked as a pharmacist since 1963. He and his wife, Kathleen Labay, purchased the store in 1971. (Laura Labay)
Laura Labay said many of Nau's customers are more like family, adding that the neighborhood rallied to support the business after her father suffered a heart attack in 2016.

"It was just an outpouring of good faith from our neighbors, all walks of life were trying to help us, and they did. People have memories from growing up here and this is part of their lives," she said. "I don't think you could say that about your neighborhood Starbucks."
Laura Labay said she welcomes anyone who is interested in the café revitalization efforts or in helping to keep Nau's going, in general, to contact her directly.
"Most people would have given up, but I have a dream that this is going to come back to its heyday before my father retires," she said. "I just don't want people to forget about us. We're going to be back, and be better."
Austonia file photo. (Christa McWhirter/Austonia)
Police have arrested one of two suspects involved in a mass shooting at Austin's Sixth Street in the early morning hours on Saturday, leaving 14 people injured and two in critical condition.
The arrest was made by the Austin Police Department and the Lone Star Fugitive Task Force. One suspect is still at large.
Police started receiving 911 phone calls at 1:24 a.m about a man that fired shots into a large crowd, and responded to a chaotic scene on the 400 block of East Sixth Street. Detectives are surveying video footage captured by bystanders and cameras on the scene to identify the suspect.

The Austin Police Department has narrowed down their search to two male suspects and believes there was "some type of disturbance" between the two parties.
No deaths have been reported. Fourteen victims are receiving treatment in a hospital in stable condition with one treated in an emergency room; two are in critical condition.
According to Interim Police Chief Joseph Chacon, "almost all" of the victims are innocent bystanders but police have not ruled anyone out at this time.
Shooting on 6th Street Austin Texas 6-12-2021 (Aftermath) youtu.be
The shooting occurred on the weekend of the Republic of Texas Motorcycle Rally. With lots of people downtown, police say it was difficult to get EMS in and out of the scene. Police arrived while the scene was still an "active threat," officers "immediately began lifesaving measures" and drove six victims to the hospital in their squad cars, said Chacon, and four were transported in ambulances.
Chacon said that the incident is believed to be isolated, and they optimistic they will be successful in getting the two suspects into custody. Multiple departments, including APD, the FBI, Texas DPS and the ATF, are involved in the investigation.
Austin police are also requesting state troopers for patrol assistance in the coming days. Chacon stressed staffing issues are increasingly making responding to emergency calls "very hard."
"Overall, we remain a safe city," Chacon said. "Also keep in mind when you come downtown, you need to be safety conscious. Be vigilant of your environment and your surroundings."
Today marks the five-year anniversary of the Pulse nightclub shooting in which 49 were killed and 53 wounded in Orlando, Florida. Anyone with information on the shooting is asked to call 911 or 512-472-TIPS.

This story was updated at 2:47 p.m. to include new information and will be updated as more details are revealed.
From Your Site Articles
Related Articles Around the Web
Austin police are investigating a homicide in North Austin where a woman was shot and killed, just hours after a mass shooting in Downtown Austin hospitalized 14 people.
APD is working a suspicious death near the 1900 block of W Rundberg Ln. PIO is en route and will update with media staging location. PIO6
— Austin Police Department (@Austin_Police) June 12, 2021
Police originally responded to Ironhorse Flats Apartments, 1900 block of W. Rundberg Lane, at 3:20 p.m. when they found the woman with multiple gunshot wounds. She was transported to a local hospital, where she was pronounced dead at 4:07 p.m.

No one is in custody as of yet but police are speaking with potential witnesses. Officials said they believe this was an isolated incident with no danger to the public but said possible relation to the downtown shooting has not been specifically ruled out.
Officers could not provide a suspect description and the relationship to the victim is still unknown.
This is a developing story that will be updated as details become available.