Get connected with our daily update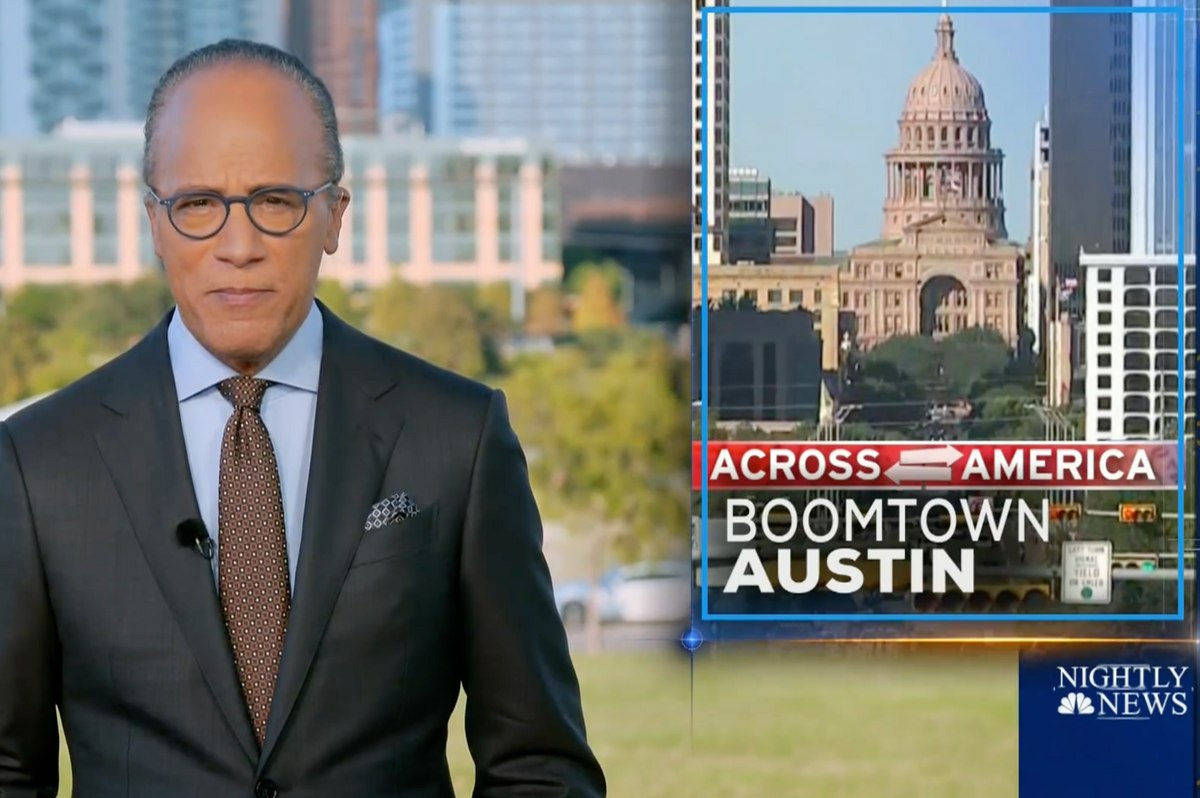 Broadcasting live from Austin's ubiquitous Long Center, anchor and managing editor of "NBC Nightly News" Lester Holt made his way to host the show live from "one of America's biggest boomtowns" on Monday night.
---
Austin was featured in the Nightly News' "Across America" series, which highlights the effects that the pandemic has left in different American cities. Holt touched on Austin's bustling tech scene, ongoing migration, polarizing legislation in the Lone Star State and spoke with a beloved local businesses while he was here.
Here's a recap of Austin's edition of "Across America."
"Surge of transplants" and big tech companies incoming
Holt began his broadcast from the lawn of the Long Center with a striking skyline background launching into Texas' controversial abortion law, which is currently being heard by the U.S. Supreme Court, before the "Across America" segment.
The segment began with the oh-so-familiar sights of live music, colorful murals, bustling South Congress foot traffic and of course, construction as far as the eye can see.
"Austin is young, it's hip" and "much cheaper than California," according to new residents, who say the city has given them a new lease on life.
Basking in the status of a "boomtown," Austin was the most popular place to move to during the pandemic. Though natives may have their own opinions about out-of-staters settling in Austin, new transplants said they are happier than ever with the move.
One California-transplant family told Holt they felt like Austin gave them a way out of the West Coast "rat race" and has allowed them to "buy back" time together as a family. Plus, new residents are finding solidarity all around them with the numerous families that made the move in the last year.
Of course, it isn't all families moving to Austin—major corporations like Tesla are moving their headquarters here, Apple plans on building a new campus and a
new Samsung plant
could be popping up nearby.
Big-city growing pains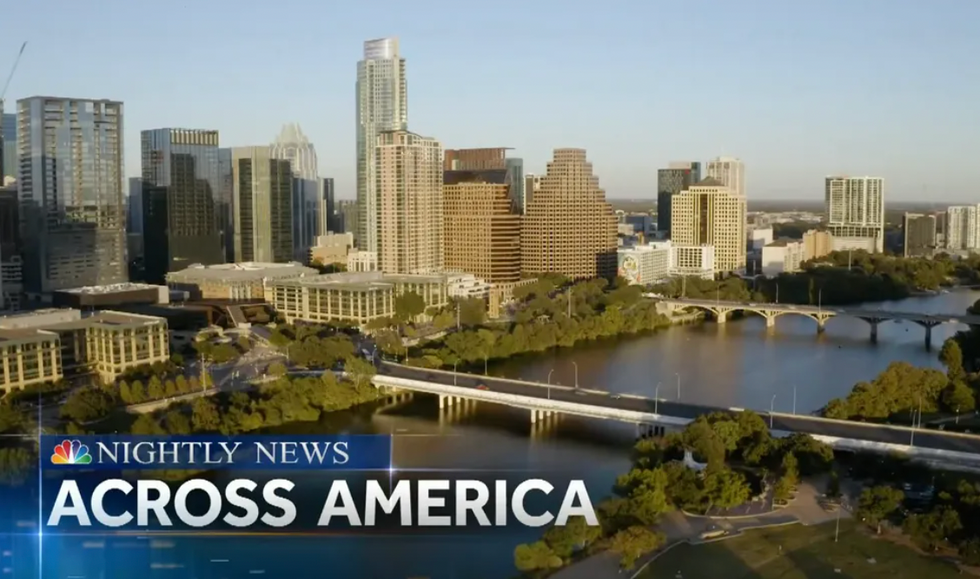 Austin's billowing growth can be attributed to its pleasant climate, low taxes and business-forward attitude, KXAN's Tahera Rahman told Holt. But it isn't all good news and as Police Chief Joseph Chacon put it, the boomtown status comes with its fair share of "big-city problems." Holt drew attention toward Austin's 80% increase in murders, a nationwide phenomenon.
Holt said that some of the biggest issues in Austin come down to scarcity of housing—the city has been dealing with a homelessness crisis for years, which is only being exacerbated by skyrocketing costs of living. He said Austin's abundance of jobs has made the already hot housing market even hotter.
Holt spoke with a couple who felt "priced out" after ending their search for a house over the last eight months. The couple said they were finding people put in offers that were 15% higher than the asking price, yet they still have no plans of leaving. That's the pull Austin has, the couple said.
Though the rapid growth is alarming, Rahman told Holt she believes city officials were planning on making the most of it.
"I think city and county leaders are seeing it as more of an opportunity to manage that growth in an equitable way," Rahman said.
"Best tacos... maybe in the country."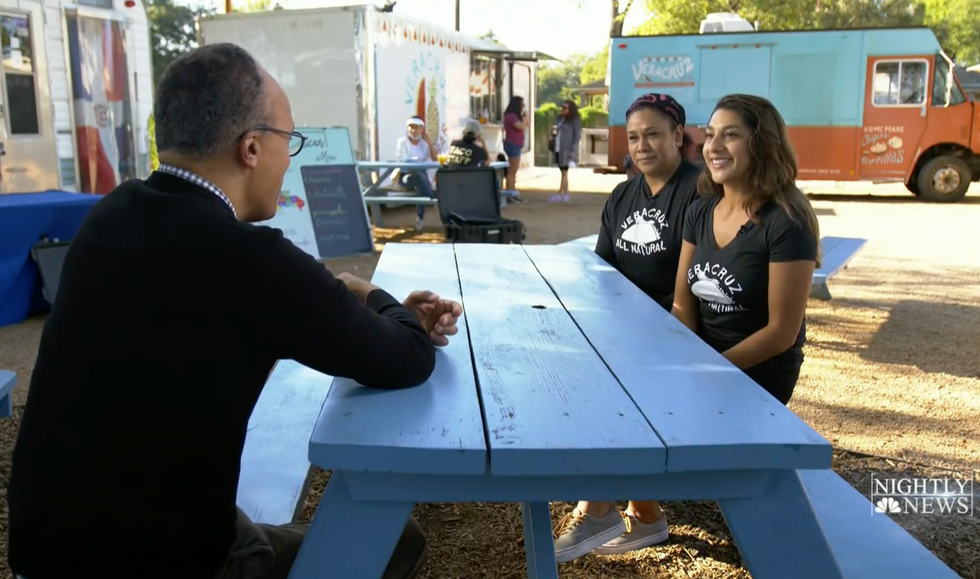 Reyna and Maritza Vazquez brought a taste of their hometown, Veracruz, Mexico, to Austin. (NBC/Youtube)
It wouldn't be an Austin segment without visiting one of the city's most treasured artifacts: the taco truck. Holt spoke with Veracruz All Natural founders Reyna and Maritza Vazquez, who have grown from a single truck to six Austin locations and recently expanded to Los Angeles with a new truck called "Hot Tacos."
Holt was taught by the sisters, who grew up in the kitchen with their mother in Mexico, how to make their signature Migas breakfast taco and heard from locals who said the Vazquez sisters make the "best tacos in the city, maybe in the country."
"Funny, I never leave Texas hungry," Holt said. "So long from Austin."
Holt will visit St. Louis, Missouri, for his next take on "Across America."
Enjoying Austonia? Signup for our newsletter to get daily Austin news, straight to your morning inbox!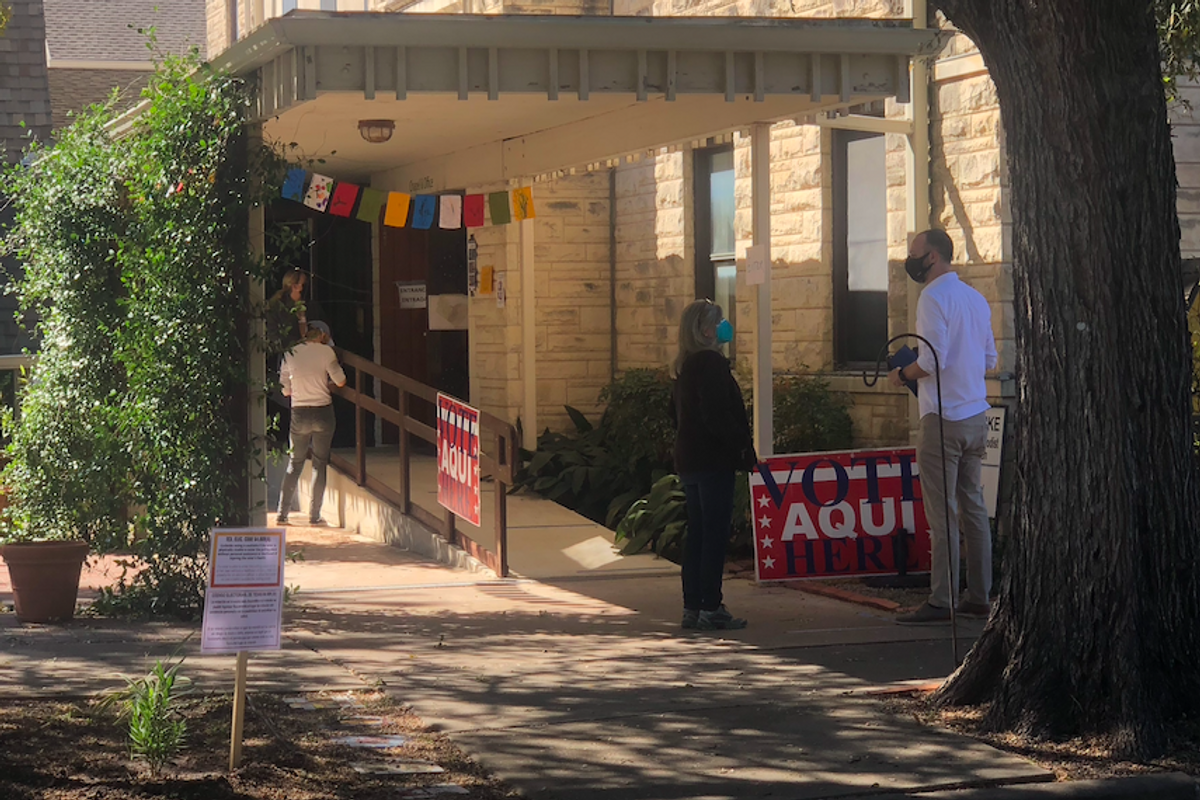 Come later tonight, Texans will officially know who will be on the ballot for the November general election.
In Texas, candidates must win at least 50% of the vote to be elected. In the March primaries where the top candidate only received a plurality of votes, a runoff is being held. Voters will decide on the candidates to represent their party in the November general election. Just like the March primaries, voters will choose which party they'd like to vote in. Then based on location, each ballot will show which races are in a runoff.
Here's everything you need to know before heading to the polls.

Know before you go
The registration period for this election has passed; check if you're registered to vote here.
The polls are open from 7 a.m. to 7 p.m. daily. As long as you're in line by 7 p.m., you can vote.
You'll need a valid photo ID to present once you're at a polling location.
Here is where you can vote in Travis County.
View wait times at polling locations here.
Races to watch in Travis County:
Statewide
Lieutenant Governor
Republican: Incumbent Lt. Gov. Dan Patrick won his primary in March.
Democratic: Mike Collier and Michelle Beckley are vying to be the Democrat candidate on the ballot.
Attorney General
Republican: Incumbent AG Ken Paxton is fighting for his seat against George P. Bush.
Democratic: Rochelle Garza and Joe Jaworski will face off to be the Democratic candidate in this race.
View all the statewide races on the ballot here.
U.S. House of Representatives

View the district you live in here.
District 21
Republican: Incumbent Chip Roy won his primary in March.
Democratic: Claudia Andreana Zapata and Ricardo Villarreal are hoping to secure this vote.
District 35
Republican: Dan McQueen and Michael Rodriguez are going head to head to be the Republican candidate in this race.
Democratic: Former Austin council member Greg Casar won this race in March.
Texas House
District 19
Republican: Ellen Troxclair and Justin Berry are vying to be the Republican candidate in this race.
Democratic: Pam Baggett won her primary in March.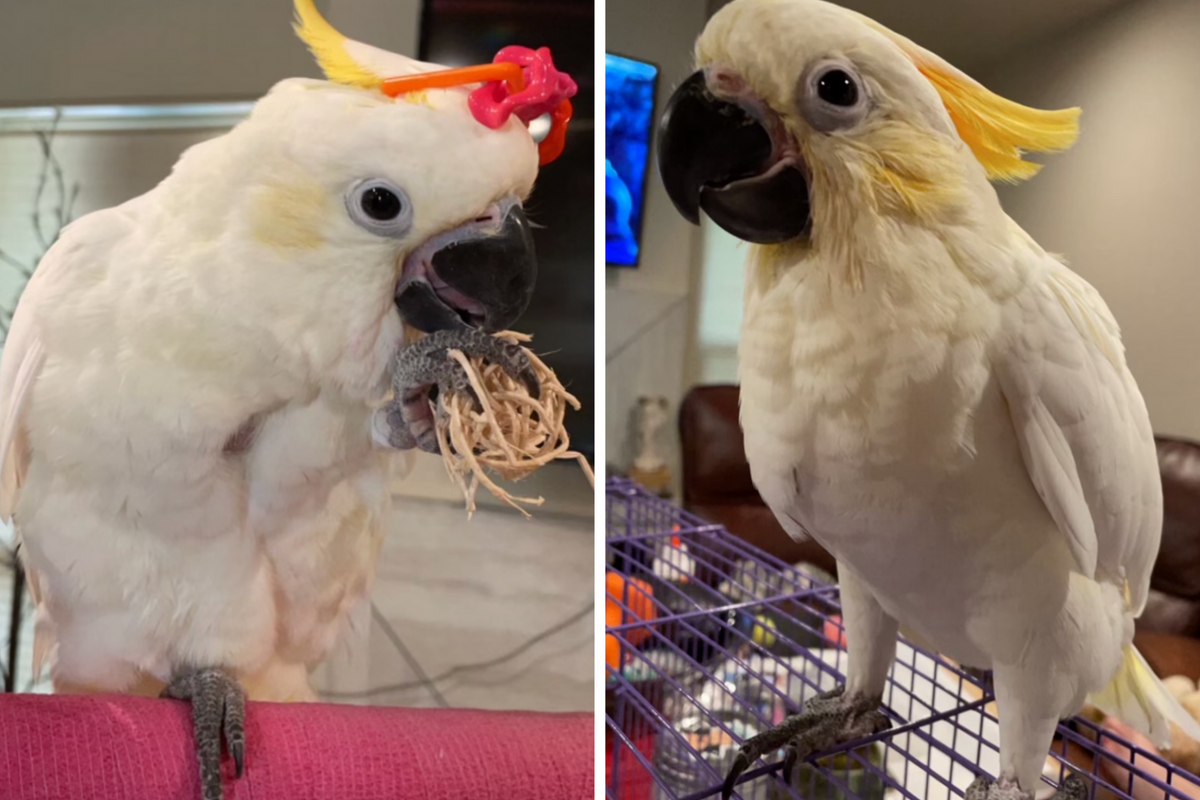 A big-money bird has been stolen from a northwest Austin pet store.
Kelsey Fernandez, the owner of a $6,000 sulphur and citron-crested cockatoo named Lemon Grab, said the emotional support animal was taken from the Gallery of Pets store, around closing time on Sunday.
"I've struggled with mental illness my entire life, and ever since I got him I've been doing so much better," Fernandez told Austonia.
The $6k cockatoo is young and will starve unless he is fed by hand, Fernandez said.
In a surveillance video, a man appears to have something under his shirt as he and two others exit the business around the same time the store believes that Lemon Grab was stolen.
Fernandez said a report has been filed with the Austin Police Department with an $1,000 reward for his return.