Get connected with our daily update
(Jack Morgan)
What started with concerned neighbors bringing water to senior citizens has now become a multi-day fiasco involving a state representative, FEMA and Travis County Emergency Operations.
A Pflugerville senior living center, Cambridge Villas at 15711 Dessau Road, is still without running water after a burst sprinkler system flooded every apartment unit with inches of water on Saturday.
---
Before the pipes broke, residents had reportedly been without water for several days.
On Thursday night, Pflugerville neighbors Jack Morgan and Lindsey Ballard learned via a resident's Facebook post requesting help that Cambridge Villas facilities had no running water. Thinking they would just need to drop off some goods at the community center, the two teamed up with other volunteers and loaded up a Jeep with cases of water on Friday morning.
What they found made them stay for the rest of the day, rally neighborhoods and eventually get banned from the property for a year.
All units had been without wellness checks for six days. Both the power and water had been out for much of the week, making toilets resemble "outhouses" and insulin doses spoil. Most residents hadn't eaten a warm meal in several days, and ice on sidewalks made it difficult for even volunteers to get around.
"It was like a ghost town," Morgan said.
As Morgan and Ballard checked on different units, they realized they weren't going to be done helping anytime soon. The group soon received help from neighbors, businesses and churches, many without running water themselves, to deliver residents potable water and their first warm meals in days.
Ballard said that the feeling was bittersweet as she witnessed an entire community band together to assist those in need.
"It was incredible and heartwarming, especially after we had been through our own personal crises, for everybody to rally together even before our needs were met," Ballard said. "That's the kind of world I want to live in, so I was very excited to be a part of that."
As entire neighborhoods began bringing supplies in, some volunteers came into contact with management. What started as a cordial conversation ended in both Morgan and Ballard being escorted off the property for trespassing by police.
While both volunteers were unable to touch the property again, Ballard began getting the ball rolling, calling her friend, State Rep. Celia Israel, who helped restore power to the community on Friday night.
Both volunteers and residents breathed a sigh of relief Saturday night as running water was also brought back to the apartments. The feeling was short-lived, however, as the entire sprinkler system burst later into the night, flooding nearly every unit in the complex. Volunteers began redirecting their focus and bringing Shop-Vacs to try and help with flooding into Monday. Residents continue to have no running water.
While water is not restored, the contributions of hundreds of neighbors, FEMA, a visit from Pflugerville Mayor Victor Gonzales and Travis County Emergency Operations have made a dire situation as livable as possible.
Ballard said that emotions ran high as residents expressed their gratitude for their Pflugerville neighbors.
"They couldn't believe that people were there that cared about them that didn't know them," Ballard said. "The reaction was always, 'You're here to check on me?' They were overwhelmed with gratitude."
As Ballard spoke with Austonia, she said she was on her way to another Austin-area senior center that was in need of food and water on Monday afternoon. While she doesn't know why senior populations have been left behind in the wake of the storm, she believes that the complex was underserved due to glaring oversight by management.
"These are the most vulnerable people we have in our community, that don't have access and don't have resources," Ballard said. "They have told me that they are terrified of management, so they don't want to complain too much. I can see how things could go neglected because management knows they aren't going to complain about it."
Ballard also said that the winter storm crisis revealed some key holes in city and county infrastructure with regards to emergency policies and assisting the areas' most vulnerable communities.
"This isn't something that is going to go away," Ballard said. "There are multiple senior facilities that went longer without power and water than neighborhoods. It's concerning, and I don't know why it happened, but I feel like they should have been a priority."
From Your Site Articles
Related Articles Around the Web
The Texas French Bread Bakery, located on 2900 Rio Grande Street, has been completely destroyed after a fire erupted on Monday night.
The Austin Fire Department responded to the fire just before 11 p.m., where they arrived to see flames coming from the roof of the bakery. Firefighters fought the fire for about an hour before the roof collapsed.
While no one was injured in the fire, firefighters say the historic building was completely totaled.
AFD determined that the fire was accidental and caused by mechanical failure. AFD said the damages amounted to $1.6 million total: $1.1 million in structural damage and $500,000 in damage to the contents of the bakery.

This year, Texas French Bread will celebrate 40 years of business. Before the bakery occupied the building, it was the Rome Inn, a music venue that hosted 1970s artists like Stevie Ray Vaughan.
Austin's first major league team is ready to extend its reach with a new collaborative sports complex The Pitch, an Austin FC destination packed with local food, beverages and Verde fervor is set to open in Northeast Austin in February.
The Pitch, a collaboration between Austin FC and Karlin Real Estate, among other entities, will be located in the 50-acre Parmer Pond District, which already hosts the club's practice facility St. David's Performance Center.
Dubbed a "true destination" for both soccer fans and the community, The Pitch will consist of multilevel shipping containers designed by Mark Odom Studio that will carve out into a 1,200-seat stadium complete with a soccer pitch made of turf, food and beverage options and a five-acre "Parmer Pond" featuring jogging trails.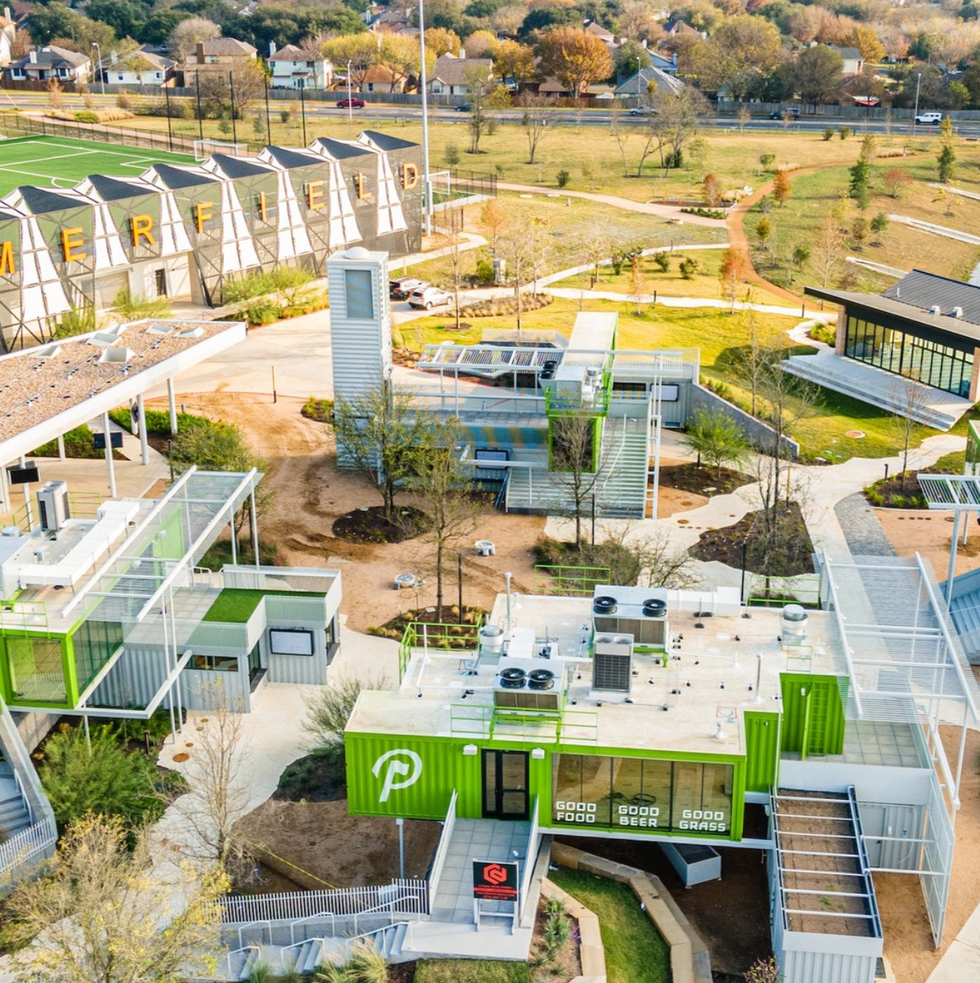 Made from multilevel shipping containers, The Pitch will include food and a 1,200-seat soccer pitch made from artificial turf. (The Pitch)
"The launch of Karlin's new food and entertainment experience will greatly enhance the Parmer development while perfectly complimenting St. David's Performance Center," Austin FC founder Anthony Precourt said. "The Pitch... will offer a strong variety of food options and gathering spaces for guests who will utilize St. David's Performance Center and Parmer Field for a variety of events."
The Pitch project lead Dave Greeley, who helped come up with the concept, is a former president of Austin FC parent company, Two Oak Ventures.
"The vision behind The Pitch at the Parmer Pond District is to be a first-of-its-kind sports, dining and entertainment destination," said Dave Greeley, The Pitch project lead and Team Orbis president. "This will be an unmatched experience for Parmer Austin tenants, Austin FC and club supporters, and the community."
With its proximity to the practice center, the venture hopes to contribute to the growing "soccer city" of Austin during Austin FC matches and youth games with the Austin FC Academy hosted at the St. David's Performance Center.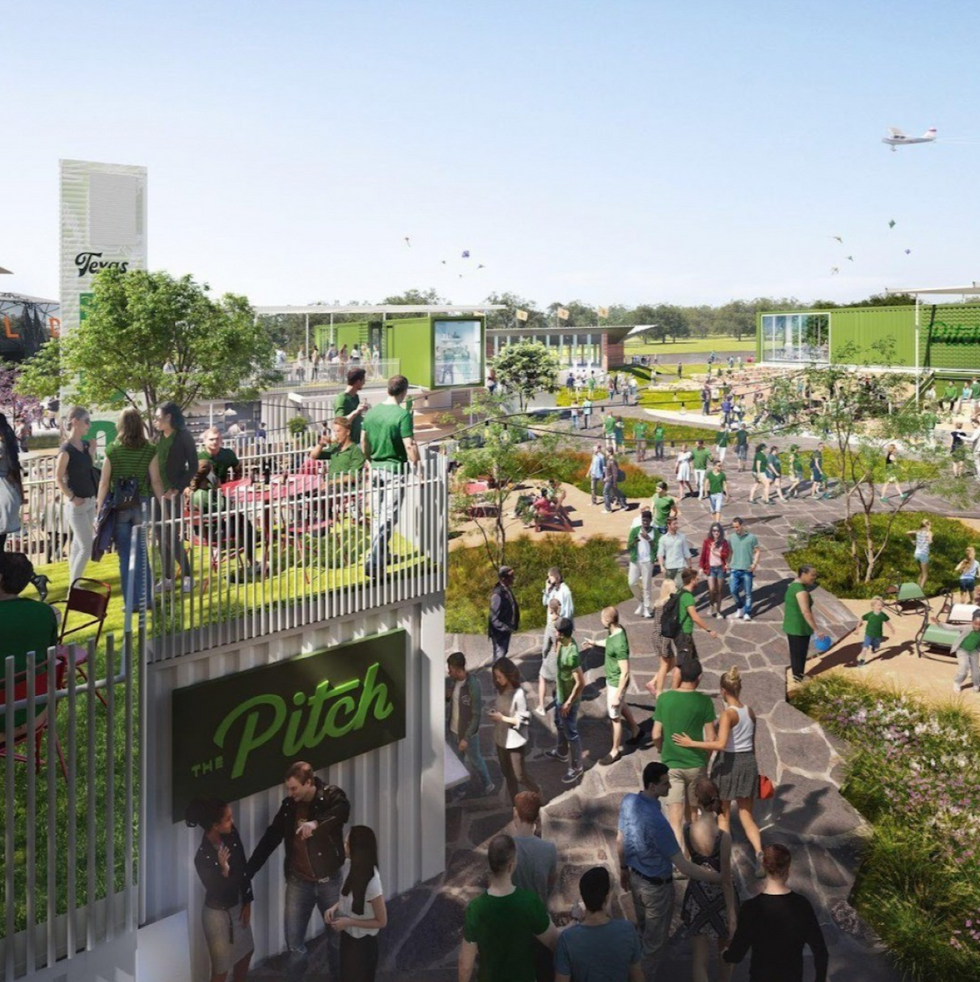 The Pitch hopes to converge both community and club interests with Austin FC. (The Pitch)
In addition to the soccer pitch, stadium and pond, The Pitch will provide a foody experience made by the creative team behind Austin staples like Fareground and Easy Tiger. The complex will offer local bites including:
Ranger Burger, which offers beers and burgers made from highly-coveted Wagyu beef direct from Ranger Cattle in East Austin
Ga Roti, which merges flavors from Northern Vietnam with the culinary techniques of France to create a unique rotisserie chicken joint
Taco Flats, a local taco chain serving Mexico City-style tacos, micheladas and more
Sand Bar, which fulfills its namesake with beauty cocktails, local beers and a sand volleyball court
Coffee Club, a coffee shop and bakery
Corner Kick Bar, the soccer-focused main bar of The Pitch complete with "tunes, TVs and (a) beer garden"
The Pitch will squeeze between St. David's Performance Center and Parmer Pond alongside the southern edge of Parmer Austin, a Karlin Real Estate venture that will eventually include multifamily housing, corporate office space and an aerospace and defense center.