Austonia AM
100% Austin news, info, and entertainment, straight to your inbox at 6 a.m. every morning.
In five minutes, you're fully informed and ready to start another great day in our city.
Get connected with our daily update
For the first time in months, comedy returns to the stage of one Austin venue.
---
Big Laugh Comedy, an up-and-coming comedy company, is bringing live shows back to Austin by way of Vulcan Gas Company, located on 418 E. 6th St. While Vulcan Gas Company is known as an intimate nightspot, Big Laugh Comedy is turning it into the comedy hub on Thursdays at 9 p.m.
Live performances and comedy have taken a hit due to COVID-19 with Austin's famous Cap City Comedy closing its doors for good last month. Big Laugh Comedy CEO Brandon Lewin said in this dark time for comedy, they want to bring it back in the best, safest way.
"Everyone's really excited about the fact that live comedy is back and the fact that it's safe," Lewin said. "We're making sure that (safety) is the biggest thing for us and we're going to do it the right way in a safe manner."
For maximum protection, the venue is operating at 25% capacity with attendees assigned their own table, wearing a mask until seated and socially distanced. In fact, the feature comedian and the headline comedian don't even share a mic.
The maiden show at Vulcan featured Cory Michaelis with every seat on the bottom floor sold out. Lewin said he, as well as the audience, were very happy to see him perform.
"Cory did fantastic—he killed it," Lewin said. "Everyone loved him. Everyone was really happy with him."
Big Laugh plans to pull out all the stops and bring big names to the stage. This week, stand-up comedian Aida Rodriguez is coming from Los Angeles for the second show on Oct. 22.
Rodriguez, who is on Tiffany Haddish's Netflix special "They Ready," said this will only be her second time traveling to perform during COVID-19 and she is excited to bring laughter to a time when it is so needed.
"It feels good to know that during this time that I could possibly bring some laughter and joy and happiness to people who are being affected (by COVID-19)," Rodriguez said in an interview with Austonia. "It brings me joy to bring other people joy. I'm just grateful to be able to share that experience with the people of Austin."
Rodriguez often discusses race issues, social issues and family trauma in her sets, which she said is a cathartic outlet. This will be her first time performing in Austin and she said while she is nervous, she is excited to be able to use her art again.
"Comedy is what I do for a living but it's also my art, it's my profession, it's my love. It's something that fills me," Rodriguez said. "It's where I feel like I live because I exist in the world and I live on stage, so for that to be taken away is a castration of some sorts and you feel like a very important part of you is cut off."
Lewin said Big Laugh Comedy's goal is to restore that sense of fulfillment comedians get on stage by giving them a platform, an audience and payment for their art in a world that isn't always kind to performers.
Lewin said they are very selective with their choices of performers because they pay all of them.
"We're an advocate—we're really looking to partner with comedians," Lewin said. "So we really want to help them (and) we do help them."
Big Laugh Comedy plans to expand their reach to the suburbs of Austin and even neighboring cities, like Dallas and Houston. For now, they will continue to host shows at Vulcan for the foreseeable future. Big Laugh has plans to bring names like Tony Hitchcliffe and Craig Conant to perform soon.
"The mission has always been to make people laugh, bring laughter to people at the same time, give comedians a platform to do this and do it in a way where it makes sense for them and helps them to grow their brand, as well," Lewin said.
Tickets for upcoming comedy shows in Austin can be purchased here.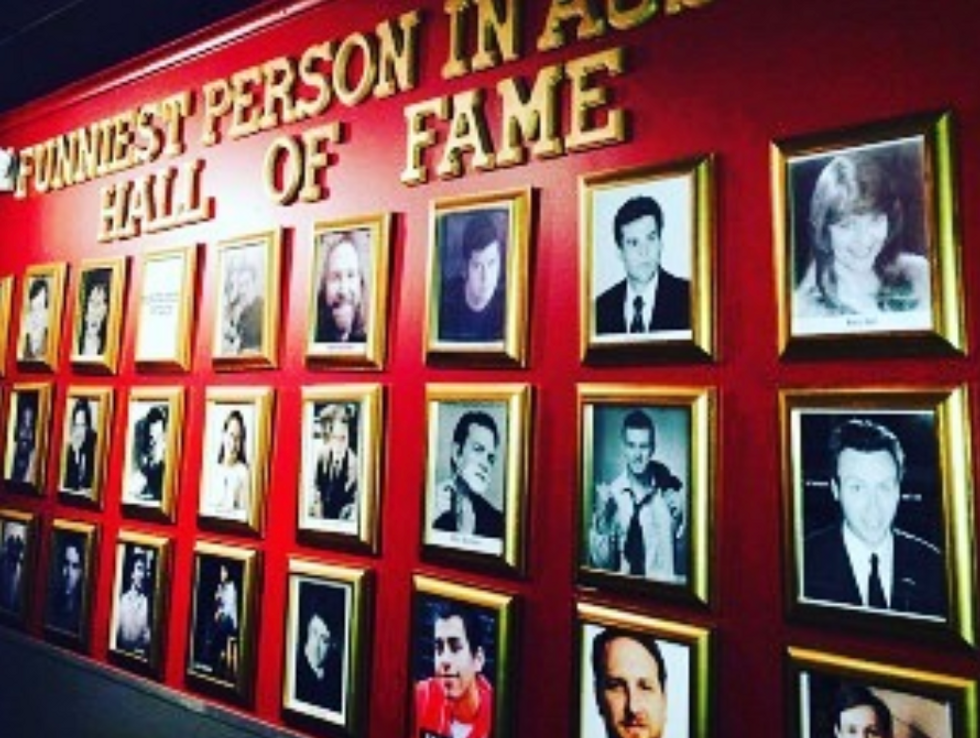 Austin's Cap City Comedy closes its doors for good in the wake of the pandemic earlier this month.
Tesla's new Gigafactory in Austin has done more than tack on national headlines: it's also reshaping Riverside and the rest of southeast Austin.
Michele Bryant, manager of Treehouse Apartments on Oltorf Street, said that "low availability (and) heavy demand" is ending previous specials and sales at the complex as Tesla employees take root in the area.
"We leased 13 units to Tesla employees in the last two months and many more are inquiring daily," Bryant said.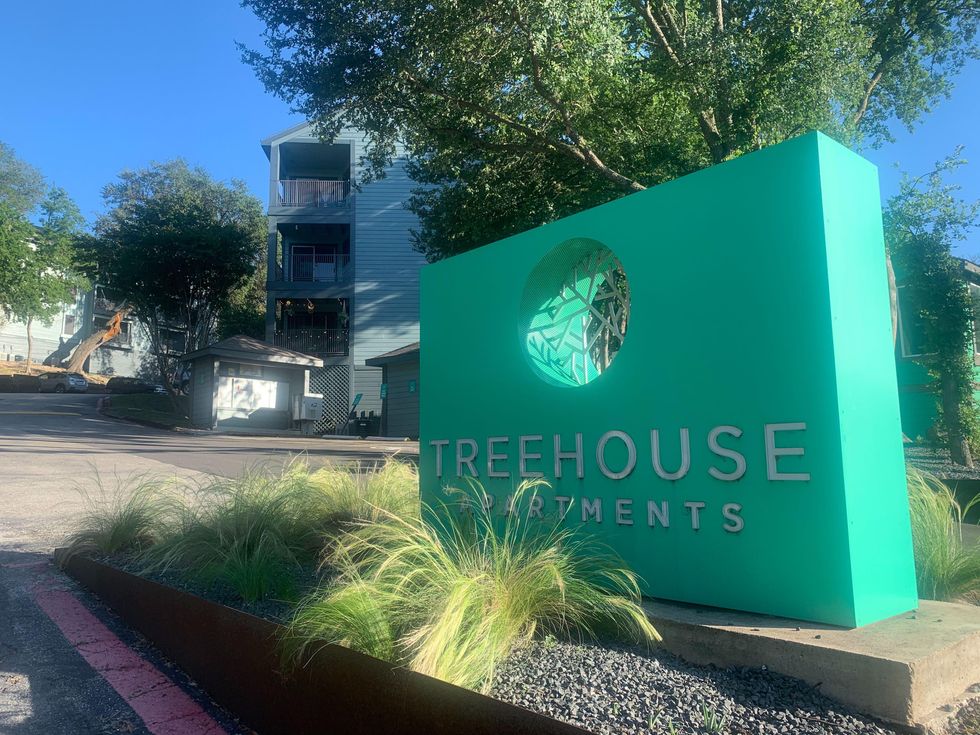 (Claire Partain/Austonia)
Tesla's Giga Texas is located 15 miles from Riverside's hub and sits near another southeast Austin feature, Austin-Bergstrom International Airport. Though the Gigafactory won't be complete until the end of the year, the company is hiring droves of new workers. In April, Tesla CEO and Austin resident Elon Musk tweeted, "Over 10,000 people are needed for Giga Texas just through 2022!"
Austin Board of Realtors President Susan Horton said that the influx of tech companies has affected where people choose to move within the Austin metro. "We are projected to have 35,000 new jobs here by the end of the year because of just the tech industry," Bryant said. "Tech is booming, and they want to be as close to those areas as they can."
The effects of the ongoing tech and California migration have already been felt throughout Austin, but areas with close proximity to the companies' headquarters, including Pflugerville and Riverside, are seeing the biggest changes to their communities.
when i moved to austin just 10 years ago the east side was where my community was, where i went to feel like i was home, even with the riverside college kids. but even then it was much smaller. now since the tech boom's gentrification east side is nearly lost -- https://t.co/ppbX0MQ8WX
— Kate Sánchez⁷ (@OhMyMithrandir) June 6, 2020
Road construction plagues much of Oltorf, the street parallel to the south of Riverside, and new apartments are constantly being reconstructed or remodeled to match increasing demand.

East Riverside-Oltorf has been known for slightly higher crime rates, but it's also an affordable oasis amid the sky-high Austin housing market. Young people starting their careers flock to the area, which has an average 1-bedroom rent at $150 cheaper than the rest of Austin and half the price of rent downtown, according to Zumper.
But a change in landscape means a change in price. At Treehouse, there's more interest than there is room, and Bryant said the complex ended a special because they simply don't need it to bring people in.
On Riverside and nearby Oltorf Street, new high rises catered to young people stand half-built, and existing properties are constantly undergoing remodels.
Bryant, who has worked at Treehouse Apartments for two years, has already noticed changes to the neighborhood.
"I have noticed more mid-rise properties being built," Bryant said. She added it is "most likely due to tech and Tesla housing needs."
The neighborhood that is dotted with taco trucks and Austin treasures, such as Emo's Austin and Buzz Mill, is now slated for a revamp that mirrors The Domain in North Austin.
The project, nicknamed "The Domain on Riverside," is a 10 million-square-foot project approved by Austin City Council in October of 2019. The behemoth, labeled River Park, would double the size of its North Austin counterpart. The project could take over two decades to build, with its first phase set to be complete in 2023.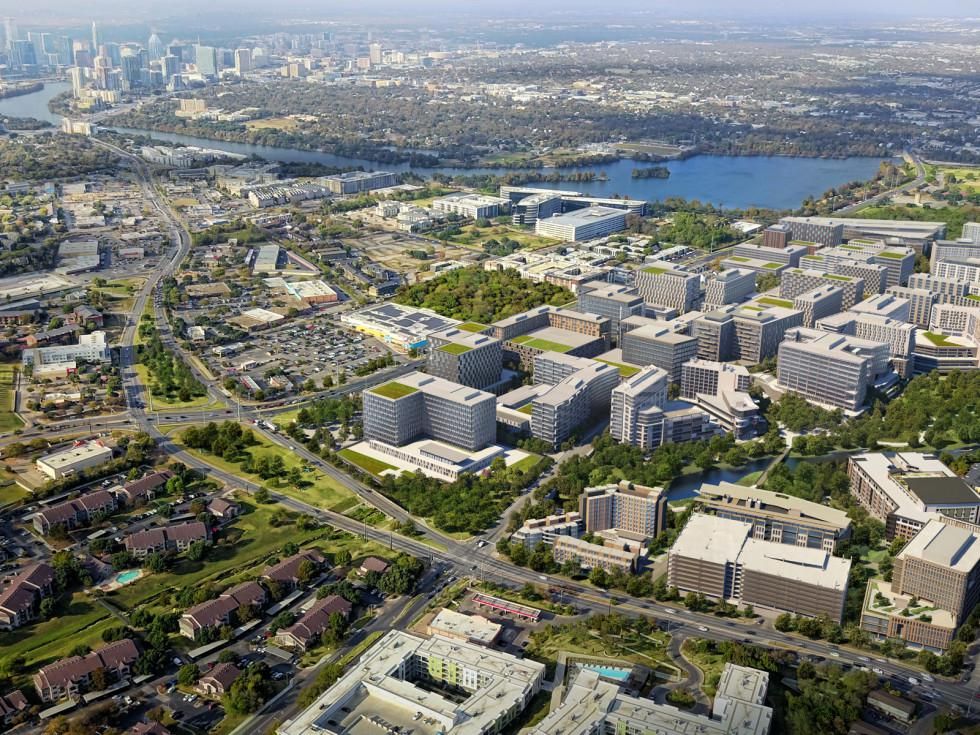 Rendering of River Park.
While some, including the project's developers, say the development will help add affordable housing and bring business into the area, others such as Save Our Hoodz, a local organization bringing attention to displacement, say the project contributes to gentrification.
The development is part of a bigger-scale operation adopted by the city in 2010. The East Riverside Corridor Master plan intends to bring more green space and walkability to the area, but it's also led to increased interest from cash-happy investors.
With Oracle bordering Riverside to the north and Tesla to the east, a change in landscape has already begun, and a transformation of the area seems almost guaranteed.
Matthew McConaughey is reportedly weighing a run for Texas governor in 2022.
The Austin resident and Oscar winner has been "quietly making calls to influential people in Texas political circles, including a deep-pocketed moderate Republican and energy CEO" as he decides whether to run, according to Politico.
McConaughey said a gubernatorial run is "a true consideration" while on a March episode of Houston's "The Balanced Voice" podcast.
Although most political strategists doubt McConaughey's commitment and viability as a candidate, some are still intrigued by the possibility.
"I find it improbable, but it's not out of the question," Karl Rove, a top Republican strategist with a long history in Austin, told the political news site. He added that the big question is whether McConaughey would run as a Republican, a Democrat or an independent.
Brendan Steinhauser, an Austin-based GOP strategist, told Politico he's surprised McConaughey isn't being taken more seriously. "Celebrity in this country counts for a lot," he said. "It's not like some C-list actor no one likes. He has an appeal."

Texas Gov. Greg Abbott plans to run for a third term and remains popular among Republican voters, 77% of whom approve of his performance as of April, according to the Texas Politics Project.
Some strategists believe an independent McConaughey run would benefit Abbott. But a recent poll from The Dallas Morning News and the University of Texas at Tyler found that McConaughey would beat Abbott, 45% to 33%, with 22% opting for someone else.
Mimi Swartz, an executive editor at Texas Monthly, mulled a McConaughey run in a recent opinion essay from the New York Times. "Texas may not be ready for a philosopher king as a candidate, much less governor," she wrote. "May the best man win, man."