Austonia AM
100% Austin news, info, and entertainment, straight to your inbox at 6 a.m. every morning.
In five minutes, you're fully informed and ready to start another great day in our city.
Get connected with our daily update
Fourteen years after the city of Austin purchased the former Home Depot site at I-35 and St. John's Avenue in 2007, City Council voted unanimously on Thursday to begin negotiations to redevelop it, with construction slated to start as soon as next year.
Real estate developer Greystar and the Housing Authority of the City of Austin have proposed a plan for the 19-acre site that includes:
A 3-acre public park with a splash pad, playground and community garden
280 affordable rental units
15,000 square feet of community retail and support services space for tenants such as grocers, vocational training centers and child care
Greystar and HACA have also agreed to pay off more than $10 million in city debt. Because the city purchased the property using 2006 bonds with the intention of building a police station or courthouse, this debt needs to be paid off before the site can be used for a different purpose that better aligns with the community's goals.
District 4 Council Member Greg Casar has been involved in this effort since before taking office in 2016. "It took way too long, but it's clear that the community pushing and wanting to keep people in the neighborhood … has finally gotten us to this point," he told Austonia.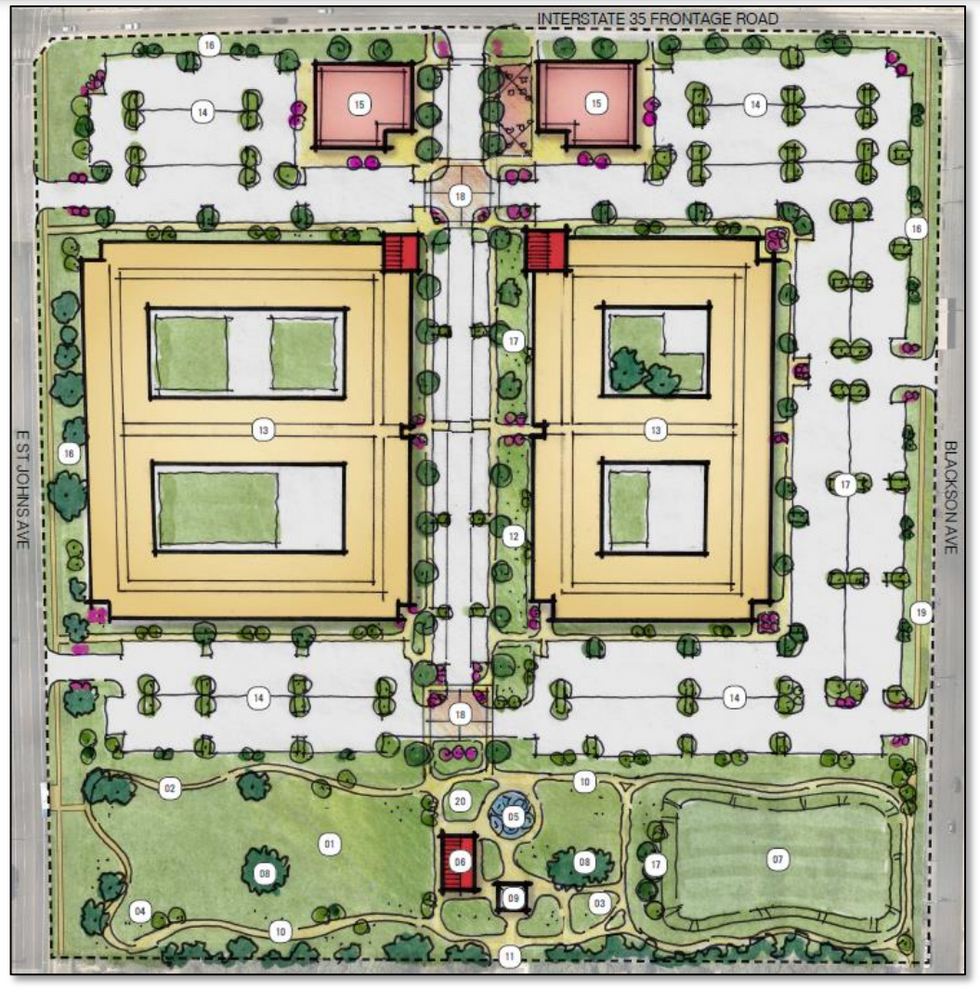 The proposed redevelopment includes affordable housing, expanded park space and commercial space. (TBG and Brent Design)
'A step in the right direction'

During the negotiations process, council has instructed staff to secure affordable homes for purchase in addition to rental units and right-to-stay and right-to-return programs that serve people who have been displaced by gentrification.
Cherelle VanBrakle grew up in the St. John's neighborhood and works at the People's Community Clinic, which is less than a mile away from the site. "I obviously love Austin," she told council on Thursday. "In the same breath, I cannot afford to live in Austin."
VanBrakle purchased a home in Manor four years ago after her mortgage broker told her she couldn't afford anything in the 78752 ZIP code—or anywhere else in the city of Austin. But she remained involved in the years-long community engagement process that led to the current proposal. "This is a step in the right direction," she said, urging council to support the proposal.
Thelma Williams, a St. John's resident known as Grandma Wisdom, is hopeful that the redevelopment will bring more job opportunities and social services to a community that sorely needs it. "The social issues are my great concern, and I think many of the things that we can do with this development will help with some of those issues," she told council.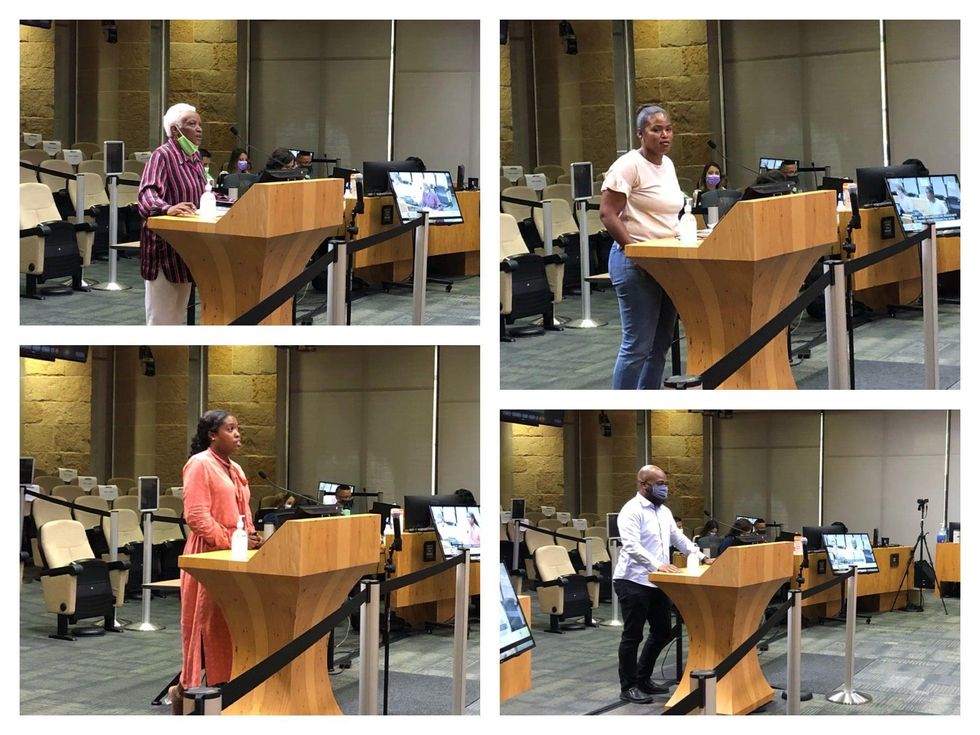 Thelma Williams, top left, and Cherelle VanBrakle, top right, were among the community members who spoke in support of the redevelopment proposal during the Thursday council meeting. (Council Member Gregorio Casar/Facebook)
Honoring the past

The former Home Depot (and current COVID testing) site is both a "symbol of blight and neglect," as resident Hakim McClellan said Thursday, and sacred ground with a rich history.
In the late 1890s, the St. John Regular Missionary Baptist District Association purchased 350 acres of land, spanning ACC Highland to Blessing Avenue, just West of Cameron Road. It served as a Freedman community, where formerly enslaved people could find work as sharecroppers, as well as home to an orphanage and school.
"In so many ways, while we had land, we were in an area where we didn't get a lot of participation from the larger community," Precinct 1 Commissioner Jeffrey Travillion said at a Friday press conference. "So what we see today is a sea change."
For many Black Austinites, the redevelopment serves as an important opportunity for the city to honor the history of the St. John's neighborhood, even as its demographics shift. Its population is now majority Latino, and its share of Black residents has shrunk from 13% in 2000 to 8.4% in 2017, according to U.S. census data.
"When the city of Austin ... moves forward with the redevelopment and rebuilding of this area, what the city is saying is that they are concerned about that segment of the community and that they're being intentional about lifting up … everybody who is in the St. John's area," Rev. Daryl Horton, a pastor at Mt. Zion Baptist Church in East Austin and member of the St. John Regular Baptist District Association, told Austonia. "And this becomes a shining light of what makes Austin a wonderful city to live in."
The University of Texas System Board of Regents officially accepted the SEC's invitation Friday morning, making the Longhorns officially SEC members effective July 2025.
The team will be making the switch from the Big 12 conference alongside Oklahoma after their media rights expire with the conference in 2025, though both teams are likely to petition to join earlier.
UT President Jay Hartzell said at the Friday meeting that the team looked across the country for a new fit in the ever-changing world of collegiate football.
"Collegiate athletics is changing rapidly whether any of us wants it to or not," Hartzell said. "Issues such as name, image and likeness; declining cable television subscriptions; college football playoff expansion; the transfer portal; and the impact of a global pandemic on sports, just to name a few, have proved that a transformation in collegiate athletics is happening around us... this is the right decision at the right time for the future of our UT athletics programs."
Word first spread that the team would be defecting from the Big 12 on Thursday, July 22, when the Houston Chronicle broke a report that university officials had been speaking with higher-ups in the SEC. In a weeklong flurry of events, Texas chose not to pursue their media rights on Monday, sent an official request on Tuesday and received a formal invitation from the SEC following a unanimous decision on Thursday afternoon.
The 16-team SEC will become the NCAA's first and largest superleague and will host some of the biggest names in collegiate football. Meanwhile, the BIg 12 is likely to drag their feet as they struggle to maintain relevance without the two rivals.
In the meeting, UT Vice President and Director of Athletics Chris Del Conte thanked the Big 12 after over 25 years with the program.

"We shouldn't go forward without appreciating where we've been and where we are," Del Conte said. "We've had so many great experiences and memories and will continue to engage in competition and work with many great colleagues in our league going forward through our contract that runs until 2025. I personally have made many great friendships in the Big 12. I have respect, admiration, and appreciation for them. I look forward to continuing that."
The SEC move will promote old rivalries, including storied nemesis Texas A&M. The Aggies were hesitant at the idea at first but have since warmed to their fellow Texas team. Hartzell said that the move will both boost rivalries and help bring more opportunities to Longhorn athletes.
"The reasons are many: the stability and strength of the league and its leadership, the level of visibility for our student athletes, some of the toughest athletic competition, and exciting stadiums that are similar in capacity and attendance to ours," Hartzell said. "It should also be noted that this move allows us to protect and rekindle some key rivalries, including the chance to regularly compete with the University of Oklahoma, University of Arkansas, and Texas A&M University."
The monumental decision is officially set in stone, but Texas will continue to suit up for more Big 12 action in the fall as the first Longhorn football game is set for Sept. 4.
After reaching Stage 4 last week of Austin Public Health's risk-based guidelines, Austin-Travis County is now at the Stage 5 threshold with a seven-day average of 50 hospitalizations and dwindling ICU capacity.
While unenforceable under Gov. Greg's Abbott order against local mandates, vaccinated individuals are asked to choose drive-through and curbside options, outdoor activities, social interactions with limited group sizes, as well as social distance and wearing masks indoors. Partially or unvaccinated individuals are asked to avoid gatherings, travel, dining and shopping, choose curbside and delivery options, as well as wear a mask on essential trips.
Flashing back to early-pandemic times, hospitals are at critical capacity—the 11 county Trauma Service Region of 2.3 million people is fluctuating at 16 staffed beds, according to APH.
In a statement on behalf of Ascension Seton, Baylor Scott & White Health and St. David's Healthcare, a spokesperson said that hospitals are asking residents to "help us and each other" by getting vaccinated and continuing to utilize safety practices to slow the spread of the virus.
According to the statement, a "longstanding" nurse staffing challenge combined with the recent COVID-19 spike is putting "extraordinary pressure" on hospital systems.
Along with the unmitigated spread of the virus in unvaccinated, the more contagious Delta variant is also to blame for the spike in cases. The seven-day moving average of COVID hospitalizations in the Austin area reached the Stage 5 threshold of 50 on Friday, triggering local health officials to ask residents to take action.
Local hospitals have a "surge plan" that includes utilization of "all available patient care space and employees within our hospitals and in other settings" that will go into effect when capacity is hit, according to the statement.
The hospitals are working on sourcing supplemental staff and emphasized that emergency care will still be available but it may involve patient transfers "in order to provide the most appropriate care."
Healthcare systems have hit this threshold previously during the pandemic: the city held an alternate care site at the Austin Convention Center from January to March of this year.
"Our responsibility during this pandemic continues to be balancing our readiness to care for patients with COVID-19, while making sure patients who depend on our hospitals receive needed and timely care," the statement said. "We do not want to see necessary non-COVID care delayed as it was during the early stages of the pandemic."
This story has been updated to after publication to include that Austin has reached the Stage 5 threshold.
Something about Q2 Stadium brings the best out of goalkeepers.
Much like Austin FC's Brad Stuver has done throughout the season, U.S. men's national team keeper Matt Turner kept his team alive in a 1-0 victory over Qatar. The match proved to be a battle of stamina as USMNT's Gyasi Zardes netted a last-minute goal to push Team USA to the CONCACAF Gold Cup final.
Turner, who has conceded just one goal throughout the tournament, continually tipped off shots by an offensively-minded Qatar and put up three saves. Turner now has 18 saves in the Cup.
The USMNT stumbled through the first half, falling to a 10-shot deficit in the first 45 minutes. Qatar, which gained quick acclaim as the 2019 Asian Cup winners, has not gone scoreless throughout the tournament and has tallied the most goals in the Gold Cup so far.
Qatar saw their biggest shot to topple the U.S. team in the 61st minute after they were awarded a penalty kick. Turner never had to make a save, however, as Hassan Al Haydos missed the crucial shot.
Team USA regrouped and took the reins of the second half, but it was two substitutions by USMNT Head Coach Gregg Berhalter that advanced the team to the continental final.
The two second-half subs, Gyasi Zardes and Nicholas Gioacchini, proved to be the perfect mix for Team USA. As the final whistle loomed, Gioacchini set Zardes up for the first goal of the game in the 86th minute of play.
But Zardes wouldn't take credit for the game-changing goal.
"It's not just me, it's a whole team effort," Zardes told FS1. "It was a tight game, they're a great team, but our starters did a phenomenal job at wearing them out... and trying to create opportunities to where when the subs came in, we were able to make a difference."
An outmatched Qatar wasn't able to gain ground as the final tally went 1-0 to the U.S. in Q2 Stadium.
While some were concerned at stadium turnout before the match began, the stadium slowly swelled to near capacity as usual in Austin. Berhalter, whose son Sebastian Berhalter is a midfielder at Austin FC, has previously shown admiration for the MLS' newest stadium.
This was the second national team match held in Austin in under a month after the women's national team christened the pitch in June.
Next up, Team USA will play the winners of the Mexico vs. Canada semifinal, which takes place at 9 p.m. Thursday, in the Gold Cup final. The final round of the continent's biggest tournament will take place at 7:30 p.m. on Saturday in Las Vegas.