Never miss a story
Sign up for our free daily morning email...
...and afternoon text update
Get connected with our daily update
(Matt Smith/Shutterstock)
Quarterback Nick Foles, an Austin native who attended Westlake High School, is making waves again in a relief role for an NFL team.
---
Foles, who garnered fame in 2018 for winning the Super Bowl MVP as the backup quarterback for the Philadelphia Eagles, entered as a substitute for the Chicago Bears midway through their game Sunday against the Atlanta Falcons.
Down 16 points in the fourth quarter—familiar territory for Foles, who has gained a reputation for come-from-behind wins—the former University of Arizona product helped score 23 unanswered points en route to a victory.
In addition to his leadership on the field, Foles follows in his family's footsteps as a restaurateur. He co-owns ATX Cocina with his father, Larry Foles, who is part of the restaurant empire Guy+Larry Restaurants—the group behind Roaring Fork, Salty Sow, Tumble 22 Hot Chicken, Red Ash Italia and ATX Cocina. Larry also co-founded Eddie V's, which he later sold.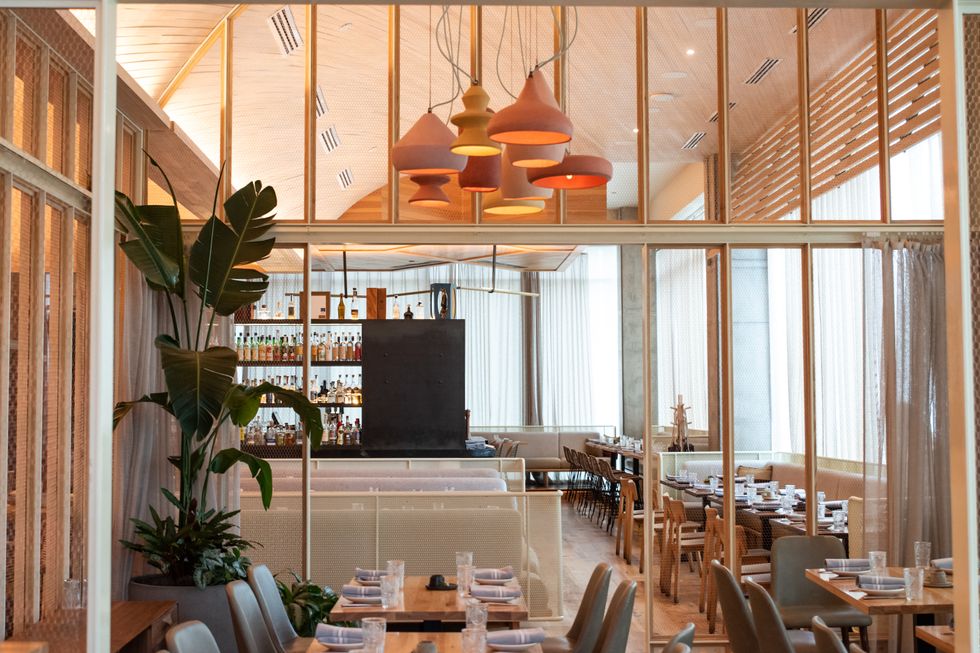 ATX Cocina is one restaurant Larry Foles, the father of NIck Foles, owns with his son.(Courtesy ATX Cocina)
Larry said he actually predicted his son would make his Chicago debut Sunday based on a change of helmet that mirrored the helmet he used during Super Bowl 52 in 2018.

"Yesterday I had that one pegged—I told my wife, he's playing tomorrow," Larry said. "She asked, 'How do you know?' and I said it's because he changed helmets."
But even Nick Foles was ultimately "shocked" to replace Bears starter Mitchell Trubisky, according to his father.
Foles has already been named the Chicago Bears starter next week, giving the Austin Metro three starting quarterbacks in the NFL. Drew Brees, another Westlake product, has long been the leader of the New Orleans Saints, and Baker Mayfield, the No. 1 pick of the Cleveland Browns in 2018.
And adding to the intrigue, the Chicago Bears are slated to play the Tampa Bay Buccaneers on Oct. 8 as part of Thursday Night Football. If Foles were to start, he would compete against former New England Patriots star quarterback Tom Brady who he defeated two years ago in the Super Bowl.
"It'd be Super Bowl 52 revisited—different teams, but it'd be pretty cool," Larry said.
More on weekend football: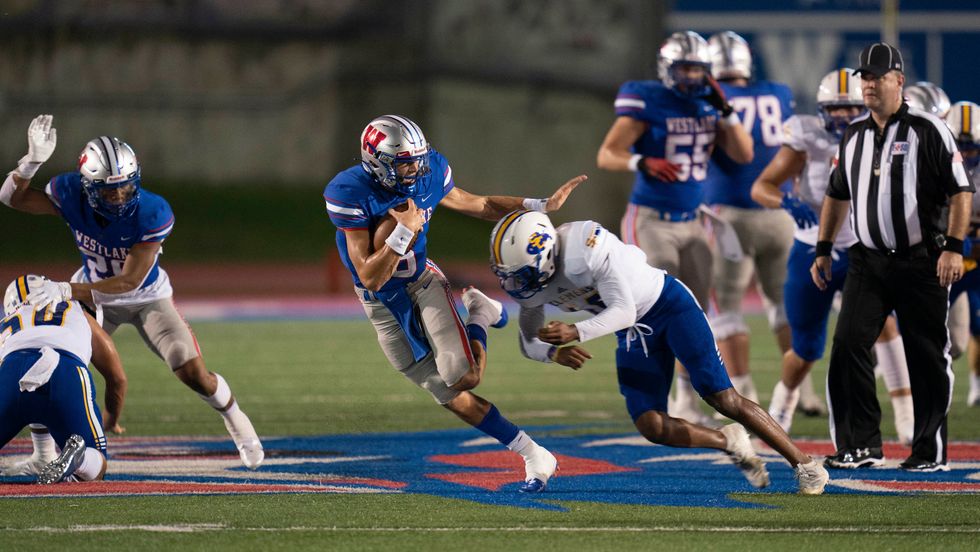 Photo essay: State champs Westlake High dominates the field despite limited fans in season opener (Bob Daemmrich)
First score made by LAFC. (Sonia Garcia/Austonia)
Austin FC couldn't find the stamina to fight off a 2-0 loss against LAFC for their inaugural match on Saturday.
The match, which saw No. 21 Austin FC go head-to-head with No. 2 LAFC in Los Angeles, was broadcast nationally on FOX and FOX Deportes.
Eleven players took the stage as Austin FC players for the first time, with five starters making their MLS debut. "Ringleader" Alex Ring took the captain's armband and wore it well. The defensive midfielder could be seen leading his teammates through their first ever match, but it wasn't enough to stage an Austin takeover in LA.
In the signature style of Head Coach Josh Wolff, the team played with quickness and intensity, nearly connecting on several fast breaks. It was harder for them to stay in front, however, something that Wolff credits with quick decision making and a tough LAFC defense.
"We have a quick attacking team, but I think when you make quick attacks and it fizzles it's just about some decision making," Wolff said. "Are we in position to finish attacks? If not, can we reestablish our attack and get stuff better?"
The club was given some generous breaks from No. 2 LAFC, who had one or both of their star DPs out for the half. While forward Diego Rossi is out for the entire match due to a hamstring injury, Carlos Vela was accidentally pulled too soon on what turned out to be a miscommunication.
"He gave us the sign that he needed to come off," LAFC Head Coach Bob Bradley said on broadcast. "I can't say more than maybe it's my fault."
LA pulled some dramatics and slowly gained more possession throughout the half, but ATXFC's defense wasn't initially as shaky as it seemed in preseason. Jhohan Romana has pulled his weight in getting the ball out of goal, and a 34-year old Matt Besler held his own in center back.
As the second half commenced, however, it became clear that LAFC had the advantage over Austin's first major league team.
Goalkeeper Brad Stuver had his work cut out for him, fending off 24 shot attempts, 11 of which were on goal. He didn't have much time to prepare, either: in the first 30 seconds of play, Stuver had already made a save to keep the match 0-0.
LAFC finally connected in the 61st minute of play as Corey Baird shot one into the bottom right corner. The team capitalized off their momentum and put one past Stuver a second time, drawing roars of approval from the LAFC crowd.
While some last-minute attempts from Jon Gallagher and others were made, Austin FC didn't have the endurance to bring a tie. After seven additional minutes of stoppage time, the club lost their first match 2-0.
While the scoreboard tells one story, Wolff said that the team did well considering the skill of LAFC and the pressure of their club debut.
"We've got to be realistic," Wolff said. "This is the first time this organization has been in front of TV with an opportunity to show itself and I think there were some promising moments. And we're going to maximize those and continue to try to develop those, but there's lots to build on."
The team may have lost, but it still won the support of thousands of Verde fans, dozens of which made it to watch their team's first match. When Stuver and the team made it to bthe stadium, Los Verdes fans were already there to show support, and Stuver said his wife saw the same back in Austin.

"The moment that we pulled into the stadium, we saw Black and Verde fans cheering us on as we got to the stadium," Stuver said. "During warm up, you can just look around and see different groups sitting in different sections of the stadium and it's just truly amazing to see the support in our first game. We know that we want to give the fans everything, because this we play for the city and we play for them."